The waters of Bemis Brook cascade over a massive, granite cliff forming the Arethusa waterfall, attracting numerous hikers there every year. It is, consistently, designated as the most scenic waterfall in New Hampshire, which is no small feat, considering that the state is home to arguably the eastern United States' most rugged and powerful mountain range, The White Mountains.
A hike to these falls is accessible to most who wish to experience her powerful spectacle, second highest waterfall in the state, and it's an enjoyable endeavor regardless of the season. Continue reading below for valuable insight into finding the trailhead, navigating to the falls, and other helpful resources to ensure that your journey to Arethusa is a pleasant one.
Key Takeaways
Bring microspikes if hiking in winter

Keep pets on a leash

Take the Bemis Brook Trail for more waterfalls and better streamside hiking

Mind your footing when stepping on the wet rocks at the base of the falls

Don't wear sandals, flip-flops, or poorly fitting shoes

Don't stand beneath ice climbers who may be ascending the cliff during winter
Introduction
Arethusa Falls is located within New Hampshire's Crawford Notch State Park, which itself is contained within the larger White Mountains National Forest. While many, mistakenly, refer to the falls as the highest waterfall in New Hampshire, it is, actually, second to Dryad Falls. Most hikers who have witnessed both, however, agree that Arethusa is drastically more impressive.
Further reading: For more suggested hikes, try reading our guide to the best hikes in New Hampshire.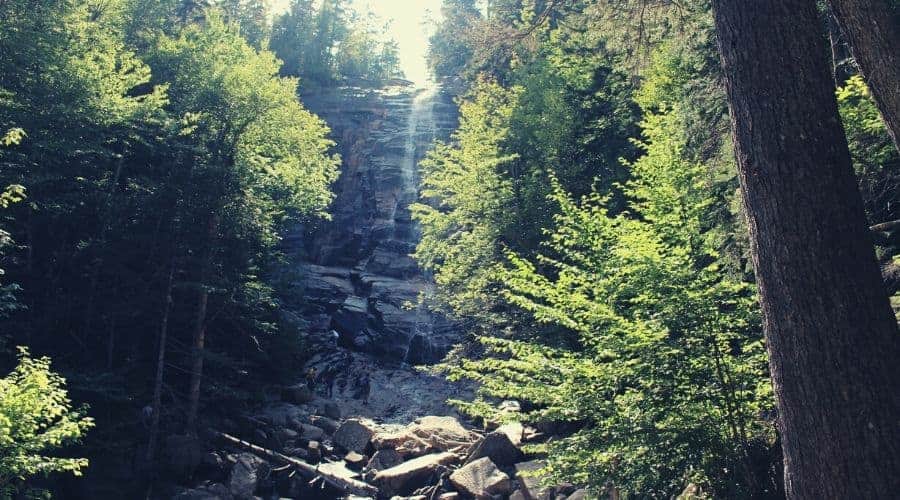 History
The falls themselves were first discovered by Edward Tuckerman, famed botanist and professor, recognized by many as the namesake behind Tuckerman's Ravine, a favorite, backcountry ski line among New England skiers.
In 1875, Arethusa Falls received its name as an ode to the nymph Arethusa, from Greek mythology, who was transformed into a flowing fountain in order to evade the grasp of the river god, Alpheus.
Type of Trail
The most popular way to reach the base of the falls is a forested 1.4-mile hike from the parking area. It is a well-marked trail meant for day-use only and requires an elevation gain of close to 1,000ft. There are no boulder scrambles or other obstacles to navigate, however, the trail is heavily rooted and uneven in spots. Most hikers choose to return back along this same trail, although there are other options (see below) for hikers wanting to add mileage or terrain variety to their hike.
Difficulty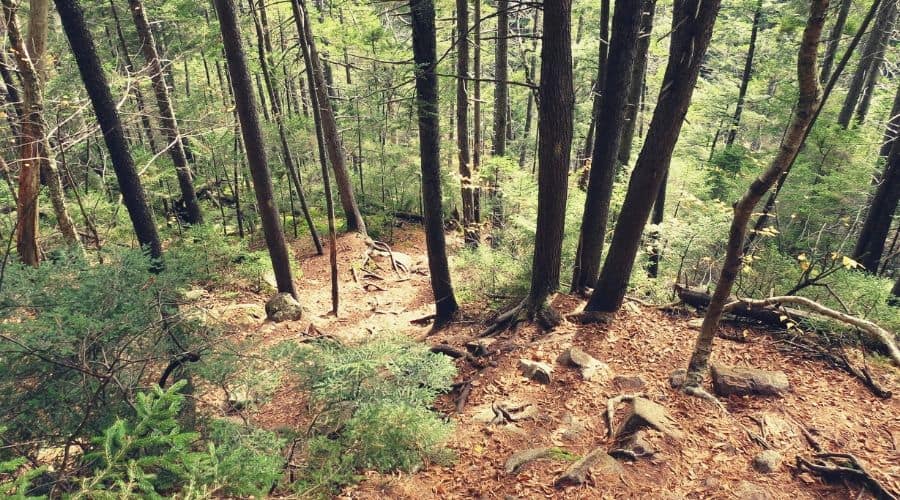 The trail conditions found on the Arethusa Falls trail will be moderately challenging for all but the most experienced hikers. The elevation gain is steady for most of the hike, only letting up upon descending to the base of the waterfall. The short distance, though, keeps this hike approachable for, both, families and four-legged friends. Here are the key stats to know before a hike to Arethusa Falls:
Best time to hike Arethusa Falls
I would, honestly, say that for experienced hikers there is no 'best' time to hike Arethusa Falls Trail. Many White Mountain locals will make the trek multiple times throughout the year, as each season presents an entirely unique landscape and feel to the hike.
Springtime, typically, results in the highest flows and the loudest roar of water coming over the falls due to snowmelt. Summer is a prime time for standing in the pools of water at the base of the falls or swimming in the multi-tiered waterfalls found along the Bemis Brook spur trail. Fall adds a beautiful border of color to the forest around Arethusa, while Winter transforms the trail into a snow-covered wonderland and the cliffs into an endless wall of ice.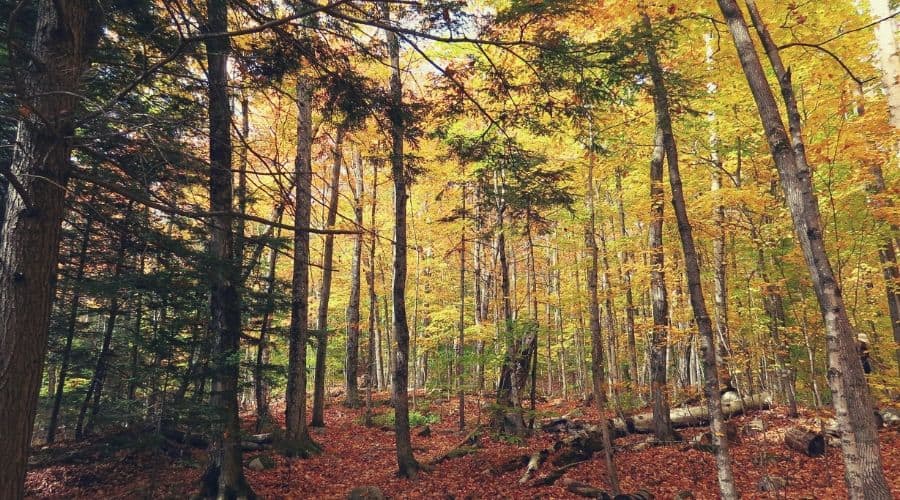 Truly, there is never a bad time for a hike to Arethusa Falls! That being said, inexperienced hikers or those without proper winter gear will find the hike more enjoyable from June through October.
Directions to the trailhead
Regardless of whether you're entering the White Mountains from the north (Franconia or Littleton) or the south (Conway or Bartlett), you'll need route 302 to get into Crawford Notch State Park. Look for Arethusa Falls Rd., located exactly 0.5 miles south of the Dry River Campground.
The Arethusa Falls Trail begins immediately at the end of this short, steep road and there are a few spaces to park here. A much larger lot, however, is available immediately on your right upon turning onto Arethusa Falls Rd. This parking area is only a few hundred yards from the trailhead at the end of the road, so it doesn't add any considerable effort to your hike.
Although it is seldom used to access Arethusa Falls, you do have the option of beginning your hike at the Willey House Station, for a 6 mile out and back journey
Trail Descriptions
Begin your hike to Arethusa Falls at the end of the road, crossing over the railroad tracks. Be mindful of the private residence here as the trail begins immediately to its left. Begin the ascent upward over, moderately, difficult terrain. Within 5 minutes of hiking, you should pass the Bemis Brook Trail turnoff and its accompanying signage.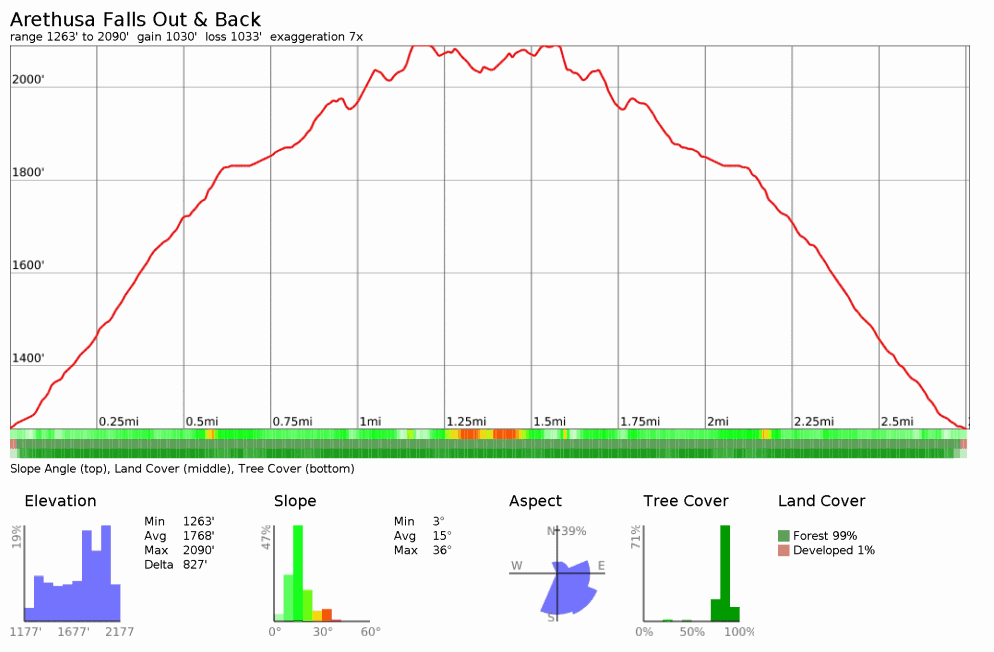 Stronger hikers, or those who want to add some stream views and small waterfalls to this trek, should consider turning left on the Bemis Brook Trail. While this short section of trail is, considerably, more difficult, it takes you directly along the brook for views of, both, Coliseum and Bemis Falls. There is, also, a popular swimming hole known as Fawn Pool. It doesn't add any distance to the standard hike, although it does require a short scramble before rejoining the Arethusa Falls Trail in about 0.4 miles.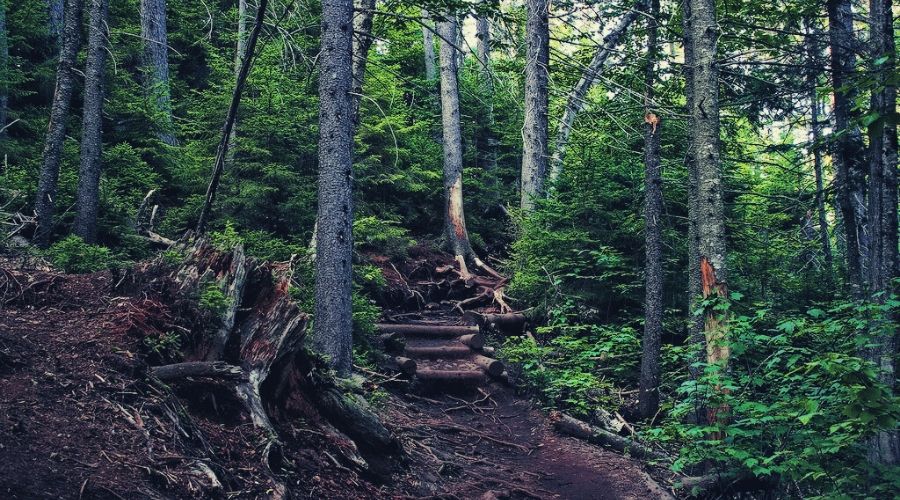 Continue following the wide but rocky trail uphill through the forest and over a couple of well-built bridges. When you reach a series of trail steps formed from large logs you are nearing the spur trail down to the falls. Look for a sign that indicates Arethusa Falls to your left and Ripley Falls to your right.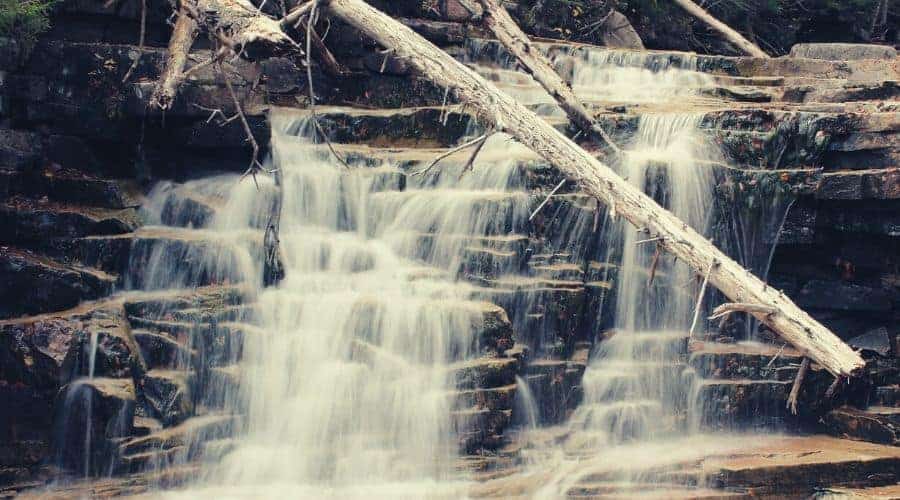 Upon turning left at the sign, descend 100 ft back down to the shores of Bemis Brook and revel in the beauty of New Hampshire's prettiest waterfall. Depending on the time of year, there are several options that allow you to reach the base of the falls. There are, also, two steep, unmaintained trails that lead you to the top of the falls for an impressive eastward view.
RELATED: Pemi Loop Backpacking Trail
Arethusa Falls and Frankenstein Cliffs Loop
If you're looking for a bit more mileage out of your hike and enjoy never having to retrace your steps, consider adding the Frankenstein Cliffs trail to your hike. This 4.2-mile loop features the beautiful Frankenstein train trestles and leaves you with a scenic view, from atop the cliffs, of many nearby mountains. The vistas seen along this section of trail make a great compliment to the waterfall and stream views experienced along the Arethusa Falls and Bemis Brook Trails.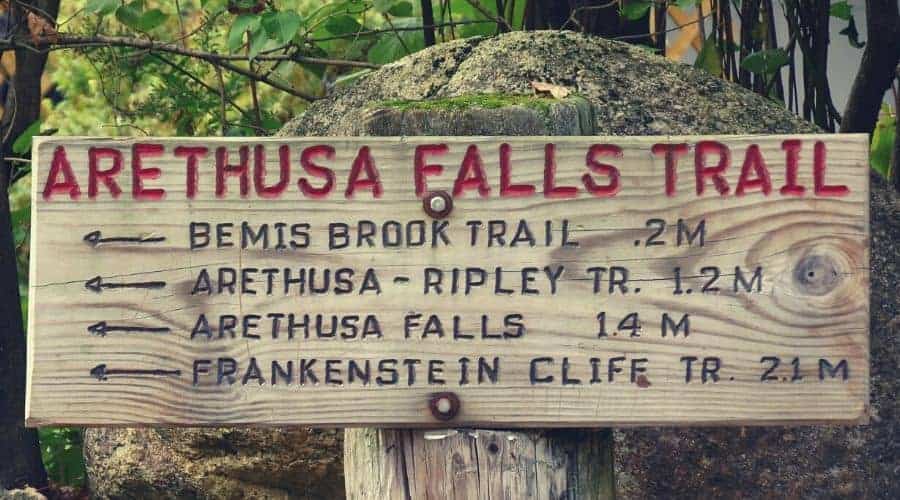 You can complete the loop in either direction, however, most recommend heading up to Frankenstein Cliffs first. The trail here is steep and filled with loose soils which are easier to navigate when traveling uphill. Upon reaching the top of the cliffs, you will simply continue to Arethusa Falls, before returning down the Arethusa Falls and Bemis Brook Trail.
The Frankenstein railroad trestles make for a unique photo opportunity, particularly in winter when the bridge is closed to all trains. In summer, or for those not wanting to traverse the tracks themselves, there is a covered footbridge for hikers underneath the bridge.
Ripley Falls, Arethusa Falls, and Frankenstein Cliffs Loop
Interested in adding another waterfall, multiple views from atop New England's most popular ice climbing cliff, a short section along the Appalachian Trail, and mileage worthy of a full-day adventure? Consider parking at the Willey House Station for a hike past 100ft. Ripley Falls, down to Arethusa Falls, along Bemis Brook, and finally up to Frankenstein Cliffs before returning along the same trail from where you started.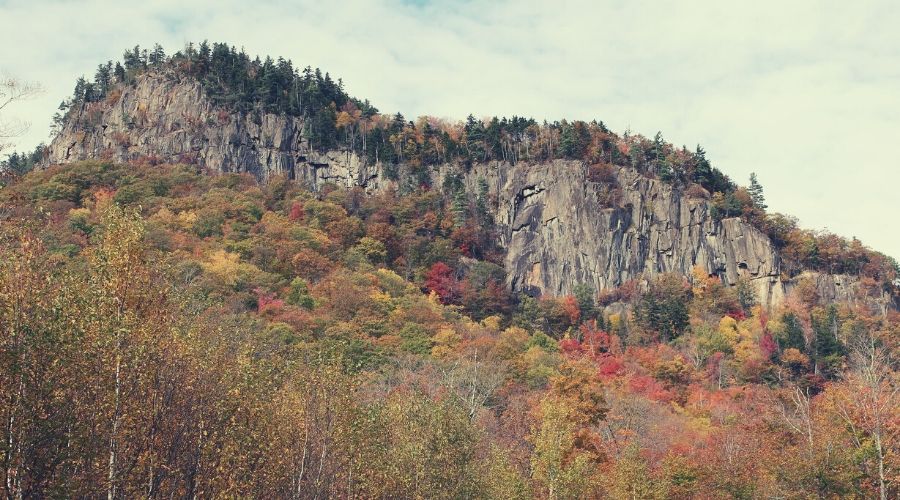 This 8+ mile, challenging hike will be a full-day excursion for most and will include 4 waterfalls/cascades, powerful views, scenic streamside hiking, and forested terrain throughout.
The Arethusa-Ripley Falls Trail is much less traveled than either waterfall hike done on its own, which makes this option ideal for more experienced hikers seeking solitude on their hike. It is common to be the only party hiking along this section of trail.
Suggested Gear List
Arethusa Falls is a perfect example of a hike that is beautiful in both summer and winter. While it's true that you're hiking the same trail, regardless of which season you choose to visit, it will be important to tailor your gear appropriately. A winter hike will require several gear considerations that you would never consider in the summer.
Remember, regardless of the weather or time of year, there are certain essentials that you should always have with you. Below is a sample checklist of gear we might bring for a hike to Arethusa Falls.
Gear:
Map & compass
Headlamp (even if you plan to be done before dark)
Trekking poles (and the skills to use them properly!)
Folding sheath knife
Firestarter materials
Emergency blanket/bivy
Food and Water:
Other Considerations:
Camera
ND Filter and tripod for capturing the best images
Microspikes – critical for a winter hike
A lightweight, packable towel if you plan to swim at Fawn Pool
Good to Know
Ice Climbing
Winter climbers have been known to climb the frozen cliff face of Arethusa Falls, utilizing a rope and ice screws to protect themselves. If you arrive at the base of the falls during a winter hike and witness ice climbers above, do not stand directly underneath their position. It is possible for chunks of ice to fall down as they climb.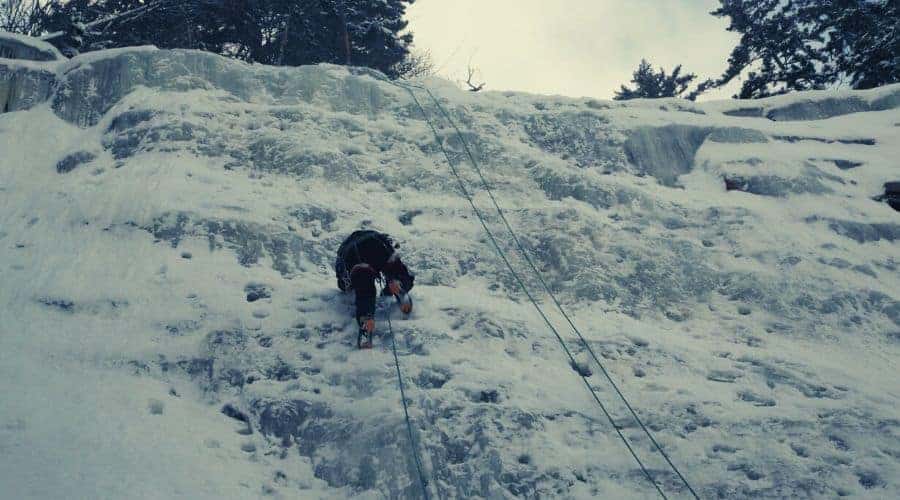 Microspikes
If you are doing any hiking in the White Mountains during winter, I strongly suggest investing in a pair of Kahtoola Microspikes. They can be applied to any hiking shoe or boot that you already own and will boost your stability and confidence on packed, snow-covered trails. They are small and lightweight which make it really easy to throw them in your pack for sections that you may not need them.
Photography Tips
Familiarize yourself with using slow shutter speeds if you hope to capture some stunning waterfall images during your hike. The lower shutter speed will help convey the silky smooth, movement of water in your shots.
Both, a neutral density filter and a tripod are, also, standard photo gear required for capturing these types of images.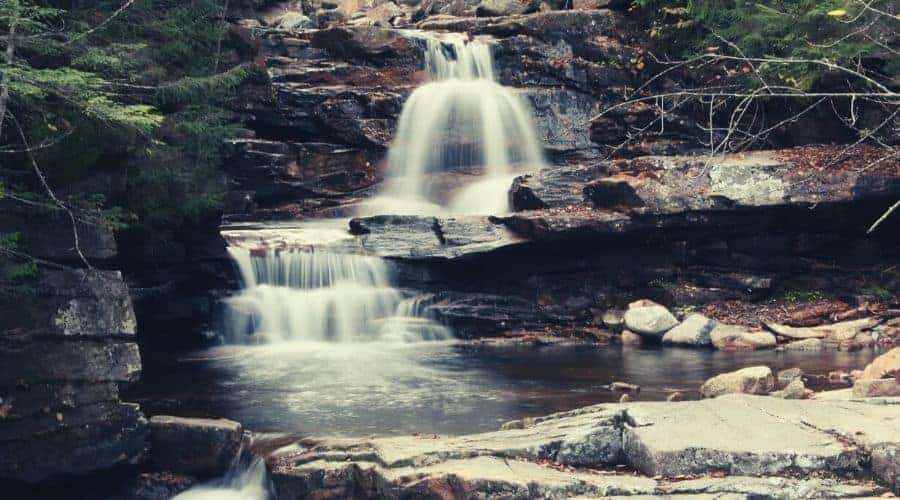 Pets
Pets are permitted throughout Crawford Notch State Park, which makes it a great hiking destination for those who hate leaving their furry friends at home. The park service does, however, require them to be leashed so make sure you arrive at the trailhead prepared.
Additional Resources