Many a dog owner dreams of bringing their beloved furry friend along with them on their future outdoor adventures. But letting your dog in on the action requires a little bit of planning and foresight if things are to go off without a hitch.
In this article, we're going to help you on your way with 16 tips from our team of canine-owning editorial staff and writers. Our tips cover everything from gear selection and creating a dog-friendly campsite to hydration and ensuring your dog's safety.
Ready to get those human-and-hound adventures underway? Let's do it!
1. Choose the Right Dog
Not all dogs are made for life on the trail. So if you're a dog-owner-to-be and are considering which breed to adopt or buy, choose carefully if you plan on taking your future furry friend on multi-day hiking adventures.
We'd be loath to rule out any breed in particular because we've seen plenty of "exceptions to the rule". Nevertheless, there's no denying that certain breeds are more likely to make better trail partners than others.
So which dog breeds can you expect to become the closest member of your "tramily"?
There are dozens upon dozens, but a few more notable examples include Bernese mountain dogs (the name is a bit of a giveaway!), huskies, Australian shepherds, Rhodesian ridgebacks, German short-haired pointers, border collies, jack russells, and Hungarian vizslas.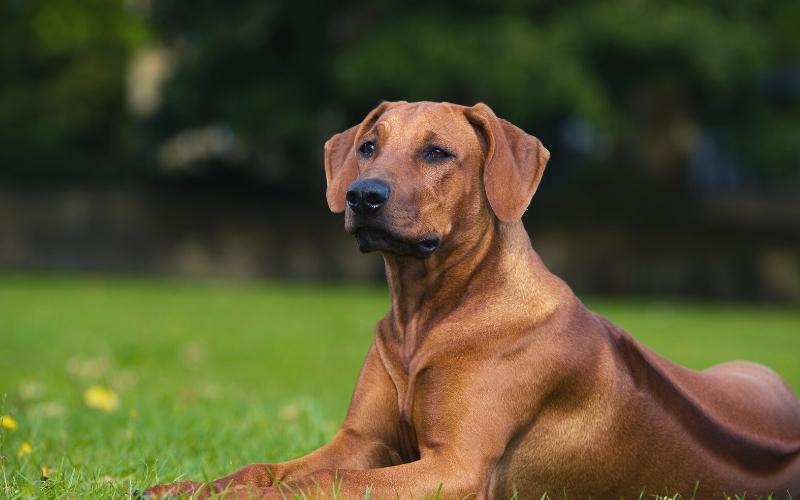 2. Choose the Right Gear
If you've done any multi-day backpacking in the past, you'll be able to recall how much time and deliberation you put into picking and sourcing your own requisite gear. The good news is you get to do it all again for your dog. The bad news? You get to do it all again for your dog!
Yep, while it's exciting to buy cool kit for your four-legged hiking companion, it can also be expensive, so be prepared to put a sizable hole in your bank account.
What do we mean by the right gear?
Some of the kit you might need to add to your shopping list includes a dog harness, a trail-worthy leash, a dog-friendly tent, a doggie sleeping bag or dog bed, paw protectors, a doggie backpack, dog-specific first aid supplies, a waist leash (if you use trekking poles) and, of course, your own backpack will need to be larger to carry it all in!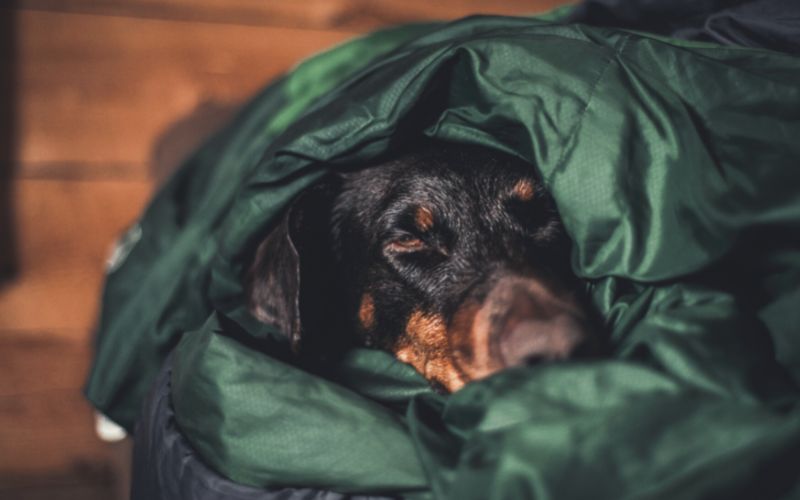 3. Train Your Dog Before You Hit the Trails
What can you do to ensure your pup is properly trained for the trails? Well, teaching them trail etiquette might be a stretch, but there are a few things you can do to ensure your hairy hiking buddy is ready (and ready to behave) on your human-and-hound adventures.
First up, make sure you train your pup to respond to basic commands.
The most important of these, if he/she is hiking off-leash, is to return when called. If this doesn't happen, there's a serious risk – and I speak from experience – of seriously pi**ing off other hikers or losing your dog for long periods while they're off chasing wild animals or rollick, scrap, or flirting with other dogs.
If you plan to keep your dog leashed, then the training required is minimal. However, you'll still want to ensure you can make your dog heel – if not, you're going to feel like your arm is one tug away from being ripped from the socket by the end of a day's hiking.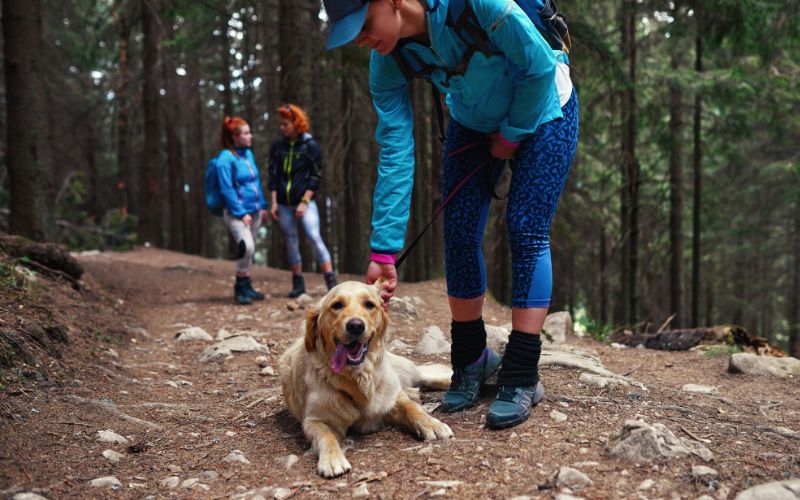 "Training" also refers to physical preparation. To ensure your pup is physically prepared for long days on the move, rough terrain, and everything else they might experience, be sure to bring them along on plenty of day hikes before branching out into backpacking.
4. Start Small
Humans and canines alike take time to adapt to life outdoors. Just as we wouldn't expect ourselves to tackle the Pacific Crest Trail without cutting our teeth on something shorter and less challenging, we shouldn't expect our dogs to become the hiking version of Adam Ondra without a little practice.
For this reason, we recommend you gradually build things up, working towards your ultimate goal in small increments. If, for example, you plan on completing a two-week, 150-mile thru-hike with your dog, start with a single overnight trip, then progress onto a two-night trip, and a four-night trip to let them get used to trail life and all its oddness.
5. Bring a First Aid Kit
While we hope you never have to use it, it's always better to play it safe by buying, carrying, and knowing how to use a dog first aid kit. Make sure you stock extra supplies of any medication in case you get delayed on the trail.
6. Be Prepared to Carry Extra Weight
All of that extra doggie gear isn't only going to set you back a healthy handful of $, it's also going to add a significant amount to your pack weight.
Therefore, bringing your dog on your backpacking adventures will, in all likelihood, necessitate shedding weight from your own pack to make the trip feasible. This probably means ditching any "luxury" items and swapping existing ones for lighter or more packable versions.
Depending on what time of year you're hiking, how many optional items you choose to carry, how much your dog carries, and how much food and water you need to schlep between resupply points, you can expect to lug an extra 3-10 pounds.
This total, of course, can be reduced by investing in a dog pack and having your canine carry some of their own gear (their dog food, poop bags, etc.). Bear in mind, however, that they shouldn't carry any more than 20% of their body weight at an absolute maximum. We love the vet-approved Mountain Smith K-9 doggie pack which is ergonomically shaped for your pup's comfort.
7. Choose the Right Trail
Finding the "right" trail for you and your pooch requires compromise and an honest assessment of both you and your pup's abilities.
This is best demonstrated with the aid of a few examples.
If either you or your dog can't put in more than X amount of miles per day, make sure you choose a trail where the distance between stages/camping locations is less than X miles.
If your dog doesn't like being on a leash, don't choose a trail where leashes are required (often the case in state and national parks).
If your dog is nervous or becomes agitated or aggressive in the presence of other dogs or humans, don't choose busy trails.
If your dog struggles on a certain type of surface (i.e. paved or sharp talus, for example), avoid trails where this is the main walking surface for any distance.
If your dog struggles in extreme heat, choose a trail where there's plenty of shade provided by tree cover.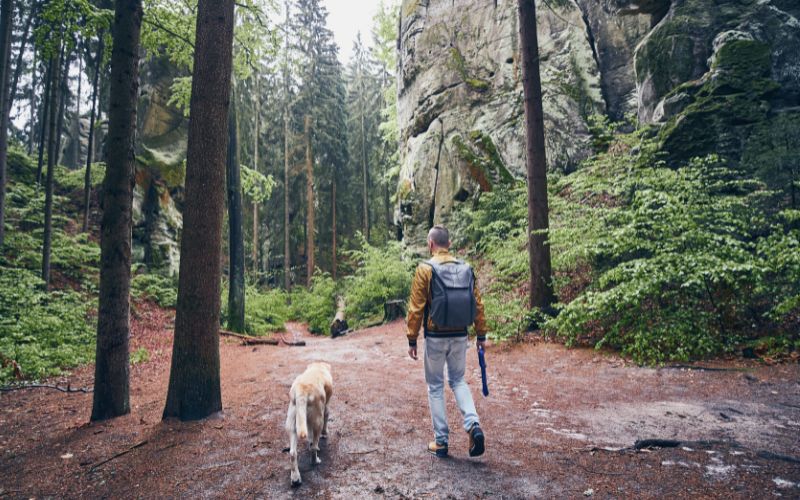 8. Know Your (and Your Dog's) Limits
If you've ever had to carry your canine over the last few miles of a trail because they hit a wall and refused to budge, this one needs no explanation. If you haven't yet experienced this, here are some things you can do to help ensure you never have to.
First, on pre-trip day hikes, make a note of how many hours and miles of hiking your pup can do before starting to tire. Take a broad sample, recording mileages in hot and cold weather, on days with lots of ascent and on flatter trails, and on days with more well-maintained or rougher trails.
Use these notes to ascertain your dog's fitness level, establish a daily limit – and stick to it.
Secondly, as you start bringing your pup along on shorter backpacking trips, you'll probably notice that they, like you, need to reduce their daily mileage by the third or fourth day. This is especially true with smaller and older dogs. As above, take a note of this so you can better gauge anticipated or feasible mileage on future trips.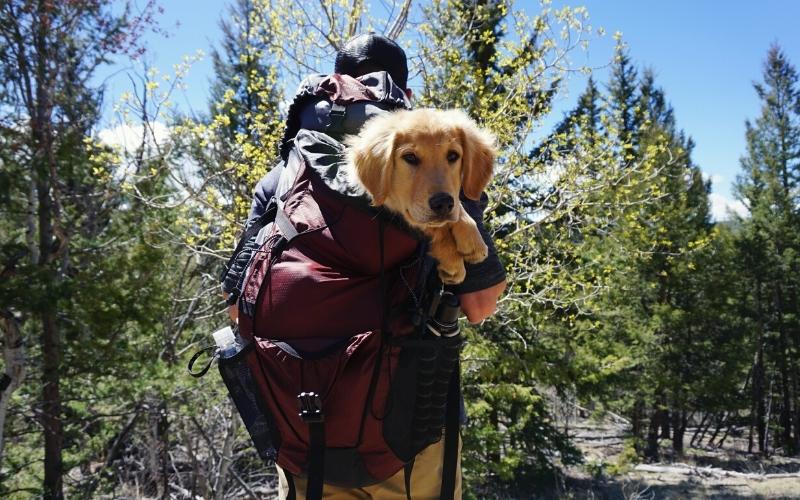 9. Respect Wildlife
Wherever you plan on backpacking, the chances are there'll be a variety of critters that you and your dog won't want to mess with. There is, however, a far greater chance of there being a variety of critters that don't want either of you to mess with them.
Again, much of the following advice comes down to basic common sense:
Use a leash when passing livestock, particularly sheep
Invest in a bear bell that will alert bears (and other animals) to your dog's presence
Don't let your pup run free if they have a habit of chasing deer, rabbits, birds, or other small animals
Steer clear of areas where restrictions apply for nesting season, lambing season, and so on
10. Respect Other Trail Users
Believe it or not, there are a few peeps out there who are not "dog people".
Don't let your dog run towards or jump up on fellow hikers. Even if you know your dog is friendly and a non-biter, they don't.
Keep your pup on a tight leash on multi-use trails. If mountain bikers, trail runners, or are coming downhill, they likely won't have time or space to brake or change course before a collision with a long leash that stretches across the width of the trail. If you encounter horses, give them plenty of room to pass.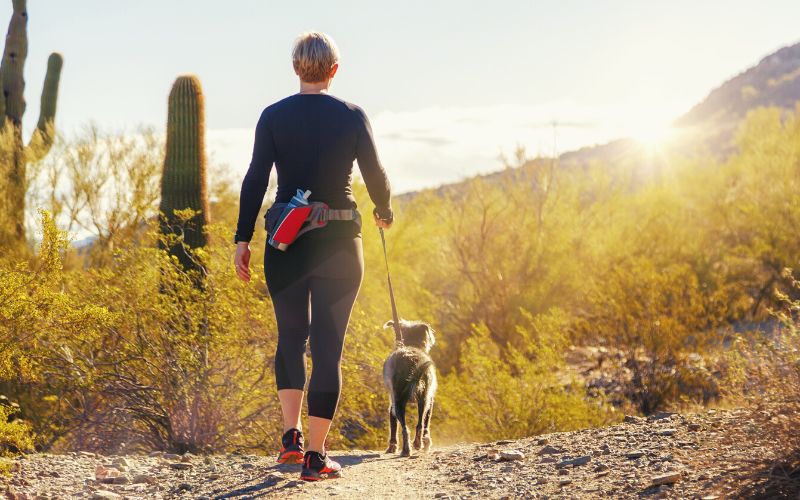 11. Leave No Trace
Here's the bottom line: dog poop is no different from human poop and, as such, should be treated in the same way when out on the trails.
This means carrying plenty of poop bags and carrying your dog's poop with you to the next safe disposal point, no matter how many miles down the trail that may be. It sucks carrying a literal load of crap, of course, but the alternative could be far suckier for fellow trail-goers and resident wildlife.
In some areas, local restrictions still allow you to dig a cathole to bury poop, whether human or canine. Check before leaving and bring a portable shovel if interring your turds is within the letter of the law.
Disposing of your dog's waste appropriately is important for several reasons.
First, it prevents pollution of nearby water sources that might be used by humans and wildlife alike. Secondly, it ensures subsequent hikers' experience isn't spoiled by "poofoot" or the simple affront of encountering an unsightly pile of poop in an otherwise unspoiled environment.
Most importantly, it also reduces the risk of authorities making dog-friendly trails humans-only in future.
Finally, don't leave poop bags in situ along trails. While you may plan to pick them up on the way back, they're sure to detract from others' experience in the meantime.
Glad's Earth-Friendly Dog Waste Bags do a great job of concealing both the sight and smell of dog waste making them our top choice for picking up after Fido in the backcountry.
12. Protect Your Dog's Paws
If you take your dog hiking on well-maintained and smooth trails, their paws are unlikely to suffer. However, on paved trails, hot sand, sharp rocks, or abrasive terrain (we're thinking talus, scree, sharp limestone, or volcanic rock), your canine companion might damage the skin of the pads of their paws or develop blisters.
The solution? Kit your canine out with a pair of cool dog booties to protect their paw pads. There are countless options available, but we're big fans of the Ruffwear Grip Trex and HCPet Booties.
13. Hazard Awareness
Broadly speaking, there are two types of hazards you might encounter: subjective hazards and objective hazards.
Subjective factors are those over which we have some element of control (i.e. failure to use a leash, the decision to turn back, failure to treat water, etc.). Objective hazards are those inherent to the terrain (i.e. the presence of dangerous wildlife, steep drops, rough terrain, etc.).
While we've made the above distinction, the most important thing to note is that you always have some element of control, even where there are potential hazards inherent to the terrain.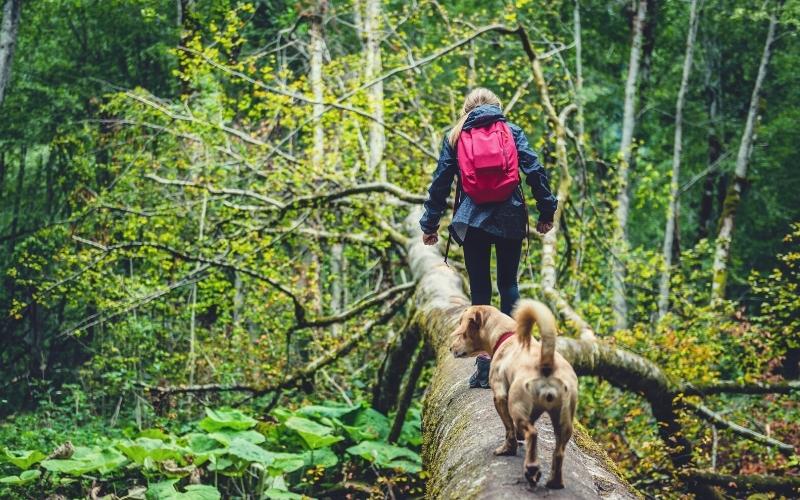 Before you set off on your trip, there are several things you can do to mitigate risk.
Let's start with the subjective hazards.
Firstly, make sure all of your gear is in good condition – this includes your leash, collar, tent, and all of the other ten essentials.
Secondly, establish a turnaround time or camp time – this will help ensure you don't overextend yourselves or end up benighted in unfamiliar or suboptimal terrain.
Thirdly, tell a friend at home where you're going and when they can expect you back. If you have an accident or get lost, doing so will let them alert the relevant authorities and make it easier to find you.
And what about objective trail hazards?
These vary, of course, depending on where you are in the world. Some of those you might encounter include avalanches, rock fall, snakes, bears, ticks, moose, wildfires, steep cliffs, river crossings, and poisonous flora.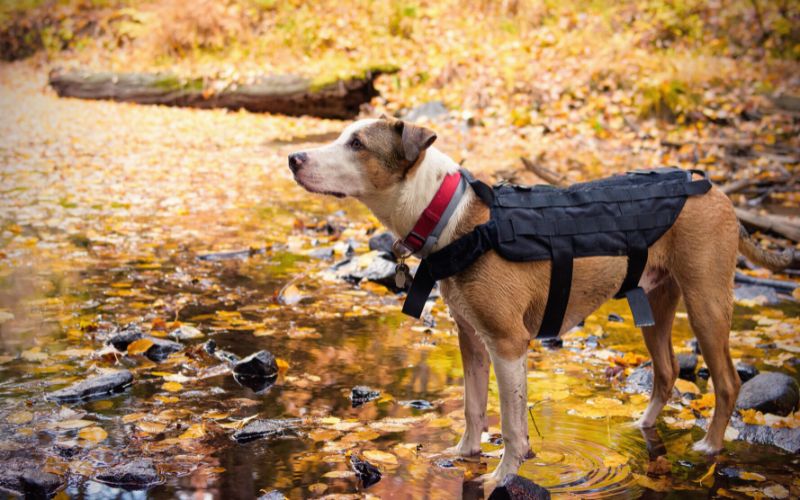 For the most part, keeping you and your dog safe from the above is a case of applying basic common sense.
As always, not letting your dog off-leash is the best strategy for avoidance. Other than this, the following tips are worth noting:
Bring a bear canister for your own food and your dog's food if hiking in bear country
Have your pup wear a bear bell to alert bears and other dangerous animals to your presence (in most cases, if they hear you, they'll scram!)
Carry bear spray where permitted
Watch your dog closely and stop them chewing anything as soon as possible
Learn how to identify poison ivy, poison oak, and sumac so you can steer well clear of them
Do a thorough check for ticks after any hike. Most dogs aren't susceptible to Lyme's disease, but the ticks could easily use your pup as a stepping stone to their human
14. Ensure Your Dog Gets Adequate Nutrition and Water
Humans and canines alike need a little more fuel in the tank to tackle hiking trails.
In addition to slightly larger regular meals, we recommend carrying a few treats that will give your pup the extra calories needed to power through the day and recover post-hike. Regular doggie treats are good during the day, while protein-rich treats like jerky are ideal for post-hike recovery.
To keep your pup hydrated, invest in a portable water bowl like the MalsiPree Dog Water Bottle and try to ensure they drink only from this. Before serving up their H2O, be sure to filter water through a filter to eliminate water-borne illnesses like Giardia and Crypto, or treat water with purification tablets.
15. Trim!
Canine claws can do serious damage to your gear, whether it be your tent floor, sleeping pad, sleeping bag, rain fly, or those delicate mesh walls of your tent. To avoid lengthy in-field repairs (and to save yourself a fortune!) give your pup's nails a good trim before any hiking trip.
16. Have Fun!
If there's one "golden rule" for backpacking with a dog, this is it! After all the hard work you've put into prepping, planning, packing, and training, be sure to let your hair down, safe in the knowledge that you've done all you can to ensure you and your pup stay safe and healthy on your adventure.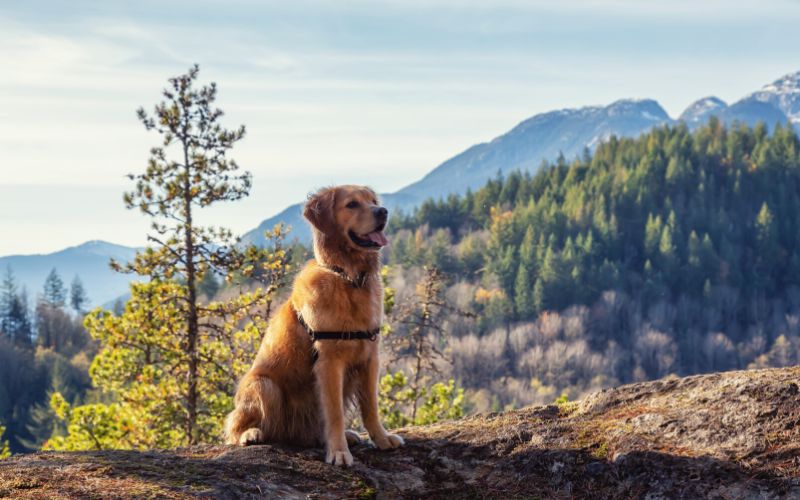 Backpacking with a Dog: Happy Adventures!
We hope the above tips are helpful and make it easier for you to get the first of many fun, safe, and happy human-and-hound backpacking adventures underway!
If you liked this post or have any questions, drop us a line in the comments box below. And if you'd like to share it with your friends, please do!