Beach Camping Checklist: Gear Guide and Must-Know Tips
Looking for info on beach camping essentials? 
You're in the right place! In this guide, we will be covering the following:
Detailed beach camping packing list
How to prepare for a beach camping adventure
Further tips for a fun and relaxing trip
Why the essentials for beach camping are different than for regular camping
Think beach camping gear is the same as regular camping gear? Think again! While there are some overlaps and many of the main items remain the same, good beach gear is always a little bit different from the stuff we use inland. A dialed-in beach camping gear list will also include several items that have no place on a regular camping checklist.
Ready to find out what those differences are, what extra gear items you'll need, and how you can tweak your camping checklist to make it more beach-specific? Read on – our list of camping essentials for the beach has you covered!
Beach Camping: Must-Have Items, Planning, and Further Tips
Beach Camping: Essential Gear
Beach-Worthy Tent
Is there a difference between a beach camping tent and a regular tent? The short answer: hell yeah!
The longer answer:
Regular tents are designed primarily to withstand the elements and place an emphasis on blocking out the rain. They're also made with heavy-duty fabrics that can stand up to the harsher conditions encountered in backcountry locations.
Beach tents, on the other hand, place an emphasis on windproofing and UV resistance and are generally made from more lightweight fabrics.
All this means three things. First, beach tents won't offer the same wet-weather resistance as regular tents – well worth nothing if you're heading on holiday with an iffy forecast. Secondly, beach tents are far more affordable than their backcountry cousins. Thirdly, any beach tent you buy won't withstand the same abuse as a regular tent, so extra care is needed.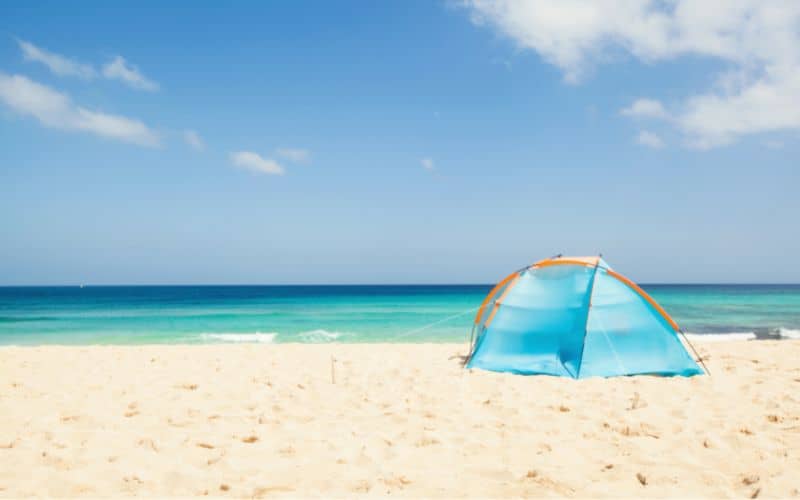 Tarp or Ground Cover
A tarp is a useful item on any camping trip, but it's a beach camping essential. When spending nights on the sand, a tarp can have many uses. You can use it as a wind block, sunshade, or doormat to prevent sand from getting inside your tent entrance. If your tent's floor is on the thin side, you can also use the tarp to protect the fabric (sand can degrade the fiber over time).
Our favorite tarp is the Stansport Ground Tarp, an oversized tarp with reinforced grommets to use with tie-down points.
Tent Stakes
Here we find a great example of the difference between good regular camping gear and good beach camping gear.
Regular tent stakes take the form of spiked aluminum or steel pegs that easily grip solid ground. While these have great holding power in dirt, they have next to none in sand.
The tent stakes you need for your beach campsite are much wider affairs with a larger surface area that grips better in the sand. Our favorites are the Tesorrio Stakes.
If you don't feel like splashing out on fancy stakes, you can buy or make your own "sand anchors".
Making DIY sand anchors is a cinch. One way to do this is to hitch old socks to your tent loops with a cord and then fill them with sand to weigh them down. Or you can be more elaborate and sew 2 loops of cord to a sheet of fabric, attaching one end of each loop to the four corners of the sheet. When done, fill the sheet with sand and attach the loops to your tent loops or guylines with a carabiner or hitch. Easy!
Sleeping Bags
Camping by the ocean or a lake usually means camping in more humid conditions, and in humid conditions, the best sleeping bags are those that have a synthetic fill.
The reason for this is that synthetic-fill bags retain most of their insulating capacity even when damp – which isn't the case with bags filled with down unless you happen to buy a bag with (very pricey) hydrophobic down.
Our favorite lightweight sleeping bag for beach camping? The REI Zephyr 25 comes in mens, womens, and kids sizes!
Pillows
You have two options when it comes to supporting your noggin' while in the land of nod: a store-bought camping pillow or a DIY pillow made with a stuff sack filled with soft clothing.
When camping on the beach, we recommend wrapping whichever of these you choose in a t-shirt to prevent any stray sand from grating your head or cheek while you sleep.
Sleeping Pad
Sand makes for a lumpy sleeping surface. Do your back and bones a favor and bring along an inflatable or foam sleeping pad.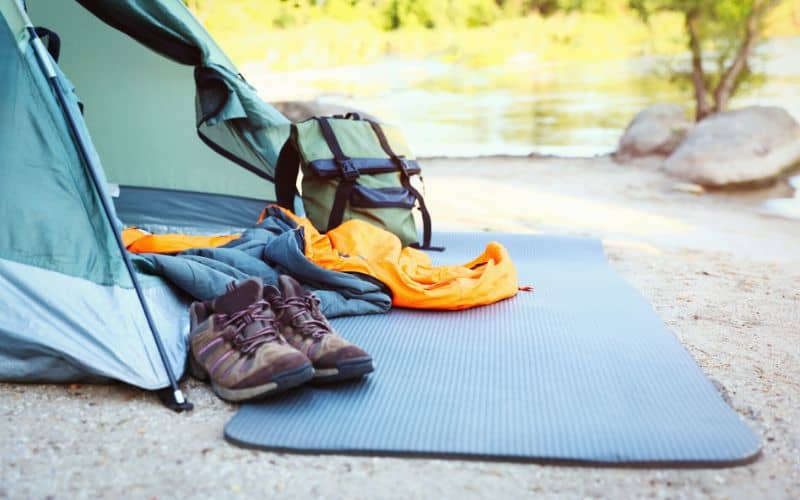 Illumination: Lantern, Flashlight, or Headlamp
Time to get technical. All lanterns, lamps, and flashlights have an IPX rating. The IPX rating system is used to determine how resistant products are to environmental conditions, such as rain, dust, and – you guessed it – sand.
The ratings display two numbers after the IP part. The first number (1-6) reveals how resistant the product is to solids like sand and dirt; the second number (1-9) reveals how resistant it is to liquids. Because there's a good chance of your light source coming into contact with both on any beach camping trip, we recommend buying a product with a minimum rating of IP47.
Our recommendation? The Black Diamond Storm 400 (IP67).
For reference, the iPhone 13 Pro has an IP68 rating, which means it's all but invulnerable to solids and can withstand being submerged in water.
Matches or lighter
As mentioned above, humidity is often high when you camp near large bodies of water like oceans or lakes. As such, we recommend bringing either waterproof matches or a lighter for cooking or starting your campfire.
Stove
Those morning coffees and evening meals aren't going to brew or cook themselves! Unless you plan on cooking or boiling water on your campfire, then we recommend bringing along a portable camp stove for all your cooking and caffeine-related needs.
Hammock
Few things are quite so relaxing as chilling in a hammock and listening to the crashing waves on a trip to the ocean. Hammocks are also multifunctional. You can use them as a makeshift swing for the kids, a chair for couples, or even in place of a tent. The downside, of course, is that you'll need two sturdy trees or a hammock stand to hang them from…
Want a hammock for your next beach camping trip? Check out this guide to the best hammocks out there!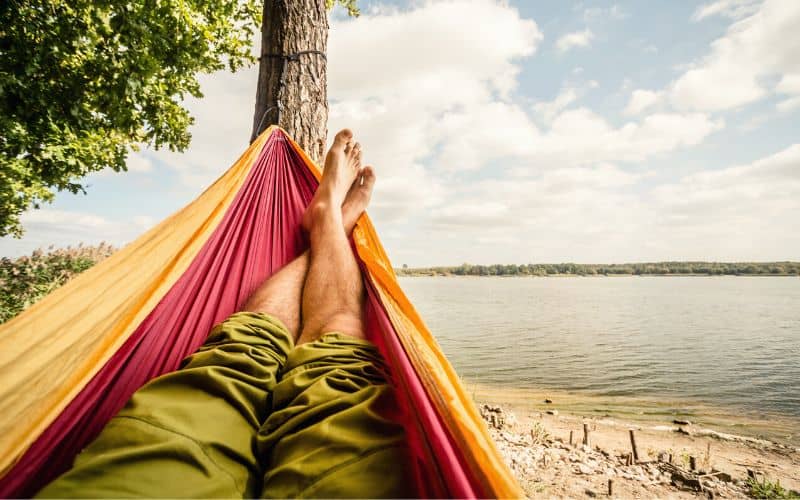 Portable Camp Shower or Solar Shower
Sea salt, sand, suncream, ice cream… you name it! When beach camping, we're every bit as likely to end the day a little more dirty and sticky as compared to when we camp in the wilds. A dip in the lake or ocean might help, granted, but nothing beats a good shower to make you feel fresh.
Luckily, there are plenty of great camp showers out there. And if you're worried about peeping Toms or inadvertently exposing yourself to passersby, grab a shower tent to preserve your modesty!
Towels
Regular towels are an option if you're car camping and don't mind the extra bulk and weight. If you want to save weight and space, however, we recommend bringing a few microfiber towels. These aren't just lightweight and far more packable, but will also dry much quicker.
Portable Fire Pit
Making a regular campfire on the beach can be tricky. Often any driftwood you find will be damp or covered in sand, so won't burn as well as dry wood. Building a regular campfire in the sand also, of course, is sure to leave a mess and certain areas may have restrictions on building them.
You can get around this by bringing a portable fire pit along with your own wood and kindling – just make sure to use it above the high tide line and clean up when you're done!
Baby Powder
All that sand and salt water coming into contact with your body could easily lead to chafing and rashes. At the end of each day, take a quick shower and dust yourself down with some baby powder in chafe-prone areas.
Sunshade or Pop-Up Canopy
On bluebird days, you'll want to spend at least a few hours in the shade to ensure you avoid sunburn and overheating. In addition to wearing UV-resistant clothing, a sunhat, and sunscreen, it's a good idea to bring along a pop-up canopy to create a little "timeout" zone you can (literally) chill in from time to time.
Beach Umbrella and Sand Anchor
If you don't want to splurge on a canopy, a beach umbrella is another way to create a little bit of much-needed shade. Just be sure to attach it to a good sand anchor so it doesn't end up in a different ZIP code when the wind gets up.
Blanket
Laying or sitting in the sand is a surefire way to invite it into every nook, cranny, and crevice in your body. To save yourself this discomfort, bring along an oversized blanket to provide a sand-free and smoother surface for lounging.
Camping Chairs
Some of us just prefer a good seat that lifts us up above the sand. If this applies to you, check out our favorite camp chairs.
UV-Resistant Clothing
Got the sunscreen? Got the canopy? Got the sunhat? Great! Now it's time to add your first line of defense – UV-resistant clothing. All clothing offers some degree of UV resistance, but certain products are specially designed to keep you safe from the sun's UV rays.
The UV resistance of clothing is quantified using the UPF (Ultraviolet Protection Factor) rating system, which evaluates any fabric's ability to block out the sun's damaging UVA and UVB rays on a scale of 1-50+.
Ideally, you should look for a UPF rating of 40 to 50+ for the summer months. If a product has a UPF rating of 40, it will block about 98 percent of UV radiation, while those with a rating of 50+ block about 99 percent.
Sunhat and/or Sunglasses
Last but not least in your sun-protection armory are two must-have accessories. A good sunhat won't set you back too much, and could save you from headaches, heatstroke, sunstroke, and sunburn – no matter how much you pay, that's a good return on investment! Ditto for sunglasses, which will protect your eyes against UV damage and ward off headaches.
Water Bottles
Staying hydrated on the beach isn't easy, especially if you camp in an area far from civilization or places where you can't buy bottled water. You could, of course, just cart along gallon jugs of the stuff, but we'd only recommend doing so if you're a fan of lukewarm liquids and don't mind running the risk of spillage either en route or at camp.
Prefer to enjoy cool drinks and avoid leaks? If so, we recommend an insulated water bottle like a Hydro Flask or a good Hydro Flask alternative.
Snacks and Drinks
Do you really need to change your diet for beach camping? While changing it entirely is unnecessary, there are a few tweaks we'd recommend.
First up, you want food that won't melt. Good options include raspberries, pretzels, homemade trail mix, and celery with nut butter.
Secondly, you want food that hydrates. Cucumbers, celery, tomatoes, watermelon, peaches, and strawberries all fit the bill.
Thirdly, bring one-pot meals for dinner time and paper plates. This will reduce any hassle when cleaning up and reduce the risk of sand getting into your food when prepping and serving.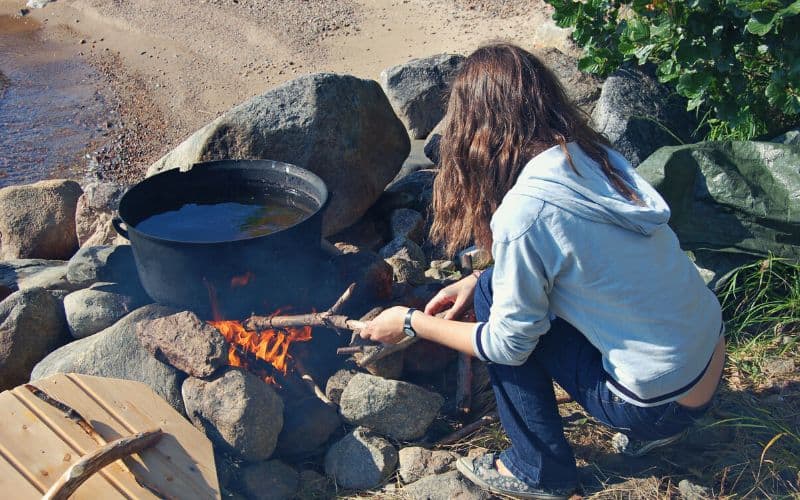 Finally, drinks. It goes without saying that you'll need plenty of water to replenish all the fluid you'll be sweating out, and you should avoid diuretics like alcohol, tea, and coffee. If you're looking for something a little more flavorful than boring ol' H2O, we recommend coconut water or non-alcoholic DIY tipples like gooseberry and mint lemonade or a piña colada mocktail.
Camping Cooler
A good camp cooler allows you to keep your drinks and food cooler for longer, not to mention sand-free. To get the most out of your cooler, pack it using a 2:1 ratio of ice to contents. Also, be sure to store it under a towel or picnic table to keep it out of the sun and reduce the rate at which the ice melts. Enjoy those ice-cold drinks!
Dry Bags
Dry bags are a great way to not only keep your kit dry but also to prevent it from getting all sandy. We recommend bringing a variety of sizes. The five-piece Frelaxy Dry Bag Bundle is a good option.
Biodegradable Soap
Biodegradable soap isn't only environmentally friendly but, unlike your regular shower gel, can be used to clean dishes and clothes, wash your body and hair, and as hand sanitizer or shaving cream.
Toiletries & First Aid Kit
The most essential items you'll need include:
Bug spray
Sunscreen
After-Sun Lotion
Body wipes
Toilet paper
Paper towels
Biodegradable shampoo and soap
Toothbrush and toothpaste
Hand sanitizer
Feminine hygiene products
Beach Clothing
Unless you're heading to a nudist beach, here are some clothing items you might want to bring along:
Swimsuit
Shorts
T-shirts
Underwear
UV-resistant long-sleeved shirt and pants
Sunhat
Hiking shoes
Socks
Lightweight jacket or sweater
Pajamas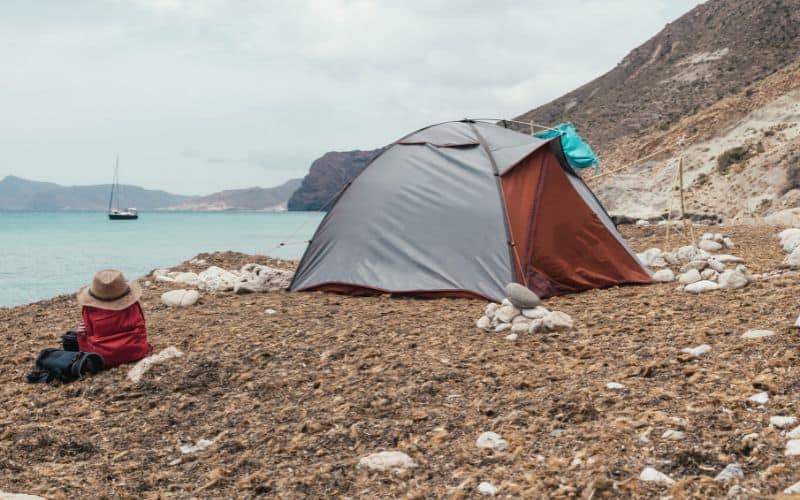 Beach Camping: Fun and Games Checklist
There are myriad ways to have fun when camping lakeside or by the ocean. To help you pack and give you some inspiration, we've made a quick list of some of the gear you might want to bring along for the whole family:
Beach balls
Bucket and spade for sand castle construction
Frisbee or boomerang
Football or soccer ball
Volleyball and net
Surfboard or boogie board
Swimming goggles or snorkel
Kayak, canoe, or paddleboard
Hiking gear
Fishing gear
Beach Camping Tips
Choose Your Location: Do a little research before finalizing your plans to make sure it's legal to camp at your intended destination, what facilities or amenities are nearby, and how far you'll have to walk between your vehicle and campsite.
Bring a Sled: If that walk turns out to be on the long side, we recommend bringing a sled to transport your gear – hiking in sand is no fun, least of all with a heavy backpack on.
/image
Check the Weather and Tide Forecasts: Beaches are often wide-open expanses that are exposed to strong winds, driving rain, and lightning. As such, it's a good idea to check the weather forecast both before leaving home and regularly throughout your trip.
Unless you happen to have a seaworthy tent, we also recommend checking the tide forecasts to ensure you won't be getting swept away by the waves while you sleep. You can do this by downloading a free tide tracker app like My Tide Times, Tides Near Me, or NOAA Tide Alert
Bring a Bucket: In addition to the obligatory sandcastle bucket, we advise bringing another to leave at the door of your tent along with a few extra towels. This way, everyone will be able to clean and dry their feet before entering and minimize the amount of sand inside.
Stay Off the Sand Dunes
Sand dunes are fragile ecosystems, and walking on them can damage the (often endangered) plants and wildlife that call them home. It's generally a good idea to stay off sand dunes and enjoy them from a distance to help protect these delicate environments.
LNT!: Leave your campsite clean and pack out all of your trash.
Have Fun!: Enjoy yourself and make the most of the beauty of those beaches!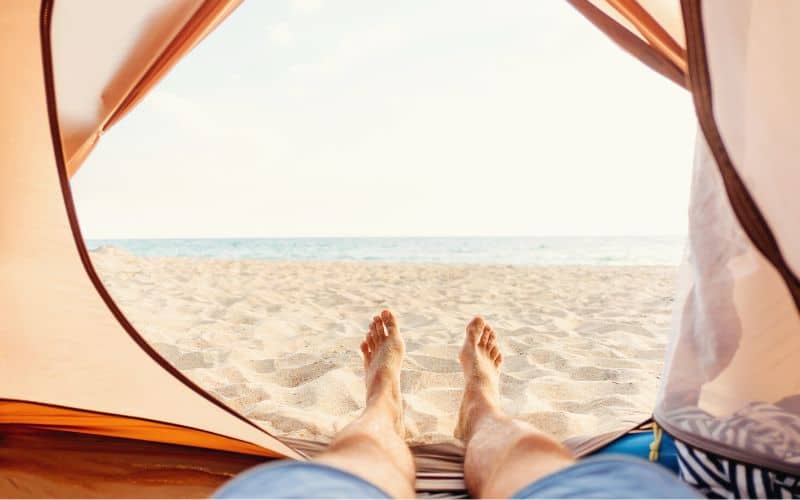 Happy Camping!
The beach awaits! We hope this guide has given you all the information and inspiration you need to enjoy a fun, safe, and memorable trip on the shores of whatever lake or ocean you're heading to.
When you get back, we'd love to hear about your trip. Let us know all about it in the comments box below. And if you'd like to share this post with your friends, please do!