Tents that sleep 5 campers fill an important gap between less portable, pricier six-person models and pokier four-person options. While ideal for five-person families or groups of friends, one of the main benefits of these tents is their versatility, with most being both roomy and light enough to work as a "quiver of one" shelter for both car camping and backpacking.
We've been busy testing a slew of options in a bid to find the best model out there, and below we'll reveal the results! We've chosen seven of our favorites, creating a pool of high-performing candidates that cater to various budgets and needs.
If you're unsure which tent will be best for you, scroll down to the bottom of the page, where you'll find plenty of buying advice to help you choose.
Top Choices by Category
Budget: Eureka Tetragon NX 5 and ALPS Mountaineering Meramac 5
Cabin: Vango Airbeam Odyssey Air and Browning Camping Big Horn
Dome: ALPS Mountaineering Taurus 5-Person
Waterproof: ALPS Mountaineering Taurus 5-Person and Vango Airbeam Odyssey Air
Editor's Choice
ALPS Mountaineering Taurus
In our pursuit of the best tent for 5 people, we sought a shelter that is durable, waterproof, airy enough for the hot summer months, light enough for backpacking, and liveable enough for longer-term car camping on family vacations. This, folks, is the ALPS Mountaineering Taurus in a nutshell.
Despite weighing a mere 13 lbs. 5 oz., the Taurus has an 80-square-foot interior and an extra 32 square feet of space in the vestibules. The addition of a gear loft and multiple mesh pockets also means that all of that space is usable, which gives a serious boost to liveability.
Whatever kind of weather you find yourself camping in, the Taurus has you covered. Its 1,500 mm, full-coverage rainfly provides enough protection for outings in gnarly 3-season conditions, and its double-doored design, mesh ceiling, and floor vents ensure there's ample airflow when temps are high.
Bottom Line: A tough, lightweight, spacious 5-person camping tent that performs better than its closest competitors in all weather conditions.
At a Glance: Quick Recommendations
Best 5-Person Tent: Our Top 7 Picks
ALPS Mountaineering Taurus
Editor's Choice
Size: 80 sq. ft. (plus 32 sq. ft. vestibule) ⸱ Peak Height: 71" ⸱ Weight: 13 lbs. 5 oz.
If you're in the market for a 5-person tent that's roomy enough for family car camping trips, light enough for backpacking, and a solid performer in all weather conditions, the Taurus from ALPS Mountaineering is the tent for you.
The Taurus ticks every box, but let's start with the most important ones: livability, waterproofing, and portability.
This dome-shaped tent offers a generous 80 square feet of interior space that's complemented by a whopping 32 square feet of vestibule space. The vestibules don't only provide a handy place to change in and out of outdoor clothing and shoes but also free up living space by letting you store your gear outside the sleeping area.
Even if it's far from the tallest model on our list, the Taurus' 71-inch peak height also makes it comfortable for campers under 6 feet tall.
One of the Taurus' main selling points is its performance in wet weather. It's the only tent on our list with a full-coverage rainfly – and one that's rated to a mighty 1,500 mm HH at that. While this makes it suitable for three-season, all-weather camping, its two doors, air vents, and mesh canopy all make it a standout in hot and humid conditions.
The Taurus is also one of the most portable models on our list. At 13 lbs. 5 oz. and with a packed size of just 9" x 25", it could feasibly be used as a backpacking tent if split between two or three carriers.
As for features, the Taurus covers the most important bases. There are two doors, two vents, a gear loft, and a couple of mesh storage pockets, which is more than you typically get from other tents in this weight class.
PROs

Roomy
Plenty of vestibule space
Waterproof
Lightweight
Easy setup
Quality aluminium poles

CONs
Bottom-Line: A well-made, waterproof, roomy tent that's built for three-season adventuring and is suitable for both car camping and shorter backpacking trips.
Browning Camping Big Horn
Runner Up
Size: 80 sq. ft. ⸱ Peak Height: 84" ⸱ Weight: 21 lbs.
If interior space, waterproofing, and durability happen to be high on your list of priorities, the Browning Big Horn is well worth a place on your shortlist.
Despite a few shortcomings, this is, in a few words, one of the best family camping tents out there. It doesn't have any vestibules, is too heavy to consider for backpacking, and has only one door, but in every other metric it leaves most tents in its price range decidedly in the shade.
Steel uprights and crisscrossing fiberglass horizontal tent poles make the Big Horn more stable and solid than most other cabin tents. Its 75 D polyester rainfly and 150D poly oxford tent floor also make it one of the burliest and most durable on our list, while its 2,000 mm HH flooring and fly mean it's a standout in wet weather.
Given there are other tough and waterproof tents on our list, you probably want to know why you might choose this one ahead of other tents.
The answer? Livability.
The Big Horn offers similar interior space to the ALPS Taurus and Eureka Tetragon, but its steep walls mean that it has significantly more usable space. In addition, its 84-inch center height means even tall campers can walk around inside without hunching, while the enormous front door makes for easy entry/exit.
A few other nice features put the icing on the cake. These include 4 large windows that partially make up for the absence of a second door, a large mesh storage shelf, and a pretty unique pole hub design that makes setup breezy for such a large camping tent.
PROs

Tough, durable materials
Large door (but only one of them)
Practical carry bag
Highly liveable
Four windows

CONs

No vestibules
Too heavy for backpacking
Bottom-Line: Durable, roomy, and one of the best car camping tents out there.
MOON LENCE Instant
Best Instant
Size: 75 sq. ft. ⸱ Peak Height: 49.2" ⸱ Weight: 10.8 lbs.
If you're looking for a user-friendly, frill-free, budget camping tent for good-weather camping trips, the Moon Lence Instant Pop-Up is well worth considering.
The Moon Lence ranks highest on our list in three metrics. Weighing just 10.8 pounds, it is the lightest of all the tents we reviewed. Its friendly price tag also means it's the cheapest. And its pop-up design also makes it the easiest and quickest to pitch.
In terms of features, the Moon Lence also covers all the main bases. You get two doors, a couple of low vents to boost airflow, and a pair of mesh pockets on the walls.
There are, however, a few caveats worth mentioning.
Despite its light weight, this isn't one you'd want to take backpacking. Its materials are far less rugged and waterproof than tents like the ALPS Taurus or Eureka Tetragon. And owing to its one-piece, pre-attached design, the weight of the shelter can't be divided between multiple carriers, so one unlucky camper would be lumped with the whole 10 pounds (minus peg weight).
It's also worth noting that the Moon Lence provides less living space than most of the competition (75 sq. ft.) and has no vestibules for gear storage.
PROs

Instant setup
Good ventilation
Sturdy
Two large doors

CONs

Low peak height
Less durable than others
A tight squeeze for 5
Bottom-Line: A basic, low-cost tent with a few shortcomings but a good option for infrequent campers nonetheless.
Eureka Tetragon NX 5-Person
Best Value
Size: 81 sq. ft. ⸱ Peak Height: 72" ⸱ Weight: 12 lbs. 6.4 oz.
Looking for an affordable, simple, solid tent for family camping trips? If so, the Eureka Tetragon is a great pick.
The Tetragon isn't a standout in any particular metric but performs well across the board. It's relatively light, waterproof enough for inclement weather, fairly roomy, easy to pitch, and boasts a few interior storage features that help to make up for its lack of vestibules.
The Tetragon offers 81 square feet of living space and boasts a peak height of 72 inches. While these figures make it one of the roomier tents we reviewed on paper, its dome-style design does mean there's a lot of unusable space towards the edges. The bottom line is that it's comfortable for four adult sleepers but a tight squeeze for five.
Like most budget camping tents, the Tetragon uses slightly lower-quality materials than those used in other tents on our list, but this is to be expected in this price range. At any rate, its fiberglass poles and 63D polyester taffeta fabric are durable enough to last several years with appropriate care and handling.
The Tetragon is a solid performer in both warm and wet weather. Its 1,500 mm rainfly and waterproof base will keep you dry in heavy rain and its mesh walls and windows provide ample airflow when conditions are hot and humid.
There are no vestibules, but inside you have a large gear hammock, mesh storage pockets, and clear media pockets that let you and the family view and control media devices from the comfort of your sleeping pads.
PROs

Affordable
Easy setup
Gear loft and media-viewing pockets
Decent center height

CONs

Fiberglass poles
Dome-style design makes it a tight squeeze for 5
Only one door
Flimsier tent fabric
Bottom-Line: A little short on sleeping space but otherwise a solid option if you're looking for an affordable family tent for two adults plus two or three smaller kids.
Vango Airbeam Odyssey Air 500 Car Camping Tent
Best Air Tent
Size: 140 sq. ft. (including screen room) ⸱ Peak Height: 82.7" ⸱ Weight: 39 lbs.
All of the tents we've introduced you to thus far have offered enough space for comfortable short-term stays in the backcountry, but the Vango Airbeam is the kind of shelter you could happily spend a month in.
That's high praise, we know, but the following will hopefully show that it's merited.
As you might have guessed from the name, the Airbeam Odyssey boasts a pole-free design, substituting regular poles with inflatable tubular beams that are integrated into the tent itself.
Inflatable tents are often shunned by old-school purists, but they have many benefits. They're quick and easy to pitch, there's no chance of losing, breaking, or forgetting your poles, they're easy to repair, and they're generally – and especially in the case of the Odyssey – solid in bad weather.
All of this aside, there are numerous reasons why the Odyssey is one of the best camping tents in the business.
For starters, this is an incredibly spacious tent. In addition to its 73-square foot sleeping area, there's a 67-square foot screen room that can easily be converted into another "bedroom" for further sleepers. If not, it's a great place for gear storage and bug-free lounging. On top of this, a small front awning provides further sheltered space where you can leave your dirty shoes.
In wet weather, the Odyssey is a standout, so much so that we'd be happy to use it in even heinous three-season conditions or for winter camping in more temperate but wet climates.
Other lovable features include high and low air vents, an expandable carry bag, interior pockets, and huge, clear windows in the screen room.
PROs

Pole-free!
Highly waterproof
Large doors
Room divider
Huge screen room (big enough for a queen-sized air mattress!)
Ample storage pockets
Dark-room technology in sleeping area

CONs
Bottom-Line: Probably the best camping tent out there for haters of poles and lovers of personal space.
OzTent 30 Second Expedition RV 5
Best for Tailgating & Overlanding
Size: 72 sq. ft. ⸱ Peak Height: 75" ⸱ Weight: 53.7 lbs.
This wild-card entry on our list is a good pick for car-camping families who are happy to splash the cash for a little bit of luxury.
This cabin-style tent oozes quality from every inch. It's made with extra-durable, waterproof, ripstop canvas fabric, burly aluminum poles, and a heavy-duty, heat-sealed PVC floor. All of this makes it one of the toughest tents on the market and sure to last at least a lifetime with appropriate care and maintenance.
What impressed us most about the OzTent is its versatility. Its modular design allows you to set it up in various ways, whether attached to your RV or not. And whichever way you choose to pitch it, this is an incredibly liveable shelter. In addition to 72 square feet of space inside, a huge extendable awning gives you as much room again for al fresco lounging or gear storage.
Despite its size and hefty weight (53.7 lbs.), the OzTent has another trick up its sleeve that's sure to endear – namely, its unique frame design. This design allows the shelter to be set up in just 30 seconds by just one person. This would be impressive in a far smaller shelter, so in one of this size it's kinda staggering.
The OzTent is pricey, sure, but if you're unwilling to settle for anything less than the best of the best, your search can end here.
PROs

8 oz. ripstop polycotton canvas fabric
Ample space for five
Incredibly versatile
Fully waterproof
2-year warranty
Huge awning

CONs

Not the most affordable tent out there!
Bottom-Line: A pricey but palatial deal for long-stay car campers and overlanders alike.
ALPS Mountaineering Meramac 5 ZF
Best Budget
Size: 80 sq. ft. ⸱ Peak Height: 72" ⸱ Weight: 14 lbs. 10 oz.
For summer camping trips with your family or a group of friends, you can't go wrong with the ALPS Mountaineering Meramac.
This is the second cheapest option on our list, after the Moon Lence Instant, but does everything you need a two-season shelter to do.
This dome tent boasts 80 square feet of interior space and has a peak height of 72 inches, so is on par with other dome tents like the Eureka Tetragon and ALPS Taurus. While the sharp wall curvature of the dome-style design does make it a tight squeeze for five adults to move around in, this is more than adequate for sleeping.
The Meramac isn't designed for three-season camping, but its partial-coverage, 1,500mm rainfly, and water-resistant body will keep you dry in moderate rainfall. This design also proves to be a boon to breathability, with the mesh canopy covered by the fly boosting the airflow provided by its two large, mesh-lined doorways.
For such a cheap tent, the Meramac is also pretty durable. It's made with thick, 75D fabric, and while its poles are made from fiberglass, these are chunky enough to last if handled properly in transport.
PROs

Great in warm weather
Easy to pitch
High-quality materials for the price
Mesh storage pockets and gear loft

CONs

Fiberglass poles
No vestibules
Bottom-Line: An inexpensive tent that outperforms many far pricier peers in the most important metrics.
Things to Consider When Buying a 5-Person Tent
Dome, Tunnel, or Cabin Tents?
All three types have advantages and disadvantages.
Generally speaking, dome tents like the ALPS Mountaineering Taurus are the best performers in bad weather.
There are two reasons why this is the case.
Firstly, the curved walls and roof allow rainwater to run off the rain fly, thus reducing the risk of leaks. They also allow strong winds to glide over the tent instead of buffeting it.
Secondly, the geodesic configuration of most domes gives them extra structural stability, which makes them less likely to sag or collapse under heavy rain, snowfall, or in windy conditions.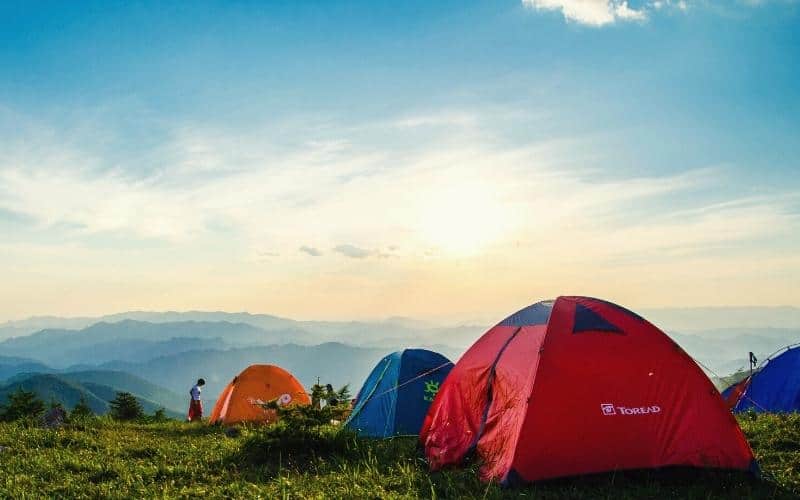 On the downside, dome-style tents are usually less roomy than tunnel or cabin-style tents because headroom decreases the further you move away from the center.
Cabin tents' boxy shape and near-vertical tent walls make them the roomiest and most livable of the bunch. Those straighter walls mean that headroom is nearly uniform from end to end, and most models have a generous center height.
On the downside, most cabin tents don't have vestibules and the vertical walls tend to reduce stability in high winds.
Tunnel tents offer, in a way, a happy medium between domes and cabins. Their steep walls make them almost as roomy as cabins but the more pronounced curvature ensures they shed rainwater more quickly and take less of a battering in strong winds.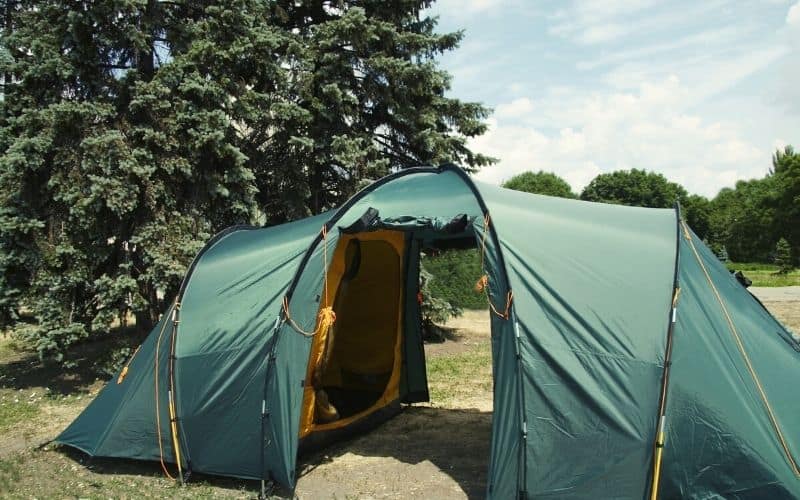 Livability: Floor Space, Peak Height, and Storage Space
How livable any tent is will depend upon several factors, but most importantly the tent's floor space, peak/center height, vestibule space, and storage features.
Your tent should provide each adult sleeper with around 14 square feet of space, which will allow enough room for a sleeping pad and some gear. An 80-square-foot model like the Browning Big Horn, then, will provide plenty of space for 6 sleepers, while a 72-square-foot model like OzTent Expedition will be a tight squeeze.
Ideally, the center height should be high enough so everyone can move around inside the tent without hunching.
The roomiest model on our list is the Eureka Tetragon NX 5-Person, which offers 81 square feet of floor space (but no vestibule). The Alps Mountaineering Taurus offers marginally less room (80 sq. ft.) but has 32 square feet of vestibule space.
The Moon Lence Instant Pop-Up has the lowest peak height on our list (49.2"), while the Browning Big Horn (84") has the highest.
Storage features also contribute to livability. This is because storing your camping gear outside or above the living area frees up space for humans. These features can include vestibules, screen rooms, gear lofts, and wall pockets.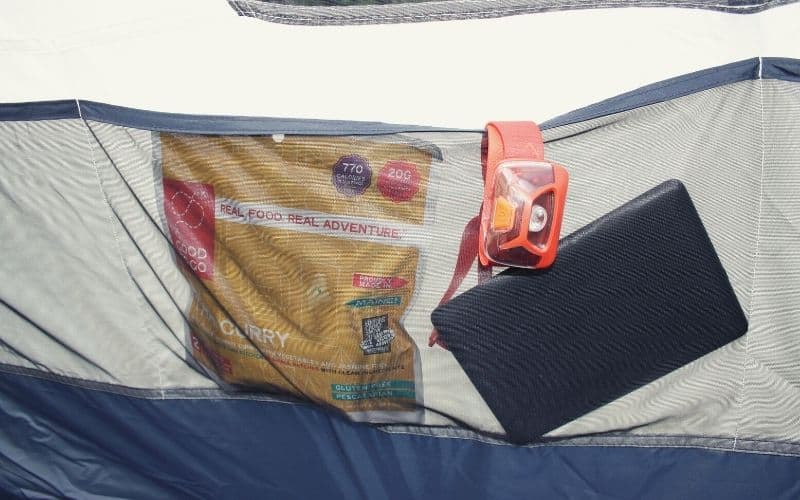 Waterproofing
This is determined principally by two things: the extent of coverage provided by the rainfly and the hydrostatic head of the rainfly fabric (and, in the case of partial-coverage flys, the inner tent body).
Rainfly Coverage
Tents with a full-coverage rainfly are the best option for camping in suboptimal weather. This is because the fly covers the entire tent body, thereby providing complete protection from the elements. In our review, only the Alps Mountaineering Taurus had a full-coverage fly.
A partial-coverage rainfly, on the other hand, leaves parts of the inner tent exposed. While this improves ventilation, it also means it is unlikely to withstand heavy rainfall. Having said that, some camping tents with a partial-coverage fly use waterproof material in the inner tent to compensate. The Vango Airbeam Odyssey is a good example of this.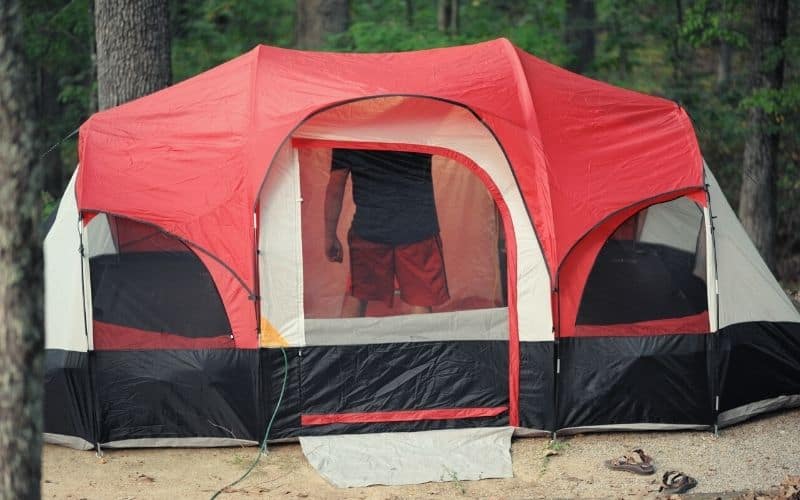 Hydrostatic Head
Hydrostatic head (HH) is the rating system used to quantify the degree of water resistance in fabrics. Measured in millimeters, it normally appears in product specifications as a number followed by 'mm' – for example, 3,000 mm, 1,500 mm, and so on – and the higher the number, the more waterproof the fabric will be.
For example, a rain fly with a HH rating of 4,000 mm, like the Vango Airbeam Odyssey, will offer superior protection than one with a HH of 1,500 mm, like the Eureka Tetragon.
Ventilation
Rain and bugs aside, the most difficult things to deal with on any camping trip are stuffiness and condensation, both of which are caused by insufficient ventilation.
Tent manufacturers incorporate features that help to mitigate this problem. These include side or floor vents, roof vents, mesh windows, and a mesh ceiling. Having two doors instead of one also helps with ventilation as this helps to keep air flowing through the tent. The ALPS Taurus, Vango Odyssey, and Moon Lence Instant all have two doors.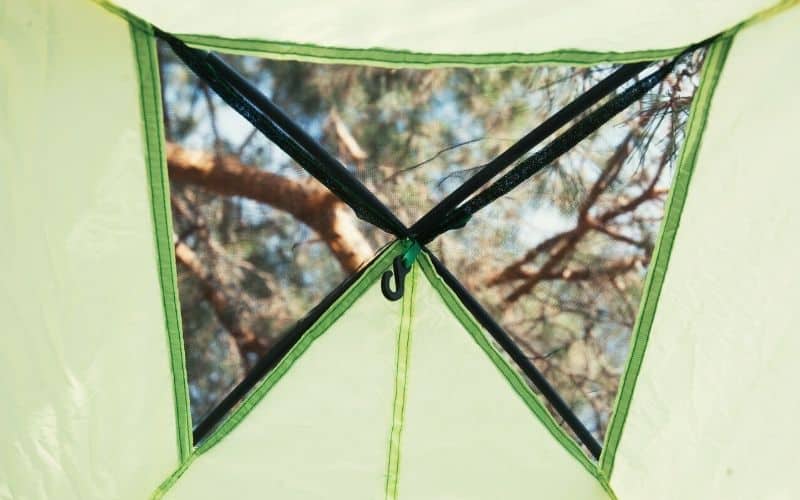 Portability: Packed Size and Weight
Packed weight and size are specifications that give you an idea of how easy or difficult a tent will be to carry. If you're backpacking or hiking longer distances before you set up camp, weight and packability should be a top priority.
In most cases, the weight of the tent can be split into three for transportation, with one carrier carrying the poles, one the fly and pegs, and one the tent body. Ideally, this will mean that nobody is carrying more than 7 or 8 pounds.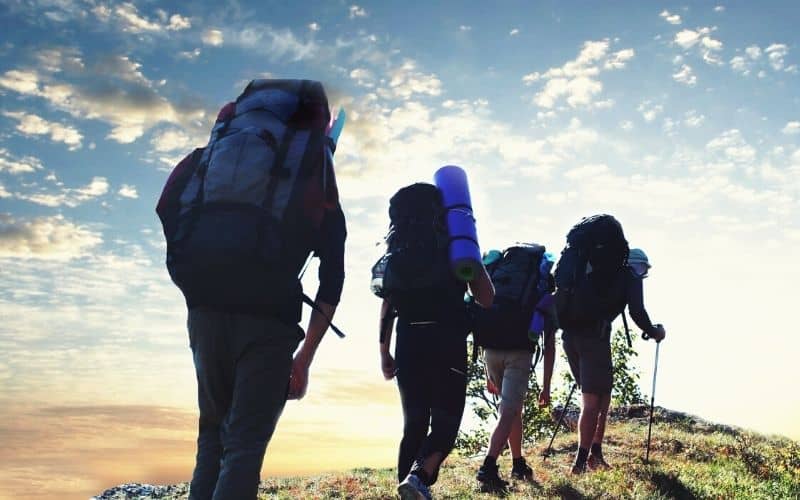 Most five-person tents aren't designed for backpacking, but there are a few models with which the above carrying scenario is feasible – the ALPS Mountaineering Taurus (13.5 lbs.), the Moon Lence Instant Pop-Up (10.8 lbs.), the Eureka Tetragon (12 lbs. 6 oz.), and the ALPS Meramac (14 lbs. 10 oz.).
If you plan on car camping, then portability isn't so much of an issue. In this case, the weight of heftier options like the Vango AirBeam and OzTent Expedition shouldn't factor into your decision unless you're averse to schlepping all that weight the few steps from your vehicle to your campsite.
Ease of Setup
The top performers in this metric are pop-up or "instant" tents like the Moon Lence Instant Pop-Up and the OzTent 30-Second Expedition (whose name kinda gives it away!). These tents use poles that are pre-attached to the fabric and a central pole hub that opens like an umbrella and "pops" into shape with the simple press of a button or by releasing a latch.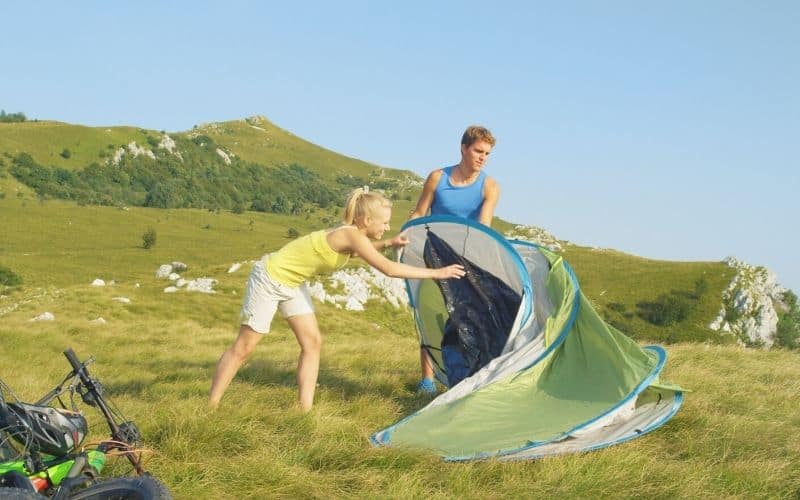 Pop-up tents aside, the quickest tents to set up are those with color-coded poles, sleeves, and clips, and a freestanding design. Color-coded poles, sleeves, and clips make it easy to figure out which poles go into which sleeves and a freestanding design means the tent won't collapse before you've staked it out and tensioned the guylines.
All bar one of the tents on our list has a freestanding design and color-coded poles. The exception is the Vango AirBeam Odyssey, an air tent that is set up via a foot pump that inflates the air-beam "poles" in around ten minutes.
Best Five-Person Tent: The Verdict
Still undecided? Just in case you are, let's have a little recap of our top picks.
Our standout favorite 5-person tent is the ALPS Mountaineering Taurus. We'd be happy to take this tent on any family or group camping adventure from spring through fall. It's waterproof, well-ventilated, roomy, and made with high-quality materials that are built to last a lifetime. The Taurus is also light enough for backpacking, so could save you serious $ on a second tent.
Looking for something cheaper? If so, we recommend taking a look at the ALPS Meramac and Eureka Tetragon NX. Both of these tents have a few small flaws but are still great picks for summer camping.
If you liked this post or have any questions, let us know in the comments box below. And if you'd like to share it with your friends, please do!