The state of Pennsylvania is filled with centuries of history and acres of natural beauty. And the best way to explore everything the Keystone State has to offer is by spending a night or two under the stars in one of the state's many beautiful campgrounds.
Don't know where to start? We're here to help!
This guide has all the info you need to pitch a tent or park an RV in the best spots in the Keystone State, including a list of the state's best camping sites, when you should visit them, and detailed descriptions of each campground.
Ready to get your PA camping adventure underway? Let's do it!
1. Moraine State Park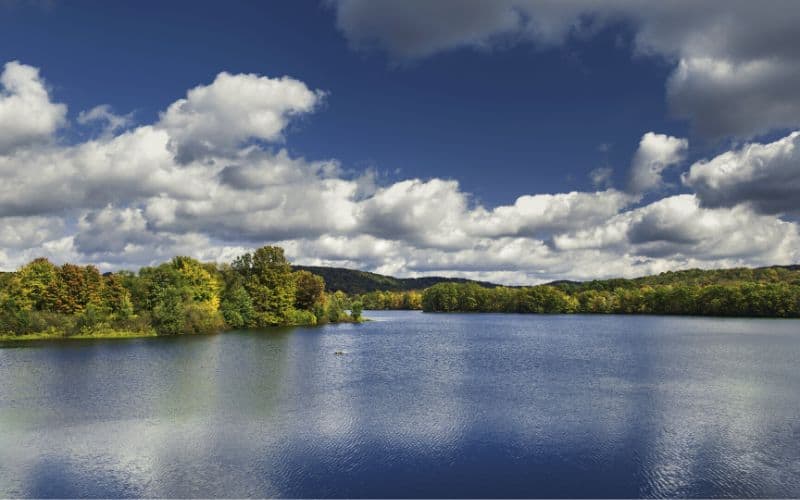 The main attraction at the 16,725-acre Moraine State Park is its giant lake, which is surrounded by gently sloping hills and lush forests. Lake Arthur covers 3,225 acres and has 42 miles of shoreline near Pittsburg.
While you wouldn't know it nowadays, this area was once the site of intensive mineral extraction, coal mining, and gas drilling. Nowadays, it attracts more than one million visitors per year who come to enjoy activities like swimming, boating, paddling, hiking, biking, horseback riding, backpacking, and picnicking.
Although tent camping is only allowed for organized groups within the state park, there are other ways to stay in the area overnight.
Those backpacking along the North Country Scenic Trail can reserve the Link Road Backpacking Shelters for the night. There are also 11 cabins available for rent throughout the year. The cabins have modern amenities and a dock on Lake Arthur in the summer.
2. Bear Run Campground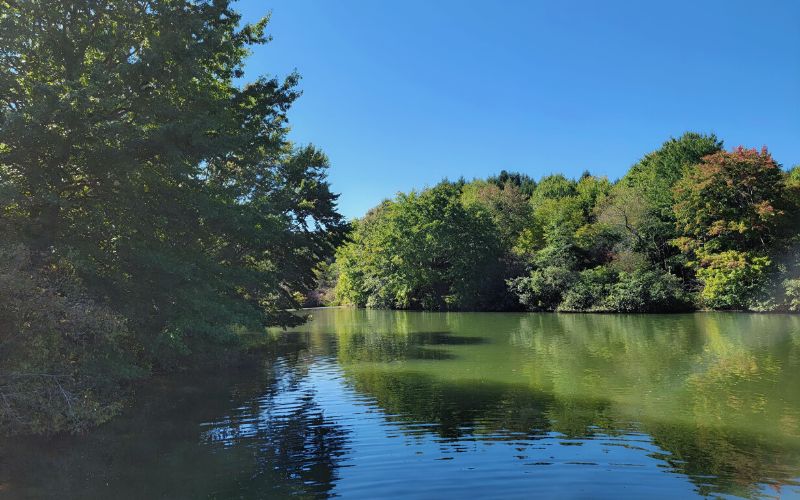 Those looking for tent and RV camping near Moraine State Park should head to Bear Run Campground. It's a family-friendly campground featuring tent campsites, RV sites, and rental cabins just outside of the popular state park in Butler County.
Bear Run features large, pull-through RV sites for vehicles up to 40 feet with full hookups, including water, electricity, and sewage. There are also primitive campsites for tent campers. Each site comes with a fire ring and picnic table.
Some of the camping area's amenities are free WiFi, laundry facilities, an RV dump station, and a camp store with propane and firewood for sale.
If pitching a tent isn't your thing, they offer rental cabins where you can enjoy the outdoors in comfort.
Whether you're exploring the surrounding area or staying onsite, this campground has plenty of things to keep you busy.
Head to Lake Arthur for a morning on the water by kayak, canoe, or stand-up paddleboard (all available for rent). Once back at camp, go for a swim in the heated pool and then wrap up your day with a game of volleyball or basketball.
There's also a pond stocked with trout where you can spend the afternoon fishing by your campsite. If golfing is more your thing, there are several golf courses nearby.
3. Clear Creek State Park, Allegheny National Forest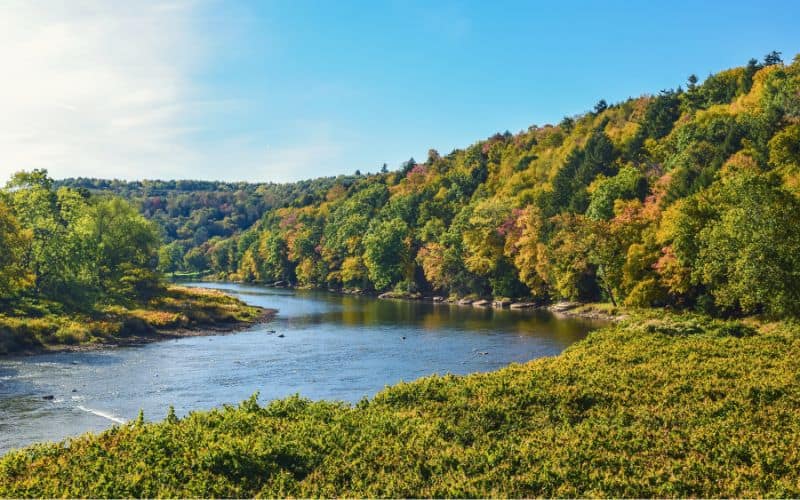 Allegheny National Forest is the only national forest in all of Pennsylvania. It comprises 514,029 acres on the Allegheny Plateau in the state's northwestern corner.
Located within the national forest is Clear Creek State Park. This state park covers 1,901 acres of a picturesque part of the Clear Creek Valley stretching from the Clarion River to PA 949 in Jefferson County.
Clear Creek State Park has plenty of outdoor activities, including hiking, fishing, and boating on the Clarion River. There is a nature museum, open spring through fall, with educational exhibits about the area's wildlife and logging. Don't miss the Ox Shoe Trail, a one-hour, self-guided hike with informational signs about the park's logging history.
If kayaking or canoeing in the creek itself doesn't satisfy your thirst for watersports, you can always head a little north and get your fill on Lake Erie!
For overnight stays between April and December, the park offers camping sites and yurt and cabin rentals.
The Clear Creek State Park campground has 52 campsites with fire rings and picnic tables, 41 of which have electric hookups. Facilities here include flushing toilets, hot showers, and a sanitary dump station. The camping area also has a nine-hole disc golf course and a basketball court for those looking for more things to do during their visit.
One unique aspect of this campground is the two canoe and kayak campsites at the southern end. The sites are available for one night only for individuals and groups on multi-day kayaking or canoeing trips down the Clarion River.
4. Cherry Springs State Park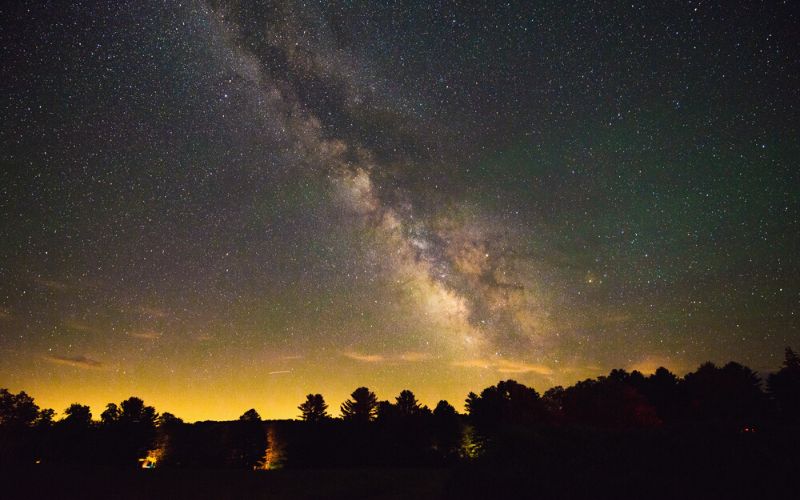 Named after the black cherry trees once found in the area, the 82-acre Cherry Springs State Park is an untamed and remote part of Pennsylvania northwest of Philadelphia. This state park is located along the 85-mile-long backpacking and hiking Susquehannock Trail in the Susquehannock State Forest's 262,000 acres of protected land.
Astronomy photographers and stargazing aficionados from around the state visit this park for its amazing night skies. The Overnight Astronomy Observation Field is a stargazing area on top of a 2,300-foot mountain with 360-degree vistas of the sky where astronomers can set up their observation equipment. There are strict lighting restrictions for ideal viewing conditions.
The park's primitive campground has 30 rustic campsites. Each site features a picnic table, lantern hanger, and a fire ring. Facilities here are minimal, but there are non-flush restrooms and an RV dump station. The campground is open from the second Friday in April to the last weekend in October.
5. Ricketts Glen State Park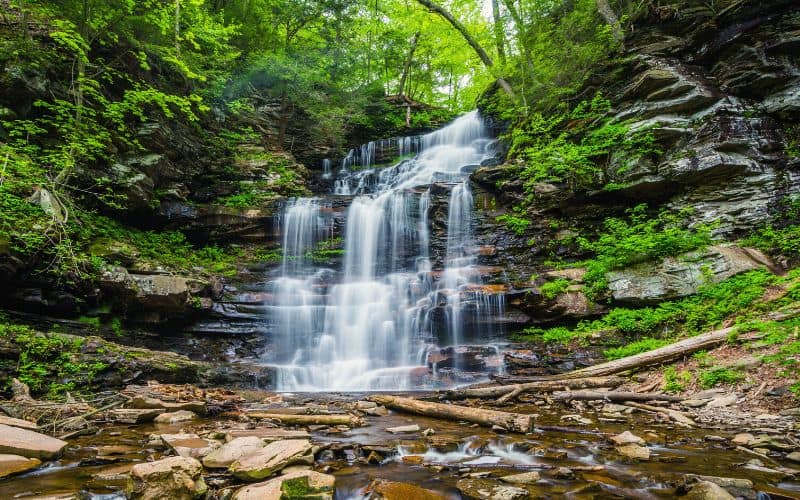 Ricketts Glen State Park is an incredible outdoor recreation area encompassing 13,193 acres in Columbia, Luzerne, and Sullivan counties. The park is located about 30 miles north of Bloomsburg in eastern Pennsylvania, about a 2.5-hour drive from Philadelphia.
The Glens Natural Area is a National Natural Landmark within Ricketts Glen State Park. It's a protected area with breathtaking waterfalls and streams in a relict eastern deciduous forest.
Don't miss the area's scenic Falls Trail hike, on which you'll see no fewer than 21 waterfalls in just 4.1 miles! The smallest is 11 feet high and the tallest is the 94-foot Ganoga Falls.
This state park is also home to Lake Jean, a fishing and boating lake that's stocked with trout and also has a great swimming beach. Popular outdoor activities here include camping, hiking, swimming, fishing, boating, and horseback riding. The park is open year-round, and activities like cross-country skiing, snowmobiling, snowshoeing, and ice fishing are available in winter.
There are multiple options for staying overnight in the park: shaded campsites, deluxe cottages, and modern cabins. The campground has 120 tent and trailer camping sites with access to flushing toilets, hot showers, and a sanitary dump station. Camping is available from April to December with a handful of sites open through the winter.
6. Promised Land State Park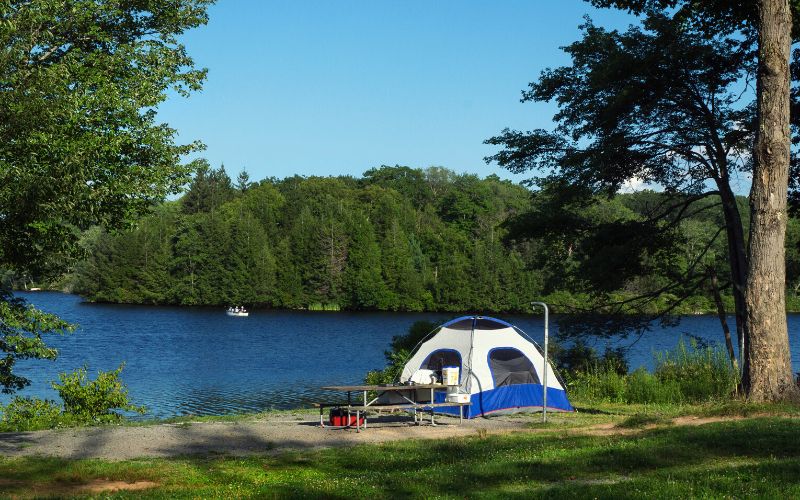 Surrounded by 12,464 acres of Pennsylvania's Delaware State Forest, Promised Land State Park is one of the best areas to camp in the state. The state park covers around 3,000 acres on the Pocono Plateau, about 1,800 feet above sea level.
This area has two lakes for fishing and boating and miles of scenic walking trails for exploring the forest. The lush forest is mostly made up of beech, oak, maple, and hemlock trees, and is threaded by several pretty streams.
Promised Land State Park is also home to the Masker Museum, one of the biggest Civilian Conservation Corps (CCC) museums in the Commonwealth. The museum also has a botanical garden and a bird observation area.
Constructed in the 1930s by the CCC, the Bear Wallow Cabin Colony has 12 rustic rental cabins tucked in between the evergreens next to Lower Lake.
There are six camping areas throughout the park, varying from rustic to full hookup.
Pickerel Point Campground, on the southern shores of Promised Land Lake, has the most amenities, including full RV hookups, a swimming area, flushing toilets, hot showers, and laundry facilities. Nestled between trees and rocks, Deerfield Campground offers a more primitive camping experience with flush toilets, but no showers or electricity.
7. Yogi Bear's Jellystone Park Camp-Resort, Quarryville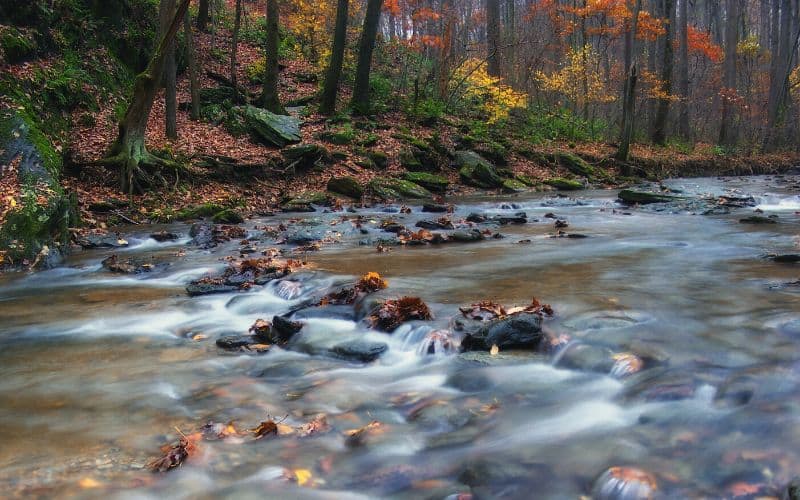 For family fun in the great outdoors head to Yogi Bear's Jellystone Park near Quarryville, Pennsylvania. This 63-acre camp-resort is located in the woods beside the pretty Stewart Run Creek.
This kid-friendly campground is a Yogi Bear-themed camping resort with countless outdoor activities for the entire family.
Along with the typical campground facilities, this location offers unique camping attractions like an aquatic playground, mini golf, laser tag, and gem mining. Other activities and attractions include hiking trails, fishing, basketball, volleyball courts, an indoor game room, disc golf, horseshoe pits, and a playground.
The camping area has tent sites with access to electric and water hookups, and full-hookup RV sites with water, electricity, and sewage. Each site has a private fire ring and picnic table. If you'd rather not rough it, cabins are also available to rent.
Amenities here include flushing toilets, hot showers, laundry facilities, trash services, and WiFi. The camping area also offers a general store, swimming pool, community fire pit, farmers market, food truck, and dog park.
This campground is open from April through early November and reservations are highly recommended.
8. Laurel Hill State Park, Laurel Highlands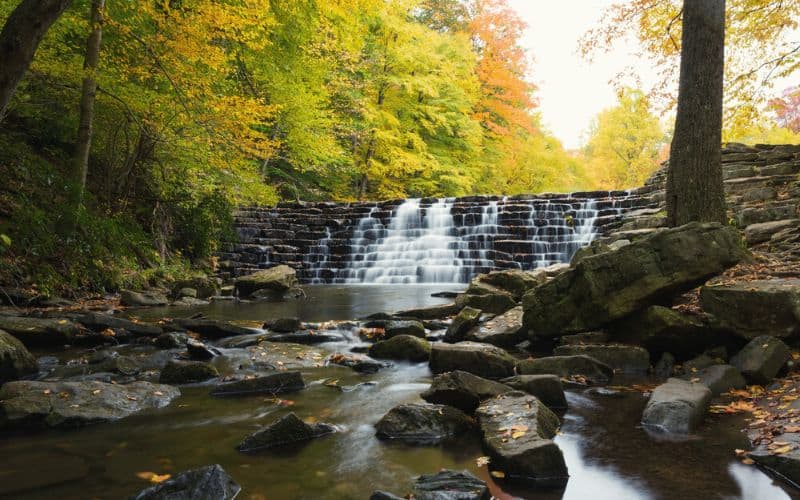 The Laurel Highlands is a mountainous area in southwestern Pennsylvania that spans across Fayette, Somerset, and Westmoreland Counties.
Laurel Hill State Park encompasses 4,062 acres within the Laurel Highlands in Somerset County. The park is home to the 63-acre Laurel Hill Lake, which is surrounded by acres of stunning protected forest.
Many visitors enjoy hiking the park's trail system to see the local plants and do some wildlife watching. Two areas not to miss are the Jones Mill Run Dam and the Hemlock Trail Natural Area. If fishing is your thing, Laurel Hill Creek won't disappoint!
The large campground at this state park has a total of 262 campsites, 149 of which have electric hookups. Some sites also have full RV hookups including water and sewer. Amenities at this campground are flush toilets, warm showers, sanitary dumping stations, and drinking water.
Camping is available from mid-April until the third Sunday in October. There are also eight camping cottages available for rent.
9. Raccoon Creek State Park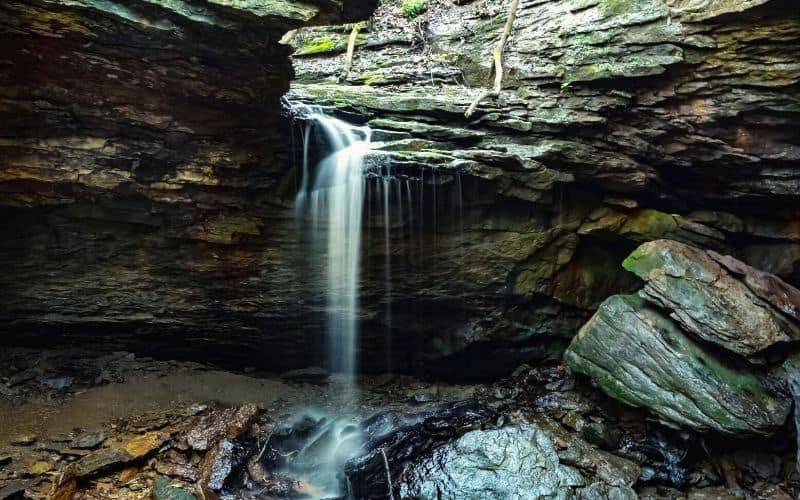 Racoon Creek is one of the Keystone State's most popular state parks. The park originated as a Recreational Demonstration Area managed by the National Park Service in the 1930s Civilian Conservation Corps (CCC) era.
Raccoon Creek State Park has 7,572 acres with trees, lakes, and creeks galore. The 101-acre Racoon Lake is the main attraction here, but Traverse Creek and Upper Lake are also lovely spots to visit. The park is home to a Wildflower Reserve with more than 700 species of plants and one of the most diverse wildflower areas in western Pennsylvania.
Both modern campsites and rustic camping areas from the CCC era are available inside the park, along with a lakeside lodge and rental cabins. The modern campground has 172 modern tent and trailer campsites, some with electrical hookups, all with a picnic table and fire ring. This area has access to flush toilets, warm showers, and a dump station.
Sioux Rustic Campground has access to potable water and non-flush toilets and is open year-round.
The park offers five Adirondack shelters and five tent camping sites for backpackers along the trails. These accommodations are only available for backpacking and reservations are recommended.
10. Worlds End State Park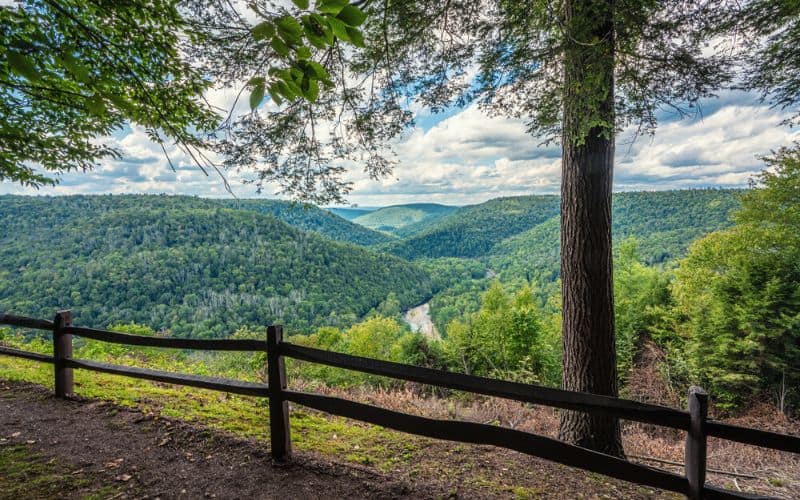 Worlds End State Park is located in a narrow valley of Loyalsock Creek near Forksville. This 780-acre park is surrounded by the Loyalsock State Forest and offers many opportunities for outdoor adventure.
This area is known for its rugged beauty, pristine environment, and jaw-dropping views of the Endless Mountains. For the best views of the region, take Mineral Spring and Cold Run roads to the Loyalsock Canyon Vista and High Knob Vista. The roads to these overlooks are still accessible by snowmobile in the winter months.
This campground has 70 tent and RV camping sites, half of which have hookups for electricity. Facilities here include restrooms with flushing toilets, warm showers, and an RV dump station. There is no camping available in the winter and pets are permitted at designated sites.
Those looking for a bit more comfort can spend the night at one of the 19 rustic cabins, which are available year-round.
11. Pine Creek Gorge (PA Grand Canyon)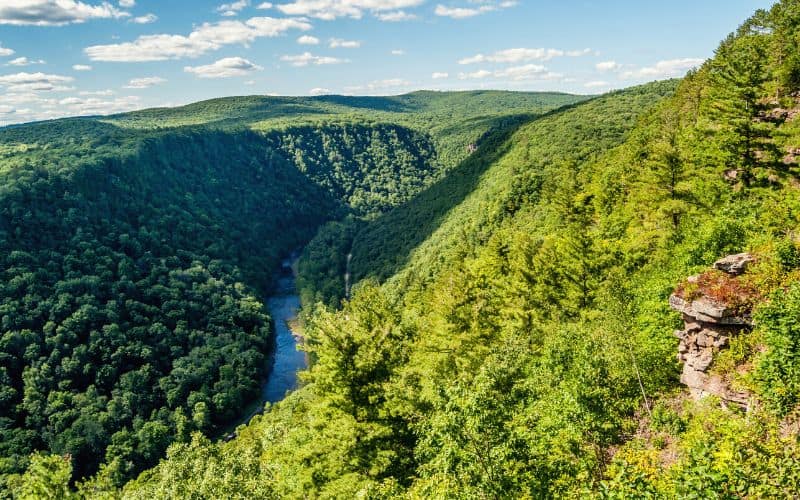 Pine Creek Gorge is Pennsylvania's version of the Grand Canyon and a National Natural Landmark. It's surrounded by around 165,000 acres of the Tioga State Forest and is home to several impressive waterfalls and towering canyon walls.
Commonly known as the Grand Canyon of Pennsylvania or PA Grand Canyon, the gorge stretches for over 45 miles beginning from south of Ansonia along US Route 6. The deepest part of the canyon has a depth of over 1,450 feet at Waterville, near the southern end.
Some of the best views of the gorge can be found at the Leonard Harrison State Park and Colton Point State Park overlooks, where the canyon is more than 800 feet deep.
One of the area's biggest attractions is the Pine Creek Rail Trail. It's an old railroad bed turned into a trail along the canyon floor that's popular for hiking and mountain biking.
The east rim of the PA Grand Canyon hosts the 585-acre Leonard Harrison State Park. This park's camping area has sites with picnic tables and fire rings, plus some with electric hookups. Campers also have access to flushing toilets, warm showers, and a sanitary dump station.
Colton Point State Park is located on the west side of Pine Creek Gorge. This 368-acre park has a rustic campground with non-flush toilets, water, picnic tables, and fire rings.
Other Pennsylvania Campgrounds
While we've limited our list to the 11 best campgrounds in Pennsylvania, there are plenty more worth visiting. Some other great locations include the following: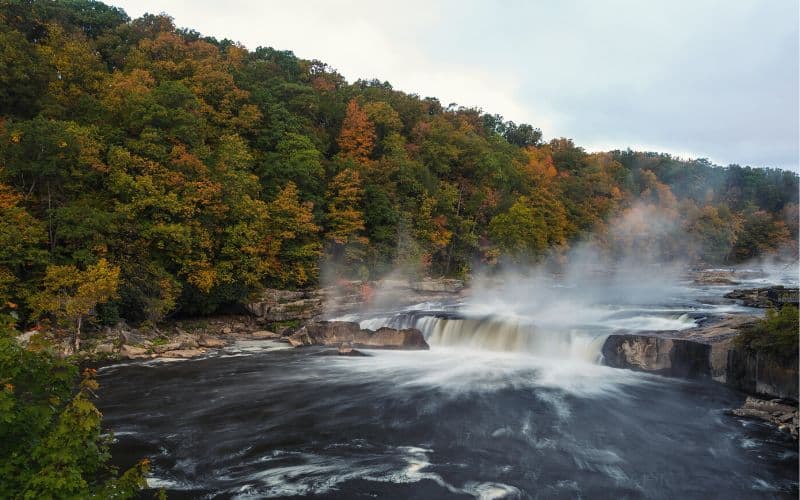 Best Campgrounds in Pennsylvania: Happy Camping!
Whether it's staying at a CCC campground from the 1930s or pitching a tent under the darkest skies in the state, there are plenty of incredible and unique camping experiences in Pennsylvania.
From kayaking campsites to lakeside cabins to family-focused RV resorts, the Keystone State has something for every type of outdoor lover!
What are your favorite Pennsylvania campgrounds? Let us know in the comments below! And if you enjoyed this article, feel free to share it with your friends.