It's hard to find sweeter camping than in "the Peach State". From black water swamps to scenic, ocean-view campgrounds, Georgia offers a little something for every type of camper.
Once you're done exploring the historic cities of Atlanta or Savannah, head back to nature in one of Georgia's beautiful campgrounds. Tent camping, rustic cabins, RV parks, yurt rentals, and more, camping in Georgia may be diverse but it's always an adventure!
Whether you love luxury RV parks or heading to backcountry campsites for some bare-bones camping, this article will inspire you to head to scenic Georgia for your next camping trip.
RELATED READING: For more great outdoor adventure check out our guides to the best hikes in Georgia.
Our Favorite Peach State Campgrounds
1. Jekyll Island Campground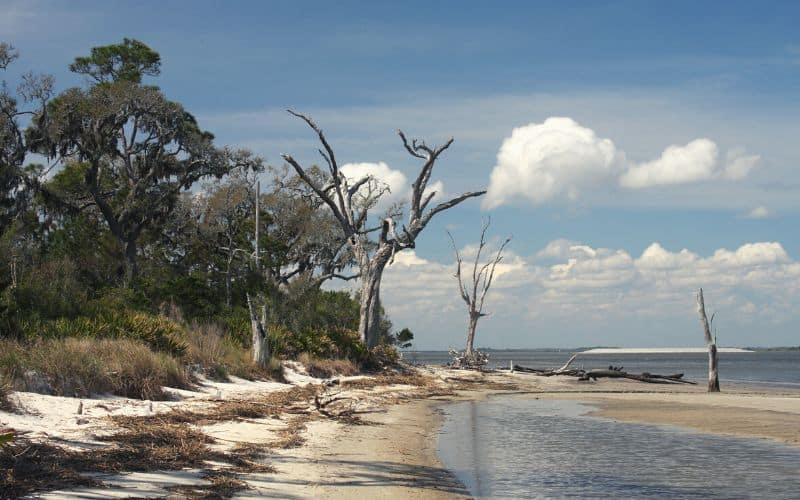 Imagine falling asleep in a peaceful wooded campsite just a short walk away from the beach. Jekyll Island is the perfect spot to enjoy a beach day and then camp under the stars by night. The campground is located in the midst of a maritime forest and the oak trees draped in Spanish moss offer a relaxing place to pitch or park.
With over 165 full hook-up RV and tent sites available, there's lots of room. You'll be camping in luxury thanks to a range of amenities such as free Wi-Fi, two bathhouses, laundry facilities, and a general store.
2. Cumberland Island
Leave the RV at home because to get to this next campground you'll have to take the ferry! Cumberland Island is Georgia's largest barrier island and the area is rich with nature and history.
Explore the island through a guided van tour or go it alone on one of the many hiking and biking trails. To camp on the island you'll need to make a reservation with the National Park Service first. Reservations are only available 6 months before the date of arrival.
3. McKinney Campground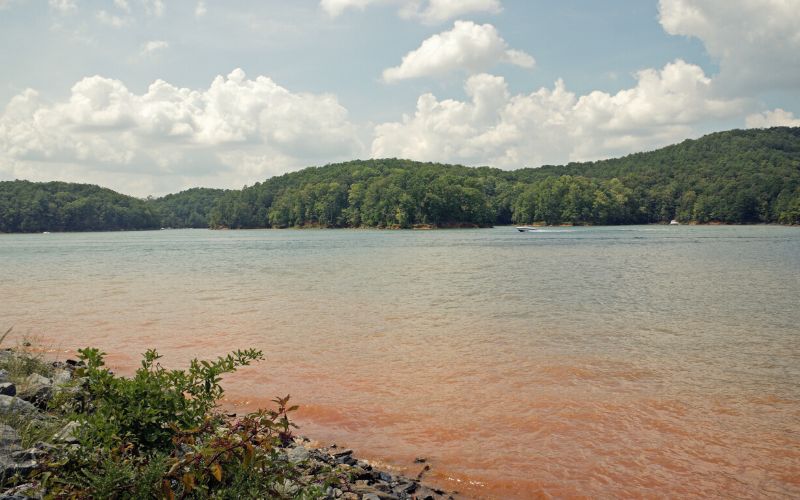 Lake Allatoona is a beautiful recreational area just a hop, skip and jump away from Atlanta. There's an endless amount of activities to enjoy around the lake. Check out the visitor's center, the Tellus Science museum, or any one of the many marinas. The rolling hills around the lake are filled with hiking and biking trails to explore too.
Sitting right on the banks of Allatoona Lake is McKinney Campground. On top of 150 spacious campsites available, you'll enjoy amenities like full RV hookups, potable water, flush toilets, showers, and picnic areas.
Georgia State Parks: Best Campsites
4. Cloudland Canyon State Park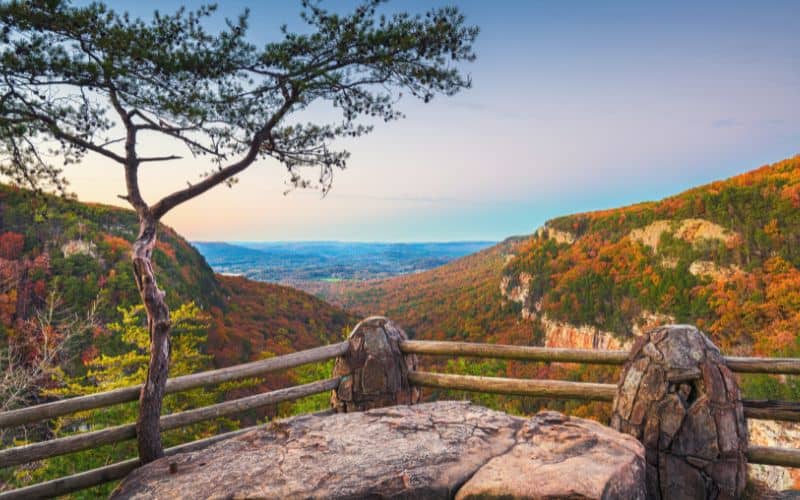 We couldn't start with any other park than Cloudland Canyon! One of the biggest and most scenic parks in the state, Cloudland Canyon State Park is absolutely jam-packed with family-friendly activities to enjoy.
There are plenty of hiking and biking trails to uncover, including some incredible routes winding through the nearby Blue Ridge Mountains. Natural attractions like waterfalls and overlooks are abundant and you can even find opportunities for some fishing or golfing.
You'll find the best camping at the West Rim Campground. There's something for every style of camper including tent sites, full hook-up RV sites and cabin and yurt rentals. You'll be feeling spoiled with all the fancy amenities like Wi-Fi, a camp store, disc golf, hot showers, restrooms, and lots of picnic areas.
Walk-in sites and backcountry camps are all available in Cloudland Canyon State Park too!
5. Skidaway Island State Park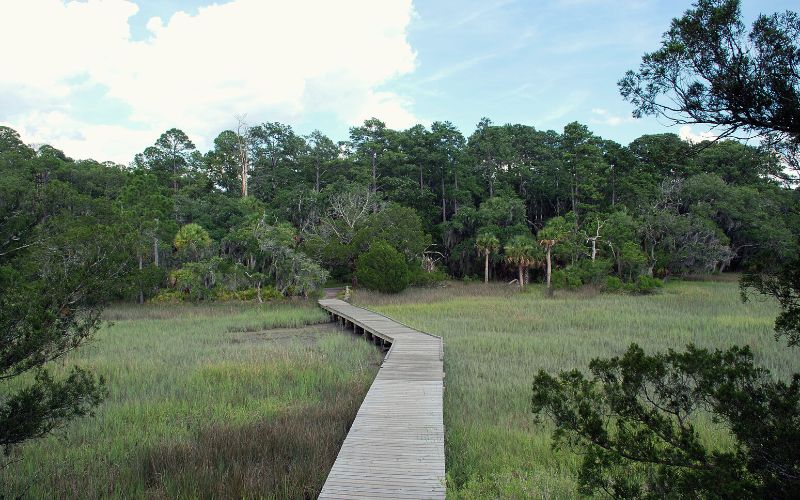 In the maritime forests and salt marshes of Skidaway Island State Park, you'll find an amazing boardwalk and observation tower. Standing on the observation deck, you can take in some gorgeous views of the Skidaway River below and you might even find the Skidaway Island campground peeking through the trees!
Skidaway Island State Park campground is a cozy spot featuring just 7 tent and RV sites. You'll find all the usual state park amenities like potable water, showers, restrooms, and picnic areas. Pets are allowed too!
Best of all, this camp is located just a 25-minute drive from historic Savannah.
6. Stephen C. Foster State Park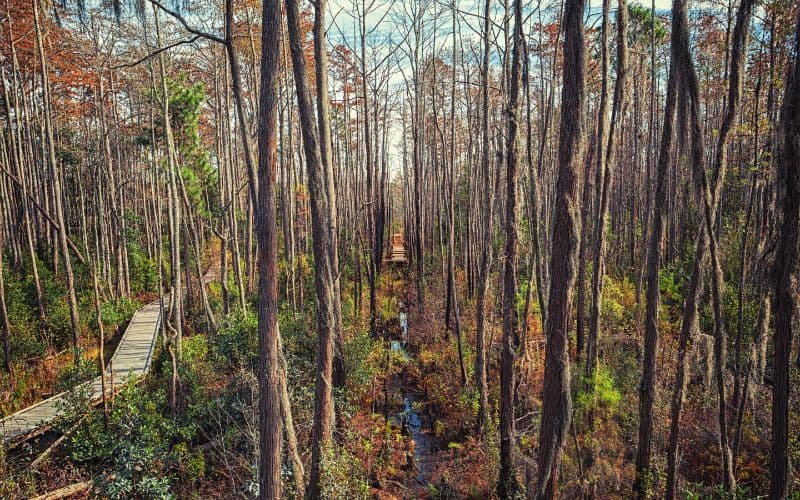 If you do only one thing in Georgia, let it be exploring the legendary Okefenokee Swamp in SCF State Park! Also known as Swamp Island, this vast and wild nature reserve allows you to get up and close with the local residents, the American alligators! Play it safe with a guided boat tour or rent a kayak or canoe and brave the swamp yourself.
Head on over for your next camping trip and you'll find 63 tent, trailer, and RV sites. The amenities are pretty basic, just your usual state park stuff like potable water, showers, and picnic areas.
But the major draw of Okefenokee Swamp isn't the picnic tables! This camp is a paradise for adventurous travelers looking to experience the very best of Georgia's gorgeous landscapes and varied wildlife.
7. F.D. Roosevelt State Park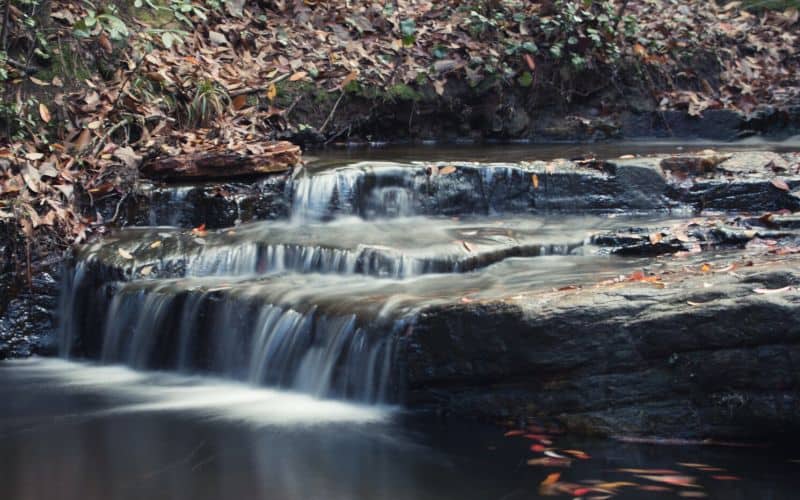 With over 40 miles of hiking trails to explore, F.D. Roosevelt State Park is a hiking and backpacking mecca. Nestled on the shores of a small fishing lake is the Roosevelt State Park campground, the perfect base camp to explore the vast network of local trails. When the days are warm, cool off in the freshwater Liberty Pool!
At the camp itself, located just south of Pine Mountain, you'll find 35 tent and RV sites with electric and water hookups, restrooms, showers, and picnic areas. There are also lovely lakeside cottages available for rent that are just a short walk from the water.
For horseback riding, head to the Roosevelt Stables on Group Camp Road! Looking for a little more in the way of amenities? Check out the nearby Pine Mountain RV Resort.
8. Vogel State Park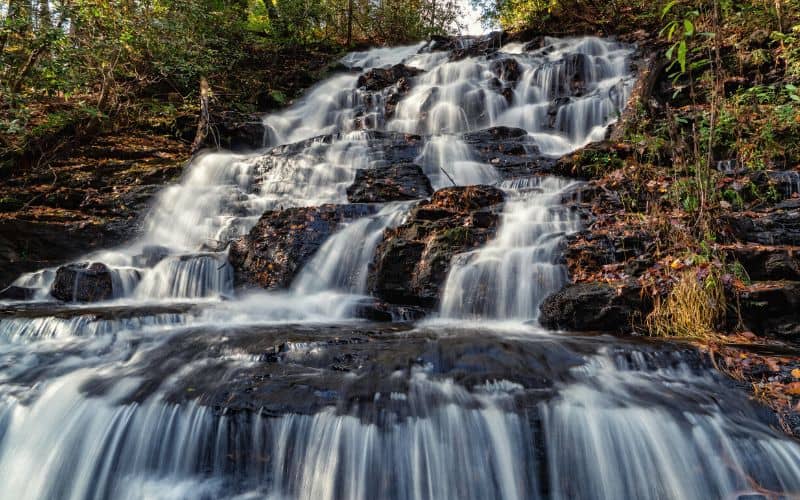 Located in Belleville, Vogel State Park is one of the oldest and most beloved parks in Georgia, and offers ample opportunities for fishing, boating, and hiking.
Walk along the shores of its 22-acre idyllic lake to reach the Trahlyta Falls, a 50ft cascading waterfall! The lake itself is closed to motorized boats, making it a peaceful spot for swimming, fishing or some good ol' rest and relaxation.
Fall asleep to the sights and sounds of nature in one of Vogel State Park's 80 RV and tent sites, 18 walk-in sites, or 34 rentable cottages. The park has everything you'll need to enjoy your stay, from restrooms and hot showers to a local camp store, visitor center, and the Civilian Conservation Corps Museum.
9. Elijah Clark State Park and Mistletoe State Park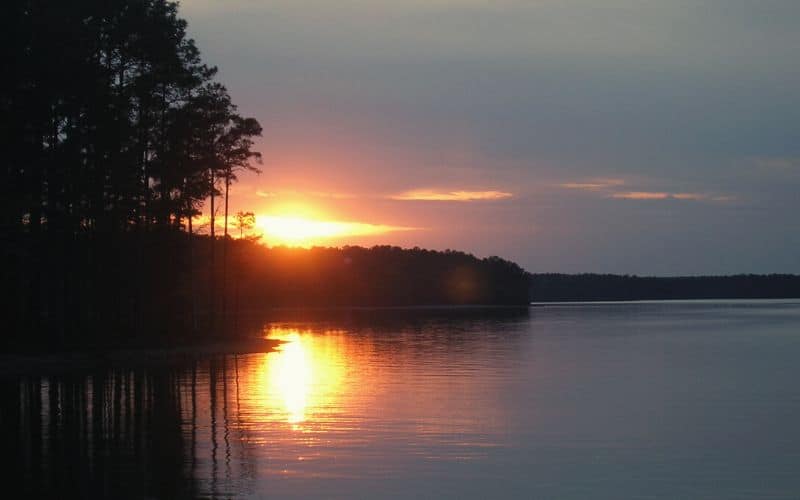 Head on down to Georgia's "freshwater coast" along Clarks Hill Lake! The lake is brimming with all sorts of brass, catfish, and crappie to catch along with other water sports like swimming, boating, and water skiing. All along the lake you'll find a number of wildlife reserves where you can take in Georgia's beautiful and varied wildlife.
You'll find two campgrounds right on the lake: Elijah Clark State Park and Mistletoe State Park. Both offer spacious cabins and tent camping right along the water's edge and offer all the usual state park amenities like restrooms, showers, and picnic areas. There are lots of backcountry campsites available too!
10. Amicalola Falls State Park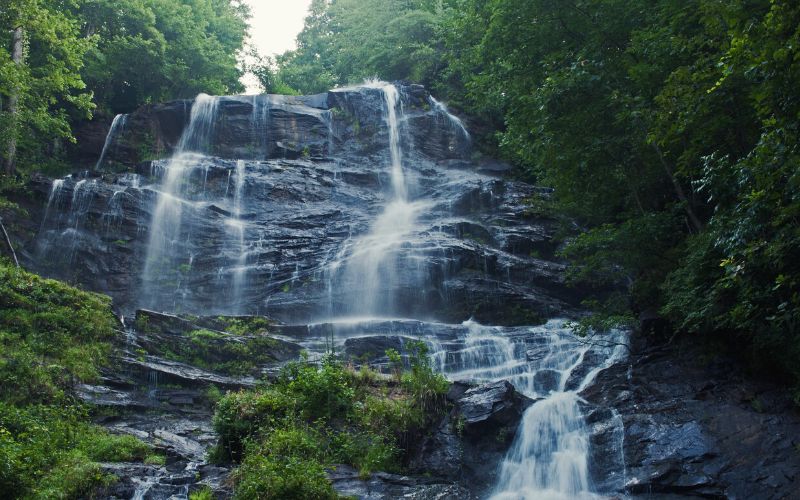 On the edge of the North Georgia Mountains, just 8-miles from the Appalachian Trail itself, you'll find this popular state park. Beloved by the locals for its biking and hiking trails, the park also hosts the tallest cascading waterfall in the state, the magnificent, 729-foot Amicalola Falls. Other local activities include zip-lining, archery, guided nature walks, and geocaching.
Start your own journey down the Appalachian Trail at the Amicalola Falls Lodge for a lush glamping experience. Rent one of the luxury rooms or suites or enjoy a little privacy with a rustic cabin rental. For those looking to sleep a little closer to nature, the park offers several tent and easy pull-in or back-in RV spots each with water, power, grills, and fire rings.
11. George L. Smith State Park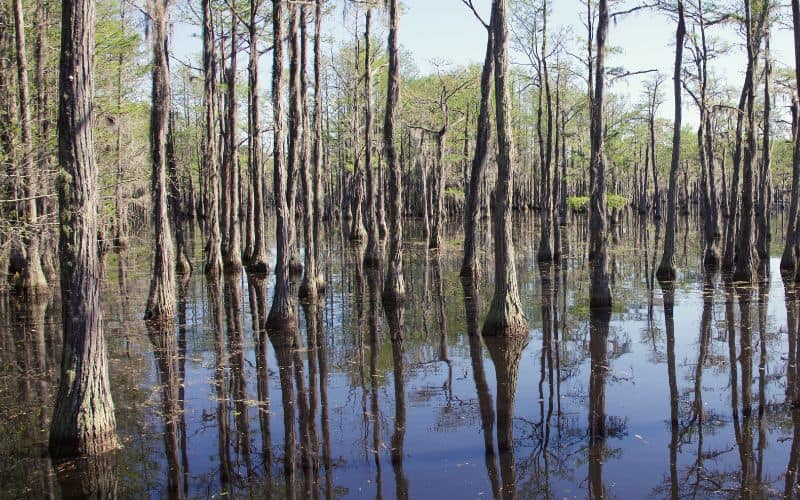 The George L. Smith campground offers a little something for everyone. Enjoy the serenity of lakeside camping or get cozy in a log cabin nestled right in the local pine woods. Either way, you can enjoy the mill pond, an angler's and paddler's paradise. Don't have your own vessel? Rent your own kayak or canoe or partake in a guided paddle trip.
Around the lake you'll find 24 tent and RV campsites, 8 cottage rentals, and a few primitive camping spots. The historic covered bridge and mill close to the campground draw quite a few visitors during the peak season, so book early!
12. Unicoi State Park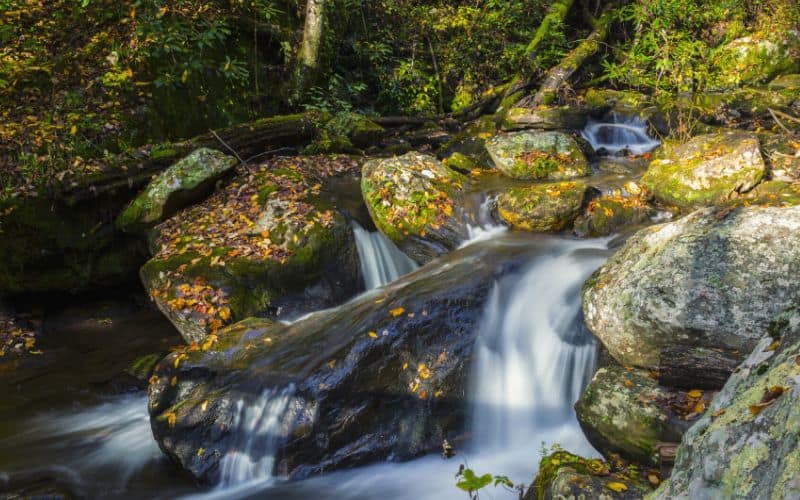 Unico Park offers some of the coolest camping accommodations found anywhere in Georgia state! Peppered all throughout the park's temperate forest are rustic, barrel-shaped cabins available for rent. Each cabin offers all the amenities you need to stay comfortable, like a fully equipped kitchen, plush bed, and heating and air conditioning.
Those looking for a no-fuss camping spot, will find it at the 'Squirrel's Nest.' This group of covered shelters, nestled in the park's rolling hills, is perfect for primitive campers and backpackers looking for a place to rest.
13. Stone Mountain State Park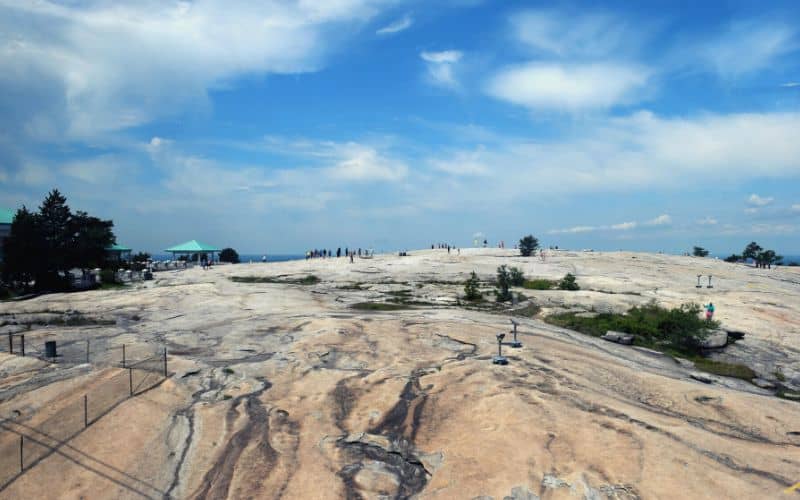 With over 3,000+ acres of nature to explore, Stone Mountain Park is a delightful, family-friendly getaway. Keeping watch over the park is the majestic Stone Mountain, a 600-foot quartz monzonite dome just 16 miles outside of East Atlanta. Walk, hike or bike the local hiking trails or tee off at one of the two nearby 18-hole golf courses.
With over 400 tent and RV sites with full electric and water hookups, there's no shortage of places to stay. Specialty accommodations are available too, like cabins, safari tent rentals, and yurt rentals.
14. Tallulah Gorge State Park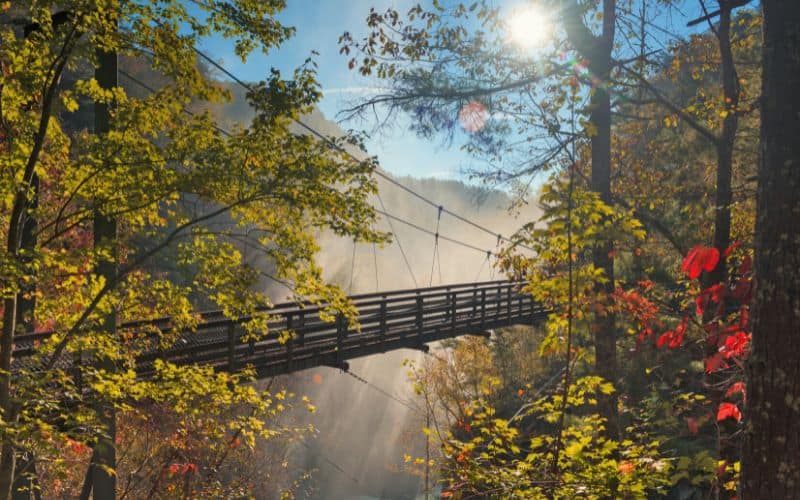 If you're looking for a thrill, why not try crossing the 80ft tall suspension bridge located at Tallulah Gorge State Park? Crossing the bridge, you'll enjoy spectacular views of the rocky floor of the gorge below – if, that is, you dare to look down! Prefer to see the gorge from the ground? Reserve early to snag one of the coveted 100 daily gorge passes given out!
In Tallulah Gorge State Park you'll find 52 tent and RV campsites. After a long day or exploring the canyon, you can enjoy amenities like hot showers, restrooms, picnic areas, and a dump station. The park itself features a visitor center, playground, and gift shop.
15. Chattahoochee Bend State Park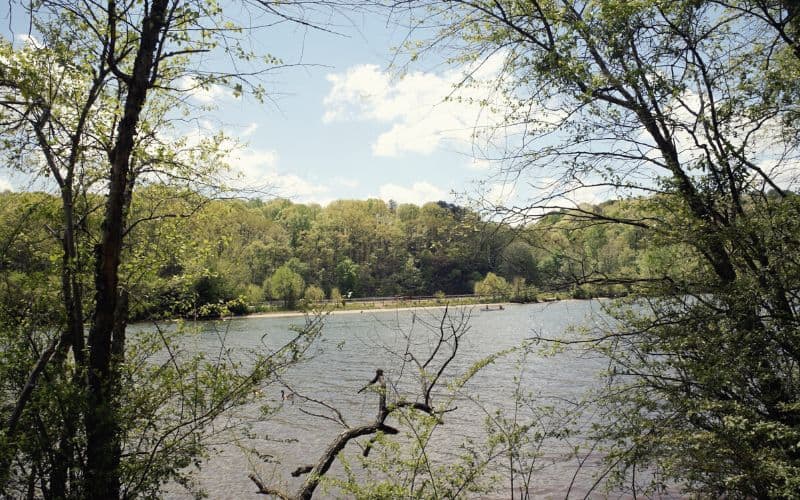 Paddlers, get ready to experience the ride of your life! Chattahoochee Bend State Park has over 5 miles of thunderous river frontage perfect for paddling and fishing. Land-lovers can check out the 12 miles of hiking trails weaving through the Chattahoochee National Forest.
Nestled in the heart of the Chattahoochee Bend State Park, you'll find some amazing RV and tent sites. Tent campers can enjoy the top riverside spots while the RV campers will park in a quiet meadow. Dispersed camping is also available all over the park.
Looking for a truly unique experience? Why not rent one of the screened Adirondack-style shelters!
16. High Falls State Park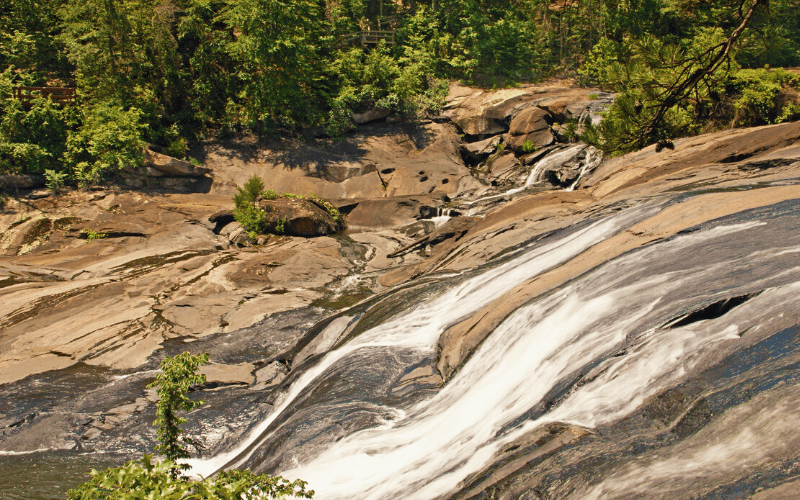 High Falls campground is another beautiful camping spot, perfect for bringing along the kids. Right beside the campground are the fascinating tumbling cascades that give this park its name.
You can check out views of the cascades from the scenic overlook or hike down and visit them yourself. The campground has 106 tent and RV camping spots plus other fun, recreational activities like a playground, mini-golf, and a swimming pool.
Best RV Campgrounds
17. Beaver Run RV Park
Looking for the perfect getaway just minutes from Savannah, and some of the best RV camping spots in Georgia?
Beaver Run RV Park is located on the shores of spring-fed Beaver Lake and offers countless opportunities for fishing, swimming, and boating. After a fun day of water sports, relax with a number of family-friendly games like disc golf, horseshoes, shuffleboard, and an entire game center.
A number of full-hookup, cable, and Wi-Fi spots are available for early reservations. Don't have a tent or RV? No problem, just rent one of the many quaint cabins available by the lake.
18. Savannah Oaks RV Resort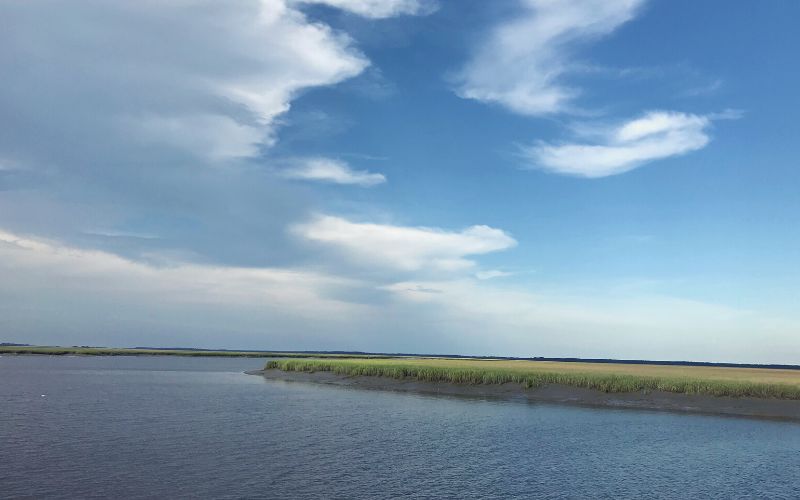 If you're hoping to visit a bunch of Georgia hotspots all in one trip, Savannah Oaks RV Resort is the perfect starting point.
Enjoy day trips to Savannah's River Street, Okefenokee Swamp, Jekyll Island, or the Golden Isles. Feel like staying in? Head to the nearby Ogeechee River for some game fishing. By night, enjoy full hook-up RV sites or cabin rentals and amenities like a swimming pool, heated, and air-conditioned bathhouses – and even on-site RV repairs!
19. Pine Lake Campground and RV Camp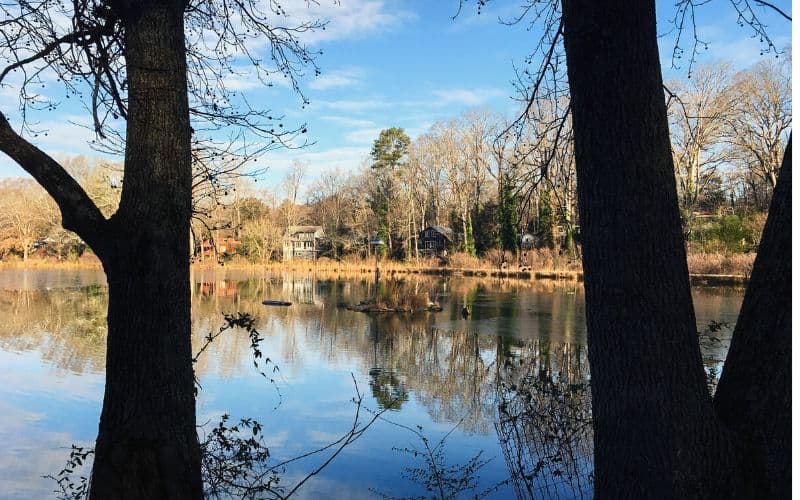 The only thing better than camping by one lake, is two lakes! Pine Lake Campground is nestled in a cozy forest between two peaceful lakes in Athens. All the campsites are shaded and spacious and the park itself is jam packed with all amenities you need to enjoy your stay like free Wi-Fi hotspots, bathhouses, and laundry facilities.
Try game fishing, walking the local nature trails, or just enjoying a break from the city in the peace and quiet of nature.
Camping in Georgia FAQs
Newcomer to camping in the Peach State? If so, here are a few answers to some questions you might have:
Is it legal to camp on the beach in Georgia?
Free camping is legal anywhere on state ground in Georgia, but most state parks prohibit camping directly on the beach to protect local flora and fauna. There are many standard campgrounds located near the beach all over the coast, however.
Can you camp on Little Tybee Island?
Little Tybee Island is an uninhabited nature preserve off the Georgia coast. Camping on the island is allowed, although all sites are primitive and there are no amenities. Some areas are posted as off-limits. Those looking for a standard campsite with full amenities should check out the nearby River's End Campground on Tybee Island.
How do I reserve a campsite in Georgia state parks?
Reservations for any campsite in a Georgia state park can be made up to 13 months in advance online or by calling 1-800-864-7275.
Best Camping in Georgia!
While the bustling city centers of downtown Savannah and Atlanta might often steal the limelight from the backcountry, the Peach State truly is a mecca for camping and hiking. We hope our list of the best camping in Georgia has shone a light on the epic outdoor opportunities available in the state, from the Golden Isles to the Blue Ridge Mountains! 
Before you go, make sure to let us know all about your camping adventures in Georgia. Did we miss any of your favorite hidden gems? And please feel free to share this post with any of your nature-loving friends!