The Upper and Lower Peninsulas of Michigan are a lakeside camping lover's paradise. And with troves of recreational activities available throughout the state's parks and forests, there's no shortage of fun to be had.
With more than 1,000 campgrounds in the state, deciding where is best for you and your family can be a bit of a chore. To help you out, we've put together a list of 15 of the best campgrounds with suggestions for activities nearby.
From canoeing and fresh-water swimming to hiking and horseback riding, these awesome campsites have something for everyone!
1. Tahquamenon Falls State Park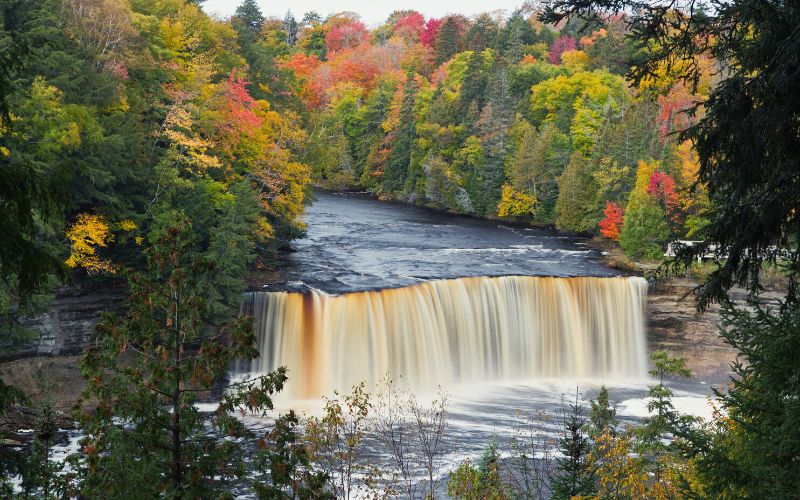 Tahquamenon Falls State Park is home to many wonderful things, but none more so than two beautiful waterfalls – Upper Falls (one of the biggest waterfalls in the eastern US) and Lower Falls. If that ain't enough water for you, the park is handily located on the Upper Peninsula right next to Lake Superior. Here, fishing, swimming, and boating opportunities abound.
The Lower Falls Campground is just next to the Tahquamenon River and, as the name suggests, is situated a stone's throw from the gorgeous Lower Falls. It features hot showers, potable water, a camp store, and electrical RV hookups. The Rivermouth unit is more private and provides easier access to the lake, but lacks the amenities of the Lower Falls site.
No matter which of the park's campgrounds you choose to stay in, you'll have over 50,000 acres of wilderness at your disposal. For the fishing enthusiasts out there, bring your fishing rod to Whitefish Bay to catch some lake trout and walleye. For hikers, over 40 miles of fun trails await!
RELATED READING: Check out our main page to find the best hiking in Michigan and our guide to the Nordhouse Dunes.
2. Pictured Rocks National Lakeshore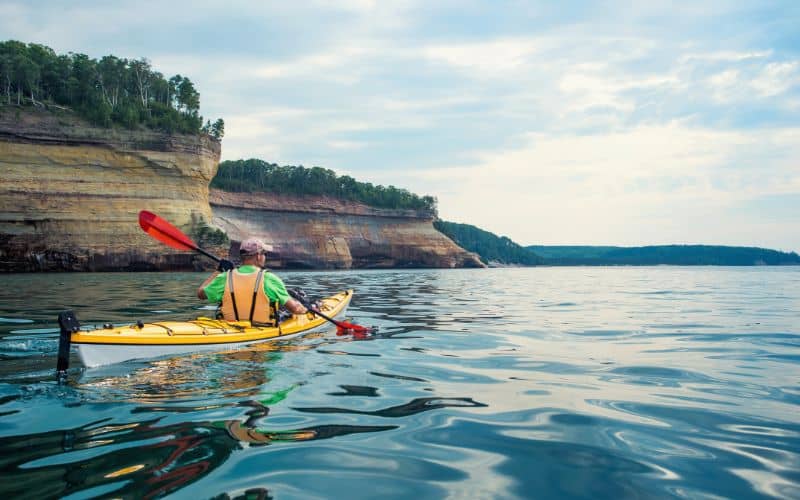 Head to the lakeside Upper Peninsula to take in unreal multi-colored sandstone cliffs and enjoy 42 miles of soft beachy shoreline on Lake Superior.
The area has three car campgrounds: Little Beaver Lake Campground, Twelvemile Beach Campground, and Hurricane River Campground. While the sites are spacious enough for a 36-foot RV, you won't find any hookups here. For backpackers, backcountry camping is also available.
A plethora of activities can be enjoyed on your trip to Pictured Rocks. From May to September, you can kayak along the shore on a guided tour, or you can bring your own kayak to explore the area more extensively.
Hundreds of miles of hiking trails also wait to be explored. Our favorites are the two-mile White Birch Trail and Miner's Falls Trail.
While the park is beautiful to visit in winter, no roads are plowed in the winter and visitor centers are closed, so be sure to plan accordingly.
Stay Safe on the Great Lakes!
The Great Lakes have dangerous currents and waves akin to the ocean. Be sure to:
Avoid diving off or swimming near piers or swimming near them, as there are unpredictable currents near these structures
Most state parks have a flag system for designated swimming areas: Green means the area is safe to swim, yellow means use extreme caution, and red means do not enter the water
State parks don't staff lifeguards, so use a buddy
The safe swim areas have flotation devices and equipment to use for someone in trouble
Keep a close eye on children, and never swim alone
3. Porcupine Mountains State Park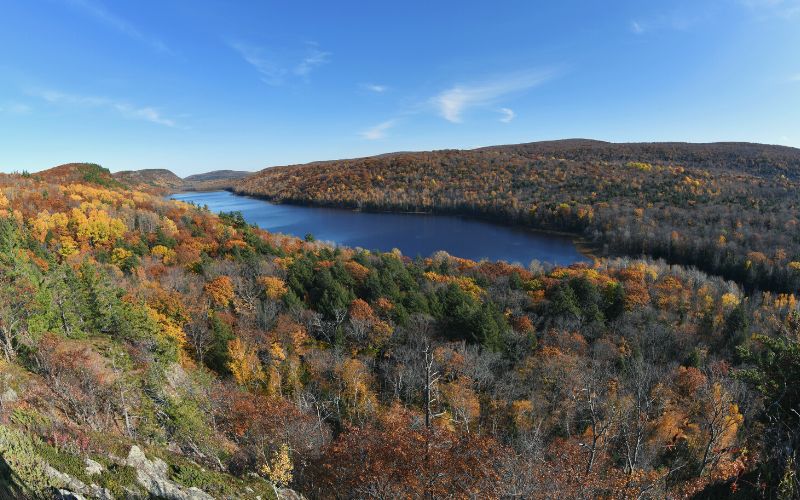 Porcupine Mountains State Park is in northwest Michigan is the state's largest state park. Here you'll find miles of beautiful Lake Superior shoreline, 35,000 acres of forest, and 25,000 acres of wilderness in the northernmost corners of the Upper Peninsula.
The state park campgrounds have everything from rustic tent-camping sites to more modern RV-park hookup sites. There are also cabins or yurts for campers looking for a cushier vacation.
You can choose from two campgrounds. Presque Isle Campground has potable water and a bathroom but no electrical hook-up sites. Union Bay Campground, a more modern campground, has electrical hookups, potable water, and showers.
For backcountry travelers, there are numerous established sites with fire rings and a "bear pole" for hanging scented items and food.
Our favorite backcountry site is Lake of the Clouds. This offers easy access to the spectacular Overlook Trail, which runs for 10 miles through the park's rugged and delightfully wild interior.
The park is also conveniently located for visitors planning a trip to Isle Royale National Park or Apostle Islands National Lakeshore, two of the area's must-see national parks.
4. Sleepy Hollow State Park
With a winding river and 2,600 acres of wilderness to explore, Sleepy Hollow State Park in East Central Michigan is not to be missed. In the middle of the park you'll also find Lake Ovid, which has sandy beaches and boating access sites. It's also the perfect spot for picnics, swimming, and a spot of fishing.
A birder's paradise, 228 species have been spotted within the park. Waterfowl are also frequent visitors to the area around Lake Ovid during migration season.
The park also has 16 miles of hiking and biking trails, as well as trails for horseback riding, dog sledding, and snowshoeing for the brave winter-camping enthusiasts.
The park's campground has 181 modern campsites, full-hookup RV sites, and is open year-round.
5. Wilderness State Park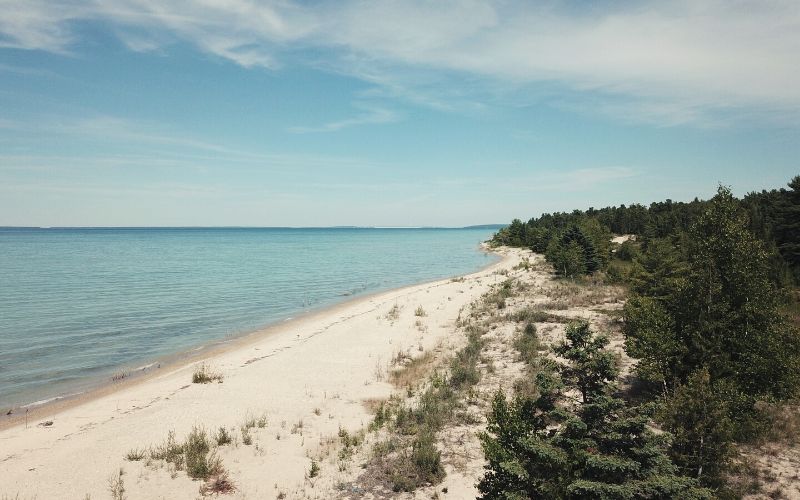 Minutes from the northernmost part of the Lower Peninsula is the aptly-named Wilderness State Park. Here you'll find a huge single campground with 250 campsites, mostly featuring full RV hookups and open year-round.
You can choose between two campground units, Lakeshore and Pines. There are also a few walk-in primitive tent sites and, for some cushier glamping, you'll find a few camping cabins and rustic bunkhouses.
Much of the park borders Lake Michigan, so be sure to bring your swimsuits in the summertime. There's even a dog-friendly beach! For hikers, there are also a series of nature trails that meander through mature hardwood forests, wetlands, and sand dunes.
Have any stargazers in the family? If so, they'll be happy to know the park is a certified dark sky preserve, meaning the area is specifically protected for spectacular night views.
6. South Higgins Lake State Park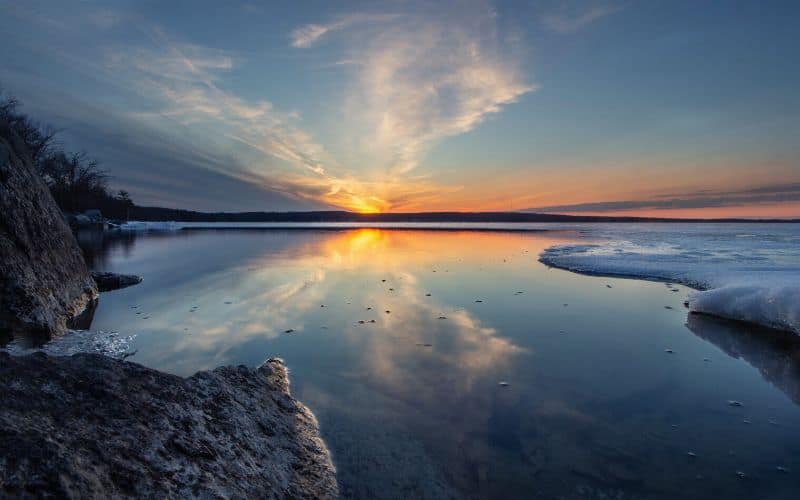 South Higgins Lake State Park is a 1,000-acre park sandwiched between Higgins Lake and Marl Lake. Higgins Lake is known for its clear, spring-fed waters – a boon for those who love to fish. Here you can also rent a rowboat, canoe, paddleboat, or pontoon for a day on the water.
While Marl Lake is smaller and less developed, it's well worth visiting for lovers of peace and quiet. Here you'll also find a family-friendly, 4.6-mile hiking trail that runs along the shores of the lake and through the surrounding forest.
For the winter enthusiasts, SHLSP has miles of ungroomed cross-country ski trails that double as hiking trails in the summer months.
The park has 400 modern campsites and is open year-round. All sites are nicely shaded by hardwood forests and within easy walking distance of a sandy, pet-friendly beach for swimming, a boat launch, fishing spots, and a picnic area.
7. Sleeping Bear Dunes National Lakeshore, Lake Michigan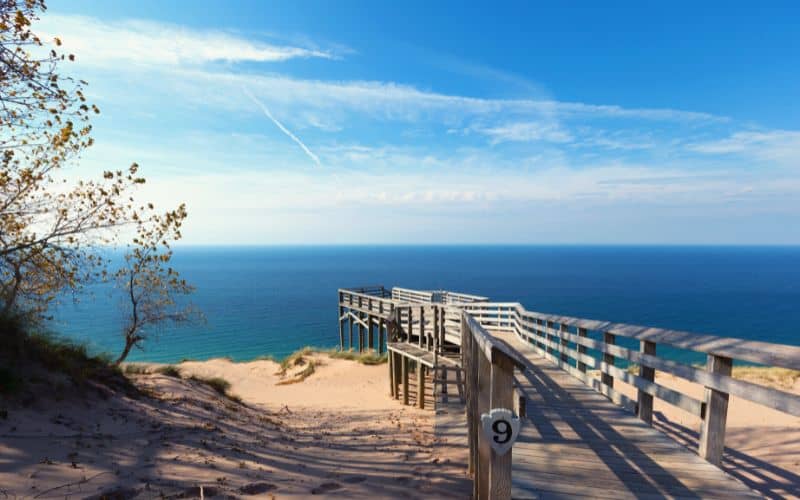 Good Morning America rated Sleeping Bear Dunes National Lakeshore the "Most Beautiful Place in America" in 2011, and for good reason. The campgrounds in this Lower Peninsula gem border miles of sandy beach, historic villages, and an island lighthouse, not to mention the stunning dunes themselves.
You can choose between three campgrounds. The D.H. Day Campground is popular for more primitive backpackers and car campers. The Platte River Campground, open year-round, is for the avid RVers, with some sites having full electrical hookups.
On the Manitou Islands, an island chain that goes all the way to the Straits of Mackinac, you'll also find three additional primitive camping areas after a short ferry ride.
8. Leelanau State Park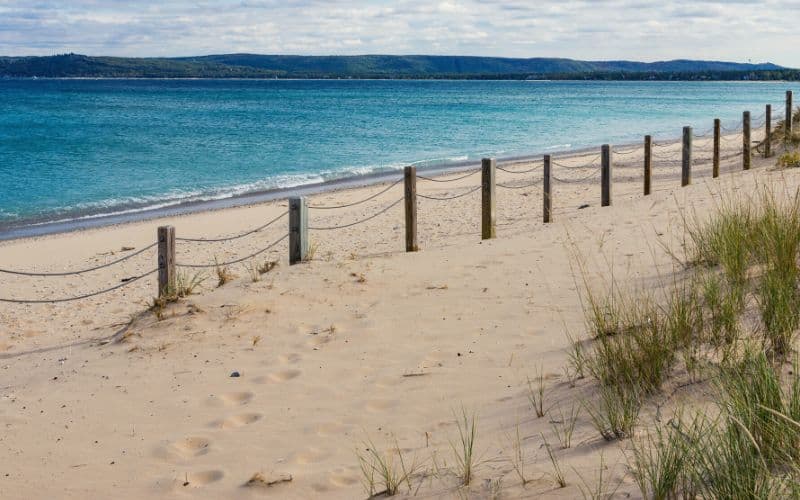 Travel to the tip of the little finger of the Michigan mitten to Leelanau Peninsula, where you'll find 1,519 acres to explore year-round in the gorgeous Leelanau State Park. There are no full electrical hookups here. However, you can choose from one of three mini cabins or bring your own tent.
Be sure to explore the Grand Traverse Lighthouse Museum. The museum features a restored keepers' dwelling and lets you climb to the top of the lighthouse for a spectacular view of Grand Traverse Bay and Lake Michigan.
Within the park, some fun can be had combing the beach in search of petoskey stones, Michigan's state rock. Tip: the rock, which is actually both a rock and a fossil, is usually pebble-shaped!
9. Ludington State Park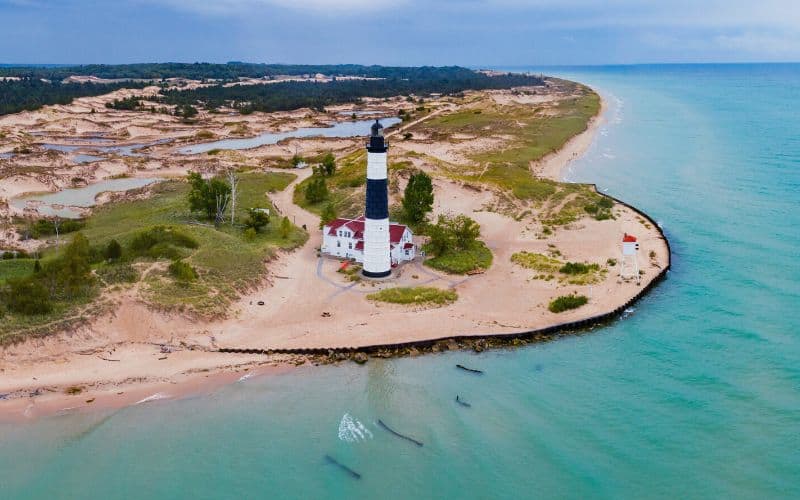 Featuring scenic sand dunes, a historic lighthouse, and striking sandy beaches, Ludington State Park serves up some of the best camping in Michigan as a whole. 
Within the park there are four campgrounds.
Beechwood Campground will bring you the closest to the sandy shoreline of Hamlin Lake. You'll find 147 sites with electrical hookups and modern restrooms and showers. There are also awesome hiking opportunities on the Lost Lake Trail or the Coast Guard Trail as well as a boardwalk.
Cedar Campground has 110 modern sites, mini cabins, a playground, and eight tent-only sites with no electricity.
The Pines Campground likewise has 98 modern sites with electricity. It also has modern showers and restrooms, a mini-cabin, and accessible sites for the handicapped. This campground also provides easy access to the Logging Trail (2.6 miles) or Lighthouse Trail (5 miles).
For backpackers, we recommend heading to the Jackpine Campground. This campground has 10 remote tent sites, no electricity, and can be accessed only by bike or by foot.
The park is located between Hamlin Lake and Lake Michigan, so there are opportunities for sightseeing, watersports, and scenic shoreline saunters year-round.
10. Huron–Manistee National Forest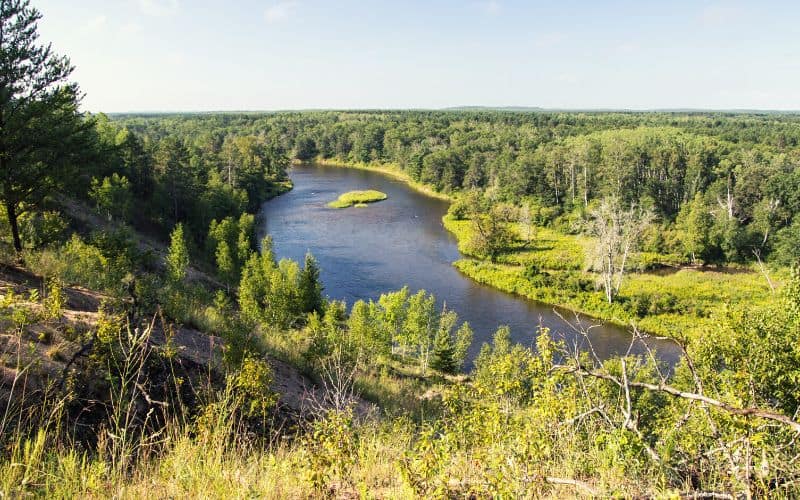 For those heading to the east side of the Lower Peninsula, try out Huron-Manistee National Forest. There are 14 campgrounds in the area that are open year-round and offer a rustic camping experience in some truly wild-feeling locations.
RELATED READING: Check out our full guide to hiking, camping or backpacking the Manistee River Trail.
Mack Lake Campground is larger and busier, but a great spot for wildlife viewing. You'll only find water and pit toilets here, no electrical hookups.
The Gabions Campground offers beautiful views of the National Scenic section of the Au Sable River. Here you'll also find quaint natural springs and the Shore-to-Shore Horse Trail (horse camping, however, is not permitted). The campground has pit toilets, but no water or electrical hookups.
For backcountry travelers, dispersed camping is allowed at walk-in tent sites along the Au Sable River. And if you feel like spending some time on the sand, Orchard Beach State Park is just a short drive away on M-55.
11. Fisherman's Island State Park, Lake Michigan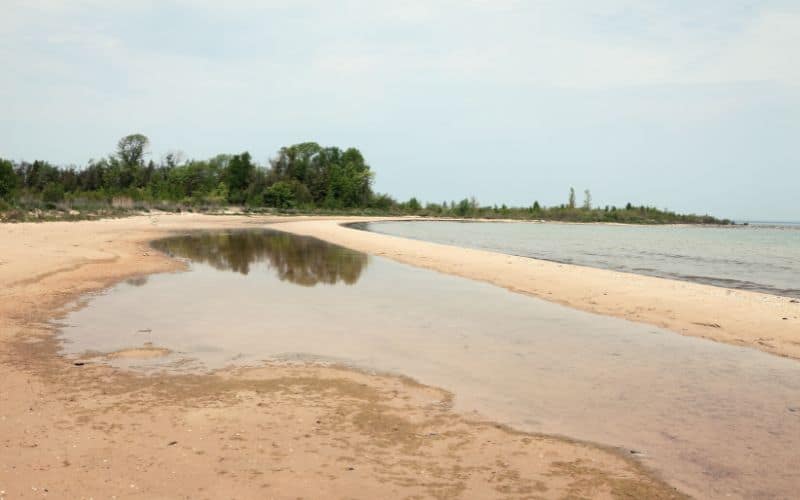 The highlight of the 2,678-acre Fisherman's Island State Park – which, oddly, isn't actually an island – are 5 miles of pristine Lake Michigan shoreline that are accessible year-round for hiking, birdwatching, and – you guessed it – fishing!
Further inland, you'll also find rolling dunes and a network of hiking trails winding through scenic forests of maple, aspen, birch, and cedar trees.
In the park, you'll find 80 rustic campsites, 15 of which are right on the beach area next to the lake. There are also tent and RV sites, but no hookups.
12. Fort Wilkins State Park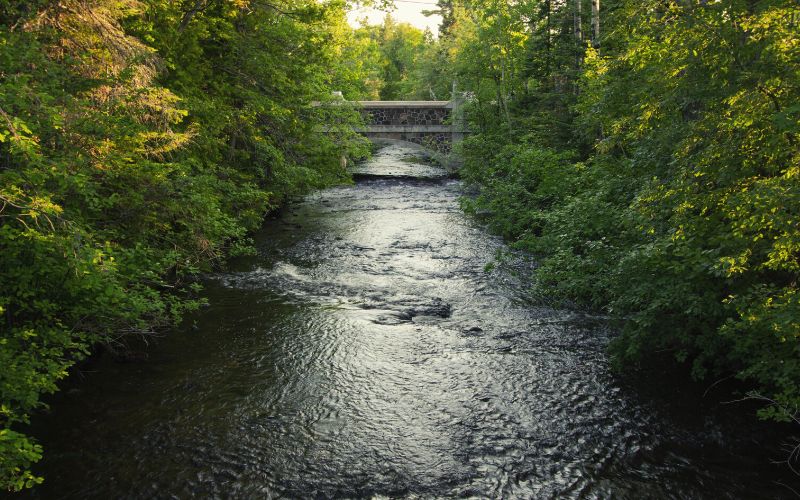 Built in the mid-1800s to keep the peace during the Copper Rush of the Midwest, Fort Wilkins State Park is great for the history buff in your family.
The park's camping consists of reservation-based tent sites and full electrical hookups for RVers.
While here, be sure to reserve at least a couple of hours for exploring the fort itself or taking a historical interpretation tour through the Living History program provided by Michigan History Center.
13. Warren Dunes State Park, South Lake Michigan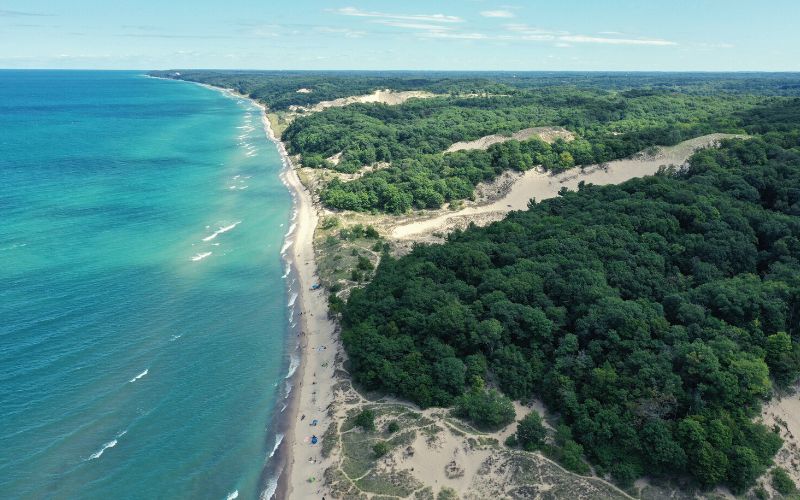 With 1,952 acres along the immaculate shores of Lake Michigan, Warren Dunes State Park is the ideal getaway for families who like to immerse themselves in nature and enjoy a wealth of recreational activities both on the water and on land. In addition to 6 miles of hiking trails, opportunities abound for dune-climbing, hang-gliding, swimming, and other water sports.
The biggest dune in the park rises 260 feet above the level of the lake and offers a superb, 360-degree view over the water.
Warren Dunes has two camping areas. Both have 37 campsites, some of which have full electrical hookups. You'll also find 24 rustic sites and 3 rustic cabins. For the more adventurous, beach camping is possible near a parking lot just next to the water.
14. Straits State Park, Upper Peninsula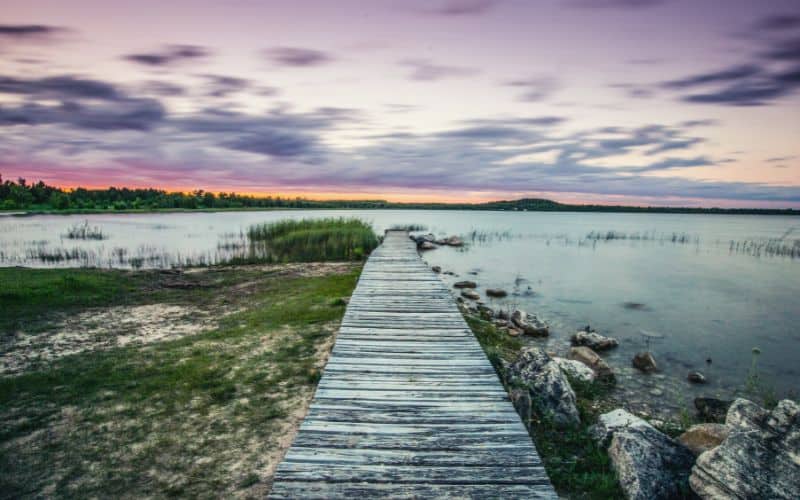 Straits State Park in the Upper Peninsula is situated on the waterfront section of Lake Huron, offering clear views of Mackinac Bridge and the Straits of Mackinac.
One of the most interesting things to do at the park is the historical interpretation tour. On the tour, you'll learn all about the 17-century missionary and explorer, Father Marquette. You'll also learn about the meeting between the French and Native American communities in North America, all while enjoying an outdoor trail and nice views of Mackinac bridge.
The state park's campgrounds have full electrical hookups, modern restrooms and showers, and a handful of mini-cabins for a cozier camping experience.
15. Traverse City State Park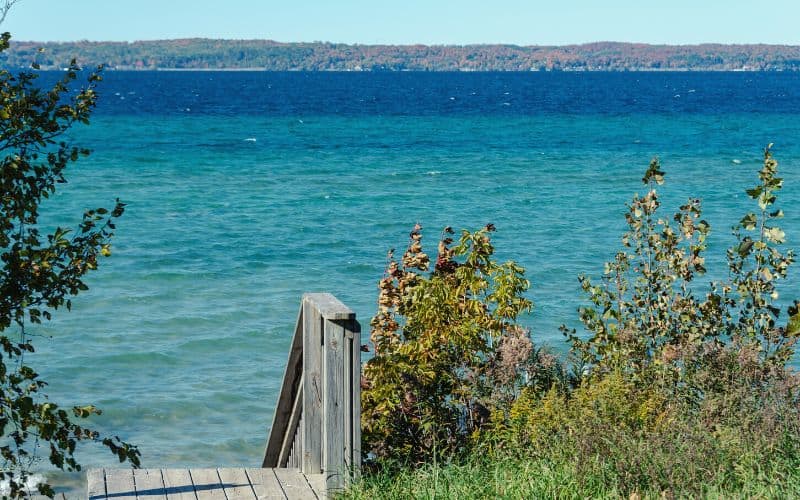 Located just two miles from downtown Traverse City, the campground at Traverse City State Park is ideal for campers who like their campgrounds chock full of amenities and within easy driving distance of other attractions.
The park has over 300 campsites, all of which feature full RV-park hookups and are open year-round.
Situated on the shoreline of Grand Traverse Bay, it's only a short jaunt from the campground to the sandy beach and clear waters of Lake Michigan.
Best Camping in Michigan: A Magical Experience in the Land of the Great Lakes
Michigan's state parks have a lot to offer any camping enthusiast. We hope the above list has inspired you to pack your things and come check out all the gorgeous forests, lakes, stunning waterfalls, dunes, and cool campsites waiting to be explored and enjoyed!
What did you think of our article? Feel free to send us a message or comment in the comment boxes below if you found our recommendations useful!