Swap the casinos for campgrounds and enjoy the outdoor adventure Nevada has to offer!
The Silver State is so much more than Las Vegas and Reno. From alpine lakes and stunning desert landscapes to ghost towns and historic sites, Nevada is jam-packed with camping options for visitors of all tastes.
This guide has everything you need to pitch a tent in the Silver State, including where to go, when to visit, and descriptions of each campground.
1. Cathedral Gorge State Park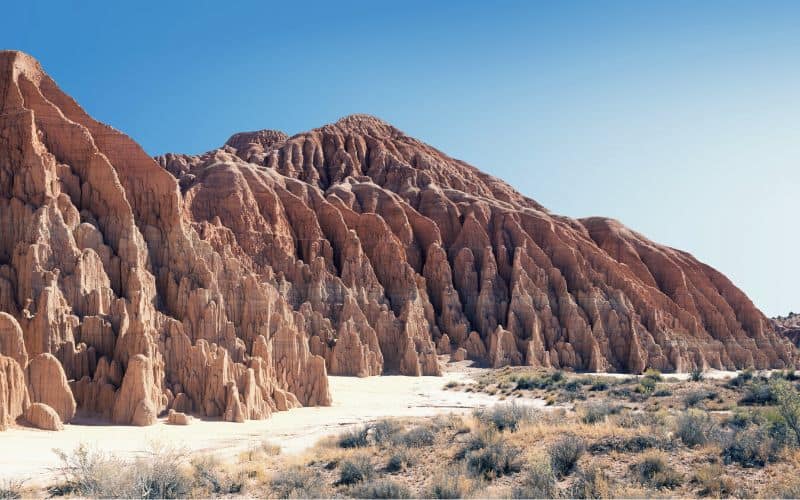 Cathedral Gorge State Park in Southeastern Nevada is home to amazing cathedral-like spires and other rock formations that are millions of years old and a must-see for any nature-loving visitors to the state.
The park covers 1,600 acres and boasts numerous hiking trails for exploring the state park's unique landscape and taking in the stunning views of the canyon. Popular activities at Cathedral Gorge State Park include horseback riding, biking, stargazing, and wildlife viewing.
If you're looking for a bit of adventure, check out the slot canyons in the area, like Moon Caves and Cathedral Cave.
The Cathedral Gorge State Park Campground features 22 campsites, some with electric hookups. Each site comes with a picnic table, fire ring, grill, and shade structure. Facilities include a large day-use picnic area, potable water, hot showers, and flushing toilets.
Sites are first-come, first-serve and cannot be reserved, so make sure you arrive early in peak season. Firewood is available for sale and fires are only allowed in the provided fire rings.
2. Lower Lehman Creek Campground, Great Basin National Park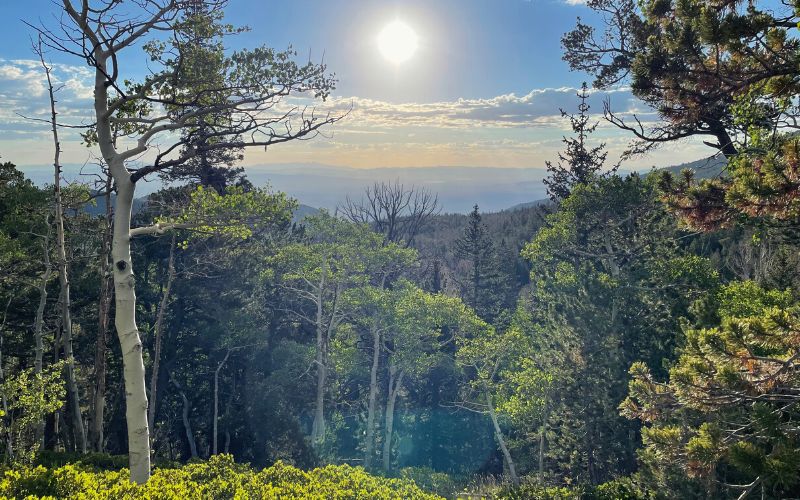 This national park encompasses a portion of the Great Basin Desert and South Snake Mountains, which accounts for its astonishing diversity. From the Lehman Caves' stalactites and stalagmites to Wheeler Peak's 13,093-foot summit, there's no shortage of things to see and do in this national park.
There are six campgrounds within the park, and Lehman Creek is one of the best places to stay overnight. The area is next to a snow-melt creek surrounded by lush vegetation, including red-barked water birch, aspen, and white fir trees. You can take a dip in the bubbling stream or head over to explore the cave nearby.
Lower Lehman Creek Campground has 11 sites, each with a picnic table and fire ring. Most of the sites are tent sites, but there are a few pull-through sites for RVs. This primitive camping area does not offer electricity or water, but it does have access to vault toilets. The sites are open year-round and will be first-come, first-serve starting in 2023.
3. Boulder Beach, Lake Mead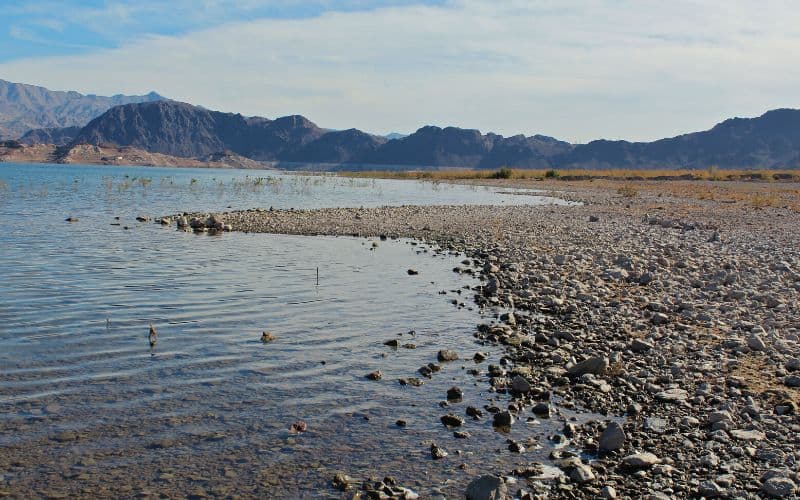 Discover this popular swimming beach on the shoreline of Lake Mead's Boulder Basin. It is located just minutes from the Las Vegas strip and offers the perfect opportunity to enjoy a day away from the city's neon lights. Popular activities in the area include swimming, boating, sailing, hiking, and picnicking.
Boulder Beach Campground hosts 135 campsites with large paved areas for tents or RVs. Every site comes with picnic tables, fire pits, and grills. Restrooms (no showers), water spigots, and an RV dump station are also available at the campground.
The campground is almost like an oasis in the desert and most sites are shaded by the many large trees scattered throughout. Many of the sites have stunning views of Lake Mead, Fortification Hill, and the River Mountains.
This campground is open year-round, but it's best to visit in the spring or fall when the climate is more comfortable for camping.
4. Valley of Fire State Park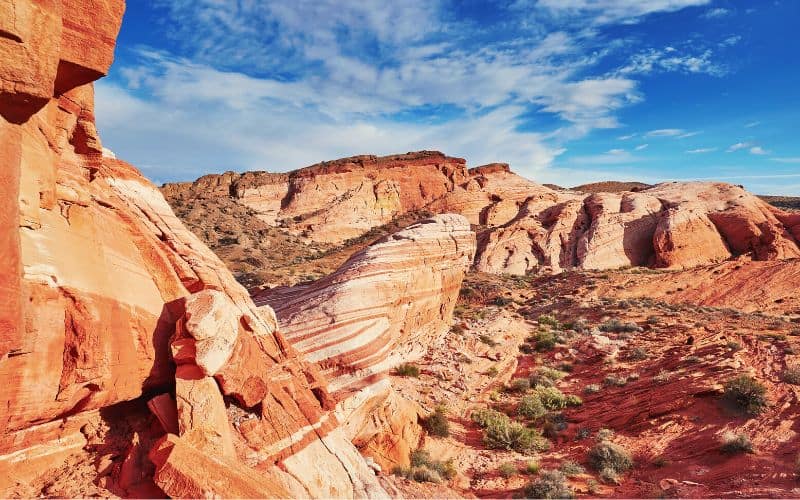 Valley of Fire State Park is Nevada's oldest and largest state park. It has over 40,000 acres of unique red sandstone formations, petrified wood, and otherworldly gray and tan limestone landscapes in the desert. Look closely and you might come across some of the 2,000-year-old petroglyphs!
Go for a trek on one of the numerous hiking trails, learn about the area's history and geology at the visitor center, or enjoy lunch at one of the park's shaded picnic areas.
This state park has two campgrounds with 72 campsites, some with electrical and water hookups for RVs. Each site comes with picnic tables, grills, and a shade structure. The campgrounds also have access to water, restrooms, showers, and an RV dump station.
All of the sites at this campground are first-come, first-served, except for the group-use sites.
5. Berlin-Ichthyosaur State Park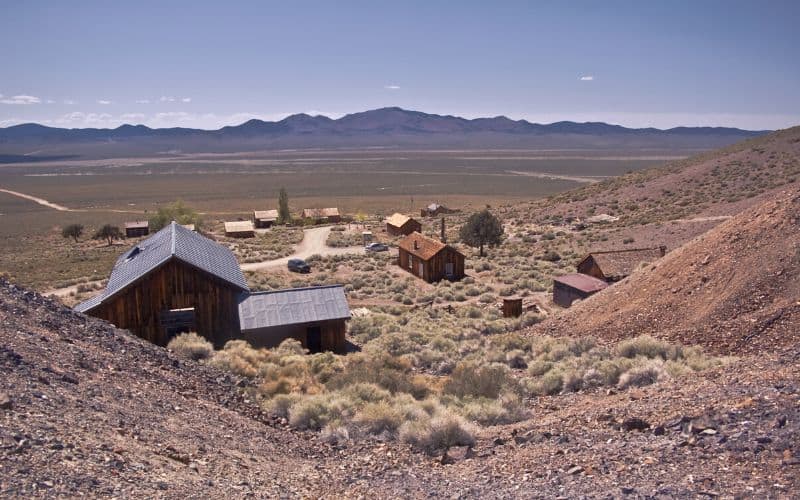 Berlin-Ichthyosaur State Park is home to two completely different yet equally interesting attractions: the abandoned town of Berlin and ancient Ichthyosaur fossils.
Strolling through Berlin is an unmissable opportunity to explore an authentic Nevada ghost town. The mining town was built in the 1890s and some of the original buildings still remain, along with the town's cemetery and mine.
To step back even farther in time, check out the prehistoric fossils at the Fossil House. This state park houses the largest known Ichthyosaur fossils, a prehistoric marine reptile that used to inhabit the area 225 million years ago when it was covered by salt water.
The park's campground has 14 campsites, with several sites large enough for RVs up to 25 feet in length. Each site features a fire ring, grill, and shaded picnic table. Campground facilities include seasonal potable water, restrooms, and an RV dump station. These campsites are open year-round.
6. Beaver Dam State Park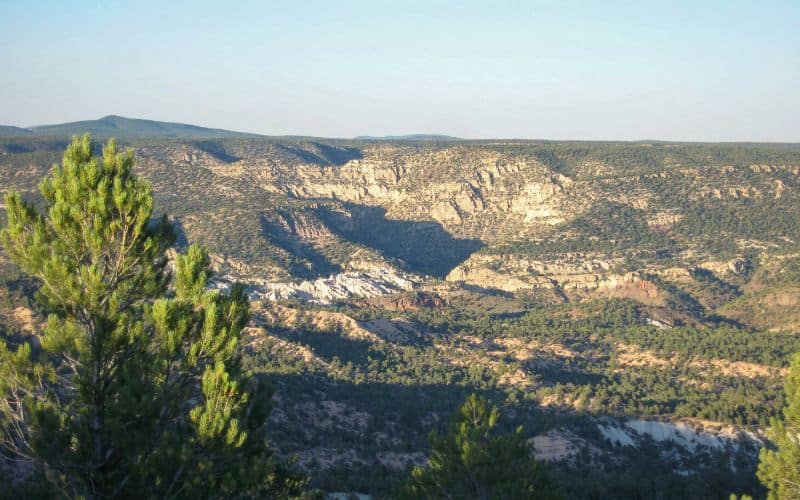 Beaver Dam State Park covers 5,500 acres of primitive and isolated protected land near the Utah border. This state park is best for getting away from it all and enjoying a more isolated Nevada camping experience in a truly rugged landscape.
Fishing, hiking, picnicking, stargazing, and wildlife viewing are some of the popular things to do here. The park is a designated Watchable Wildlife Area and visitors often encounter turkeys, mule deer, coyotes, porcupines, and jackrabbits.
There are two developed campgrounds in Beaver Dam State Park with dozens of campsites. Each site offers a fire pit, picnic table, and parking large enough for one vehicle and a small trailer. Potable water is available from April through November. There are vault toilets in the campground area, but no dump station.
Sites are non-reservable and available on a first-come, first-served basis.
7. Hilltop Campground, Humboldt-Toiyabe National Forest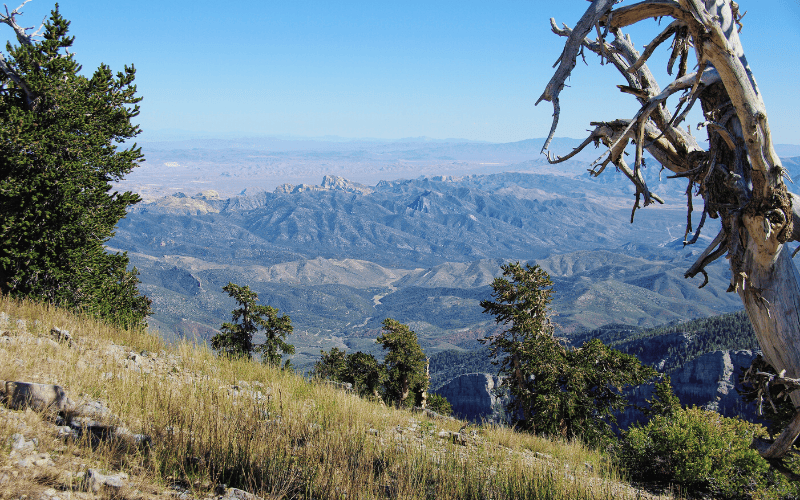 The Spring Mountains National Recreation Area of the Humboldt-Toiyabe National Forest has several campgrounds just 40 minutes from downtown Las Vegas. Popular activities here include hiking, horseback riding, and driving through this unique forest oasis surrounded by desert.
At 8,400 feet, Hilltop Campground is one of Nevada's highest-elevation camping spots. This campground has 35 tent and trailer campsites nestled in the forest. Each site features picnic tables, grills, and campfire rings. There are vault toilets and trash bins on site, but no water.
Hilltop is open from May through November as long as the weather permits. Reservations can be made for odd-numbered sites either online at Recreation.gov or by phone.
8. Angel Creek Campground, Humboldt-Toiyabe National Forest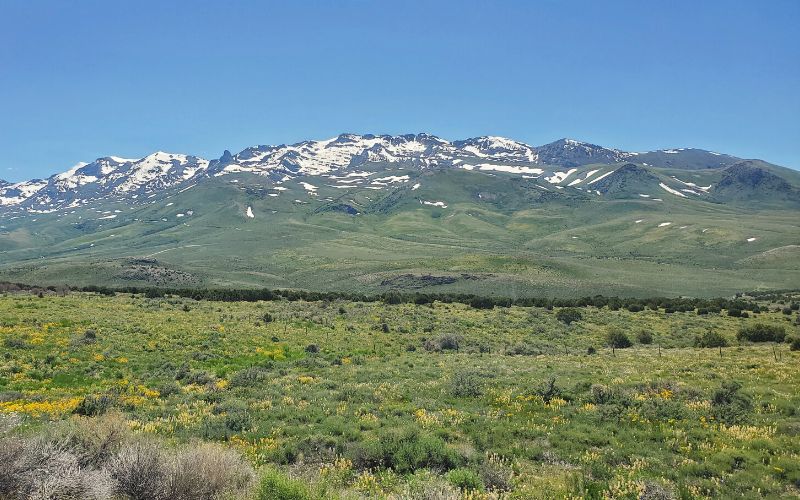 Angel Creek Campground is one of five national forest campgrounds in the Ruby Mountains area of Humboldt-Toiyabe National Forest. Spanning over 6.3 million acres, Humboldt-Toiyabe is the largest national forest in the lower 48 states. Unconnected portions of this forest are scattered throughout the state of Nevada and eastern California.
Located on the foothills of the East Humboldt Mountains, Angel Creek Campground sits in a mature aspen grove at 6,200 feet. Many campers here enjoy heading to nearby Angel Lake for paddling and fishing.
This campground has 18 non-electric sites, some with tent pads and some accessible for trailers up to 35 feet. Every site has a picnic table and campfire ring with a grill grate. There are vault toilets and access to drinking water onsite. There are no waste bins so you will need to pack out your trash.
This camping area is generally open from May to October, depending on the weather.
9. Zephyr Cove RV & Campground, Lake Tahoe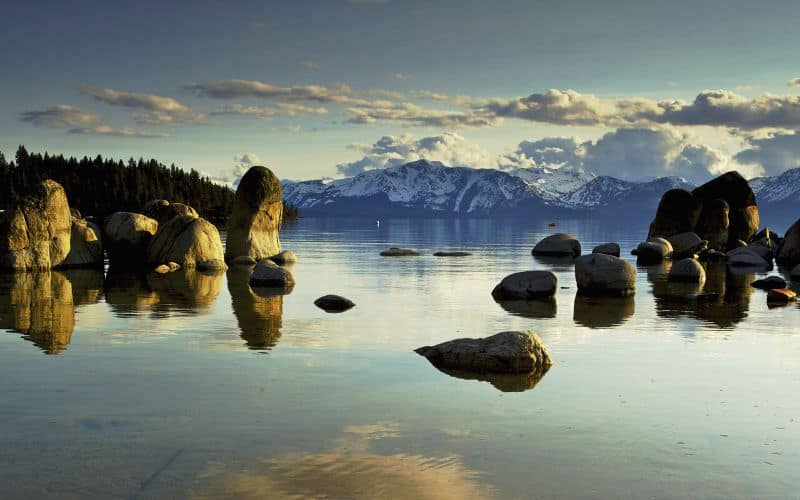 Lake Tahoe is North America's largest alpine lake and a spectacular sight to behold. The colors of the lake range from turquoise to dark blue and it's set against the stunning backdrop of the snow-capped peaks of the Sierra Nevada Mountains.
Those looking for RV parks in Lake Tahoe should visit Zephyr Cove RV & Campground. This RV resort on the lake's southeast shore has over 150 campsites within a short walk of a beach swimming area, restaurant, marina, and general store.
Amenities here include hot showers, flushing toilets, laundry facilities, vending machines, cable TV, free Wi-Fi in certain areas, and more.
The 93 RV campsites have water, sewer, and 30/50 electrical hookups and can fit vehicles up to 40 feet long. There are 47 walk-in tent sites and 10 drive-up camping sites, each with bear-proof food storage lockers. All campsites have picnic tables, fire rings, and BBQ grills.
10. Echo Canyon State Park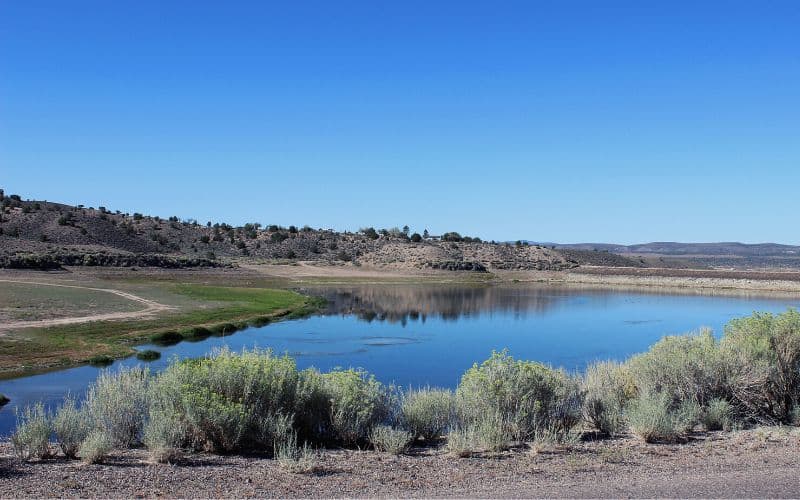 Echo Canyon State Park is home to the 65-acre Echo Canyon Reservoir near the Utah-Nevada border. This is a popular location for boating, swimming, hiking, birding, and fishing. There are a variety of waterfowl and birds of prey that inhabit the skies around here and the water is stocked with rainbow trout, largemouth bass, crappie, and German brown trout.
There are two campgrounds in Echo Canyon State Park: one with tent camping sites and one with RV sites. The northern campground hosts 33 tent camping spots with drinking water at each.
The campground for trailers and RVs is on a hill with scenic vistas of Dry Valley. It has 20 full hookup sites with flushing toilets and an RV dump station.
11. Elk Flat Campground and Lake View Campground, Cave Lake State Park
Cave Lake State Park is located in the high desert and is considered a miniature version of Great Basin NP.
With over 4,000 acres with a 32-acre reservoir, this park has countless opportunities for outdoor activities, including hiking, stargazing, fishing, biking, and scenic drives. Since it is open year-round, many visitors enjoy participating in winter activities here, such as ice fishing, skating, snowmobiling, and cross-country skiing.
Elk Flat Campground and Lake View Campground are the only two established campgrounds in this state park. Elk Flat is the closest campground to the park entrances near the highways. It's open seasonally from May to mid-October. Lake View is closer to Cave Lake and is open year-round.
Both campgrounds offer fire pits with grills, picnic tables, and parking at each site. Facilities offered here include showers and flushing toilets. All sites are first-come, first-served, except for the small group sites.
The Best Camping in Nevada!
Whatever type of camping you're looking for, the Silver State is sure to surprise you! The best camping in Nevada ranges from pitching a tent near an authentic ghost town to parking your RV along the shores of Lake Tahoe. In short, whatever your bag is, the Silver State can deliver!
What are your favorite Nevada campgrounds? Let us know in the comments below! If you enjoyed this article, feel free to share it with your friends.