Keeping things clean and hygienic on camping trips isn't easy. To help you out, we've put together a list of 7 awesome, portable showers that will let you fight those funky odors and keep yourself (and your gear) scrubbed up well.
Our list has something for everyone. We've included everything from ultralight solar showers for backpacking to home-like heated showers for campers who aren't willing to compromise on their creature comforts. Below our list, you'll also find helpful buying advice to assist you in choosing the perfect option for you.
Top Choices by Category
Budget: Ivation Portable, Coleman Solar, and Advanced Elements Summer 5.0
Heated: Geyser Systems with Heater
Lightweight: Sea to Summit Pocket, Coleman Solar, Advanced Elements 5.0, and NEMO Helio
Editor's Choice
Geyser Systems with Heater
The most important things we considered when choosing a product for our Editor's Choice award were water pressure, heating capability, runtime, portability, and value for money. In all of these, the Geyser Systems camp shower is a standout.
This electric model uses an advanced pump system and heating element to deliver hot, pressurized water for up to 15 minutes. And while it's awesome for cleaning your body, it's also a great tool for washing your gear and dishes.
What we love most about this unit are its non-standard bonus features. These include a water level sensor, an adjustable shower head, an LED dashboard that indicates when your water is hot and ready to use, and an extra-long power cord that saves you from creating puddles next to your vehicle.
This unit's a little too heavy for anything other than camping in car-accessible sites but, if that's the way you do your camping, it can't be beaten!
Bottom Line: The closest thing you'll get to your home shower when adventuring off-grid.
At a Glance: Quick Recommendations
Best Portable Showers for Camping: Our Top 7 Picks
Geyser Systems with Heater
Editor's Choice
The Geyser Systems electric camp shower is the perfect pick for car campers who want the ability to have a hot shower no matter where their adventures take them.
The GS has an internal heating system that delivers toasty-hot water in 15-45 minutes. While the capacity of the reservoir is just 0.8 gallons, the sponge shower head allows you to scrub and rinse at the same time, so you don't need as much water to enjoy a full, five-minute shower.
You need a 12v power source, electric hookup, or generator to power this device. However, if you find yourself without any of these, you can simply fill the reservoir with two liters of cold water and one liter of hot water, which will give you a lukewarm to warm ablution.
We're big fans of this unit's other features too. On top of an LED dashboard that lets you know when the water is ready, there's a valve to control flow rate, a water level indicator, and a safety feature that switches the device off automatically if the water overheats.
PROs

Portable (weighs 11 lbs.)
Quick to heat water
Great water pressure
Control valve lets you choose your water flow rate
LED dashboard with temperature gauge
Water level sensor
Replaceable scrub sponge and 16ft. power cord included

CONs

Low capacity
Requires 12v outlet or generator
Bottom-Line: The perfect pick for campers who won't settle for anything less than a nice hot shower.
Ivation Portable Camping Shower
Best Value
If simplicity and value for money are high on your priority list, you could do a lot worse than plump for the Ivation Portable.
This is one of the most packable rechargeable units out there and weighs a reasonable 1 lb. 12 oz. It consists of a shower head, a 6.5-foot hose, and an electric pump that saves you the hassle of using a foot or hand pump and also delivers more pressure than a gravity system.
To use it, you simply charge it up via USB, dunk the pump in a water container, then enjoy 0.66 gallons per minute of pressurized water. If you want to free up both hands for scrubbing, you can attach it to a flat surface with the included suction cup or hang it with the included S-hook.
The only real downsides to this unit are that you'll need to carry a water container and there's no heating element. If you're car camping, the former shouldn't be an issue. As for the latter, you can always heat up your water on a stove or in a solar shower bag beforehand.
PROs

60-minute runtime
Lightweight
Durable
Built-in pump
Relatively short charge time (2-5 hours)
Affordable

CONs

No heating capabilities
Bucket/water container required
Bottom-Line: A durable, portable, pump-powered device with a 60-minute runtime and a very friendly price tag.
Advanced Elements Summer Shower 5.0 Gallon
Best Budget
If you're looking for a low-cost, high-capacity gravity system that provides decent water flow and pressure, the Advanced Elements 5.0 is the shower for you!
This lightweight system is one of the most user-friendly we've ever used. It has a burly handle for transportation and hanging and comes with a simple on/off shower head.
At 1 lb. 5 oz., it isn't the lightest option out there, but it has a far higher capacity than other backpacking models like the Sea to Summit Pocket and NEMO Helio, which cost more than twice as much. The Advanced Elements offers better pressure than the S2S Pocket and keeps pumping water through at a consistent rate even when the water reservoir is nearly empty.
Although the AE has no water heater, you'll be able to treat yourself to a warm shower if you can leave it in direct sunlight for a few hours on hot days.
PROs

5-gallon capacity
Burly hanging handle
Lightweight
Affordable

CONs

Not the most durable
Narrow opening makes it tricky to refill
Bottom-Line: A fairly priced gravity system that's ideal for low-maintenance car campers or backpackers who don't mind carrying a few extra ounces if it means saving a healthy handful of $.
Sea to Summit Pocket Shower
Best Ultralight
If you plan on taking your outdoor shower on backpacking trips, there are few options out there that can hold a candle to the ounce counter's dream that is the S2S Pocket.
True to its name, the S2S Pocket is small enough to fit in a pants pocket and is the most compact option on our list. The entire system also weighs a piddly 5.25 ounces, which is roughly the same weight as a baseball.
While the S2S pocket has no heating system, its black fabric absorbs the sun's rays and will help provide you with 5 or 6 minutes' worth of warm water when skies are blue and the sun's shining.
Understandably, the S2S Pocket doesn't offer the same pressure or flow rate as pricier and heavier systems. If weight (and cash!) savings are your main concern, however, it's a winner!
PROs

Lightweight
Leak-proof
Works well as a storage bag
Large enough capacity for a full shower
Heats water reasonably well
Adjustable flow rate

CONs
Bottom-Line: An ultralight, compact, simple model that's ideal for personal hygiene and cleaning gear on backcountry trips in the great outdoors.
NEMO Helio Pressure Shower
Best Pump-Powered
Heading on a backpacking trip but want a little more power and pressure than your average gravity-powered system can deliver? If so, the NEMO Helio is well worth a place on your shortlist.
Most of the lightweight showers geared towards backpacking out there rely on gravity to provide water pressure. Not so the Helio. This tidy, 3-gallon system comes with a foot pump that lets you manually pressurize the water tank, thus providing you with a consistent flow of water for up to 7 minutes.
The Helio doesn't have any heating system but its thermoplastic urethane reservoir can either be filled with water heated on your stove or you can leave it to warm up in the sun.
At 1.5 oz, this is one of the heavier "backpacking" showers on our list, and it's also the priciest by far. Is it worth the added expense? This depends on how much you value good water pressure. If it's high on your list, the answer is a resounding "yes". If not, we'd recommend saving yourself some cash by plumping for the Advanced Elements 5.0.
If portability isn't a huge issue, then the Ivation Portable is also a better choice. It's around 5 ounces heavier and far bulkier but provides pressure and heated water at a far friendlier price point.
PROs

Lightweight and compact
Great water pressure
Carry bag/case included
Powered by a user-friendly foot pump
Larger version available

CONs

Pricey compared to other lightweight models
Bottom-Line: Pricey, but a great option for car campers and backpackers alike nonetheless.
Yakima Road Shower
Premium Pick
If you plan on doing a lot of RV camping or hit the road in the van frequently, the Yakima is the ideal option to upgrade your hygiene game… if that is, you're happy to splurge.
This is the priciest option on our list, but for those who want a system they can rely on to provide a long, pressurized shower every day, it will be worth every penny.
The Yakima is available in three sizes – 4, 7, and 10 gallons. If you're only using it for showering, the 4-gallon version should do the trick. If you will be using it to clean bikes or other outdoor gear, then the 7 or 10-gallon version is a safer bet.
The Yakima is made with tough aluminum with a powder-coated finish and attaches to your vehicle via brass fittings. The benefit of this is you'll never forget it. The downside? You'll only be able to use it when camping right next to your vehicle.
Performance-wise, the Yakima is kinda sweet and sour. The sweetness comes courtesy of its ability to provide consistently solid water pressure for long periods. The sourness is that, despite its lofty price tag, there's no heating mechanism, so you have to rely on solar power only to avoid cold showers.
PROs

Easy to attach to your vehicle or roof rack
Great water pressure
7-gallon capacity
Durable
Stick-on thermometer strip tells you when water temp is right

CONs

Heavy!
Expensive
Nozzle not included
Hot shower not guaranteed (it's solar-powered)
Bottom-Line: Makes up for its lack of a heating element with garden-hose-like water pressure and a high enough capacity for an extra-large camping crew.
Coleman Solar Shower
Bargain Buy
Coleman is the go-to brand of countless campers who want quality, low-cost kit, and this solar-powered shower is a prime example of just that.
This device retails for around the same price as a 6-pack of craft beer but does everything far pricier competitors do. At 8.8 ounces, it's one of the lightest models we tested. It also has a 5-gallon capacity, comes with an easy on/off shower head, has a burly handle, and is made with durable, heat-locking material that warms the water when left out in the sun.
This option isn't going to bathe you in 100-degree water, but if you can settle for around 75-85 degrees (depending on the weather), it's a great choice.
PROs

5-gallon capacity
Compact and lightweight
Cheap
Easy to use

CONs
Bottom-Line: The definition of "cheap and cheerful"!
How to Choose a Camp Shower
Weight & Portability
This isn't such a big issue if you're camping in a car-accessible campsite, but can be one of the most important considerations if you're heading further afield on a backpacking or dispersed camping trip.
For backpacking, we recommend a packable, lightweight gravity shower like the Sea to Summit Pocket or Coleman Solar, both of which weigh not much more than an inflatable sleeping pad. With lightweight models like these, however, you'll have to accept the trade-off with power, capacity, and heat.
If you're car camping and weight is no issue, heavier electric models like the Yakima and Geyser Systems unit become viable options.
Tank Capacity
The shower systems on our list have tank capacities ranging from 0.8 to 7 gallons. In simple terms, tanks at the lower end of this scale will give you enough water for a quick, 1-minute scrub while those at the upper end will deliver a more satisfying 5 to 6 minutes of shower time.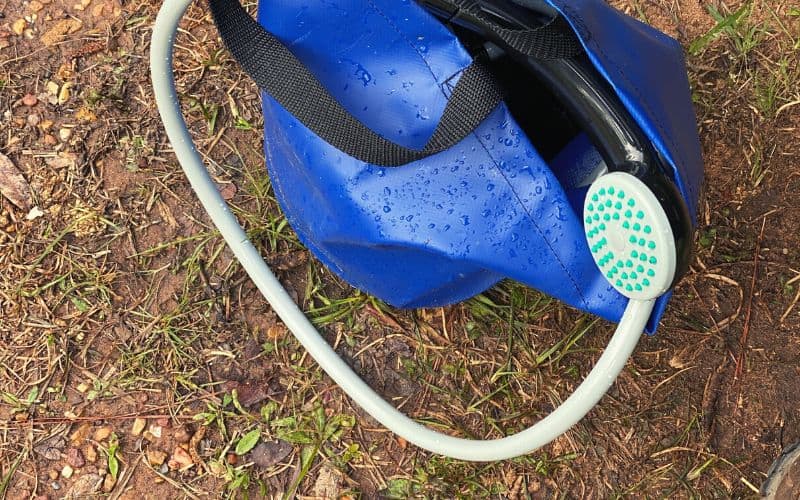 Naturally, the optimal option for you will come down to personal preference. Even if you're traveling in a larger group, you can simply refill smaller models multiple times to allow every camper to perform their ablutions. Smaller models, moreover, will be easier to transport back to your camping site from any water source.
Portable showers that use a pump flow system don't have a set capacity but instead rely on the use of a bucket or water container from which they draw your cleansing H2O. When buying, remember to factor in the weight of the water container, particularly if you plan on taking your showering system backpacking.
Flow System: Gravity, Pump, or Electric?
Each style has its advantages and disadvantages.
Gravity: These systems are typically the cheapest and most basic, and in most cases take the form of a bag that you fill with water and then hang onto a sturdy tree branch. From there, gravity forces water out of the sack and onto the showerer, though the flow rate and pressure are usually far weaker than with pump or electric-powered systems.
Examples: Advanced Elements 5.0, Sea to Summit Pocket, and Coleman Solar
Pump: With pump-powered systems, you use a manual hand or foot pump that pressurizes the water chamber and then sprays water out through the shower head. These systems aren't as lightweight as gravity systems but provide far superior water pressure.
Examples: Nemo Helio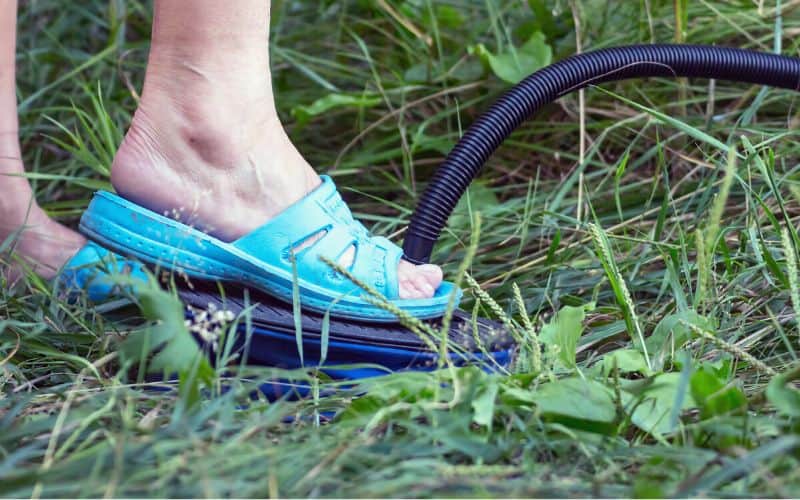 Electric: The luxury option. These work by using an electric-powered shower pump that is placed in a bucket or water container and automatically pumps water up a hose and through the shower head. While these models offer the greatest water pressure and frequently have a heating system, they're the heaviest and priciest option by far.
Examples: Geyser Systems, Ivation Portable, and Yakima Road
Heated or Not?
Unless you happen to be a follower of the Wim Hof Method, there can be no denying the value of a good hot shower when camping.
To get hot water, you have three options: solar, gas, or electric-powered systems.
Solar: Solar-powered camp showers are the cheapest and most portable option. The downside? You'll need sun… and lots of it! Even on hot, blue-sky days, you can expect to wait around an hour for a lukewarm wash with the most efficient systems, and around two to three hours for something approaching 'hot'. You'll also, of course, be limited to daytime showering. On the plus side, solar-powered models' light weight makes them a viable option for backpacking trips.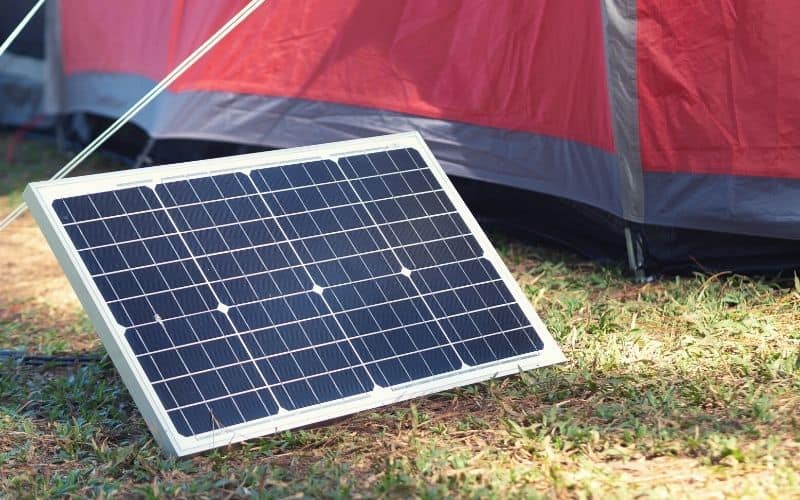 Gas: These systems run on propane tanks and are by far the most convenient and time-efficient option. The downside? They're pricey, and those canisters ain't light!
Battery/Electric: While highly efficient and convenient, these models require a power source and are usually pretty heavy.
Best Camping Shower: The Verdict
Still undecided? Just in case you are, let's have a quick recap of our top picks.
Our standout favorite outdoor shower is the Geyser Systems electric, which ticks every box that needs ticking for car campers. It provides piping hot water, plenty of pressure, and has a wealth of convenient features.
If you're looking for a cheaper option, you can't go wrong with the Ivation Portable. This electric unit is as user-friendly as they come, durable, and provides a continuous spray of pressurized water for up to one hour on a single charge.
If you enjoyed this article or have any questions, drop us a line in the comments box below. And if you'd like to share it with your friends, go ahead!