Outdoor slippers aren't only for keeping your feet warm in cold weather. They also aid recovery after a hard day on the trails and are a far more practical form of footwear than flip-flops or sneakers.
Once you've tried a pair, you'll soon come to appreciate the convenience they bring. Not only do they allow you to stroll around camp in comfort, but you'll also be able to move in and out of your tent without endless changes of footwear, and be able to dry out your hiking shoes ready for the next day's adventures. Plenty of reasons to be the envy of any of your slipperless camping crew members.
Sold already? If so, then it's time to find the best outdoor slippers or booties for you!
Best Outdoor Booties and Slippers by Category
Budget: Columbia Packed Out II Slipper and Baffin Base Camp Insulated Bootie
Booties: Sierra Designs Dridown Booties, Baffin Base Camp Insulated Bootie, and Rab Hut Boot 404
Slippers: Teva ReEmber Moc, Keen Howser Slide, and The North Face Thermoball Eco
Editor's Choice
Teva ReEmber Moc
The Teva Moc, in a few words, delivers everything we look for in a camping slipper. They're practical, toasty warm, durable, light enough for backpacking, and as comfortable as slippers for camping are made.
These moc-style camp shoes (click here for women's version) are stylish enough to wear to work and sturdy enough to hike mellow trails, but their ripstop nylon upper, knitted collar, microfiber lining, and cozy synthetic insulation make them ideal for cold nights at camp.
These are among the most comfortable camp shoes we tested. They scooped top place, however, on account of marrying that comfort with impressive versatility and unrivaled practicality.
For more details, check out our more in-depth review below!
Bottom Line: These will soon become one of the first items to go in your pack on any camping trip!
At a Glance: Quick Recommendations
Best Down Booties and Camping Slippers: Our Top 9 Picks
Teva ReEmber Moc
Editor's Choice
In any outdoor gear, above all else we value versatility, value for money, and practicality. For these reasons, it was a no-brainer to make our top recommendation the ReEmber Moc (click here for women's version).
Let's start with versatility.
These slippers look and feel like regular sneakers with a grippy, hard-wearing outsole that allow them to perform just as well on days around town as they do strolls around camp. We might not wear them into the office, but we'd have no quibble with anyone who did.
Their plush padding, cushioned midsole, rib-knit collars, non-marking outsole, and water-resistant finish also make them ideal for overnighters in the great outdoors.
While these slippers are the second priciest option on our list after the Keen Howser Slide, we believe they're worth every penny. If you were to wear them as regular slippers, a camp slipper, and on top of that for daily jaunts to the store, you'd probably get around 2 years' use out of them (before you get your calculator out, this equates to less than 10 cents per day…not bad!).
Finally, there's practicality.
Every component used in the ReEmber Moc makes them wonderfully practical and fit for the task. Their soft, microfiber lining and EVA foam footbeds help your feet recover after a day in hiking boots. Whilst their lug pattern and durable outsole provide plentiful protection and traction on rocky and loose ground.
And last but not least, their synthetic insulation gives you all the warmth you need for three-season camping.
PROs

Soft knitted collar
Stylish enough to wear anywhere
Cushy foam footbeds
Flexible heel panels for easy on-off
Warm
Durable and grippy outsole

CONs
Bottom-Line: Pricey, but outstanding performers in every applicable metric.
Keen Howser Slide
Runner Up
The Howser Slides, essentially, are a souped-up house shoe that has been tailored, tweaked, and upgraded to make it just about ideal for life in the great outdoors (click here for women's version).
They are just as comfortable as the cushiest sneakers but boast a high-traction rubber outsole, water-resistant upper, faux shearling lining, and cozy insulation to deliver the perfect balance between functionality and coziness.
But one feature makes these slip-ons stand out compared to their peers. They have an antimicrobial treatment that prevents them from stinking up if you wear them without socks. Something that not only you, but your campmates as well, may be very thankful for!
And the downsides? Other than the price tag, there's nothing worth mentioning.
PROs

Great tractions
Water-resistant shell (not in all color schemes)
Recycled materials
Anti-odor technology

CONs
Bottom-Line: The most expensive option we reviewed, but well worth it if you're happy to pay for top-notch comfort and quality.
The North Face Thermoball Traction Booties
Best Value
The TNF Thermoball Traction are the only bootie-style slippers on our list designed to also be used outside your tent. For this reason, they're a solid option for anyone who wants the warmth of a tent bootie without sacrificing the practicality of an outdoor slipper.
These supremely comfortable slippers use synthetic insulation that is equivalent to 600-fill down. In layman's terms, they're toasty warm! However, compared to our list's other three toasty-warm booties, the Rab Hut Boot, Sierra Designs Dridown Booties, and the Baffin Base Camp, their high-traction rubber soles mean they are far more versatile, if a little heavier.
Several other features also make these booties ideal for camping. They have a DWR finish to keep your feet dry, a tough, ripstop shell, fleece collar lining, and a collapsible heel with elastic side panels for easy on/off.
While not as warm as the Sierra Designs Dridown Booties, their rubber sole and water resistance make them a better choice if you plan to use your slippers outside your tent.
If you like the look of the Thermoball but would prefer a low-cut camp shoe, check out the TNF Thermoball Eco Mule, below.
PROs

Made with recycled materials
Toasty warm
Grippy rubber sole
Water-resistant upper
Cozy collar lining

CONs

Heavier than other booties
Pricey
Bottom-Line: As cozy as they come and the only booties on our list that can be used outside your tent.
Columbia Packed Out II Slipper
Best Budget
These popular synthetic-fill, low-cut slippers are a great pick if you're in the market for some highly practical, incredibly warm, and very fairly priced camp footwear.
The Packed Out II are made with a durable nylon material in the shell, an Omni-Heat reflective lining, synthetic insulation, a lightweight but supportive midsole, and a non-marking, slip-resistant rubber outsole.
Despite their low price, the Packed Out II slip-ons score highly across the board. They're toasty warm, provide great traction, and are very nearly as comfortable as the Teva Moc. We particularly love how cushy the footbed feels and the arch support provided by the EVA foam midsole. At 13.2 ounces per pair (size 9), the PO II are also among the lightest on our list.
The only downsides worth mentioning are that the upper isn't water-resistant and the sole isn't the best for walking around inside your tent or using in your sleeping bag. Otherwise, they're pretty much ideal!
PROs

Affordable
Warm
Comfortable
Cushy midsole and contoured footbed
Lightweight

CONs

Upper isn't water-resistant
Bottom-Line: A far cozier and more practical choice than many alternatives that cost significantly more.
The North Face Thermoball Eco Traction Mule V
Most Versatile
The TNF Thermoball Eco have been around for a while and over the years become one of the top-selling camp shoes worldwide.
The reasons for their popularity: they're super warm, ridiculously comfortable, water-resistant, and grippy enough to wear on short hikes, never mind around camp!
The Thermoball Eco are made with a recycled, ripstop nylon upper with a DWR finish that helps keep your feet dry in wet conditions. In addition to the beefy PrimaLoft insulation, there's a plush fleece lining to ensure maximum warmth.
There are many reasons why we love these slip-on camp shoes, but their versatility is number one. They can be worn as a house shoe, outdoor slipper, inside your tent, and even on your morning trip to the coffee shop.
PROs

Thick soles
Recycled insulation and rubber soles
Ripstop upper
Great in wet weather conditions
Soft microfleece lining
Rand is made with waterproof fabric
Collapsible heel

CONs

Not a warm as down alternatives
Bottom-Line: A highly popular and crazily comfortable camp shoe that you can wear just about anywhere.
Rab Hut Boot (and Rab Hut Slipper)
Best Tent Booties
For camping trips in colder climates, there are few options out there that can compete with the Rab Hut Boot. These toasty-warm, down-insulated booties are a regular feature in mountain huts around Europe and base camps in the Greater Ranges and now steadily becoming the go-to of cold-weather adventurers stateside.
These booties are designed to wear inside your tent or, as the name implies, inside a mountain hut, so they don't have the rubber outsole found on most other options on our list. Instead, there's a water-resistant, TPU and nylon sole that offers a decent degree of water resistance and can be worn inside your sleeping bag.
These booties are also very comfortable and far more durable than they look. Their ripstop, water-resistant upper means they can deal with a little bit of rough treatment inside your backpack, while the responsive EVA midsole provides plenty of protection and makes them feel like pillows for your feet.
These booties are also available in a slipper.
PROs

Ripstop and water-resistant uppers
3M featherless insulation
Slip-proof, TPU-based sole
Suitable for indoor use
Very warm

CONs

Pricey
Only suitable for winter and the shoulder seasons
Bottom-Line: Ideal for trips where you need a little (or a lot of) extra warmth!
Sierra Designs Dridown Booties
Best Down Booties
If you're a winter camper or just happen to suffer from cold feet on nights in the outdoors, the Sierra Designs Dridown boots are a shoo-in for your shortlist.
These booties are all about warmth. Packed with a hefty load of 800-fill DriDown insulation, there are the toastiest camp booties on our list. Unlike other down booties, their use of a DriDown fill also means they'll continue to insulate your tootsies even if damp or wet, and there's a cinch-cord cuff that lets you seal in the heat.
The SDD booties don't have a rubber outsole, so aren't designed to be worn outside, but their grippy silicone traction print sole provides enough traction and durability for wandering around mountain huts or base camp tents.
PROs

800-fill, hydrophobic down insulation
Tricot lining
100% recycled polyester taffeta shell
Cinch-cord closure

CONs

Designed for indoor/tent use only
Pricey
Bottom-Line: These are the only down booties on our list and are a fraction warmer than any of the alternatives that use synthetic insulation.
Baffin Base Camp Insulated Bootie
Best Indoor Bootie
Need a pair of low-cost, warm slippers for mountain huts or cold nights in your sleeping bag? If so, you can't go wrong with the Baffin Base Camp.
These booties are, essentially, sleeping bags for your feet. Their beefy synthetic insulation, cinch closures, and soft lining make them among the coziest options on our list. Just like sleeping bags, however, you wouldn't want to wear them outside. While their nylon sole is tough enough for tents and floored surfaces, it won't last long if exposed to rock and dirt.
While the Base Camp aren't as practical as any other booties on our list, even those designed exclusively for use in your tent or a mountain hut, their low price makes them an attractive option.
PROs

Affordable
Warm
Cinch closures to trap in hear
Entirely manmade

CONs

Lining not as soft as other options
Sole isn't very durable
Bottom-Line: A basic but very warm hut/tent booty at a very reasonable price.
Acorn Slouch Boot Slipper
Honorable Mention
The Acorn Slouch aren't your average tent slippers – far from it! – and not just because they were worn by NASA astronauts on the ISS (true story!).
The Slouch are, essentially, a beefy wool-acrylic sock with a hardy rubber sole. They also boast suede toe and heel guards, a microfleece lining, and a supportive, memory foam midsole.
The benefits and drawbacks to this style of slipper are fairly obvious. The use of a wool-acrylic upper means they lack the water resistance of other options but this also makes them much warmer than your average slipper. And while they're not quite as warm as most of the booties on our list, their durable rubber outsole means they can be worn outside your tent.
PROs

Very comfortable
Cushy memory foam midsole
Machine washable
Suede toe and heel guards

CONs

Not water-resistant
Quite pricey
Bottom-Line: A very quirky but surprisingly practical boot, slipper, and sock hybrid.
What to Look for in Camp Slippers
Outdoor Slippers or Tent Camping Slippers?
There are two types of camping slippers. First, those that are designed to be worn pretty much exclusively inside your tent (tent slippers). Second, those that are suitable to use around camp (outdoor slippers).
Generally speaking, tent slippers have fabric soles and chunkier insulation to help keep your feet warm when walking around on the cold surface of your tent floor. Their fabric soles mean they won't damage your groundsheet/flooring, and you can even wear them inside your sleeping bag without fear of damaging the fabric.
On the downside, these slippers won't be of much use outside your tent. In most cases, the fabric soles aren't water-resistant and could easily tear on rocky surfaces. They also won't provide much protection for the soles of your feet.
Examples: Baffin Base Camp, Sierra Designs Dridown Bootie, Rab Hut Boot (and Rab Hut Slipper), TNF Thermoball Traction Bootie.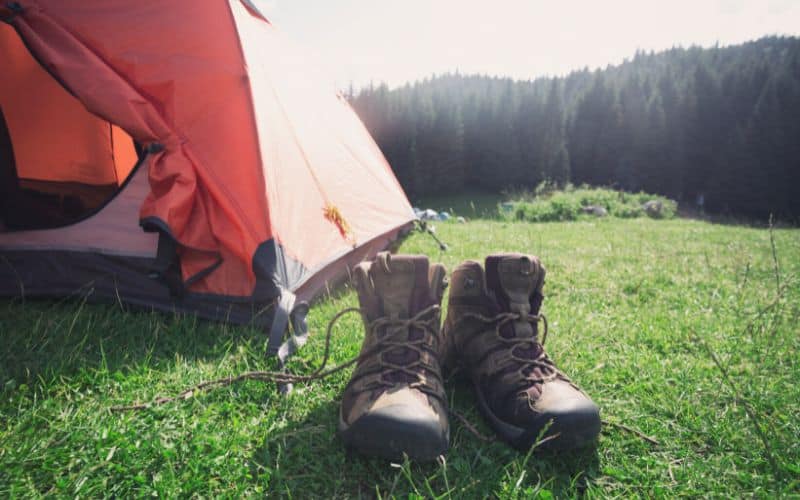 Outdoor slippers have a durable rubber outsole that allows you to wear them around camp, whether you're nipping out for a middle-of-the-night pee, letting your feet recover after a day in hiking boots, or cooking your evening meal.
While these can also be worn inside your tent or sleeping bag, the compound or natural rubber sole could damage the flooring or fabric, so we wouldn't recommend it. In most cases, they're also heavier than tent slippers.
Examples: Teva ReEmber Moc, Keen Howser Slide, and The North Face Thermoball Eco
Fill: Synthetic or Down Camping Slippers?
Camp slippers use one of two types of insulation to keep your feet warm: down or synthetic fill.
Down slippers are very lightweight, toasty warm, and highly packable. However, they do not insulate when wet and tend to be pricey.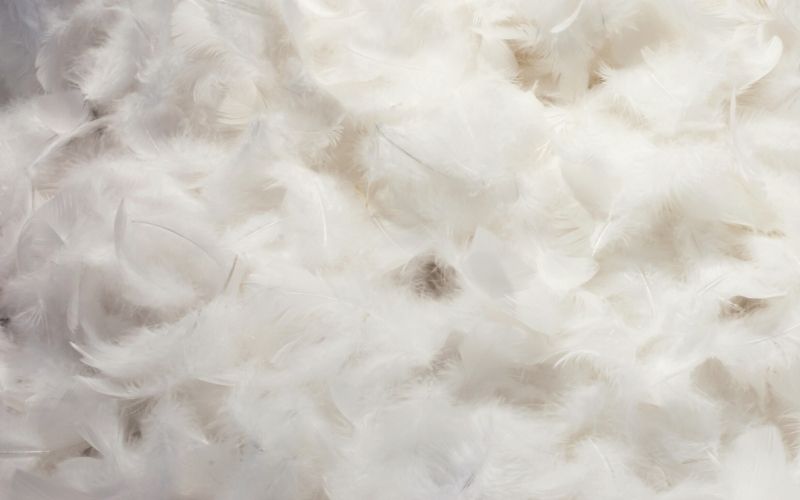 Slippers with synthetic insulation are typically a little heavier than down equivalents and not quite so cozy. On the plus side, they're usually cheaper, more durable, and will provide insulation even if you get them damp or wet.
Camping Slippers or Booties?
Camping booties like the Rab Hut Bootie, Sierra Designs DriDown, or the Baffin Base Camp are great options if you are camping in cold weather because, instead of stopping below the ankle, they provide coverage up to the base or middle of your shin. The downside? They usually cost and weigh more than slippers.
Slippers are lighter, cheaper, and far more packable. Their portability means you're far less likely to grudge taking them along for the trip.
Weight
Because camping slippers are deemed a non-essential 'luxury' item, you probably won't want a pair that adds too much weight to your pack, especially if you're venturing far from the trailhead before setting up camp.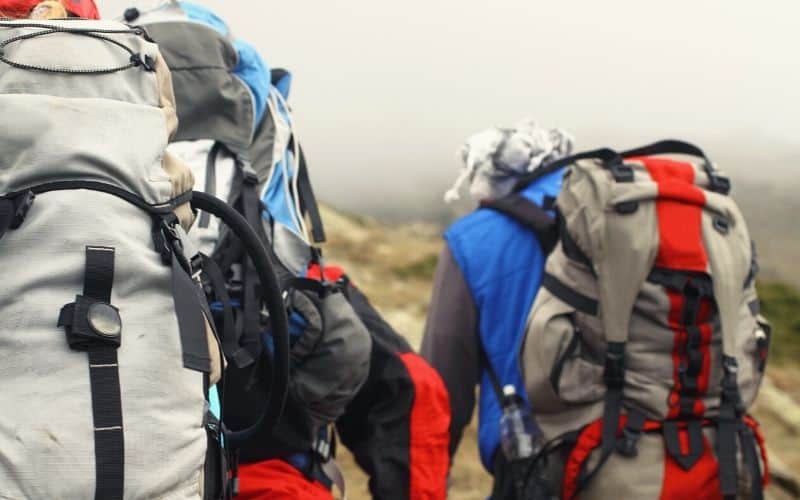 The good news is that plenty of lightweight options exist. The lightest on our list are the Sierra Designs Down Booties (5.5 oz.), Baffin Base Camp Insulated Bootie (6 oz.), and Rab Hut Slippers (6.1 oz).
Traction & Outsole
If you want a more practical slipper that can be worn to fetch firewood and water or for wandering around camp, then it's wise to pay attention to the quality of the outsole.
The grippiest outsoles tend to have relatively deep, multi-directional lugs that will grip the soil and prevent slipping while you're walking. In this metric, our list's top performers are the Teva ReEmber Moc and TNF Thermoball Eco.
Water-Resistance
Dealing with condensation inside your tent, stomping through dewy grass on your morning water run, and various other campsite chores could easily leave you with a pair of soaked slippers if the shell fabric lacks water resistance.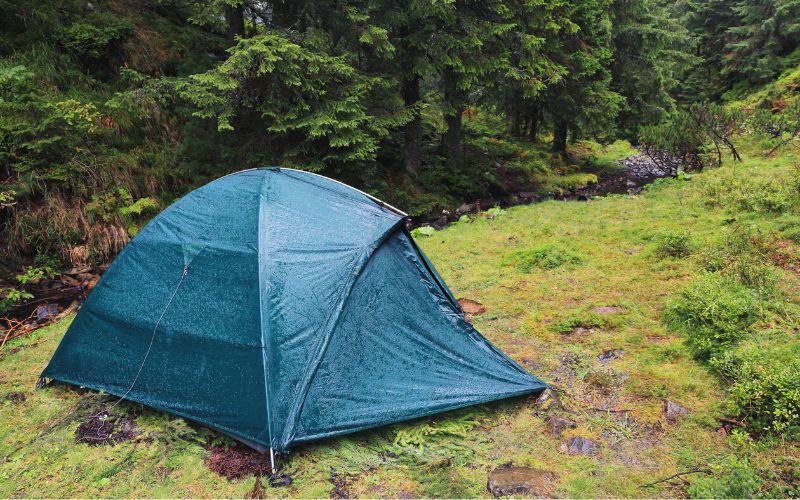 While most of the slippers and booties on our list offer some degree of water resistance, the standouts are the Rab Hut Booties (and slippers), Thermoball Traction Booties, and Keen Howser Slides.
Best Camping Slipper: The Verdict
After much testing and deliberation, the standout best camping slippers are the Teva ReEmber Moc. While not as warm as some of the booties on our list, these mule-style slippers are incredibly well-made, practical, durable, and as comfortable as they come.
If you're in the market for a bootie, we recommend the Rab Hut Boot. They're pricey, sure, but they're hard-wearing, wonderfully cozy, water-resistant, and just a little better made than their closest competitors.
So, how did you like our post? If you have any questions or comments, leave us a comment in the box below. And if you'd like to share this article with your friends, please do!