A good table for food prep, dining, and post-dinner card games is a great addition to any camper's kit. But there are myriad types of tables out there, and not all of them will be well-suited to your camping crew.
We've been busy trying out a ton of models in a bid to find the best out there and in this guide introduce you to the contenders. Our list includes everything from elaborate camp kitchens and oversize dining tables to ultralight and compact backpacking models. In short, whatever you're looking for, our list has you covered!
Top Choices by Category
Budget: GCI Compact Camp 20 and Outry Folding
Lightweight: Helinox One, Outry Folding, and Treklogy Talu
For Groups: REI Co-op Camp Prep, ALPS Mountaineering Dining Table, and Snow Peak Single Action
Camp Kitchen: GCI Master Cook Station and Mountain Summit Gear Deluxe Roll Top Kitchen
Editor's Choice
REI Co-op Camp Prep Table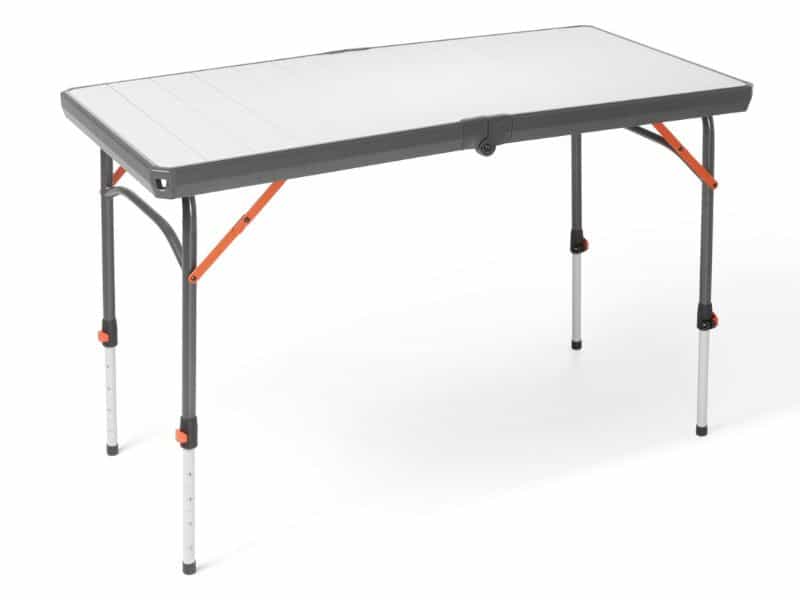 Our choice for the best table for camping does everything most car campers will need a table to do. It's extra-sturdy, easy to clean and assemble, has a great weight capacity, and boasts a surface area that offers enough room for six diners and even the most elaborate meal prep.
Like most things REI, the Camp Prep is great value for money and made with high-quality, durable materials. Its steel frame and aluminum top will last you a lifetime with proper care and both are tough enough to handle a little rough treatment outdoors.
What we love most about the REI Camp Prep, quality construction aside, is its adjustability. Unlike most other models we reviewed, you can adjust the legs on this one from 22 inches to 31 inches making it far more versatile than the competition.
For food prep, you can extend the legs to the max to avoid having to stoop. When dining, you can choose the perfect height for the diners in your crew. And if you want to use it as a side table while lounging in your camp chair, that 22-inch minimum height will have your drinks at the optimal height.
Bottom Line: A versatile table that oozes quality and offers enough room for six diners.
At a Glance: Quick Recommendations
Best Tables for Camping: Our Top 9 Picks
REI Co-op Camp Prep Table
Editor's Choice
Table top dimensions: 24" x 49" ⸱ Height: 22" – 31" ⸱ Weight: 19 lbs. 11 oz. ⸱ Weight capacity: 100 lbs.
If you're looking for the closest approximation of your home dining table for your camping trip, the REI Co-op Camp Prep is the best table in the camping furniture business.
The Camp Prep measures a mighty 24" x 49" up top, and has legs that can be adjusted from 22" to 31". This makes it both the biggest option on our list and the most versatile.
Size aside, there are plenty of other reasons to choose the Camp Prep over other camping tables.
First and foremost, it's the sturdiest, strongest, and most stable camp table we tested thanks to its steel frame and aluminum top. Its 100-pound weight capacity also means you can load it with all the plates, pots, pans, and utensils you could possibly need.
Secondly, its powder-coated aluminum table top is durable, heat-resistant, and easy to clean. In the corners, you'll even find holes from which you can hang trash bags, utensils, or storage bags.
Finally, the Camp Prep can be folded in half for easy storage, while a burly storage bag and handle make transportation breezy for such a large model.
The only downsides worth mentioning are the Camp Prep's weight (19 lbs. 11 oz.) and size, but these are well worth tolerating if durability and space are your top priorities.
PROs

Burly steel legs and aluminum construction
Convenient carry bag
Plenty of space for 4-6 diners
Easy setup

CONs
Bottom-Line: The best table out there for car camping by a country mile!
ALPS Mountaineering Dining Table
Runner Up
Table top dimensions: 28" x 43" ⸱ Height: 28" ⸱ Weight: 12 lbs. ⸱ Weight Capacity: ~50 lbs.
The Alps Mountaineering DT is probably the most versatile option on our list – not because it's particularly adjustable (it isn't), but because it's sleek and stylish enough to use in the yard or even inside your home when not fulfilling its core function of accommodating diners at camp.
This folding camp table measures 43 x 28 x 28 inches when unfolded making it large enough for 4 or 5 diners and the ideal height for sitting around it in chairs. When folded, it measures 43 x 7.5 x 5 inches, so it's pretty portable and packable for its size and weight (12 lbs.).
We love this table's sturdy aluminum build and its aluminum top, which is easy to clean and far sleeker than most of the other options on our list. The X-frame legs also leave plenty of room for your legs when tucking into your dinner.
While the weight capacity is nothing to write home about, this foldable camping table is strong and sturdy enough for dining and food prep, as long as you don't plan on loading it with heavy water containers.
PROs

Relatively lightweight
Large surface area
Stylish!
Portable
Convenient carrying bag

CONs

No storage features
Low weight capacity (~50 lbs.)
Pricey
Bottom-Line: A well-made, lightweight, sturdy model with plenty of room for up to four diners.
GCI Outdoor Compact Camp 20
Best Value
Table top dimensions: 20" x 18" ⸱ Height: 24" ⸱ Weight: 4 lbs. ⸱ Weight capacity: 60 lbs.
If you're looking for a lightweight and ultra-compact camp table without breaking the bank, the GCI Compact is a shoo-in for your shortlist.
GCI are earning a rep for producing affordable, high-quality camp accessories, and this particular table is no exception.
Measuring 20 x 18 x 24 inches, the GCI Compact Camp 20 is best thought of as an oversized side table, though its 24-inch height means it could be used as a cozy dining table for two.
What we love most about the GCI Compact Camp is its portability. At 4 lbs., it's not the lightest option we reviewed, but its telescopic legs and one-piece design mean it folds up to the size of a large laptop (18 x 18 x 2 inches), so it's easy to squeeze into small spaces in your vehicle.
The Compact Camp's sturdy steel frame and aluminum top are also a serious upgrade on materials used in other tables in its price range, so it offers great value for money as well.
PROs

Impressive build quality for the price
Telescoping legs
Compact
Lightweight
60-pound weight capacity

CONs

Small surface area
Too low to accommodate chairs
Bottom-Line: Well-made, lightweight, compact, and by far the best small camping table in this price range out there.
Trekology Talu
Most Affordable for Backpacking
Table top dimensions: 27" x 18" ⸱ Height: 16" ⸱ Weight: 3.2 lbs. ⸱ Weight capacity: 30 lbs.
Weighing just 3.2 lbs., the Trekology Talu is the third lightest option on our list, making it a fantastic option for backpacking or camping in sites that aren't car-accessible.
While it's not as durable or robust as the Helinox One, and is a pound heavier, it has a slightly larger surface area (27 x 18 inches) and costs a fraction of the price. It also packs down into an equally teeny bundle, so it's good to go just about anywhere on overnight trips.
In terms of quality, the Talu impresses for the price. It's made with aluminum legs and an easy-clean, waterproof top. The weight capacity is a fairly meager 30 lbs. but this is sufficient for two diners or all the drinks you could possibly squeeze on there.
PROs

Affordable
Portable
Lightweight
Larger surface area than other highly portable camp tables or picnic tables

CONs

Low weight capacity
Low height
Not as durable or robust as Helinox One
Bottom-Line: Not ideal for dining or food prep, but great if you just need a small, compact model for drinks.
Snow Peak Single Action
Best for Dining
Table top dimensions: 48" x 28"  ⸱ Height: 26" ⸱ Weight: 28 lbs. ⸱ Weight Capacity: N/A
The SP Single Action is our top pick for any campers who prioritize class and quality over all else.
Made with a sturdy aluminum frame and chunky bamboo top, the Single Action is the closest you'll get to your kitchen table at home. It also measures a generous 48" x 28" x 26", so has room enough for six and is tall enough for dining. When packed away, it measures 48" x 14.5" x 3.5", so isn't the most portable, but is slender enough for easy storage in your vehicle.
The main benefits of the Single Action are its sturdiness and look – it wouldn't look out of place in an office somewhere, let alone in your kitchen or yard at home. The downsides are its lofty price tag and ponderous weight – at 28 pounds, this is the heaviest model on our list by far, and not something you'd want to schlep any kind of distance.
PROs

Classy look
Durable bamboo top
Large surface area
Sturdy and robust

CONs
Bottom-Line: The classiest and most home-like model on our list, but also the priciest and heaviest.
Outry Lightweight Folding Camping Table
Best Budget
Table top dimensions: 22" x 29.5" ⸱ Height: 21" ⸱ Weight: 1.7 lbs. ⸱ Weight capacity: N/A
If weight savings are more of a concern than portability, the Outry Lightweight is well worth a place on your shortlist.
The Outry measures 22″ x 29.5″ x 21″, so straddles the ground between being a small dining table and a large side table. While it could feasibly be used for sit-down dining, it's better suited for tailgating, picnics, or evening snacks and drinks thanks to its inclusion of four mesh cup holders.
The Outry is made with a 600D ripstop nylon top and an aluminum alloy frame. While this makes it harder to clean and not quite as tough or stable as other options on our list, it's also responsible for its light weight. Tipping the scales at just 1.7 pounds, this is the lightest option we reviewed, so ideal for backpacking or campsites that aren't car-accessible.
If you're looking for something similar that will offer a little more longevity, we'd recommend the Helinox One, but for this option you'll need to dig far deeper into the coffers!
PROs

Ultralight
Four cup holders
Compact
Cheap!

CONs

A little too low to squeeze a camp chair under
Not as durable as other options
Bottom-Line: Not the most practical for dining, but essential camping gear for evening drinks and card games!
GCI Outdoor Master Cook Station
Honorable Mention
Table top dimensions: 21.7" x 56.3" ⸱ Height: 32.3" ⸱ Weight: 22.7 lbs. ⸱ Weight capacity: 48 lbs.
If you're looking for a fully decked-out camp kitchen for making a more elaborate feast on any outdoor adventure, the GCI Master Cook Station is hard to beat.
The Master CS takes a little longer to set up than other options on our list, but once that's taken care of, it's a marvel of convenience and practicality.
In addition to a large surface area that provides enough space for a stove and chopping board, the MCS boasts a variety of shelves, a drying grate, a lantern hanger, a paper towel holder, and cup holders. There's also a collapsible sink and drain for post-meal cleaning.
The only drawback to the MCS is that it's designed to be used specifically for food preparation only, so doesn't work well as a standard dining table.
PROs

Perfect height for standing
Sink
Lantern hanger
Shelves
Steel frame
Fold-out side tables

CONs

Low weight capacity
Heavy and bulky
Bottom-Line: A full-blown camp kitchen setup for barbecues and prep of more elaborate camp cuisine.
Helinox Table One
Best Ultralight
Table top dimensions: 24" x 16" ⸱ Height: 15" ⸱ Weight: 2 lbs. 1.6 oz. ⸱ Weight capacity: 110 lbs.
If you're in the market for a small camping table that's lightweight and portable enough for backpacking, the Helinox One is the perfect choice.
The One weighs just 2 lbs. 1.6 oz., making it the second lightest model on our list after the Outry. Despite this, it's highly durable, has a weight capacity of a whopping 110 lbs., and feels remarkably sturdy.
The One's 24-by16-inch surface and 15.4-inch height make it more of a picnic table than a true dining table, so there is a convenience penalty to be paid for its light weight and portability. That said, it's ideal as a side, cocktail, or coffee table, and sturdy enough for food preparation.
The One is far pricier than our list's other lightweight tables, the Trekology Talu and Outry, but it's also far sturdier, more durable, and can hold a lot more weight.
PROs

Ultralight
Tiny packed size
Hard-top surface
Impressive weight capacity

CONs

Pricey
Smaller surface area than genuine dining tables
Bottom-Line: A high-quality portable folding table that weighs next to nothing and packs down into a tiny, compact bundle.
Mountain Summit Gear Deluxe Roll Top Kitchen
Best Camping Kitchen
Table top dimensions: 56.2" x 18.9" ⸱ Height: 31.5" ⸱ Weight: 13.8 lbs. ⸱ Weight capacity: N/A
Looking for a lightweight, affordable, all-in-one camp kitchen and dining table? If so, the Mountain Summit Roll Top is a great option.
This all-aluminum camp kitchen weighs in at just 13.8 pounds, making it a whole 9 pounds lighter than our list's other camp kitchen, the GCI Master Cook Station. Like the Master Cook Station, it also folds up flat when not in use so is easy to store and carry. It measures 19.7 x 4.3 x 31.5 inches when folded and 56.2 x 18.9 x 31.5 inches when open.
The Mountain Summit Roll Top's raised top, shelves, duo of storage bins for cooking supplies, and wide, elongated surface area make it ideal for food preparation. It scores extra points over its camping kitchen competitors, however, thanks to its two-tier configuration, which allows you to use the top surface for prep and the lower surface for dining.
PROs

Lightweight for a camp kitchen
Great extra storage features
Ample surface space
Folds into a surprisingly compact package
Easy to clean

CONs

Not quite as sturdy as the GCI Master
Bottom-Line: Great value for money and one of the most portable cook stations out there.
How to Choose a Portable Camping Table
Stability and Strength
In most cases, the heavier the camping table is, the sturdier and more stable it will be. This is exemplified by two of our list's most heavy-duty tables, the REI Camp Prep (19 lbs. 11 oz.) and GCI Master Cook (22.7 lbs.), both of which have extra-sturdy builds and wide bases that make them less likely to topple over if nudged or loaded with plates and food.
Another indicator of strength and stability is weight capacity. The Helinox One has the highest weight capacity on our list (110 lbs.), with the REI Camp Prep a close second at 100 lbs. While not stated by the manufacturer, we estimate the capacity of the Outry Lightweight to be in the region of 25–30 lbs., making it the least stable of the bunch.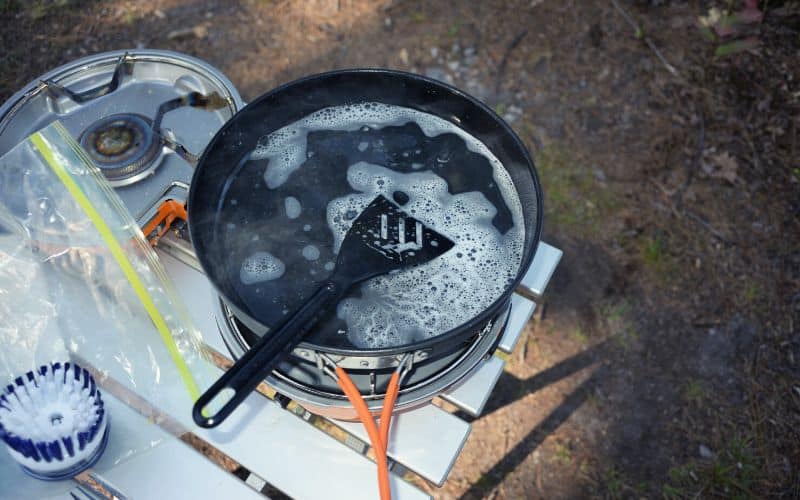 As you might expect, there is almost always a trade-off between stability and weight, with lighter, more portable tables offering less stability than heavy-duty counterparts.
Portability and Weight
If you're car camping, weight and compactness aren't a big issue. If you're backpacking, however, the lighter and more packable the table is, the more suitable it will be.
The most compact and lightweight camping tables on our list are the Helinox One, Trekology Talu, Outry Folding, and GCI Outdoor Folding Compact. All of these could feasibly be taken on backpacking trips, though the GCI Outdoor Folding Compact's weight (4 lbs. 13 oz.) means you'd have to be extra keen on having a table at camp.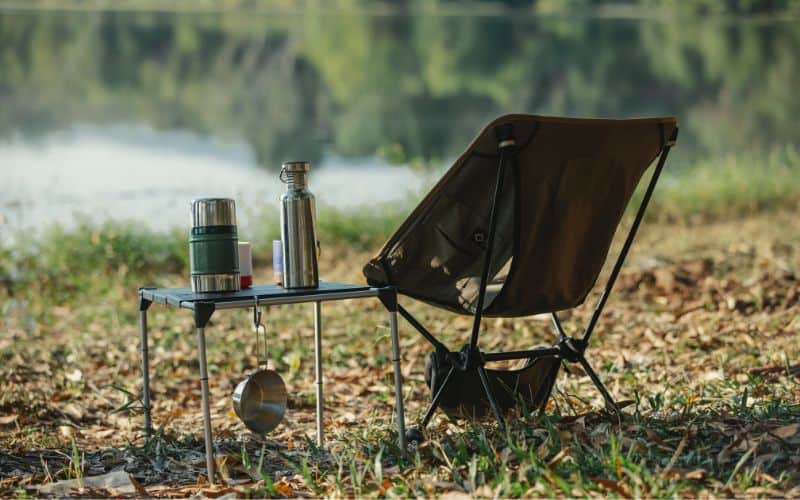 For car camping, large heavy-duty camping tables like the REI Camp, ALPS Mountaineering Dining, GCI Outdoor Master, and Mountain Summit Gear Deluxe Roll Top Kitchen are our top picks.
Durability
Most camp tables are made with steel or aluminum legs/frames and aluminum or fabric surfaces. Of the various materials, steel and aluminum are the most durable.
On our list, only the Helinox One and Outry have a fabric tabletop. While the fabric in question is burly, it's naturally more liable to puncture, can't withstand extreme heat from pots and pans, and is more susceptible to wear and tear.
The one exception to the above is the Snow Peak Single Action, which has a bamboo tabletop.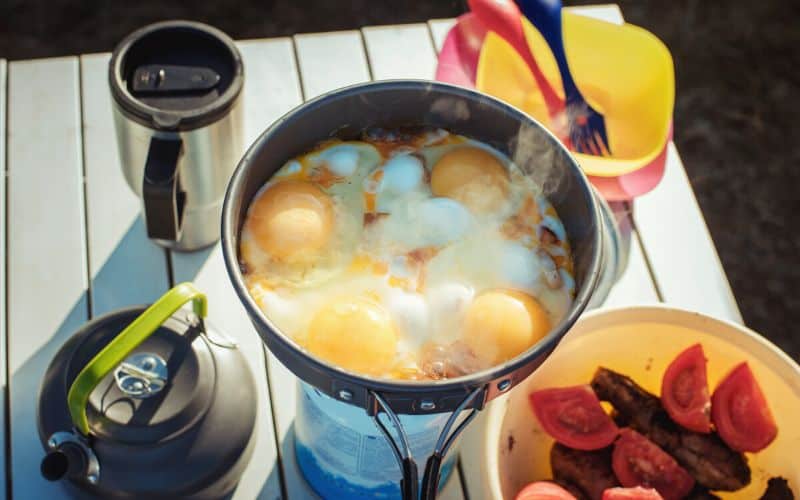 Height
How high you need your camping table to be will depend on the intended use. For food preparation, you're going to need a camping that stands at over 30 inches – otherwise, you'll be stooped over it and uncomfortable throughout. For dining, anything measuring from 24 to 30 inches is ideal, while anything under this is more of a coffee table and won't fit chairs underneath.
Going by the above height ranges, our list has:
4 models better suited for food preparation (REI Camp Prep*, Outry Folding (large version), GCI Outdoors Master Cook Station, and Mountain Summit Gear Deluxe Roll Top Kitchen)
4 at the ideal height for dining (ALPS Mountaineering Dining Table, Snow Peak Single Action, GCI Outdoor Compact)
2 that are best used as side tables for lounge chairs, other low seats, or if you're sitting on the floor (Trekology Talu and Helinox One)
*The REI Co-op Camp Prep is adjustable from 22 to 31 inches.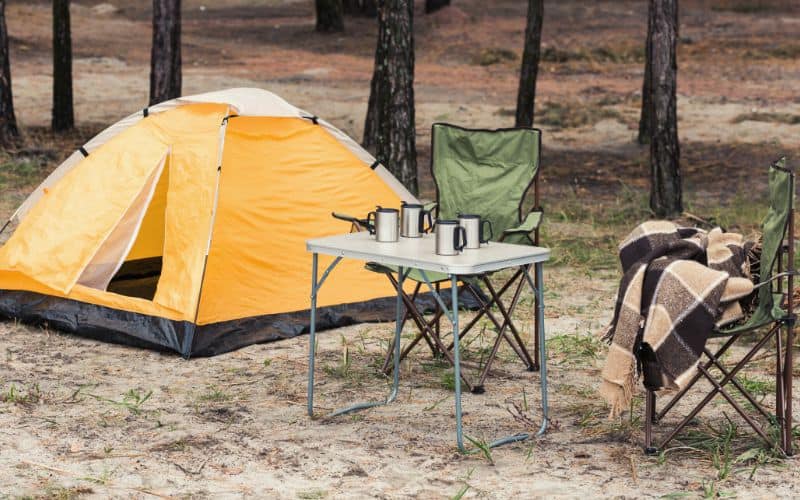 Counter Space/Table Top
This determines how many diners or drinkers the table can accommodate.
If you have a larger camping crew, your best bet is a full dining table like the REI Camp Prep, which measures 24" x 49" up top, meaning there's enough room for 4–6 people. Smaller tables like the Trekology Talu, which measures just 15.6" x 13.6" up top, are better suited as side/drinks tables.
Features
The addition or absence of bonus features won't be a dealbreaker or dealmaker for some, but there's no denying that a few add-ons can make any portable camping table a lot more convenient and user-friendly.
Some of the features we particularly enjoyed included cup holders, adjustable legs, and a well-made carrying bag. With portable kitchen setups like the GCI Cook Station, things like a paper towel holder, storage rack, fold-out side tables, collapsible sink, and lantern pole all earn extra brownie points.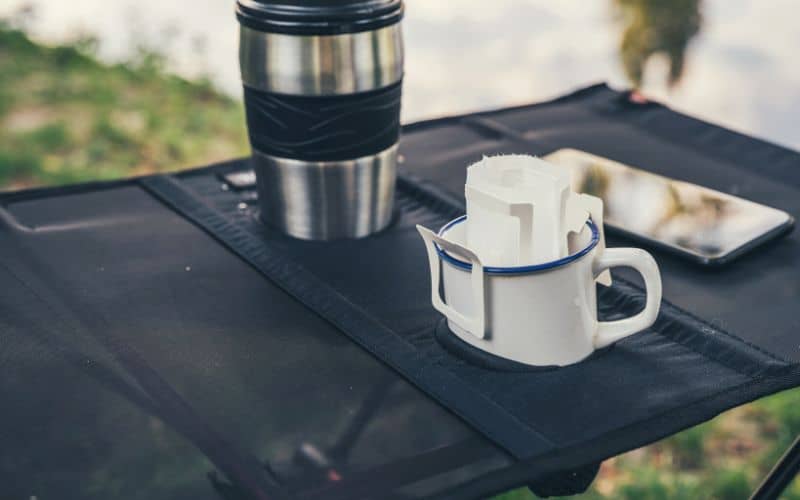 Best Camping Table: The Verdict
Still undecided? Just in case you are, let's have a little recap of our top picks.
Our standout favorite camping table is the REI Co-op Camp Prep. The Camp Prep is everything most campers need – it's durable, as sturdy as they come, easy to clean, has a large surface area, and folds up nicely for storage. The fact that its height can be adjusted to suit your needs just seals the deal.
If you're looking for something more affordable, we recommend the GCI Outdoor Compact Camp 20 and Trekology Talu. Both of these camping tables are a little on the small side for dining, but they're compact, lightweight, ideal for drinks and a great low-cost alternative for anyone who doesn't need an oversized surface area.
If you liked this article or have any questions, let us know in the comments box below. And if you'd like to share it with your friends, please do!