Like to get cozy while camping? Then you need a sleeping bag for two! You can always try squeezing into one bag, but why risk being squashed or suffocated when there are so many lightweight and comfortable sleeping bags for two out there?
In this straight-talkin' guide, we'll walk you through everything to know to pick out the best option for your needs. We've got plenty of sleeping bags for the kickers, the over-heaters, the nighttime loo visitors, and even the "I can only sleep with one leg poking out" crew.
Top Choices by Category
Budget: Exped MegaSleep Duo 25/40 and Coleman Tandem
3-Season: Big Agnes King Solomon 20, The North Face Dolomite One Duo, and TETON Sports Mammoth
Convertible: The North Face Dolomite One Duo, NEMO Jazz Duo, and Exped MegaSleep Duo 25/40
Editor's Choice
Big Agnes King Solomon 20
You and your camping partner will be sleeping like royalty in this roomy, lightweight, and toasty warm bag.
The King Solomon is a mummy bag that sleeps two people with room to spare. Thanks to its stretch construction and thoughtful features like a free-range foot box, you'll be able to move around as you snooze.
650-fill DownTek, PFC-free, water-repellent down. It's a mouthful, but Big Agnes' proprietary and sustainable down insulation is worth talking about. Unlike other down insulations on the market, DownTek won't leave you with a lumpy and saturated sleep system when it's cold and wet out.
One of the coolest features of the King Solomon 20 is the ability to tuck your sleeping pads into the back of your sleeping bag to keep them from sliding around. Not only does this prevent you from waking up on the cold, hard ground, but it saves room in your tent and helps keep things tidier, too.
Other premium features include separate pillow pockets, draft baffles, and a cinchable hood.
The only downside? It's a pricey bag, but that's to be expected from a top-of-the-line, three-season model boasting this kinda quality.
Bottom Line: Big Agnes hits another one out of the park with this lightweight and ultra-comfortable bag.
At a Glance: Quick Recommendations
Best Double Sleeping Bag: Our Top 7 Picks
Big Agnes King Solomon 20
Editor's Choice
The King Solomon 20 combines roomy comfort with premium features. It's the perfect choice for campers that don't mind splurging to enjoy a good night's sleep cozying up to their partner.
While down is usually touted as a poor choice for wet conditions, the King Solomon's 650-fill-power DownTek is water-repellent and resists moisture while keeping you cozy warm. It's surprisingly lightweight for such a warm bag too, weighing in at just 4 lbs.
Another option on our list, the Sierra Designs Backcountry Bed Duo, is also made with luxurious, water-resistant down, but only the King Solomon is RDS-certified. If sustainable down is important to you, this is your bag.
The King Solomon also manages to integrate plenty of thoughtful add-ons like features to integrate two sleeping pads and two pillows, a free-range footbox, cinchable hood, and anti-snag zippers.
With its hefty price tag, the King Solomon is certainly an investment. But thanks to its water-repellent down and temperature rating of 20 degrees, it's well worth the outlay if three-season camping is your jam.
PROs

Lightweight
650-fill-power down
Sleeping pad sleeve
Responsible Down Standard certified

CONs
Bottom-Line: If you have the money, this is worth the investment!
The North Face Dolomite One Duo
Honorable Mention
The North Face Dolomite One Duo is a versatile, 3-in-1 sleep system that will keep you and your partner cozy in a range of climates. Just add or remove layers to go from a comfort rating of 15°F to 20°F or 30°F. How's that for versatility?
On top of its amazing versatility, a super-soft fleece inner lining makes tucking into the Dolomite One Duo a joy. Its roomy, rectangular shape provides plenty of wiggle room for tossing and turning, while nighttime over-heaters will appreciate the wraparound zipper for extra ventilation.
Like many rectangular sleeping bags, the Dolomite One isn't the lightest option available. As such, it may not be the best choice for backpacking, but car camping couples will love this versatile sleep system for 3-season adventures.
(The TNF Dolomite Uno is, in case you're wondering, the updated version of the hugely popular The North Face Dolomite Double.)
PROs

3-in-1 sleep system
Versatile temperature control
Sustainable materials
Great for car campers

CONs

A bit heavy
Layers don't fully detach from bag
Bottom-Line: If you or your partner are warm sleepers, you'll appreciate the interchangeable 3-layered temperature system of this versatile bag.
NEMO Jazz Duo
Runner-Up
The Nemo Jazz Duo sleeping bag is our runner-up thanks to its cozy comfort and adjustability.
This is a great double sleeping bag for partners that have trouble regulating their body temperature when sharing a bag. Features like dual-action zippers, a wide shoulder and hip girth, and zippable foot portions allow you to trap body heat or let it all out.
A few thoughtful features round out this versatile, convertible bag. Its shell is made of water-resistant Ripstop Nylon whilst its extra-soft, integrated sheet is removable and machine washable, which is pretty darn convenient. Finally, its grab-and-go carrying case allows you to store and carry your bag and pads together.
PROs

Removable, ultra-soft fleece liner
Water-resistant Ripstop Nylon shell
Convertible
Extra roomy shape

CONs
Bottom-Line: Roomy, cozy, and with lots of convenience-enhancing extra features, the Nemo Jazz makes a great, all-around bag.
Coleman Tandem 3-in-1 Big and Tall Double Sleeping Bag
Best Budget
Looking for a budget-friendly, no-frills sleep system you and your partner can dive into and call it a day? The Coleman Tandem has what you need.
The Coleman Tandem is an oversized sleep solution with plenty of room for camping couples or just big and tall campers up to 6′ 4″ in height. Thanks to its 3-in-1 design, it can also be split into two separate sleeping bags.
Not only is the Coleman Tandem the most affordable of all the sleeping bags on our list, but it's also pretty warm, too. It's able to handle temperatures as low as 45 thanks to Coletherm™ hollow polyester insulation, which helps retain body heat. While not as warm or packable as down options, this makes it suitable for summer and warmer shoulder-season camping.
Other features include no-snag zippers, a no-tie closure system, and a stuff sack for easy packing.
PROs

Least expensive option on our list
Converts into two single bags
Includes extra sheet for layering
Easy to pack up

CONs
Bottom-Line: Surprisingly soft material and well-made for such an affordable double sleeping bag.
Sierra Designs Backcountry Bed Duo
Best for Backpacking
The Sierra Designs Backcountry Bed Duo is a premium double sleeping bag that could easily rival the King Solomon 20 for the top spot as our Editor's Choice.
Thanks to its innovative, zipperless design, the Sierra has eliminated all those annoying zippers, toggles, drawstrings, and closures, so you'll enjoy a true, bedlike experience. Even better, a self-sealing foot vent allows you to liberate your toes hands-free, just like you would at home.
Many double sleeping bags filled with down are not water-resistant due to the natural tendency of down to saturate and lump when wet. The BBD, however, features high-lofting, 650-fill-power DriDown that's been engineered for true water resistance, staying dryer longer and keeping you toasty warm in damp conditions.
The BBD is also a very lightweight sleeping bag, making it an ideal choice for backpackers. Weighing in at just 4 lbs. 10 oz., it's one of the lightest models on our list.
PROs

Lightweight
Home-like comfort
Includes extra sheet for layering

CONs
Bottom-Line: Enjoy all the comforts of home in the backcountry with this lightweight and ultra-comfy bag.
TETON Sports Mammoth
Best for Cold Weather
The name says it all. The TETON Sports Mammoth is a massive sleeping bag that's longer and wider than the average queen-sized mattress. It also conveniently zips out into two queen-size comforters that are perfect for warmer nights when only a quilt is needed.
The TETON is cold-weather rated and you can choose between temperature ratings of +20°F/-7°C or 0°F/-18°C. In both models, you'll find features like a soft lining, a mummy hood for warmth and padding, and convenient draft zips on the shoulders to lock out the cold.
The major downside to the TETON is its weight. Weighing in at 16.5lbs., this isn't a sleeping bag you'll be throwing into your backpack anytime soon. But if you're car camping and don't mind lugging around the extra weight, no bag is cozier for cuddling on chilly nights or feels quite so similar to your own bed.
PROs

Affordable price
Versatile temperature rating
Massive size but packs down small
Lifetime warranty
Converts into two separate bags/comforters
Functional carrying bag

CONs

Far heavier than carrying two sleeping bags
Bottom-Line: This should be your go-to double-wide bag if you're looking for roomy comfort in cold conditions.
Exped MegaSleep Duo 25/40
Best Value
The Exped MegaSleep Duo is a roomy bag and comforter all rolled into one. Its most unique feature is the ability to switch between spring and summer modes. One side will keep you warm down to 25°F while the other keeps you warm down to 40°F. If you're a year-round camper, then, it's the ideal pick!
If you're looking for a luxurious backcountry sleep, the Exped is packed with features designed to maximize comfort. All fabrics that come in contact with your skin are treatment-free and both the lining and shell are Oeko-Tex® 100 Standard certified.
The Exped makes a great option for backpacking trips. Along with its lightweight and portable design (about the same as the King Solomon 20), the Exped's quick-drying microfiber insulation is designed to compress down to just 14 liters. The two layers can also be separated to form two individual sleeping bags as well.
PROs

Lightweight
Versatile temperature ratings
Hypoallergenic materials

CONs
Bottom-Line: Be prepared for any weather condition with this versatile, 4-1 sleep system.
How to Choose a Two-Person Sleeping Bag
Size
Sleeping bags come in all shapes and sizes. When it comes to two-person bags, the most common shapes you'll encounter are mummy and rectangular bags.
Mummy bags are tapered and form-fitting, making them lighter and more thermodynamically efficient. This is great for staying warm and keeping your pack light if you're backpacking, but it's not so great if you like to stretch out during the night.
Rectangular bags are larger, more spacious, and allow for better airflow. They're great if you toss and turn all night but they're also bulkier and tend to be heavier. These bags have more negative space, and that could mean more cold air sneaking into your bag.
Semi-rectangular bags fall somewhere in the middle. They're usually tapered at the top like mummy-type bags but have a right-angled bottom.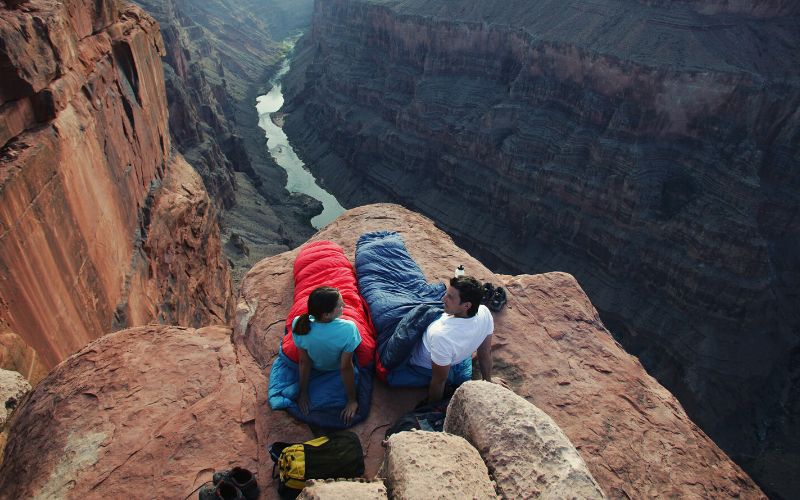 Temperature Rating
Sleeping bags are usually grouped into season ratings and temperature ratings.
Season ratings are easy to understand: "2-season" means the bag's good for summer camping, "3-season" means it's good for summer, spring, and fall, and 4-season means it's suitable for winter camping.
The trouble is, the temperatures you'll encounter in certain seasons in different parts of the world will vary significantly. To ensure you get the right option for you, then, it's wise to go by the temperature rating.
The temperature rating is the number usually placed at the end of the bag's title (i.e., "Big Agnes King Solomon 20"). This number refers to the minimum nighttime temperature at which the bag will be able to keep you warm.
We recommend always picking a model that's rated slightly lower than the lowest temperature you expect to encounter. For instance, if you regularly camp in temperatures around 30°F, choose a model rated to at least 20°F.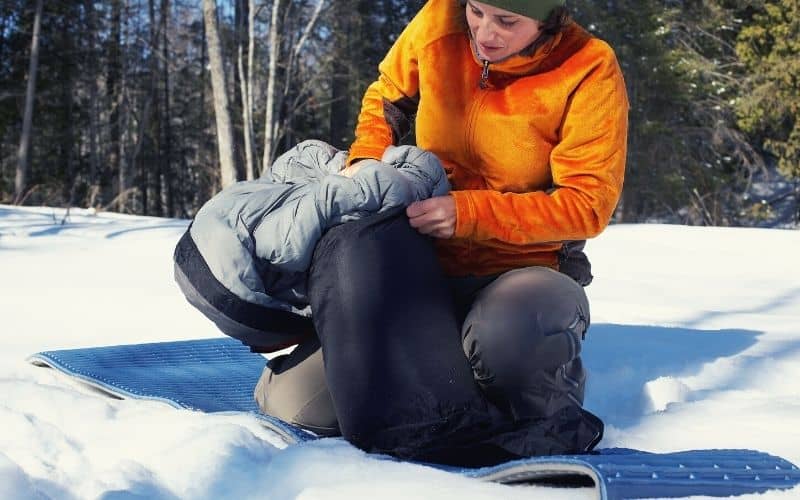 Insulation Type
Like most other sleeping bags, the insulation in double-wide models is either down feathers, synthetic insulation, or some mixture of the two.
Down bags boast a better warmth-to-weight ratio, but are the more expensive of the two. While down is often considered to be the luxury choice, down bags aren't a great pick for wet conditions. When wet, down insulation can clump and saturate and lose its ability to loft.
Some down bags feature proprietary down insulation engineered to be water-resistant, but all that high-tech insulation will cost you a pretty penny.
If you're considering a down sleeping bag, keep an eye out for the Responsible Down Standard label. This ensures the down fill is only sourced from animals that aren't subjected to any unnecessary harm.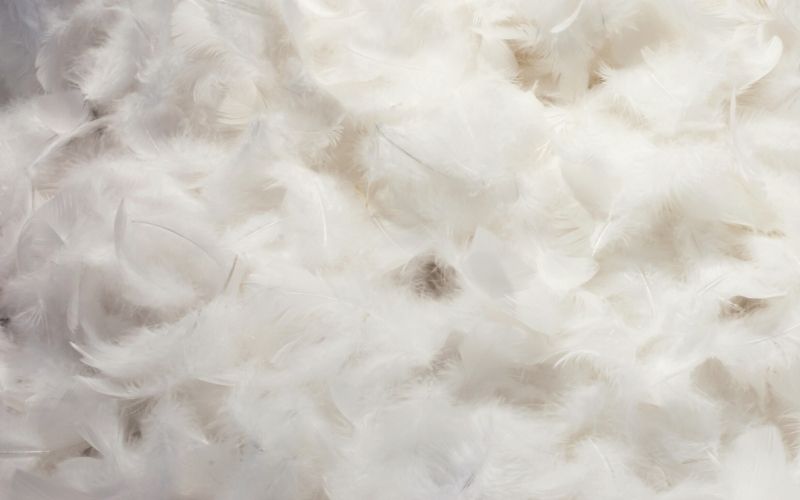 Synthetic insulation is cheaper and usually performs better when wet, but these bags are typically heavier and don't compress down as small. With that being said, synthetic insulation has made great strides in recent years, so some synthetic bags perform just as well as their down counterparts.
Double or Convertible?
Double bags tend to be comfier since you don't have to deal with annoying zippers or toggles digging into you while you sleep. Some people also find that double-width bags are also warmer since the wraparound zippers of convertible bags can be drafty.
The major benefit of convertible bags is their versatility because they can be transformed into two single bags. This means you'll have a single sleeping bag on hand should you ever go camping solo. Just remember – once separated, convertible bags can be a pain in the backside to reconnect.
Out of the two options, double bags are certainly the more comfortable choice for people sharing a bag. Just don't get dumped or you might find yourself without a bed!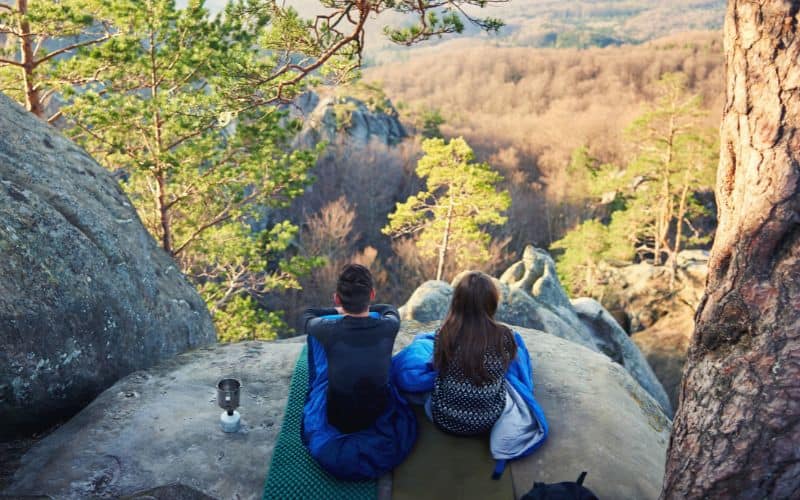 Best Double-Width Sleeping Bags: The Verdict
In this guide, we've included all our favorite double sleeping bags. It was a closely run race, but our pick of the bunch was the Big Agnes King Solomon 20, a three-season model that's made with plush down and offers home-like comfort.
If you're looking for a cheaper option, we recommend the Coleman Tandem. The Tandem is heavy but it converts into two sleeping bags, is seriously soft and cozy, and is warm enough for the needs of most campers.
If you've got any questions or comments, drop us a line in the box below. And if you'd like to share this post with your friends, please do! Happy camping!