If your back is aching at the mere thought of wearing a heavy backpack, consider a lightweight fanny pack instead!
You'd be hard-pressed to find a trail these days that isn't filled with hikers wearing these lightweight, waist-sitting packs. Thanks to their comfort, versatility, and convenience, their popularity keeps rising as ultra-minimalist hiking gear shows no signs of slowing down.
But remember – all fanny packs are not made equal! So if you're new to the waist pack trend or want to channel the early 90s version of yourself, our guide is here to help you find the ideal waist or lumbar pack for your hiking style.
Top Choices by Category
Budget: Waterfly Slim and Kavu Spectator
Minimalist: Gossamer Gear Bumster, Patagonia Ultralight Black Hole, and Kavu Spectator
High-Capacity: MountainSmith Day Lumbar 13 L and MountainSmith Tour
Editor's Choice
MountainSmith Tour
The MountainSmith Tour is a robust lumbar pack with a large carrying capacity. Thanks to its quality materials and dialed-in design features, the MountainSmith may even replace your regular daypack.
Some of its thoughtful features include compression straps, two water bottle holsters, an interior padded sleeve for your tech gadgets, and a secret back panel stash pocket for credit cards or other valuables.
The only drawback is that the MountainSmith might be too large for some small-framed people to carry comfortably. But if you're a frequent hiker that can't live without their gear, the MountainSmith Tour has all the capacity you need to stow your gear from the streets to the trail.
Bottom Line: A tough, high-capacity lumbar pack that's ideal for standalone use on day hikes or as a second pack on thru-hikes.
At a Glance: Quick Recommendations
Best Fanny Pack for Hiking: Our Top 11 Picks
MountainSmith Tour
Editor's Choice
The MountainSmith is a robust lumber pack with a similar design to that of the Osprey – sturdy, durable, and with great compartmentalization. The MountainSmith, however, has a couple of extra thoughtful features that make it our overall top pick.
This hiking fanny pack features lots of functional pockets designed to store everything from a smartphone or tablet to two water bottles. A padded harness and compression straps offer maximum comfort even when the pack is fully-loaded.
PROs

High capacity
Lots of pockets
Padded back panel
Lifetime warranty
Two water bottle pockets

CONs
Bottom-Line: Thanks to its large capacity and thoughtful organization, the MountainSmith is a great substitute for your go-to day pack.
Osprey Talon & Tempest 6
Runner Up
Got a lot of stuff but hate rummaging around your backpack? The Osprey Talon 6 (click here for the women's version Tempest 6) is a robust waist pack with a large, dual-zippered main compartment for stowing your gear and 5 other small pockets for keeping your small essentials organized.
With a medium storage capacity of 6L, hikers with a ton of gear might be better off choosing the MountainSmith Day 13L. But if you like traveling light with just a little more than the basics, the OspreyTalon/Tempest will provide all-day comfort while on the trail.
PROs

Sustainably built
Lots of pockets
Water-resistant

CONs
Bottom-Line: A heavy-duty yet lightweight option that can withstand whatever the elements throw at it.
Kavu Spectator
Best Value
This sleek and retro option provides just enough room to carefully stow away your essentials. It's roomy enough to keep all your small gadgets secure and organized, like a smartphone, keys, and passport.
The Spectator features a simple, 2-compartment design, and has other nice features like a padded back panel, adjustable straps, and a side-release buckle.
PROs

Affordable
Lightweight
High denier rating

CONs

Smallest capacity on our list
Bottom-Line: Keep your essentials close and your back pain-free!
CamelBak Podium Flow Belt
Best Hydration Pack
If you're looking for a barely-there model to keep you hydrated, check out the CamelBak Podium. This minimalist hydration belt includes 2 liters of storage space and a 21-ounce water sleeve, making it perfect for a quick run or a short hike.
What we love is how optimized for convenience this waist belt is. Every detail has been thoughtfully considered, like its easy-access bottle pocket, secure stash pocket for your smartphone, and comfortable and adjustable waist belt.
PROs

Lightweight
Only model with a water bottle included
Reflective materials
Lifetime guarantee

CONs
Bottom-Line: The perfect waist belt for minimalist hikers who like to carry water and a few small essentials.
Gossamer Gear Bumster
Best for Fast-and-Light Adventures
The Gossamer is a no-fuss hiking waist pack for outdoor enthusiasts that live on the bare essentials. It's one of the lightest and most affordable waist packs on our list along with the Kavu Spectator.
While the real showstopper of this bag is its lightweight and affordable price tag, you'll also enjoy useful features like a top opening for quick access, internal mesh pockets, and a secure back pocket.
PROs

Affordable
Lightweight
Lifetime warranty

CONs

Small capacity
No fancy features
Bottom-Line: No frills, just a solid, lightweight hiking fanny pack for easy-going adventures.
REI Co-op Trail 5 L
Best Eco-Friendly
The REI Co-op is a rugged nylon bag made from sustainable materials. Its deep main compartment holds up to 10 essentials, and there's also a secret hidden pocket in the back for stashing valuables.
We especially love the daisy chains on the front which allow you to clip on lightweight gear for easy access. Thanks to 5 liters of capacity at only 9oz., it has one of the better weight-to-capacity ratios on our list.
PROs

Sustainably built
Rugged nylon shell
Daisy chains for external storage

CONs
Bottom-Line: Environmentally-conscious hikers will love this rugged and sustainably made waist bag.
MountainSmith Day Lumbar Pack 13 L
Best High Capacity
Can a fanny pack stand in for an actual hiking backpack? The MountainSmith Day sure can!
This beast of a lumbar pack is a great choice for gear-heavy hikers. With 13L of storage capacity, your days of overstuffing your pack are over. Add the optional ​​Mountainsmith Strapettes (not included) for easy, backpack-style carrying.
Thanks to its function-first design, you'll barely feel the weight you're carrying. A patented compression load adjustment system evenly distributes the weight for easy carrying while back-panel padding and a tuck-away waist belt provide all-day comfort.
PROs

Highest capacity on our list
Plenty of storage pockets
Two water bottle holsters
Big enough for camera gear, large lunches, and extra layers

CONs
Bottom-Line: The top high-capacity option for hikers with a lot of gear in tow.
Hyperlite Mountain Gear Versa
Most Durable
If you need a rugged companion to accompany you on your adventures, make it the HMG Versa. Its Dyneema (DCF) construction makes this model pretty pricey, but its waterproof and durable design will keep your gear secure.
Despite its large carrying capacity, it's still one of the lightest packs on our list. Its large, zippered main compartment will hold a variety of gear and its impressive weight-to-capacity ratio makes it a good choice for heavy packers that want to minimize weight.
PROs

Durable materials
Lightweight
Back pocket

CONs
Bottom-Line: If traveling light isn't your style, stow all your gear in this rugged and durable bag.
Patagonia Ultralight Black Hole Mini Hip Pack 1L
Best Everyday Carry
This compact model has just enough room to carry your hiking essentials or extra snacks without weighing you down. On top of its fun retro design, it's made from durable, 100% recycled ripstop nylon and meets Patagonia's bluesign® criteria.
The main compartment features a convenient key ring clip and security pocket while a soft, flexible webbing belt provides all-day comfort around your waist or hips.
PROs

Affordable
Water-resistant
Lightweight

CONs

Less capacity
Low denier rating
Bottom-Line: The perfect lightweight, everyday carry for short hikes or strolls.
Cotopaxi Bataan
Most Stylish
The Bataan is a retro-style hip bag made from repurposed materials. No two are alike since the Cotopaxi brand creates each pack from excess materials left over from their other products.
The result is a classic hip bag with a funky, brightly-colored design. Durable yet lightweight ripstop nylon shell fabric will keep all your gear protected while its mesh and zippered pockets keep your small essentials secure and organized.
PROs

Cool retro design
Sustainable, repurposed materials
Lightweight ripstop nylon shell

CONs

Small capacity
No extra features
Bottom-Line: One for hikers who want to carry their essential gear in style.
Waterfly Slim
Best Budget
The Waterfly is an ultralight fanny pack designed for carrying just the bare essentials. You'll get lots of versatility out of this waterproof fanny pack as it's perfectly suitable for sightseeing, trail running, dog walking, mountain biking, and other outdoor activities.
Despite its small size, the Waterfly is surprisingly water- and sweat-resistant. You won't have to worry about your stuff getting wet while you're exercising, and thanks to a secret anti-theft pocket, you won't have to worry about your stuff getting stolen either.
PROs

Affordable
Durable ripstop nylon fabric
Waterproof

CONs
Bottom-Line: The perfect budget fanny pack for trail runners, mountain bikers, or hikers carrying just a few snacks and water.
What to Look for in a Fanny Pack for Hiking
Capacity
The larger the carrying capacity, the more gear you can lug with you on the trail. Just remember the larger options out there will start to feel cumbersome if filled to the brim.
Aim to get the lightest and smallest model you can without sacrificing essential items. The highest capacity option on our list is the MountainSmith 13L and the smallest is the Kavu Spectator (0.5L).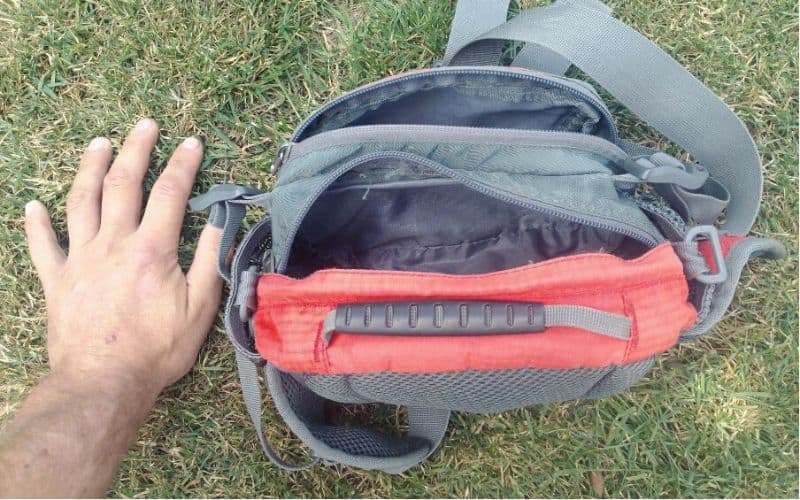 Weight
It doesn't matter how comfortable a fanny pack is, if it's too heavy it's going to be uncomfortable to wear.
The lightest packs, like the Gossamer Gear Bumster (3.1 oz.) and HMG Versa (2.9 oz.) skip out on all the bells and whistles, but you'll be shaving off some precious ounces.
Heavier packs like the MountainSmith Tour tend to have large weight capacities, but they could be uncomfortably heavy on your waist and hips.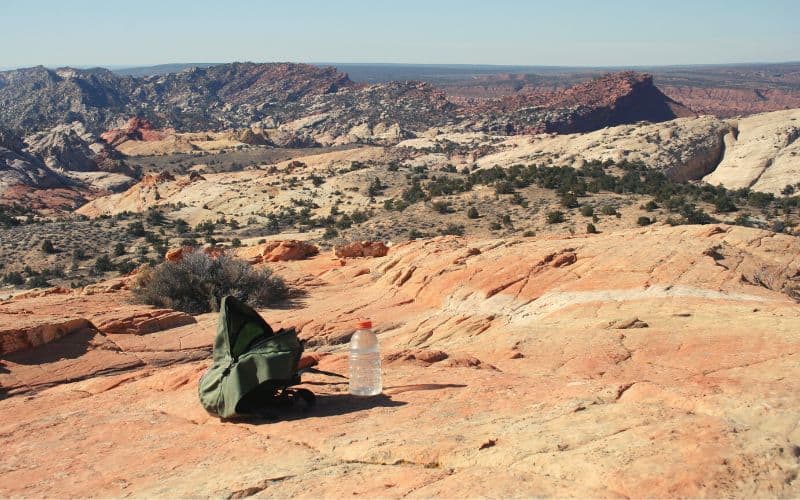 Pockets
Multiple pockets are for more than just carrying your stuff, they also allow you to organize your gear in a way that is easily accessible while on the trail.
For instance, most fanny packs have a large zippered compartment for storing your gear along with smaller, 'secret' stash pockets in the back for hiding your bank cards or passport.
A front zippered pocket affords you easy access to essentials like your keys or smartphone without having to dig through the main compartment.
On our list, the Osprey and MountainSmith Tour features the most functional and organizational pockets.
Straps
Shoulder Straps
A shoulder strap allows you to turn your "bum bag" into a racer-style backpack or sling bag. If you're prone to a sore back or hips while hiking, this is a good option to have.
Adjustable Waist Strap
An adjustable strap at the waist allows you to adjust the circumference of the belt – usually from anywhere between 17 to 50 inches. This is a useful option if you share the same pack with someone else or you just like to indulge in a hearty lunch while hiking. Ideally, this strap will have a little padding at the hips to prevent chafing.
The Hyperlite Mountain has the largest adjustable waist strap on our list.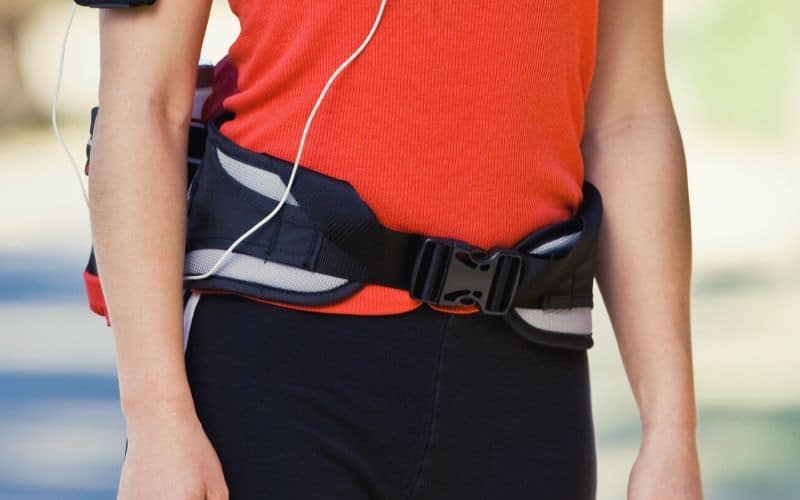 Materials
As with all hiking kit, the more premium and hi-tech the materials, the higher the price tag.
If you need lightweight durability, you can't go wrong with rip-stop nylon. Few fabrics are as resistant to rips and tears. The Patagonia Ultralight, MountainSmith Tour, and MountainSmith Day are all made with ripstop nylon.
If you regularly hike in unpredictable weather, you might think about investing in a waterproof option like the Hyperlite Mountain with its waterproof, super durable Dyneema® Composite Fabrics DCH50. The Patagonia Ultralight is also waterproof.
Features
It's all in the fancy features! If you're on the fence about which option to choose, look for the features you think will be the most useful to you. Some of the common extras include water bottle holders, padded mesh backing, compression straps, and daisy chains.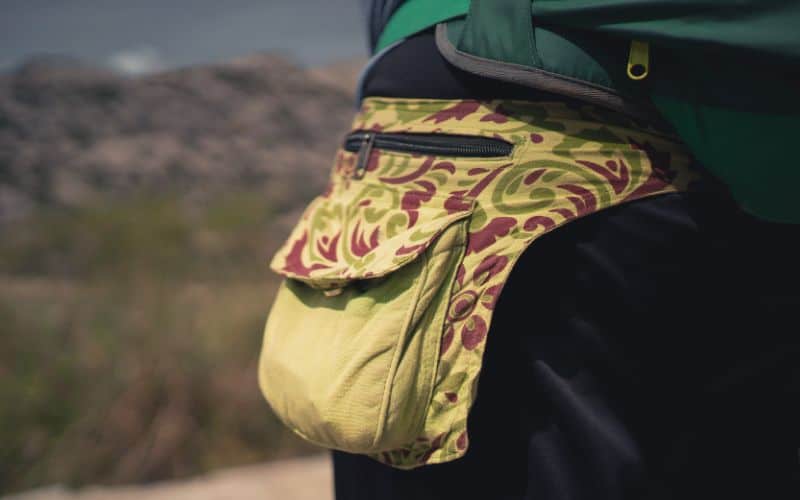 Best Hiking Fanny Packs: The Verdict
There you have it! How did you like our article? We hope this guide to the best fanny pack for hiking has made you reconsider your traditional daypack for a classic fanny pack! 
The MountainSmith Tour is our overall top pick thanks to its all-day comfort and high carrying capacity, but if you like to keep it light while on the trail, the Patagonia Ultralight makes a fine choice, too.
If we missed anything or if you have any questions, let us know in the comments below. If you'd like to share this post with any of your friends, go ahead!