From the Ozark Mountains to the rolling hills of the Delta, Arkansas has a diverse landscape unlike any other.
The Bear State is known for its incredible wilderness areas featuring limestone caves, rushing rivers, natural hot springs, and lush forests. With seven national parks and 52 state parks, there's plenty to see in this stunning state, and plenty of awesome hiking trails to see it from.
In this guide, we'll cover everything you need to know to explore this state's top treks.
1. Lost Valley Trail, Buffalo National River Area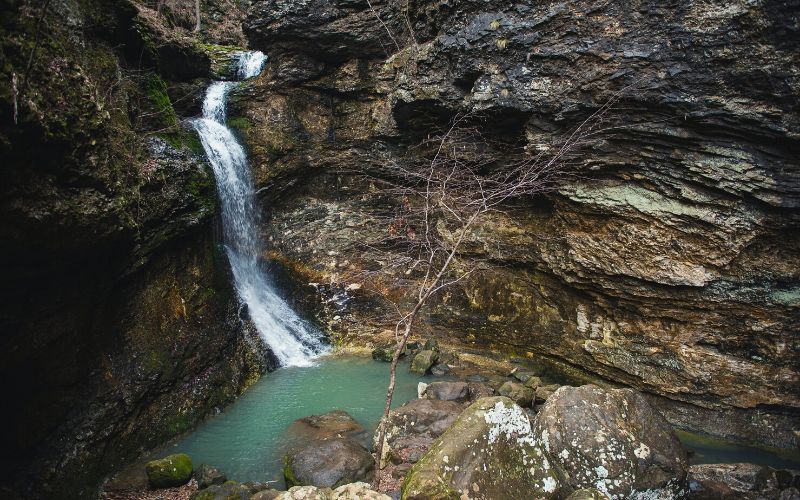 Type: Out-and-back
Length: 2.3 miles
Difficulty: Easy to Moderate
Lost Valley Trail is the most popular hike in the Buffalo River area. It's located near the town of Ponca in the northwest corner of the state, about a 1-hour and 20-minute drive east of Fayetteville.
The 2.3-mile track begins at the Lost Valley Trailhead, passes through American beech trees, and traverses up the canyon towards Natural Bridge. Here you'll find an 8-foot waterfall with a glistening blue pool of water beneath it.
From here, the Lost Valley Trail climbs up stone steps and follows Clark Creek until it reaches Cob Cave, a 200-foot-high bluff and the first of two caves on this route. Don't forget to bring a headlamp to explore the caves!
The main draw of this hiking trail is the stunning Eden Falls, a 53-foot waterfall cascading over the top of the cliffs. Trek up the spur trail to the top of the falls to reach the second cave on this trip – a 200-foot cavern with a hidden 25-foot-high waterfall inside of it! Watch out for slippery rocks and dangerous drop-offs on this challenging section.
2. Yellow Rock Trail, Devil's Den State Park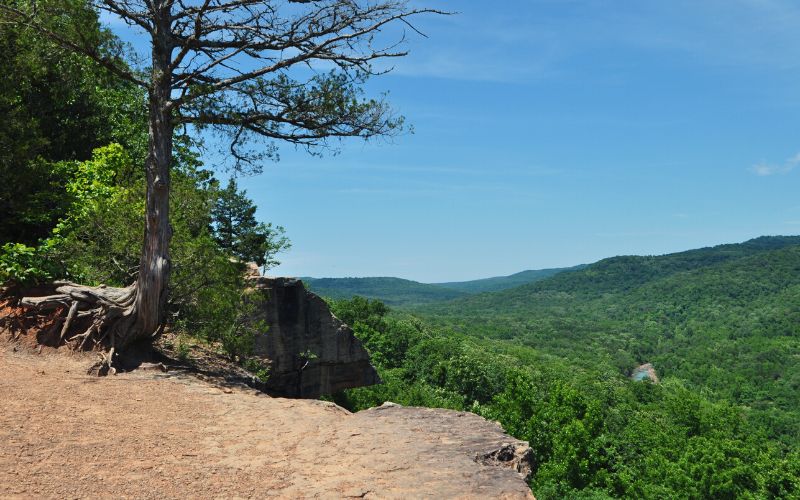 Type: Loop
Length: 3.1 miles
Difficulty: Moderate
Located in Devil's Den State Park, Yellow Rock Trail is about a 25-mile drive south of West Fork, Arkansas.
This 3.1-mile loop trek takes hikers up 300 feet to Yellow Rock Bluff Overlook, a lookout point with sweeping vistas of the Ozark Mountains and Lee Creek Valley below.
Yellow Rock Trail is the original hiking path built by the CCC and is part of the National Trails System. You'll pass by cedar glades, unique rock formations, and the CCC Overlook. Here you'll find a historic pavilion built by the Civilian Conservation Corps in the 1930s with views towards the eastern side of Devil's Den State Park.
There are two trailheads, but most hikers prefer to start at the lower at Camp Area A.
While you're in the area, we highly recommend checking out the Devil's Den Trail – a shorter, kid-friendly hike that's jam-packed with highlights.
3. Whitaker Point Trail, Ozark National Forest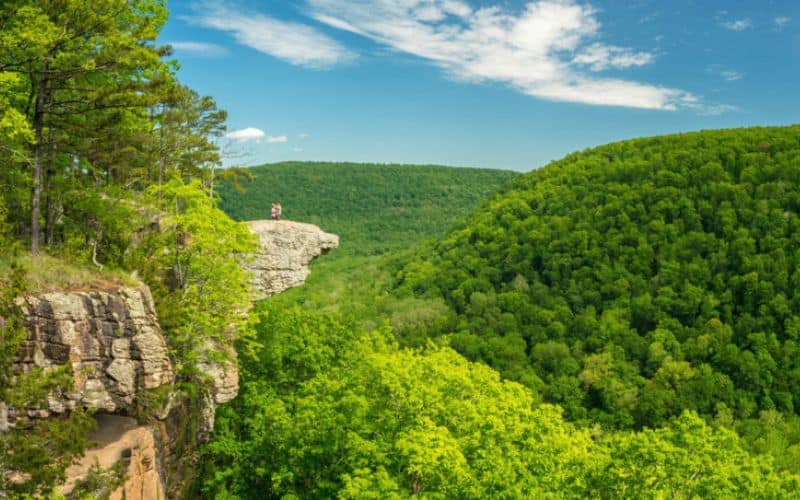 Type: Out-and-back
Length: 2.9 miles
Difficulty: Moderate
Whitaker Point Trail, also known as Hawksbill Crag, is a well-known hike in Arkansas. It's only about a 30-minute drive south of Ponca.
This is a 2.9-mile out-and-back trek to Hawksbill Crag, a craggy rock jutting out from the mountainside with picturesque views of the valleys and landscape of the Buffalo National River area in the Ozark National Forest.
The path passes a seasonal waterfall and follows the ridge line. It's important to keep your distance from the edge of these sheer cliffs and stay cautious while hiking.
The hike begins at the Hawksbill Crag Trailhead off Country Road 5. There are only a few parking spots here so arrive early to get a chance of scoring one on the weekends, especially in peak season during spring and fall.
4. Goat Trail, Buffalo Wilderness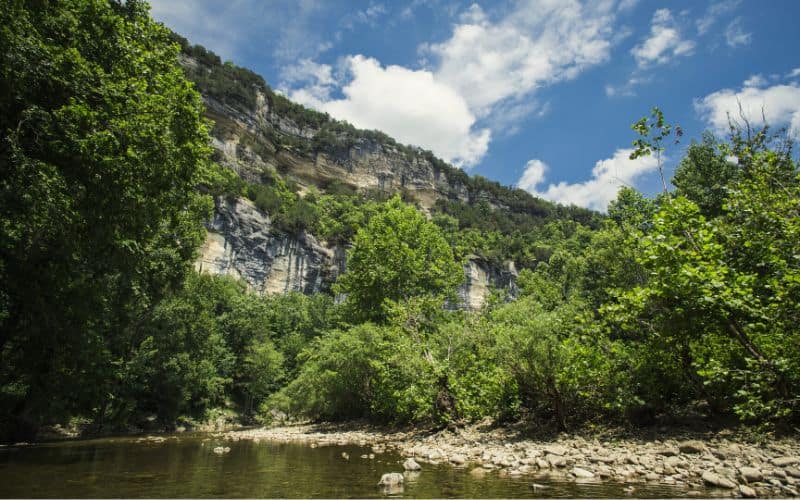 Type: Out-and-back
Length: 6 miles
Difficulty: Hard
For epic views of the Buffalo River from the tallest bluff face in Arkansas, head up the Goat Trail to Big Bluff. The trailhead for this memorable, yet slightly hazardous hike is located a short 5-minute drive north of Ponca.
The Goat Trail (aka Big Bluff Trail) is an adventurous trek along an incredibly narrow ledge out to Big Bluff. Coming in at 550 feet tall, it's the highest sheer cliff face between the Rocky Mountains and the Appalachian Mountains.
Along the way, you'll pass by gnarled 800-year-old juniper trees growing straight from the cliff face. You need to be extremely cautious as you go and have a good head for heights. It's not suitable for young children or pets.
To get there, start at Centerpoint Trailhead off Highway 43. From here, it's about 2.5 miles downhill (be prepared for the uphill on the way back!) to the spur on the right. Once there, follow the path to climb around 350 feet up Big Bluff.
5. North Rim Trail, Mount Magazine State Park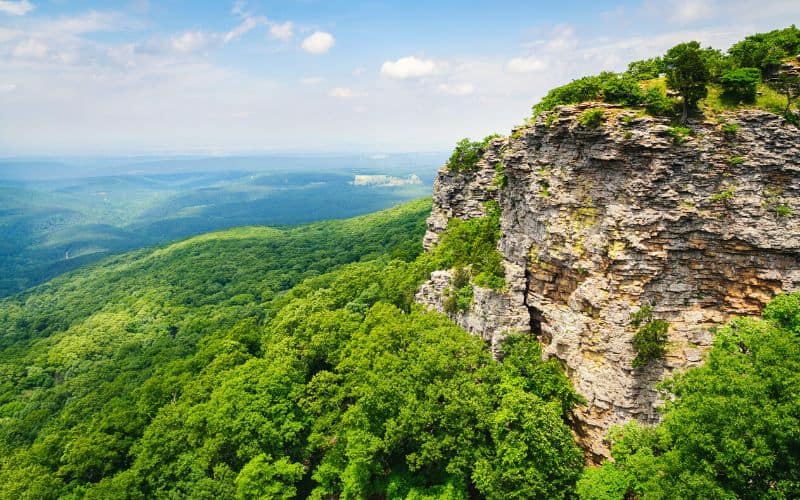 Type: Out-and-back
Length: 5 miles
Difficulty: Easy
Discover the highest peak in the Bear State on this 5-mile trek along Mount Magazine's northern rim. The path begins just west of the Mount Magazine State Park visitor center, about a 25-minute drive southeast of Paris, Arkansas.
The North Rim Trail has scenic views of the mountain, crosses a handful of creeks, and travels through cedars, hardwoods, and scrub oaks. Don't miss the striking views from Dill Point Overlook, located about ¾ of a mile from the trailhead.
At the end of the path, you'll reach Cameron Bluff Overlook, a viewpoint overlooking the Ozark Plateau and the Arkansas River Valley.
6. Signal Hill Trail, Mount Magazine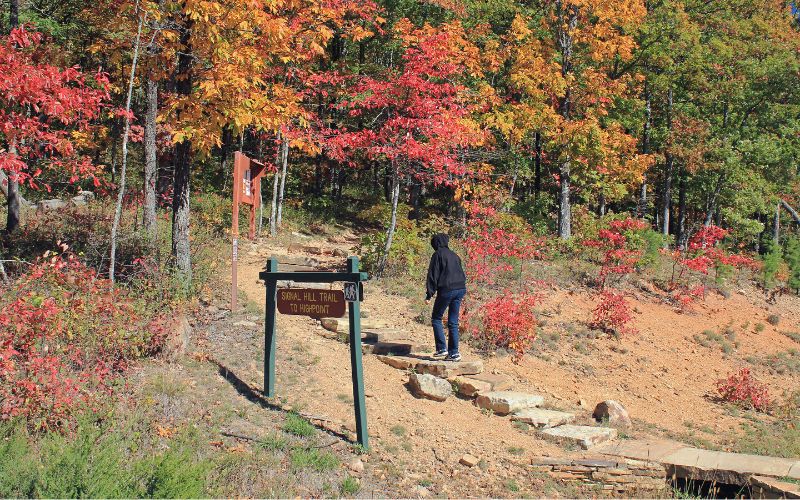 Type: Loop
Length: 1.8 miles
Difficulty: Moderate
Signal Hill Trail is a family-friendly 1.8-mile hike to the top of Mount Magazine. At an elevation of 2,753 ft, Signal Hill is the highest point in the state. Trekking up the tallest peak is one of the top hikes in Arkansas!
This hike is a leisurely forest walk along a well-maintained path around the north and east sides of Signal Hill, connecting Cameron Bluff Campground, Mossback Ridge Trail, and the Lodge at Mount Magazine.
Once you reach the top, you're rewarded with 360-degree views of Mount Magazine State Park and a 400-square-foot stone map of the Bear State. It takes most hikers an average of 1 hour to complete.
You can start this trek from three different trailheads, the most popular one is located across the road from Cameron Bluff Campground.
7. Rock House Cave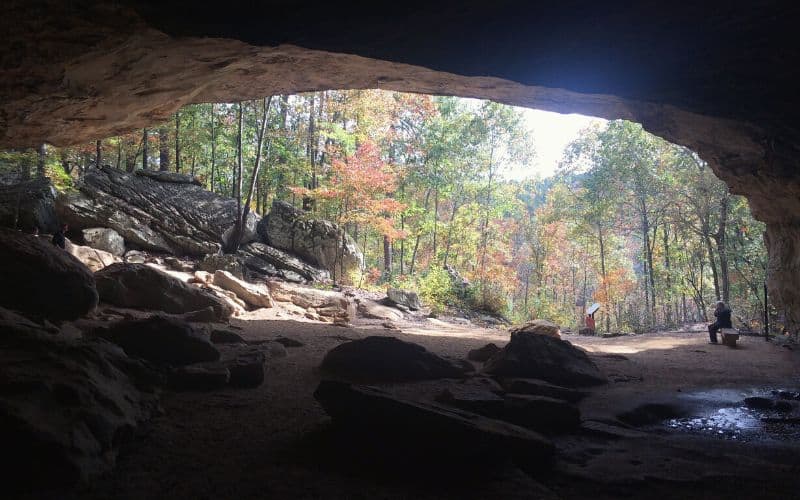 Type: Out-and-back
Length: 0.5 miles
Difficulty: Easy
This large rock shelter is the number one spot in the state to see ancient Native American rock art from over 500 years ago. The cave is located in Petit Jean State Park, about a 30-minute drive west of Morrilton.
The Rock House Cave Trail is a short and easy half-mile hike round trip, making it ideal for the entire family! It's a quick quarter-mile walk from the Rock House Cave Trailhead parking lot to the entrance of the cave. Once inside this protected archeological site, you'll see mesmerizing pictographs from ancient locals.
On the way to the cave, you'll come across interesting rock formations known as Turtle Rocks, named after the geological pattern which resembles the plates on a turtle's shell. For a longer hike, combine Rock House Cave with Lookout Trail to create a 4.2-mile loop.
Want to check out more caves? Take the short drive to the nearby Bear Cave Trail for a look at another interesting cave in Petit Jean State Park.
8. Seven Hollows Trail, Petit Jean State Park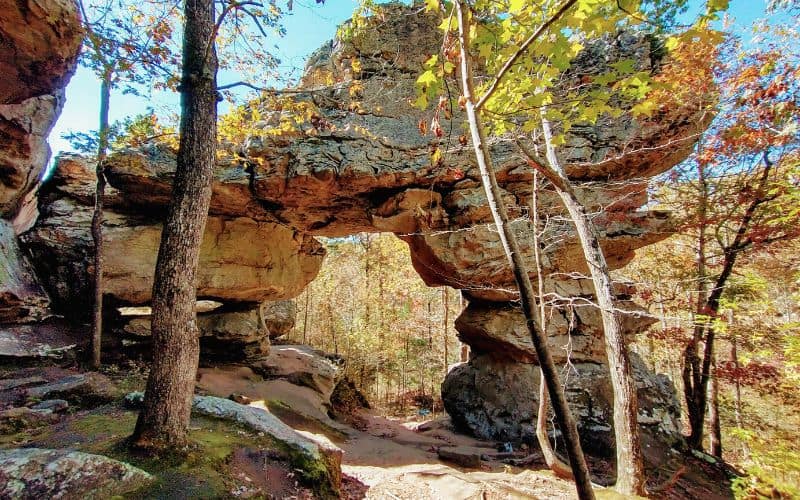 Type: Loop
Length: 4.5 miles
Difficulty: Moderate
Seven Hollows Trail is an amazing hike that showcases everything this incredible area has to offer. There's no way to get bored on this hike – there are interesting things to see every step of the way!
This hike is a 4.5-mile loop winding through several small canyons covered by a lush hardwood forest. Along this moderately difficult hike, you'll see rock shelters, a box canyon, ancient pictographs, and a mind-blowing natural stone arch called the Natural Bridge. Add on an extra.2 miles and follow the spur leading to a seasonal waterfall in a grotto.
There's an unbelievable amount of plant biodiversity surrounding the hiking path, with everything from cacti to ferns.
Seven Hollows Trailhead is on Highway 154, right across from Bear Cave Trail and one mile west of Mather Lodge.
9. Hemmed in Hollow Trail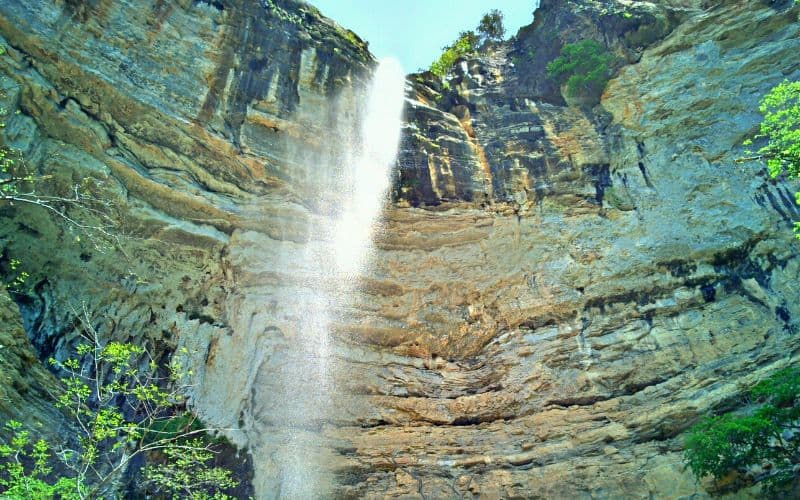 Type: Out-and-back
Length: 5.7 miles
Difficulty: Strenuous
Hemmed in Hollow Trail is a difficult yet incredibly rewarding hike about 1.5 miles south of Compton, AR. It's a 5.7-mile out-and-back hiking path to one of the highest waterfalls in mid-America. It takes most hikers about three to four hours to complete this hike.
The adventure begins at Compton Trailhead, where you'll also find a parking area and a helpful trail map. From here, the mostly well-marked path descends into the Buffalo National River Wilderness Area.
The track will eventually reach the towering Hemmed in Hollow Falls, a 210-foot waterfall cascading over the Ozark bluffs. It's thought to be the tallest waterfall between the Rockies and the Appalachians. Once at the falls, you can take the spur trail down to the Buffalo River for a refreshing swim.
The hardest part of this hike is the 1,414-foot elevation change and steep climb back up from the falls to the parking lot.
10. Glory Hole Waterfall Trail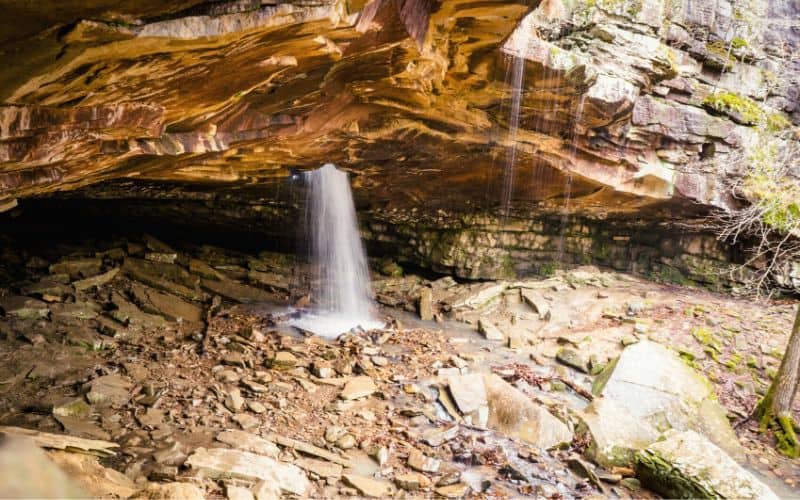 Length: 1.9 miles
Type: Out-and-back
Difficulty: Moderate
Glory Hole Falls is the most unique waterfall in the Bear State, and possibly the entire country.
It's located in the Big Piney District of Ozark National Forest, about a 25-minute drive south of Ponca, AR.
This 1.9-mile out-and-back track starts at the Glory Hole Falls Trailhead as an old jeep road before narrowing down into a hiking path. The trail meanders over a creek and passes by smaller waterfalls before reaching the top of Glory Hole Falls.
This is where you'll see the hole in the rock created by centuries of water flowing from Dismal Creek along with several other falls flowing over the bluff. Be careful here because the rocks surrounding the opening are slippery.
The best time to hike this trail is in the spring, when the water flow is higher, or in the fall after heavy rains.
11. Mount Nebo Rim Trail, Mount Nebo State Park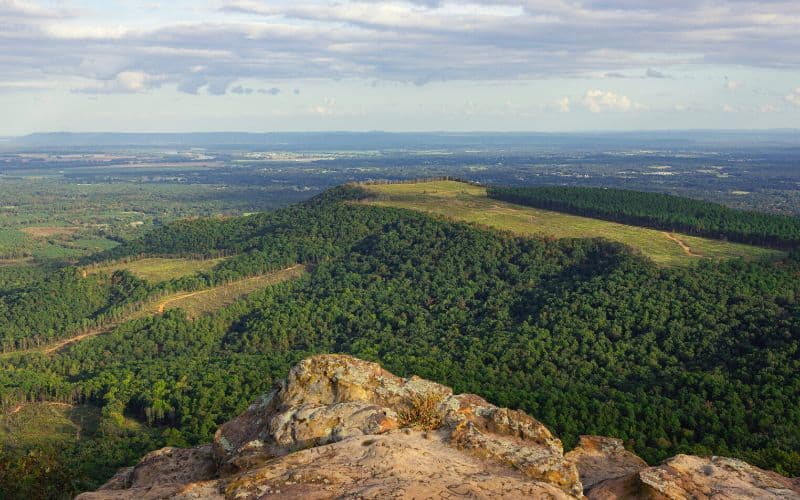 Type: Loop
Length: 3.6 miles
Difficulty: Moderate
Mount Nebo State Park is a historic state park sitting on top of the 1,350-foot-tall Mount Nebo. This state park has incredible views of the valley below, interesting geological formations, and buildings from the 1930s CCC era, including cabins, pavilions, and bridges.
The 3.6-mile-long Mount Nebo Rim Trail dates back to the 1890s and was improved by the CCC with stone steps and walls. The route encircles the mountain and connects over 14 miles of hiking and mountain biking tracks. This beautiful hike offers stunning vistas of the Arkansas River Valley, Lake Dardanelle, and part of the Trail of Tears.
There are many ways to access this trek, but you'll find the main trailhead behind the visitor center.
Other Recommended Hikes in Arkansas
These hikes didn't quite make our list of the best day-hiking trails in the Bear State, but are still well worth checking out.
Ozark Highland Trail, Hot Springs National Park
Indian Rockhouse Nature Trail
Pinnacle Mountain, West Summit Trail
Little Missouri Trail, Little Missouri Falls Recreation Area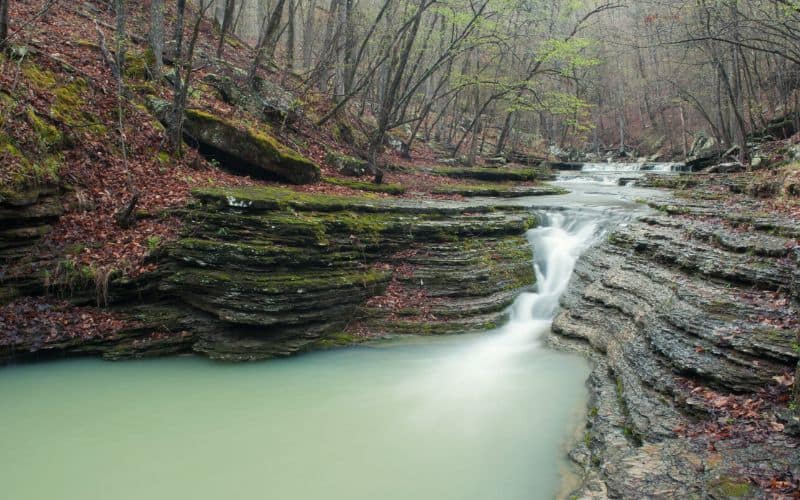 Best Hikes in Arkansas: Happy Hiking!
Whether it's trekking up a treacherous trail to the tallest bluff in the state or a family-friendly walk to see an ancient rock shelter, Arkansas has a plethora of incredibly unique treks to choose from.
So what are you waiting for? Strap on your hiking boots and hit the best hikes in Arkansas has to offer!
What are your favorite hiking trails in Arkansas? Please leave us a comment below with your top recommendations! If you enjoyed this article, feel free to share it with your hiking buddies.