If you've ever been to Las Vegas, chances are you've seen the glowing orange hills of Red Rock Canyon in the distance. Spanning over 195,000 acres, the Red Rock Canyon National Conservation Area is a geographical wonderland and hiker's heaven – and it's located only 17 miles west of the Las Vegas Strip.
With more than 30-miles of hiking trails and a 13-mile scenic drive, visiting Red Rock Canyon should be at the top of any Las Vegas bucket list!
So what are you waiting for? There's no better place to get back to nature (or nurse a Las Vegas hangover) than the rolling rock hills of red rock country.
1. Ice Box Canyon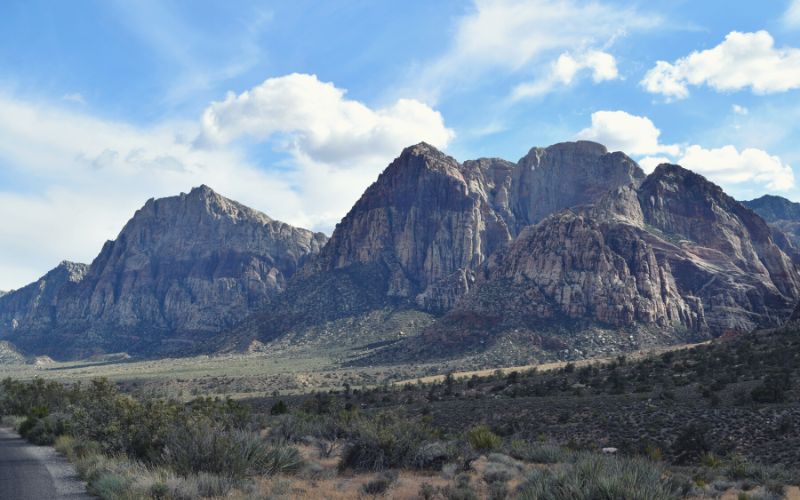 Type: Out and back
Length: 2.2 miles
Difficulty: Challenging
The Ice Box Canyon Trail is a popular hike that will take you through the narrow opening of a box canyon. This trek quite literally envelops hikers as the trail is lined with steep walls that tower over you on three sides.
This is a strenuous hike due to its steep elevation gain (around 577 ft) in just 2.2 miles. The going is also rocky in some places and will require some rock scrambling.
The first mile of the hike is through the open desert. You'll be greeted by lots of typical desert flora including gorgeous blooming wildflowers in the springtime.
As you enter the canyon, you'll feel the temperature drop right away. The path eventually follows a small stream. Here the power of water in the desert is on full display as small shrubs and plants slowly give way to lush vegetation like juniper and pinon trees.
Since this is a real box canyon, you'll eventually arrive at a dead end. Time to turn back around and enjoy the view of the red rock hills in the valley as you head back to the trailhead!
2. Calico Tanks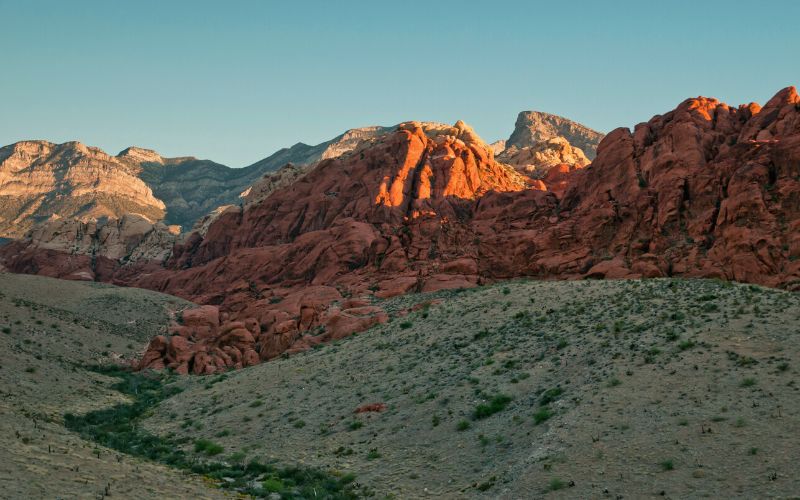 Type: Out and back
Length: 2.5 miles
Difficulty: Moderate
Don't let its short length fool you, the Calico Tanks Trail is a challenging hike featuring 400-feet of elevation gain and some technical sections. All that effort, however, is worth it once you reach the hidden watering hole (the Calico Tank) and take in the panoramic views of Las Vegas in the distance.
You'll find the trailhead at the Sandstone Quarry Overlook. On busy days the parking lot is crowded, so arrive early to beat the crowds.
The hike starts in a wash and heads straight up into a small canyon. There are a few tricky sections that require using your hands to navigate over rock faces. Near the end, there's also a questionable set of rocky stairs. Hope you aren't afraid of heights!
Despite these challenges, Calico Tanks is suitable for all skill levels. Experienced hikers will enjoy the technical portions, novice hikers can practice their scrambling, and everyone can take in the incredible scenery on offer in all directions!
3. Petroglyph Wall Trail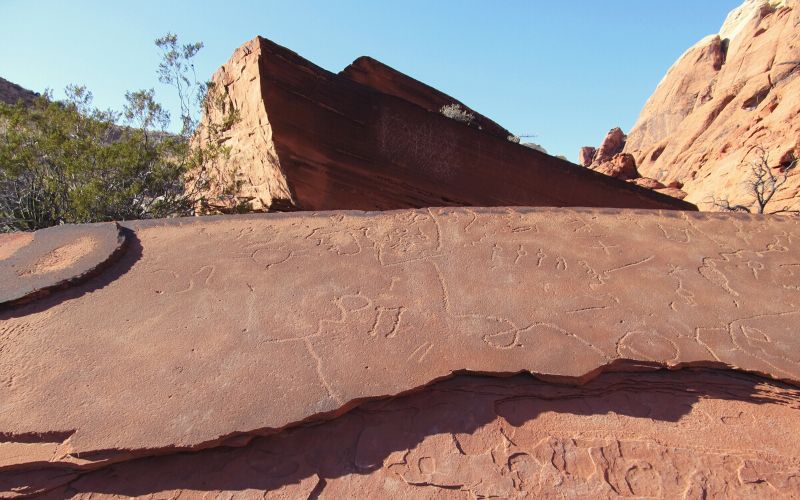 Type: Out and back
Length: 0.25 miles
Difficulty: Easy
At just under 0.25 miles, the Petroglyph Wall isn't a hike as much as a family-friendly stroll. But that's all the more reason to add it to any red rock itinerary!
The Petroglyph Wall is one of the best examples of ancient stone carvings in the entire park. The petroglyphs on display are estimated to be over 800 years old. Fun fact: no one actually knows what these petroglyphs depict or mean, so feel free to interpret them for yourself!
This easy trail takes you across a wash and towards the cliffside where the petroglyphs are carved. While most of the trail is packed with dirt and gravel, traversing the wash can get quite rocky.
You'll find the trailhead at the Willow Springs Picnic Area. The whole hike will take you only 30 minutes to complete, making it a great choice if you've got kids in tow.
4. Kraft Mountain Loop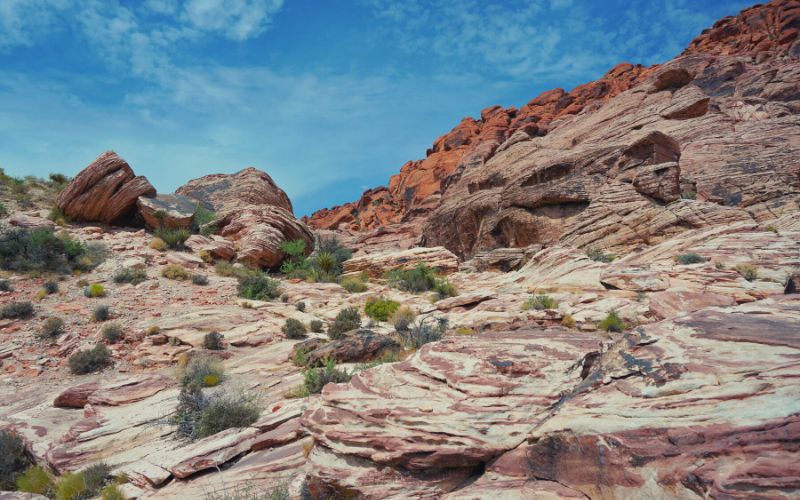 Type: Loop
Length: 3.5 miles
Difficulty: Moderate
If you're looking for a shorter yet still challenging hike with some classic red rock scenery, check out the Kraft Mountain Loop. It's a 3.5-mile, scenic loop that takes you around Kraft Mountain. You'll be hiking to the top of a canyon with its panoramic views before descending back down a ravine.
There are two trailheads for the Kraft Mountain Loop. If you'd like to hike the loop counterclockwise, use the trailhead closest to the parking lot entrance. If you'd rather head clockwise, use the trailhead found at the far end of the parking lot.
We suggest hiking the trail counterclockwise as it's less demanding, but you need to still be prepared for a quad-busting workout! While the first section of the trail is relatively flat, soon enough the elevation will change and you'll be hiking up a relatively steep incline for almost a mile.
Once the trail levels off, you'll be able to enjoy the spectacular red rock scenery. As you descend, you'll be hiking through a wide, dry wash. Watch your footing as there's plenty of loose gravel here! Follow the ravine all the way back to the trailhead.
5. Calico Hills Trail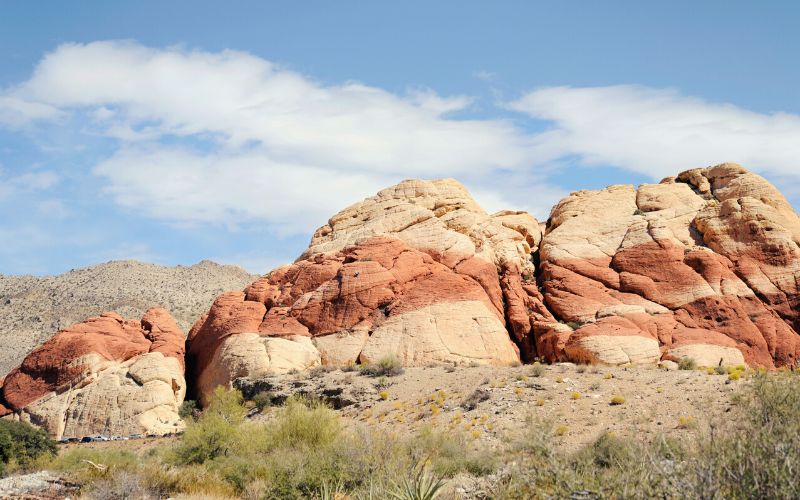 Type: Point to point
Length: 3.9 miles
Difficulty: Moderate
The distinct and crimson Calico Hills are some of the most interesting geographical features in Red Rock Canyon. They are actually thought to be the remains of the largest dune field that ever formed on Earth over 180 million years ago.
The Calico Hills got their distinct shape through the passage of underground water. Water moving through the canyon carried away much of the hills' original shape and color, leaving behind only calcium carbonate. This acted as a form of cement to bind the sand together into hills.
Today the Calico Hills attract hikers and rock climbers from all over the globe. In fact, Red Rock Canyon is considered to be one of the top 5 climbing destinations in the US!
The Calico Hills Trail will take you along the base of the hills towards the Sandstone Quarry. The hike can be considered a series of trail segments that start and stop at any of 6 trailheads. Most of the sections are gently sloping trails with only a few steep parts.
If you've only ever driven the scenic route through Red Rock Canyon, this hike will get you up close and personal with the Calico Hills. It's a completely different experience from the roadside perspective, so don't miss out on it!
6. Keystone Thrust Trail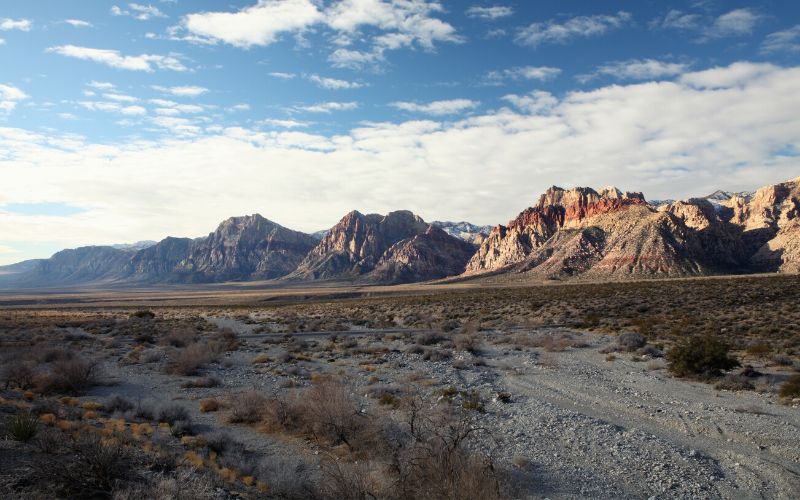 Type: Out and back
Length: 2.2 miles
Difficulty: Moderate
The Keystone Thrust is one of Red Rock Canyon's most important geological features. It's the result of a shoving match between the North American and Pacific continental plates that occurred over 65 million years ago.
It's easy to see exactly where the plates collided as two different colors of rock mark the fault line. This is because the colliding of the plates forced older Cambrian limestone up and over the preexisting red sandstone.
Note that to reach the official trailhead you'll have to drive down a 0.5-mile unmaintained gravel road toward the White Rock parking area. If you're worried about the well-being of your vehicle, you can also park at a lower parking lot and tack an extra 0.5-mile hike onto your journey.
This is a relatively easy hiking trail with no scrambles, although you will have to deal with over 400 ft of elevation gain. At the end, you'll be rewarded with a high ridge where you can soak in 360-degree views of the Calico Hills.
7. White Rock to Willow Spring Loop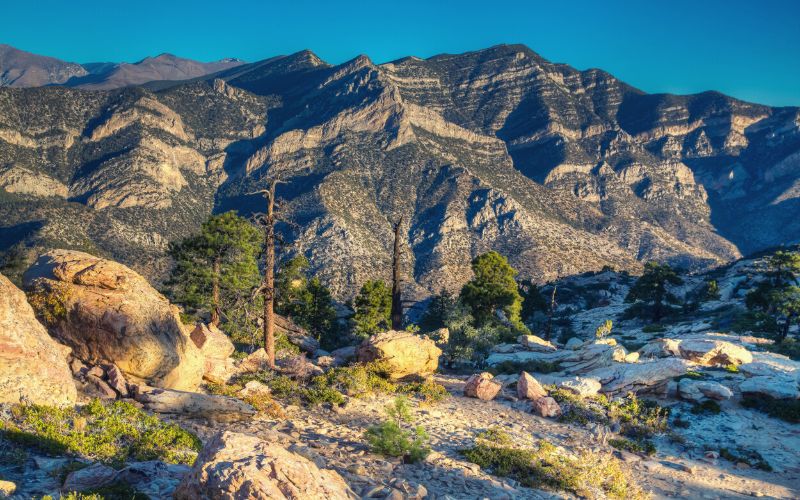 Type: Loop
Length: 6.3 miles
Difficulty: Moderate
The White Rock Loop circles around the base of the fascinating La Madre Mountain. Despite its length, its moderate grade makes this hike accessible to all skill levels.
The Las Madres are yet another fascinating geological feature of the Mojave Desert. They get their beautiful alternating hues from different layers of 500-million-year-old Paleozoic limestone and dolostone (gray and blue) that rose up over 180-million-year-old sandstone (red and tan). The result is mesmerizing!
You can access the loop from three points: the Lost Creek parking area, White Rock Springs (White Rock parking lot), or Willow Springs. Heading northwest from Willow Springs, the trail traverses a wash on its way to the Las Madre Mountain Wilderness Boundary.
If you're willing to add an additional 1.5 miles and 345 ft of elevation gain, you can add the La Madres Springs to your itinerary. There it's common to see wildlife including bighorn sheep, mule deer, and hummingbirds.
8. Turtlehead Peak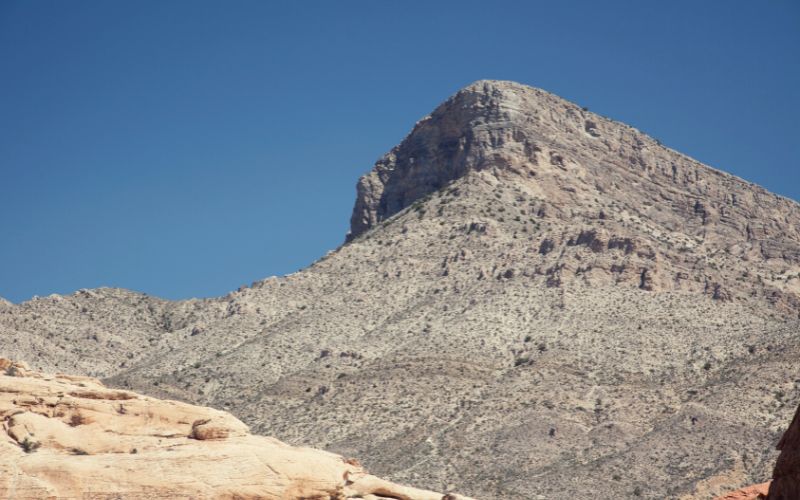 Type: Out and back
Length: 4.6 miles
Difficulty: Challenging
The Turtlehead Peak Trail is a challenging climb that rewards hikers with 360-degree views over the entire Las Vegas valley and the La Madre Mountains. This hike covers about 2,000 ft of elevation gain in just 2 miles, so be ready for a strenuous trek!
Along the way there are several spots with unsure footing, so proper hiking boots are an absolute must.
The trail runs north into the historic Sandstone Quarry area. After traversing a wash, your ascent to Turtlehead Peak will begin. As you ascend, keep a careful eye on the trail markers and switchbacks. Missing the turns can lead you into dangerous territory!
On top of its steep elevation gain, this hike requires some scrambling over and around boulders. As such, it's not an appropriate hike for kids or novice hikers. The route is also almost completely exposed, so come prepared for the Nevada heat with sunscreen and a good hiking hat!
9. Moenkopi Hill Loop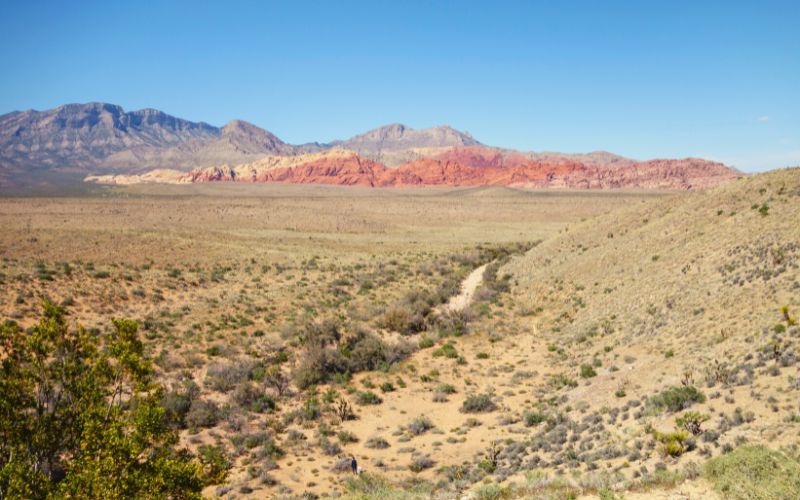 Type: Loop
Length: 2 miles
Difficulty: Easy
The Moenkopi Loop is an open-country hiking trail that runs from the RRC Visitor Center to the summit of Moenkopi Hill and back again. The trail runs through a variety of desert habitats, giving you a chance to see plenty of wildlife and desert flora.
If you're looking to enjoy a pleasant stroll, this is the hike for you. It's relatively flat and easy to follow the entire way. Along the way, you'll even be able to check out some ancient fossils dating from the Triassic Era.
If you have time, we highly suggest visiting the Visitor Center. It's filled with fun indoor and outdoor exhibits including plant specimens and live desert tortoise habitats. You can also make reservations for timed entries to the park.
10. Spring Mountain Youth Camp Trail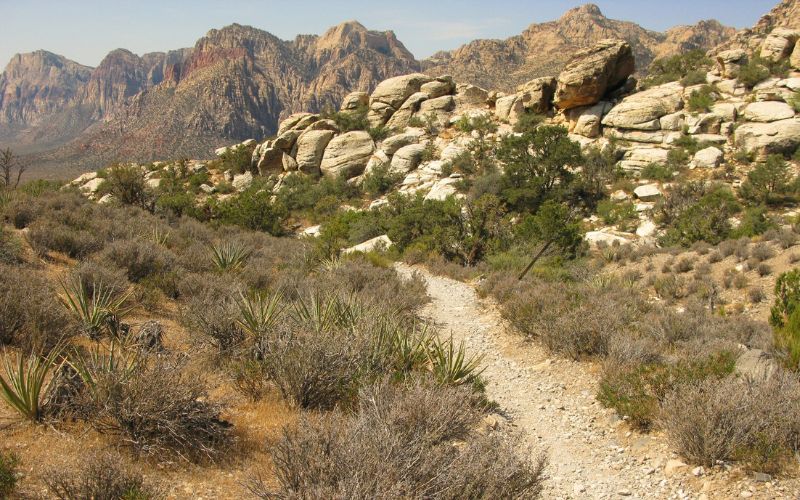 Type: Out and back
Length: 1.9 miles
Difficulty: Easy
This is a great little trail that was named after the Spring Mountain Youth Camp. In partnership with the US Forest Service, these teens have been doing nice trail work in Mt. Charleston and Red Rock Canyon for over 30 years.
This is an open-country trail featuring plenty of red rocks, lush vegetation, and desert cacti. The trail runs along the base of the Wilson Cliffs. Thanks to its relatively flat elevation, this trail is suitable for beginners and kids.
It's also a rather short trail, meaning you can easily combine it with Ice Box Canyon or the Lost Creek Canyon Trail. Just make sure you come well prepared for the desert heat as there is no shade along the way.
11. Lost Creek Canyon Children's Discovery Trail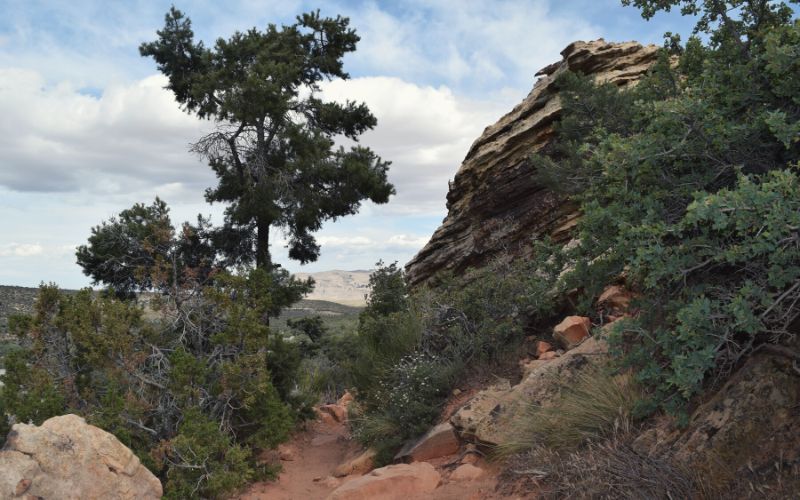 Type: Loop
Length: 1.1 miles
Difficulty: Easy
The Lost Creek Canyon Children's Discovery Trail is a self-guided interpretive hike designed to introduce visitors of all ages to the beauty of the Mojave Desert. At just over 1 mile long, it's the shortest option in the area.
Be sure to stop by the Visitor Center and grab a brochure and trail map before starting your hike. It includes detailed descriptions of all the sites of interest you'll find along the trail. There are 9 numbered sites to explore, each highlighting a different feature of the Red Rock Canyon and providing information on things like desert life, pictographs, and desert wildlife.
After 1 mile, you'll have the option to circle back around to the parking lot or meet up with the Lost Creek Falls Trail. If you take the trail, you'll cross a wash and head into a box canyon where Lost Creek Falls can be seen flowing in the cooler months.
Best Hikes in Red Rock Canyon: Happy Hiking!
If you're looking for a break from the glitz and glam of Las Vegas, there's no better place then Red Rock Canyon to relax in nature. All kinds of adventures await you there, from hiking and zipping around on ATVs to rock climbing and horseback riding.
If you want to escape the Nevada heat, head down the First Creek Canyon Trail to arrive at a hidden waterfall and plunge pool. If you're looking for a pleasant stroll the whole family will enjoy, try the Moenkopi Hill Loop of the Children's Discovery Trail. Just remember that you have to make a reservation for entry into Red Rock Canyon.
We hope you've found some inspiration from our guide to the best hikes in Red Rock Canyon. If we missed any of your favorites, tell us all about them in the comments! 
And if you want to share this article with your family and friends, go right ahead!