Texas isn't all about barbecues and cowboys. Whether you're looking for a day trip in a national park or a multi-day hike, the second-largest state in the United States is also a great place to hit the trails.
This post will guide you through a selection of top Texan trails, offering detailed route descriptions as well as info on parking, flora, fauna, and where to catch the best views. From Big Bend Ranch State Park to Palo Duro Canyon, we'll show you why these hikes are a must-see on any Texas adventure. So lace up your boots and get ready – it's time to hit the trail!
1. Santa Elena Canyon Trail, Big Bend National Park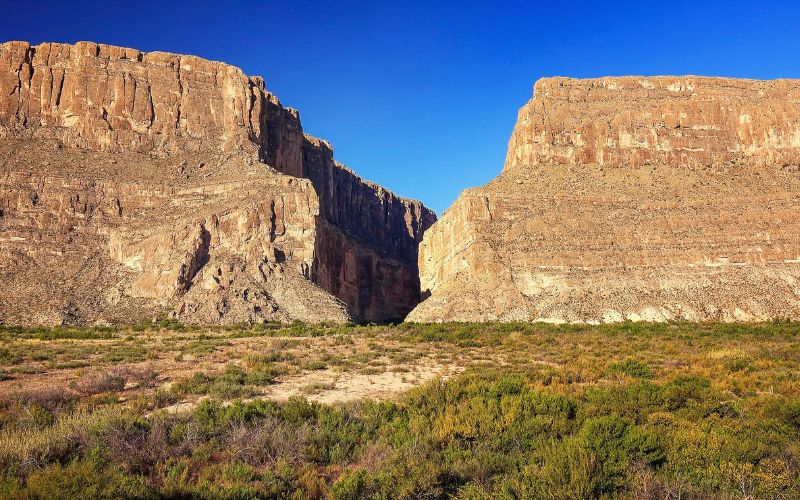 Type: Out and Back
Difficulty: Moderate
Length: 1.6 miles
Although short, the Santa Elena Canyon Trail in Big Bend National Park, West Texas, is one of the most popular hikes along the Rio Grande. The whole time, you walk between towering canyon walls, reaching nearly 1,500 ft. Side to side, sometimes the walls are only 30 ft apart!
From the parking lot, follow signs and descend toward the confluence of the Rio Grande and Terlingua Creek. Cross over. If the river is in spate, you'll have to wade it. When it is too dangerous to do so, access to the canyon is closed.
Despite the desert atmosphere, note the flora that surrounds you, including desert succulents, candelilla, and bluebonnets in spring.
Soon, the trail steepens. Ascend the switchbacks. When you take a breather, enjoy the Chisos Mountains and the Sierra Quemada in the distance.
When the elevation gain eases, enter the canyon and enjoy a rest at a small beach before returning the way you came.
2. Guadalupe Peak Trail, Guadalupe Mountains National Park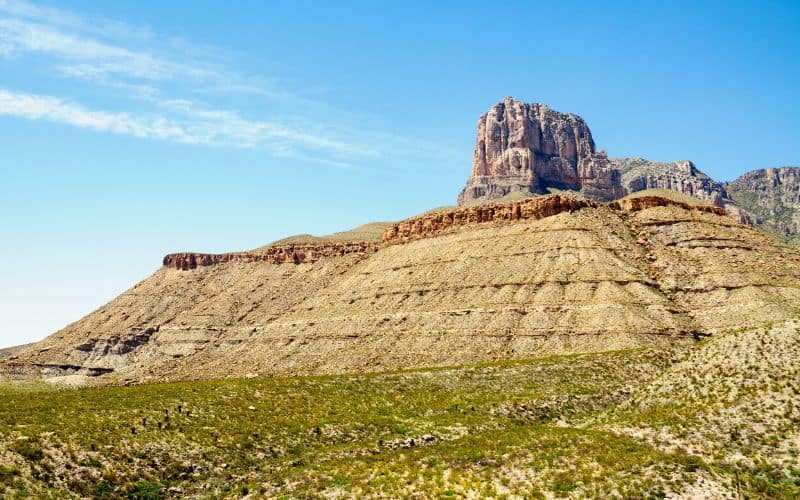 Type: Out and Back
Difficulty: Strenuous
Length: 8.4 miles
Although this out-and-back trail is an absolute leg burner, its varied environments are well worth the effort.
The steep slog starts immediately. Follow the switchbacks, pass the small forest of Douglas firs and pines into dry high desert, then continue past from false summit for a short distance along the rocky path. Soon you'll be on the "Top of Texas", will 3,000ft of ascent and aching calves to show for it!
Atop Guadalupe Peak, incredible vistas of the Guadalupe Mountains reveal themselves. In the distance, note El Capitan, the 10th highest peak in Texas.
We recommend embarking on this challenging hike in the spring and fall. In the summer it is blazing hot, afternoon storms are notorious, and you're well above sea level.
3. Gorman Falls Trail, Colorado Bend State Park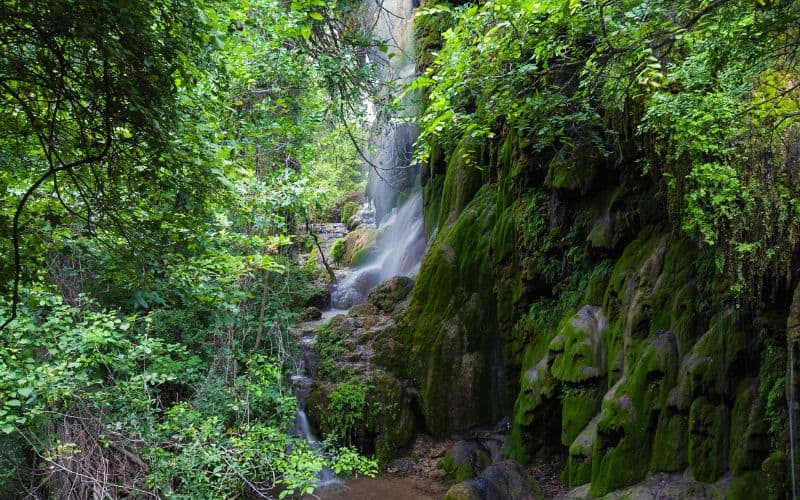 Type: Out and Back
Difficulty: Easy
Length: 2.8 miles
If you think Texas is all desert and arid hill country, then of all the top Texas trails, this hike will convince you otherwise.
Located in Colorado Bend State Park in central Texas, this hike leads you through well-shaded forests to the 70 ft Gorman Falls. From this hidden gem, you'll also enjoy fantastic views of the Colorado River in the distance.
We recommend doing this hike early in the morning. With only 101 meters of elevation gain and shade, it is the most popular hike in the state park! Watch for cacti along the edges of the trail and bring loads of water.
4. East Trail Loop, Lost Maples State Natural Area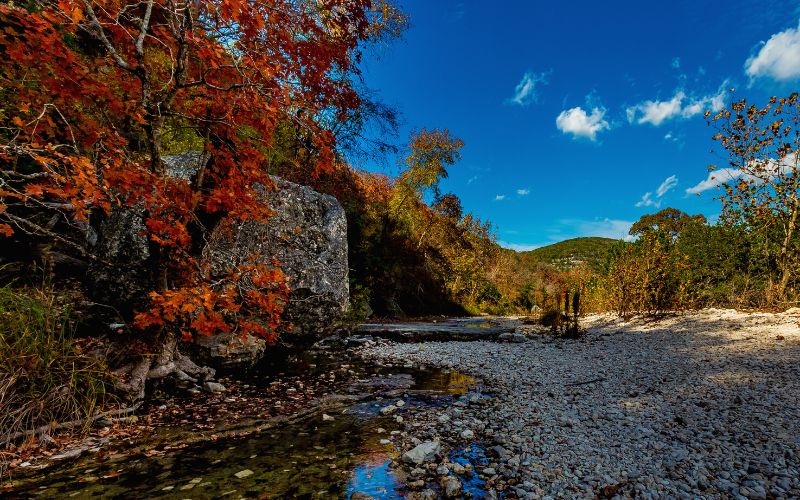 Type: Loop
Difficulty: Moderate
Length: 4.4 miles
Orange, red, auburn, yellow – the maple leaves changing color in the fall is one of nature's most beautiful spectacles. Who says you have to drive to New England to see it? In Lost Maples SNA, you'll be treated to a show every bit as compelling as anything out east.
Located amongst the canyons in the Lost Maples State Natural Area, the hike begins from the second car park, which is past the campground. Follow signs for the East Trail. After crossing the Sabinal River, enjoy the rugged limestone walls of Monkey Rock and Grotto.
From here, 350 ft of elevation gain brings you to the top of the canyon, where you'll enjoy sweeping views of the Hill Country.
There are options to extend your round hike via the Maple Trail and the West Trail.
5. Lighthouse Trail, Palo Duro Canyon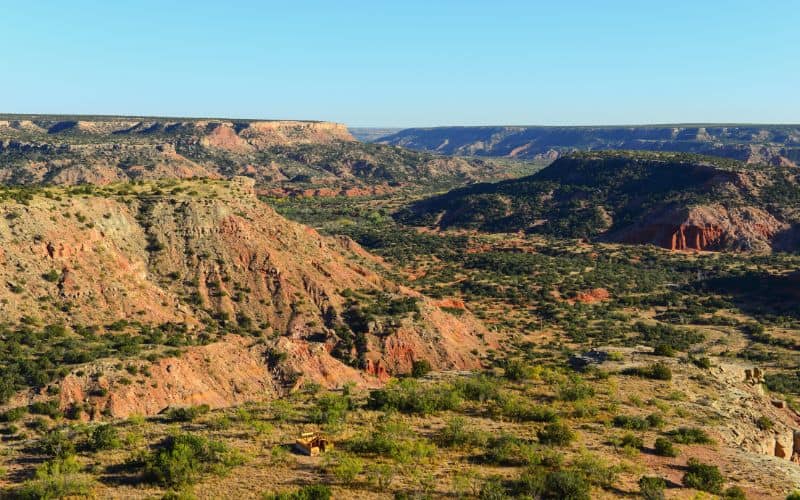 Type: Out and Back
Difficulty: Moderate
Length: 5.8 miles
This hike leads to one of the most popular rock formations in the state: the Palo Duro Lighthouse. At just under three miles one-way, it's perfectly doable in an afternoon and feasible for families with kids.
Once inside Palo Duro Canyon State Park, follow road 5 to the well-marked parking lot. From here, there are two trailheads – one for the Lowry Trail and one for the Capitol Peak Trail. You can take either one, but the shorter and most scenic of the two is Capitol Peak, from which you'll soon veer right onto the Lighthouse Trail proper.
Green shrubs sit like polka dots on an orange landscape, from which rugged redrock towers and pillars rise like petrified sentinels. This is truly a breathtaking landscape and there are plenty of scenic overlooks to enjoy it from along the way.
Once you enter Sunday Canyon, the elevation gain begins. Watch for wildlife, such as lizards, rattlesnakes, wild turkey, sheep, and mule deer. Cross the dry creek beds and steadily rise toward the final destination: Lighthouse Rock, a 300-foot-high pillar that dominates the surrounding landscape.
6. South Rim Trail, Big Bend National Park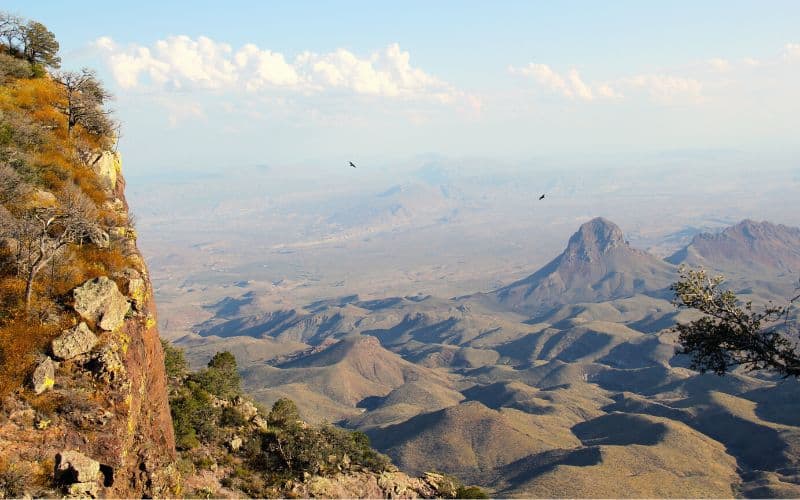 Type: Loop
Difficulty: Strenuous
Length: 12.6 miles
At nearly 13 miles long, with a total elevation gain of 2,600 ft, this isn't only one of the longest hikes on our list, but it offers one of the most unique experiences in Big Bend National Park: camping.
Why camp here? Desert skies are notorious for having wonderful displays of stars and the Milky Way! You'll also enjoy solitude and a true wilderness experience.
This round trip is done in a loop. You can hike in either direction. We recommend opting for the counter-clockwise loop up Laguna Meadows Trail as the elevation gain is more mellow.
Follow signs for the South Rim Trail (SRT). The going is mostly in the forest, but once you reach the SRT proper, you'll know – the views open up, and the Chihuahuan desert is stunning.
We recommend taking a short diversion to Spur Viewpoint. Another great addition to this hike is to the highest point in Big Bend National Park, Emory Peak, which would make for a round-trip total of 15.6 miles.
7. Arbor Hills Nature Preserve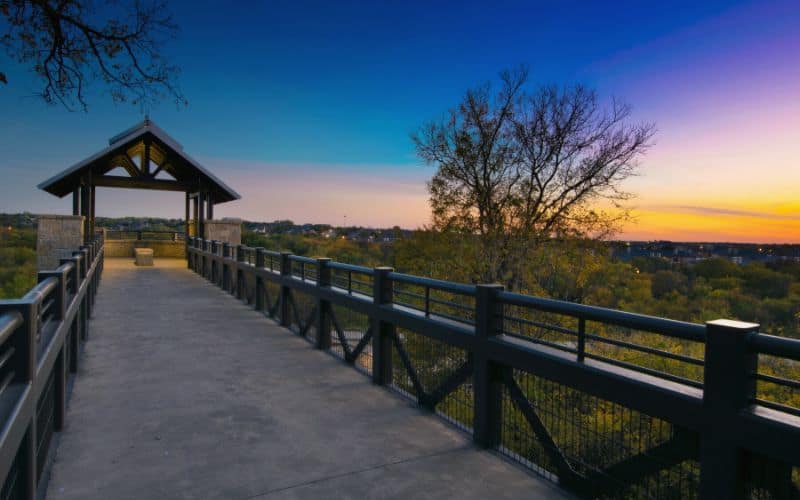 Type: Loop
Difficulty: Easy
Length: 0.2 – 4.7 miles
If you feel confined in the big city and miss the trail beneath your boots, visit the Arbor Hills Nature Preserve. There are over 200 acres of land to explore!
There are 3 miles of accessible paved trails in the park, with hardly any elevation gain. If you fancy a hike on natural trails there are 14 to explore, totaling 4.7 miles round trip. We recommend the Arbor Hills Loop (1.3 miles), the Vista Trail (0.4 miles), and the Tower Trail (1 mile).
The park also has a recreation area, picnic shelters and tables, restrooms, and drinking water.
8. Palmetto State Park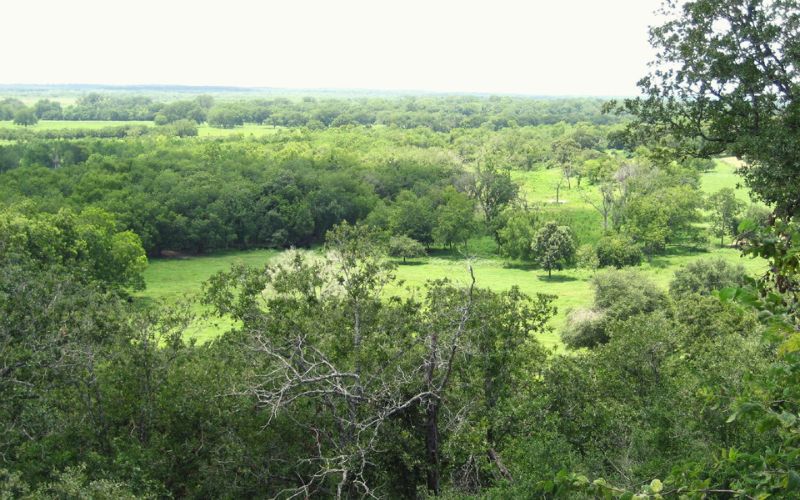 Type: Out and back/Loop
Difficulty: Easy/Moderate
Length: 0.1 – 1.3 miles
Palmetto State Park is a destination of geological, botanical, and historical interest.
There are eight short trails, each leading to various points of interest. The Palmetto Interactive Trail (0.3 miles) is a great introduction to the park, showcasing the best of the lush swampland in a very short distance.
The Oxbow Lake Trail (0.7 miles) brings you to the 4-acre lake, where you can look for kingfishers and herons, as well as fish (permit required). Other trails bring you through scenic swampland and through large, shaded groves of Mesquite trees (native to TX).
9. The Lone Star Hiking Trail, Sam Houston National Forest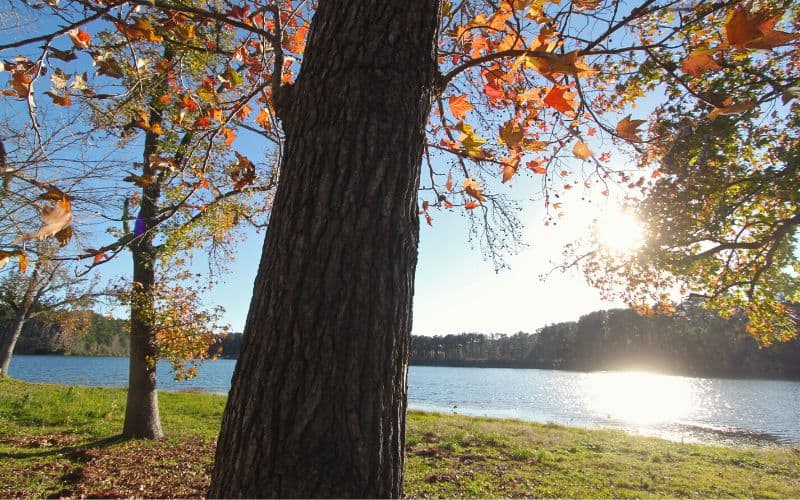 Type: Point to Point
Difficulty: Challenging
Length: 96 miles
We couldn't leave out the longest footpath in Texas! Spanning the eastern edge of Sam Houston National Forest, this hike is ecologically diverse: swamps, pine forests, palmettoes, hardwoods, beautyberries – the list goes on!
Divided into 10 even sections and waymarked with silver blazes, most people thru-hike the Lone Star Hiking Trail in a week, camping along the way, either in the backcountry or at recreational campgrounds. There are five loops you can add to the hike, making a total trip of 126 miles.
Before embarking on this hike, there are a few things to note. Go outside of the hunting season, since you can hear gunshots all night. There are four road walks, which can ruin the 'wild' vibe. Controlled burns in the area can also make the trail air very smoky.
Texas Camping
Looking for Texas camping ideas? Check out our guides to:
Best Hikes in Texas: Happy Hiking!
Hopefully, you now know just how diverse the Texas landscape is…and just how much it's worth exploring. Whether you're based in San Antonio, Texas, Dallas, or Houston, there's an abundance of wildland primed for adventures on foot.
If you like this article or know someone who is planning a hiking trip to Texas, feel free to share this article! And if you have any comments or questions, drop us a line in the box below.