Vermont hiking is what dreams are made of. The Green Mountain State has rugged ridgelines, epic overnight hikes, and its fair share of baggable peaks. And that's not to mention its wealth of gorgeous, accessible, family-friendly hikes.
Use our complete guide to find your next Vermont adventure. Whether you're looking for a days-long thru-hike in the Green Mountains, a rock scramble up Mt. Abraham, or an urban hike on the shores of Lake Champlain, Vermont has something for you.
1. Sunset Ridge Trail, Mount Mansfield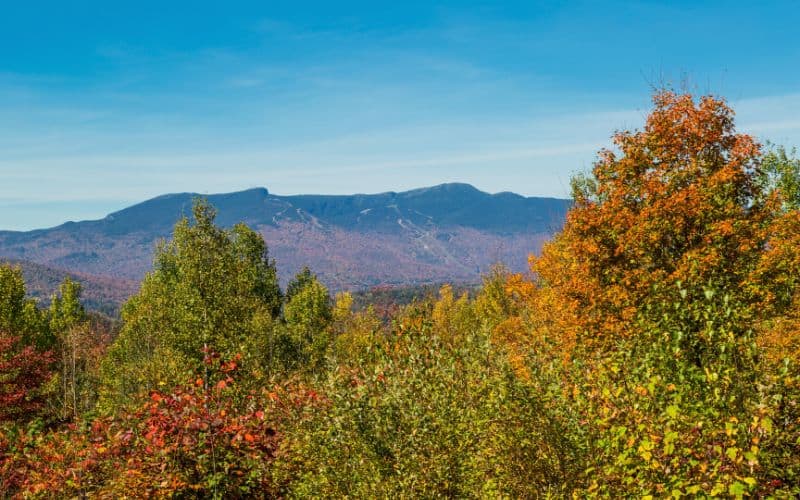 Type: Out and back
Length: 5.2 miles
Difficulty: Challenging
Most hikers prefer Sunset Ridge for bagging Vermont's highest peak, Mt. Mansfield. Although this out-and-back hike is only 5.2 miles round trip, it is demanding and will make your legs burn. The trail gains over 2,500 feet of elevation over 2.5 miles via exposed ridges and rock scrambles.
If you're ready for the challenge, start from Underhill State Park. Hike on Mountain Road for about a mile and then get ready to climb. The trail ascends through a low-wood forest and crosses seven wooden bridges before entering mountain evergreens.
You will hike above the treeline past the evergreens onto an exposed rocky ridge. As you push for the summit, remember to stay on the trail. Mount Mansfield is home to 200 acres of rare arctic-alpine tundra.
From the summit, enjoy 360 degrees of breathtaking vistas, including views of Vermont's Green Mountains and the town of Stowe. Descend the same way and take your time. Sometimes going down is trickier than going up.
2. Long Trail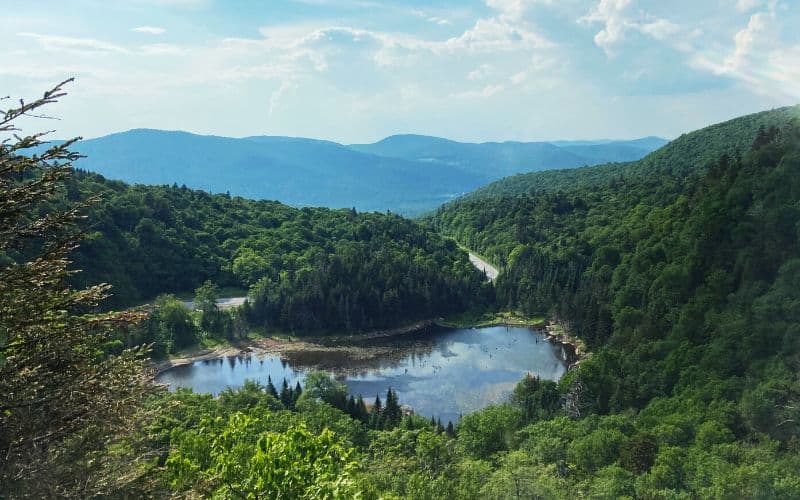 Type: Point to point
Length: 272 miles
Difficulty: Expert
The Long Trail, or LT, spans nearly 300 miles of Vermont wilderness from the Massachusetts/Vermont state line to the Canadian border. The trail runs north-south through the heart of Green Mountain National Forest and connects the state's highest points.
The Long Trail overlaps with the Appalachian Trail and crosses highways and roads every so often. Use these crossings for day hikes and shorter overnight adventures. For example, Brandon to Middlebury Gap offers hikers a manageable two-day camping trip, and Williamstown, MA, to Bennington, VT, is a popular 18.1-mile section hike.
The Long Trail is rugged, with steep sections and grueling descents. Even experienced thru-hikers should plan on a slower-than-usual pace. There are several sleeping shelters and huts throughout the trail. However, be sure to carry all your backcountry essentials.
3. Mount Pisgah North Trail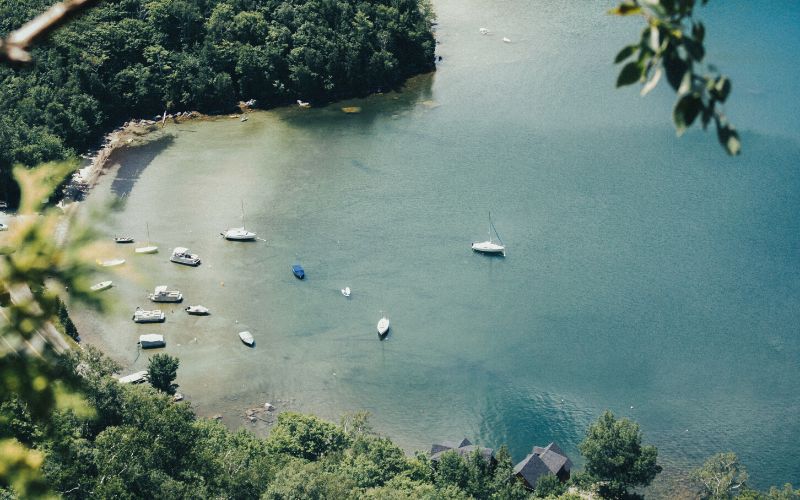 Type: Out and back
Length: 3.4 miles
Difficulty: Moderate-Challenging
With an elevation gain of 1,653 feet in less than a mile and a half, Mount Pisgah Trail makes you earn your views. Start from the parking area on VT-5A and follow the trail into a maple forest and across a few wooden bridges.
About a mile into the hike, take a break at Pulpit Rock and enjoy the commanding views of Lake Willoughby, 500 feet below. The overlook is gorgeous but has a treacherous drop-off. (Keep pets on a leash and children close.)
Hike another 0.7 miles to reach the summit. Believe it or not, the views from the top aren't great. Most hikers walk a third of a mile down the North Trail to scenic overlooks and an expansive view of Burke Mountain, the Green Mountains, and Lake Memphremagog. Unless you have a vehicle shuttled, retrace your steps back to the summit and hike out the way you came.
4. Rock Point Loop Trail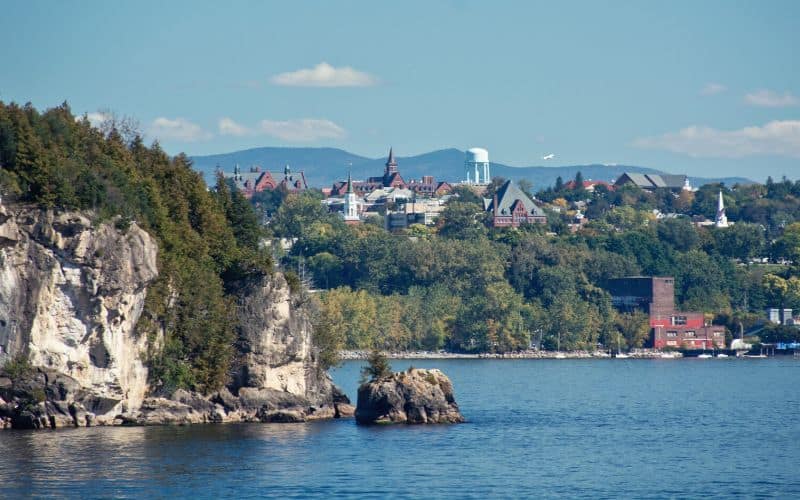 Type: Loop
Length: 1.2 miles
Difficulty: Easy
Rock Point Commons sits on 130 acres of public land in the middle of Burlington, VT. The non-profit park helps maintain urban hiking trails on the shores of Lake Champlain, and Rock Point Loop Trail is one of its best.
Park on Killarney Road for access to this easy hike. The trail is level and flat and takes hikers to Lone Point, a scenic vista at the end of a peninsula. We suggest bringing headlamps and timing your hike to catch the sunset over Lake Champlain.
If you prefer to hike in the daylight, Rock Point Loop is an outstanding hike at all times of the day. The views over the lake bring hikers a sense of solitude and respite from the bustle of everyday life. Rock Point Commons requires trail users to have a complementary trail pass (donation suggested).
5. Mt. Abraham via Long Trail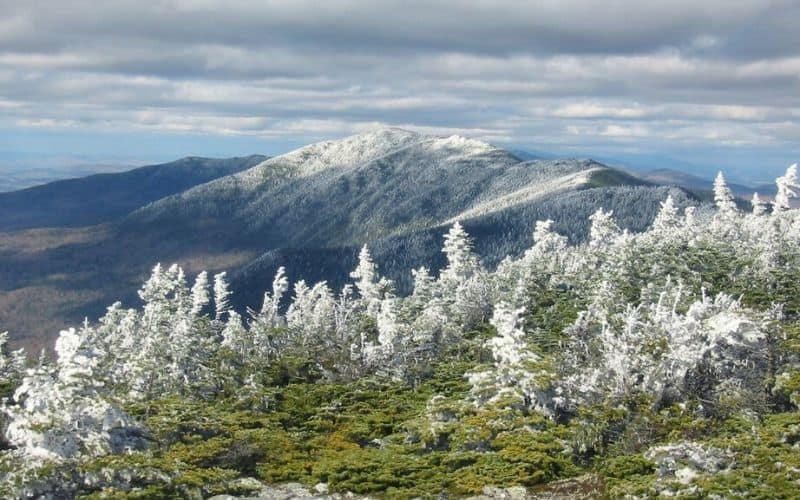 Type: Out and back
Length: 5.1 miles
Difficulty: Challenging
Lincoln Gap to the summit of Mt. Abraham is one of the most spectacular sections of the Long Trail. True to Long Trail form, it is also quite steep and challenging. In other words, know your limits and think twice about bringing your pup, especially during mud season.
Use the easy-to-locate trailhead off Route 100 between Lincoln and Warren. Then, follow the white blazes past fir and spruce trees, under mossy ledges, and between massive glacial boulders.
Near the summit, the hike becomes more of a vertical rock scramble. Take your time and use at least three points of contact. At the top, you can relax and take in the stunning landscapes. Look for the silhouette of the camel's hump in Camel's Hump State Park, Lake Champlain, Mount Washington in New Hampshire, and the distant Adirondacks of New York State.
6. Owl's Head Trail, Groton State Forest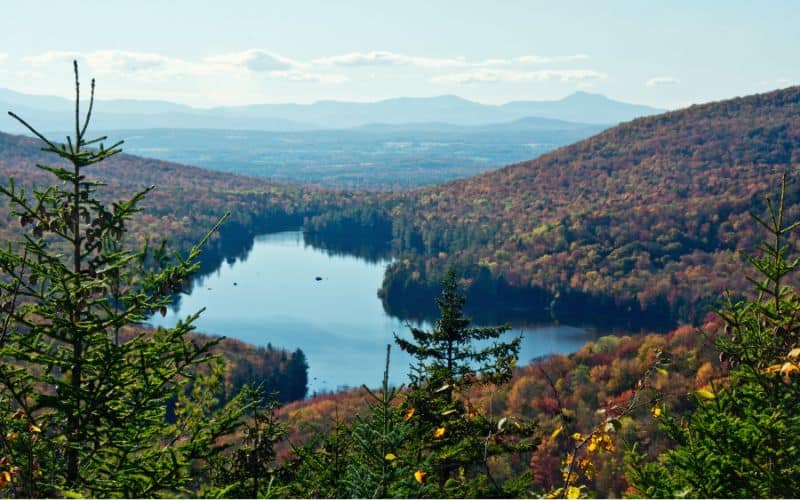 Type: Out and back
Length: 3.9 miles
Difficulty: Easy
Explore one of Vermont's largest bogs on the Owl's Head and Peacham Bog trails. Located in the Groton State Forest, both trails are easy and perfect for a family outing. Owl's Head Trail includes a series of stone steps on the way to a scenic overlook that provides views of the Green Mountains, Kettle Pond, and Lake Groton.
Peacham Bog Trail is a 4.5-mile loop through a diverse forest and one of two "raised" bogs in the state. You can access the bog trail from the Nature Center. The trail takes hikers past orchids and up close to a beaver dam.
It is possible to hike from Owl's Head to Peacham Bog on an extensive trail network. You can also drive between the two and save your legs. Find both easy hikes off Route 232 near Plainfield, Vermont, and don't forget to get a map from the nature center for more trail and connector ideas (there are several trails worth adding on!).
7. Hamilton Falls, Jamaica State Park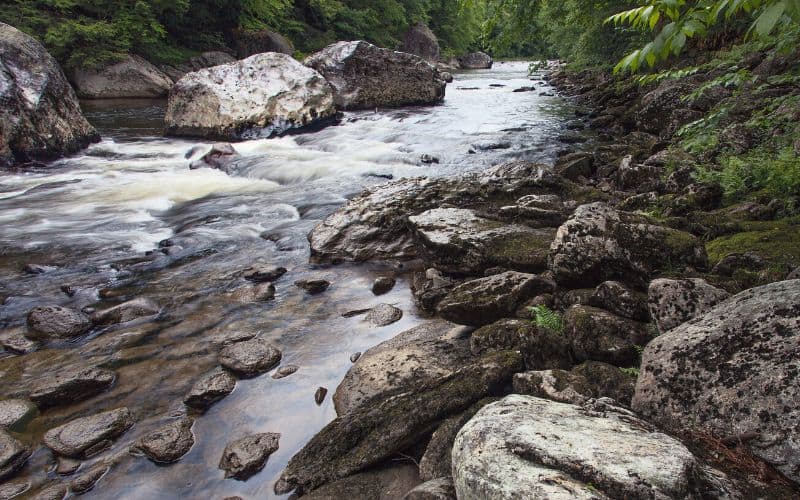 Type: Out and back
Length: 5.8 miles
Difficulty: Moderate
To get to the beautiful Hamilton Falls, combine the West River and Switch Road Trails into a 5.8-mile out-and-back, moderate hike. West River Trail follows a restored railroad from the state park campground. The old railroad bed is level and well-maintained, with the river on one side and a peaceful forest on the other.
Half a mile into the hike, look for large glacial erratics, or boulders, in the river. These rock formations are called 'The Dumplings,' and there is a viewing deck built over the river. In another mile and a half, you will take Switch Road Trail on your left to reach the waterfalls. Switch Road Trail has a few steeper sections, but nothing too difficult.
Follow this trail for a mile to the base of a staggering 125-foot waterfall. There is a trail to the top of the waterfall; however, be very cautious at the top and do not attempt to swim above the falls.
8. Camel's Hump via Monroe Trail, Green Mountain National Forest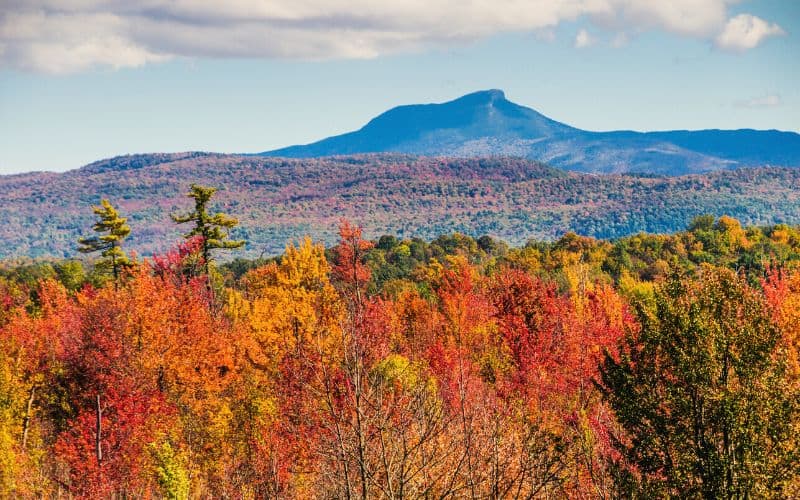 Type: Out and back
Length: 6.8 miles
Difficulty: Challenging
Camel's Hump, Vermont's third-highest peak, offers hikers an exciting challenge and some of the best views in the state. The trailhead is located south of Route 2 and west of Waterbury. This is a popular trail, and the parking area fills up fast. If you plan to hike on a weekend, try and get an early start.
Monroe Trail begins in birch and maple forests that light up during the Fall. After a couple of miles of gradual climbing, you will come to a hut clearing, and Monroe Trail turns into the Long Trail. From here, you are less than a mile from the summit.
This is a demanding hike, and the views will take what's left of your breath. To the north and south, you can see the spine of the Green Mountains, and to the West, Lake Champlain and the Adirondacks. To the east, New Hampshire's White Mountains dominate the skyline. In other words, Camel's Hump is one of the best Vermont trails.
9. Mt. Olga Trail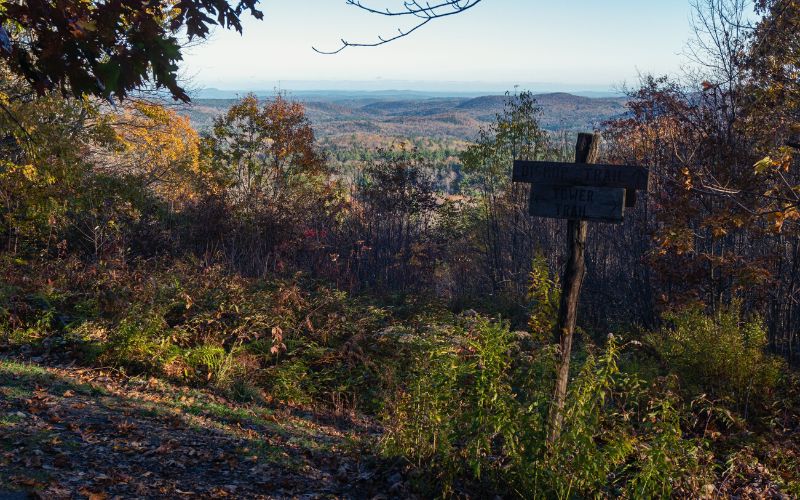 Type: Loop
Length: 1.8 miles
Difficulty: Easy-moderate
Hikers of all ages and ability levels can summit Mt. Olga and admire the surrounding landscapes. The hike starts across from the Park Office, 4 miles east of Wilmington, and immediately enters a tranquil hardwood forest.
Follow this fun trail over a wooden bridge and through a stone wall. You will also pass a tree that was struck by lightning and delaminated. Strips of burnt bark hang over the trail, forming a sort of doorway.
At the 0.7-mile mark, follow a short spur trail to the top of Mt. Olga and an old fire tower. Climb to the top of the maintained tower for astonishing 360-degree views of neighboring mountain peaks, including Mount Snow, Hogback Mountain, and Mt. Monadnock in New Hampshire, and the Mohawk Valley.
To complete the loop, take the Stonewall Trail back out by going left at the end of the spur trail.
10. Cantilever Rock
Type: Out and back
Length: 3.0 miles
Difficulty: Moderate
Cantilever Rock is hard to describe. Imagine a 40-foot rock diving board over a boulder-strewn hillside. It sounds crazy, and it is. The Cantilever Rock formation is one-of-a-kind and definitely worth this short hike.
To get to the rock protrusion, use Sunset Ridge Trail. Start from Underhill State Park and follow the trail into the woods. About 0.7 miles up the trail, look for signs to Cantilever Rock and follow a short trail to the left. 0.1 mile later, you will find yourself at the base of a hundred-foot cliff. Look up! Halfway up the cliff face, Cantilever Rock sticks straight out.
The trail is open all year round, and In the winter, elegant icicles cover the rock formation. If you do venture out in the snow, dress appropriately and bring microspikes in case the trail is slippery.
11. Mount Equinox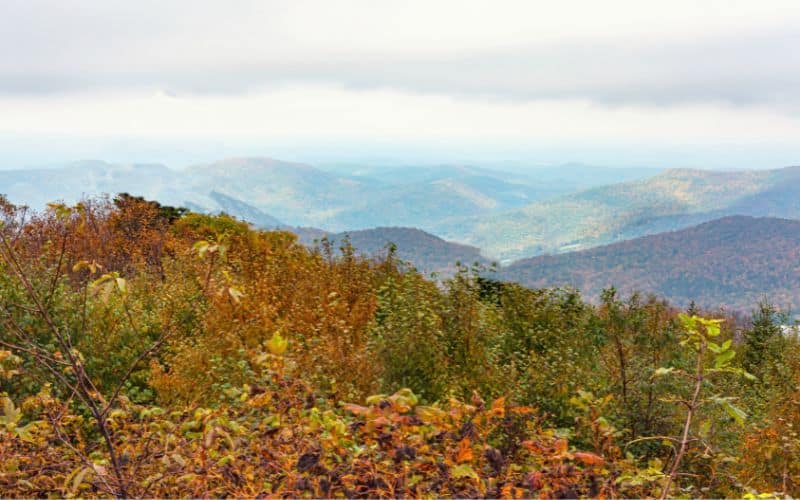 Type: Out and back
Length: 6.3 miles
Difficulty: Challenging
Mount Equinox in Bennington County has a topographic prominence of more than 2,000 feet and a newly constructed viewing center at its summit. There is only one hiking trail up and it is strenuous.
Starting from the red gate at the end of West Union Street, the trail lulls you into a false sense of ease with a friendly grade. Don't be fooled; less than a mile later, the trail begins its unrelenting climb to the summit.
Halfway up the trail, there is a spur trail that leads to a quiet spring and a resting bench. Stop here for a break from the unforgiving ascent. When you finally make it to the summit, don't be surprised to see non-sweaty people, as the summit can also be accessed by car. But don't worry, the drivers and passengers don't detract from the beauty of the area.
For views of Manchester Village and the Vermont Valley, and a chance to sit on a marble bench, hike 0.2 miles further to Lookout Rock. See how many mountain ranges you can identify from the top, including the Berkshire and White Mountains and the Adirondack Mountains to the west.
12. Bingham Falls, Smugglers Notch State Park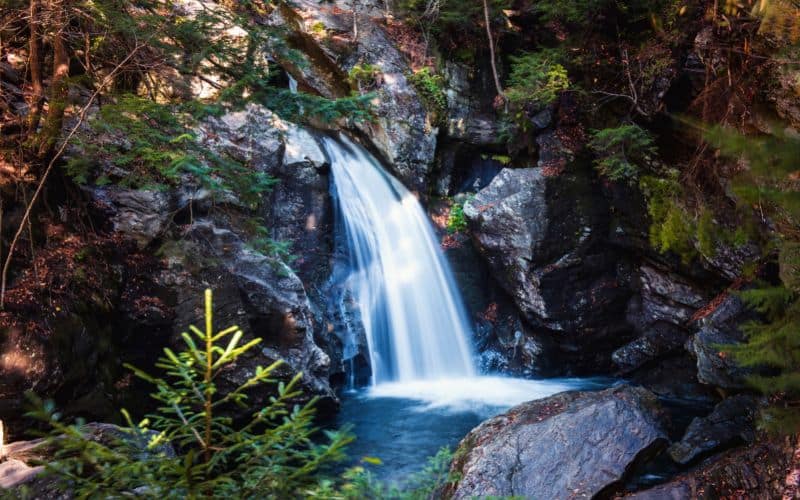 Type: Out and back
Length: 0.8 miles
Difficulty: Easy
For a mellow but marvelous hike that's suitable for all the family, Bingham Falls in Stowe is our top pick. The trail to the falls is a little steep but never unmanageable, even for younger kids. And the reward is well worth the effort!
Once you've conquered the ascent, you'll come to a deep, rock gorge surrounded by gorgeous hardwoods. The gorge contains several spring-fed swimming holes filled with teal-colored water, which is ideal for a dip on hot days. The rock can be slippy though, so take care when descending to the pools.
Best Hikes in Vermont: Happy Hiking!
Vermont is known as a hiker's paradise, overflowing with spectacular scrambles, rambling loops, ridge-top hiking, and summit trails to satisfy even the most experienced hikers. We hope our list of the best hikes in Vermont makes choosing your next hiking adventure a little bit easier.
We'd love to hear which Vermont trail is your favorite. Leave a comment below, and don't forget to share this with your hiking partner.