14 Top-Rated Hiking Trails In Washington State
Wondering Where All The Best Hikes Are In Washington?
You're in the right place! In this guide, we will be covering the following:
Know the best seasons for hiking in Washington State
Find out what to expect
Discover the top hiking trails in Washington State
Discover the best activities in each area of the Pacific Northwest
Washington is a state that seems to have been custom-made for lovers of the outdoors. With rainforests, mountain ranges, and a diverse array of natural ecosystems to look forward to, it offers hikers a little bit of everything.
In our list of best hiking trails in Washington, we introduce you to family-friendly hikes with stunning views, dog-friendly trails, and multi-day treks and also a handful of more challenging trails in Washington State.
So, discover the natural wonders of Washington with our guide below to the best hikes in Washington.
The Best Hikes In Washington State: Our Top 14 Picks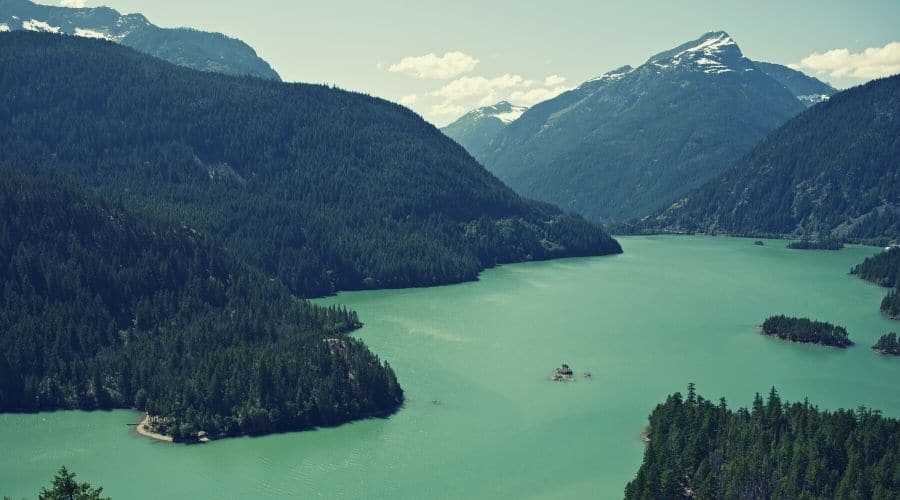 #1 Diablo Lake Trail, North Cascades National Park, Washington State
The Diablo Lake Trail near Marblemount, WA, can be found at the Ross Lake National Recreation Area in the North Cascades National Park.
Rated as moderately difficult, the Diablo Lake Trail is a 7.5-mile round trip with an elevation gain of around 1538 feet. There is no parking pass or entry fee required and furry friends are allowed, but they must be on leash.
Most of the North Cascades National Park is inaccessible throughout the winter and spring. Even when open, you may encounter some snow and it can be tough to follow the trail. However, the Diablo Lake Trail is an excellent trail to enjoy the rest of the year-round. The trail is a little bit rocky but well marked and easy to follow.
Discover amazing mountain views and lakes on the Diablo Lake Trail as it leads you up and across a minor uphill gradient on the Sourdough Mountain before then breaking into a stroll through a flat scenic area.
Near the end of the trail, there is a steep downhill that you'll have to climb up on your way back. The uphill challenge is doubtlessly worth the breathtaking wide-open views of waterfalls, Diablo and Ross Lake, and Jack Mountain, with Colonial, Pyramid, and Davis peaks in the distance.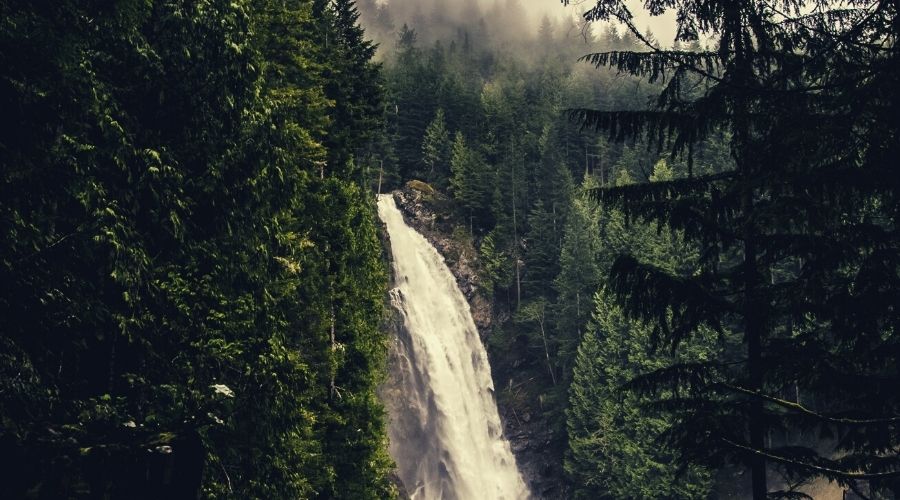 #2 Wallace Falls Trail, Wallace Falls State Park, Washington State
The Wallace Falls name is derived from Kwayaylsh, the name of the first homesteaders in the area. The area is extremely popular for family outings and dog owners. A Discover Pass is required to park and we recommend you get out there early for a more peaceful hike.
Wallace Falls is located near Gold Bar, WA, in Wallace Falls State Park in the Central Cascades. It is a wonderfully maintained, 4.8-mile out-and-back round trip hike that's moderately difficult and offers gorgeous viewpoints and moss-covered trees from top to bottom.
At the half-mile marker, stay to the right at the wooden gate that leads to the Woody Trail for access to Wallace Falls. For more seasoned hikers or cyclists, take the old RailRoad Grade Trail for a longer path leading to Lake Wallace.
On your adventure, there will be 1300 feet in elevation gain with switchbacks between the Middle and Upper Falls. Between the Lower and Middle Falls you will find an epic view of the Skykomish River valley and the Olympic peninsula.
Wallace Falls State Park is incredibly popular to visit from April until November. The neighboring parks are also great for mountain biking, fishing, swimming, boating, kayaking, and even rock climbing.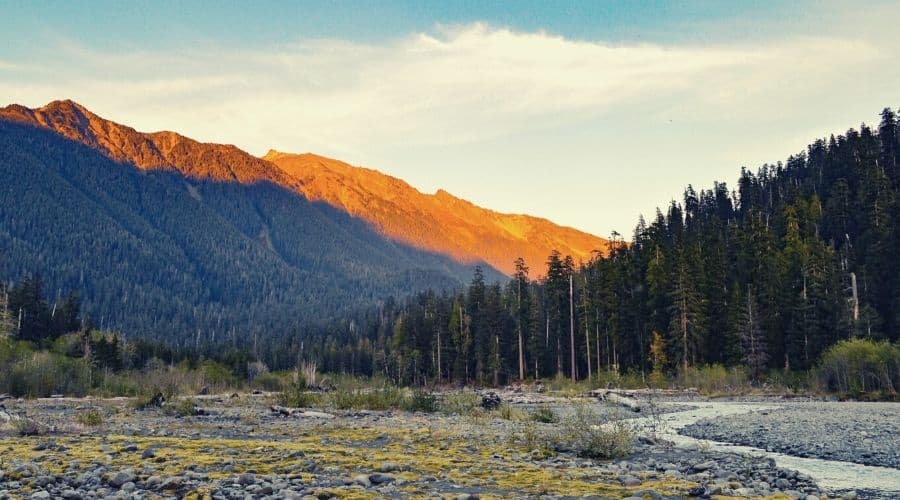 #3 Hoh Rainforest Trail, Olympic National Park, Washington State
The Hoh River Trail is located near Folks, WA, in the Pacific Northwest's Olympic National Park. It leads to the Mount Olympus Blue Glacier with plenty of stops along the way within the deep and utterly delightful rainforest.
This trail is used for hikes, camping, and backpacking. A National Park Pass is required to park and no dogs are allowed.
It's a 32.8-mile out-and-back hike with a moderate difficulty rating. It is highly trafficked from April to October. During the winter months, the trail can still be accessed, but it has been known to flood and can wash out at times.
The biodiversity on the Hoh River Trail is quite spectacular! You will experience gigantic old-growth trees, moss, rivers, waterfalls and lakes, and panoramic views of the Blue Glacier and Mount Olympus. Wildlife such as the Roosevelt Elk and a diverse range of birds are often spotted too.
The trail is mostly flat, with the highest elevation on the climb up to Glacier Meadows at 4,300 feet. Campsites are abundant, but during the summer, you will want to have reservations. Both 5-Mile Island and Happy 4 are perfect stops for the night, for lunch or to shelter from the rain. These sites have pit toilets and guaranteed water access.
Further along the trail, you will find backpackers and climbers headed for the Blue Glacier, which is the furthest point on the trail. Pocked with gorgeous, cerulean crevasses, the sight of this marvel alone is worth every bit of the effort put in to reach it.
For beginners and avid adventurers alike, The Hoh Rainforest Trail is a hike that you must do at least once in your lifetime.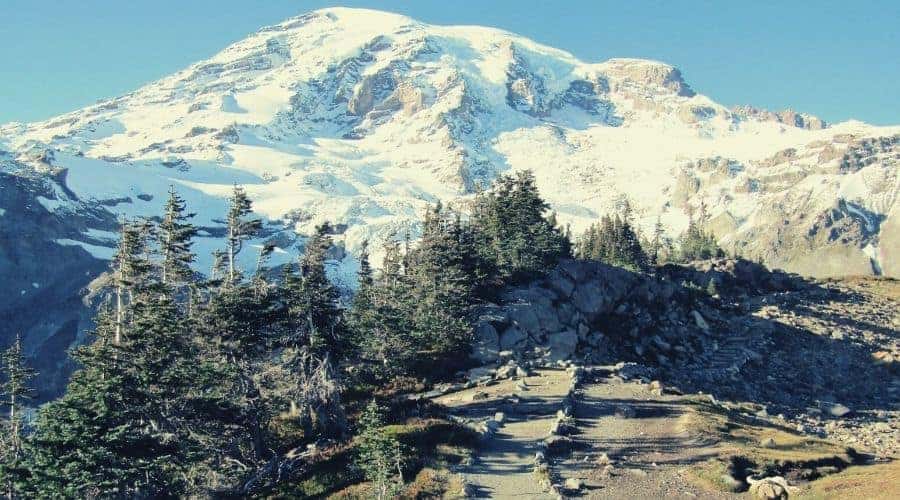 #4 Skyline Trail, Mount Rainier National Park, Washington State
The Skyline Trail is a 6-mile loop located near Paradise Inn, WA, in Mount Rainier National Park. Skyline is on the south side of the National Park and is the most popular hiking area in the Paradise region.
The trail is rated as moderately difficult and has an elevation gain of 1,450 feet. It's mostly used for hiking, camping, and backpacking from July to October. You must have a National Park Pass to park and no dogs are allowed.
The Skyline Trail can be accessed in the winter months, but vehicles must have chains (if not all-wheel drive). For hikes in snowy conditions, it is essential that hikers use microspikes or snowshoes and trekking poles.
The path begins behind the Jackson Visitor Center and loops around Edith Creek basin. The loop passes through alpine flower meadows and over craggy peaks. The trail also features gorgeous waterfalls and a glacier vista at around 6,300 feet. Marmots are often seen grazing or lazily sun-bathing along the way.
We recommended you travel clockwise around the loop, but it can be hiked in either direction. Panorama Point provides spectacular views of the Paradise Valley, Mount St.Helens, Mount Adams and, on a clear day, Mount Hood.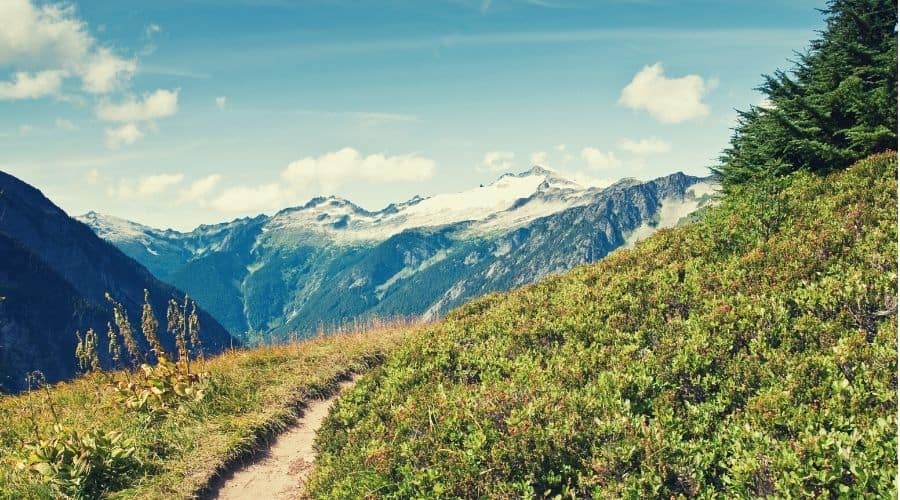 #5 Cascade Pass Trail, North Cascades National Park, Washington State
Cascade Pass Trail is a 7-mile out-and-back trail located near Rockport, WA, in the North Cascades National Park. The path is nestled within an incredible old-growth forest and is rated as moderately difficult. Mostly for day hikers, Cascade Pass is a heavily trafficked area from June through September.
The first 2.7 miles features a challenging 30+ switchbacks, but is incredibly rewarding when Cascade Pass comes into view. From there several peaks and glaciers can be admired, including Mixup Peak, Magic Mountain, and Cache Glacier.
Wildlife is abundant with chipmunks, marmots, pika, deer, mountain goats, and even the occasional bear.
#6 Enchantments Traverse, Okanogan-Wenatchee National Forest, Alpine Lakes Wilderness, Washington
The Enchantments Traverse is an epic 23.6-mile, point-to-point path near Leavenworth, WA, in the Okanogan-Wenatchee National Forest. This beautiful hike is for experienced adventurers and is used for hiking, rock climbing, camping, and backpacking. A Discover Pass is required to park and no dogs are allowed.
Usually described as one of the "best hikes in Washington State," the Enchantments is one of the most majestic places in the world thanks to its granite peaks, glaciers, and crystal clear alpine lakes.
A permit is required to camp in this area. They are distributed months in advance and competition to acquire one is fierce.
There are 3 ways to enter, but for a proper tour, the Snow Lake entrance will bring you through the Enchantments in order, starting with the Lower Enchantments before working your way through to the Upper Enchantments and out via Cochuck Lake.
The permit lottery system will likely decide the direction of your journey for you based on which zones you're allowed to set-up camp.
If you're up to the challenge, the Enchantments Traverse can be accomplished as a through-hike in one day by the strongest of hikers. If you try this, you should prepare a pack with plenty of food, water, and gear in case you have to spend the night.
Campfires are prohibited on the Enchantment Traverse not only to prevent forest fires, but to eliminate scavenging of deadwood that provides precious organic material to the soil. The restriction includes camp stoves that burn small sprigs and twigs.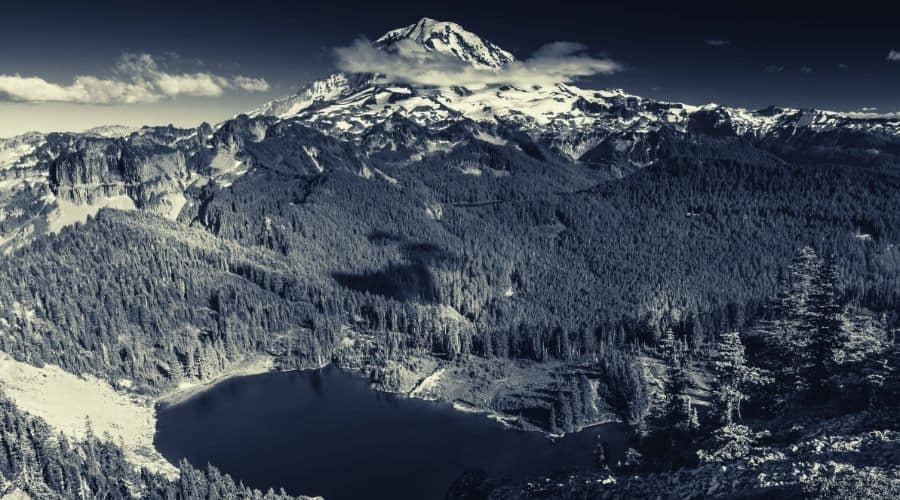 #7 Tolmie Peak, Mount Rainier National Park, Washington State
The Tolmie Peak day hike is a 6.4-mile out-and-back hike located near Wilkeson, WA, in Mount Rainier National Park. This path is rated as moderate and is used primarily for hiking from June through October. A National Park Pass is required to park and no dogs are allowed.
The Tolmie Peak trail is located on the north side of Mowich lake and features a mellow 1000 feet of gradual ascent. As you hike past the lake beware of the swarms of mosquitoes, as they are quite anxious to greet you. As you gradually gain in elevation beyond Ipsut Pass, you will arrive at Eunice Lake.
From Eunice Lake, the path to Tolmie Peak curves uphill for another mile. Once there, where you will find a panoramic view of the Carbon River Valley to the north and Mt.Rainier to the south. At 5,900 feet, this location is incredible for sunrises and sunsets.
No camping is available at Tolmie Peak, but the nearby Mowich Campground offers 13 walk-in, primitive campsites. It's one epic getaway and the perfect location for a few relaxing days with the family or your chums.
Tolmie Peak path typically closes when there is snow. If the road is closed, you have the option to hike 5 miles to the trailhead. Always check road conditions before heading up as the log footbridges frequently wash out and the snow can be deep.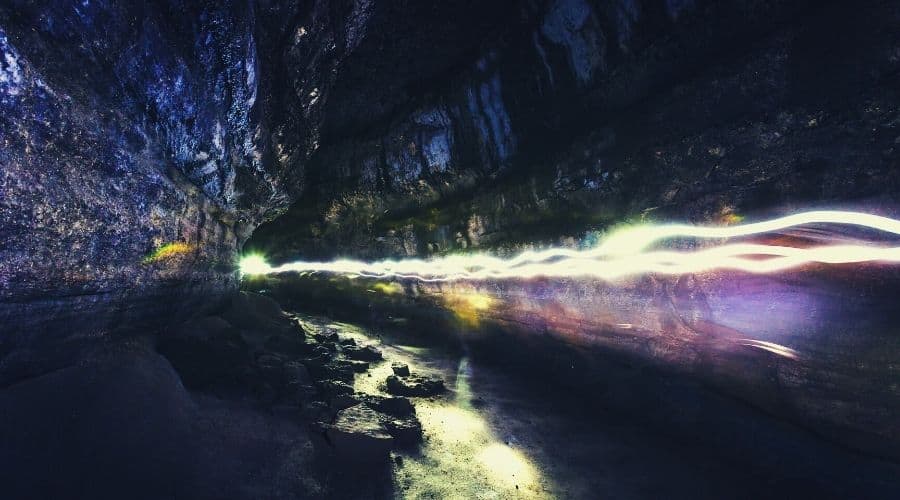 #8 Ape Cave Trail, Mount St. Helens National Volcanic Monument, Washington State
Ape Cave is a 3-mile out-and-back hike located near Cougar, WA, in the Mount Saint Helens National Volcanic Monument. This is one of the best hikes in Washington State that is kid-friendly, but no doggos allowed. The area is open from March through October and a Northwest Forest Pass is required for parking.
Ape Cave is a lava tube located in Gifford Pinchot National Forest. It was formed 2000 years ago from lava streaming down the southern flank of Mount St. Helens.
Discovered in 1951, it's the longest continuous lava tube in the continental United States. At 2.5 miles long with 433ft of elevation gain, it's also the third longest lava tube in North America.
The short hike requires some scrambling and squeezing through small spaces to exit the tube. The return hike on the round trip is through a shady forest and lava formations, and is far easier-going.
No food or rock collecting is allowed at Ape Cave. Also, do not touch the walls of the tube. It contains cave "slime", which is a vital source of food for the cave's fragile ecosystem.
Ape Cave is a constant 42 degrees Fahrenheit. The 6-foot ceiling drips water, so there will be a few puddles. Pack sweaters for the kids and remember to bring a few flashlights or headlamps.
The road leading to the Ape Cave is closed seasonally for snowy conditions. Before you plan your visit, check with the Mount Saint Helens National Volcanic Monument for more information.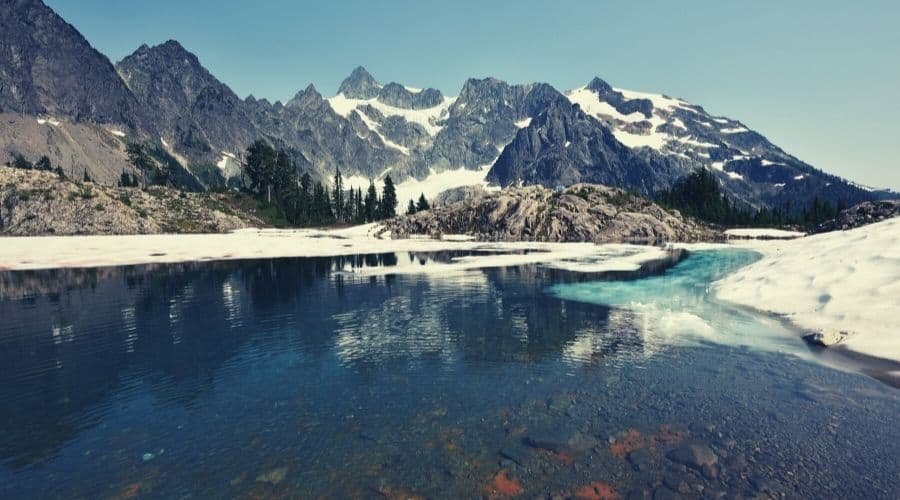 #9 Lake Ann Trail, Mount Baker-Snoqualmie National Forest, Washington State
The Lake Anne hike is a 9.5-mile out-and-back hike near Maple Falls, WA. A great area for wildlife sightings, the trail is rated as moderate and is best from July until October. Dogs are allowed on this nature walk and you'll need a Northwest Forest Pass to park your car.
This trek begins in the cooler temperatures of the woods and descends about 2 miles into a meadow and the banks of Swift Creek. From there, it takes you uphill about 1000 feet in the next two miles, through boulder fields and meadows, until you reach Lake Ann, roughly 2,400 feet above the trailhead.
Lake Ann wilderness area offers amazing views of Mt.Shuksan and its glaciers. Sometimes you can hear the crashing of ice falling off the glaciers and roaring water from the many waterfalls in the area.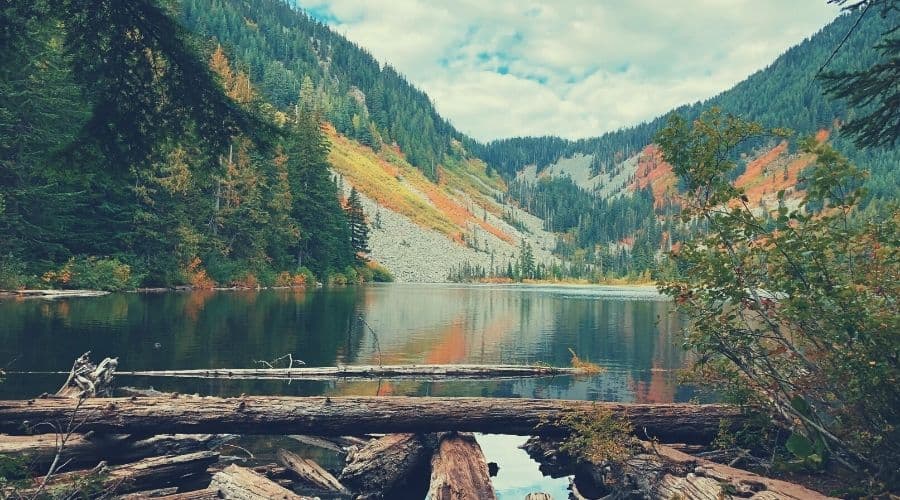 #10 Twin Falls, Olallie State Park, Washington
Twin Falls is a 3.6-mile out-and-back hiking trail near North Bend, WA, in the Olallie State Park. It is rated as moderate and is perfect for all skill levels. This makes Twin Falls one great trail for the family and dogs too. The area is used for hiking and nature runs. A Discovery Pass is required to park.
The Twin Falls hike follows a river up to a sumptuous waterfall and has around 967 feet of elevation gain. During the hike, you'll walk through lush forest peppered with wildflowers and rich in wildlife before enjoying beautiful views of the 135-foot Twin Falls.
North Bend is infamous for its blustery winds. You will want to pack some insulating layers as it can get chilly. The footpath is also wet and muddy, so be sure to wear a pair of waterproof boots or hiking shoes.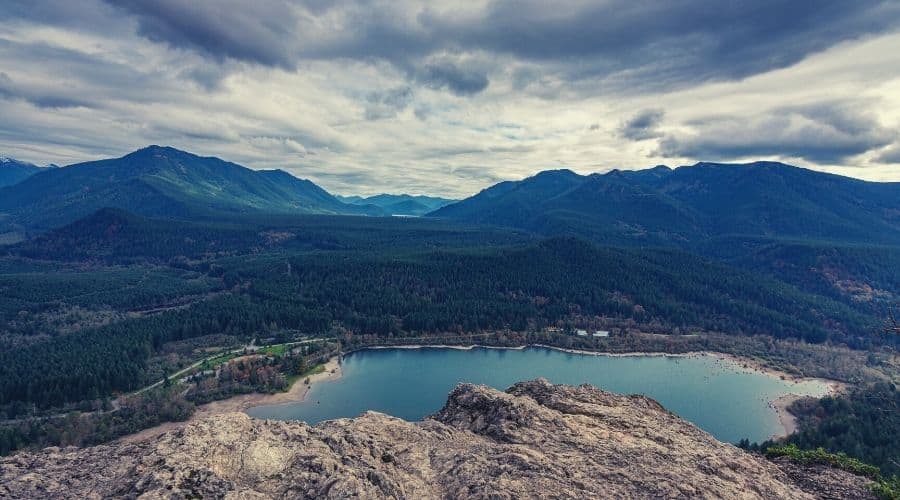 #11 Rattlesnake Ledge, Rattlesnake Mountain Scenic Area, Washington State
Hikes in Seattle on one of the handful of urban trails there might be a little bit tame for some. But in Rattlesnake Ledge we find an awesome, far-from-tame option that, at just 30 minutes away by car, is close enough to be considered a "Seattle hike".
Off the beaten track, Rattlesnake Ledge is a 5.1 out-and-back trek near North Bend, WA, in the Rattlesnake Mountain Scenic Area. It's accessible year-round and is very popular during the summer months.
Rattlesnake Ledge features great views of Mount Si and Mount Washington. This is one of the best hikes in Washington State for day hikes and picnics with the family. Dogs on a leash are also welcome.
Hike up to Rattlesnake Ridge to soak in the amazing panoramic views or come for the kayaking and swimming on the lake. Bring mountain bikes to enjoy any of the multiple hiking trails within the Rattlesnake Ridge area.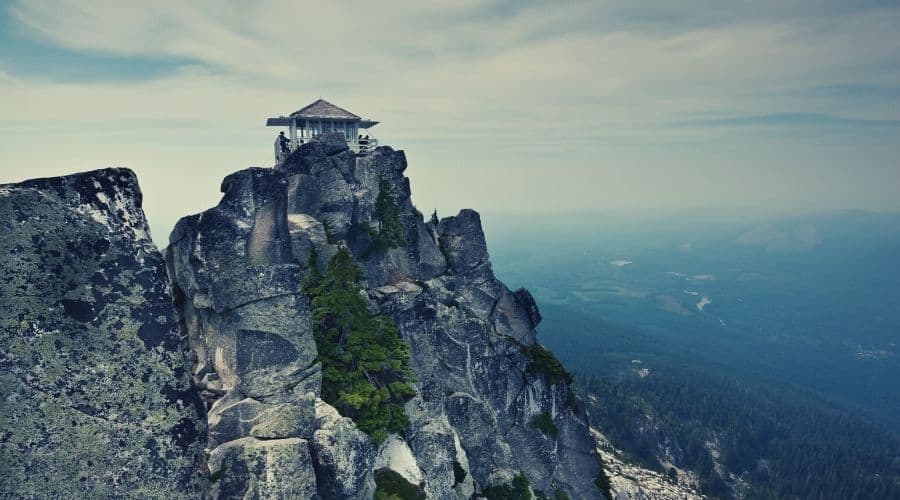 #12 Mount Pilchuck Trail, Washington State
The Mount Pilchuck Trail is a 6-mile out-and-back hike located near Granite Falls, WA, in the Mount Pilchuck State Park. The road leading to the trail takes you up to 5,300 feet. It is not maintained and is best traveled with an all-wheel-drive vehicle.
This high-elevation trail is located within the Mount Baker-Snoqualmie National Forest in the North Cascades. It's highly trafficked from June through October for hikes, running, or snowshoeing. Dogs are allowed on a leash.
It is rated moderately difficult owing to the 2,125 feet of elevation gain through rocky terrain and old-growth forests.
At the top of the mountain, you will find an old fire lookout tower and breathtaking panoramic views of Mount Rainier, Mount Baker, Puget Sound, and the Olympic Peninsula to the far west.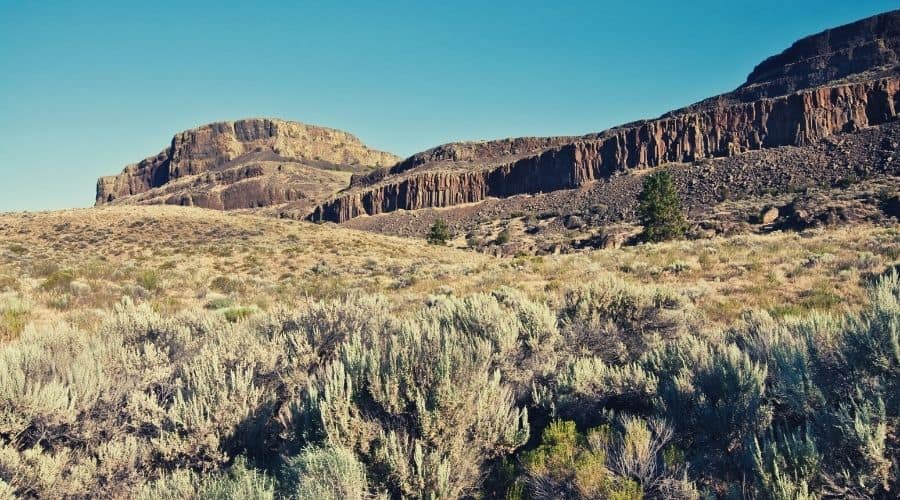 #13 Steamboat Rock Trail, Steamboat Rock State Park, Washington
Steamboat Rock is a 6-mile loop near Electric City, WA, in the Steamboat Rock State Park. With only 650 feet of elevation gain, it is rated as moderate but is one of the best hikes in Washington State for family fun and dogs on a leash. The area provides a variety of activities and is most popular March through April for day hikes or campers.
Wildlife sightings are aplenty here and the area is very popular for bird watching. Deer are also often scattered throughout the trees. Also keep a watchful eye out for rattlesnakes, as they're prone to slither onto the paths from time to time.
The start of the trail is sandy and leads to a rocky climb up between cliffs. As you go, be mindful of your footing and the hikers below you. There is also a path that cuts through the center of the rock and allows access to the northern section of the loop and overlooks Banks Lake and Grand Coulee.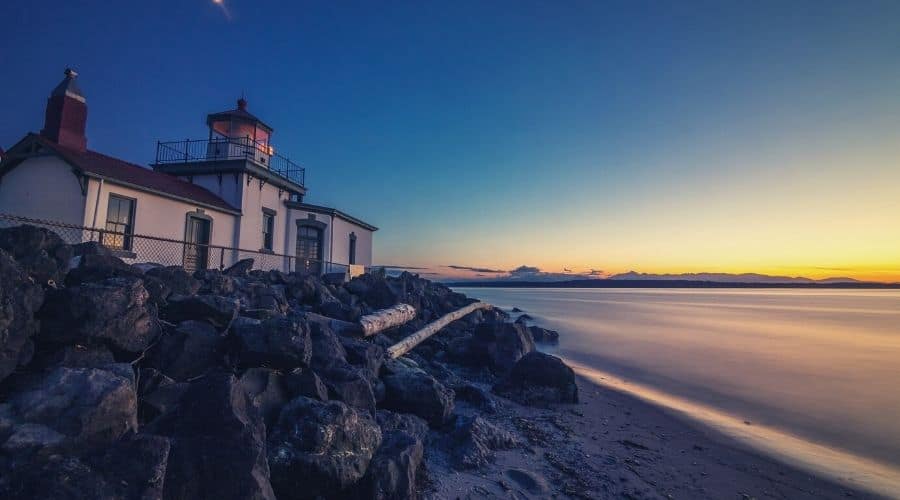 #14 Discovery Park, Seattle, Washington State
If you don't have time to head further afield for your hikes, Seattle has its very own quasi-hiking-area on your doorstep. Discovery Park in northwest Magnolia might lack the awe-factor of other great Washington State hiking trails on your list, but has enough options to let you get your fill of nature time without (technically) leaving the city.
The pick of the bunch is the 2.8-mile Loop Trail, which wends through woods and meadows to a high bluff overlooking Puget Sound and offers awesome views of the downtown skyline. It ain't an epic, granted, but as Seattle hikes go, it's the best of them.
Hiking & Camping Further Afield
Get Your Wander On In Washington
It's time to go get your wander on and go hiking in Washington!
Before you go, remember to check the weather forecast and current trail conditions. Pack your 10 essentials and other seasonal gear you might need. And maybe grab a Rainier beer for an after-hike celebration.
We hope you enjoyed our guide to the 14 best hikes in Washington State! If you have any questions drop us a few lines in the comment box below.