From Yellowstone to the Grand Tetons, Wyoming is known for its incredible natural wonders. Red-clay mesas, rocky peaks, crystal-clear lakes, and towering geysers are a mere few of the myriad marvels you can see here.
Whether it's trekking around the desert-like Dubois Badlands, scrambling up the Snowy Range Mountains, or meandering through Mammoth Hot Springs, there's no denying that the Cowboy State is home to some of the top hikes in the nation.
In this guide, we'll help you find and enjoy the state's top treks by introducing you to a range of options suitable for everyone from beginners to experienced hikers.
1. Red Beds Trail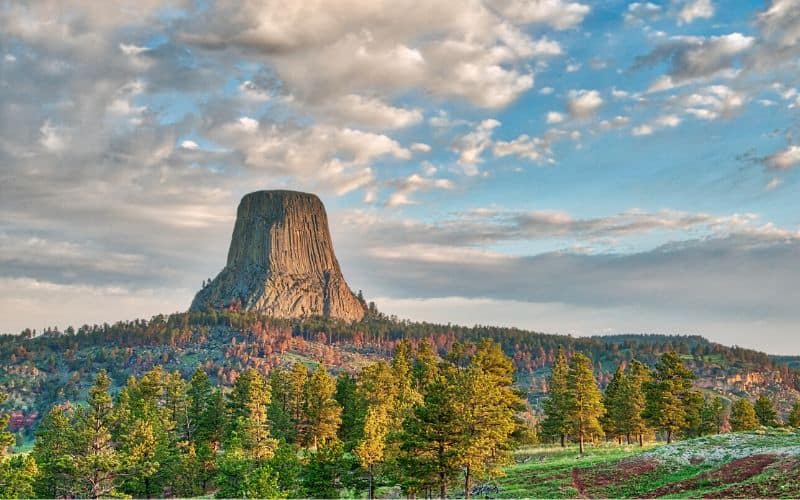 Type: Loop
Length: 2.8 miles
Difficulty: Moderate
Devils Tower National Monument is a bucket-list hiking destination! This 1,347-acre protected site in ​​northeastern Wyoming is home to the iconic 1,267-foot tall granite tower called Devils Tower.
This singular rock rising straight into the sky is the largest example of columnar jointing in the world and a sacred site for over 20 Native American tribes. In 1906, President Theodore Roosevelt designated Devils Tower as the first national monument in the United States.
For breathtaking vistas of the Tower and the Belle Fourche River valley, take a trek on Red Beds Trail. This 2.8-mile loop is a moderately difficult hike with steep, rocky segments between the river valley and the visitor center and around the Tower.
2. Cirque of the Towers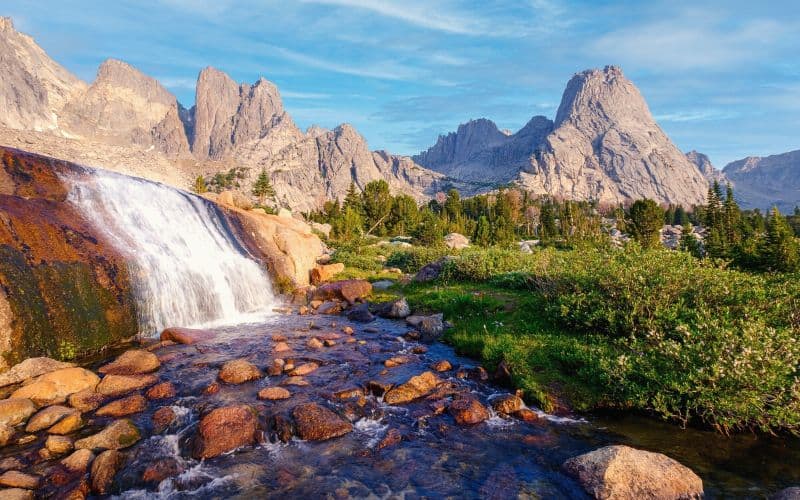 Type: Loop
Length: 24 miles
Difficulty: Hard
Cirque of the Towers is home to a dramatic landscape created by a half circle of several 12,000-foot-high jagged mountain peaks – fifteen of them, to be exact. This group of craggy summits forms part of the Wind River Mountain Range and the Continental Divide.
With its jaw-dropping scenery and towering mountains, the Cirque draws in countless rock climbers and backpackers each year. It's also a popular spot for day hiking, fishing, and camping.
The Cirque of the Towers Trail is a 24-mile loop beginning at Big Sandy Trailhead that passes by clear lakes, towering lodgepole pine forests, and glacial-carved granite outcrops and peaks. Most visitors opt to explore this stunning trek on a two to four-day backpacking trip, but experienced hikers can handle it as a day trip.
3. Lost Twin Lakes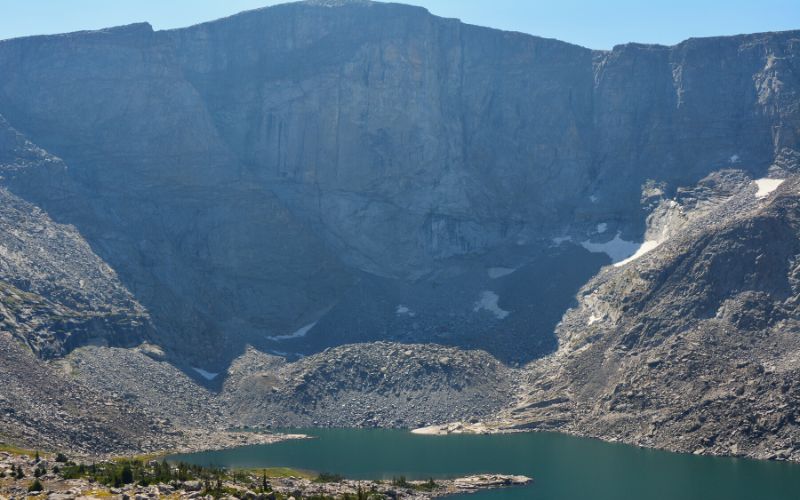 Type: Out-and-Back
Length: 12 miles
Difficulty: Moderate
Located in the Cloud Peak Wilderness portion of Bighorn National Forest, the Lost Twin Lakes is one of the area's top attractions. Sky-high cliffs serve as the backdrop for a pair of pristine alpine lakes on this gorgeous hike.
The Lost Twin Lakes Trail is a total of 12 miles out-and-back beginning at Highline Trail #067, just south of the West Tensleep Lake Trailhead. Be prepared for a steady uphill climb with over 2,000 feet in elevation gain.
The path traverses through the forest, passing by a cascade before reaching Mirror Lake. From here the path follows Middle Tensleep Creek on and off until the spectacular view of the lakes appears.
4. Teton Crest Trail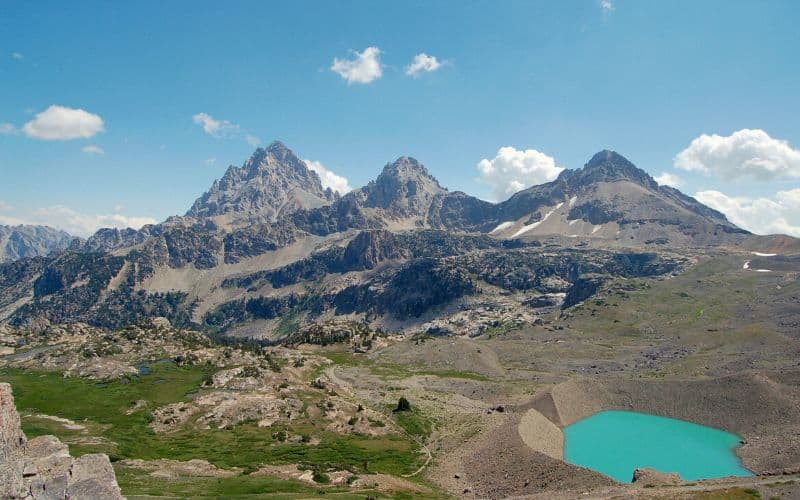 Type: Point to Point
Length: 40 miles
Difficulty: Hard
The Teton Crest Trail is considered to be the best hike in Grand Teton National Park and also one of the best backpacking routes in Wyoming.
With 9,360 feet of elevation gain, this 40-mile trek is intense yet incredibly rewarding. The unforgettable views of the Death Canyon below and the Grand Teton peak above are sure to be one of the most memorable vistas of your life!
While you can hike a section of this path as a day trip, many people traverse this scenic route on a backpacking trip. Overnight stays are permitted at the 11 designated campgrounds. A permit is required for all backcountry camping in Grand Teton NP, however, and they can be difficult to get!
5. Delta Lake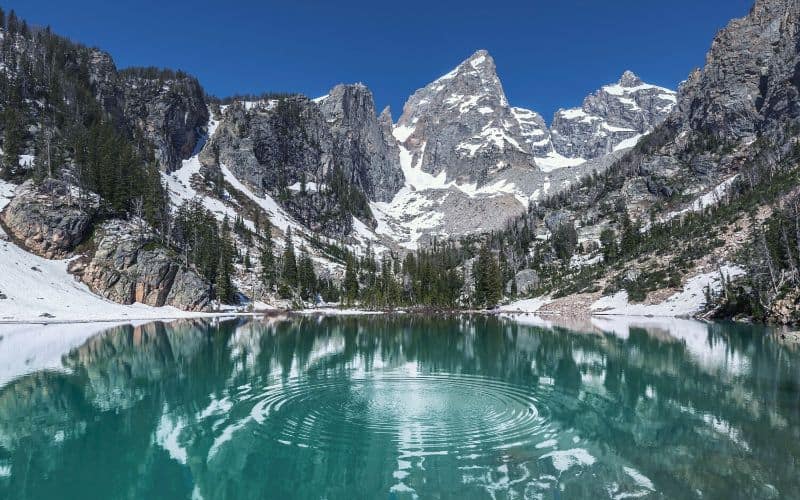 Type: Out-and-Back
Length: 7.4 miles
Difficulty: Hard
Another popular hike in Grand Teton National Park, the Delta Lake via Lupine Meadows Access Trail is an unofficial, primitive trail into the heart of the Teton Range. The Delta Lake Trail climbs up to the gorgeous Delta Lake with the option to continue your trek to Surprise and Amphitheater Lakes, Bradley Lake, and Taggart Lake.
This challenging trail starts at the Lupine Meadows Trailhead parking area, about one mile down a dirt road off Teton Park Road. You'll cross through several boulder fields and fallen trees along the way.
The best time for this hike is in the summer, after the snow has melted, or in fall. Wear sturdy hiking shoes for the steep, loose soil, and bring bear spray as there are grizzly bears in the area.
6. Jenny Lake Trail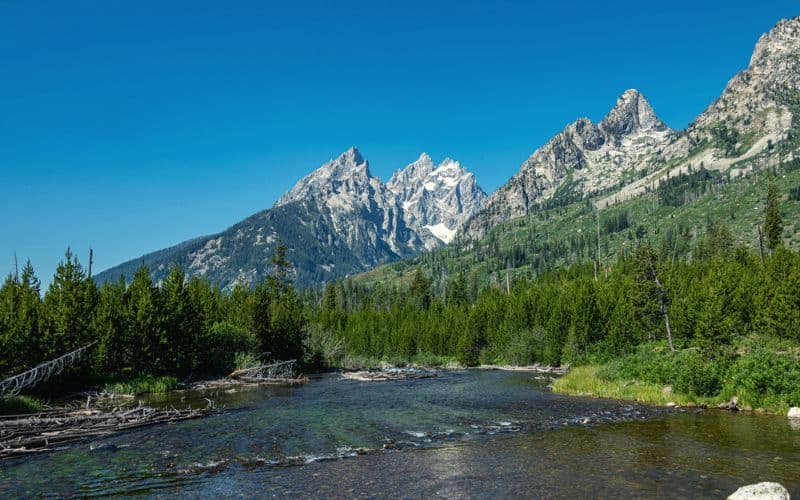 Type: Loop
Length: 7.9 miles
Difficulty: Moderate
Jenny Lake Trail is a 7.9-mile hike around the second-largest lake in Grand Teton National Park.
To get to the Jenny Lake Trailhead, turn west off Teton Park Road at the South Jenny Lake Junction north of Moose Junction. From there it's about half a mile to the Jenny Lake Visitor Center and East Shore Boat Dock, where the trail begins.
You can take this trail in either direction, but heading counter-clockwise in the morning will give you incredible vistas of the sun lighting up the mountains to the west.
7. Dubois Badlands Trail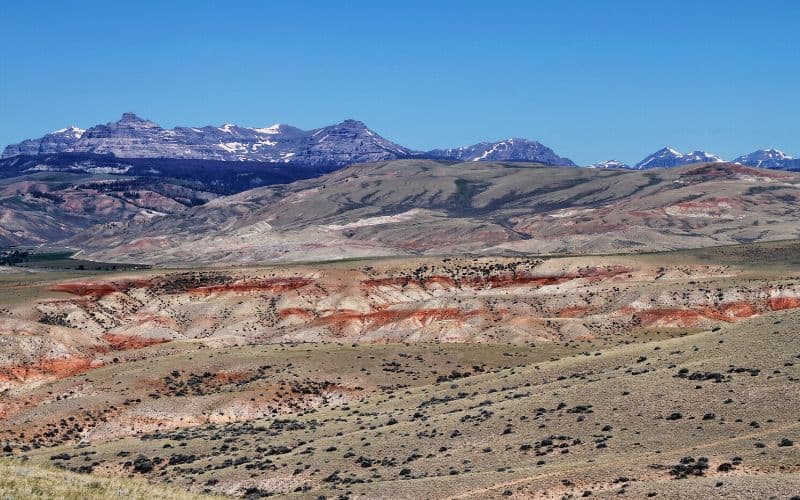 Type: Loop
Length: 3.8 miles
Difficulty: Moderate
The Dubois Badlands WSA (Wilderness Study Area) is a spectacular 4,520-acre plot of land managed by the Bureau of Land Management in western Wyoming. It's home to a unique landscape with badlands, flat-topped benches, and red and tan striped walls of rock and clay.
The Dubois Badlands Trail winds through the desert-like terrain and offers sweeping vistas of the surrounding mesas set against the Wind River Mountains. The trailhead for this hike is located off Kingfisher Road.
From there, the path heads northeast over some seasonal streams and through a canyon filled with sagebrush. After this, you'll climb up a steep section to breathtaking views of the badlands.
8. Shoshone Lake via DeLacy Creek Trail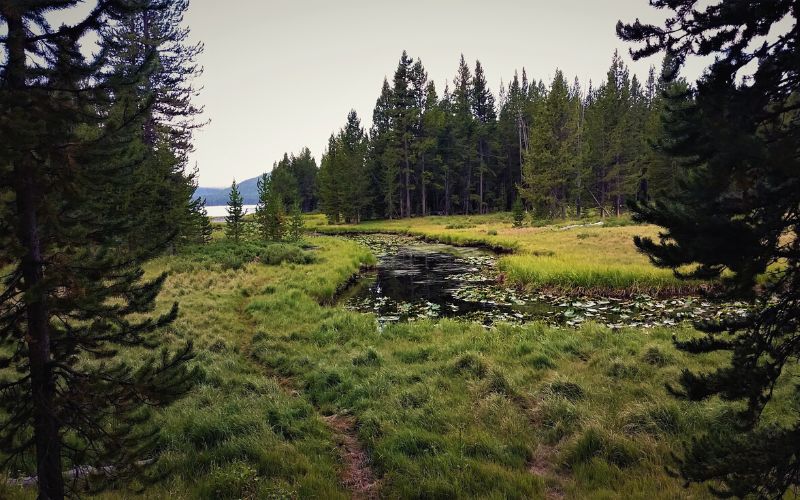 Type: Out-and-Back
Length: 6.3 miles
Difficulty: Easy
Although it's spread across three states, about 95% of Yellowstone National Park is located in Wyoming. This national park hosts a variety of unique hydrothermal and geologic features, including its famous active geysers.
A hike to Shoshone Lake is an unmissable opportunity to explore the shores of the largest backcountry lake in Yellowstone NP. The Shoshone Lake via DeLacy Creek Trail is a great hike for beginners. It follows along DeLacy Creek and winds through open meadows until the forest ends at the water's edge and has very moderate elevation gain.
The trailhead for this trek is located at the DeLacy Creek Parking Area, about 8.8 miles west of West Thumb Junction.
9. Mammoth Hot Springs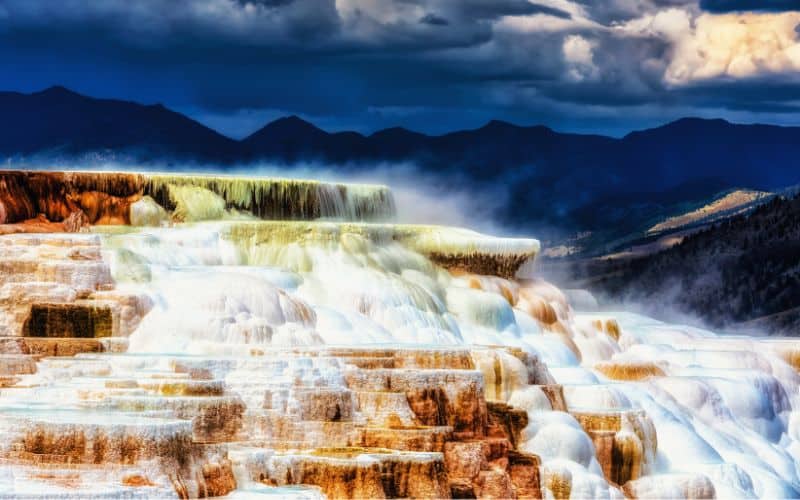 Type: Loop
Length: 2.2 miles
Difficulty: Easy
Situated about 5 miles south of Yellowstone's North Entrance, Mammoth Hot Springs and its mesmerizing travertine terraces are one of the most popular hikes in this national park.
The 2.2-mile Mammoth Hot Springs Trail winds along the boardwalks, paved paths, stairs, and steep grades snaking through the Lower and Upper Terraces of the Mammoth Hot Springs Complex.
There's plenty more to do in the area, which is also one of our favorite spots for camping in Wyoming.
10. Grand Prismatic Spring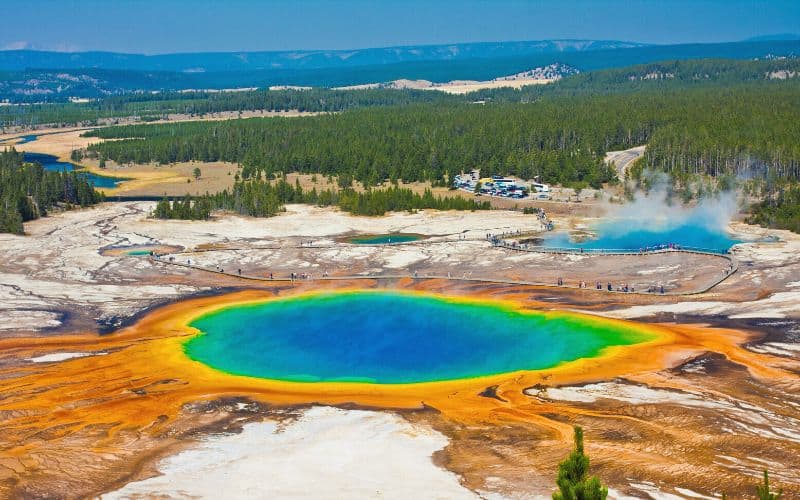 Type: Out-and-Back
Length: 1.5 miles
Difficulty: Easy
The Grand Prismatic Hot Spring is the most well-known thermal feature in Yellowstone National Park and the largest hot spring in the United States. Its steaming water displays a brilliant range of blues tones that contrast with the orange-hued earth surrounding it.
This 1.5-mile-long walk along Fountain Flat Drive to the Grand Prismatic Spring Overlook provides jaw-dropping vistas of the Grand Prismatic Spring and the Midway Geyser Basin. This hike begins at the Fairy Falls Parking Lot, about 1 mile south of Midway Geyser Basin.
11. Cascade Canyon Trail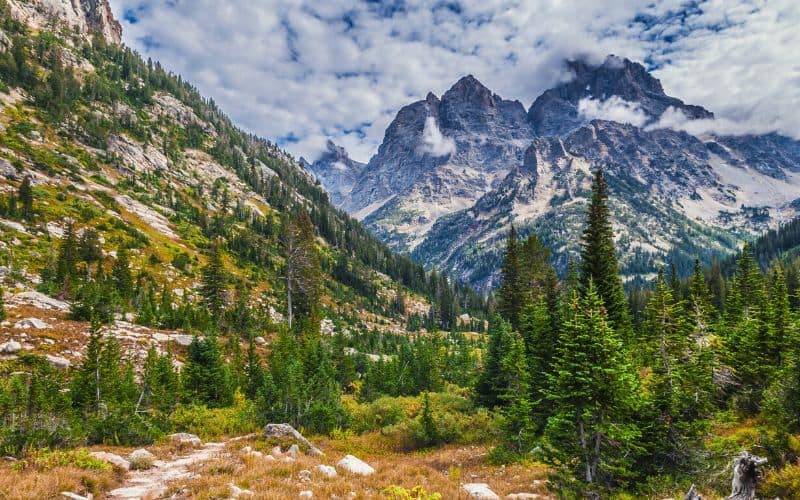 Type: Out-and-Back
Length: 9.1 miles
Difficulty: Moderate
Cascade Canyon is a picturesque glacial-carved canyon nestled between Teewinot and Mount St. John in Grand Teton National Park.
The Forks of Cascade Canyon Trail is a great option for hikers wanting to access the Tetons on a hiking path with less elevation gain than those nearby. It's a 9.1-mile out-and-back trail up to Hidden Falls, a 200-foot-high waterfall, and Inspiration Point. There are plenty of opportunities to view the local wildlife like moose, pika, and bears.
To get to this trailhead, take the Jenny Lake shuttle boat across the lake and begin the hike from the shore.
12. Medicine Bow Peak via Lakes Trail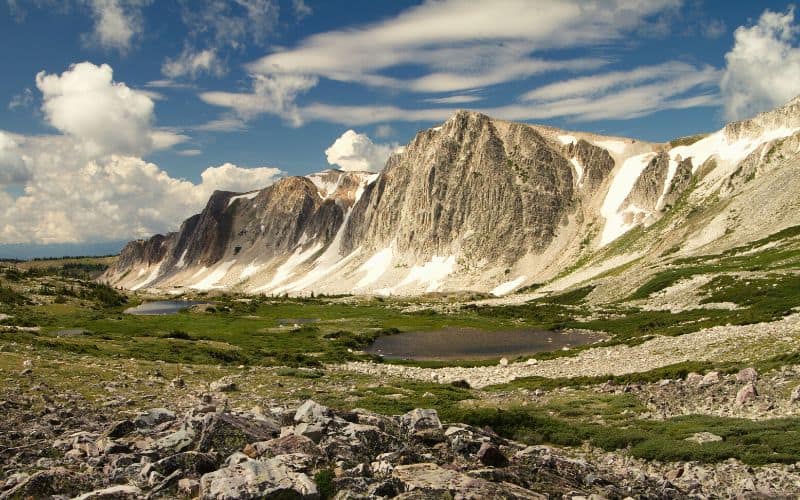 Type: Loop
Length: 6.7 miles
Difficulty: Hard
Spanning an impressive 2.9 million acres across eastern Wyoming and northern Colorado, Medicine Bow-Routt National Forest is an incredibly scenic area to explore.
Medicine Bow Peak via Lakes Trail is a very steep climb up switchbacks and rocky alpine terrain above the treeline. This hike takes you to the highest peaks on the Snowy Range, including the top of Medicine Bow Peak at 12,013 feet above sea level.
You can access this hike from either Lake Marie (described above) or the Lewis Lake trailhead.
13. Lewis Lake, South Gap Lake, and Snowy Mountains Trail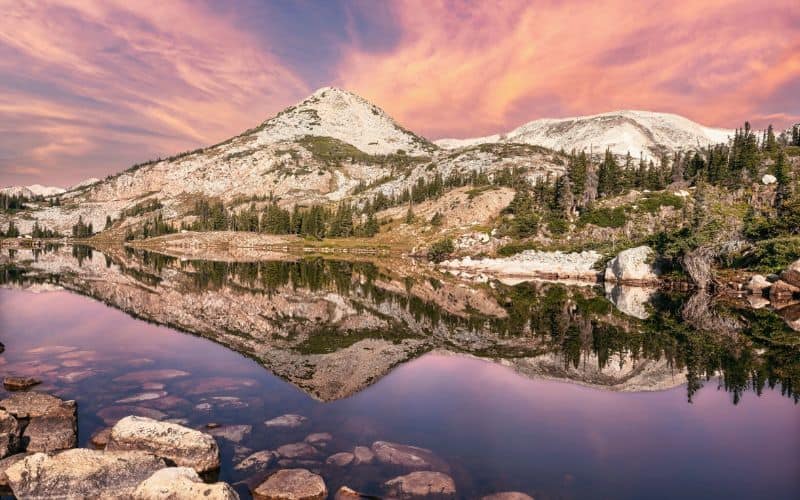 Type: Out-and-Back
Length: 2.9 miles
Difficulty: Moderate
If you're looking for a less demanding hike in Medicine Bow-Routt National Forest, check out this 2.9-mile out-and-back trail, which has only 337 feet of elevation gain.
The Lewis Lake, South Gap Lake, and Snowy Mountains Trail begins at the Gaps Lake Trailhead, near the Lewis Lake Picnic Area.
This family-friendly hike offers stunning vistas of Medicine Bow Peak, several of the area's lakes, and a glacier.
Other Awesome Wyoming Hiking Trails
The above list contains our favorite hikes in Wyoming, but there are plenty more worth exploring. Some of these include:
Lizard Head Trails, Wind River Range
Summit Cloud Peak (from West Tensleep Trailhead)
Surprise Lake from Lupine Meadows Trailhead
Thorofare Trail, Yellowstone Lake
Gannett Peak via Bonney Pass (the highest peak in Wyoming!)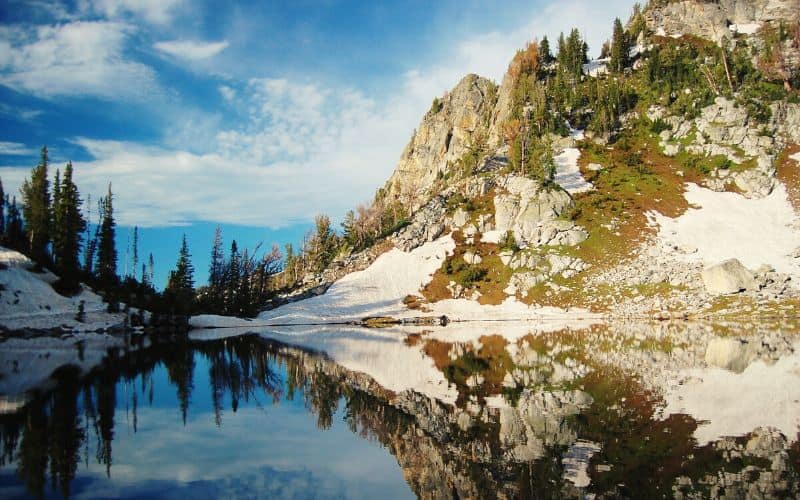 Best hikes in Wyoming: Happy Hiking!
Whether you're taking in the kaleidoscope of colors at the Grand Prismatic Hot Spring or climbing past the treeline to the top of Medicine Bow Peak, Wyoming offers an incredible array of trails for every level of hiker. So get on your hiking boots and get out there!
Are there any of the best hikes in Wyoming we have left out? Let us know in the comments below! If you enjoyed this article, feel free to share it with your hiking buddies.