The Hoosier State might be best known for basketball and car manufacturing, but there is more than meets the eye. In fact, Indiana boasts 4,200 miles of beautiful hiking trails, from backcountry multi-day hikes to accessible waterfall tours.
Use our guide and you might find yourself in a box canyon, on an exposed ridge, or on an underground pathway. We've included something for everyone, from family adventures to expert backpacking trails.
1. Adventure Hiking Trail, O'Bannon Woods State Park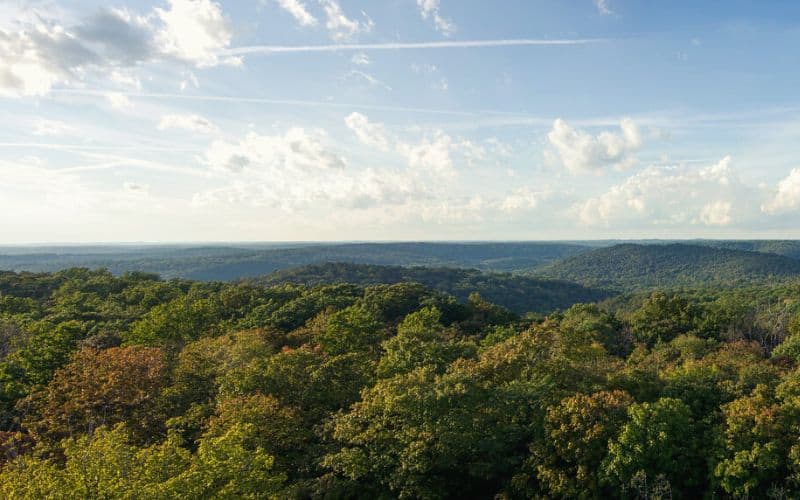 Type: Loop
Length: 24 miles
Difficulty: Challenging
The Adventure Hiking Trail is ideal for anyone planning a backpacking trip in Indiana. This 24-mile loop has several steep climbs, creek crossings, and beautiful views. Most hikers take two to three days to complete the trail.
There are many places to enter, and you can do an out-and-back hike or shuttle a vehicle for a point-to-point adventure. For backpackers, there are five overnight shelters available on a first-come, first-served basis.
Whether you're an overnighter or a day hiker, O'Bannon Woods State Park is brimming with natural beauty. The trail traverses high bluffs and cliff edges that provide overlooks of the Ohio River and the park's many ravines and sinkholes.
The Adventure Trail intersects with various horse trails and can be hard to follow. Download a map of the area or bring a paper copy.
2. Dune Succession Trail, Indiana Dunes National Park/Lakeshore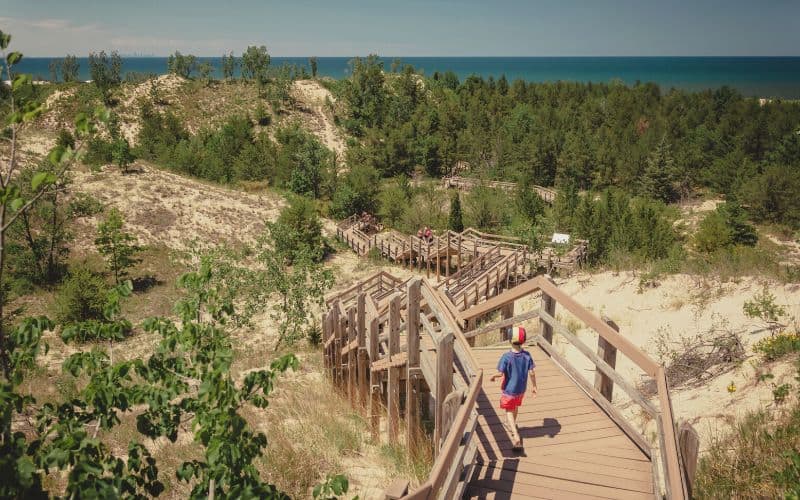 Type: Loop
Length: 1.1 miles
Difficulty: Easy
Yes, there are sand dunes in Indiana! Dune Succession Trail in Indiana Dunes National Park gives hikers a unique look at the different stages of dune development, and the educational hike is only 40 miles from Chicago. Most of the trail follows raised boardwalks and staircases, although you will have to navigate loose sand for a quarter mile.
Along this short trail, hikers learn about how dunes turn into wooded areas and experience the forest and the beach in the same place. The expansive views of Lake Michigan and the distant Chicago skyline make this one of Indiana's top hiking trails.
Don't forget to ask for a brochure guide at the entrance gate. The guide corresponds to eight numbered markers along the trail. Each marker represents another stage of dune development. By the end of the hike, you'll be an expert!
3. Trail #3, Turkey Run State Park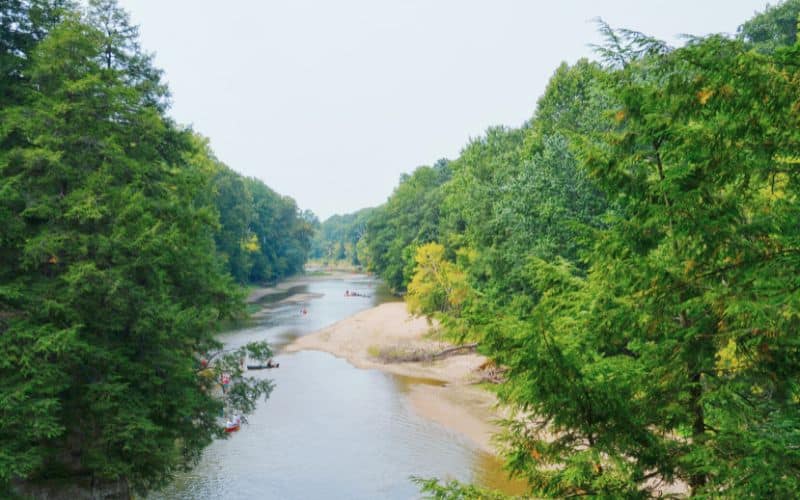 Type: Loop
Length: 1.9 miles
Difficulty: Moderate-challenging
Turkey Run State Park is an idyllic oasis in the Indianapolis suburbs. The state park features prominent sandstone cliffs, tranquil hemlock groves, and babbling brooks. There are over 14 miles of hiking trails within the park, and #3 is one of the best.
Trail #3 requires hikers to traverse a suspension bridge, scramble over steep rocks, and scale ladders near Sugar Creek. The beauty of the area makes it worth it. The trail passes through deep sandstone canyons and mossy hollows. Trail #3 also takes hikers to 'The Punchbowl,' a glacier-formed pothole with a trickling waterfall.
If ladder ascents and steep climbs aren't appropriate for your group, there are plenty of other moderate and easy hikes in the park.
4. Clifty Falls, Clifty Falls State Park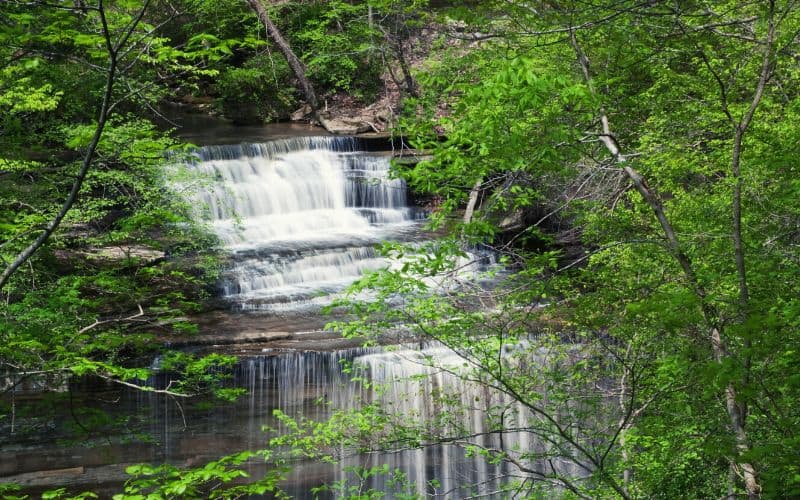 Type: Out and back
Length: 4.3 miles
Difficulty: Challenging
Clifty Falls State Park should be on everyone's bucket list. Getting to the namesake waterfall isn't easy, but it's worth it. First, use Trail #5 or #4 to reach Cliffty Canyon. Both trails are steep and strenuous.
Once you're in the rugged canyon, travel north on Trail #2. As you hike up the canyon, look for fossils in the creek bed. The entire state park was once covered by an ocean, and the trail is littered with fossilized sea creatures, including squids, brachiopods, and coral.
After a mile and a half in the canyon, you'll reach the end and an impressive 60-foot waterfall—this an excellent spot to have lunch and enjoy the sounds of falling water.
Pro-Tip: Hiking in Clifty Falls State Park is often wet and slippery. Many trails require creek crossings. Bring good hiking boots and an extra pair of dry socks and shoes for the end of your day.
5. HHC Trail, Brown County State Park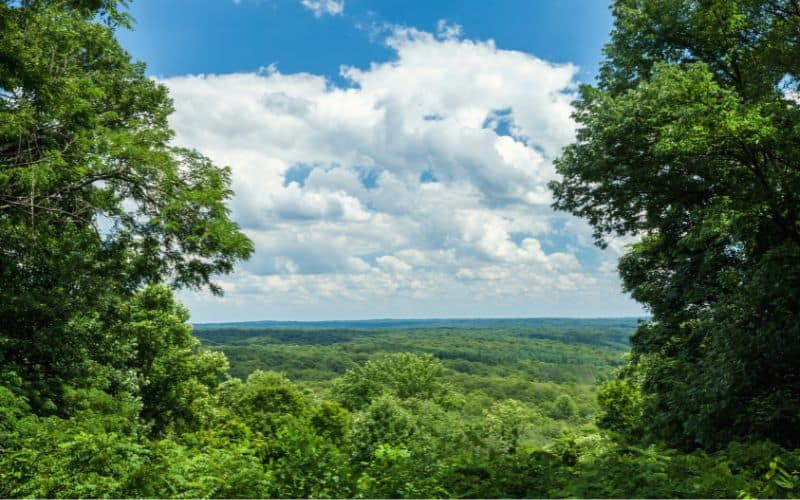 Type: Loop
Length: 3.9 miles
Difficulty: Moderate-Challenging
The HHC Trail in Brown County State Park is a scenic hike that follows a creek through the peaceful forest. Hesitation Point and West Lookout offer panoramic views of Ogle Lake and Jackson-Washington State Forest.
The park is a great place for birdwatching and wildlife viewing. You might see white-breasted nuthatches, bluejays, and juncos. Also, look for white-tailed deer, raccoons, and foxes.
HHC, or Trail #8, has over 150 stairs. To go down the stairs, hike the loop trail in a clockwise direction. There are a few missing railings, especially at the top. Be mindful of children and pets.
6. Knobstone Hiking Trail
Type: Point-to-point
Length: 48 miles
Difficulty: Expert
Known as the Little Appalachian Trail, Knobstone Trail is a training ground for AT thru-hikers. The remoteness and lack of reliable water sources make this a beast of a hike. The trail follows a rugged and "knobby" escarpment in southern Indiana.
As you tackle the hilly ridgeline, expect grueling climbs and descents. However, the ridgeline also provides stunning views of the surrounding Clark State Forest and the Ohio River. The trail runs between Deam Lake State Recreation Area in the south and Delaney Park at the northern end. You can extend the Knobstone Trail by a few miles by ending at Spurgeon Hollow Lake.
As with any multi-day backpacking trip, planning for Knobstone Trail is essential. Make sure you pack accordingly, know where and how to resupply, and have a map of reroutes and trail closures. In backcountry settings, know your limits and always follow LNT.
7. Hemlock Cliffs, Hoosier National Forest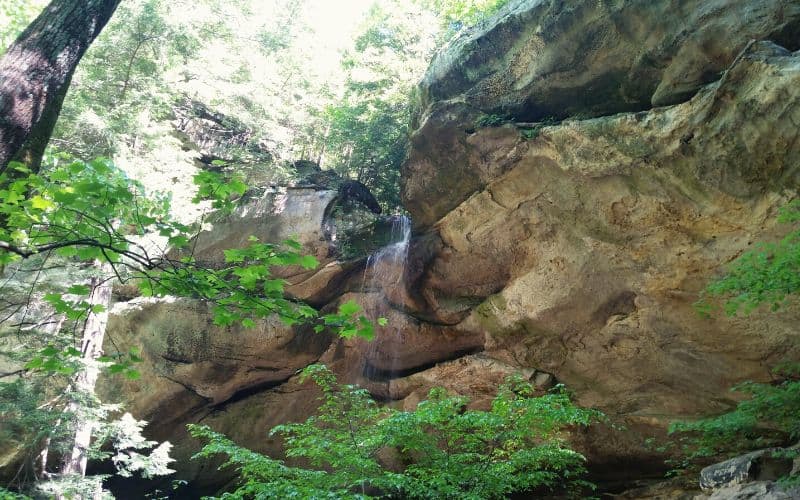 Type: Loop
Length: 1.2 miles
Difficulty: Moderate
Explore box canyons, towering oak forests, and sandstone caves at Hemlock Cliffs in Hoosier National Forest. Located in a shady valley, Hemlock Cliffs is a special place. The one trail into the canyon is a 1.2-mile loop with some steep and slippery sections.
Halfway into the hike, the trail passes through a sizable rock house formed by "honeycombing" or iron ore weathering. There are several seasonal waterfalls and creeks by the trail that run in the spring and early summer. If you miss the run-off, don't worry! Autumn offers superb leaf peeping, and even in winter, the area is simply magical.
In other words, the best time to go is as soon as possible. Hemlock Cliffs is always a gorgeous place for reflection and tranquility.
8. Lake Monroe Peninsula Trail, Charles Deam Wilderness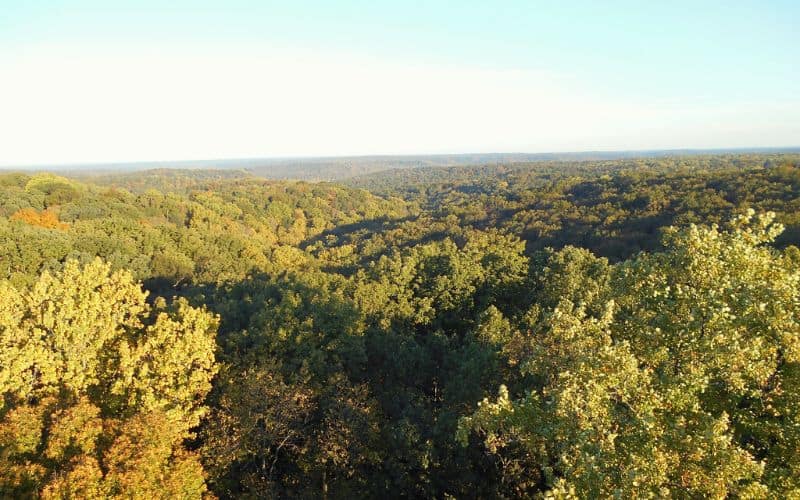 Type: Out and back
Length: 10.1 miles
Difficulty: Easy-Moderate
Don't let the length of Peninsula Trail deter you. The hike only gains 711 feet in elevation and is flat almost the whole way. Because the trail is also well-maintained and well-marked, it makes for the perfect beginner backpacking trip.
For the first couple miles, the trail winds along a level ridgeline surrounded by a thick pine forest. At three miles, you will be on the peninsula and start seeing Lake Monroe through the trees.
Most hikers take about four hours out and back, but you can also turn the hike into a backpacking trip. There are over ten established camping sites within the area, both in the woods and on the shore. If you're lucky enough to camp by the lake, don't miss the sunset over the water.
9. Falls Canyon Trail, McCormick's Creek State Park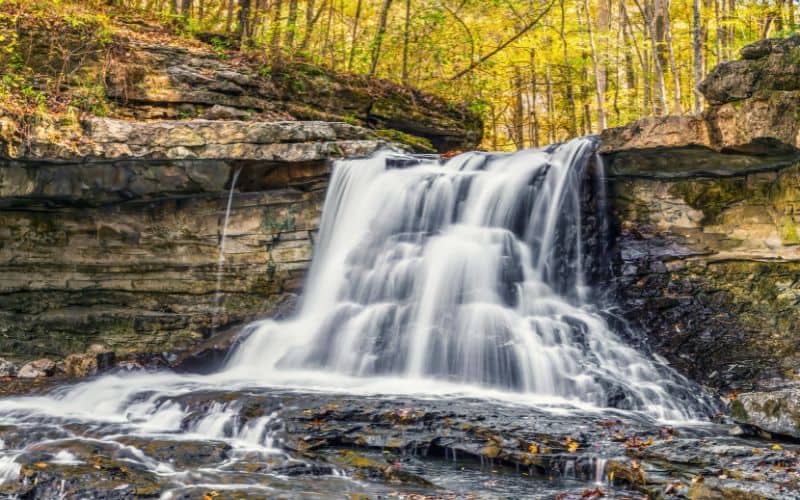 Type: Loop
Length: 4.9 miles
Difficulty: Moderate
McCormick's Creek State Park has over ten miles of hiking trails, five unique waterfalls, and rare rock formations. Use Falls Canyon Trail, a combination of trails #3, 5, and 10, to access all the most exciting parts. Starting at the Canyon Inn parking lot, take Trail #3 toward the river. This will take you to Trail 10, and then use the connector trail to reach #5.
Trail #3 allows hikers to examine the St. Louis limestone at the falls and enjoy the cascading water. Stay on the loop trail for a chance to explore Wolf Cave, a network of water-carved underground passageways. Just past the Wolf Cave, on Trail #5, there are two natural arches.
Most trails in the park are easy or moderate so that the whole family can enjoy the unusual but beautiful scenery of this western Indiana state park.
10. Morgan Monroe State Forest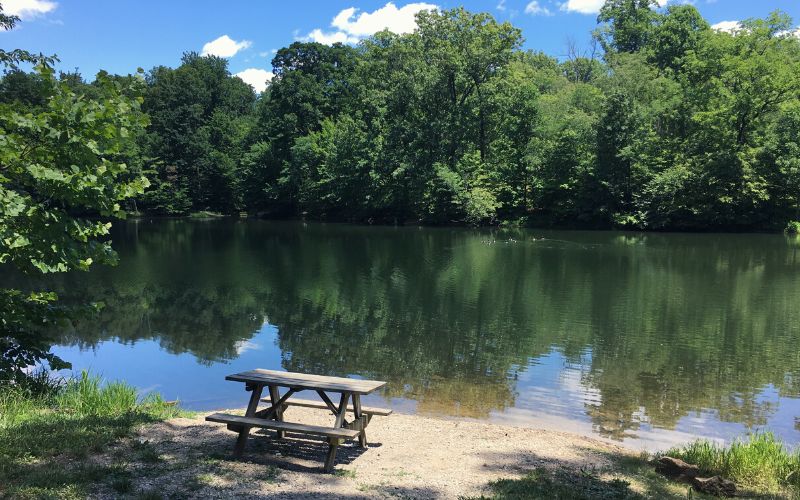 Morgan Monroe State Forest is home to several good hiking trails, but the best of the bunch are the Three Lakes Trail and the Low Gap Trail, both of which are 10-mile loops.
The Three Lakes Trail begins at Cherry Lake next to the forest headquarters (directions to headquarters are below). It involves a few steep climbs on switchbacks but also throws in a handful of flat stretches where you can catch your breath and take in the gorgeous scenery.
The Low Gap Trail is a strenuous but enjoyable hike through old-growth woodland and alongside babbling streams. Like the Three Lakes Trail, there are a few steep sections along the way, but a series of switchbacks help to ease the gradient. While you hike, you'll be surrounded by stately hardwoods, including pignut hickory, yellow birch, red maple, sourwood, and black gum.
Best Hiking in Indiana!
Indiana might not be on your list of hiking destinations, but it should be! The Hoosier State is home to unparalleled natural beauty, including rugged canyons, breathtaking overlooks, and powerful waterfalls.
We hope our guide to the best hiking in Indiana changes your mind about the Hoosier State and inspires you to hit the trail.
Which is your favorite Indiana hiking trail? Let us know in the comments below, and feel free to share this article with your hiking partner.