Nebraska is much more than farmland. This state is home to towering rocky bluffs, rolling tallgrass prairies, and extraordinary geological formations. And the best way to experience Nebraska's unknown beauty is on its fantastic hiking trails.
Use this guide to explore the hidden corners of the 37th state. There's something for everyone, from epic thru-hikes to loops suitable for the whole family.
1. North Overlook Trail, Scotts Bluff National Monument (Nebraska National Forest)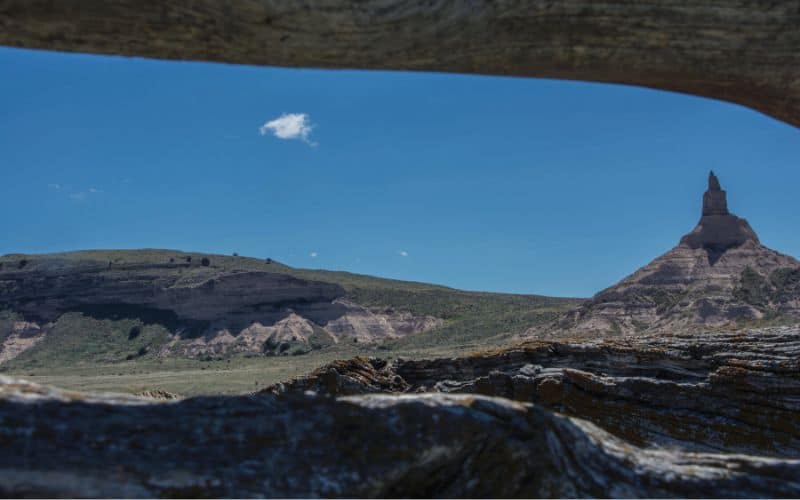 Type: Out and back
Length: 0.6 miles
Difficulty: Easy
Looking for a warm-up hike in Scotts Bluff National Monument? The North Overlook Trail in Northwest Nebraska is an easy out-and-back trail that affords the hiker eagle-eye views of the Platte River Valley, the town of Scottsbluff, and far-off Chimney Rock.
The overlook trail is paved, making it family-friendly. There are interpretive signs to educate hikers on the history and geology of the area, and your children will love using the coin-operated binoculars at the top.
The North Overlook Trailhead is located at the north end of the summit parking lot.
While you're here, be sure to check out the Wildcat Hills State Recreation and Nature Center, which you'll find on I-71 just 9 miles south of Gering.
2. Saddle Rock Trail, Scotts Bluff National Monument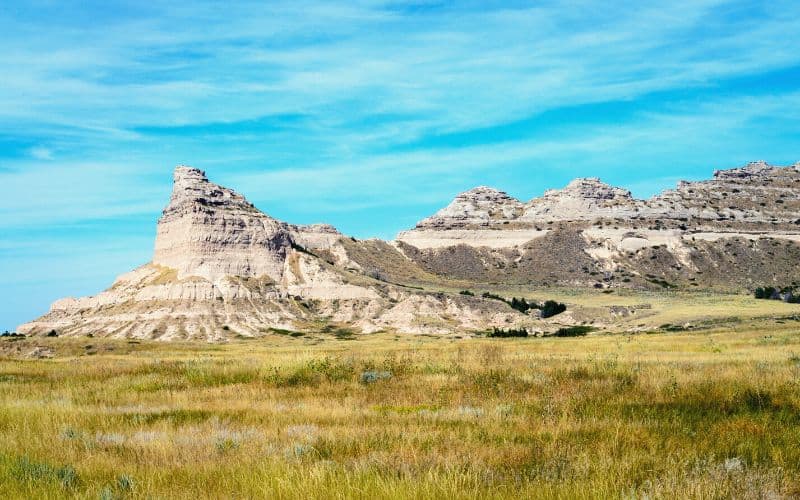 Type: Out and back
Length: 3 miles
Difficulty: Moderate
Once you've warmed up on the North Overlook Trail, Saddle Rock Trail is the perfect way to experience the beauty and rugged terrain of Scotts Bluff National Monument, and walk in the footsteps of Oregon Trail travelers of yore.
The hike provides a look at the colorful bluff layers the area is famed for, including sandstone, siltstone, and a layer of volcanic ash that blew in from Nevada.
Hikers have the unique opportunity to walk through a foot tunnel. From the tunnel, the hike gets steep and has a few switchbacks. The trail is paved the whole way but lookout for rock fall and stay on marked trails, especially toward the end.
Keep your eyes peeled for western box turtles, cliff swallows, and American Kestrels, a small hawk with pointed wings and a reddish back and tail. And, of course, you can't miss the namesake Saddle Rock formation above the tunnel.
Start from the Visitor Center or park in the Summit Parking Lot and use the North Overlook Trail to reach the visitor center. The third option is to use the Summit Shuttle and hike in only one direction.
Pro-Tip: Rockfall is common and sometimes results in trail closure. Check trail conditions at the visitors center before you go.
3. Platte River State Park Trail Loop, Platte River State Park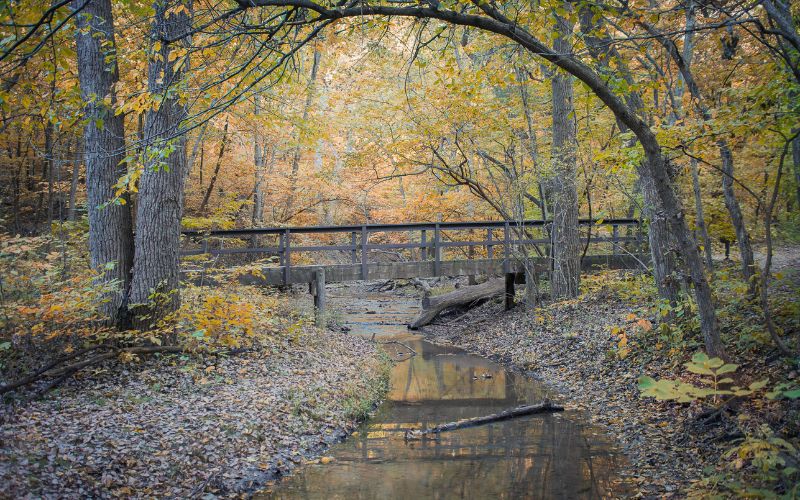 Type: Loop
Length: 6.7 miles
Difficulty: Easy
Between Omaha and Lincoln, Platte River State Park is one of Nebraska's most popular state parks for hiking and mountain biking trails. Use the State Park Loop Trail to explore the river and a small but picturesque waterfall.
Expect some ups and downs. Even with close to 800 feet in elevation gain, however, the hike is kid-friendly, easy, and customizable. For a shorter day, hike only one side of the loop. The east side is around 3 miles long, and the west is closer to four miles.
Both options follow the river for at least a mile and provide the hiker with the relaxing sounds of running water. The waterfall is central, and you can access it from either side. The trailhead is near South Bend and is the starting point for the entire hike or just one section.
To make a full day of it, we recommend heading northwest on the 1-80 for 7 miles to check out Mahoney State Park, where you'll find another handful of family-friendly trails.
4. Lake Ogallala Trail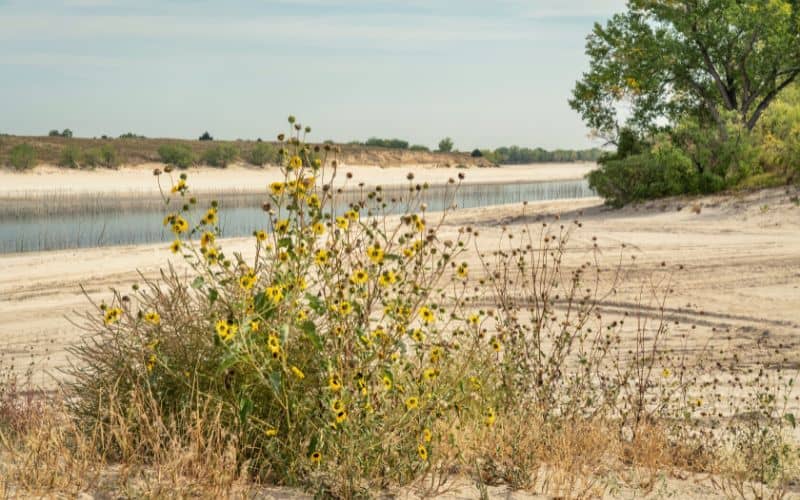 Type: Out and back
Length: 9 miles
Difficulty: Easy
Lake Ogallala Trail in Lake Ogallala State Recreation Area is perfect for less experienced hikers and anyone looking for an easy way to get outside. Although nine miles long, the trail is level and wide the whole way and takes most hikers a little under three hours to complete.
The trail follows the shoreline of the tranquil Lake Ogallala and its much larger counterpart, Lake McConaughy. A section of the trail even runs on top of the lake's northern dyke.
Lake Ogallala is a premier bird-watching destination, and hikers report seeing bald eagles, owls, and many other bird species. In the summer, the area is covered in wildflowers. Whatever time of year you visit, be sure to bring your camera!
5. Cowboy Trail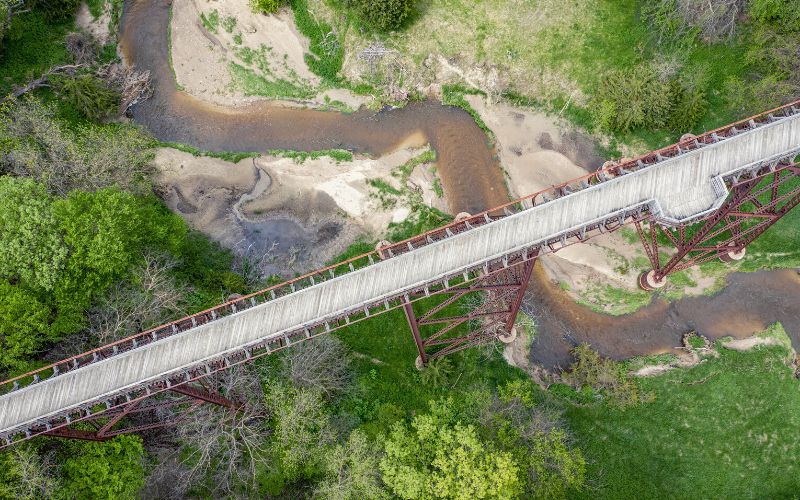 Type: Long-distance
Length: 195 miles
Difficulty: Easy
The Cowboy Trail crosses 195 miles of the Nebraska outback on restored railroad corridors. The tracks have been replaced with crushed limestone to create the ideal hiking surface. The trail is level (2% grade or less to accommodate trains), has little elevation gain, and makes wide sweeping turns.
Thru-hikers will cross 221 bridges. For day hiking, there are a few must-see bridges. Just east of Valentine, there is a quarter-mile-long and 148-foot-high bridge over the Niobrara River, from which you can enjoy views of the amazing scenery.
The trail runs through twenty-one Nebraska towns from Norfolk to Valentine, with about 10-15 miles between each town. Many towns along the trail offer camping for hikers visiting their communities. You'll also pass through Smith Falls State Park, Niobrara State Park, Fort Niobrara National Wildlife Refuge, and Dry Creek State Wildlife Management Area.
At the end of the trail, you'll also be just an hour's drive from Ponca State Park, which is well worth a visit!
6. Black Hills Overlook Trail, Chadron State Park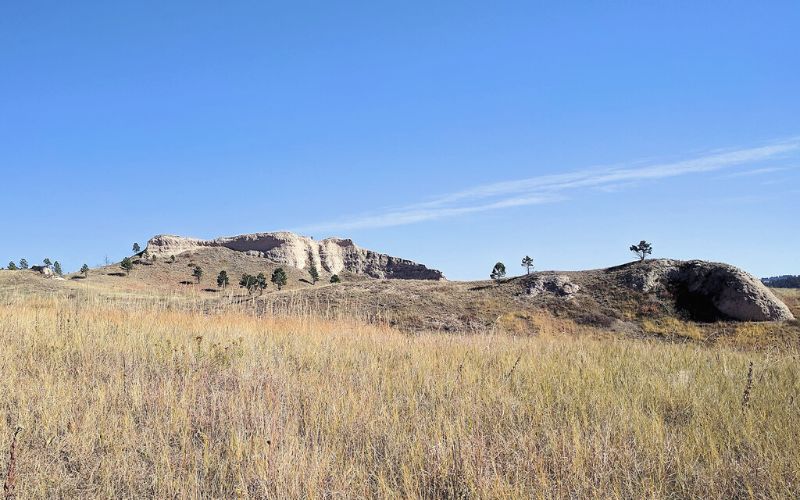 Type: Loop
Length: 3.3 miles
Difficulty: Moderate
Chadron State Park has a little bit of everything, from gorges and grasslands to Nebraska's Pine Ridge and its towering trees.
The Black Hills Overlook Trail takes you past all the best parts of Chadron State Park. This mostly flat loop trail throws in a few steeper sections that make it a moderate hike, but it's easier if you hike in a counter-clockwise direction.
The northern portion of the hike is well-marked and easy to follow. The second half is harder to follow at times. If you're worried about getting lost, you can do just the north section as an equally beautiful out-and-back hike. Both options offer beautiful scenery, a natural arch, and many bird-watching opportunities.
There is a trailhead in the state park and one in the surrounding Nebraska National Forest. Wherever you start, bring a map and plenty of water.
7. Fossil Hills Trail, Agate Fossil Beds National Monument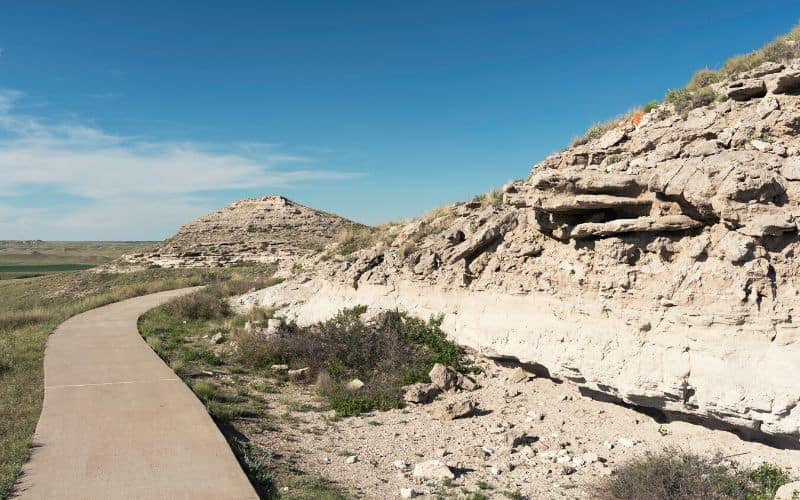 Type: Out and back
Length: 2.7 miles
Difficulty: Easy
Agate Fossil Beds National Monument preserves a unique part of Nebraska's history and houses some of North America's most productive paleontological sites. Fossil Hills Trail allows hikers to visit the historic dig sites where paleontologists discovered thousands of ancient mammal bones.
The paved path begins at the visitor center and crosses over the Niobrara River, through native wetlands, and past restored grass prairies. From the hike, look for Beardog den sites and menoceras tracks (a small, extinct rhinoceros).
For a longer hike, take the one-mile, unpaved side hike to Bone Cabin. The restored homestead cabin is where scientists lived during their digs.
8. Toadstool Trail, Ogalala National Grassland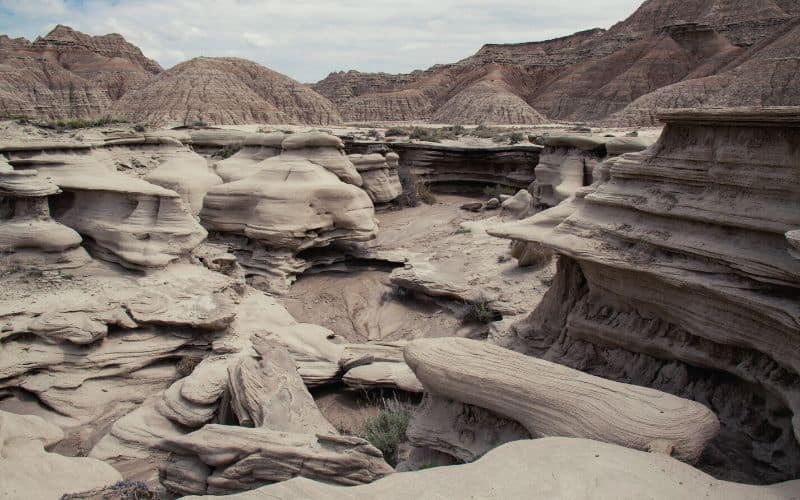 Type: Loop
Length: 0.8 miles
Difficulty: Easy
Getting to Toadstool Trail requires a 19-mile drive up a gravel road, but the views make it well worth the extra time. Toadstool Trail meanders its way around surreal rock formations called hoodoos. It will feel like you've left planet Earth.
Although the loop is only 0.8 miles long, there are enough side hikes and offshoots to spend an entire day exploring the area and marveling at the sandstone and soft clay geology. Plan for a full-day adventure, and bring lunch and plenty of water.
9. Indian Cave Trail, Indian Cave State Park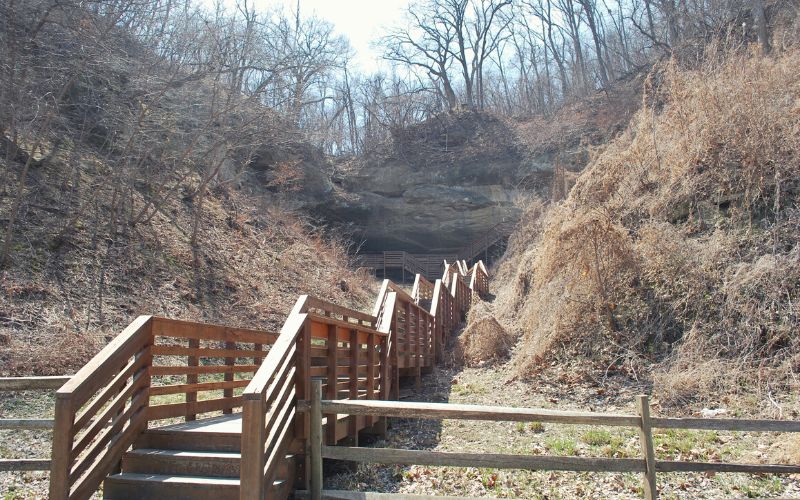 Type: Loop
Length: 3.1 miles
Difficulty: Moderate
Indian Cave State Park is an idyllic place for hikers of all abilities. The state park encompasses almost 3,052 acres along the Missouri River. The Cave Trail offers a sample of the hardwood forests and takes hikers to the namesake Indian Cave, where you can see thousand-year-old petroglyphs.
You can also see sweeping views of the picturesque Missouri River bluffs and rolling meadows from the trail. If you're lucky, you might encounter white-tailed deer, beavers, wild turkeys, and woodchucks. There are also mountain lions in the area. It's unlikely you will spot one of these elusive cats, but keep an eye out just in case!
Indian Cave State Park is open all year, and each season offers something special, from wildflowers in summer to spectacular leaf peeping in the fall.
Best Hiking In Nebraska: Happy Hiking!
Nebraska will surprise you in the best way! There is natural beauty you couldn't even dream up, from restored railroads to toadstool rocks. We hope our guide to the best hiking in Nebraska has inspired you to give the Cornhusker State a chance.
Which hiking trail is your favorite? Let us know in the comments below, and don't forget to share this article with your hiking partner.