Besides southern hospitality, South Carolina is best known for its unique landscapes. From towering waterfalls and crashing rivers to rugged mountains and dense forests, this state is a haven for nature lovers.
The best way to experience the Palmetto State is along one of its many hiking trails. Use this guide to discover the beauty of the 8th state in the union. We've included something for everyone, from rugged climbs to beginner boardwalks and everything in between.
1. Pinnacle Trail, Table Rock State Park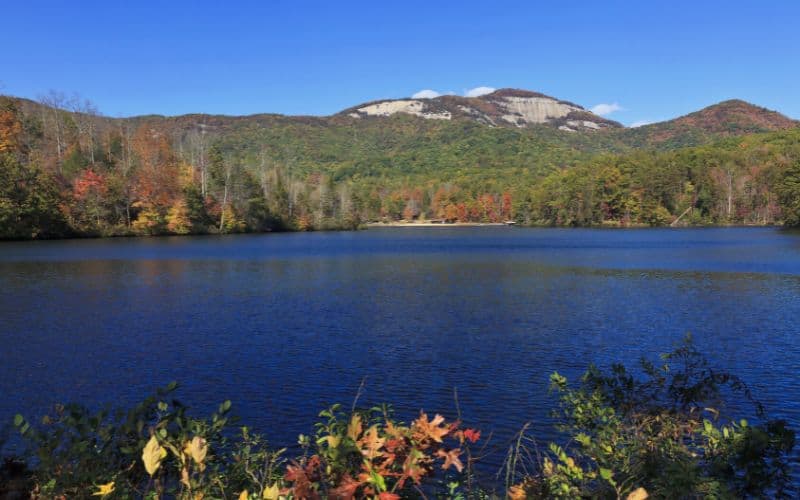 Type: Out and back
Length: 8.4 miles
Difficulty: Challenging
Look no further than Table Rock State Park for some of the best outdoor hiking adventures in the Palmetto State. The park has more than 10 miles of trails, but our favorite is Pinnacle Rock Trail. This is a difficult hike as it gains close to 2,400 in elevation.
Luckily, the beauty of the surroundings will distract you from the constant uphill. Look for waterfalls, wooden footbridges, and rhododendrons as you climb. A little over halfway up, Bald Knob Overlook offers a place to catch your breath and admire views of Greenville and the surrounding mountains.
Pinnacle Mountain is only a few miles more. Although tall hardwood trees enclose the summit, you'll be glad you hiked the whole way. Retrace your steps to return to the trailhead.
Warning: Don't forget to fill out a registration form at the Nature Center before your hike.
2. Lower and Upper Whitewater Falls via Foothills Trail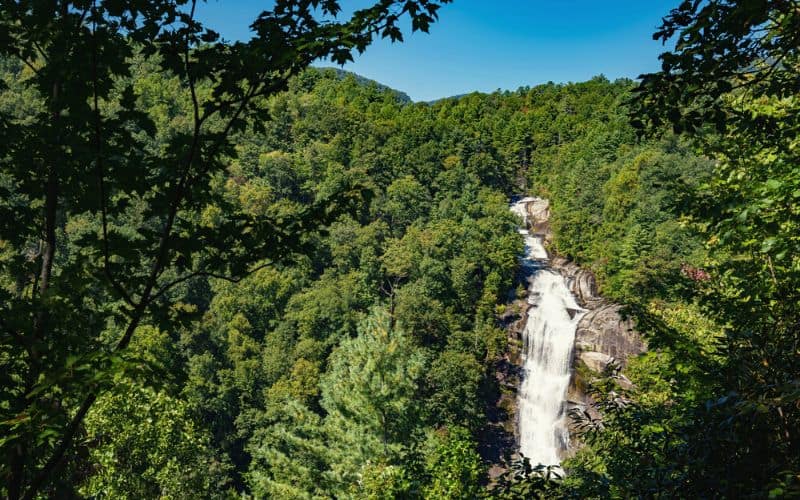 Type: Out and back
Length: 8.8 miles
Difficulty: Moderate
Foothills Trail takes hikers to two enormous waterfalls, and you can't ask for a better way to spend a day. The best part is you can choose your adventure depending on experience, time, and fitness level. Start with a leisurely walk along a paved path to an overlook of Upper Whitewater Falls, the tallest falls east of the Mississippi.
You can stop there or continue down the stairs to another Upper Falls Overlook. From there, follow the path down to the river gorge. This descent (and ascent on the way out) is steep and rugged.
However, once you reach the bottom, the path levels out as it winds through a thick forest with a few peaks at the river. Before long, you will arrive at Lower Whitewater Falls, a dramatic 200-foot plunge. Get some photos before returning the way you came.
3. Pinnacle Pass Trail, Mountain Bridge Wilderness Area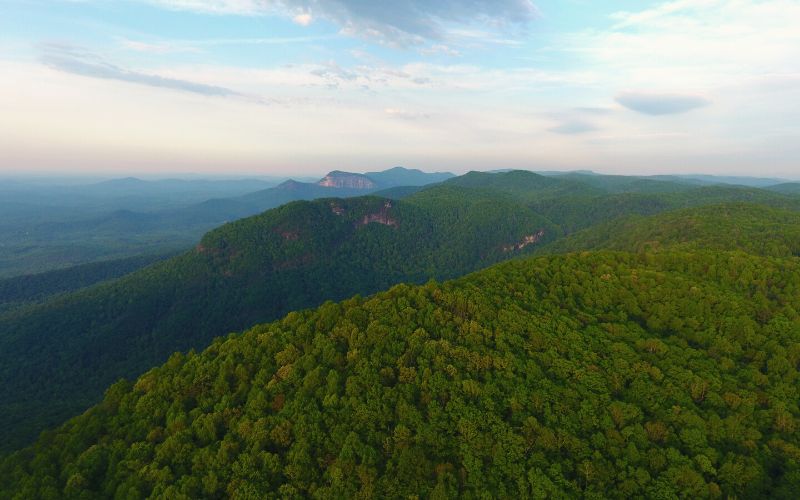 Type: Point-to-point
Length: 10.2 miles
Difficulty: Challenging
If you're looking for a challenging, day-long trek, try the Pinnacle Pass Trail. A demanding hike, Pinnacle Pass requires that hikers are in good physical condition and ready for a grueling (but rewarding) day.
The trail travels 10.2 miles between Jones Gap State Park and Caesars Head State Park and is the longest in the Mountain Bridge Wilderness Area. Most hikers shuttle a vehicle and make this a point-to-point adventure. You can hike in either direction, but we recommend starting at Jones Gap State Park.
Either way, you're in for a doozy. The trail is consistently steep, rock-strewn, and has exposed, cliffed-out sections. Take your time, and don't forget to look up occasionally for stunning views of the Blue Ridge Escarpment.
4. Table Rock Mountain via Table Rock Trail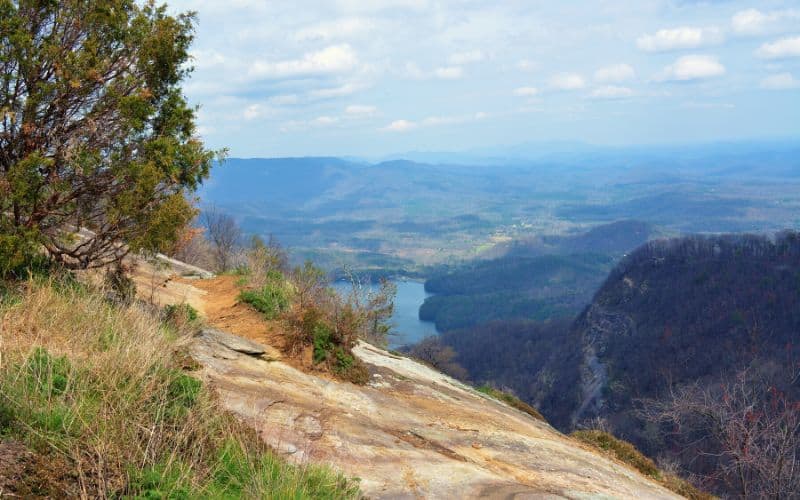 Type: Out and back
Length: 6.9 miles
Difficulty: Challenging
Table Rock Trail offers a challenging workout on the way to the summit of Table Rock Mountain. This is not an easy hike, but it's the most popular one in Table Rock Mountain State Park despite its difficulty. In other words, get to the trailhead early.
Use the trailhead at the Nature Center and follow signs for Table Rock Trail. Now the fun can begin! The next 3.5 miles involve consistent elevation gain through rugged terrain, including boulders, logs, and uneven rock steps.
Don't worry. The hike also includes two waterfalls, a sheltered pavilion overlook, and, of course, incredible views. From the Governor's Rock Overlook and the summit, enjoy sweeping vistas of Table Rock Reservoir and the surrounding peaks. Take your time at the top – the hike back down is just as strenuous!
5. Chattooga River Trail, Sumter National Forest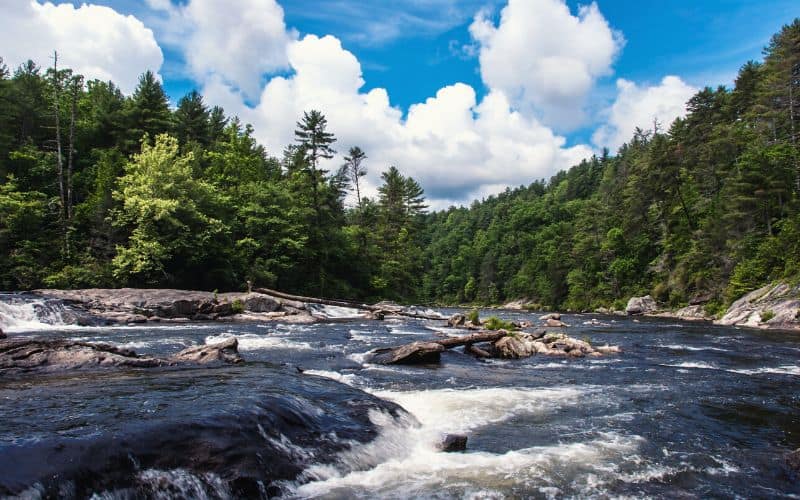 Type: Point to point
Length: 21.6 miles
Difficulty: Moderate
Discover the Chattooga River corridor on this moderate point-to-point hike. Although almost 22 miles long, there are no big climbs or knee-breaking descents, making it mellower than some of the shorter hikes listed above. Backcountry camping is allowed in the Sumter National Forest if you're at least 100 feet from the river.
Most hikers shuttle a vehicle and make a long day of it. Along the way, you'll pass waterfalls and scale riverside bluffs that offer impressive river views. The best part is you'll likely have the trail all to yourself and enjoy a real wilderness experience.
If you prefer to take your time and backpack the trail, backcountry camping is allowed in the Sumter National Forest. Ensure you follow Leave No Trace by camping at least 100 feet from the river and packing everything out.
6. Sulphur Springs Trail, Paris Mountain State Park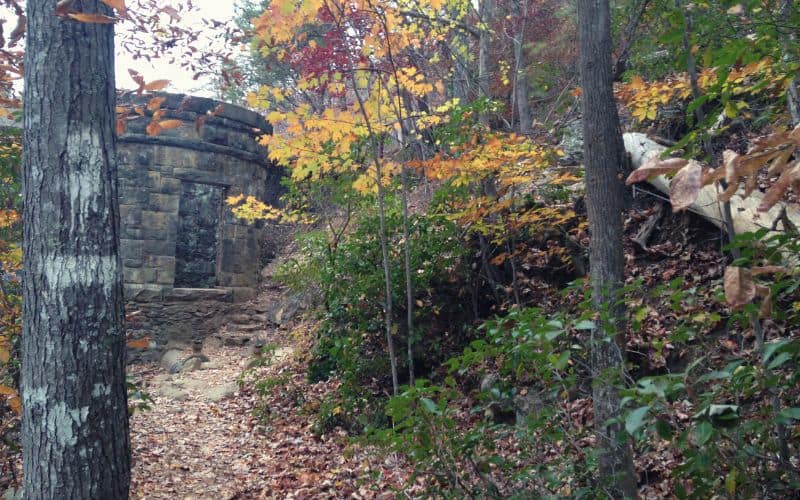 Type: Loop
Length: 4.5 miles
Difficulty: Moderate
Sulphur Springs Trail in Paris Mountain State Park has it all. The trail is narrow in places, wide open in others, and passes waterfalls and creeks through a deep hardwood and pine forest. Although not as challenging as some other listed hikes, this hike still has steep, demanding sections.
Start at Picnic Area Six. You can hike the 4.5-mile loop in either direction, but we recommend going counter-clockwise and getting the hardest part over with early. After a mile of leg-burning climbing, things mellow out significantly.
After two miles, you will parallel the Mountain Lake's picturesque shore. Look for deer, foxes, and at least 20 different species of bird. Sulphur Springs Trail is also home to honeysuckle, arbutus, rhododendron, and mountain laurel.
7. Caw Caw Trail, Caw Caw Nature Preserve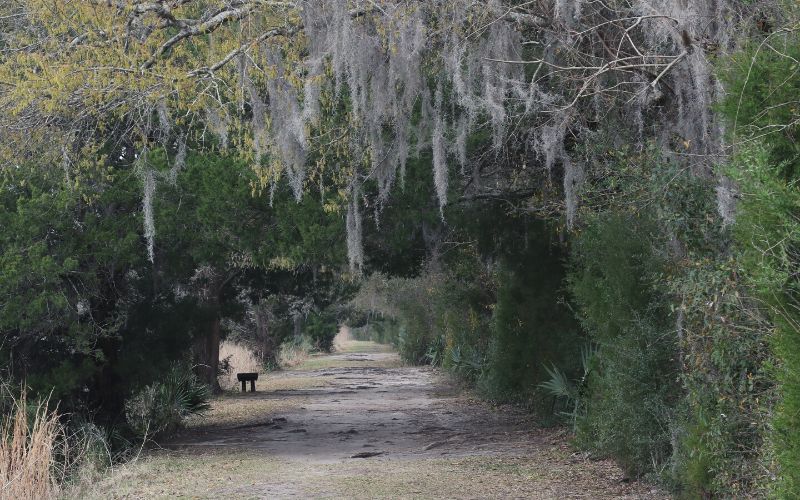 Type: Loop
Length: 3.1 miles
Difficulty: Easy
Caw Caw Nature Preserve is only 30 minutes from Charleston and offers a place to escape the city and immerse yourself in nature. The Caw Caw Trail features a boardwalk, benches, and rocking chairs perfect for pausing to take in the beauty.
This short hike takes you through swamps, wetlands, and historic rice plantations. Read the interpretive displays along the way to learn more about the area's past. More importantly, keep your eyes peeled for wildlife. The swampland is home to great blue herons, eagles, egrets, and alligators.
Yes, there are alligators throughout the park. Don't be alarmed. Just give the gators space; remember, their instinct is to stay away from humans.
8. Sassafras Mountain Trail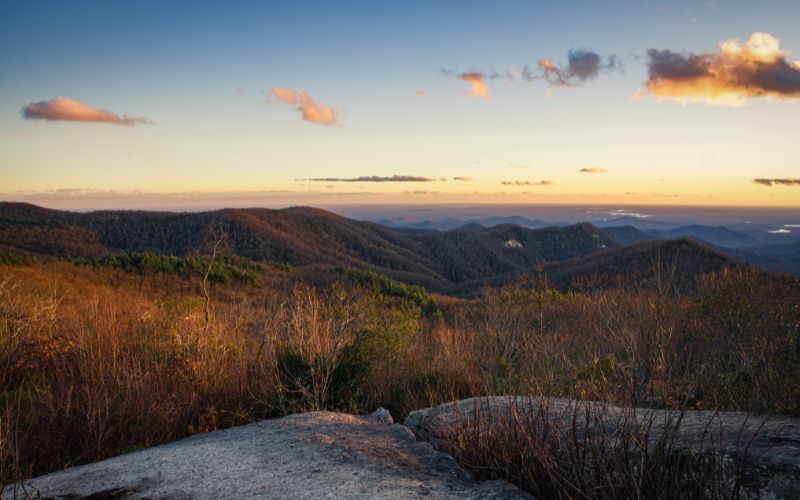 Ty.pe: Out and back
Length: 17.4 miles
Difficulty: Challenging
There are a few ways to summit Sassafras Mountain near Sunset, South Carolina. And if you enjoy a challenge, try Sassafras Mountain Trail. It can be accomplished as a day hike, but even experienced hikers should consider hiking this 17.4-mile hike as a one-night backpacking adventure.
Sassafras Mountain is the highest point in South Carolina at 3,553 feet, and you'll know it. The trail is not only long but also steep throughout and includes stops at the Pinnacle and Table Rock Mountain Summits.
Of course, the views are worth the struggle. From the top, you can see miles in every direction. To the north, there's a breathtaking look at North Carolina's iconic Blue Ridge Mountains. You can see Hickory Mountain to the south, and to the east, look for Table Rock Reservoir.
9. Raven Cliff Falls and Dismal Trail Loop, Caesars Head State Park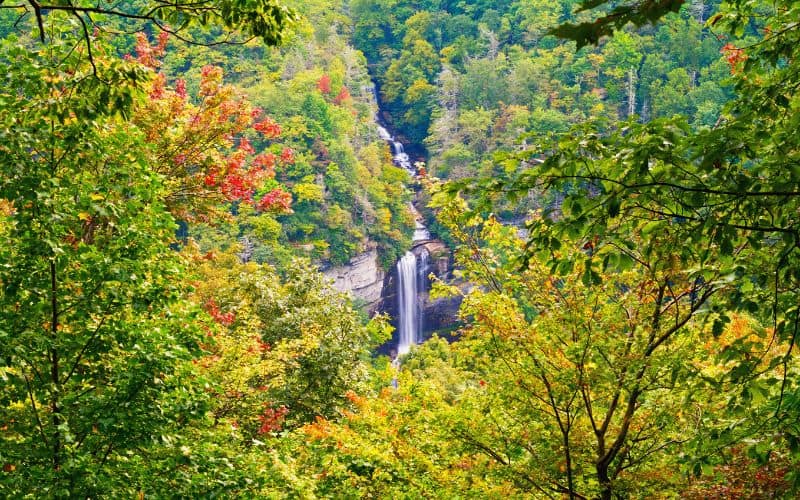 Type: Loop
Length: 8.8 miles
Difficulty: Challenging
More than just a hike, the Raven Cliff Falls and Dismal Trail Loop involves ladders, cables, steep rock scrambles, and a suspension bridge crossing. That being said, leave your dogs at home and make sure you're up for the task.
Expect the Raven Cliff Falls section to be busy as people hike up to the 400+ foot cascade. The real hike begins when you leave the crowds and head down into the gorge on Dismal Trail. As the name suggests, this section of the loop is grueling, and direction doesn't make a difference.
This loop doesn't boast any overlooks or incredible views, but as the saying goes, "It's not the destination; it's the journey." You will return to the trailhead with a serious sense of accomplishment!
10. Boardwalk Loop Trail, Congaree National Park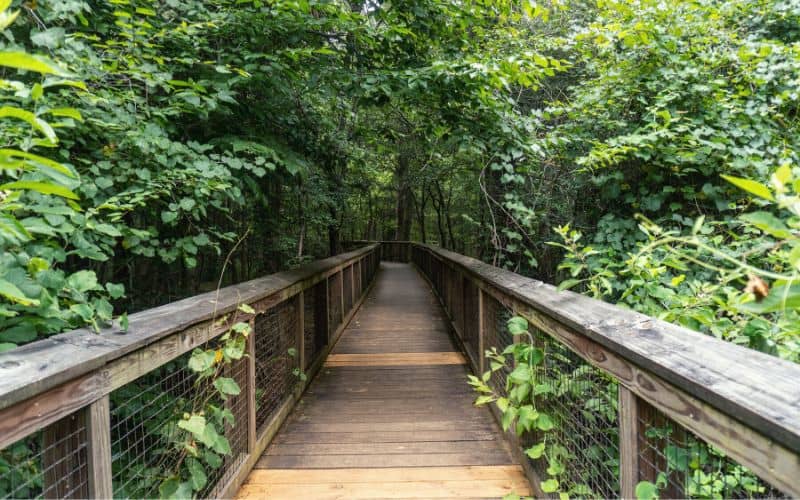 Type: Loop
Length: 2.3 miles
Difficulty: Easy
Bring the whole family to Congaree National Park and explore the area on the easy Boardwalk Loop Trail. The entire hike is on raised boardwalks six feet above the ground. The level boardwalk is accessible and meanders its way through towering old-growth forests and over a cypress-tupelo flat.
Don't forget to stop at the Harry Hampton Visitor Center to pick up a self-guided brochure. The brochure corresponds to trail markers that explain the history of the park and the area. Learn about the fascinating ecology of the area as you stroll.
And keep an eye out for red-shouldered hawks, barred owl nests, chimney swift, and several kinds of woodpeckers. You might also spot box and mud turtles and rat snakes as you pass Weston Lake. If you're looking for another easy hike in the park, try Bluff or Sims Trail.
Other South Carolina Hikes We Recommend
Palmetto Trail – A 500-mile epic!
Spoonauger Falls, Chattooga River Gorge – Short, stunning, and family-friendly!
Moonshine Falls, Mountain Bridge Wilderness Area – A challenging day hike with a finale that's well worth the effort.
Lee Falls Trail, Sumter National Forest – Something of a hidden gem!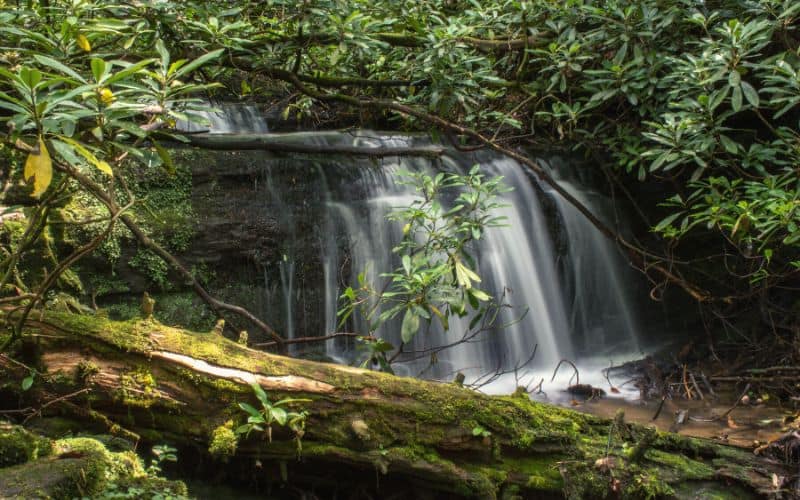 Best Hiking In South Carolina: Happy Hiking!
You'll never run out of amazing hiking trails in the Palmetto State. Along the way, you'll find massive waterfalls, daring rock scrambles, and alligator-infested swamps.
We hope our guide to the best hiking in South Carolina makes exploring the state a little easier. 
What's your favorite South Carolina hike? Let us know in the comments below and don't forget to share this article with your hiking buddies.