Trail-ready shirts have little to zero in common with your average, everyday wear tee or button-up. They are not only lighter, more breathable, and cut in a way that maximizes comfort during athletic activities, they're also built to withstand the rigors of the trail.
There are, however, a myriad of options available, so choosing the best option for your needs, budget, and adventure type can be a tricky business.
To help you out, we've put together a list of our 8 favorite shirts. This includes everything from long-sleeve button-ups and base layers to ultralight, technical tees. At the bottom of our reviews, you'll also find detailed buying advice to help you choose.
REI Co-op Sahara
Editor's Choice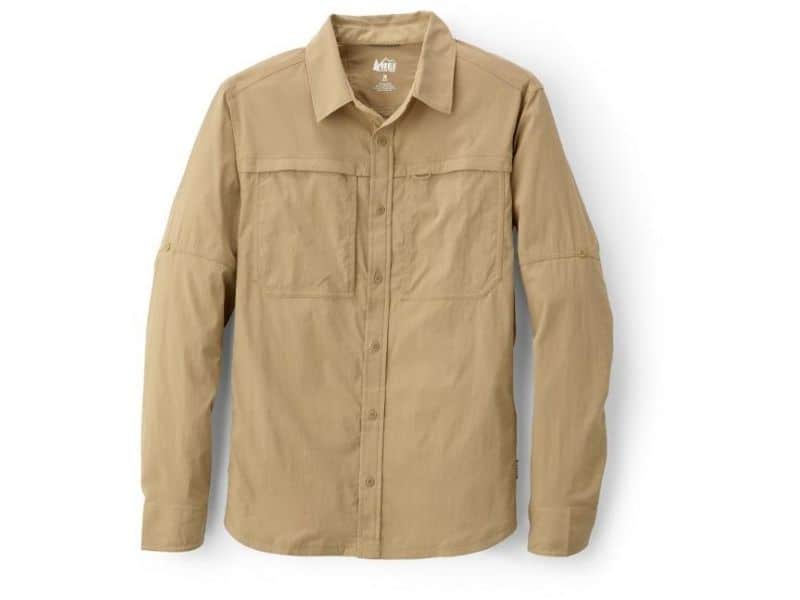 This shirt ticks all the boxes. It's lightweight, breathable, high-wicking, has the perfect amount of stretch, a decent UPF rating, and is tough enough to deal with a little rough treatment on the trails.
The Sahara also has a handful of dialed-in, hiking-specific features that make it a fraction more comfortable and suitable for trail-time than most other long-sleeved shirts. The most important of these features are a durable antimicrobial treatment that helps to keep odors at bay and a vented back yoke that provides extra airflow between your body and backpack.
There's also a duo of chest pockets and snap taps on the upper arms that let you convert to short-sleeve mode when necessary.
The Sahara won't thermoregulate or wick to the same degree as the technical tees featured below. However, if you're looking for a standalone hiking shirt rather than a layering piece, this one's well worth a place on your shortlist.
Bottom Line: A lightweight shirt that goes the extra mile to keep you comfortable, cool, and safe from the sun on your hikes.
At a Glance: Our Recommended Hiking Shirts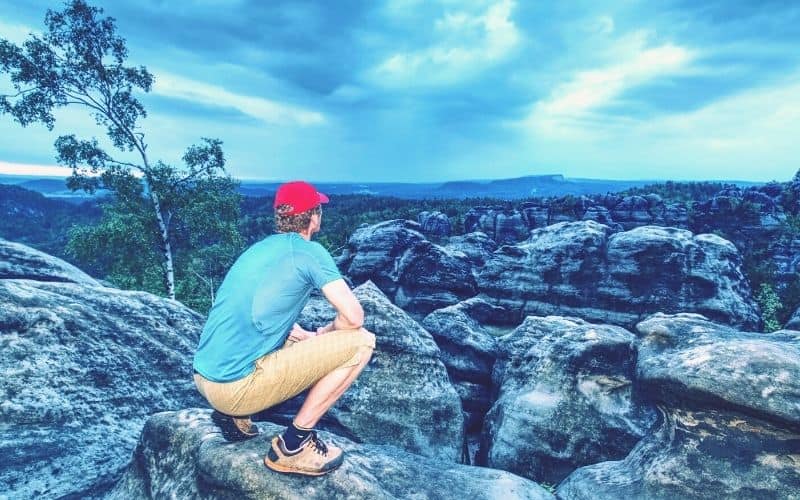 The 8 Best Hiking Shirts
REI Co-op Sahara Long-Sleeve Shirt
Editor's Choice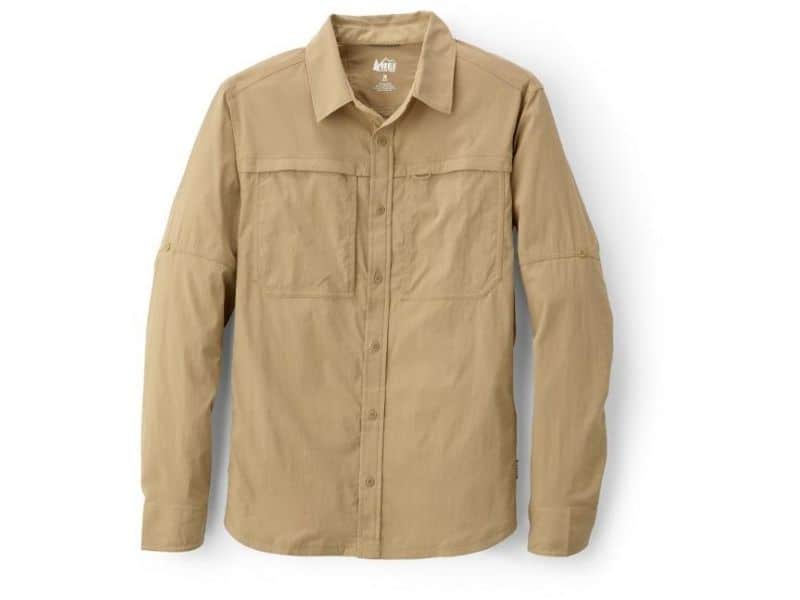 Choosing the best hiking shirt out there from such a wide array of worthy contenders was no easy task. In the end, however, we plumped for the shirt we found to be most versatile, practical, and well-suited to long days on the trails.
The Sahara ticks all the boxes. Its nylon-spandex blend makes it both extra-rugged and durable, and a lot more mobile than most other long-sleeve button-ups. It's also light enough to boast a barely-there feel, has a decent UPF rating, uses an effective antimicrobial treatment to keep odors at bay, and is available in both long and short-sleeve styles.
We also love the small details. With a vented back yoke that adds airflow in this famously air-starved portion of a hiker's anatomy, a duo of chest pockets to store your essentials, and tabs that let you roll up the sleeves to convert to short-sleeve mode when temps are high.
While this is a little less "technical" shirt than the Arc'teryx Elaho and not as high-wicking as the Columbia Silver Ridge, it's far cheaper than the former and almost half the weight of the latter.
Specs
Type: Long-sleeve button-up
Material: 95% Nylon & 5% Spandex
Fit: Loose
UPF rating: 30
PROs

Snap front pocket
Lightweight, breathable, and rugged material
LAVA XL antimicrobial treatment
bluesign-approved fabric
Vented back yoke

CONs

Not as quick-drying as polyester shirts
Bottom-Line: A lightweight, high-wicking, and tough adventure shirt with a few hiking-specific features that make it a pleasure to wear on the trail. One of the best backpacking shirts out there.
Arc'teryx Elaho
Runner Up
If you're looking for a long-sleeve button-up but don't want to lose out on the performance of a technical tee or base layer, the Arc'teryx Elaho might just provide the perfect solution.
The Elaho is pretty much the James Bond of hiking shirts. It wouldn't look out of place on a red carpet or country manor somewhere in the poshest portions of England but is surprisingly badass.
The shirt is made with technical Alatorre fabric (a nylon-elastane blend), which gives it a nice combo of being both stretchy and rugged. While nylon is typically not as breathable as polyester, Alatorre is the exception to the rule and transports body heat and sweat from inside to out quickly.
While the Elaho has a slimmer fit than either the Columbia Silver Ridge or REI Sahara, its gusseted underarms and stretch mean it provides ample freedom of movement.
All in all, probably the best lightweight hiking shirt we've had the pleasure of putting through its paces.
Specs
Type: Long-sleeve button-up
Material: 95% Nylon & 5% Elastane
Fit: Trim
UPF: 20
PROs

Stretchy material
Durable
Moisture-wicking and fast-drying fabric
Snap closures
Gusseted underarms
Zippered shoulder pocket

CONs

Low UV protection rating
Pricey (but worth the extra cost!)
Bottom-Line: A lightweight, svelte, and technical button-up that's tough enough to deal with the rigors of a lifetime on the trails.
Columbia Silver Ridge Lite
Best Long-Sleeve Button-Up
Looking for a performance-oriented, long-sleeve hiking shirt that's capable of keeping you cool as well as protected against harmful UV rays during long days on the trail? If so, the Silver Ridge Lite is well worth a spot on your shortlist.
The SR Lite is made with Columbia's proprietary Omni-Wick and Omni-Shade technology. The former helps the fabric wick moisture away from the skin quickly and the latter prevents sun damage to your skin by blocking UVA and UVB rays. The fabric is also constructed with a ripstop weave, so it's far more abrasion-resistant than standard synthetic fabrics.
Compared to the other long-sleeve shirts on our list, the Sahara and the Elaho, the Silver Ridge is a little heavier. However, its affordable price and extra-durable fabrics make it a solid alternative and among one of the best shirts for backpacking trips out there.
Specs
Type: Long-sleeve button-up
Material: Ripstop polyester
Fit: Loose
UPF: 40
PROs

Moisture-wicking and quick-drying
Men's and women's versions
Antimicrobial treatment
Rear venting
Chest pockets
Good sun protection

CONs
Bottom-Line: An incredibly comfortable shirt with a wealth of dialed-in, hiking-specific features.
Marmot Aerobora
Best Short-Sleeve Button-Up
It's not often that we include a short-sleeve model on our list of the best shirts for hiking, but the highly impressive Marmot Aerobora forced us into a change of policy.
The Aerobora is a great option for hikers who like their clothing to be as packable, breathable, lightweight, and comfortable as possible. It's made with stretchy polyester for unrestricted freedom of movement, has flat-felled seams, packs down to a tiny bundle when not in use, and uses AirExchange performance fabric for added air permeability.
All of the above makes the Aerobora ideal for summer hiking, but its sleek and stylish appearance means it wouldn't look out of place in the office or on a night out on the town.
Specs
Type: Short-sleeve button-up
Material: Polyester
Fit: Regular
UPF: 25
PROs

Flatlock seams
Fast-drying and breathable
Stretchy fabric
Chest pocket
Moisture-wicking

CONs

Low UPF rating
No rear vents or antimicrobial treatment
Bottom-Line: A nicely stretchy, super-comfortable hiking shirt that's versatile enough to wear just about anywhere. 
Patagonia Capilene Cool Trail
Best Value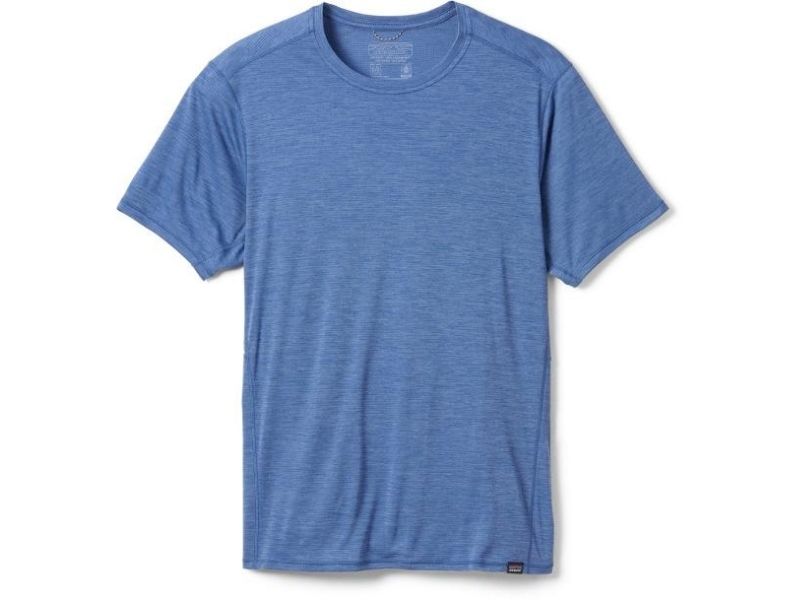 What makes a hiking shirt great value for money?
For starters, it has to score well in every metric – toughness, breathability, mobility, and comfort. Next, it has to have a handful of hiking-specific features that make it more comfortable and practical for use on the trails. Finally, it has to offer a similar level of performance to most of its competitors but at a more reasonable price.
This, folks, is the Patagonia Cool Trail in a nutshell…
This crew neck shirt is light, highly breathable, and as comfy as they come. It also has a tagless design, articulated sleeves and underarm gussets for extra mobility, and a HEiQ Fresh treatment for odor control.
While we prefer the Icebreaker Cool-Lite for layering due it is superior temperature regulation and softer next-to-skin feel, the Cool Trail is a far more affordable choice. Its mobility-enhancing features are also sure to provide added appeal to buyers who find most regular or athletic fits a little too restrictive.
Specs
Type: Long-sleeve crew neck tee
Material: Recycled polyester
Fit: Regular
UPF: N/A
PROs

Lightweight
bluesign-approved and Fair Trade Certified
HEiQ Fresh Durable odor control
Articulated sleeves and underarm gussets
Tagless design
Moisture-wicking

CONs

No ventilation panels
Less breathable than merino-synthetic fabric
Bottom-Line: A very well-made and carefully designed shirt that's ideal when worn either as part of a 3-piece layering system or on its own. 
Smartwool Merino Sport 150 T-Shirt
Top Tee
This merino wool tee is a true workhorse and probably the most comfortable of the bunch.
The Sport 150's merino wool and polyester blend mean it excels in every metric, combining awesome moisture-wicking capacities, natural odor resistance, and thermoregulation with impressive durability. It also dries quickly when wet and is more resistant to abrasion than other shirts that use a higher percentage of merino wool.
A few non-standard features make the Sport 150 just a little better for hiking than its closest competitors, namely its use of rear vents and strategically located mesh panels that boost airflow in all the right places. Whether you're on a hot summer hike and or wearing it as a baselayer in 3-season conditions, these add-ons will help keep you cool and sweat-free.
All of the above also makes the Sport 150 a more versatile choice than our list's other short-sleeve tee, the Columbia Zero Rules, which is better suited to standalone use in searing temps and too thin to serve as an effective baselayer in three-season conditions.
Finally, the "ultrafine" merino wool fibers with which this hiking shirt is constructed provide superb next-to-skin comfort.
Specs
Type: Tee
Material: 56% Merino Wool & 44% Polyester
Fit: Regular
UPF: N/A
PROs

Lightweight
Moisture-wicking
Naturally antimicrobial
Flatlock seam construction
Mesh inserts
Rear vents

CONs
Bottom-Line: An incredibly comfortable tee that offers all the awesomeness of merino wool combined with the durability and quick-drying capacity of polyester.
Icebreaker Cool-Lite Merino Sphere
Best Long-Sleeve Tee
The name Icebreaker has become virtually synonymous with high-performing, outstandingly well-made merino clothing in recent years. And in the Cool-Lite Merino Sphere, we find a perfect example of why this brand's popularity has skyrocketed worldwide.
The Cool-Lite offers all the usual awesomeness of merino wool – excellent temperature control, next-to-skin comfort, moisture management, and natural odor control. On top of that, it throws in added durability and thermoregulation courtesy of its 35% TENCEL and 13% nylon content.
All of the above makes this hiking shirt ideal for year-round use – it's great as a baselayer in winter, spring, and fall, and awesome as a standalone layer when you need decent sun protection and added air permeability in hot conditions.
This is a pricier option than the Patagonia Cool Trail and lacks a few of that shirt's features, like underarm gussets and articulated arms. However, the Cool-Lite's ability to regulate body temperature and superior breathability make it a better pick for high-output hiking.
Specs
Type: Long-sleeve crew neck
Material: 52% merino wool, 35% TENCEL, 13% nylon
Fit: Regular
UPF: 25
PROs

Lightweight
Durable
Highly breathable and moisture wicking
Antimicrobial
Flat shoulder seams eliminate chafing on backpack straps

CONs
Bottom-Line: The Cool-Lite offers great thermoregulation, awesome next-to-skin comfort, and is impressively durable to boot.
Columbia Zero Rules
Best Budget
If you're looking for a lightweight, technical summer tee that won't break the bank, the Zero Rules shirt is well worth considering.
The Zero Rules is made with impressively tough, zero-interlock polyester fabric and uses the brand's proprietary Omni-Wick, Omni-Shade, and Omni-Freeze technologies, each of which provides all the attributes a great hiking shirt needs.
The Omni-Wick technology shifts your sweat in a hurry, the Omni-Shade helps to prevent UV rays from damaging your skin, and the Omni-Freeze technology works to keep you cool in toasty conditions by decreasing the fabric's temperature.
This shirt also has an effective antimicrobial treatment that keeps odors to a minimum, flatlock seams, and a chafe-free label. While we'd opt for the Smartwool 150 or the short-sleeved version of the Icebreaker Cool-Lite if buying a shirt for layering or year-round use, this one's perfect for summer hiking.
Specs
Type: Tee
Material: 100%Polyester
Fit: Active
UPF: 30
PROs

Ultralight
Affordable
Omni-Wick, Omni-Shade, and Omni-Freeze technologies
Antimicrobial treatment
Chafe-free seams and labels

CONs

Too thin for three-season hiking
Bottom-Line: This ultralight shirt's awesome breathability, solid sun protection, and high-wicking fabric make it ideal for hiking in hot conditions. One of our favorite hiking t-shirts for summer!
How to Choose
Material
Nothing impacts more on a shirt's performance than the material it's made with. Below, we've added a short at-a-glance overview of various material types and what they have to offer.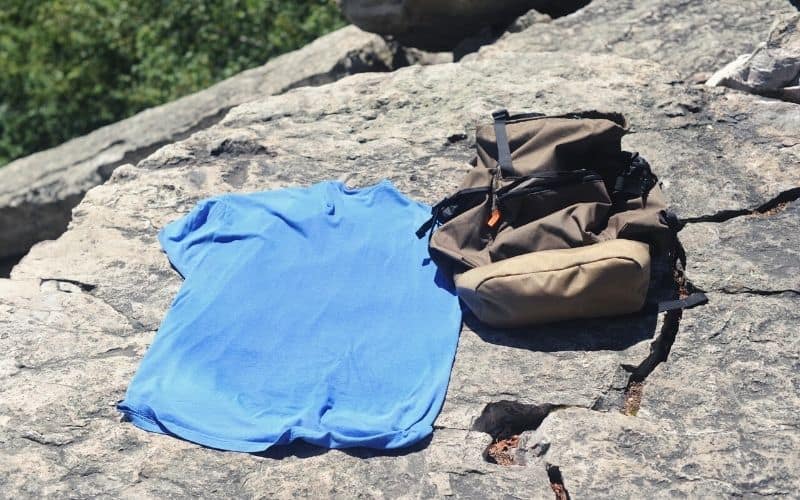 Merino wool
Merino wool is generally considered to be the perfect fabric for hiking shirts, socks, underwear, and pretty much everything else you wear aside from your rain gear. This is because it's breathable, odor-resistant, moisture-wicking, quick-drying, and lightweight.
Merino is also a thermoregulating fabric, meaning it helps to keep you cool when temps are high and warm when temps are low.
The only downsides to merino are that it's (darned!) pricey and less durable than synthetics. That said, most merino shirts integrate polyester or nylon to increase longevity and make them less vulnerable to rips and punctures.
Synthetic Materials (Polyester and Nylon)
The two most common synthetic materials used to make hiking shirts are nylon and polyester.
Both of these are cheaper and more durable than merino, and also quick-drying, breathable, and moisture-wicking. On the downside, they're not as soft to the touch and are far less odor-resistant.
Of the two, nylon is the most durable and abrasion-resistant option, while polyester is the most breathable.
Cotton
Cotton is a super-comfortable fabric and, when dry, is also highly breathable. The trouble with this fabric, however, is that it can hold up to 25 times its own weight in water because it has virtually no moisture-wicking capacity. And when it's wet, it loses nearly all of its breathability, too. As such, cotton's only a good option for lazing around camp or very low-intensity hikes.
Durability
Hiking shirts have to be able to deal with a little more rough treatment than your average daywear.
Generally speaking, natural fabrics are more likely to tear than synthetics. However, most shirts made with natural fabrics, like the Icebreaker Cool-Lite and Smartwool Merino Sport, typically include polyester, nylon, and/or spandex to increase stretch and ruggedness.
Some shirts, like the Columbia Silver Ridge Lite, use a "ripstop" weave to add extra ruggedness.
Comfort
In our experience, natural fabrics like merino offer the most impressive next-to-skin comfort, with polyester-based shirts coming in second and nylon, which is a little tougher, coming in third.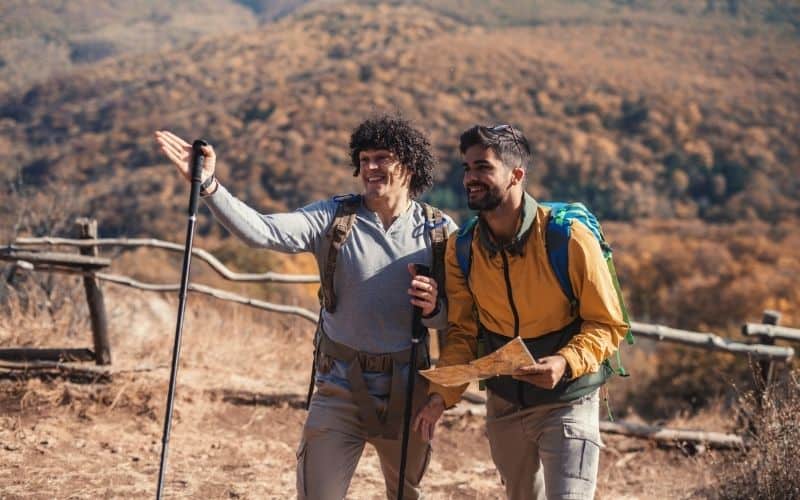 Whichever material the shirt's made from, the features most conducive to comfort are "flatlock seams" and a tag-free design.
"Flatlock" seams are seams that are sewn directly together where each piece of fabric ends. This helps to reduce the risk of chafing caused by standard overlapping seams. Tagless designs, on the other hand, eliminate neck/hip tags for itch-free comfort.
The fit of the shirt is another key contributor to comfort. This, of course, is highly subjective so when buying be sure to read the product specs to find the fit you prefer – slim, trim, regular, athletic, and so on. That said, it's worth noting that looser fits can often cause chafing if the material is so loose that it bunches up between your back and backpack.
Types of Hiking Shirt
Tee, long-sleeved tee, or button-up? Below, we provide a brief overview of the benefits and drawbacks of each style of shirt:
T-shirts
Lightweight
Ideal in hot weather
Thinner material allows you to layer them more easily
Less sun and bug protection
Button-ups
Superior ventilation
Loose fit
Long-sleeved models provide added sun protection
Collar protects your neck
Often include mesh panels for added ventilation and chest pockets for storage
Long-Sleeved Baselayer/Tee
Versatile – can be worn as standalone shirts or as a baselayer, making them ideal for year-round use
Most have an athletic fit
Usually made with high-wicking, breathable fabric
Typically stretchier than button-ups
Less ventilation than a button-up
Antimicrobial Qualities
Shirts that have antimicrobial properties work to repel bacteria and thus reduce body odors.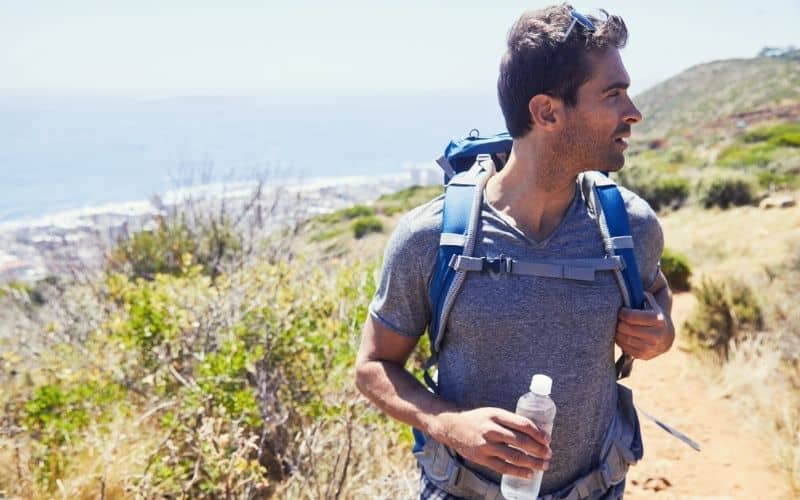 Merino wool is naturally antimicrobial, but shirts made with other fabrics sometimes use treatments to enhance their antimicrobial properties. A good example is the Patagonia Cool Daily, which uses HEiQ Fresh Durable odor control technology in the fabric.
Sun Protection (UPF Rating)
Whatever time of year you're hiking, the sun's harmful UV rays pose a serious threat to your skin. To protect yourself against sunburn and skin damage, we recommend choosing a shirt with a high UPF rating (UPF 30 – UPF 50), particularly if you plan on hiking in mid-summer or in the snow (the white stuff reflects and intensifies the sun's rays).
Features
Hiking shirts aren't typically blessed with many features. There are, however, a few that can make a big difference to the shirt's suitability for life on the trails:
Gussets – These are inserts of extra material placed in the underarm to provide better freedom of movement.
Rear Vents – These improve airflow in the portion of the shirt most prone to saturation with sweat.
Pockets – Rarely found on baselayers, but a common feature in other styles of shirt, these are handy for storing small items you don't want to keep in your pack or pants pocket.