Whether you have an hour or a couple of days, Mississippi has a ton of hiking trails suitable for hikers of all fitness and experience levels. These range from easy-peasy strolls to more challenging multi-day adventures.
What they all have in common, however, is that they provide a way to see this charming and unique state like you've never seen it before.
Below, we introduce you to seven of the best of them in our guide to the best hiking in Mississippi. 
7 Of The Best Trails In The Magnolia State
1. Tuxachanie Trail, De Soto National Forest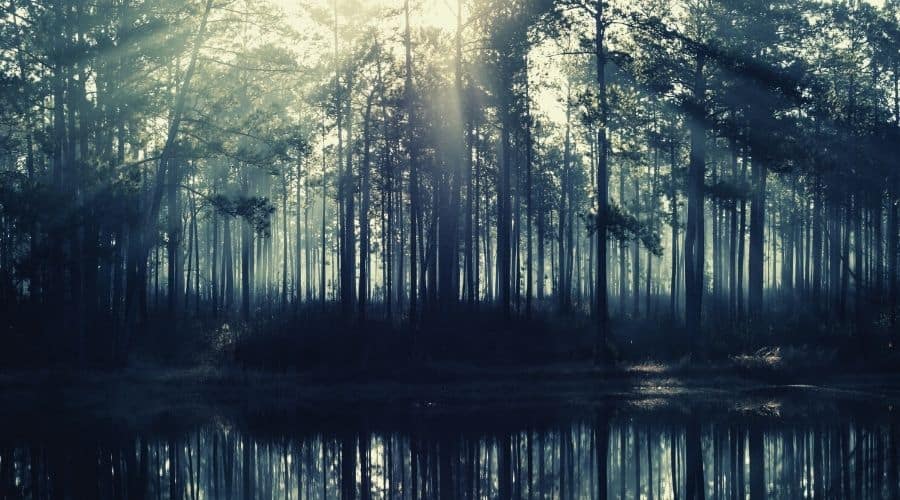 This popular 13.2-mile point-to-point (one-way) trail is a beautiful and mellow hike located within DeSoto National Forest. It offers a pleasant hike showcasing wildflowers, a small forest, a lake, bogs, and swamps, along with slices of American history.
The trail itself follows a defunct lumber railroad that's been converted for hiking and entails a mere 500 feet or so of elevation gain from start to finish.
If you'd like to get a breath of fresh air but don't have a full day, you can choose to hike out-and-back to make the hike any length you desire. With three different trailheads, the Tuxachanie offers flexibility for every hiker.
If you are feeling the spirit of adventure beckon you forth, you may opt to explore this trail over two days by hiking from the trailhead to the Airey Lake campground and back.
For those looking to hike the entirety of the route, head to the Tuxachanie trailhead. This is located across from Oak's Package Store in Saucier, on the east side of Interstate 49. Parking is available.
The first mile of the Tuxachainie from this trailhead is often crowded. As such, you may want to venture a little deeper if you are looking to connect with the serenity of nature alone.
Travel back in time to the mid-20th century and scramble in and around a prisoner-of-war camp that held German and Italian soldiers in WWII. It can be found in the POW Lake Recreation Area. Hikers can drive there to view the ammunition bunkers, the only remnants of the POW camp that held up to 100 men.
Starting in mid to late March, wildflower viewing can begin in earnest. Golden club, Star-anise, and Wild azaleas among other delights decorate the trail. Be sure to bring a wildflower guidebook! This area offers delicate beauty in abundance, for those that are willing to slow down and soak it in.
There is an abundance of mosquitoes and reported snake sightings. Pack adequate protection in the form of spray and snake bite kits. Wear boots to protect yourself from possible snake encounters. Remember that you are in a National Forest, and to bring everything you think you'll want with you.
The Airey Lake campsite is free and operates on a first-come, first-served basis. Fire pits are allowed, as are pets. There are no showers but there is a water pump. Be sure to bring your own toilet paper (just in case) and hand sanitizer!
2. Little Mountain Trail, Natchez Trace Parkway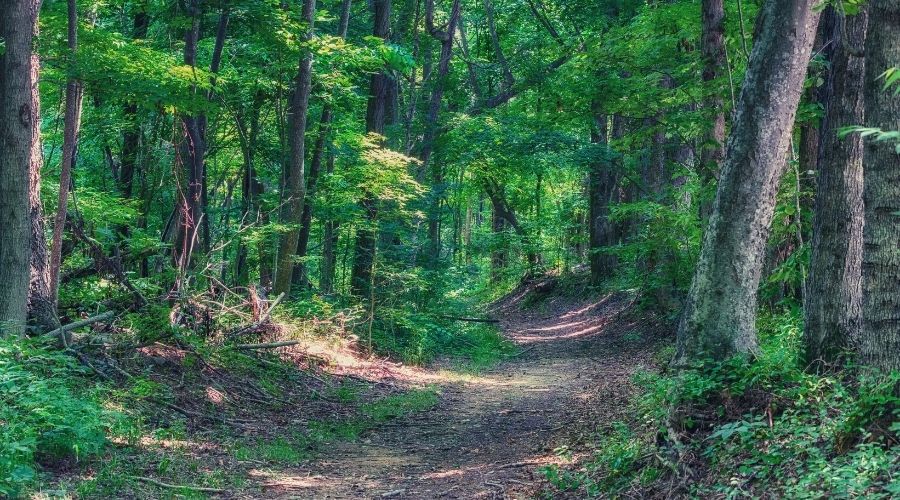 This short and sweet 1.6-mile round-trip hike is located in Jeff Busby Park and makes for great hiking. The hike can be even shorter (.5 miles) if you start at the Little Mountain Overlook. This is recommended as a starting point if you're not camping. Whichever option you choose, enjoy the view from the second-highest point in Mississippi.
The Little Mountain Trail is family-friendly (including your furry family members), and easy for all ability levels. This is the perfect hike to ease the little ones into nature while offering rewarding views.
Capture the imagination of your fellow hikers by highlighting the notable points of Native American history relating to the Choctaw and Chickasaw Indian Nations that abound along the Natchez Trace Parkway. Connect the past and present by acknowledging the rich history that surrounds the park.
If you're available for more than an afternoon, pop into the Jeff Busby Campground. A free, first-come, first-served campground. Take your pick of 18 campsites. All sites have a picnic table and grill available for use.
Traveling with an RV? We should tell you now that there are no waterspouts or electric hook-ups at the Jeff Busby Campground, so make sure to plan ahead!
To get there, drive along Natchez Trace Parkway to milepost 193, close to Ackerman.
3. Tanglefoot Trail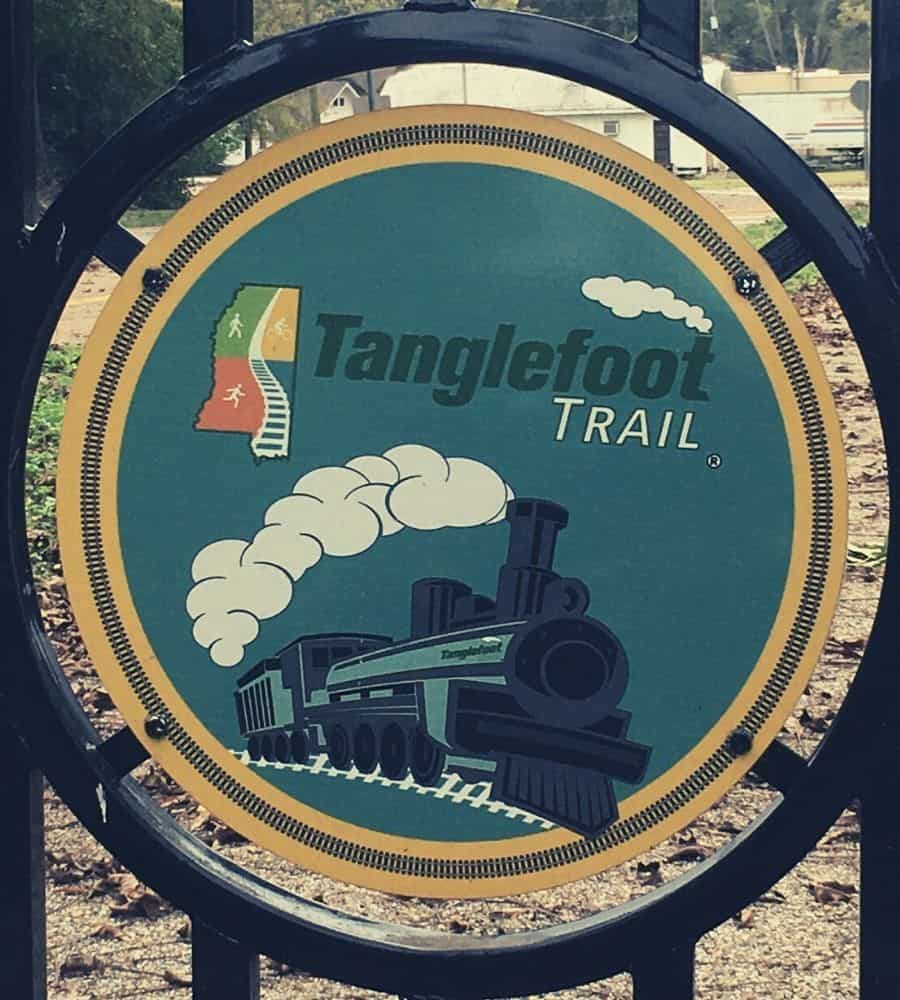 Lace your boots up for a grand adventure as your feet grace this 43.6-mile trail that once served as railroad track and now links New Albany and Houston by foot or bike. You can choose to begin in New Albany, only a 30-minute drive from Holly Springs and hike the whole trail in a weekend, or take the trail piece by piece.
Traveling to the trail from Holly Springs will take you through Holly Springs National Forest, a pleasant drive that serves as a lovely entrée to a great day outdoors.
Located in the Mississippi Hills National Heritage area, this trail runs through five small towns, each with its own unique character and charming personality.
Walkers, runners, bikers, and naturalists are welcome to explore this area and all it has to reveal to the keen-eyed observer.
Alight aboard a journey that will take you through the story of Mississippi itself. From the story of Native Americans to western explorers and one of America's most famous writers, the Tanglewood has been the backdrop of epics small and large.
It is believed that the trail was first created by Native Americans. King Ishtehotopah of the Chickasaw Nation lived along what is now called "King Creek," before the Chickasaw Nation was forcibly moved into Indian Territory during the "Great Removal." This event is now referred to as the "Trail of Tears."
The trails were also used by explorers in the early annals of Western Settlement on the continent. Hernando de Soto and Meriweather Lewis (of Lewis and Clark notoriety) passed through these areas once before.
Storied author and Nobel Prize winner, William Faulkner's family history is tied up in the saga of the Tanglewood as well. His great-grandfather, Col. W.C. Faulkner headed the effort to build the railroad tracks that hikers' feet pad along today after the railroad was abandoned and then repurposed into a recreational trail.
Allow yourself the luxury of soaking in the many charms of the small towns of Ingomar, Ecru, Pontotoc, Algoma, and New Houlka along the trail. Take your pick of any of these small towns that define the area. Serving as a welcome respite from the heat, grab lunch or a coffee before returning to the well-trodden path that links past and present in Mississippi.
If you have time, be sure to visit the pottery studios, boutique stores, and antique shops. These will remind you of the quirks and intrigue of these towns that serve as delightful rest stops.
There are plenty of public restrooms situated at thoughtful intervals along the path (though many may be closed in winter, please check announcements before going).
You can begin and end your hike at any point of the 43.6 miles, depending on your day and needs.
4. Bonita Lakes Trail, Bonita Lakes Park
Bonita Lakes Trail is a moderate 7.6-mile loop hike that is centered around Bonita Lakes Park's northernmost lake. Nestled snugly in the Meridian area, this 3,300-acre city-owned free park offers picnic areas, fishing, and even a golf course.
The hike itself is manageable for the whole family, yet may not be your first pick when considering the length. You can complete the hike in one loop, or hike out and back in either direction from the trailhead.
Bonita Lakes Trail follows the slopes and gullies of many hills. Though the hills themselves are not very steep, their quantity makes this hike a bit more challenging than others described so far.
5. Bear Creek Outcropping Trail, Tishomingo State Park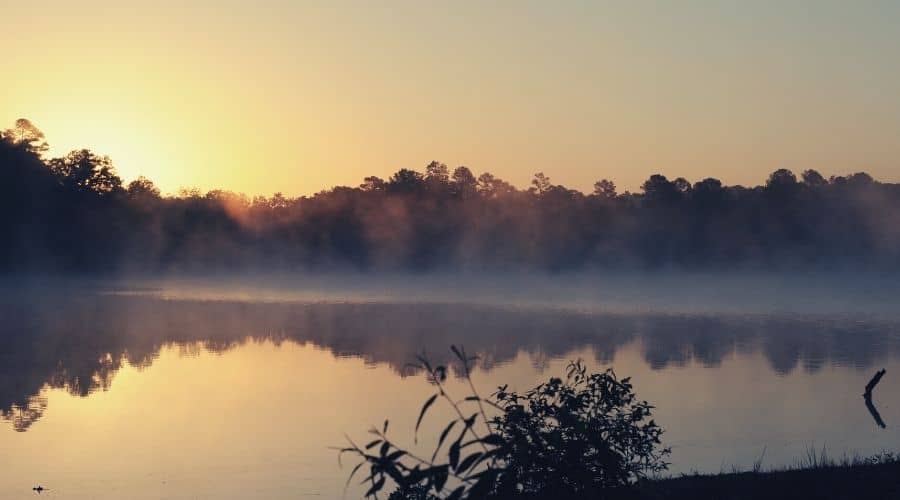 Bear Creek Outcropping Trail is short but moderately challenging hike that winds its way through rocky, you guessed it from the name, outcroppings, waterfalls, springs, and fresh spring water fountains.
This roughly 2-mile-long scenic trail and its features pack a fun punch that will deliver a memorable day hike for the adventurous spirit. Beginning and ending by crossing the "Swinging Bridge," which was built by the Civilian Conservation Corps (CCC) in 1937. Peek below and you may see a few turtles and expectant ducks.
Take a moment to appreciate Native American life along your hike. Archeologists have confirmed that Paleo-Native Americans lived in Tishomingo State Park as early as 7000 B.C.
When you run your hands across the rock formations, you may be tracing the same pattern as beings nearly 900 years ago. The park itself is named for Chief Tishomingo, leader of the Chickasaw Nation.
The waterfall is located approximately at the halfway point of your hike, regardless of whether you go right or left in the loop.
Keep an eye out for those aforementioned rock climbers! They'll be testing their limits on limestone and sandstone rock formations that are not seen in other parts of Mississippi. Chickasaw Indians are believed to have once lived in the caves that dot the rocky outcroppings.
As fun and exciting as the hike may be, it might not be suitable for younger children. The terrain can be technical and challenging for beginners. There is a swimming pool and many other family-friendly options available, however.
Happy canoers on the river engage in a daily 6.25-mile river float from mid-April to mid-October. The park also offers rustic cabins for rent for $65 a night and tent camping sites.
Access is easy, just drive right up to the Swinging Bridge parking lot and head on your way. A $4.00 daily usage fee is collected upon entry (remember to bring cash). Dogs are allowed but only when leashed.
6. Fontainebleau Nature Trail, Mississippi Sandhill Crane National Wildlife Refuge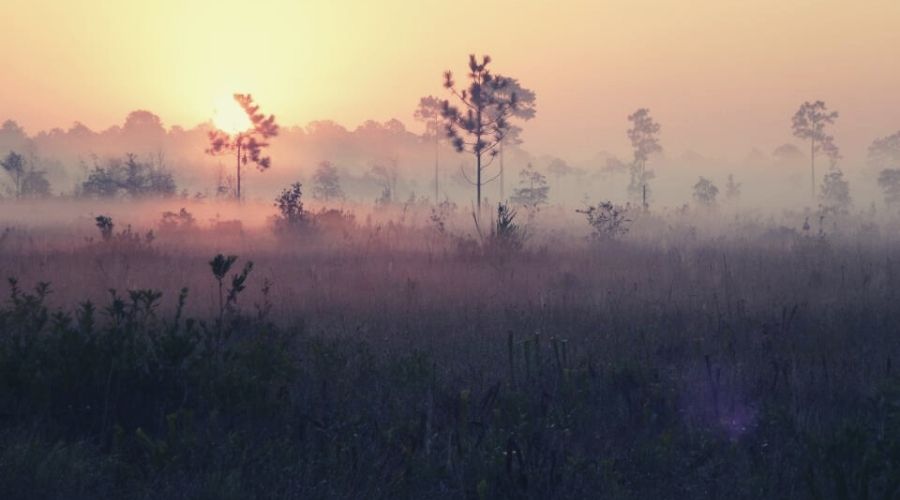 Located near Ocean Springs, Mississippi. This easy hike is a crisp 1.6 miles long and has beautiful views of the Davis Bayou within a pristine National Wildlife Refuge. This hike can be completed in a loop, with an option to extend your hike by tacking on the .05-mile out-and-back Forest Trail hike at the halfway point of the loop.
Winding its way through idyllic pine groves, the Fontainebleau Nature Trail is home to many bird species, most notably, the Mississippi Sandhill Crane. These birds can be 3 to 4 feet tall with a wingspan of over 7 feet wide. If you're extremely lucky, you may even catch a glimpse of one.
There are only 100 individuals left of this critically endangered subspecies. A sighting is sure to be the highlight of your hike so remember to bring your binoculars and perch on one or both of the observation decks. Watch your step, as alligators have been spotted sunbathing on or near the trail!
The Fontainebleau Nature Trail is dog friendly, though they do need to be leashed!
Head south on Highway 57 from I-10 to Highway 30. Take the turn heading south on Hanshaw Road. The trail is on the eastern side of the road, next to Ocean Springs Middle School.
7. Mayes Lake, Lefleur's Bluff State Park
Located in the center of Jackson, LeFleur's Bluff provides a welcome green space for those seeking a break from the humdrum of city life. Explore the history and natural wonder in this oasis within Mississippi's bustling capital.
This 305-acre space allows for camping, hiking, and fishing. Treat yourself to an easy-to-moderate jaunt around 30-acre Maye's Lake.
Maye's Lake was formed in connection to the Pearl River as an oxbow. The lake floods often due to the Pearl River. This regular influx allows for a rich fish ecosystem.
The hike itself can vary widely in length, but won't be more than 2 miles long. Flood levels will largely dictate your hike, as the 5 trails (Yellow, Green, Blue, Red, and Purple) may or may not be usable.
Only hikers are allowed on these trails, giving those of us only using our own two feet ample room to roam and making this one of the most peaceful walks in Jackson, MS.
Looking for a longer experience? Maye's Lake Campground boasts 28 sites with a bathhouse and hot showers (including RV capability and picnicking areas). Booking ahead is recommended as the campsite is popular.
There is a $4.00 daily entrance fee per vehicle with $.50 per each person over 6 people.
Spice up your hike by dropping into the plethora of events held in the park and around the lake throughout the year. They can be a welcome addition to a day of hiking with the family! If you'd rather avoid the crowds, check ahead to ensure you'll get the space you need.
Hiking? Mississippi? You Betcha!
Hiking in Mississippi can take many forms. Whether you're looking for an easy hike with the family or something a little more challenging, you can find what you're looking for in the Magnolia State.
Be sure to pack some bug spray and wear your hiking boots, but more importantly, remember to breathe and take in the richness that defines MS.
Did you enjoy our guide to the 7 must-hike trails in Mississippi? If so, or if you have any questions, let us know in the comments box below!