Best Women's Hiking Underwear
Smartwool Merino 150 Bikini
Want to treat your underparts to the best hiking underwear for women your money can buy? You can't go wrong with the Smartwool Merino 150 Bikini. Combining peerless odor-resistance with all-day comfort, outstanding moisture management, and impressive durability, these lightweight, high-performing undies are a must-have accessory for all outdoor-loving ladies.
The Merino 150 Bikini is a win-win kinda undergarment—it insulates in the cold and cools you down in the heat. It's also made with more durable fabric, is quick-drying, and weighs next to nothing. And thanks to the merino wool's natural odor-control, this bikini-style brief can be worn for hours (even days!) on end without starting to stink up.
Bottom line: Smartwool's Merino 150 Bikini is popular among the ladies for a reason. It might be a little bit expensive, but it performs well in every metric and offers great value for money nonetheless.
The Top Women's Hiking Underwear
Looking for great underwear for hiking?
You're in the right place! In this guide, we will be covering the following:
How to select the best womens hiking underwear for you
Honest reviews of the 7 top women's underwear
Our pick of the top hiking underwear for 2023
Splashing out on a pair of outdoor-specific panties for your time on the trails might feel a little over the top. After all, compared to tents, sleeping bags, boots, jackets, etc., this negligible little piece of kit seems far less important.
But is it?
The short answer: no.
The longer answer: a resounding no!
Having the right underwear for your hikes can make the difference between a happy time on the trails and a miserable time. Or, to be more specific, between comfort and repeated wedgies, chafing, sores, and underparts soaked in sweat.
We know which of the two we prefer! If you're of the same mind, read on to find the best women's hiking underwear your posterior and lady parts could ask for…!
Women's Hiking Panties: Features to Consider
The characteristics and attributes of the best women's underwear for hiking are very different from those of regular undergarments. Although looks may be important to some wearers, while out in the wilds, performance should always be the priority.
To help you choose the most high-performing panties/shorts/bikini/briefs for your trail-time, we've put together a short guide to the main features to consider when buying women's hiking underwear.
Comfort, Fit, and Style
There's no universal style that fits and suits everyone. However, certain cuts are more likely than others to keep you feeling comfortable throughout your hikes. Styles like boy shorts, bikinis, and hipsters are highly recommended. Bikinis or brief cuts, in particular, are less likely to bunch up, so you won't have to keep tugging them back into place.
Thongs and similarly-styled models aren't a good option for hiking because they tend to give you wedgies and can cause irritation and chafing. Plus, their scanty coverage provides your intimates with very little insulation in colder temps.
Low-cut briefs or panties are also a safer bet. Not only do they prevent chafing at the hips, but also fit more styles of trekking shorts, pants, and, sometimes, leggings. High-waisted panties, on the other hand, are better at keeping your obliques warm during winter but can rub against your back if they have thicker seams.
Whichever style you choose, make sure you opt for a seamless design or with flatlock seams to reduce the risk of chafing.
Breathability and Wicking
As a form of base layer beneath your baselayers, the best hiking underwear has to be able to let your skin breathe and shift sweat in a hurry. If not, the subsequent layers in your layering system won't be able to keep you dry.
The biggest indicator of breathability is moisture-wicking capacity. This refers to the fabric's ability to absorb sweat from the skin and convey (i.e. "wick") it to the fabric's outer surface to evaporate, thereby helping to keep you cool, dry, and comfortable.
Wool and other synthetic fabric blends are excellent "wickers". Most are also lightweight and quick-drying. Cotton, on the other hand, does the opposite. It absorbs water at rates comparable to toilet paper, which, as you might expect, ain't too conducive to comfort and is pretty certain to cause irritation and chafing.
Fabric Type
There are two major types of fabric used in the best women's underwear for backpacking & hiking: natural and synthetic. The most popular natural fabrics are merino wool and bamboo, while synthetic varieties include polyester, nylon, elastane, and lycra.
Merino wool is very soft, breathable, quick-drying, and feels great against the skin even when wet. Because of this, it's a popular choice of baselayer and ideal for any clothing that's in contact with the skin.
Bamboo is a newcomer fabric that's gaining in popularity by the day. It's soft, silk-like in its feel, and even hypoallergenic. Bamboo adds additional appeal on account of being both eco-friendly and sustainable.
Similar to their naturally made counterparts, synthetic fibers are also good at wicking moisture. However, they're less expensive, more readily available, and harder-wearing. So why aren't we all wearing synthetics? Well, not all synthetics are as eco-friendly, odor-resistant, and comfortable as their natural cousins.
Most undies out there use a combo of materials to optimize performance, with both natural and synthetic fabrics typically adding 5-15% of nylon and either spandex or elastane to improve durability and enhance stretch. As a general rule, the higher the nylon content, the more likely the product is to last. Likewise, the more spandex or elastane, the more mobility it will provide and the more it will conform to your figure.
Odor Control
As we all know, our nether regions don't always smell like a bunch of flowers, least of all after a long day (or two) on the trails. Sweat, particles from poop and pee, and the invisible swarms of bacteria that like to set up home in our bodies' sweatiest regions all combine, alas, to make our intimates a little less immaculate than we'd ideally like. 
Further Base Layer Reading
The result? A pong ranging from moderate to malevolent, depending on how hard we're working out and how long we've been on the trails.
To help stifle the stink, we recommend choosing underwear with blends of merino wool or bamboo, both of which are naturally resistant to odor-producing microbes. Merino's lanolin, in particular, actively kills the bacteria found in sweat.
While manufacturers often add antimicrobial treatments to nylon, polyester, and elastane to remedy their lack of natural odor resistance, this eventually fades away after several washes.
Durability and Wash Care
Any outdoor garment lasts longer if it's laundered carefully. You should wash your underwear using a medium spin at a low temperature. Use a mild detergent, avoid bleach, and try a spot-treatment for stains instead of soaking overnight.
Finally, don't use fabric softeners as they tend to impair garments' elasticity and breathability, and let your underwear air dry on a line or indoors at room temperature, which helps to maintain their shape in the longer term.
The Best Hiking Underwear for Women
ExOfficio Give-n-Go Sport Mesh Bikini Brief
Best Synthetic
While natural fabrics are typically seen as an upgrade on synthetics, that's not the case with the ExOfficio Give-n-Go Bikini Brief.
Made with a 93% nylon and 7% spandex blend, these briefs are every bit as breathable as anything else we've had the pleasure of wearing on our wanders. This owes mainly to the ultra-light, diamond-weave mesh, which is designed to provide plenty of ventilation while tastefully covering your butt.
The soft fabric and use of flatlock seams give the Give-n-Go Sport Mesh Bikini Brief wear-all-day kinda comfort. It also performs well in wet and humid conditions, drying quickly and remaining rub- and irritation-free even if you manage to get a soaking.
If buying this bikini style brief, we recommend going down 1 to 2 sizes to get the best fit. For reasons best known to the brand, ExOfficio's underwear is sized a little larger than the market average.
Finally, the briefs featured in this review have a higher waistline than other options in our review. However, if you're more of a low-cut kinda gal, ExOfficio also offers a hipster version that sits comfortably on the hipline.
Bottom line: a high-performing, reasonably priced synthetic option that gives the very best of the natural alternatives a run for their money in terms of breathability, comfort, and quick-drying capability.
PROs

Highly breathable
Quick-drying
Flatlock seams
Generous rear coverage

CONs

Sizing runs large
High waist
Bottom-Line: A high-performing, reasonably priced synthetic option that gives the very best of the natural alternatives a run for their money in terms of breathability, comfort, and quick-drying capability. 
Patagonia Barely Hipster
Most Comfortable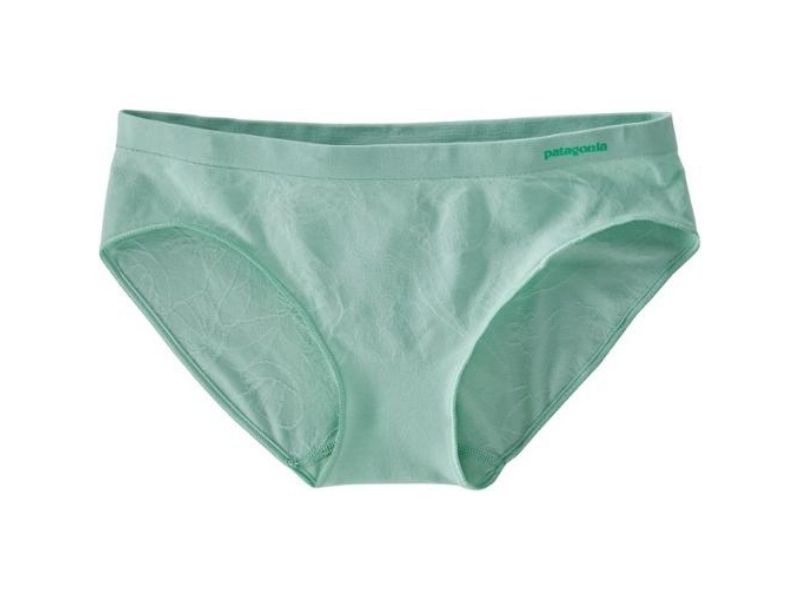 The Patagonia Barely Hipster is the equally lightweight, comfortable, and eco-conscious partner to the Barely Racerback Bra.
The Barely Hipster's bottom line is comfort. Oodles of it. It's made with an eco-friendly blend of recycled nylon and spandex that feel great on your skin, offers just the right amount of stretch, and wicks as well as almost any other underwear on our list. The minimalist seams and use of a non-constricting waistband that's weaved into the garment instead of sewn-in further enhance comfort and increase the chances of chafe-free days on the trail.
True to its name, the Barely Hipster really does feel like it's not even there. It's lightweight. It doesn't ride or bunch up when striding up steep inclines. And it dries fast, making it ideal for quick dips in the creek on hot summer slogs.
Appearance-wise, the Barely Hipster is a bit plain, using earthy colors that won't appeal to all tastes. That aside, there's very little else to find fault with.
PROs

Very comfortable
Fast-drying
Lightweight
Fair Trade Certified
Form-fitting shape

CONs
Bottom-Line: A wonderfully comfortable option that scores high in every desirable attribute for hiking underwear barring appearances.
Smartwool Merino 150 Bikini
Best Hiking Underwear for Women
In recent years, Smartwool has established itself as one of the big-wigs in the outdoor clothing scene. And with products like the Merino 150 Bikini in their catalog, the brand's soaring rise in popularity is easy to understand. They're durable, boast effective moisture wicking, and control odors better than any other underwear we know. In short, they're ideal for your time on the trails.
Smartwool's 150 Bikini is made with 87%, high-quality merino wool. An often-cited trait of this super-soft fabric is that it provides plenty of warmth in cold weather but is a touch too toasty when temps are high. However, this is not the case with the 150 Bikini. On the contrary, it manages moisture effectively, breathes well, and feels featherlight and airy even when you're working up a serious sweat.
The 150 Bikini also offers impressive odor-resistance and is made with core-spun fabric, which means the wool's fibers have been twisted around a nylon fiber core to make it more hard-wearing.
But the Smartwool 150 Bikini is not without a few negatives. Firstly, the sizing runs small, meaning you'll need to size up when buying. Secondly, this underwear is a prime example of the old "you get what you pay for" schtick. What you get's an outdoor-specific, high-performing pair of panties that will last you longer than most natural-fabric competitors. What you pay, however, may be a little too much for the appetites (and budget!) or many would-be buyers.
PROs

Effective moisture wicking
Impressive odor-resistance
Lightweight
More durable than most merino alternatives

CONs

Expensive
Sizing runs small
Bottom-Line: Durable, form-fitting, breathable, comfortable, and kinda sexy to boot, the 150 Bikini is a trail-ready pair of underwear no trail-loving lady should be without. 
Boody Body EcoWear Women's Full Brief
Best Bamboo
There are plenty of high-performing bamboo panties on the market but, for our money, the best of the bunch is the Boody Body EcoWear Full Brief. Aside from being made with eco-friendly materials, these briefs boast an array of features that make them far more hiking-specific than most of their bamboo-made competitors.
Made with 80% bamboo viscose, 13% nylon, and 7% spandex, the brief is extra-soft but not at all flimsy and is stretchy enough to conform to your figure and provide plenty of mobility. It has a slightly silky texture that feels amazing next to the skin and wicks moisture just as well as any other underwear on our list.
The design of these briefs is also a winner for outdoor wanders. They use a wide, no-roll, and non-constricting waistband that doesn't hug the waist too tightly and sits just below the belly button, meaning it's less likely to chafe or cause irritation when rubbing around your backpack or the waist of your pants.
However, it should be noted that these briefs aren't quite as breathable as models like the Smartwool Merino 150 Bikini, meaning they do have a tendency to make things a little toasty down there in hot weather.
Like many of the models on our list, the sizing on these briefs runs small, so go a size up when buying.
PROs

No-roll waistband
Very comfortable
Effective moisture wicking
Eco-conscious

CONs

Sizing runs small
A touch too warm for higher temps
Bottom-Line: It might lack a little in the way of breathability, but the Boody Body EcoWear Women's Full Brief feels capital "A" Awesome against your skin and boasts a design that's ideal for adventurous ladies with both fuller and more slender figures.
Icebreaker Sprite Hot Pants
Best Women's Winter Option
Keeping your "underbits" warm in winter is every bit as important as keeping the rest of you warm. Just like gloves for your hands, wooly socks for your feet, and a beanie for your dome, insulated underwear will provide the warmth you need to fend off the freeze, and none do a better job of it than the Icebreaker Sprite Hot Pants.
This newest addition to Icebreaker's long line of almost universally adored underwear is a boyleg panty specially designed for winter hiking. With a design that offers full coverage from front to back and fabric made from 96% merino wool, these hot pants are true to their name and perfect for winter walking and cold-weather camping.
The Icebreaker Sprite Hot Pants also dry far quicker than you'd expect and boast plenty of stretch thanks to its ample 4% lycra content, which also prevents this boyleg panty from bunching up in the middle during long walks.
And the downsides? With the exception of the price tag and a little too much warmth for summer hiking…none!
PROs

Insulating
Excellent coverage
Very stretchy
Quick-drying

CONs

Expensive
Not for warm-weather trail-time
Bottom-Line: These insulated undies might be a touch pricey, but they more than make up for it with outstanding cold-weather performance, all-day comfort, and enough wicking to stop things getting too sticky when working up a sweat. The best underwear for women for cold-weather hiking adventures? You betcha! 
REI Co-op Active Hipster
Best Budget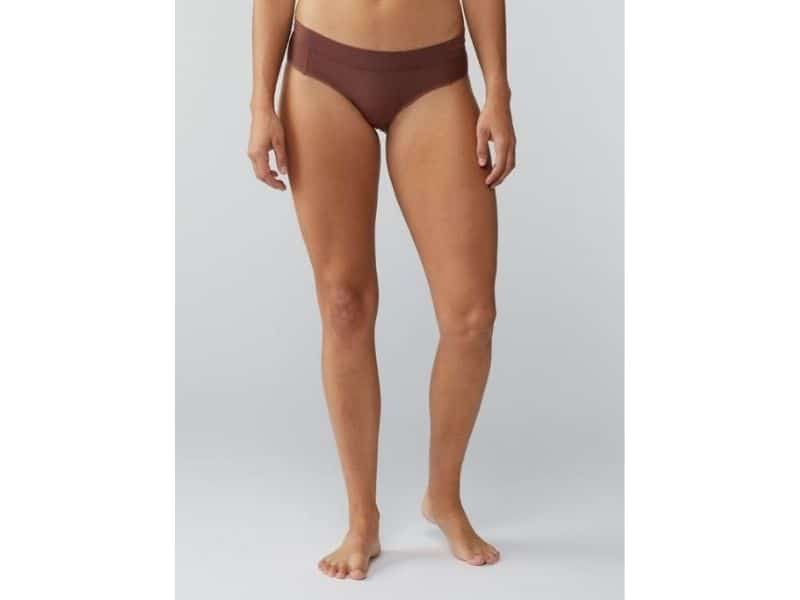 If you're looking for an economical option that won't break the bank, we suggest trying the REI Co-op Active Hipster. It offers all the qualities needed for comfortable days on the trail but at a lower, pocket-friendly price.
REI's Active Hipster has a lot going for it given its friendly price tag. It dries fast, wicks moisture effectively, and also uses an antimicrobial treatment to keep odors at bay. It's also breathable enough to keep you cool in higher temps and combines a nicely stretchy polyester mesh fabric with barely-there seams to bring all-day comfort.
Do note, however, that the sizing of the Hipster runs a little small and it can feel tight around the legs. As such, we advise shooting one or two sizes up to be on the safe side. And if you're looking for more coverage, go for the boyleg cut.
PROs

Budget-friendly
Antimicrobial
Moisture-wicking
Quick-drying
Low-rise style

CONs

Tight on the legs
Sizing runs small
Bottom-Line: Affordable, anti-microbial, and highly breathable, there's a lot to love about these simple but performance-oriented, lower-cost undies.
Ridge Merino Wool Women's Boy Short
Best Boy Shorts
Finally, if you're new to hiking and want to give things a try before splashing out on pricey womens hiking panties, we recommend starting with the Ridge Merino Wool Boy Short. Not only are these boy-style shorts super-comfortable, but they're also low-cost and perform none too shabbily compared to their pricier competitors.
The Ridge Merino Boy Shorts' most endearing feature is their no-flip waistband, which sits in just the right spot a few inches above the hip. It's non-constricting and doesn't create the bulging "muffin top" caused by many shorts and briefs alike.
With a blend of 84% merino wool, 12% nylon, and 4% spandex, these boy shorts pull off the perfect combo of breathability, efficient moisture management, and stretch. They also dry as quickly as any other item on this list. Not bad for a budget-priced pair of panties, right?
As the name implies, the Ridge Merino Boy Shorts offer full coverage, especially on the rear. However, their shorter inseam might feel a little awkward to some. Also, the sizing runs a little large, so make sure you refer to the sizing chart to avoid ending up with a pair that fits in the crotch but is loose on the waist.
PROs

No-flip waistband
Highly breathable
Effective moisture wicking
Quick-drying

CONs

Short inseam
Sizes run large
Bottom-Line: An affordable pair of full-coverage boy shorts that don't offer quite the same high-end performance are pricier models but are still a great choice for buyers on a budget.