Hiking with the children in your life is a great way to introduce them to the great outdoors. A good backpack can make or break the experience.
Finding the ideal pack for your kid can be a tricky business. It has to be comfortable enough for day-long use, big enough for all their gear, and has enough adjustability to keep up with the growth of their ever-changing physique.
To help you find the ideal backpack for your young adventurer, we've put together a list of the top models on the market. Our list includes everything from toddler backpacks to high-capacity packs for your teen's first backpacking trip. Below our reviews, you'll also find plenty of buying advice to steer you in the right direction.
Editor's Choice
Deuter Fox 40
Deuter makes several great packs for adults and with this 40-liter pack they've served up our favorite kids hiking backpack, particularly for older kids and teens.
The Fox 40 is an awesome choice for an overnighter or multi-day backpacking adventure. It has better padding than the competition, is water-resistant, features a breathable mesh back panel, and is durable enough to withstand years of use and abuse. Its adjustability also ensures your kid won't grow out of it in a hurry, so good value is assured.
Although it's a bit pricier, the company's lifetime warranty seals the deal.
Bottom Line: The enhanced padding and ease of adjustment make this pack an ideal choice for older kids.
At a Glance: Quick Recommendations
Best Kids Hiking Backpack: Our Top 8 Choices
Deuter Fox 40
Editor's Choice
Age range: 8 and older (fits 11-18 inch torso) ⸱ Weight: 2lbs 14oz ⸱ Capacity: 40L ⸱ Best use: Overnight or multi-day backpacking trip
The Deuter Fox ticks every box there is to be ticked and is a great choice for older youths and teens.
It gets high marks in comfort thanks to its plushly padded straps, hip belt, and back panel, and the rear contouring that permits enough airflow to prevent saturation with sweat.
It has a solid and durable design that helps ease the weight, especially on longer treks. Highlights include the pulled-forward hip fins, a load adjustment strap, adjustable sternum strap, and adjustable hip belt. It also boasts the company's custom "Alpine" back system to optimize ventilation.
Deuter's "VariQuick" back length adjustment system can easily be tweaked as your child grows, accommodating torso lengths from 11 to 18 inches.
The main compartment of this pack is accessible from the top or bottom. Other organizational features include a sleeping bag compartment divider, five pockets, attachment loops for trekking poles, and a separate bottom compartment with a removable base. It's also compatible with a 3- liter hydration system.
The company's lifetime warranty seals the deal to make this our favorite youth backpacking pack.
PROs

Volume
Adjustable harness
Water-resistant
Lifetime warranty

CONs
Bottom-Line: This has a slightly smaller capacity than the Gregory Wander 50 Youth Backpack, but it's water-resistant and comes with a lifetime warranty.
Osprey Ace 38
Runner Up
Age range: 6-11 (fits 11-15 inch torso) ⸱ Weight: 2lbs 14oz ⸱ Capacity: 38L ⸱ Best use: Overnight or multi-day backpacking
The Osprey Ace 38 is a good-sized bag that works for both younger, smaller kids and teens. It showcases a lot of similar features to adult packs, just child-sized.
Torso adjustment straps and an adjustable hip belt that features Osprey's "Fit-on-the-Fly" system mean this pack can grow with your kids, making it one of the best hiking backpacks for kids on the market in terms of value for money.
The organizational features in this pack are on the nail. You can load gear from the top or bottom and a sleeping bag compartment lets you separate wet gear from dry and sleeping gear from the rest of your gear. It also has several pockets on the sides, lid, and front, as well as hip belt pockets and a stretchy external stash pocket for extra layers.
Osprey also uses their own LightWire Frame system for flexibility and stability, which helps with carrying heavier loads, while the AirScape back panel provides the extra ventilation needed on hot days. This pack also features dual side compression straps and an integrated rain cover.
PROs

Adjustable torso
Rain cover included
Hip belt pockets

CONs
Bottom-Line: This pack provides enough space and all the features for a multi-night trip, and will adjust as your kid grows.
REI Tarn 12
Best Budget
Age range: 5-8 ⸱ Weight: 12 oz ⸱ Capacity: 12L ⸱ Best use: Daypack
The REI Tarn 12 is an excellent lightweight backpack with enough storage space for small children.
You get ample space in the main zippered pocket, five exterior pockets, and a side mesh pocket for water bottles. There's also a large front stash pocket that's handy to stuff extra items your kid might need quickly, like a rain jacket or mid-hike eats. It's also compatible with a hydration reservoir.
The pack's fabric is durable and features a water repellent (DWR) finish that is easy to clean and will keep your kid's kit dry in moderate rain.
The shoulder straps and back panel are well-padded for such a lightweight pack. It also includes a built-in airflow channel in the back panel for ventilation, while an adjustable hip belt and sternum strap allow you to dial in the fit. A hidden pocket stows the belt away when it's not needed.
The only downside to this pack is the lack of padding in the hip belt, which might make it a little uncomfortable after a long day on the trail or with a full pack.
PROs

Sustainable (made from recycled materials)
Lightweight
Water-resistant
Reflective accents

CONs
Bottom-Line: A well-thought-out little daypack that's made with water-resistant, recycled materials.
Gregory Nano 16
Best Value
Age range: 10 and older (fits 16-21 inch torso) ⸱ Weight: 14.3 oz ⸱ Capacity: 16L ⸱ Best use: Daypack
This high-quality pack has a durable construction and excels in price and organization.
The Nano includes an internal hydration sleeve for a water reservoir and a hydration port, and two side mesh pockets for water bottles.
The Nano's die-cut foam back panel allows for good airflow and the breathable shoulder harness provides enough comfort for long days on the trail. It's also easy to adjust the torso, hip belt, and chest strap as the young hiker grows. Another highlight is the reflective webbing loops for better visibility.
This pack is also available in a 'plus-size' for bigger kids.
PROs

Affordable
Organization and pockets
Reflective loops
Hydration reservoir compatibility

CONs
Bottom-Line: This affordable pack has plenty of pockets to keep stuff organized, and it has reflective loops for better visibility.
Gregory Wander 50 Youth Backpack
Best for Teen Backpackers
Age range: 10 and older (fits 13-18 inch torso) ⸱ Weight: 3lbs 5.6oz ⸱ Capacity: 50L ⸱ Best use: Multi-day backpacking
As the biggest pack on our list, the Wander 50 is ideal for older kids and teens ready to up the ante on the trail. It has similar features as an adult pack, but with youth-sized components.
The handy U-shaped zipper allows for front-loading/unloading and provides easy access to your sleeping bag and sleeping pad, which are generally packed at the bottom. The pack also has six external pockets, including two mesh side pockets, and is compatible with a hydration reservoir system.
Gregory's "VersaFit" suspension system provides 5 inches of adjustment for growing hikers. The torso length is adjustable from 13 to 18 inches and the waist belt adjusts from 22 to 48 inches. A back panel made from 3D foam provides decent airflow.
It also includes a fitted rain cover, reflective lash points, and key clip, and the sternum strap buckle features a safety whistle.
The padded hip belt and straps fit snug against the body, which is good when hiking in rugged backcountry, as it won't feel loose when your young hiker is clambering over uneven terrain.
The only real downside to this pack is that it's a bit heavy at just over 3 pounds.
PROs

Adjustable torso

Raincover included

Emergency whistle included

Multiple mesh and zippered pockets

CONs
Bottom-Line: Offers everything older kids need for a longer backcountry hiking trip: Good capacity, included raincover and safety whistle, and a lot of pockets for staying organized.
Deuter Climber
Best for Pre-Teens
Age range: 7 and older (fits 10-17 inch torso ) ⸱ Weight: 1 lb 8 oz ⸱ Capacity: 22L ⸱ Best use: Daypack or overnight/short backpacking
This medium-sized pack can be used for day hikes or short overnight trips that don't require a lot of gear.
It includes a hydration compartment for a water reservoir and numerous pockets, including a stretch pocket on the side for a water bottle.
Although there are no external mesh pockets, the zippered top pocket provides easy access to the main compartment. The daisy chain, gear loops, and compression straps come in handy for attaching items to the pack's exterior if you've maxed out internal space.
Deuter's Alpine harness system allows for good ventilation and back support while keeping the pack close to the body's center of gravity. The pack also features an adjustable sternum strap and load lifters.
PROs

Hydration reservoir compatible

Compression straps for stability

Exterior attachment options

Adjustable torso

Includes a helmet holder

CONs

Not big enough for longer treks

No exterior stash pocket
Bottom-Line: The perfect daypack for teens and pre-teens. 
Deuter Schmusebar
Best for Small Kids
Age range: 3-5 ⸱ Weight: 10.6 oz ⸱ Capacity: 8L ⸱ Best use: Daypack
A good-sized pack with fun designs. This pack is also sturdy and well built, and the fabric cleans easily. The Schmusebar also has reflective accents for better visibility.
A single clip opens to the main compartment, while the exterior water bottle pockets are flexible and easy to access, even on-the-go.
The shoulder straps on this pack have comfortable padding and the contoured back panel allows for plenty of airflow in hot weather or when your kid's hiking hard. The S-shaped shoulder straps wrap around the child's shoulders and have a soft-edge finish for added comfort.
Deuter's lifetime warranty for kids hiking backpacks is also highly reassuring. If your kid's pack comes to any kind of harm on a hike, the company will repair it free of charge.
PROs

Water-resistant
Reflective accents
Lifetime warranty

CONs
Bottom-Line: This slightly bigger pack is ideal for children who have grown out of the Deuter Pico (below).
Deuter Pico
Best for Toddlers
Suggested age range: 2-4 ⸱ Weight: 7 oz ⸱ Capacity: 5L ⸱ Best use: Daypack
This adorable little backpack is perfect for short day hikes and allows tiny trekkers to have fun on the trail by carrying a pack that's just like mommy or daddy's.
The Pico has well-padded shoulder straps with an S-shaped soft-edge design that allows the pack to sit comfortably on your kid's shoulders. While there's no hip belt, an adjustable sternum strap ensures the pack won't be bouncing around on your kid's pack while they're on the move.
The Pico is very lightweight but is made with sturdy, durable materials. The fabric is also easy to clean, so post-adventure laundering is a breeze.
Features-wise, the Pico isn't a standout, but it does have a duo of mesh water bottle pockets that are easily accessible for big or little hands.
Other kid-friendly design features include a name label on the inside and child-friendly buckles.
PROs

Affordable
Water-resistant
Name label
Colorful and cute style appeals to young kids

CONs
Bottom-Line: The lightest and smallest of all the bags on our list, perfect for the youngest of adventurers.
Things to Consider When Buying a Kids Backpacking Pack or Kids Camping Backpack
Volume
Your capacity needs will depend on the young hiker's experience and abilities, as well as the length and type of hike. A small daypack (10-18 liters) will work great on shorter trails for younger kids who are new to hiking. A larger pack (20+ liters) is a better option for longer day hikes or backpacking and will work for older kids ready for a more challenging adventure.
Weight
Heavier packs typically have stronger frames and suspension systems, and can usually support more weight. But you don't want to weigh your kid down too much, so make sure the load is appropriate for the stature of the child, typically about 20% of the child's weight.
Comfort
Shoulder straps should be padded for comfort and to help prevent bruising. Too big a pack and the straps will be too far apart on a young kid and will pull them backward. A sternum strap helps with this issue, but the best solution is an appropriately sized pack designed for kids' smaller bodies.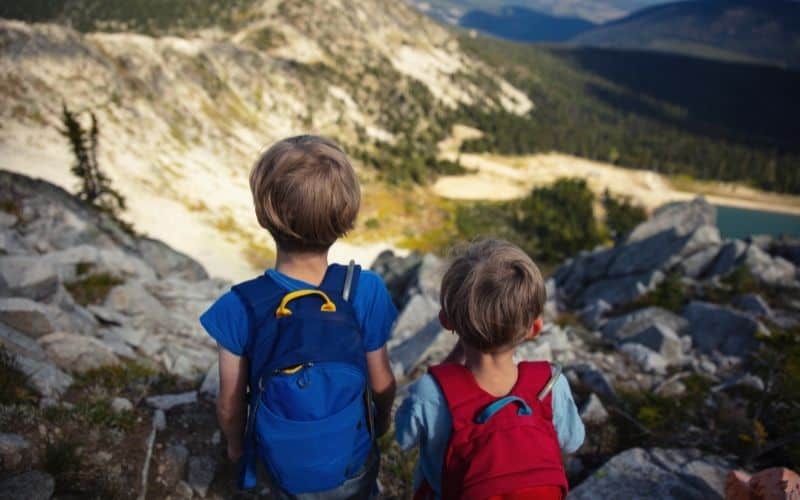 Small kids don't have much in the way of hips, so the weight of their pack is often tugging on their shoulders. Ensure this doesn't happen by making sure the hip belt is fitted correctly (a little higher on the waist than adults) and fastened a little tighter. Belt padding improves comfort and prevents bruising – just make sure your young hiker uses it while out on the trail!
Adjustability
The best hiking backpacks for kids will allow you to adjust the sizing for growing kids. For this, the most important feature is adjustable torso length, as used in the Deuter Fox, Osprey Ace 38, Gregory Wander, and Gregory Nano.
Load lifters should also be adjustable to keep the pack close to the child's body whilst not pulling them backward, and an adjustable sternum strap will keep the shoulder straps in place so they don't rub or slip off.
Features
A few key things to look for:
Daisy chains that allow you to lash items to the pack's exterior
Compression straps that tighten the bag so it stays snug and improves balance
A water reservoir
"Kangaroo" external pocket for extra layers
A separate sleeping bag compartment to help your kid stay organized
Side mesh pockets for water bottles (make sure these pockets aren't too big or small for your kid's favorite water bottle!)
Best Hiking Backpack for Kids: The Verdict
With a lot of good options for hiking backpacks for kids, it boils down to each child's individual abilities and experience, the type of trek the young hiker will be tackling, and the personal preference of the kid who will be wearing the backpack.
Because not every backpack will work for every kid, shoot for a backpack that fits them well, will adjust as they grow, and is actually a style they will wear out on the trail.
All of these attributes sum up the winner of our review, the Deuter Fox 40, whose adjustable torso length, stylish appearance, and high capacity make it the ideal pick for bigger kids and teens.
For smaller kids, our top recommendation is the Deuter Schmusebar, though the Deuter Climber is a better option if your kid needs a little more capacity for longer hikes or overnight camping trips.
If you liked our article, let us know in the comments box below! And if you'd like to share this post with your friends, share away!