Hiking in winter can be an amazing experience…
…but it can also be daunting and downright sketchy if you're hiking on some trails covered in hard snow or ice.
If you aren't ready to splurge on a pair of crampons but also aren't keen to spend half your hike on your *ss trying to negotiate ice-covered trails with hiking boots and courage alone, there's a simple solution: microspikes.
With a pair of these spikes (aka snow grips, snow traction devices, and winter traction devices), you can turn any footwear into snow-gripping machines. Slide them over your hiking shoes and you'll be ready to roam in even the slickest winter terrain.
In this guide, we'll introduce you to the 9 best options for safe winter hiking and provide all the info you need to find the perfect winter traction devices for your needs, budget, and adventure type.
So, bundle up, and let's go!
Top Choices by Category
Best for traction: Hillsound Trail, Unigear Traction Cleats, and EnergeticSky Ice Cleats
Shortest spikes: BD Blitz, Yaktrax Pro, and ICETRAX V3
Lightest: BD Blitz, ICETRAX V3, Yaktrax Pro, and Yaktrax Walk
Best budget: ICETRAX V3, EnergeticSky Ice Cleats, and Yaktrax Walk
Best Overall
Kahtoola MICROspikes
These are the Microspikes that started it all.
These lightweight traction devices were the first of their kind and have been providing lightweight ice traction for hikers since 2007. Although they've been around a long time, Kahtoola has been refining the design of their most popular product every year or so, and the current version is the strongest yet.
These winter traction devices are the best all-around performers. They provide awesome traction and are also one of the lightest options available. They work well in mixed terrain, too. Their ⅜-inch spikes provide plenty of traction on ice and snow but are short enough that you can get away with stepping on rock, pavement, or muddy hiking trails in between.
Compared to most other traction devices, these are the closest to standard hiking or mountaineering crampons in terms of fit, security, durability, and ability to keep you upright in terrain that keeps trying to send you sprawling.
Bottom Line: The best microspikes for hiking by a country mile.
At a Glance: Quick Recommendations
Best Hiking Winter Traction Devices: Our Top 9 Picks
Kahtoola MICROspikes
Best Overall
Number of points: 12 stainless steel spikes · Weight (per pair): 11.0 oz. · Length of spikes: ⅜"
The Kahtoola MICROspikes use a stretchy elastomer harness to attach the spikes to the bottom of your shoe. They're easy to use, and you can quickly throw them on any shoes without issue. And it's even easier to take them off. With some practice and flexibility, you'll probably end up being able to pull them off without sitting down.
They feature 12 ⅜" stainless steel spikes attached to steel plates under your foot. These spikes are integrated in a way that helps keep snow from 'balling' (collecting) between the spikes and the shoe bottom, which is a frequent cause of slips with other models we've tried over the years.
If you're looking for something less aggressive for use in mixed terrain, you should also check out the Kahtoola NANOspikes and EXOspikes.
PROs

Lightweight
Good traction
Easy to use
Durable
Reliable

CONs

Not great on dry surfaces
Bottom-Line: If you don't have any traction devices for winter hiking, you should start with the Kahtoola Microspikes. 
Hillsound Trail Crampons Ultra
Most Secure Fit
Number of points: 18 stainless steel · Weight (per pair): 14.3 oz.  · Length of spikes: ½ – ⅔"
The Trail Crampon Ultra is the most secure-feeling traction device we've included on our list. The top strap helps immensely with securing these in place. When walking in microspikes for a long time, you just get used to stopping every once in a while to slide them back into the right place. With these, this is one issue you won't have to worry about.
These use 15 ½" stainless steel spikes under the forefoot and 3 ⅔" spikes on the heel. This provides many points of contact, which is especially great for steep descents.
If you're not going to be traveling across snow and ice most of the time, these might not be the best option. The longer spikes will make you feel like you might fall over walking on rock. And with that strap, they won't be easy to take on and off. If aggressive traction's what you need, however, they're well worth considering.
PROs

Secure fit
Great traction over snow and ice
Lightweight
Good for running

CONs

Longer spikes aren't as good for mixed conditions
Bottom-Line: Awesome traction devices that solve the migrating microspike problem. 
Unigear Ice Traction Cleats
Best Value
Number of points: 18 stainless steel spikes · Weight (per pair): 17.6 oz. · Length of spikes: ½"
The Unigear Traction Cleats are a very affordable option and come with some added benefits. They feature 18 ½-inch long spikes and are made of stainless steel, so they're resistant to corrosion and will last you for quite some time.
They also use double-link chains, which will certainly add to their longevity, whilst also adding traction in snow. The double-link chains are also comfortable on your feet because they disperse pressure over a wider area, thus eliminating uncomfortable pressure points.
These ice traction cleats also have a strap that secures them in place on top of your foot, so they're more likely to stay in place for the duration of your hike.
PROs

Affordable
Long spikes
Top strap

CONs
Bottom-Line: These ice cleats are a budget-friendly choice with great features. 
Black Diamond Blitz Spike
Lightest Spikes
Number of points: 6 stainless steel spikes · Weight (per pair): 3.2 oz. · Length of spikes: 5/16″
Let's start with the good news: the Blitz Spikes are ultralight. They're almost half as light as the second lightest traction device on this list, the Icetrax V3.
The bad news? They only have half as much traction.
These forefoot-only traction devices are intended for the just-in-case scenarios when you find yourself traversing packed snow and an icy trail, or icy city streets. They're so light, you might as well bring them, though. And they pack down incredibly small, too.
The individual spikes on these are 5/16" (8 mm) long. This isn't terribly long, but they're long enough to help you get across that steep snowfield you weren't sure was going to still be there in June. And, they go on easily, just slide your toe into the nylon webbing toe strap and pull the elastomer heel strap over the back of your shoe.
This might be obvious, but it's worth noting that these work best when used with lightweight footwear, not heavy winter boots. They don't seem to want to stay in one place if you try to use them with a stiffer, heavier boot.
PROs

Crazy light
Ultra-packable
Easy to use

CONs

Poor traction compared to full-foot traction grippers
Bottom-Line: So light, you might as well bring them on every summit mission until August. 
ICETRAX V3 Tungsten Winter Ice & Snow Grips
Best for Urban Walks
Number of points: 9 tungsten carbide cleats · Weight (per pair): 5.6 oz. · Length of spikes: 1/8″
These cleat-style traction devices consist of 9 tungsten carbide cleats embedded in a rubber surface that stretches under and around your shoes.
The cleats aren't long, only ⅛ of an inch, but that makes them better suited for mixed terrains. You can go from packed snow to ice to sidewalk with less of an issue than with longer spikes. This makes them great for urban adventures like running or going for a neighborhood walk.
They fit securely on your feet, too. The entire product is made of rubber, minus the small carbide cleats. The rubber grips your shoe and makes them not slide around nearly as much as some microspikes and the front rubber is shaped to stretch around the toe. These won't help you much in deep snow, but for some laps around the block or hikes on easy trails, they're great!
PROs

Very light
Low profile
Easy to use
Affordable

CONs
Bottom-Line: A very affordable option that's ideal for packed snow, mixed terrain, and more mellow hikes. 
Yaktrax Pro Traction Cleats
Best for Winter Urban Running 
Number of points: 12 segments of coiled steel grippers · Weight (per pair): 6.4 oz. · Length of spikes: 1/16″
The Yaktrax Pro traction devices are lightweight, inexpensive, and grippy in slippery winter conditions. They don't have long spikes like most of the products reviewed here. Instead, they use abrasion-resistant, stainless steel coils to provide just enough traction. These coils work surprisingly well in snow and ice, and they work much better on pavement or rocks.
The Pro Traction tips the scales at nearly half the weight of the winner of our review, the Kahtoola Microspikes, and are so unobtrusive you'll forget you're even wearing them. The strap across the top provides a very secure fit and also helps keep the weight down because it allowed Yaktrax to use a lot less rubber in their construction.
PROs

Lightweight
Comfortable
Secure
Great for mixed terrain

CONs

Not as grippy on smooth ice
Bottom-Line: Awesome for moving quickly over mixed terrain and highly affordable to boot. 
EnergeticSky Ice Cleats
Best Budget
Number of points: 24 stainless steel · Weight: 11.2 oz. · Length of spikes: ½"
The EnergeticSky cleats grip excellently on thick ice and crunchy snow. And, they're super affordable too. These have 24 large points that dig in and grip any substantial icy surface just as well as far pricier competitors. The spikes are also durable enough to make it through many winters, and the elastomer material and strap ensure they stay in place on your boots.
These aren't great to wear on surfaces like sidewalks with thin snow or ice, but what crampon-style spikes are? But for the cost, they provide great traction on soft, icy surfaces. So, they're a great option for those who want the most possible grip without spending a lot of money.
PROs

Affordable
Excellent traction
Good fit

CONs

Long spikes are less versatile
Bottom-Line: A highly affordable, high-traction pair of snow grips. 
Yaktrax ICEtrekkers Diamond Grip 
Best for Winter Trail Running
Number of points: 7 diamond grip cables · Weight (per pair): 11.2 oz · Length of spikes: N/A
Like other Yaktrax options, the ICEtrekkers Diamond Grip are just as good on sidewalks as they are on snowy mountain trails.
They provide solid traction thanks to small diamond-shaped beads strung on steel cables. These metal beads swivel to grip slick surfaces with multiple edges. These work well with all kinds of footwear but are especially well suited for trail runners. The rubber harness stays flexible to take them on and off in cold temperatures.
They'll give you great traction on hard-packed snow and icy trail conditions. They work well over various terrains: rock, gravel, dirt, and pavement. However, they don't do very well in deeper snow or on steep, icy terrain.
PROs

Versatile
Work well on mixed terrain
Easy to use

CONs

Heavier than other Yaktrax
Bottom-Line: These traction devices provide great traction and durability in a versatile, lightweight package. Awesome for trail runners.
Yaktrax Walk
Best All-Around Urban Traction
Number of points: 12 segments of coiled steel grippers · Weight (per pair): 3 oz. · Length of spikes: N/A
The Yaktrax Walk are some of the most popular winter traction devices ever. When you use them, you'll see why. First off, they're very affordable. And, they're super easy to use and comfortable to wear for long periods of time.
Sure, they don't provide the best traction over especially slippery terrain. But if you're just using them to walk, they'll provide adequate traction for packed snow and ice.
They also work well for running since they're lightweight and work well over mixed terrain. Running might put too much stress on the Yaktrax Walks and reduce their longevity, but they're so inexpensive you can just get another pair if you shred yours hoofing it over icy trails.
PROs

Inexpensive
Lightweight
Comfortable

CONs
Bottom-Line: These footwear traction devices are very affordable and work very well for wintery walks.
How to Choose Microspikes
Grip and Traction System
Winter traction devices come with one of two forms of traction: actual spikes or some kind of chain. Generally, those that come with the biggest spikes will give you the most traction.
However, with longer spikes, as soon as you get over an icy area and you've reached rocky, muddy terrain (or bare sidewalk), you'll want to take your spikes off. With shorter spikes or chain-style traction, you can get away with wearing them on stretches where you don't really need them.
If you're mainly going to be using your microspikes for walking and running around town in the winter, you won't want the burliest spikes. In this case, shorter spikes like the BD Blitz, Yaktrax Pro, or Icetrax V3 will do the trick.
But if you plan to use your spikes for winter hiking in steep terrain, then you'll be best off with a pair of aggressive spikes, like those on the Unigear Traction Cleats or Hillsound Trail, as these will provide better traction.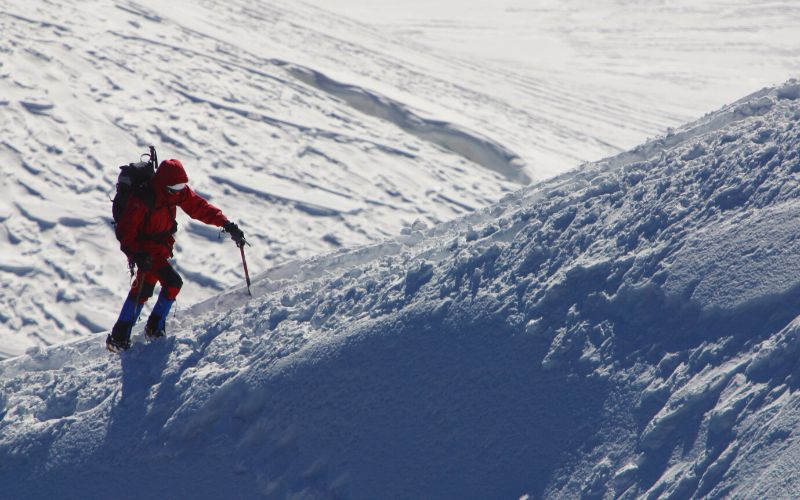 Secureness Of Fit
Most microspikes use some form of elastomer to secure them around your shoes. Some models, like the Unigear Cleats and Hillsound Trail, also use an added velcro strap or laces. These extras do make them fit better. And, a good, secure fit is very important for winter running and long hiking trips.
That being said, more straps and laces mean there's more to deal with when taking your spikes off or putting them on. And once you add gloves into the equation, they may become more of a nuisance than a blessing.
Durability
You can increase the lifespan of your microspikes by not walking on long sections of rock, pavement, or sidewalk. Hard surfaces will wear down your spikes and make them less effective at biting into snow and ice.
As a general rule, tungsten (Icetrax V3) or carbide spikes are more durable than those made of steel (Unigear Cleats, Kahtoola MICROspikes, BD Blitz).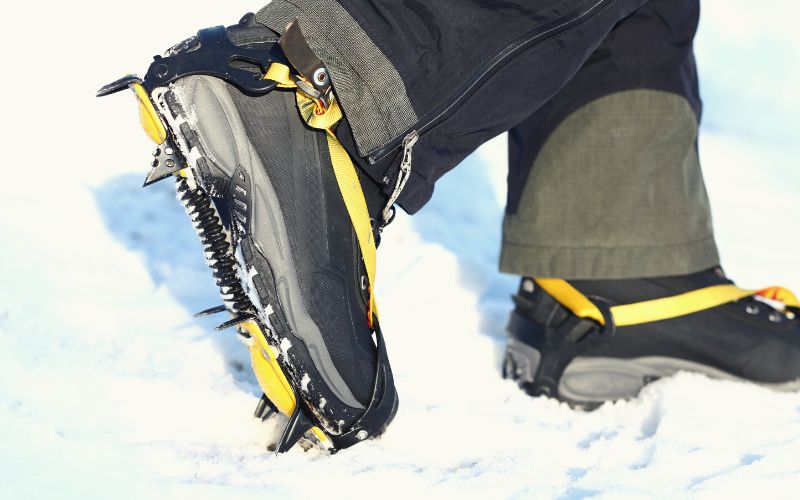 Weight
If you're using your traction device/snow grips with lightweight shoes they will often increase the weight on your feet by 50-100%. So, it's important to consider weight when selecting winter traction devices.
Also, you won't always be wearing these. So, wouldn't you want to keep the load on your back as low as possible? This is definitely the case with backpacking.
The lightest microspikes on our list are the Black Diamond Blitz, which weigh a tiny 3.2 oz. The heaviest are the Unigear Ice Traction Cleats, which weigh 17.6 oz.
Winter Traction Devices FAQs
Microspikes, crampons, or snowshoes?
The traction device you need depends on the terrain. Flat terrain? Steep terrain? Deep snow?
Microspikes are the best traction device for those winter adventures when you'll be crossing sections of ice, slick, packed snow, or other slippery surfaces with minimal steep, icy sections.
If you're crossing a lot of steep, icy terrain, you'd be much better off with hiking or mountaineering crampons, which are designed for anything from flat hikes on hard snow to steep ice climbing.
If you're going hiking in areas with deep snow, you'd be much better off with snowshoes, which provide plenty of traction and also prevent your feet from "post-holing" (i.e., plunging into soft snow).
Are microspikes any good?
Yes! But they have limitations. Microspikes are great because they're small, light, and can be used with any footwear. You can bring them along on winter hikes to give you a little extra traction when you need it. They are not as "good" as crampons for serious travel over snow and ice, nor as good as snowshoes in deep snow, but microspikes aren't intended for that.
How do I use microspikes?
First, find a dry place to sit down. Pull the microspikes out of their stuff sack, hold them vertically by a rubber part, and shake them to ensure they aren't tangled.
Now, find the front end and stretch that over the toe of your winter boots. While ensuring the bottom traction parts aren't twisted, pull towards your heel. Fit them around the back of your shoe, pulling the rubber as high up as it will go. Check the bottom to make sure the metal traction pieces are evenly placed on your shoe.
Best Microspikes for Hiking: The Verdict
See? Winter hiking can be fun!
Still undecided? To wrap up:
If you're looking for microspikes that offer the perfect balance of grip, ease of use, durability, and a lightweight design, you can't go wrong with the Kahtoola Microspikes.
On a tighter budget? If so, the EnergeticSky Cleats are a great option. These are a whole 5 oz. heavier than the Kahtoola Microspikes, but offer great traction and cost a lot less.
We hope this guide helps you pick the best microspikes for all your upcoming winter hikes. Did we miss your favorites? Have other feedback for us? Leave us a comment below.
And as always, feel free to share with a friend on social media if you like what you just read!