Editor's Choice
Patagonia Nano Air Hoody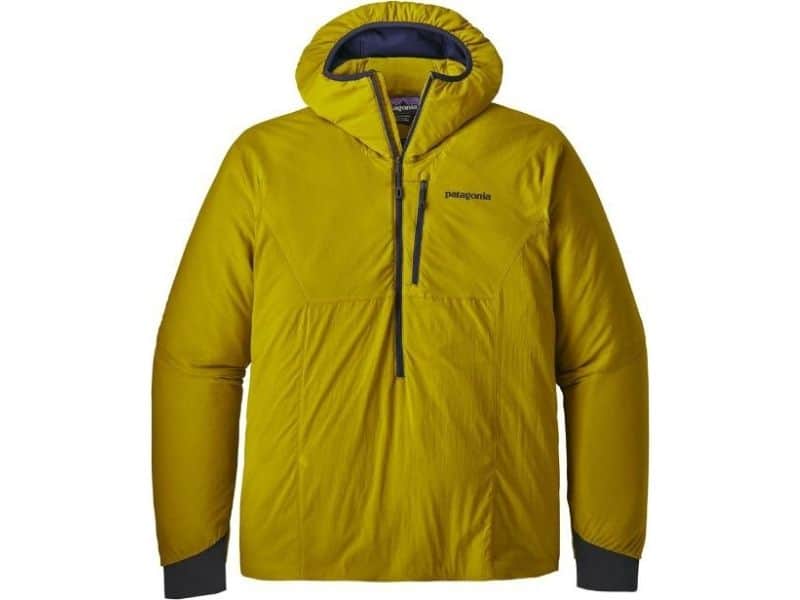 What do you get when you combine comfort, warmth, and versatility? The Patagonia Nano Air Hoody.
Made with a super soft recycled polyester shell and plenty of high-end synthetic insulation, this midlayer is ready for anything. It features a DWR finish for water-resistance as well as moisture-wicking properties to increase breathability on the trail.
It's worth noting that this jacket's quality and performance don't come cheap. But if you're okay with spending a bit more for a portable and functional coat, it's hard to go wrong with this award-winning model.
Bottom Line: Rain, wind, sleet, or snow, the Nano Air Hoody is what you want to have in your pack.
The Best Mid Layer For Hiking: Beat The Cold In The Mountains
Looking For The Best Mid Layers?
You're in the right place! In this guide, we will be covering the following:
What to look for when shopping for insulated jackets
How to pick the best mid layers for your needs
What are the 10 top insulating layers for outdoor pursuits
Our unbiased reviews of the best midlayer for the great outdoors
If you want to stay warm while hiking, you'll need a quality mid layer for the job.
Despite this, in a world filled with hundreds of different mid layers, finding that perfect jacket isn't as simple as it might seem.
We know how hard it is to find the best mid layer for hiking and camping, so we put together this guide to help you out. Coming up, we'll offer some of our top tips for selecting the perfect insulating layer.
Then, to sweeten the deal, we'll even review 10 of the top mid layer jackets on the market to help you find the ideal option for all your upcoming adventures.
How to Choose A Mid Layer
Choosing the best mid-layers for outdoor adventure starts with knowing what to look for as you shop. Here are the most important considerations to keep in mind when researching insulating layers for hiking.
Fabrics
First and foremost, the fabrics used in your mid-layers are of the utmost importance. 
Unlike a base layer, where there are relatively few fabrics on the market, mid layers can be crafted from a wide range of different materials.
That being said, the shell material of most mid-layers isn't as important as the insulating material itself. So, here are some of the advantages and disadvantages of choosing various types of insulation for your mid layers:
Down
Often considered the gold standard for warmth, down insulation is crafted from the down plumes of waterfowl. Down is often lauded as having the best ratio of warmth-to-weight in the industry, so it's popular among ultralight hikers.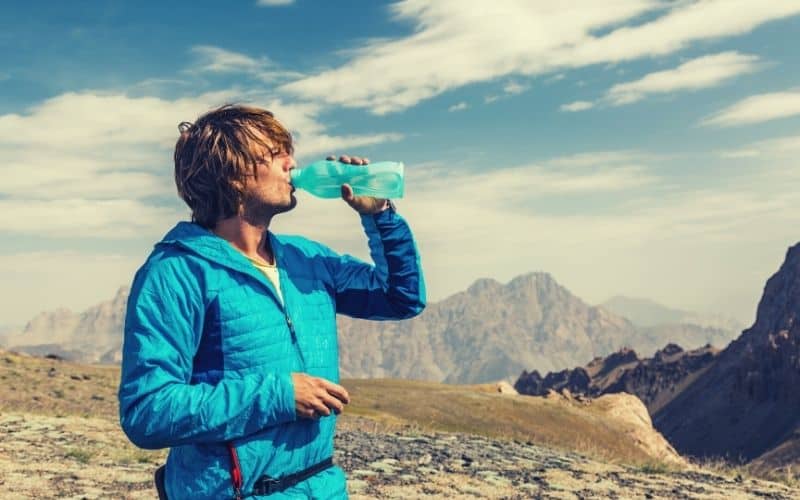 The downside? Most down garments come with a high price tag. Additionally, down won't keep you warm when soaking wet, even if it's treated with durable water repellents. However, if weight savings are your priority, down is undoubtedly the way to go.
Synthetic
Synthetic insulation is a type of man-made insulating material that's crafted from spun polyester fibers.
It is designed to mimic the warmth-trapping properties of down at a fraction of the price. Furthermore, synthetically-made insulating materials can usually keep you warm when wet.
Nevertheless, synthetically-crafted insulation is generally bulkier and heavier than down. So if weight savings are a priority, they might not be a good choice. Otherwise, synthetically-made insulation is a solid option for cold and rainy locales.
Fleece
Fleece is a type of insulating fabric that's made from plastic. You might see it sold under a number of different brand names, though Polartec Power Stretch or Polartec Alpha are some of the most popular options.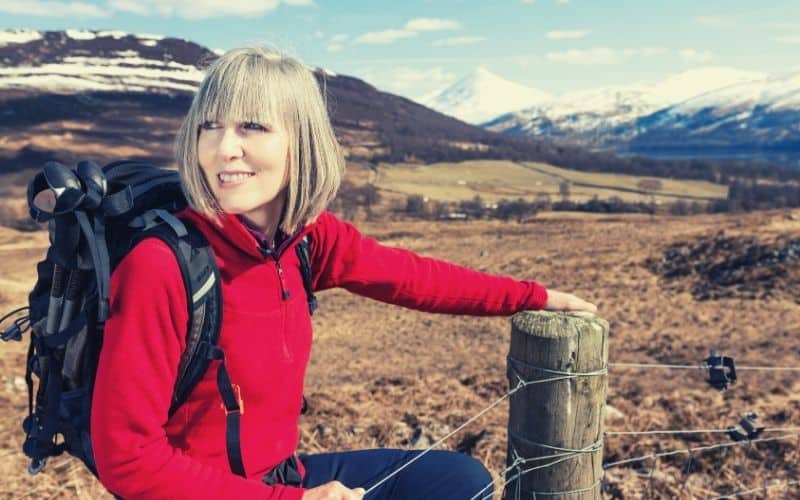 Fleece has long been popular for hiking and ski touring due to its soft-to-the-touch feel and high breathability. Plus, it can help you retain warmth even when wet.
That being said, while fleece is highly affordable and it can be quite warm, it is quite heavy and bulky. Indeed, even if you purchase a high-end power grid fleece, like what you'd find on some Patagonia hoodies, fleece is still going to be heavier than a comparable down jacket.
Nevertheless, as far as affordability is concerned, fleece is a clear winner.
Weight & Insulation
When shopping for mid-layers, your number one priority is likely warmth. However, it's important to recognize that warmth always entails a trade-off with breathability.
Sure, that super warm hoody is going to be awesome during cold days in the hills. But, when charging uphill on warm spring afternoons, it's almost sure to leave you feeling a little sweaty.
As you shop for your next mid-layer, then, be sure to think about the conditions you'll be facing. 
If you're expecting shoulder season weather, a breathable option might be more appropriate. On the other hand, a highly insulated jacket might be best for wintertime adventures, depending on your activity type.
Fit
At the end of the day, there's no point in buying a mid-layer if it doesn't fit. Sure, it might be the perfect price and weight for your needs, but if it doesn't fit, it won't do you any good in the mountains. So, here are some key fit-related issues to keep in mind as you shop.
Sizing
Your standard mid-layer is generally designed to fit over your base layers and under your outer layers. So, it's important that you size your mid-layers with your other gear in mind.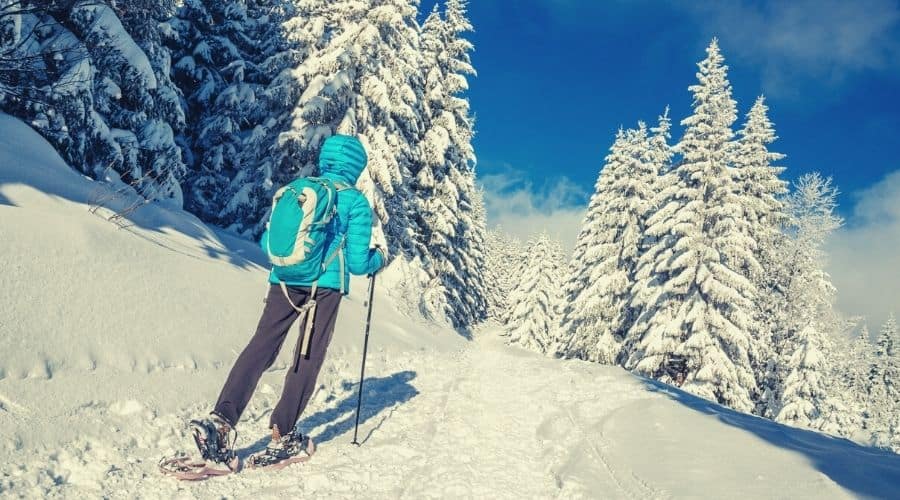 In practice, this often means sizing your mid-layers so that they're larger than your base layers but smaller than your shell jackets. Simply put, if you can't wear all your coats at once while in the hills, your layering system can't do its job properly.
Hood vs No Hood
When it comes to mid-layers, the ol' hood vs no hood debate is about as old as hiking itself. 
Okay, that might be a bit of an exaggeration, but people do have very strong opinions about whether you should have hoods on your mid-layers. 
Essentially, hoods are nice for situations where wearing a warm hat won't provide enough insulation for your needs.
However, having a hood does add a small amount of weight to your gear. Most mid-layers with hoods are also more expensive than their non-hooded counterparts. 
So, some folks prefer to ditch the hood and carry a hat, instead. But, this is really a personal decision and there's no right answer either way.
Features
Finally, it's worth mentioning that there are plenty of extra features that come on some mid-layers that might be worth looking for as you shop. These include:
Thumb loops are helpful on some fleece jackets to stop your sleeves from bunching up and exposing your arms to the cold.
Stuffable designs allow some jackets to pack into their own pockets for quick storage on the go.
Helmet-compatible hoods are ideal for climbers who want to seamlessly layer their hood and helmet while in the alpine.
Durable water repellents provide a bit of weather resistance to a mid-layer, which is nice when hiking in rainy locales. 
The 10 Top Mid Layers
Patagonia Nano Air Hoody
Editor's Choice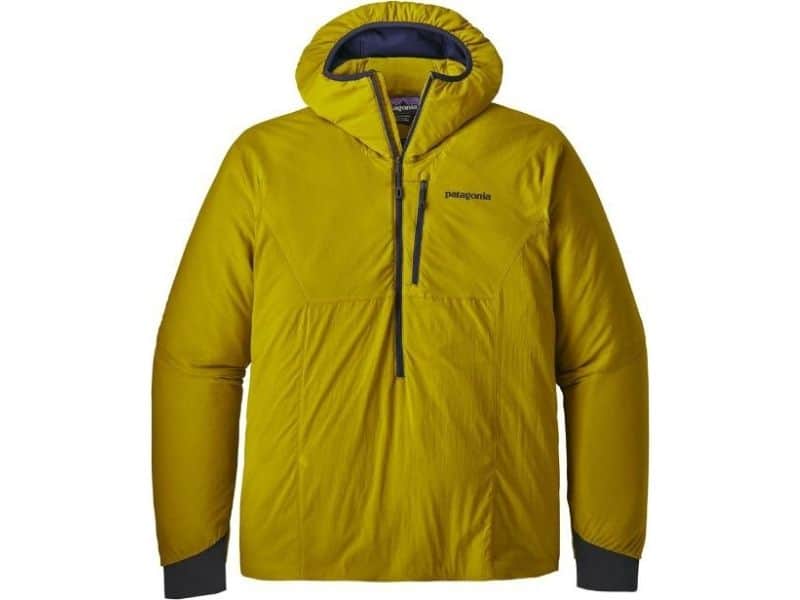 Taking home the gold in our review, this coat from Patagonia is a fan-favorite mid layer hoody that's worthy of any adventure.
Crafted with a recycled polyester fabric that's moisture-wicking and soft to the touch, this coat is cozy enough for everyday use. It's also packed with 60g FullRange synthetic insulation for optimal performance in a wide range of conditions.
This shell fabric is ideal for use in damp conditions as it boats a DWR treatment for added water-resistance. Plus, this model is both stretchy and highly breathable, so it's awesome for high-octane pursuits.
That being said, some folks find that the cuffs on this model are a bit too small, and some people don't like the boxy shape of the hood. However, if you want the best in breathability and comfort while steaming up the trail, this hoody is hard to beat.
PROs

Made with partially recycled materials
Very breathable design
Fabric wicks moisture away from the body
DWR finish for rainy locales

CONs

Non-helmet compatible hood
Wrist cuffs are a bit small
Bottom-Line: The Nano Air Hoody is an essential layering piece for any outdoor adventurer.
Arc'teryx Atom LT
Best Synthetic Jacket
Made by hikers, for hikers, the Arcteryx Atom LT is a premium lightweight synthetic mid layer that's perfect for alpine pursuits.
The slim-fit Atom LT is made using a high-end Tyono 20D outer fabric with a DWR treatment for water and wind resistance. It also boasts a mix of power stretch fleece and Coreloft synthetic insulation to keep you warm in variable conditions.
Arc'teryx designed this jacket with plenty of zippered pockets for ample gear storage on the go. It also has a slightly dropped hem, which stops it from riding up while wearing a backpack or harness.
The downside? The Atom LT doesn't have a hood. It also doesn't pack down into any of its pockets, which is a bit of a bummer. However, if finding a reliable synthetic mid layer is your goal, then this jacket is a sure bet.
PROs

Blend of synthetic and fleece insulation
Dropped hem is great for use with a backpack
Tyono 20D outer fabric with water repellent treatment
Stretchy fit for comfort

CONs

No hood
Doesn't stuff into its own jacket
Bottom-Line: If you need a synthetic layer for warmth in the mountains, you'd be hard-pressed to top the Arc'teryx Atom LT.
Columbia Steens Mountain 2.0
Best Value
A cost-effective option for the budget-conscious hiker, the Columbia Steens Mountain 2.0 is a versatile fleece jacket that's a worthy addition to any layering system.
When designing this coat, Columbia used 250g MTR filament fleece as the primary fabric. This fleece is both highly breathable and super warm, which makes it a solid choice for all hiking adventures.
Furthermore, the Steens Mountain 2.0 offers enough warmth while you hike that it's suitable for use as one of your outer layers on a sunny day. It also comes with zippered hand pockets for gear storage and a full-length front zipper for temperature regulation.
The downside with a model like the Steens Mountain 2.0, however, is that polyester fleece is heavy and bulky. Fleece also isn't very wind-resistant so it won't trap in as much body heat in very cold weather. Nevertheless, for a fleece mid layer at this price point, the Steens Mountain 2.0 is an amazing choice.
PROs

Highly affordable
Cozy outer layer fabric
Zippered hand pockets
Can double as an outer shell in sunny weather

CONs

Not wind-resistant
Poor warmth-to-weight ratio
Bottom-Line: The Columbia Steens Mountain 2.0 is a good fleece jacket for crushing it on the trail and for looking good during après sessions with your friends.
Patagonia Down Sweater
Best for Eco-Friendly Gear
What do you get when you combine eco-friendly materials with quality insulation? The Patagonia Down Sweater, of course.
Aptly named, the Down Sweater is built with 800-fill power Advanced Global Traceable Down that's NSF International-certified to ensure an ethical chain of production and supply. It's also made from a bluesign-approved recycled polyester fabric shell that boasts a DWR treatment for weather resistance.
If that wasn't enough, Patagonia also designed this coat with zippered hand-warmer and chest pockets for plentiful gear storage. It also has a fully adjustable hem to help you get the perfect fit, every time.
However, we should note that the Patagonia Down Sweater isn't as packable as some of the other down insulated models on the market. Despite this, it's still a stylish and versatile midlayer for outdoor adventure.
PROs

Ethically-sourced down
Recycled polyester shell fabric
Wind- and water-resistant
Zippered chest pocket and hand pockets

CONs

Fairly heavy and bulky for down insulation
Bottom-Line: If you want a midlayer down jacket that's stylish, eco-friendly, and performance-oriented to boot, the Patagonia Down Sweater won't disappoint.
Patagonia Micro Puff
Best for Wet Weather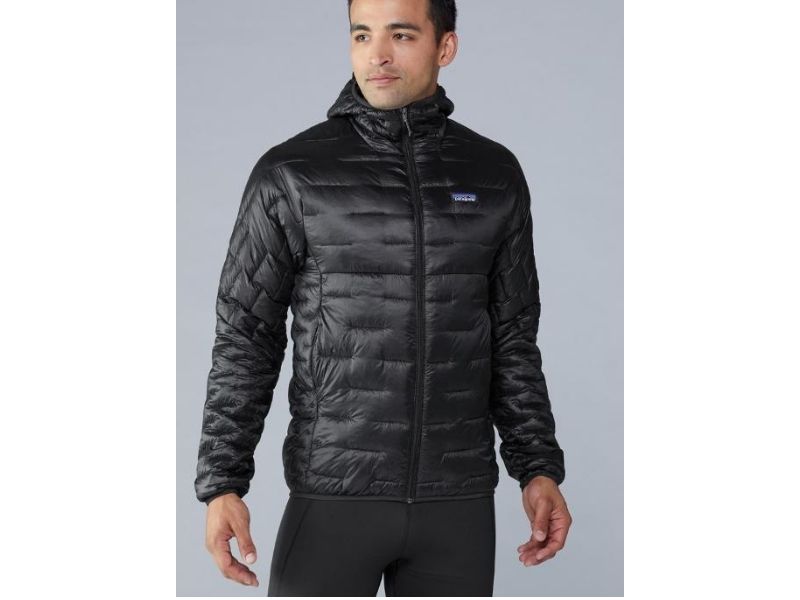 When the weather just won't cooperate on your hiking trip, the Patagonia Micro Puff is one midlayer coat that you'll want to have in your pack.
Made with a water-resistant Ultralight Pertex Quantum nylon shell with a DWR coating and 65g of synthetic PlumaFill insulation, the Micro Puff is a superb choice for wet conditions and cold days in the mountains.
Furthermore, the Micro Puff is designed specifically with freedom of movement in mind, using a unique stitching structure that allows for ample range of motion. To sweeten the deal, Patagonia also crafted this midlayer with 2 hand and 2 internal pockets so you can stash your essential gear on the go.
We should point out, however, that the Micro Puff's thin shell is quite delicate and known to tear easily in rough conditions. Therefore, it's best used in combination with a hard shell, like a ski jacket, for maximum longevity.
PROs

PlumaFill insulation keeps you warm in wet weather
Ultralight Pertex Quantum nylon shell for water-resistance
Great range of motion
Plenty of pockets for gear storage

CONs
Bottom-Line: Lightweight, water-resistant, and super functional, the Patagonia Micro Puff is a great companion in inclement weather.
Arc'teryx Cerium LT
Best for Cold Days
When the mercury drops, the Arc'teryx Cerium LT is one of the best insulated jackets on the market.
It's crafted out of a high-tech Arato 10D nylon fabric, which is both lightweight and highly water-resistant. Meanwhile, Arc'teryx built the Cerium LT with a blend of Coreloft synthetic and 850 fill power down for improved warmth retention in frigid conditions.
The slim-fitting Cerium LT also has a longer length and a dropped back hem to stop the jacket from riding up while you wear a pack. It has a fully-adjustable StormHood, too, so you can keep your neck, ears, and dome super warm in bad weather.
While this coat doesn't stuff into its own pocket, it does have a stuff sack for storage. Furthermore, even though this is one of the pricier midlayers out there, the Cerium LT is impressively lightweight. As such, if warmth and weight savings are important to you, it's hard to go wrong with this coat.
PROs

Lightweight and highly packable
Helmet-compatible StormHood
Blend of down and synthetic insulation for all-weather use
Drop hem is more comfortable with a pack on

CONs

Doesn't stuff into its own pocket
Fairly pricey
Bottom-Line: It might cost you a pretty penny, but the Arc'teryx Cerium LT is the perfect midlayer for cold-weather adventures.
Mountain Hardwear Ghost Whisperer/2
Best for Ultralight Adventurers
When you won't settle for anything but the lightest gear on the market, the Mountain Hardwear Ghost Whisperer/2 is the ideal midlayer.
Tipping the scales at a remarkable 8.8 oz, the Ghost Whisperer/2 is one of the lightest models on the market. It packs down to an impossibly small size within its own zippered pocket, too, making it easier to pack while ski touring, hiking, or climbing.
The Ghost Whisperer/2 achieves its impressive weight savings thanks to its super-thin Whisperer 10D fabric and its 850 fill down insulation. At the same time, it still has 2 zippered hand pockets and a drawcord hem for maximum functionality.
As you can imagine, the Ghost Whisperer/2 is pricey. But, if you're okay with spending a little more for quality, this midlayer is sure not to disappoint.
PROs

Amazing weight savings
Packs into its pocket for storage
Incredible warmth-to-weight ratio
2 zippered hand pockets

CONs
Bottom-Line: A cherished companion of thru-hikers and alpinists alike, the Mountain Hardwear Ghost Whisperer/2 is a solid choice for gram counters everywhere.
Patagonia R1 Air Full-Zip Hoody
Best Fleece Mid Layer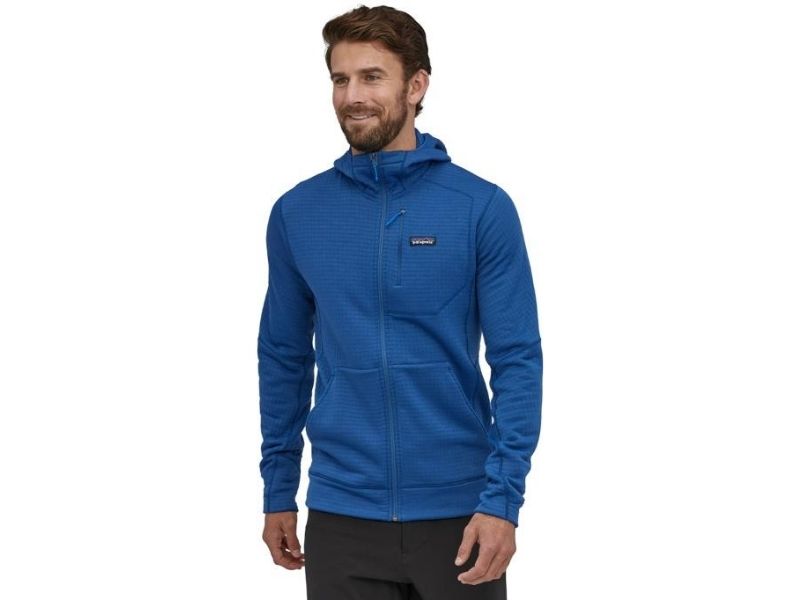 Equally suited to serve as your base layer or your mid layer, the Patagonia R1 Air Full-Zip Hoody is a versatile choice for year-round hikers.
Engineered out of 100% recycled polyester jacquard fleece, the R1 Air has a hollow-cord yarn construction for breathability and weight savings. It also has a unique power grid-esque zigzag texture to give it moisture-wicking properties.
If that wasn't good enough, this mid layer fleece also has HeiQ Fresh technology for odor control and is even designed to be low-bulk so it can work well within your layering system.
Despite all of this, the R1 Air is still a fleece, so it's fairly heavy as far as insulation goes. It also has a high price point for a fleece mid layer. But, if you want one insulated hoody that can also serve as a base layer in a pinch, the R1 Air is the obvious choice.
PROs

High breathability fabric
Zigzag patterning for wicking moisture
Low-bulk design works well with other layers
HeiQ Fresh technology for odor control

CONs

Fairly heavy
Pricey for a fleece
Bottom-Line: It may not be the lightest option available, but when it comes to fleece-powered warmth, the Patagonia R1 Air Full-Zip Hoody should be your go-to garment.
REI Co-op 650 Down Jacket 2.0
Best Budget Down Midlayer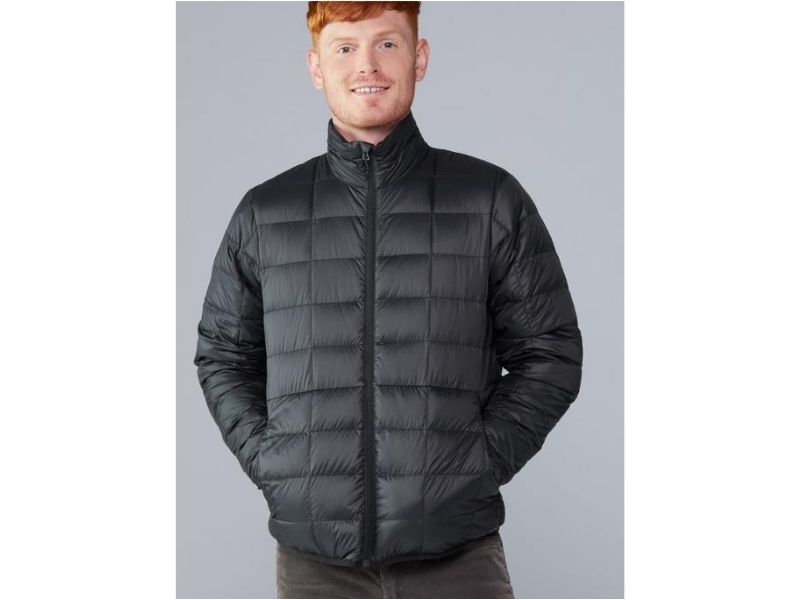 If you want a down midlayer that doesn't cost a small fortune, the REI Co-op 650 Down Jacket 2.0 might be what you're looking for.
This budget-friendly option is crafted with a recycled nylon taffeta shell that's bluesign-approved for eco-friendliness. Furthermore, it has 650-fill RDS-certified down to help you retain body heat and warmth while you trek.
For added convenience, REI designed this model to be highly packable. It packs down into its own pocket and it's small enough to transport on remote adventures as a backup, without weighing you down excessively.
While it might be a bit heavy for a down coat, the REI Co-op 650 Down Jacket 2.0 is treated with a DWR for added water-resistance. That way, it can also serve as an outer layer in a pinch. Ultimately, for a model that's as price-friendly as this one, it's hard to argue with the REI Co-op 650 Down Jacket.
PROs

Highly affordable
RDS-certified down
Made from recycled fabric
Packs into its own pocket

CONs

Fairly heavy for a down mid layer jacket
Bottom-Line: When you want the benefits of down without the high price tag, the REI Co-op 650 Down Jacket 2.0 is one of the best mid layers available.
Marmot Drop Line
Best for Comfort
Combining functionality with ample comfort, the Marmot Drop Line is a cozy fleece that's worthy of your consideration.
Putting comfort at the forefront of its design, Marmot engineered the Drop Line out of 100 weight sweater fleece. This fabric is soft to the touch and oh-so-cozy, making it one of those layers you won't ever want to take off.
Meanwhile, Marmot also crafted the Drop Line with their proprietary DriClime moisture-wicking technology. Therefore, it's just as capable of keeping you warm as it is at wicking away sweat. It also has a large, zippered chest pocket for stashing your gear and uses a drop-hem design to ensure the jacket doesn't ride up when worn under a harness or with a backpack.
Nevertheless, the Marmot Drop Line is heavy, even for a fleece jacket. It also doesn't have a hood or other popular features like thumb loops. Nevertheless, if you want a model that's just as comfortable while hanging around in town as it is while ski touring, the Drop Line is a clear frontrunner.
PROs

Zip chest pocket for gear storage
DriClime moisture-wicking technology
Soft-to-the-touch
Very breathable while hiking

CONs
Bottom-Line: The Marmot Drop Line is a comfort-focused option that's equally at home in the high mountains as it is the town.