Using trekking poles on your hiking or backpacking adventures brings many worthwhile benefits. Not only do they make it easier to maintain balance and help you avoid injuries, but they also help you get a better workout and power up those stiff ascents.
There are myriad options on the market, so we've been on a mission to find the best set of poles in the business, trying and testing various pairs from the big-wig brands in the outdoors world. In this post, we reveal our findings, introducing you to eleven awesome options for all budgets and needs.
Because different types of poles are better suited to different types of adventure and user, our list caters to everyone, featuring ultralight poles for fast-and-light adventurers, low-cost models, and burly workhorses for backpackers and frequent visitors to rougher terrain.
Top Choices by Category
Budget: Mountainsmith Dolomite OLS and REI Co-op Trailbreak
Ultralight: Black Diamond Distance Carbon Z and REI Co-op Flash Carbon
Comfort & Durability: Black Diamond Ergo Cork, Leki Makalu, and Black Diamond Alpine Carbon Cork
Editor's Choice
Black Diamond Trail Ergo Cork
After much deliberation and testing, however, we decided the awesome Black Diamond Trail Ergo cork (also available in women's sizes) is the best out there for the widest variety of users.
There are lighter and more compact options available, but the Trail Ergo compensate for their added heft and bulk with outstanding comfort, ergonomics, user-friendliness, and durability.
In short, unless you happen to plan on storing your poles in your pack for long periods or are averse to burdening your forearms with a few extra ounces, the Ergo Cork can't be beaten.
For a more detailed description of the Ergo Cork's makeup and features, check out its individual review, below!
Bottom Line: Heavier and less compact than some of the competition but a standout in every other metric.
At a Glance: Quick Recommendations
Best Trekking Poles: Our Top 9 Picks
Black Diamond Trail Ergo Cork
Editor's Choice
Type: Telescopic  ⸱ Shaft: Aluminum ⸱ Grip: Cork
The BD Ergo Cork (also available in women's sizes) earns our vote as the best poles out there. While other options can be lighter and more compact, we believe these will be the best match for the majority of hiker's and backpacker's needs.
The Ergo Cork are made with an aluminum shaft, natural cork grips, and interchangeable carbide tips, and have a reliable, easy-to-use, flick-lock locking system.
The aluminum shaft makes these telescoping poles among the sturdiest and most durable on our list, while the offset cork grips provide incredibly comfortable, chafe-free handling, even when you have sweaty hands. We also love the handles' offset, ergonomic shape, which we felt removed any strain from our wrists and placed our arms in a more natural position.
The Ergo use a simple, dual flick-lock system that makes it a piece of cake to adjust length, even while you're on the move or doing it with only one hand. Their only real shortcoming is that they measure a fairly long 27 inches when fully collapsed, so you may have to stow them on the outside of your pack when not in use.
PROs

Durable
Comfortable grips
User-friendly locking mechanism
Come with 38 mm trekking baskets and 100 mm snow baskets

CONs

Quite heavy
Not the most compact
Bottom-Line: Well-made, durable trekking poles with slightly better ergonomics and comfort than the best of the rest.
Leki Makalu
Runner Up
Type: Telescopic ⸱ Shaft: Aluminum ⸱ Grip: 80% cork
The Leki Makalu have been around for decades and in that time gained almost legendary status. The reasons for this are simple: they're user-friendly, as comfortable as they come, and are built to take a serious beating and bashing, coming out none the worse on the other side.
Like the BD Ergo Cork, the Makalu aren't the most compact or lightest trekking poles out there, measuring 26.3 inches when collapsed and weighing a fairly hefty 17.1 ounces. While this means they're not the most suitable for fast-and-light adventurers, their heft and bulk is a large part of what makes them ideal for just about everyone else.
Previous versions of the Makalu have used various locking mechanisms, but this iteration's SpeedLock Plus locking system makes them more practical and reliable than ever before. The clasps are burlier than those on other models on our list, feel more secure, and are easy to operate even when you're wearing thick gloves.
The new version of the Makalu trekking pole also features a more ergonomic grip that soaks up sweat and provides all-day comfort.
PROs

Ergonomic cork grips
Powder baskets included
Extreme durability makes them great for thru-hikers
Burly, glove-friendly locking mechanism

CONs

Longer collapsed length
Quite heavy
Bottom-Line: Not the most compact or lightest poles out there, but seriously robust and as durable as poles are made.
Leki Women's Micro Vario Carbon
Best Women's
Type: Folding ⸱ Shaft: Carbon (aluminum sleeve section ends) ⸱ Grip: Aergon Thermo foam
The contest for the best women's trekking pole was more clear-cut than the tussle for best overall, with the awesome Leki Micro Vario Carbon standing head and shoulders above the competition.
These carbon fiber trekking poles score highly in every metric. They're lightweight, comfortable, relatively durable, highly shock-absorbent, and comfortable to grip.
The Mirco Vario are constructed with a combo of high-modulus (stiffer) carbon with aluminum reinforcements at the ends of each pole segment, normally points of weakness. Their foam grips are comfortable to hold and soak up sweat quickly, but are unlikely to last as long as cork or rubber alternatives.
The Micro Vario weigh just 16 ounces and measure just 14.9 inches when folded, so they're ideal for summit pushes or backpacking trips where you don't anticipate using them all of the time.
There aren't any real downsides to the Micro Vario barring their kinda exorbitant price tag, though it's worth mentioning that their range of adjustment (7.8 inches) is quite limited compared to other models.
PROs

Reasonably light
Nice shock absorption
Comfortable grips
Durable for carbon
Stiffer, high-modulus carbon fiber shafts

CONs

Foam grips aren't the most durable
Expensive
Bottom-Line: Well-designed, reasonably durable, lightweight trekking poles that are comfortable when using them and convenient to carry when not.
Black Diamond Distance FLZ – Women's
Runner Up Women's
Type: Foldable ⸱ Shaft: Aluminum ⸱ Grip: EVA foam
The BD Distance FLZ are a great pick for female hikers who want a more durable female-specific pole for longer-distance hiking and backpacking.
These aluminum poles don't offer nearly the same degree of shock absorption as the Leki Micro Vario but excel in pretty much every other way.
The aluminum construction makes the FLZ a little heavier (16 oz.) but also hardy enough for long-distance, multi-day (or week/month) backpacking in rough terrain. Their folding design also makes them suitable for peak bagging or traveling in terrain where poles aren't needed, while their one-piece flick locks means on-the-go adjustments are easy.
We found the EVA foam grips on the FLZ super comfortable, and greatly appreciated the non-slip foam mini-grip extensions, which are particularly useful when you need to grip down on short or unexpected steep portions of trail. On the downside, we can't see the grips lasting too long or maintaining their cushiness in the longer term.
PROs

Fold down to 15"
Reasonably light
8" adjustment range
Interchangeable pole tips (carbide and rubber tips)

CONs

Foam grips will degrade over time
Minimal shock absorption
Bottom-Line: These durable folding trekking poles are our top pick for female backpackers.
Mountainsmith Dolomite OLS
Best Budget
Type: Telescopic ⸱ Shaft: Aluminum ⸱ Grip: Cork + EVA foam
If you're an occasional hiker looking for a simple, hard-wearing, robust, low-cost trekking pole, you really can't go wrong with the Mountainsmith Dolomite OLS.
Weighing in at 20 ounces per pair, the Dolomite OLS aren't going to win any prizes for their feathery lightness. They're also not the most compact, measuring 24 inches when collapsed. Other than that, however, they're great poles at a fantastic price.
Like all aluminum trekking poles, the Dolomite OLS are better cut out for rugged terrain than their carbon fiber counterparts. And unlike some of the pricier carbon models on our list, the Dolomite OLS are sold in singles, so they're cheaper to replace in the event of breakage.
While the cork and EVA foam grip isn't as comfy to hold as others on our list, it's also not uncomfortable and is durable where durability is most needed. The foam extension to the grip also lets you tackle short ascents without having to adjust the length.
When length adjustments are called for, the outerlock system (OLS) makes life easy, even when you're doing them one-handed. Our only slight complaint is that the levers are a little too small to operate when wearing thicker gloves.
PROs

Cheap!
Durable
Reasonably comfortable grip
Sold in singles (cheaper to replace if one is broken)

CONs

Heavy (20 ounces per pair)
Snowbasket not included
Bottom-Line: Robust, no-nonsense poles that are a little heavy but otherwise ideal for the unfussy hiker or backpacker.
REI Co-op Trailbreak
Best Value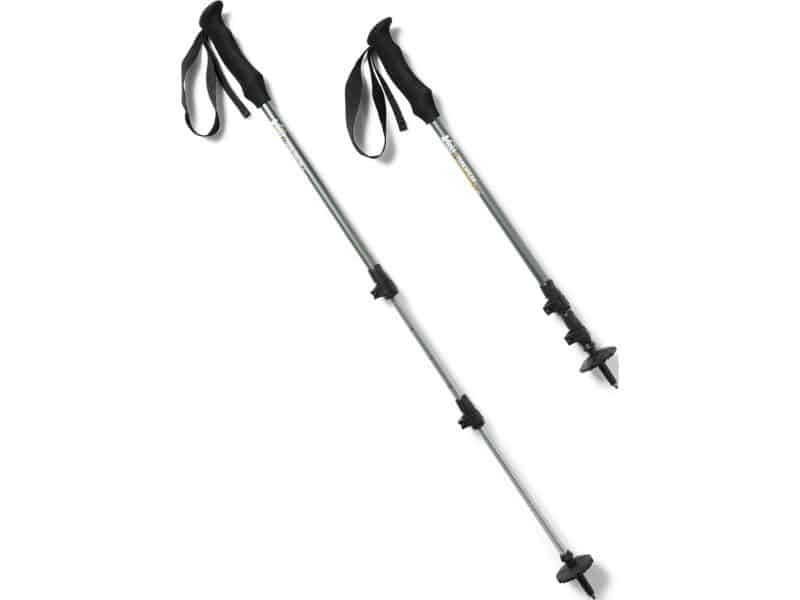 Type: Telescopic ⸱ Shaft: Aluminum ⸱ Grip: Foam
Like the Mountainsmith Dolomite OLS, the REI Trailbreak is a simple, no-nonsense kinda trekking pole that offers outstanding value for money.
While a little more expensive than the Dolomite OLS, the Trailbreak weigh 3 ounces less per pair, so are a little more versatile. This weight reduction means they'll be a little lighter in your hands while hiking and not too much of a burden if you need to throw them in or on your pack for scrambles. At 25 inches, however, their collapsed size is a little on the long side.
The all-aluminum construction of the Trailbreak makes them as durable as any other model on our list. The foam grips also appear reasonably durable and felt nicely breathable and comfortable during testing. We're also fans of the wrist loops, which have a little bit of stretch and are soft enough to prevent chafing.
Finally, the Trailbreak are one of only three models on our list that cater to the needs (or height, rather) of exceptionally tall hikers, measuring 55 inches when fully extended.
PROs

Affordable
Durable and robust
Simple lever locking mechanism
Comfortable grips

CONs
Bottom-Line: Far more robust and dialed-in than most trekking poles in this price range.
Black Diamond Distance Carbon Z
Best Ultralight
Type: Folding ⸱ Shaft: Carbon fiber ⸱ Grip: EVA foam
If you're a dyed-in-the-wool ounce-counter looking to shave off all the weight you can, the minimalist BD Distance Carbon Z are well worth considering.
These ultralight poles weigh just 11.1 ounces per pair, making them not much heavier than similarly sized tent poles! This, combined with their 14-inch collapsed length, also makes them absolutely ideal for summit hikes and scrambles when you need to stow them inside your pack.
The handle on the Distance Carbon Z is made from a lightweight and breathable EVA foam. While this isn't the most durable, it's comfortable to handle, even with sweaty hands, and its furrowed design lets a little airflow into the palms of your hands. This is particularly noticeable and welcomed on a hot and humid day!
The Distance Carbon Z, however, has a few shortcomings that will make them less desirable – or plain unsuitable – for numerous users.
First of all, this is a fixed-length pole, meaning there's no adjustability for different angles of slope – okay when you're hiking downhill, maybe, but not ideal on the way up or in varied terrain.
Secondly, their thin diameter and all-carbon construction makes them more liable to break if snagged between rocks.
All in all, these can be either a great or poor choice depending on the end use. If you're a regular hiker or backpacker, there are better options out there. If you're a trail runner, fastpacker, or otherwise averse to carrying too much weight, they're an option well worth considering.
PROs

Ultralight
Compact
Interchangeable pole tip
Come in 4 different fixed lengths

CONs

Fixed length
Grip not as comfortable or durable as cork
Bottom-Line: These ultra-lightweight poles aren't adjustable but their compactness and piddly weight makes them well worth considering for serious ounce-counters and trail runners.
Black Diamond Alpine Carbon Cork
Best for Comfort
Type: Telescopic (folding version available) ⸱ Shaft: Carbon fiber ⸱ Grip: Cork
What makes one trekking pole more comfortable than another? Three things will play a role: the material of the grip, the grip's ergonomics, and their ability to absorb shock. In all of these respects, the Black Diamond Alpine Carbon Cork (click here for women's version) are a standout.
These telescopic hiking poles are made with a carbon fiber shaft and an ergonomic cork grip with soft rubber grip extensions that allow you to grip down the pole on short inclines. The cork has a little "give", so feels comfortable in your hand all day, and the carbon construction provides significantly more shock absorption than aluminum.
The Alpine CC collapse down to 24 inches and weight 17.1 ounces, so are comparable to the Leki Makalu and BD Ergo Cork for weight but are more compact (by 3 inches). However, they cost significantly more, so we'd only really recommend you choose these over the Makalu or Ergo if portability is a top priority.
A pair of BD Alpine are also available in a folding version that is far lighter and more compact.
PROs

Great grip
Sturdy
Highly shock-absorbent
Interchangeable tips
Easy-to-use locking mechanism

CONs

Quite heavy
Pricey
Snow baskets sold separately
Bottom-Line: Rugged, comfortable, and our favorite trekking poles for 4-season hiking.
REI Co-op Flash Carbon
Honorable Mention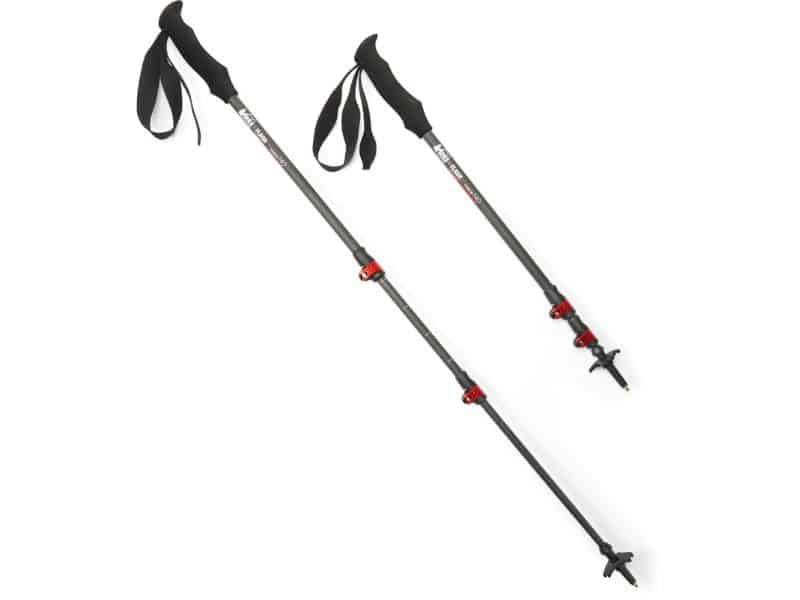 Type: Telescopic ⸱ Shaft: Carbon and aluminum ⸱ Grip: Foam
REI's Flash Carbon poles are among the most affordable, lightweight carbon models on the market, so are a good choice for anyone who wants top-end performance without a top-end price tag.
The Flash Carbon weigh just 13.6 ounces, so are among the lightest options on our list. Despite this, they're reasonably tough and boast a high-quality build that's on a par with pricier competitors.
The FC are made with a combo of carbon fiber and aluminum, so are a fraction tougher than all-carbon models. The foam grips aren't as comfortable or durable as cork but you'll be hard-pressed to find anything better at this weight.
Compared to our list's other pair of ultralights, the BD Distance Carbon Z, the Flash Carbon are a few ounces heavier and, at 25 inches collapsed, aren't nearly as packable. However, they're also a little sturdier, cheaper, and can be adjusted from 55 to 41 inches, making them a far more versatile option.
PROs

Affordable for the weight
Durable construction
Easy and secure lockers

CONs

Foam grips aren't as comfortable or durable as cork
Not the most compact
No grip extension
Bottom-Line: A great pair of ultralight carbon "sticks" at a fair price.
How to Choose Trekking Poles
Type: Telescoping, Folding, or Fixed Length?
The configuration of your poles might seem like a small concern, but actually has the greatest impact on their performance.
Fixed-Length
Let's start with the outlier, fixed-length poles, aka Nordic walking poles. Fixed-length models have two main benefits. Because they have no locking mechanism, they're often lighter than adjustable models. This lack of movable parts and their one-piece construction also makes them feel sturdier.
The drawbacks are that they can't be adjusted to suit the height of the user or the aspect of the terrain, and can't be folded up to store in or on a backpack. As these poles are best suited to ski-touring, trail running, and nordic walking, we have only included one on our list – the Black Diamond Distance Carbon Z.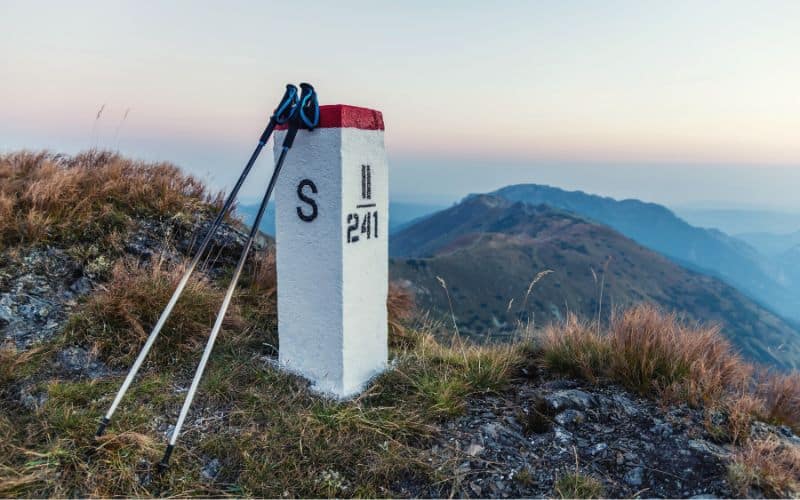 Folding
Folding trekking poles are composed of 3-5 segments connected by an internal cord. In most cases, they can be folded into smaller lengths, which makes it easier to store them inside your backpack when not in use. This makes them particularly popular with mountaineers and scramblers.
Four- or five-part folding poles usually feel sturdier than three-part, twist-lock telescopic models because the minimal bend in each shorter section creates better overall structural rigidity. Length adjustments are also a cinch to make on the move – just flip open the lever, slide the segment to the desired length, then lock off again.
The only drawbacks to folding models are that they tend to cost more and usually have a smaller adjustment range.
Examples: Leki Women's Micro Vario Carbon, Black Diamond Distance FLZ, Black Diamond Distance Carbon Z
Telescopic
Three- or two-part telescopic poles are the most commonly available. Each segment in these poles slides inside the other for easy storage when not in use and can be easily adjusted to suit the user or terrain. They're also usually cheaper than folding models.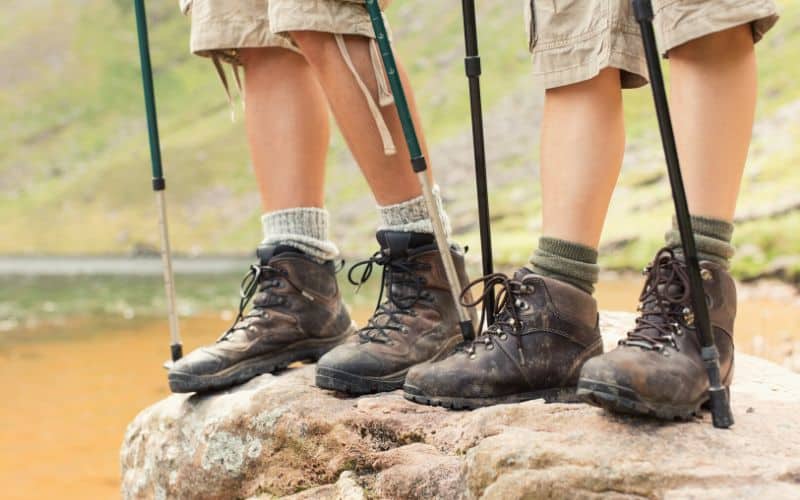 The downsides? The locking mechanisms can jam if clogged with dirt or grit and they're virtually impossible to repair if any one segment or the internal shock cord is broken.
Examples: REI Co-op Flash Carbon, Black Diamond Alpine Carbon Cork, Black Diamond Trail Ergo Cork, REI Co-op Trailbreak, Mountainsmith Dolomite OLS, Leki Makalu.
Grip Materials
Rubber, cork, or foam? Each material brings something a little bit different to the table.
Cork is typically found in heavier poles but is generally considered the most comfortable material to grip. It absorbs the vibration caused by impact far better than either foam or rubber, remains grippy even when your hands are sweaty, and doesn't chafe.
Foam is also very comfortable, doesn't chafe, and doesn't become slippery when wet or sweaty. On the downside, it's far less durable than either rubber or cork.
Rubber grips are the least comfortable of the bunch and the most slippery. On the plus side, they're cheaper, absorb vibration pretty well, and are the most durable of the three materials.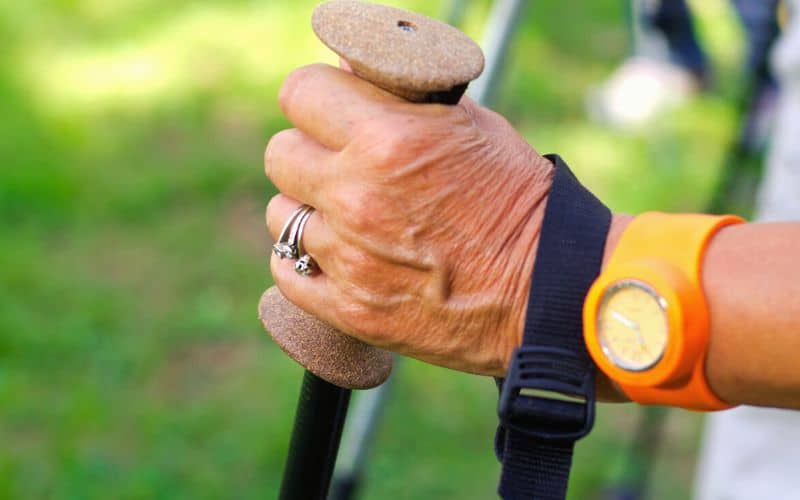 Weight
Weight isn't a huge issue unless you're a) worried about muscle fatigue when hiking long distances or b) expect to carry your poles in/on your pack for long stretches before deploying them.
The lightest model on our list are the Black Diamond Distance Carbon Z, which weigh just 11 oz. per pair. And the heaviest? The Mountainsmith Dolomite OLS, which weigh 20 oz. per pair.
Shaft Material
Carbon fiber or aluminum poles?
Aluminum models are, for the most part, much heavier than their carbon cousins. They are also, however, more durable, less likely to snap or shatter, and much cheaper. Our list has several aluminum models, amongst them the Black Diamond Trail Ergo Cork, REI Co-op Trailbreak, and Leki Makalu.
Carbon models can weigh as little as 7 ounces per pair, making them ideal for ounce-counters or anyone who anticipates storing them in their pack for significant periods of time. On the downside, carbon models are pricey and much easier to break.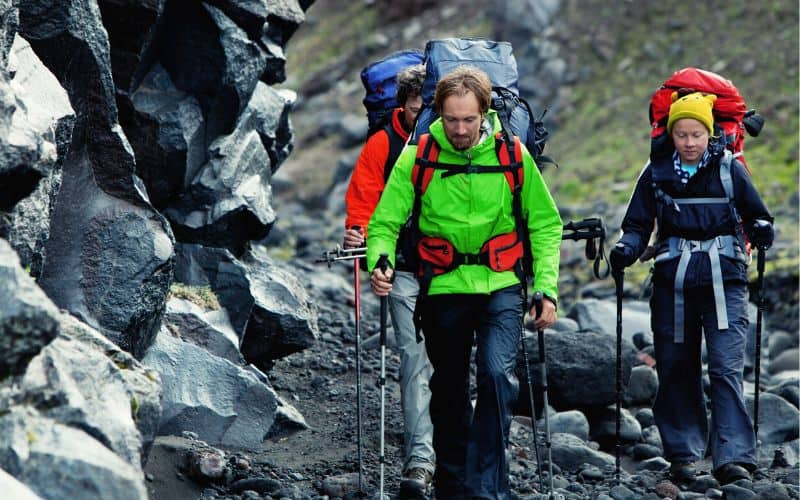 The Black Diamond Alpine Carbon Cork, Black Diamond Distance Carbon Z, REI Co-op Flash Carbon, REI Co-op Traverse, and Leki Women's Micro Vario all use carbon shafts.
Locking Mechanisms and Adjustability
The type of locking mechanism used to fix each segment of your poles in place has a big impact on their convenience and practicality.
The most common types of locking mechanisms are lever locks, twist locks, and button locks.
Lever locks are clips positioned at the join between each section of pole. To engage/release the lock, all you have to do is flick open or clasp shut the lever. This design makes them easy to adjust with one hand and less likely to jam. There are no real downsides to poles with this style of locking mechanism, though they usually cost more than the alternatives.
All of the models on our list use plastic or metal lever locks except for the Black Diamond Distance FLZ and Black Diamond Distance Carbon Z.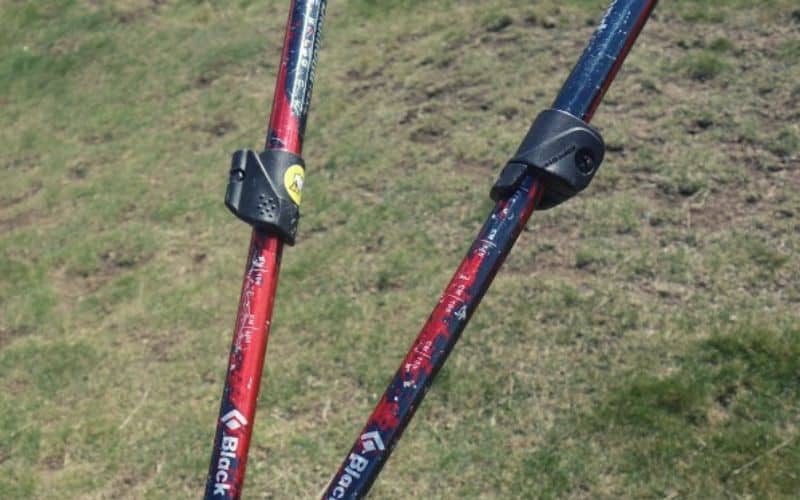 The BD Carbon Z and Distance FLZ use button locks that snap the pole into place with the simple push of a button. This locking style is highly convenient, but also means these poles have limited or no adjustability. The Distance FLZ can be adjusted by 15-20cm and the Carbon Z are non-adjustable.
Screw or twist locks adjust and lock with a simple twist of the pole, which either releases or engages an expanding screw inside the pole. The benefits of this locking style are that it minimizes bulk and is very reliable. On the downside, a twist lock mechanism can get jammed, making them difficult to release, when clogged with grit or dirt.
Packed Size
If you do any mountaineering or scrambling, packed size is an important consideration. The reason for this is simple – while you're doing either of them, you'll need to keep your hands free, so your poles will have to be squeezed into your pack.
You can, of course, attach them to the outside of your pack. However, this can lead to snagging on rocks, trees, or your partner, and can cause balance problems.
The most packable options on our list are the Black Diamond Distance Carbon Z, which collapse to just 14 inches. The next most compact are the Leki Women's Micro Vario Carbon (14.9") and Black Diamond Distance FLZ (15").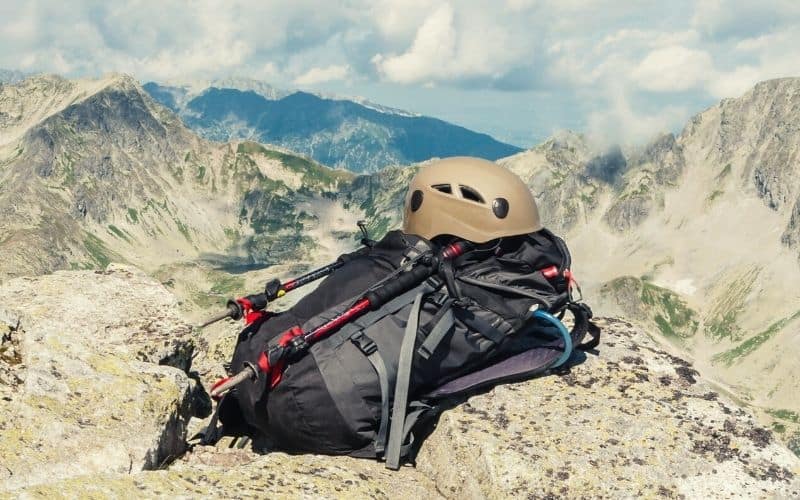 Durability
Trekking poles are something of an exception to the time-honored rule "you get what you pay for". By this, we mean that frequently budget models prove to be more durable than top-end models. This is because cheaper models are usually made with hardier materials like aluminum and rubber, as opposed to carbon and foam or cork.
The only caveat to the above is that the twist-lock mechanisms on budget poles can degrade over time, which can lead to them either becoming jammed or failing to lock.
While our testing period wasn't long enough to determine which of the above models will best stand the test of time, we can confidently say, going by first impressions and the materials used, that we expect the Mountainsmith Dolomite OLS and Black Diamond Trail Ergo Cork to last longest.
The author of this post has also had a pair of Makalus for 11 years and they show no sign of letting up!
Length
If your poles are properly sized and adjusted, your elbows should be at a 90-degree angle to the ground when the poles are planted beside your feet.
Most adjustable poles cover a wide range of sizes, but it's worth double-checking the max length if you happen to be very tall (over 6' 2"). If you're under 5'6", you'll be able to shorten any adjustable model to the appropriate length, but it may be worth playing for a shorter pair to minimize weight.
To get an idea of what length of pole you'll need, take a look at the following table:
| | |
| --- | --- |
| User Height | Rough Pole Length |
| 4'6" – 5' | 36 – 40 inches |
| 5' – 5' 6" | 41 – 45 inches |
| 5' 6" – 6' | 46 – 50 inches |
| 6'+ | 51 – 55 inches |
Top Trekking Poles: The Verdict
Just in case you're still undecided, let's have a little recap of our choices for best trekking poles. 
Our favorites are the Black Diamond Trail Ergo Cork. While a little on the heavy side, the Trail Ergo excels in every other metric. They're sturdy, comfortable, highly shock absorbent, durable, and more adjustable than many competitors.
If you're in the market for something cheaper, we recommend the REI Trailbreak or Mountainsmith Dolomite OLS. Both of these are a little heavier and less compact than other options on our list, but they're also tough, reasonably comfortable, and good enough for the needs of most hikers.
If you liked this post or have any questions, drop us a line in the comments box below. And if you'd like to share it with your friends, please do!