Looking to shed some poundage from your pack? If so, you're in the right place. We've been busy putting some of the top ultralight shelters on the market through their paces, and in this guide, we'll introduce you to our favorites for this year.
We've narrowed down the options to 9 standout performers in a variety of categories. These include budget backpacking tents, multi-person tents, solo tents, minimalist tents, and our top pick overall. Below our reviews, you'll also find expert advice to help you choose the best option for your specific needs.
Top Choices by Category
Budget: MIER Lanshan Ultralight
1/2-Person: Big Agnes Tiger Wall, Big Agnes Copper Spur, and Nemo Hornet
2-4-Person: Black Diamond Beta Light and REI Half Dome 2+ (other tents are available in 3 and 4-person models)
Editor's Choice
Big Agnes Copper Spur HV UL2
We've been big fans of the Copper Spur for many years. While it isn't the lightest ultralight tent out there, we believe it provides the perfect balance between weight, livability, weather protection, and durability.
The Copper Spur's central pole hub, pre-bent poles, and pre-cut tensioners and guylines allow for one-piece, easy-peasy pitching. And once up, the interior is roomier than you'd expect of such a lightweight tent. The high-volume angle hub boosts headroom throughout, making the most of the generous 29 square feet of floor space.
With a 1,200 mm rain fly and a silicone-treated floor, the Copper Spur is tooled up and ready for three-season adventures. And in warmer weather, you can either ditch the fly altogether or ventilate using the adjustable rain fly vents, which help to control interior temperature and humidity when conditions are on the sticky side.
In terms of features, the Copper Spur is a standout. You get two large vestibules, a 3D bin "mezzanine" for storage, a ceiling pocket, media pockets, and doorways that can be extended to create awnings for drying out gear or for chilling in the shade on sunny days. All of these help to make the CS a lot more comfortable and user-friendly than competitors in its weight class.
Bottom Line: The best thru-hiking tent out there for anyone who wants to make serious weight savings without compromising on quality and comfort.
At a Glance: Quick Recommendations
Best Ultralight Tents: Our Top 9 Picks
Big Agnes Copper Spur HV UL2
Editor's Choice
Packaged Weight: 3 lbs. 2 oz. ⸱ Floor Space: 29 square feet ⸱ Peak Height: 40 inches ⸱ HH: 1,200 mm rain fly
The Copper Spur UL2 isn't the lightest tent out there, but its spacious interior, awesome features, user-friendliness, and robust waterproofing make it a standout nonetheless.
This freestanding tent can be pitched in around two minutes and, once up, is surprisingly roomy inside. This is mainly due to the high-volume angle hub and pre-bent poles, both of which help add a little extra headroom, though the double vestibules, 3D bin "mezzanine", ceiling pocket, and media pockets also help to free up floor space and make the interior all the more liveable.
Another impressive and lovable feature is found in the doorways, which can be extended with two trekking poles to create an awning on either side.
The Copper Spur's double ripstop fabric is a little on the thin side, so we wouldn't want to subject it to too much abuse, but there's no reason why this tent shouldn't last you a lifetime with proper care and maintenance.
One of the things we love most about the Copper Spur is that it excels in all kinds of weather. Its double-walled, double-doored design and duo of vents in the vestibule doors provide plenty of airflow in hot and humid conditions, while its 1,200mm rain fly and silicone-treated floor offer robust enough weather protection for three-season adventuring.
The only real quibble we have with the Copper Spur is the price tag. While pricey, however, its impressive scores in every metric earn it our vote as the best ultralight tent out there.
PROs

Easy to pitch
Spacious
3-person model available
Great features
Robust waterproofing

CONs

Pricey
A little heavier than other options
Bottom-Line: Simply put, the crème de la crème of backpacking cribs.
Nemo Hornet 2P
Runner Up
Packaged Weight: 2 lbs. 6 oz.  ⸱ Floor Space: 27.5 square feet ⸱ Peak Height: 39 inches ⸱ HH: 1,200 mm rain fly
Few tents in its price range come close to matching the impressive Nemo Hornet for ease of setup, weight, and livability.
The Hornet tips the scales at just 2 lbs. and 6 oz., which makes it a whole 12 ounces lighter than the Copper Spur and 22 ounces lighter than the MSR Hubba Hubba. Despite this, it offers nearly as much space as both and is every bit as waterproof and durable.
This semi-freestanding tent has a two-walled design and uses a single-pole construction that makes setup incredibly quick. There are two doors, two vestibules, and a Flybar "volumizing pole" in the roof that increases the volume and headroom. All these features make it much more livable than other tents with such a small footprint and packed weight.
The Hornet's raised bathtub floor, sealed seams, and 1,200 mm, silicone-treated rain fly mean it performs well in wet conditions. And when it's hot out, the mesh interior and slightly raised rain fly walls help ensure there's ample airflow.
The 10D ripstop fabric used in the Nemo's fly and body is the only cause for concern. While it's tough enough to last many years on the trail, it's not nearly as rugged as the 20D, 30D, or even 40D fabric used in competitors like the BD Beta, REI Half Dome 2+, or MSR Hubba Hubba.
PROs

Lighter than many other double-walled tents
Robust waterproofing
Steep walls shed water quickly
Two doors and two vestibules for your backpacking gear

CONs

Lighter options are available
Slightly short on living space for two
Thinner, flimsier fabric
Bottom-Line: One of the lightest three-season tents on the market.
Black Diamond Beta Light
Best Trekking Pole Tent
Packaged Weight: 1 lb. 7 oz. ⸱ Floor Space: ~54 square feet ⸱ Peak Height: 49 inches ⸱ HH: N/A
If you need a roomier lightweight tent for multi-day backpacking adventures, the BD Beta Light is well worth considering.
The BD Beta weighs just 1 lb. 7 oz., but offers a whopping 54 square feet of floor space and has a (relatively) lofty peak height of 49 inches. That's a lot of interior space for very little weight! The 30D fabric is also among the thickest of all the tents on our list, so it's hardy enough to handle a lot of rough treatment on the trails.
All of the above, however, needs a little perspective to give a fair impression of how this tent compares to the options listed above and below.
The Beta is a non-freestanding tent that relies on the use of a pair of trekking poles for support instead of regular tent poles. It's also single-walled, doesn't have any features, and has no flooring. All this means that you may be getting one of the most lightweight tents out there, but you'll have to forego a lot in the way of convenience, weather protection, and user-friendliness.
PROs

Highly portable
Burly tent fabric
Great ventilation (!)
Large coverage area

CONs

No flooring
No vestibule space
Non-freestanding
Bottom-Line: As a trekking pole-supported tent it is a little fiddly to pitch and short of features, but exceptionally light and roomy.
Kammok Kuhli UL
Best Minimalist
Packaged Weight: 14 oz. ⸱ Floor Space: ~80 square feet ⸱ Peak Height: Depends on configuration ⸱ HH: N/A
If keeping trail weight to a minimum is your chief concern, the Kammok Kuhli is one of the best lightweight tents out there.
There isn't too much to this tent, which will be a pro for some and a con for others.
What you get is a highly waterproof, A-frame rain fly made with relatively tough silicone/polyurethane-coated Patagium fabric with a durable water repellent (DWR) finish. Its tapered shape and knotless design help keep weight and setup hassles to a minimum, while the included tent stakes and reinforced anchors keep it stable in strong winds.
As a tarp tent, you don't get any poles, flooring, or features, and the open-ended design means you'll be exposed to whatever kinda breeze is blowing – a boon on balmy nights, maybe, but not so much if temps are low.
For what it is, the Kammok Kuhli is top of the line. However, we'd only recommend going down the tarp tent route if you need to shed every possible ounce and are happy spending your nights all but al fresco.
PROs

Weighs next to nothing
Lifetime warranty
Waterproof
Tiny packed size

CONs
Bottom-Line: A bare-bones affair, but one of the lightest two-person tents you'll find.
MIER Lanshan Ultralight Tent
Best Budget Tent
Packaged Weight: 2.2 lbs. (one-person model) ⸱ Floor Space: 22.5 square feet ⸱ Peak Height: Depends on configuration ⸱ HH: 5,000 mm rain fly/6,000 mm floor
The MIER Lanshan is a great pick for solo adventurers who need a lightweight tent that won't (like most of its competitors) deal a serious blow to your bank account.
This double-wall tent exceeded our expectations. At 2.2 pounds, it's a little heavier than most UL one-person tents, but by no means a fatty. It also offers a generous 22.5 square feet of floor space, which makes it palatial for one and capable of accommodating two smaller sleepers at a squeeze.
The Lanshan is one of the most waterproof tents on our list. Its rain fly has a hydrostatic head of 5,000 mm and its bathtub floor an HH of 6,000 mm. To translate that into non-technical parlance, it's waterproof enough to see you through even the heaviest of downpours.
In warm conditions, it's a winner. The all-mesh inner tent provides plenty of airflow, while a vent in the ceiling helps to decrease the risk of condensation.
The two-person version of the Lanshan weighs just 2.8 pounds and offers an extra 7.5 square feet of space, so is well worth considering for camping couples.
PROs

Vestibule provides gear storage space
Impressive interior space for a one-person tent
Great ventilation
Impressive weather protection
Tent fly and body pre-attached
Minimum trail weight of 1.7 lbs.

CONs

Only one door
Not much headroom
Bottom-Line: A well-made, affordable one-person tent that performs just as well as many pricier competitors in the most important metrics.
MSR Hubba Hubba NX 2
Best 2-Person
Packaged Weight: 3 lbs. 14 oz. ⸱ Floor Space: 29 square feet ⸱ Peak Height: 39 inches ⸱ HH: 1,200 mm rain fly
The MSR Hubba Hubba NX2 is one of the most popular backpacking tents out there – and with good reason.
In short, the Hubba Hubba is a genuine all-rounder that ticks all the boxes that need ticking. It's lightweight, roomy, easy to pitch, liveable, highly waterproof, and far more durable than most ultralight tents.
With 29 square feet of floor space and a peak height of 39 inches, the Hubba Hubba NX 2 is smaller than the other heavier tent on our list, the Half Dome 2+. However, it's roomy for two people and weighs almost a pound less.
The inner tent is made with DWR-treated, high-tenacity nylon and large panels of 15-denier mesh that helps to ensure steady air circulation and keep stuffiness and condensation to a minimum. Underfoot, there's a 3,000 mm, raised bathtub floor that makes it safe to set up on even soggy ground.
The 20-denier rain fly has a hydrostatic head of 1,200 mm, so it's more than waterproof enough for three-season backpacking.
Other nice features that earn this one our seal of approval include its two roomy vestibules, the cross-ventilating rain fly (with a kickstand vent, no less), the unified hub-and-pole system that makes setup a breeze, and its new Easton Syclone Poles, which make the whole tent feel far sturdier than previous versions.
And the downsides? Barring its weight, the only slight shortcomings worth mentioning are the lower peak height (39") and the fact that the seams aren't pretreated with any sealant, so you'll have to spend some time sealing them yourself.
PROs

Tough materials
Easy and quick to set up
Solid waterproofing
Large vestibules
Good ventilation

CONs

Pricey
Unsealed seams
Low peak height
Bottom-Line: Our pick for the best ultralight 2-person tent is roomy and comfortable enough for car camping, yet also lightweight and portable for backpacking.
REI Co-op Half Dome SL 2+
Best Value
Packaged Weight: 4 lbs. 11.5 oz. ⸱ Floor Space: 33.75 square feet ⸱ Peak Height: 42 inches ⸱ HH: 2,000 mm rain fly
At 4 lbs. 11. 5 oz., the REI Co-op Half Dome 2+ is the heaviest tent on our list but merits inclusion on account of its spacious interior, solid weather protection, and dialed-in features. If nothing else, it shows exactly what you miss out on when choosing a tent at the lower end of the weight scale.
The Half Dome 2+ gives you a generous 33.75 square feet of interior space, which makes it the roomiest free-standing tent on our list. This also makes it capable of hosting two sleepers comfortably, or three at a (very tight) squeeze. Its 42-inch peak height is also above average, while its 22.5-square-foot vestibule area means there's plenty of space for gear storage.
As mentioned above, the only real downside to the Half Dome 2+ is the weight. At 1 lb. and 9 oz. heavier than the BA Copper Spur, you'd have to seriously consider how much extra you're willing to carry in return for the Half Dome's extra features, additional space, and superior weather resistance.
PROs

Very roomy for a 2-person tent
Two doors
Plenty of vestibule space
Fairly priced
bluesign-approved fabrics

CONs
Bottom-Line: A slightly heavy but otherwise awesome option for couples who are happy to carry a few extra pounds in return for more living space and superior waterproofing, durability, and features.
Sea to Summit Telos TR2
Premium Pick
Packaged Weight: 3 lbs. 10.7 oz. ⸱ Floor Space: 28 square feet ⸱ Peak Height: 43.5 inches ⸱ HH: 1,200 mm rain fly/2,000 mm floor
If you have a slightly larger budget and want one of the best ultralight tents that money can buy, the Sea to Summit Telos TR 2 is well worth a place on your shortlist.
This two-person tent excels in every area but it's in the livability and versatility metrics that it makes its mark.
While boasting a modest 28 square feet of floor space, the Telos feels roomier than similarly sized shelters owing to its high-volume architecture. A "tension ridge" bar in the ceiling helps to lift the tent's shape upwards, thereby providing more headroom throughout the interior. Its 19.5 square feet of vestibule space also ensure that none of the interior space need be used for gear.
This is also by far the most versatile option on our list. Like all two-walled tents, it can be used either with or without the fly, depending on conditions. However, the fly can also be rolled up to provide partial coverage for a night's stargazing or used in "Hangout Mode" (with a pair of trekking poles) to create a semi-open shelter.
With a 2,000 mm floor and 1,200 mm fly, the Telos is suitable for three-season adventuring. Its mesh interior, double-doored design, and a couple of awesome ventilation features, however, mean it's also a stellar performer in hot and humid conditions.
These ventilation features take the form of a large "Apex Vent" in the roof that can be zipped closed from inside and adjustable vents at the base that let you control airflow without having to worry about any rain sneaking in.
And that's not all on the features front with a few other features making the Telos one of the best ultralight tents out there. The most impressive of these are its super handy FairShare storage system and Lightbar pole storage sack.
The FairShare system allows you to pack the tent into 3 stuff sacks to split the load and use the sacks as gear pockets once pitched, while the Lightbar sack can be mounted in the canopy with a headlamp inside to create soft, ambient lighting throughout the sleeping area.
PROs

Awesome features (galore!)
Great ventilation
Very easy to pitch
Great weather protection
High-volume architecture increases usable space

CONs
Bottom-Line: A well-rounded UL tent that trumps most of its competitors in livability.
Big Agnes Tiger Wall 2 Carbon
Honorable Mention
Packaged Weight: 2 lbs. 7 oz. ⸱ Floor Space: 27 square feet ⸱ Peak Height: 39 inches ⸱ HH: 1,200 mm rain fly
The Tiger Wall is the lightest two-door, two-vestibule model in Big Agnes range. While marketed as a bikepacking tent, there's no reason why thru-hikers and backpackers shouldn't get in on the action – in fact, there's every reason why they should!
The Tiger Wall is ideal for backpackers and thru-hikers who want something a lot more protective than a tarp-style model but a lighter tent than your average enclosed, standard backpacking shelter.
This tidy little tent weighs just 2 lbs. 7 oz., which makes it the second lightest two-person shelter on our list after the Nemo Hornet. Despite this, it's made with relatively robust materials, offers 27 square feet of living space, 16 square feet of vestibule space, and is a solid performer in wet weather.
Two things make the Tiger Wall a standout in its weight class: its ease of setup and its feature set. The pre-cut tensioners, pre-attached rain fly, and single-pole architecture mean that pitching should take no more than 3 or 4 minutes. A 3D storage shelf, daisy-chain webbing loops to dry wet gear, double vents, and a duo of media pockets just seal the deal.
The only concern we'd have using the TW on extended backpacking trips is the flimsiness of the material. While not a dealbreaker, it does necessitate a little more care on the part of the user to avoid tears and/or punctures.
PROs

Incredibly lightweight
Quality build
Solid waterproofing (1,200 mm hydrostatic head)
Two doors and vestibules
3D storage shelf
Great ventilation

CONs

Flimsier materials require extra care
Bottom-Line: An ultralight, single-pole tent built for bikepacking but equally as suitable for long-distance backpacking.
What to Look for When Buying a UL Tent
Weight
If you're in the market for an UL tent, the chances are this is one of your main priorities. But what makes a tent ultralight as opposed to simply lightweight? While opinions vary, we suggest the threshold lies at 4 pounds for a two-person model.
We've added a slightly heavier option in the REI Half Dome 2+, but we reckon this one merits inclusion since you could feasibly squeeze three sleepers in there at a push. Otherwise, the tents on our list range from 0.88 lbs. (Kammok Kuhli UL) to 3 lbs. 10.7 oz. (Sea to Summit Telos TR2).
In most cases, you can expect a few trade-offs compared to standard backpacking or camping tents. Most UL models are less roomy, have fewer features, and use thinner, less durable fabrics. In the case of trekking pole tents like the Kammok Kuhli, all that's included is the single-wall tent body, and not even the poles or flooring.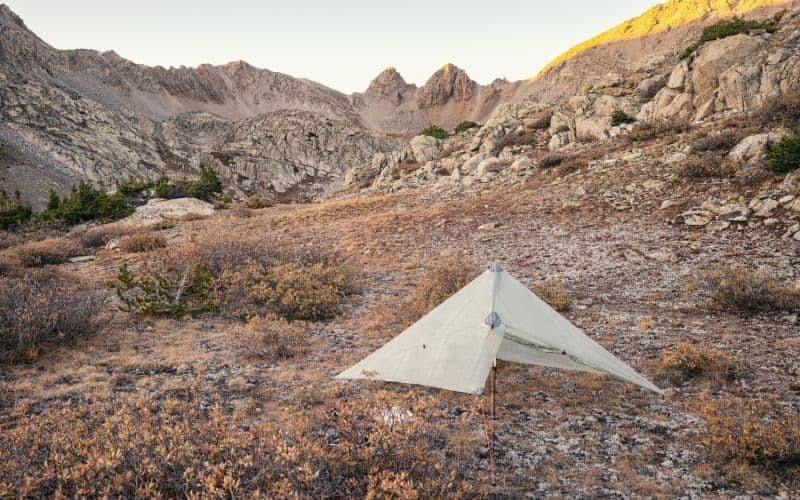 All of the options on our list were selected because they provided a nice balance between weight, livability, weather protection, and functionality. If, however, you want to go really light and are happy to compromise on any of the above, we recommend checking out a few bare-bones options like the Z-Packs Duplex and Gossamer Gear The Two.
Liveability
As mentioned above, UL tents tend to offer less in the way of space and liveability than your average backpacking tent. That said, it's all relative and some models score far higher in this metric than others.
In gauging livability, we take into consideration floor area, overall cubic footage, peak height, and any features that simply make the tent a little easier to spend time in. Some of these features include large doorways and wall pockets, gear lofts, or vestibules that let us store gear off the floor and free up room in the sleeping area.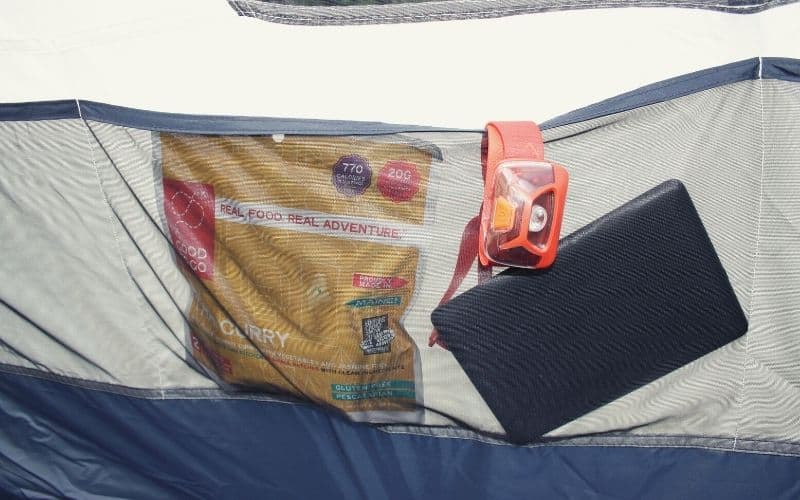 The most liveable two-person tent on our list? The main contenders are the Big Agnes Tiger Wall, the Copper Spur, and the MSR Hubba Hubba. All of these tents offer just under 30 sq. ft. of floor space and have reasonable peak heights, plenty of interior storage options, and two doors with nicely sized vestibules.
Weather Resistance
If you're hitting the trails for a multi-day expedition, chances are you're going to encounter wet weather at some point along the way. In such conditions, all of the tents on our list will have you covered – but to varying degrees.
The most waterproof tent on our list is the MIER Lanshan, which has a hydrostatic head of 5,000mm. It is worth noting, however, that this is a one-person tent and weighs a little more than many of the two-person models on our list.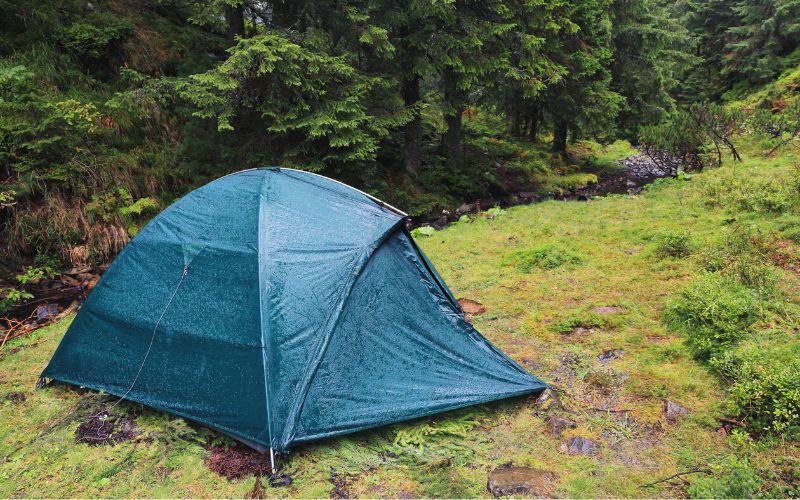 Other standouts in this metric are the REI Half Dome, the Sea to Summit Telos, the MSR Hubba Hubba, and both of the Big Agnes Tents.
Ventilation
Having adequate ventilation is important. Not only does it reduce the risk of condensation, but it also mitigates stuffiness and prevents overheating in hot weather.
In most cases, double-walled tents like the BA Copper Spur, BA Tiger Wall, and MSR Hubba Hubba offer the best ventilation. This is because air circulates in the gap between the inner tent body and the rain fly, so you have a steady supply of the fresh stuff coming in and stale stuff taking its leave.
Other features that boost ventilation include extensive mesh panels in the canopy, vents in the walls, and a two-door design. The only model on our list that doesn't have two doors is the MIER Lanshan, though it compensates for this shortcoming with an all-mesh interior.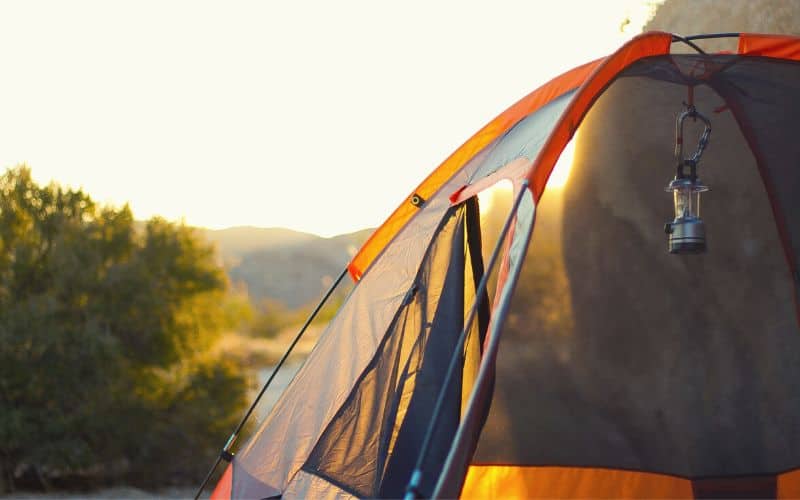 Ease of Setup
None of the tents we reviewed were particularly tricky to set up, taking 5 minutes tops to pitch. The easiest were freestanding tents like the NEMO Hornet, BA Copper Spur, BA Tiger Wall, and MSR Hubba Hubba. Non-freestanding tents like the Black Diamond Beta Light, Kammok Kuhli UL, and MIER Lanshan Ultralight Tent took the longest.
Features
Ultralight tents aren't famed for their fancy features, but several models on our list include a few add-ons that give a boost to convenience and practicality.
The Big Agnes Tiger Wall's 3D storage shelf, wall pockets, and daisy-chain webbing loops that let you hang wet clothes and gear to dry make it a standout.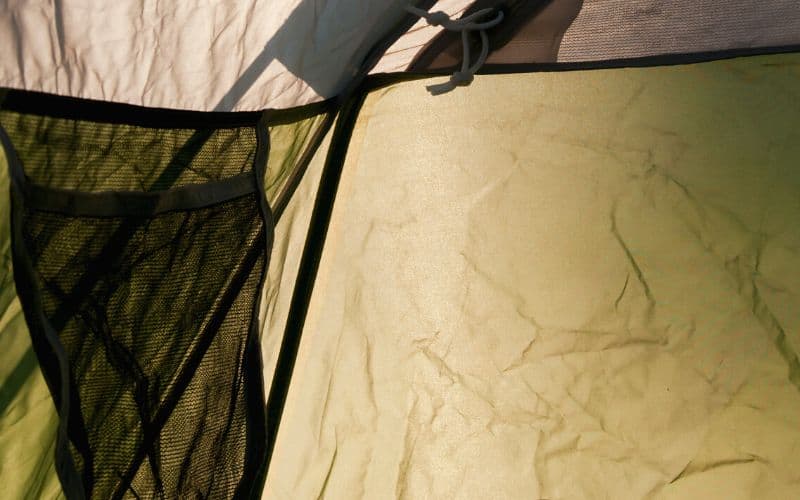 Best Ultralight Tent: The Verdict
Just in case you're still undecided, let's have a little recap of our top picks.
After much deliberation, the Big Agnes Copper Spur UL2 won our vote as the best ultralight tent out there this year. The Copper Spur isn't the lightest option available, but its ability to combine all the roominess and features of a well-made car camping tent whilst keeping weight to a minimum made it a shoo-in for the top spot.
The Copper Spur, however, ain't cheap. If you're working on a tighter budget, we recommend you consider the surprisingly impressive MIER Lanshan. The Lanshan comes in both one and two-person versions and does everything most backpackers need their shelter to do – and at a fraction of the price of more high-end models.
So, how did you like our article? If you have any questions or comments, drop us a line in the comments box below. And if you would like to share this post with your friends, please do!