When the snow begins to fall, blanketing trees and houses, many people start packing up their hiking boots. Don't! During winter, your favorite trails aren't closed. They transform.
Hiking at this time of year offers a one-of-a-kind experience. Imagine frozen waterfalls, peaceful snow-covered forests, your breath clinging to the air, and having the whole trail to yourself!
Whether you're looking for a winter summit or a day hike, this list has something for everyone!
The West & Southwest
1. Baker Lake Trail, North Cascades, Washington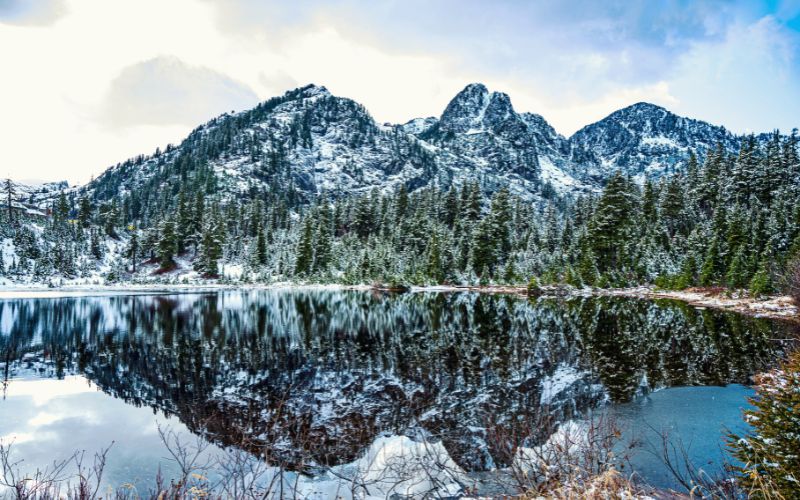 Type: Point-to-point
Length: 13.8 miles, one way
Difficulty: Moderate
Situated in Washington's temperate rainforest, Baker Lake Trail gets little snow even in the depths of winter. This trail has two access points, but most hikers prefer South Baker Lake Trailhead.
Either way, you're in for a treat! This flat trail parallels Baker Lake's shoreline through magnificent old-growth forest. On clear days look for breathtaking views of Mount Baker and the surrounding mountains.
You'll cross over Baker River via an impressive suspension bridge at the end of the hike. (Or the beginning if you start from North Baker Lake Trailhead).
You can hike Baker Lake Trail as a 28-mile out and back if you want an all-day epic or fancy some winter camping. There are scenic campgrounds, like Maple Grove Campground, along the way. For point-to-point hikers, stage a vehicle at the trailhead where you'll end your hike.
2. Big Tree Trail, Sequoia National Park, California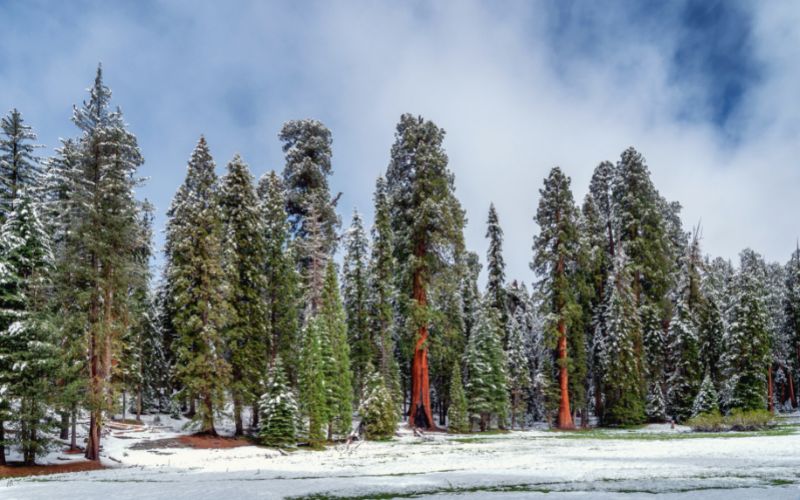 Type: Loop
Length: 1.2 miles
Difficulty: Easy
Even cold temperatures and blankets of snow cannot minimize the splendor of Big Tree Trail in Sequoia National Park. The parks' service maintains the boardwalks and paved trail, so it is accessible year-round. You won't need snowshoes or big winter boots.
However, in the winter season, be cautious of icy conditions. If you suspect the trail will be slippery, wear microspikes or Yaktrax for extra traction.
This hike is perfect for every experience level in the summer and winter months. Even those who cannot walk far will enjoy the silent power of the world's largest trees.
3. Ousel Falls Park Trail, Big Sky, Montana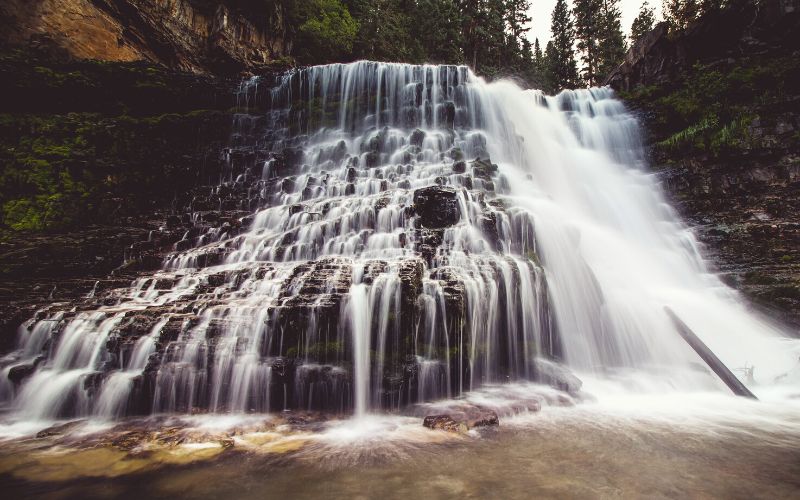 Type: Out and back
Length: 1.7 miles
Difficulty: Easy
While many of Montana's trails are buried under snow cover, Ousel Falls is still accessible. A consistent flow of hikers, snowshoers, and ice climbers pack the trail into an easy, hikeable path. Check conditions before deciding if you'll need microspikes, gators, or other winter hiking gear.
The trail starts by crossing two picturesque wooden bridges, made all the more beautiful by snow. As you approach the falls, the trail splits with options that go to the top, the base, or various overlooks. You might see ice climbers scaling the 100-foot frozen waterfall with ice picks and crampons.
4. Garden of the Gods, Colorado Springs, Colorado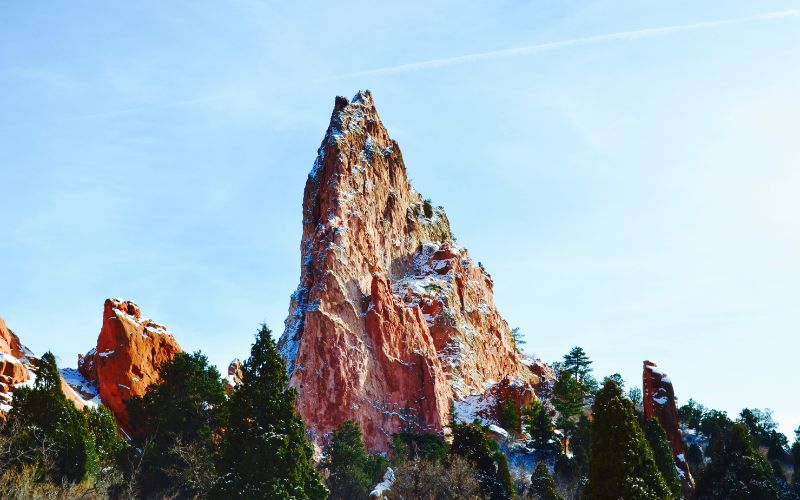 Type: Network
Length: 1-10 miles
Difficulty: Easy to moderate
The name speaks for itself: Garden of the Gods. This free city park features awe-inspiring 300-foot vertical rock fins, rock windows, and other colorful, one-of-a-kind geologic formations. The entire park is accessible year-round, including in colder months.
If you want a longer hike, consider connecting several different trails. For example, the 4-mile Cabin Canyon, Siamese Twins, Palmer, and Central Garden Trail Loop is a moderate hike that takes about two hours. This hike combines paved and unpaved trails and has a few steep but short sections.
For a short hike, stick to paved trails like the Perkins Central Garden Trail, which leads right to the base of the tallest rock tower. This hike sticks to flat terrain and is suitable for the entire family.
For more info, check out our guide to the best hikes in the Garden of the Gods.
5. Yosemite Valley Loop, Yosemite National Park, California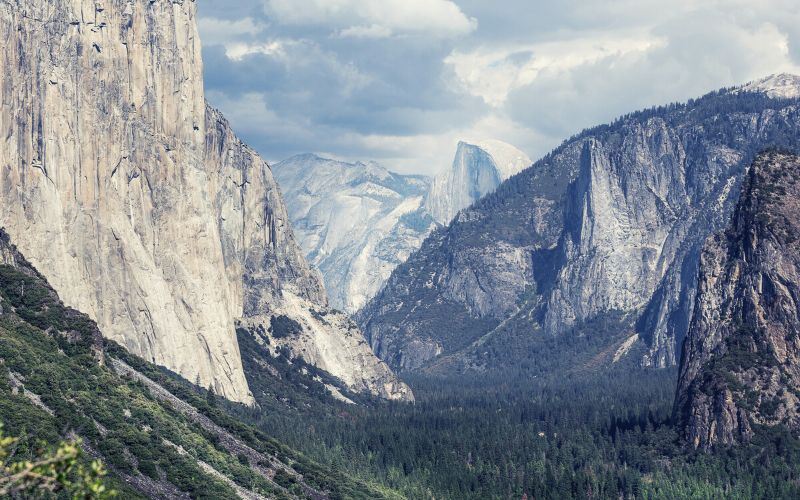 Type: Loop
Length: 7.2 or 11.5 miles
Difficulty: Moderate
Winter is a magical time to visit Yosemite, and Valley Loop is an excellent introduction to cold-weather hiking in America's most famous valley. There are two options, a shorter 7.2-mile hike or a full-day, 11.5-mile hike. The easiest place to start is at the Lower Yosemite Fall parking area.
To do the shorter half loop, cross the Merced River at the El Capitan Bridge and begin the hike back. The longer version of the Valley Loop Trail continues west, towards Bridalveil Fall. Both versions offer unique views of Yosemite's iconic landmarks.
From these trails, revel in the towering granite cliffs of El Capitan and Sentinel Rock. Bask in the roar of Yosemite Falls and the solitude of meandering meadows.
6. Golden Canyon and Gower Gulch Loop, Death Valley, California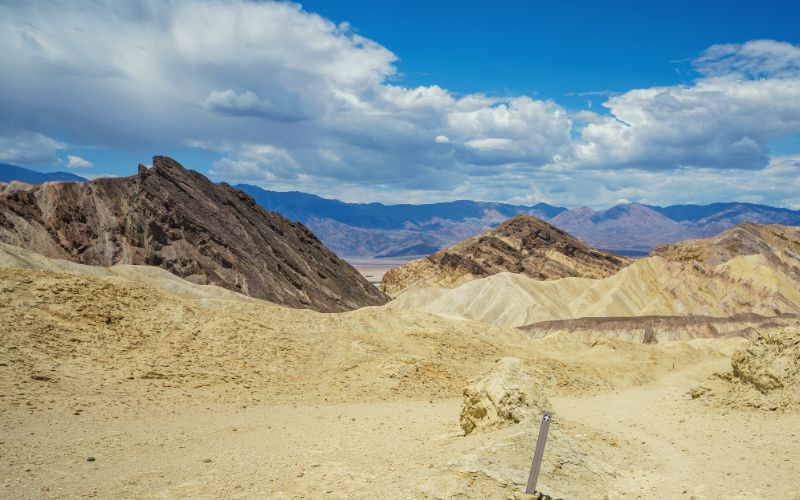 Type: Loop
Length:
Difficulty: Moderate
Ditch the cold weather for daytime temperatures in the 60s and 70s. Death Valley, California, is full of great hiking trails for all skill levels, with winter being the best and safest time to explore the otherwise scorching desert. 
The Golden Canyon and Gower Lower Gulch Loop combine two classic hikes into one big loop. From slot canyon scrambling to panoramic views of the badlands, this hike traverses some of Death Valley's most sublime features. Start this hike from Zabriskie Point or the Golden Canyon Parking Lot. 
7. Rim-to-Rim-to-Rim, Grand Canyon National Park, Arizona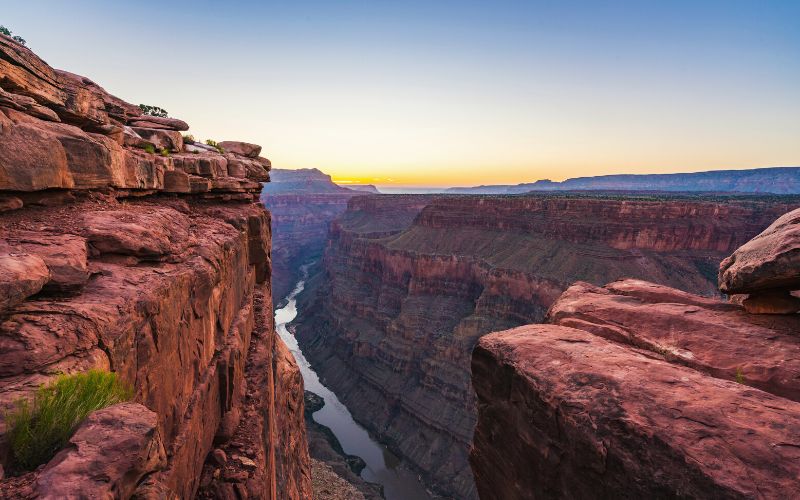 Type: Out and back
Length: 44-47 miles (depending on route)
Difficulty: Challenging-Expert
Here's another hike that's best taken in the winter. The Rim to Rim to Rim hike of the Grand Canyon involves 11,000 feet of elevation gain and, at a hiking pace, takes at least a couple of days. (The running record is around 6 hours.)
This is an involved winter backpacking trip that involves training and planning. Camping at the bottom of the canyon does require a backcountry permit. The permit office suggests you submit an application four months before your proposed start date.
Most hikers start on the Bright Angel or South Kaibab Trails at the South Rim. Although grueling at times, the rim-to-rim-to-rim hike rewards those crazy enough to try it. Enjoy once-in-a-lifetime views of the third natural wonder of the world.
8. South Rim Loop, Big Bend National Park, Texas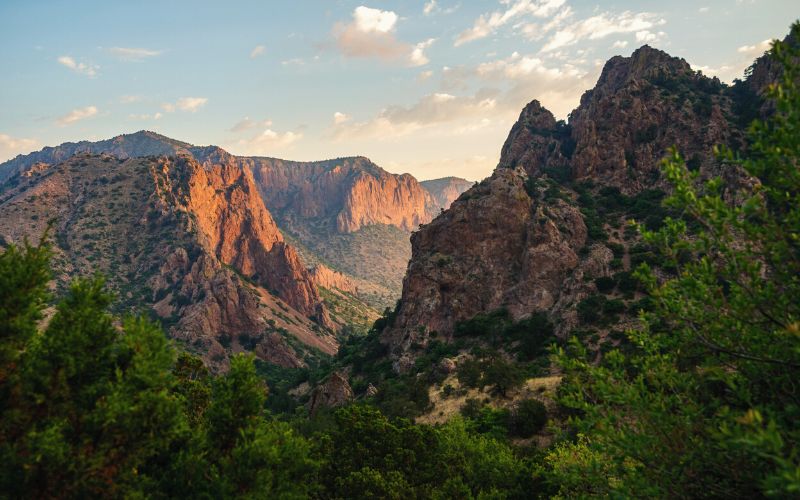 Type: Loop
Length: 12.6 miles
Difficulty: Challenging
There are a variety of ways to hike this gorgeous loop. You can make it a big day hike or a one-night backpacking adventure. There's an option to add the 3-mile Emory Peak Trail to the summit of Big Bend National Park's highest point.
You can hike in either direction, but we recommend going up on Pinnacles Trail and down on Laguna Meadows Trail. Hiking in this direction has you ascending the steepest terrain and descending on a more knee-friendly gradient.
However you decide to get there, the views from the south rim are indescribable. On a clear day, you can see the northern mountains of Mexico and the Chihuahuan Desert. Many hikers report bear sightings, so consider bear bells and bear spray on your outing.
9. Watchman Trail, Zion National Park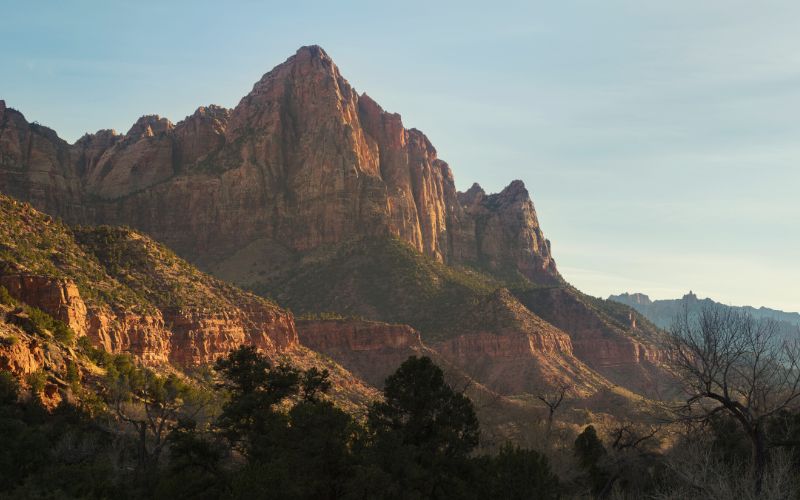 Type: Out and back
Length: 3.1 miles round trip
Difficulty: Moderate
Zion National Park might take the cake when it comes to hiking come wintertime. The Watchman Trail offers a short but exhilarating taste of the strange and beautiful landscapes in the area. Access the trail from the Zion Canyon Visitor Center. 
The trail is sandy and rocky, leading to a magnificent overlook of the town of Springdale, Temples, and Towers, lower Zion Canyon, and the spectacular 2,200-foot Watchman Spire. Although Zion is one of the most popular national parks in the country, the Watchman Trail is often overlooked, meaning you can enjoy some solitude.
This is a relatively easy hike on a well-maintained trail that is appropriate for most skill levels.
Other Notable Mentions:
Cape Falcon Trail, Oswald West State Park, Oregon
Ragged Top Mountain, Arizona
Taylor Creek Trail, Zion NP, Utah
The Southeast
1. Alum Cave Trail, Great Smoky Mountains National Park, Tennessee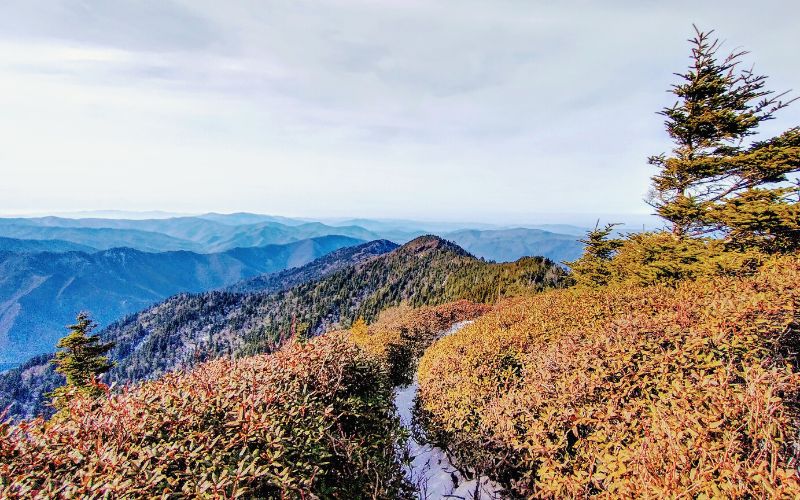 Type: Out and back
Length: 4.4 miles round trip
Difficulty: Moderate-challenging
Hiking season never ends in the Great Smoky Mountains. This area has endless hiking trails, but Alum Cave Trail is a must-see. Within the first mile, you will cross several log bridges in an old-growth forest.
The trail continues through the narrow tunnel of Arch Rock, the most exciting part of the hike. Two miles in, you'll reach the aptly-named Inspiration Point, where you can enjoy striking views of Myrtle Point towards the northeast and Little Duck Hawk Ridge to the west.
Alum Cave Bluffs are just another .3 miles from Inspiration Point. If you're feeling motivated and depending on conditions like snow cover, the trail eventually hits Moune LeConte summit at 6,593 feet.
2. Rose River Falls, Shenandoah National Park, Virginia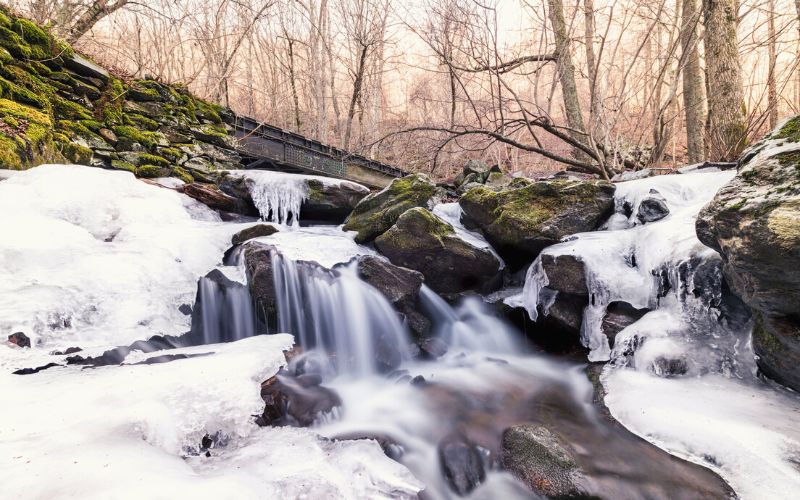 Type: Loop
Length: 3.8 miles
Difficulty: Moderate
Rose River Falls is one of many stunning waterfalls in the Blue Ridge Mountains. It is possible to hike the loop in either direction. The National Park Service recommends going clockwise.
Traveling clockwise, you will reach the 67-foot waterfalls after about 1.3 miles. Even as the creeks and streams freeze over in the cold weather, the waterfall continues to flow. Check out the .25-mile Dark Hollow Falls Trail if you want a longer hike.
This trail has some steep and scrambly sections. Be wary of slippery conditions, especially in wintry conditions.
3. Mount Cammerer, Great Smoky Mountains National Park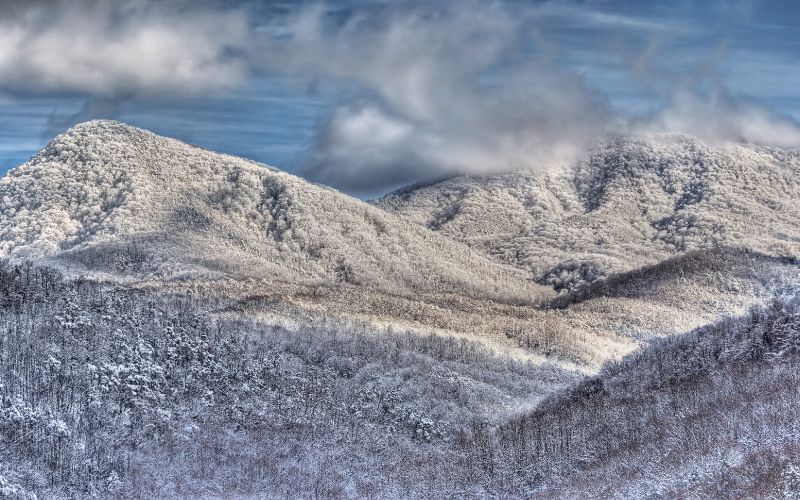 Type: Out and back
Length: 11.9 miles round trip
Difficulty: Challenging
Don't let winter ruin summit season. Use the Low Gap Trail to bag Mount Cammerer, a nearly 5,000-foot mountain. Although the shortest way to the summit of Mount Cammerer, this trail is steep and challenging.
The first three miles are consistently steep, gaining close to 2,000 feet. Once past this steep incline, you'll meet the Appalachian Trail, and things mellow out for a few miles. The push for the summit involves a rocky spur trail. Take your time and watch your step.
The views are well worth the struggle. From the top and the fire lookout tower, take in the best views in the national park, including sights of the Pigeon River Gorge and fabled Smoky Mountains.
4. Florida National Scenic Trail, Suwannee River State Park
Type: Thru-hike
Length: 1,500 miles
Difficulty: Challenging
Try the Florida Trail or FT if you're looking for a winter backpacking trip. Compared to the Appalachian Trail, the FT is quiet and secluded. In fact, fewer than 400 people have hiked the entire trail – those who have, however, have passed through one of the most biologically diverse areas in the country.
If you don't have time to hike all 1,500 miles, at least visit the Big Cypress National Preserve section of trail. Backpack, camp, and hike past cypress trees home to bobcats, black bears, and the endangered Florida panther. No matter if you thru-hike, backpack, or day hike, the Florida Trail is a magical winter hike.
Other Notable Mentions:
Cumberland Trail State Park, Tennessee
Holton Creek River Camp hike, Northern Florida
The Northeast
1. Franconia Ridge, New Hampshire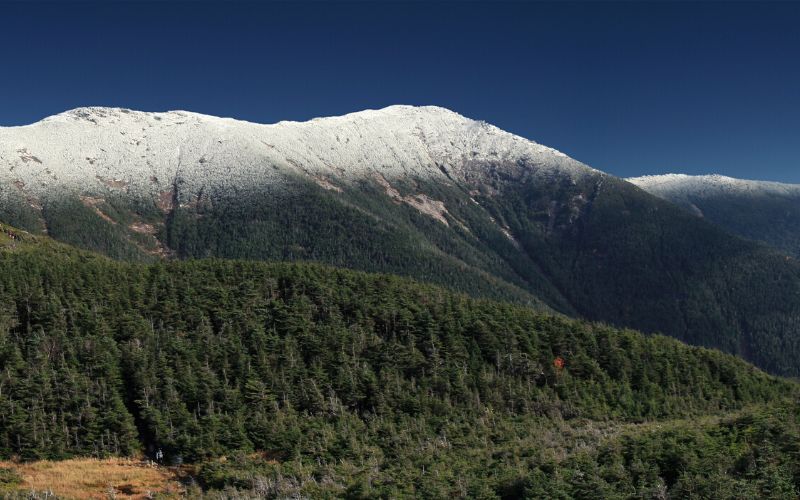 Type: Loop
Length: 8.3 miles
Difficulty: Challenging to expert
Blustery winds keep Franconia Ridge hiking trails clear of snow all winter long. Although the trail stays open, you might need microspikes or crampons, depending on the conditions. The proximity of the highway makes access easy, but this is a challenging hike. Much of the trail is above treeline on exposed and icy ridges.
When the weather is clear and the wind manageable, this hike offers heart-stopping views of New Hampshire's surrounding mountains and 4,000-foot peaks.
2. Cascade Mountain, Adirondacks, New York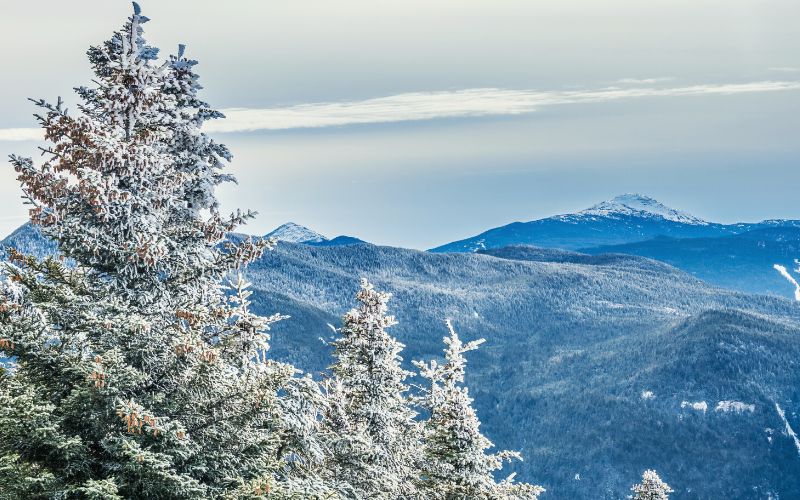 Type: Out and back
Length: 4.8 miles round trip
Difficulty: Moderate
Cold-weather hiking in the Adirondacks is not for the faint of heart. Even on popular, snow-packed trails like Cascade Mountain, be prepared for freezing temperatures and bitter winds. Cascade Mountain is a short, steep trail that ascends 1,940 feet in elevation.
The snow-covered sections of forested trail recall Robert Frost's "Stopping by Woods on a Snowy Evening." Take a moment to watch the woods fill up with snow. From the bald summit of Cascade Mountain, you can see Lake Placid and many of the Adirondacks' other high peaks.
3. Silvermine Lake Trail, New York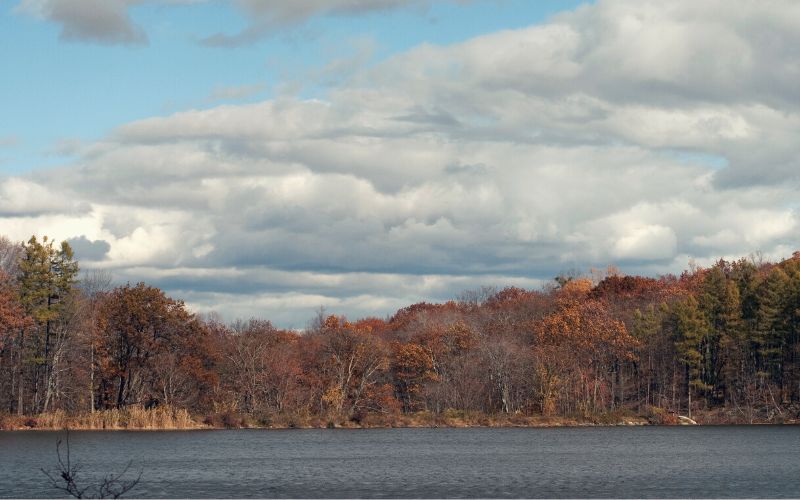 Type: Loop
Length: 3.8 miles
Difficulty: Moderate
Silvermine Lake Trail combines the Menominee Trail, Ramapo-Dunderberg Trail, and Silvermine Road into an idyllic loop around the exquisite Silvermine Lake. Although a short loop, this hike does have a couple of steeper inclines and one section that requires some scrambling. Look out for ice and slippery conditions.
The William Brien Memorial Shelter is a good place to take a break at the top of a climb. The Silvermine Road section of the trail parallels the lakeshore for about a quarter mile. You'll want to linger here and take in the tranquil winter sounds.
The Midwest
1. Chapel Loop, Pictured Rocks National Lakeshore, Lake Superior, Michigan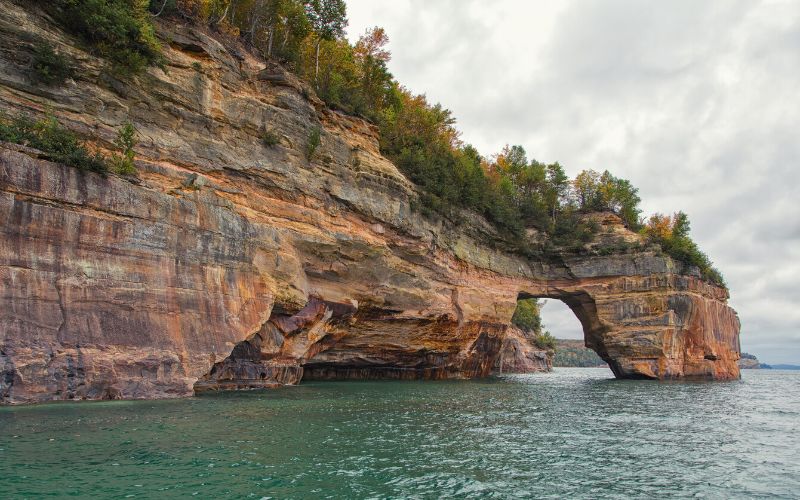 Type: Loop
Length: 10.4 miles
Difficulty: Moderate
In the summer months, some hikers like to make the Chapel Loop an overnighter. However, during the winter, you can get to the trail early for a 10.4-mile day hike. The Chapel Loop is full of unique features like the Grand Point Portal, an arch in the sandstone cliffs surrounding Lake Superior.
Don't forget Chapel Rock and the world's toughest tree growing out of the sandstone protrusion. Its root system travels across the lake to the mainland, where it gets most nutrients and water.
Cold-weather hiking in Michigan is beautiful but can be challenging. Cold temperatures and bitter winds can quickly turn a fun day into a bad situation. As with any hike, plan ahead and know your limits.
2. French Canyon to Tonti Canyon Loop, Starved Rock State Park, Illinois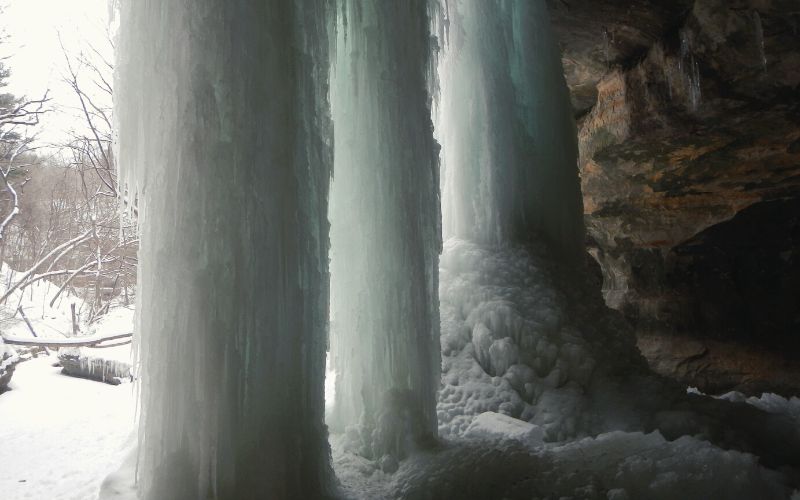 Type: Loop
Length: 4.5 miles
Difficulty: Easy to moderate
The numerous waterfalls of Starved Rock State Park in Illinois turn into imposing ice towers in the coldest part of the year. Ice climbers and hikers flock to the park to marvel at the frozen falls. French Canyon, a sandstone bowl, is the most accessible waterfall in the park.
Start at French Canyon and follow the trail to Wildcat, Tonti, and LaSalle Canyons. At LaSalle Canyon, the extreme overhang in the cliffs creates a wall of ice you can walk behind. We recommend microspikes for this icy hike. 
Bird watching is the other great joy of exploring Starved Rock State Park in the winter. Here, the Illinois River continues to flow all year and becomes a nesting place for eagles. This hike offers the unique experience of seeing eagles nesting, fishing, and soaring above the frozen falls. The short spur trail to Eagle Cliff Overlook is the best place for sighting opportunities.
3. Rock Bluff Run Trail, Nebraska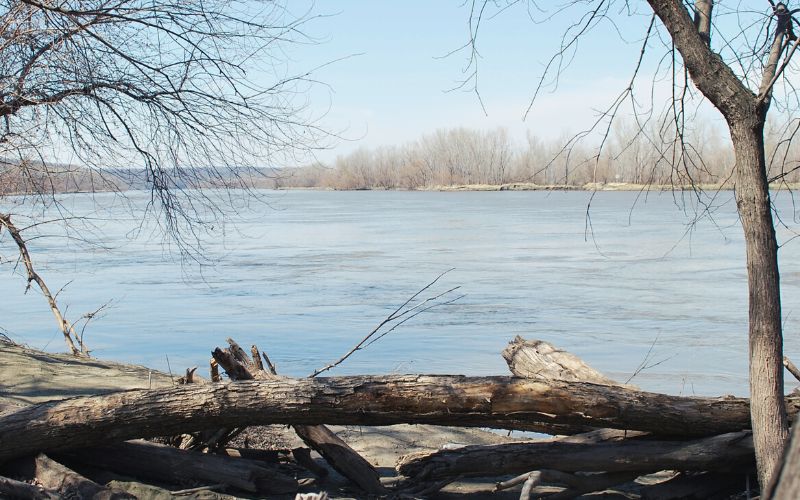 Type: Loop
Length: 6.1 miles
Difficulty: Moderate-challenging
Wintertime hiking might not be the first thing that comes to mind when you think of Nebraska, but the Rock Bluff Run Trail is the ideal winter destination. This trail may only be 6 miles, but it gains 1,100 feet in elevation and is one of the most strenuous hikes in the state. 
This hike takes you through wooded glades and fields. The top of the hike rewards you with views of the Missouri River and surrounding bluffs. Keep an eye out for wildlife, including woodchucks, deer, and turkeys.
Snow cover isn't usually an issue on this trail. You should be fine in hiking boots or runners.
Best Winter Hikes in the USA!
Don't pack away your hiking boots because winter is coming. There are amazing places to see and trails to hike all over the country. From the Southwest to the frozen Northeast, you can hike all year round.
We hope our guide to the best winter hikes across the country inspires you to get outside and face the elements. You won't regret it!
Did we miss anything? Where are your favorite winter wanders? Be sure to let us know in the comment section below. And share this article with your hiking partners, so we can all enjoy hiking in the winter!