Disclosure: The team at My Open Country highlights products we hope you might find interesting. If you buy them, we get a small share of the sale revenue from our partners at no additional cost to you. This never drives our decision as to whether or not a product is featured or recommended.
Big Agnes Copper Spur UL2 Review
Our Rating: 4.2/5
What we found in our Big Agnes Copper Spur UL2 review is that this tent strikes a rare balance between ultralight sensibilities and comfort-conscious features. At a little over three pounds, the UL2 isn't the lightest tent in its class but offers the same interior headroom and storage space of tents more than twice its weight.
Features such as solvent-free polyurethane seam tape make it a more ethical option for the environment, and intelligent features like reflective guy lines and double entryways make the UL2 more livable.
The Copper Spur tent line has been around for years and is a favorite among devoted outdoor enthusiasts. In 2017 the line underwent a redesign and improved both the pole design and the design of the tent doors. If you need a lightweight tent, but dread the limitations of typical ultralight backpacking shelters, the Big Agnes Copper Spur HV UL2 is an excellent choice.
Key Features
Silicone treated ripstop bathtub style tent floor and breathable mesh inner tent walls
Quick assembling pole system
Two smaller mesh pockets plus tent wide media pocket, plus optional gear loft
Rain fly can be pitched first during wet weather
Guy lines and tent corners are reflective for higher visibility at night
Category Scores
Comfort & Liveability
Ease of Setup
Weather Resistance
Weight & Packed Size
Durability
PROs

Weighs only 3lb 2oz, and packs down small
Sturdy freestanding tent design allows for maximum headroom
Two spacious gear vestibules
Rainfly and footprint can be used on their own for an even lighter setup

CONs

Tight fit for two people; may be too narrow for certain sleeping pads
Thin fabric is vulnerable to rips and abrasions
Bottom-Line: A fantastic balance between weight and comfort, light enough to be carried solo yet with a good amount of living space and great features to boot.
Hands-On Review
Whilst not the lightest ultralight tent on the market in our review of the Big Agnes Copper Spur UL2 we found the interior floor space, double doors, plentiful storage, and weather-resistant design to make it the perfect choice for one or two outdoor adventurers.
Comfort & Livability
The UL2 is a two-person tent, though it's important to note – as with all ultralight tents – it's a cozy fit for two adults. Many users have pointed out that it's hard to fit two sleeping pads inside unless they are 20 inches wide or less. If you have larger pads, a lot of backpacking gear, or if you and your hiking companion enjoy more personal space, the UL3 may be a better option despite the extra weight. However, couples or solo hikers with a canine companion find that the UL2 is a perfect fit.
Inside, you'll find plenty of storage thanks to the two corner storage pockets at the head of the tent and a large media pocket located overhead. This overhead pocket allows for any device cord to be run down the wall of the tent on either side, which makes listening to audiobooks or recharging from a battery bank much easier.
The tent also has loops where you can attach an optional gear loft if desired. Combined with the storage provided by the two vestibules, you'll have more than enough room for all of your things. This makes the Big Agnes Copper Spur HV UL2 ideal for multi-day stays or for long trail hikes since you can spread out your gear while keeping it out of the rain and mud.
Unlike other ultralight models, the UL2 offers a lot of headroom. The near-vertical walls and innovative pole design allow for 40 inches of height at the peak which makes dressing as well as entering and exiting the tent easier. The UL2 also has not one but two doors and two vestibules with 9 square feet of storage space each. On cold mornings, the headroom and vestibule space makes it possible to set up a small kitchen under the rainfly and make coffee or cook breakfast while still inside the tent.
In older versions of the tent, the doors are a 'rainbow' design, perfectly usable but can make putting on muddy boots more difficult. The zippers also zip quite low to the ground which may allow more dirt inside. The rainbow-style door can also let insects into the tent when entering and exiting. The 2017 "HV" design features D-shaped doors which are much more practical. Unzipping the bottom edge of the door makes it easy to put on shoes or reach outdoor gear in the vestibule while keeping the door mostly closed. This style of door is also more natural for dogs to use.
Weather Resistance
Like other ultralight models, the Big Agnes Copper Spur HV UL2 is a three-season tent. The rainfly and pole structure is sturdier than other tents of its class, but heavy snow and winter temperatures would be challenging to endure in the UL2. Nevertheless, the silicone-treated tall bathtub floor does an excellent job of keeping water out of the bottom of the tent, and the rainfly does an admirable job of repelling the heaviest downpours and can handle several inches of snow.
The seams come already taped, and the solvent-free polyurethane tape that Big Agnes uses is not only waterproof but eco-friendly as well. There are also velcro tabs on the vestibule doors that ensure your gear will stay dry as long as the ground is not sodden. There are also very few issues with condensation inside the tent thanks to the good ventilation provided by the mesh near vertical side walls of the tent.
The footprint for the UL2 is sold separately, and if you plan on camping in truly swampy conditions, it's worth shelling out the extra cash to ensure the bottom of your tent stays as free of water and mud as possible. But because of the design of the tent, most people can use the Copper Spur HV UL2 as-is without leaks.
Ease of Setup
The Big Agnes Copper Spur HV UL2 offers a few setup options. If time is on your side or if the weather is clear and warm, you can set up the footprint and tent without the rainfly. During inclement weather, you can erect the rainfly first to provide shelter, and set up the tent beneath its protection. You can also use the footprint and rainfly without the tent as a lighter-weight shelter when every ounce counts.
Thanks to the innovative pole hub design, you should have no problem setting up the entire tent in a handful of minutes. The tent poles are color-coded to make things even quicker and easier. The hub design of the older tents is slightly different from the 2017 "HV" tents, but both versions of the Copper Spur UL2 are relatively intuitive and simple enough for even novice hikers to assemble right out of the box.
Big Agnes uses quick-release clips on each corner of the rainfly, which means you can remove the fly if the weather is clear and you want to enjoy some stargazing. If rain threatens, the fly can be attached and guyed out quickly. 
Durability
Big Agnes has struggled with the durability of their lightweight tents in the past, as the fabric they used was vulnerable to rips and abrasions. Considerable weight savings are made with the use of thinner materials but have made the tent more delicate than other traditional backpacking tents. Although this wasn't an issue for casual hikers, people who used the tent heavily or for more than one season would often report that the stuff sack for the tent (made from the same material as the rainfly) would begin to suffer wear after very little use.
Big Agnes clearly heard this consumer feedback, and the newer 2017 "HV" Copper Spur tent line is made with an updated proprietary fabric. The random rip-stop pattern nylon is more durable than before and has a 25% increase in fabric tear strength. This is splendid news for hikers who frequent campgrounds with rough ground and for anyone who likes to bring their dog along during multi-day hikes, as the claws of excitable canines are a real threat to thin tent walls.
You can increase the lifespan of your tent by purchasing a footprint. In campsites where punctures are more likely, this bit of equipment will protect the bottom of the tent from excessive wear. Even without the footprint, with careful use, you should expect to be able to enjoy your Copper Spur HV UL2 for many years.
Weight & Packed Size
The Copper Spur HV UL2 isn't the lightest two-person ultralight outdoor tent on the market, but neither is it the heaviest. Compared to some of the lightest two-person tents – which are typically around two pounds – the UL2 is often dismissed out of hand by ultralight hikers for lighter tents. But at a comfortable 3 pounds 2 ounces packed weight, it is light enough for even a solo hiker to use in the backcountry. If you leave the tent body at home and use only the fast fly footprint and rainfly for shelter, you can reduce the weight to 2 pounds 2 ounces.
The packed size is roughly 6 inches by 19.5 inches, though this will depend on whether you use the whole tent or the footprint and rainfly for your camping needs. This is a reasonable size for packing, and the tent should fit neatly into a standard hiking backpack.
Limitations
For true ultralight enthusiasts or solo hikers, the Copper Spur HV UL2 may be a bit too heavy, and there are plenty of ultralight options that may better meet these needs. Keep in mind that a single-person version of the Copper Spur, the UL1, may be a better choice for solo hikers who like the features of the UL2 but don't need a second door or vestibule.
Although it can handle a wide variety of conditions and heavy rain, due to its design the Copper Spur HV UL2 isn't ideal for winter camping or mountaineering. If you need a tent for backpacking trips in which you expect more than a few inches of snow, or if you are likely to experience high winds, a purpose-made four-season geodesic tent would be a better choice.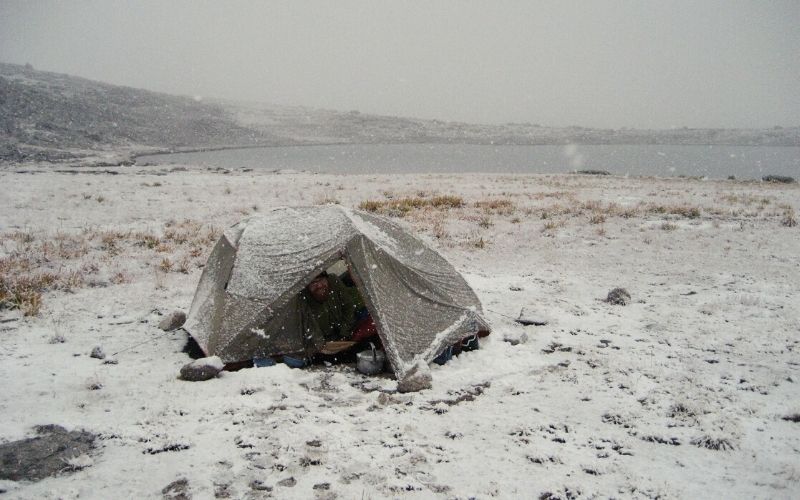 Best Applications
Overall, the Big Agnes Copper Spur HV UL2 is a fantastic tent for multi-day hikes where a balance between comfort and weight is needed. The 2017 "HV" redesign ensured that this tent is stronger, lighter, and has more room than previous versions. The UL2 will serve well as a backcountry tent, as a basecamp tent, or as an overnight car camping tent. The flexibility of the Copper Spur design is truly what makes it one of the most popular ultralight lines.
One of the most identifiable features of the Copper Spur line is their color. Up until 2017, all tents in this line were only available in a pale gray and bright orange color scheme. This combination is highly visible and is a great option for some. However, many hikers were pleased that Big Agnes now offer an alternative olive green version during the 2017 redesign. The green tent blends into the environment more easily and is a superior choice for hikers who would like their campsite to be less visible.
Other Versions & Accessories
The Copper Spur line comes in four sizes. The UL1 is the smallest and sleeps one person. Unlike the other tents in the lineup, it has only a single door. The UL3 and UL4 sleep three and four people respectively but share the same features as the UL2. As of the 2017 redesign, Copper Spur models come in the classic gray and also the orange for high visibility, as well as now olive green for hikers who prefer to blend in with their environment.
As previously noted, these tents were redesigned for 2017, and you may come across earlier models. The tents produced before 2017 differ slightly from the newer Copper Spur "HV" ultralight tents in a couple of ways. The pole structure has been redesigned for greater stability and more head and shoulder room, whilst the doorways previously had a "rainbow" zipper design but now feature a D-shaped door. Both the "HV" models and the older Copper Spur models are available in a MtnGLO version. These tents are identical in every way but have integrated battery-operated LED lights at the apex of the tent to provide hands-free illumination.
Big Agnes offers many accessories for its line of Copper Spur tents, but among the most useful of these is the tent footprint. These may be especially helpful if you plan on hiking in areas where muddy or stony ground is common, or if you just wish to extend the life of your tent by protecting its floor.
Technical Specifications
| | |
| --- | --- |
| Best Use | Backpacking |
| Seasons | 3-season |
| Sleeping Capacity | 2-person |
| Minimum Trail Weight | 2 lbs. 11 oz. |
| Fly / Footprint Pitch Weight | 2 lbs. 2 oz. |
| Packaged Weight | 3 lbs. 2 oz. |
| Packed Size | 6 x 19.5 inches |
| Floor Dimensions | 88 x 52 / 42 inches |
| Floor Area | 29 square feet |
| Vestibule Area | 9 + 9 square feet |
| Peak Height | 40 inches |
| Number of Doors | 2 doors |
| Number of Poles | 1 |
| Pole Material | Aluminum DAC Featherlite NSL |
| Pole Diameter | 8.7 millimeters |
| Canopy Fabric | Silicone treated ripstop nylon/polyester mesh |
| Floor Fabric | Silicone treated ripstop nylon/polyurethane coating |
| Rainfly Fabric | Silicone treated ripstop nylon/polyurethane coating |
| Ultralight | Yes |
| Design Type | Freestanding Tent |
Alternatives
Best Ultralight Tent
Nemo Hornet 2P
The Nemo Hornet 2P Ultralight does the impossible, offering many of the same features of the Copper Spur HV UL2 such as storage pockets, dual doors, and dual vestibules but with a packed weight of 2.6 lb. Other features like the intuitive single hub pole structure and triangulated guy lines make the Hornet surprisingly sturdy for such a light tent. The interior is relatively cramped, and you'll need to fully guy out the rainfly to make the vestibules entirely functional, but the featherlight weight of the Nemo Hornet compensates for these minor shortcomings.
Best Value Backpacking Tent
MSR Elixir 2
For outdoor enthusiasts on a budget, the MSR Elixir 2 person tent offers many of the same features as their competitors but at around half the price. The unique pole geometry of this tent gives it 40 inches of head space as well as two generous vestibules. It has a similar packed size to the Big Agnes Copper Spur HV UL2 but has a much heavier packed weight of 6lb. But with similar peak height and floor dimensions its nevertheless a great option for cash-strapped campers.
Check out our full review of the MSR Elixir 2.
Final Verdict
The Copper Spur HV UL2 lies in that sweet spot between livability, weather protection, and low weight – it really is no surprise at how popular it has become! It is ideal for any adventurer who wants comfort while out on their trip whilst not feeling the weight of the world on their shoulders at having to carry it. With 29 square feet of sleeping room and a 40" peak height, it has a decent amount of living space. The additional bonus of the two-door vestibules, each with 9 square feet of space, an oversized ceiling pocket, and several other interior pockets and gear loops means there's also plenty of room to store your gear. The Big Agnes Copper Spur is the perfect blend of lightweight and functionality.
How did you like our review of the Big Agnes Copper Spur UL2? If you have any questions or comments, please drop them in the comments box below. And if you'd like to share this post with your friends, share away!