Breathtaking views of glacial lakes, alpine forests, and snowy peaks await you on this incredible hike through California's Sierra Nevada Mountains.
Pristine wilderness and epic mountain vistas aside, this hike's main attractions are the bright turquoise lakes located at around 10,000 feet. Whether you're visiting on a day hike or backpacking overnight, this trek is a must for anyone looking to experience the rugged beauty of the Eastern Sierra.
In this guide, we'll cover everything you need to know about the Big Pine Lakes area, including how to get a backpacking permit, what to bring, where to camp, and a detailed description of the trek.
Key Takeaways
Plan Well in Advance – An overnight permit is required for backpacking trips
Bring a Water Filter – Water from natural sources needs to be treated before drinking
Prepare for the Hike – Get ready for almost 4,000 feet in elevation gain
Big Pine Lakes Trail: Info, Logistics, and Step-by-Step Trail Description
Before you head to hike Big Pine Lakes, there are a few things you need to know. Below, we've covered everything from how to get there and how to get a permit to where to stay, whether you're backpacking or taking it on as a day hike.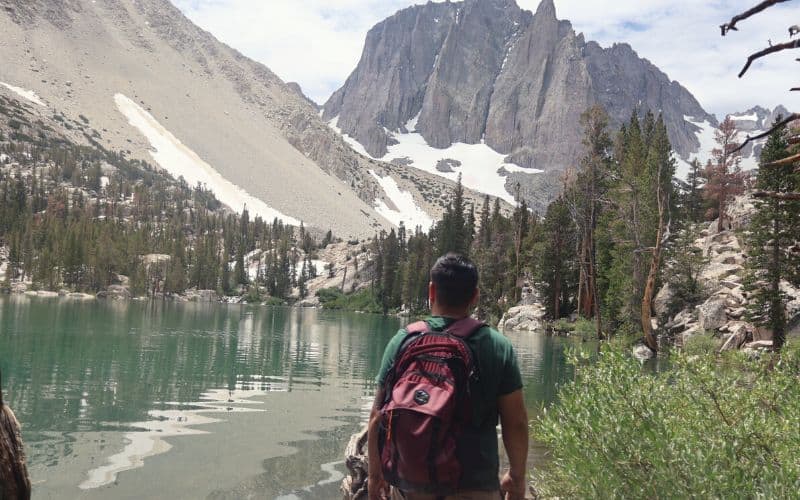 Location & Getting There
The Big Pine Lakes hike is located along the Eastern Sierra Nevada in Northern California. Most of the path passes through the John Muir Wilderness in Inyo National Forest.
The closest major airport is Reno-Tahoe International in Nevada, which is about 3 hours and 45 minutes away by car.
The trailhead for this hike is about a 10-mile drive east of Big Pine and 25 miles south of Bishop.
To get to the trailhead from Bishop, take 395 south for about 15 miles until you reach the small town of Big Pine. From there, take a right onto West Crocker Avenue and continue until it becomes Glacier Lodge Road. Follow the road for about 10 miles until you reach the Big Pine Lakes trailhead.
Trail Basics
The North Fork Trail, commonly called Big Pine Lakes Trail, is a popular trek to see the area's stunning glacial lakes.
This trek is about a 15-mile round trip on an out-and-back trail. The hike involves just under 4,000 feet of elevation gain and takes most hikers around 8.5 hours to complete.
As an out-and-back hike, however, you can customize your outing to suit your fitness levels. Even if you only make it to the first lake or second lake before turning back, you won't be disappointed!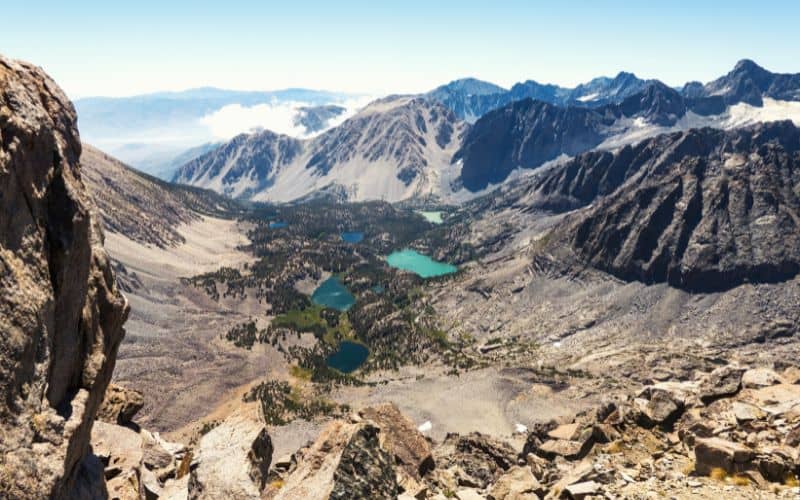 Permit Information
A wilderness permit is required for backcountry camping in this area. You do not need a permit for day hiking.
From May 1 through November 1, the number of people allowed to camp overnight in John Muir Wilderness is limited to 25 people.
You can reserve your Inyo National Forest wilderness permit online up to six months before your trip, starting at 7 a.m. Pacific. The wilderness permit costs $6 for the permit, plus $5 for each person.
Permits can be collected from the White Mountain Ranger Station in Bishop, Mammoth Lakes Welcome Center, the Mono Basin Scenic Area Visitor Center, or the Eastern Sierras InterAgency Visitor Center, 2 miles south of Lone Pine.
If you can't get an advanced reservation permit, you can try to reserve a walk-up permit up to 2 weeks before the entry date.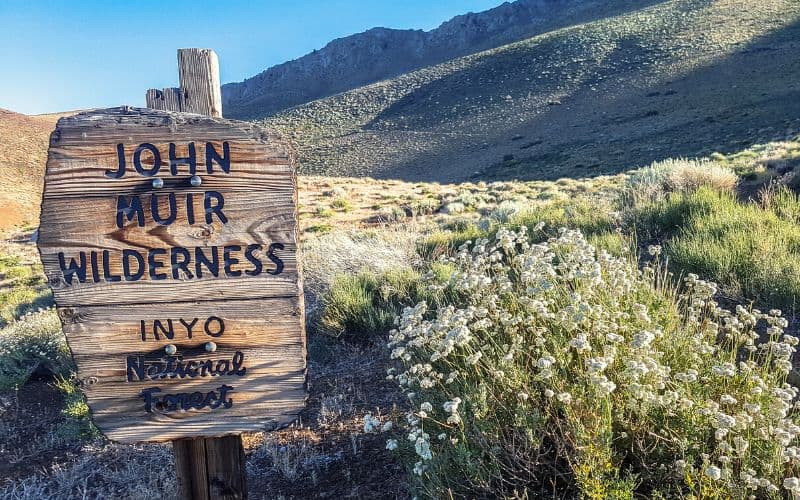 Parking
A limited number of parking spots for day use are available near the trailhead at the end of Glacier Lodge Road. You'll also find public restrooms and bear lockers in this parking area. Arrive early for the best chance of finding an open parking spot next to the trailhead.
Backpackers can park at the paved overnight parking lot just west of Upper Sage Flat Campground. You can also park in this lot if the day-use area near the trailhead is full. Parking in the overnight lot adds around 0.6 miles each way to your journey.
Best Time to Visit
The trail is open year-round, but the best time to visit is May through October.
Late summer is peak hiking season due to the warm weather. July and August can get hot in the Eastern Sierras, with temperatures over 95 degrees in the lower elevation parts of the path and little to no shade. On the plus side, the clear skies and bright sun help showcase the bright turquoise color of the lakes.
During this period, things can get a little crowded, particularly between the trailhead and Fifth Lake (the upper lakes are usually less busy). If you plan on hiking from June through September, avoid the summer weekends and visit mid-week to avoid the worst of the crowds.
For temperate weather and fewer crowds, plan your trip for after the snow melts in late spring or before the first snowfall in early fall.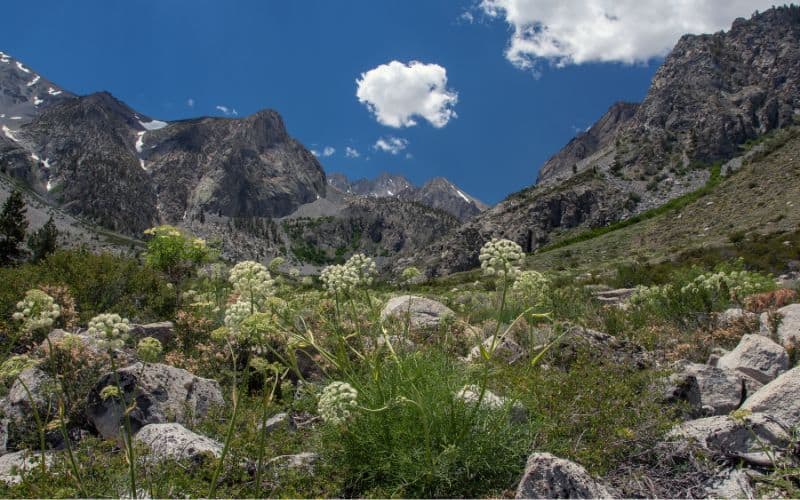 What to Take
Bring gear for hiking at high elevations, in mountainous terrain with little shade. You'll need enough water, some snacks, and a first-aid kit. Some hikers might benefit from using trekking poles for the steady 3,982-foot elevation gain and the few creek crossings you'll have to tackle en route.
Sun protection and extra water are essential in the hot summer months, and a warm jacket is necessary for the cooler months. Depending on the time of year, you might need a rain jacket, additional sun protection, a puffy jacket, or all the above!
Pack a water filtration device for use in case you run out of water – there are multiple natural water sources along the way, including creeks, waterfalls, and lakes.
For a backpacking trip, pack everything you need to camp, including a tent, sleeping bag, backpacking stove, food, wilderness permit, and bear canister.
How Difficult is the Trail?
The hike is a little over 15 miles round trip and has an elevation gain of almost 4,000 feet. It's considered a moderate to difficult hike and takes most hikers 7–10 hours to complete.
The majority of visitors actually trek a shorter distance because they head back after reaching Third Lake or Fourth Lake instead of continuing to Seventh Lake.
The difficulty level depends on your degree of fitness, your hiking ability, and the weather. Whether or not you find this hike difficult also depends on your acclimatization to the altitude. The trailhead is located at around 7,000 feet. Needless to say, those who are used to hiking in higher elevations will have less trouble than those who aren't.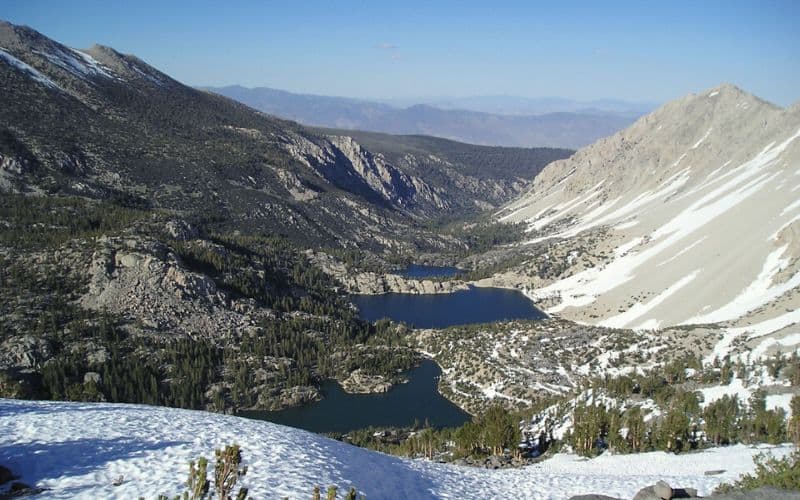 Food and Water
You must bring all the food you need for your entire trip and plenty of water for your hike. The closest market is a 25-minute drive away in the town of Big Pine.
If you get to the trailhead and you realize you forgot something, you can find basic camping supplies, some food and snacks, and water for sale about a 5-minute walk south at the Glacier Lodge General Store.
John Muir Wilderness is in bear country and backpackers are required to either store their food in a bear-resistant canister or use the counter-balance method. Bear canisters are the most effective way to protect your food from bears and are highly recommended. There are bear-proof food storage lockers located at the trailhead for day hikers to use.
There are multiple natural water sources along the trail, including creeks, waterfalls, and lakes. Bring a water filtration system or purification tablets to treat the natural water and make it safe to drink.
Camping & Accommodation
Can't get enough of this majestic mountain paradise? There are plenty of Big Pine Lakes camping options (and a few cabins!) to spend the night under the stars.
Backpacking Camping Areas
Overnight camping is allowed as long as you have one of the tough-to-get Inyo National Forest wilderness permits. The backpacking camping area begins a quarter-mile past the wilderness boundary near Second Falls, but there are no designated campsites.
Big Pine Creek Campground
The closest established campground to the trailhead is Big Pine Creek Campground. It's only about a 5-minute walk from the campsites to the trailhead. The campground is located at 7,700 feet in Big Pine Canyon, nestled amongst aspen trees, cottonwoods, and Jeffrey pines.
There are 30 primitive tent-only and non-electric, small RV sites set between Big Pine Creek and a sprawling meadow. Most of the sites get plenty of shade from the towering trees. Some of the sites are creekfront for quick access to cool off in the hot summer months. Amenities here include vault toilets, food storage lockers, campfire rings, and firewood for sale.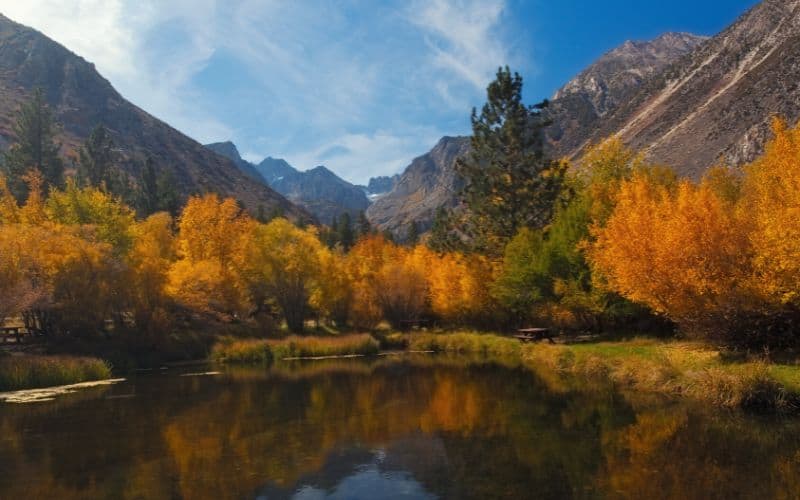 Upper Sage Flat Campground
At about 1 mile away from the trailhead, the second-closest camping area is Upper Sage Flat Campground. This campground also has access to Big Pine Creek for swimming and fishing. The sites are surrounded by trees, but they have less shade than the nearby Big Pine Creek Campground.
There are around 20 non-electric campsites here, many of them with parking aprons up to 40 feet long. Amenities offered here include flushing toilets, picnic tables, campfire rings, and drinking water.
Sage Flat Campground
Sage Flat Campground is just a short walk east of Upper Sage Flat. There are 28 non-electric campsites scattered along the creek's northern shore. The sites here are somewhat shaded but have less vegetation and privacy between sites. This camping area has vault toilets, picnic tables, campfire rings, food storage lockers, and drinking water.
Glacier Lodge
Glacier Lodge is a privately owned property offering cabin rentals and camping just a few steps from the Big Pine Creek Trailhead. The rustic cabins sleep 2 to 7 people and feature kitchens and bathrooms.
The camping area has tent and RV sites with full hookups, including water, electricity, and sewage. The lodge also has a restaurant, a general store, and a fishing pond stocked with trout.
Wildlife
The wildlife viewing opportunities in Inyo National Forest are incredible! Some of the animals that inhabit the area are yellow-bellied marmots, bighorn sheep, black bears, mule deer, mountain lions, pikas, coyotes, bobcats, and a huge variety of birds.
Remember to store your food in a bear-resistant container to avoid attracting any of these critters!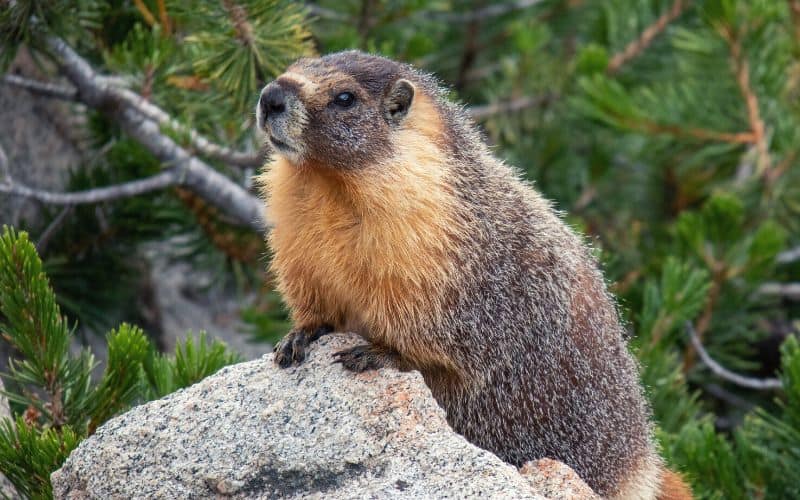 Big Pine Lakes North Fork Trail Guide
The trailhead is located at the end of Glacier Lodge Road and can be easily located on the forest service's Big Pine Area Trails Map.
The hike starts fairly flat until you reach the junction between South Fork and North Fork trails. Here, take a right onto the North Fork of Big Pine Creek and head up the shaded switchbacks until you reach the bridge overlooking First Falls.
The next part is a steep, uphill climb with rocky switchbacks and little shade. This is where you pass by the John Muir Wilderness boundary sign where most hikers stop to get a photo. There's another waterfall after this section, the aptly named Second Falls, that is the perfect spot to stop for a snack and water break while admiring the falls.
From here, you'll continue gaining elevation as the trail passes a stone forest service cabin built by actor Lon Chaney. Continue until you reach the first of the lakes, First Lake. Carry on to Second Lake (10,000 feet elevation) for epic views of the turquoise-colored water with Temple Crag as the backdrop.
Third Lake is just a short walk from there. Most day hikers turn around and backtrack to the trailhead after Third or Fourth Lake, and don't see all seven lakes. Overnight hikers or those with plenty more gas in the tank can continue to Seventh Lake and Palisade Glacier or take the path to Sam Mack Meadow via Black Lake.
For a fun side trip on a less-visited route, head back to the junction and take the South Fork of Big Pine Creek. This exposed hiking path leads to Willow Lake and Brainard Lake and provides access to the Middle Palisade Glacier.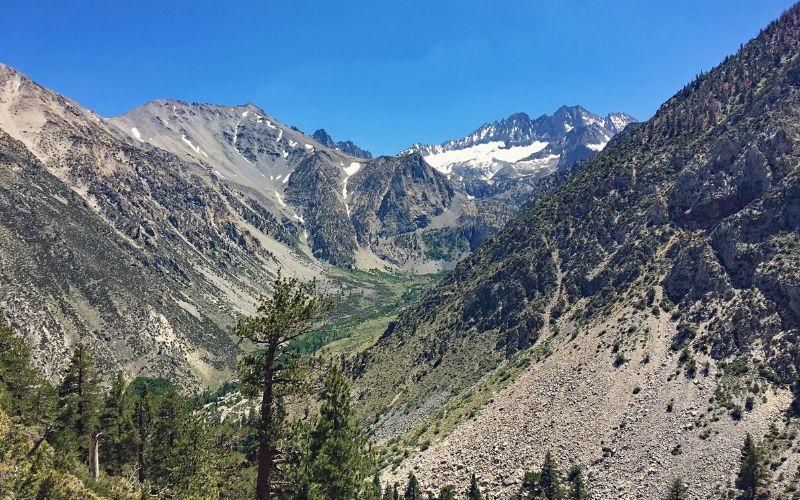 Happy Hiking!
The trek to Big Pine Lakes is considered by many to be one of the best hikes in the Eastern Sierra, and among the top hikes in California as a whole.
With its awe-inspiring turquoise-colored waters surrounded by pine trees and jagged peaks, the Big Pine Lakes hike is not to be missed!
If you enjoyed this article, let us know in the comments box below and please feel free to share it with any friends who might want to take on the hike to Big Pine Lakes.