Camelback Mountain is one of the most popular hiking and rock climbing spots near downtown Phoenix, Arizona. The mountain earned its name due to its uncanny resemblance to the head and humps of a kneeling camel.
There are two hiking trails leading to Camelback's summit – the Cholla Trail and the Echo Canyon Trail. Both hikes are rated as challenging due to their steep elevation gains, uneven terrain, and lack of protection from Arizona's scorching heat.
Since Camelback is the tallest peak in the greater Phoenix area, those that reach its summit are rewarded with jaw-dropping, 360-degree panoramic views over Scottsdale and Paradise Valley.
Ready to test your limits (and your quads!)? Then keep reading to learn everything you need to know to conquer the summit.
Key Takeaways
Cholla or Echo Canyon? – There are two hiking trails on Camelback: the Cholla Trail and the Echo Canyon Trail. Cholla is slightly longer but considered less difficult than Echo Canyon.
Brace yourself for a challenge! – Both hikes are rated as challenging due to steep elevation gains, technical portions, and the general difficulties of hiking in the Arizona heat.
Take care! – There have been countless rescues on Camelback and tragically, some hikers have even died in accidents there. To help you come prepared for hiking in the Sonoran desert, the Parks Department has a useful checklist to help guide you.
Watch the clock – Parking for both trails is only allowed from sunrise to sunset, so plan accordingly.
No-go for Fido – Dogs are not allowed on either trail.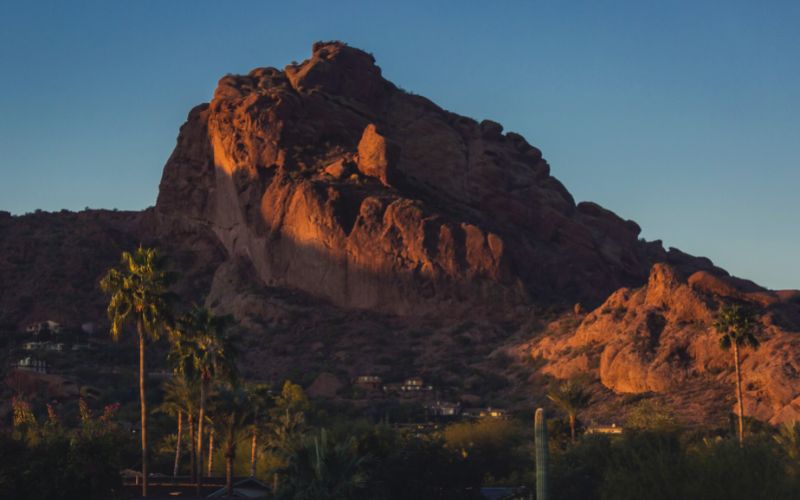 Camelback Mountain Via Echo Canyon Trail
Trail Overview
Type: Out-and-back
Length: 2.4 miles
Difficulty: Extremely challenging
Echo Canyon is the shorter and steeper of the two trails leading to the summit of Camelback Mountain. Most experienced hikers in good physical shape can complete this hike in about an hour, but you'll want to give yourself plenty of time to rest and take water breaks.
Don't underestimate this hike due to its short distance! This is an incredibly difficult trek and is not to be taken lightly. Although it doesn't require any ropes or harness, you'll feel like you're rock climbing at times as you scramble over boulders.
Stage-by-Stage Route Description
The trail starts at the Echo Canyon Trailhead on E Macdonald Drive. The parking lot fills up fast, so arrive early to snag a spot. There are also restrooms and water here.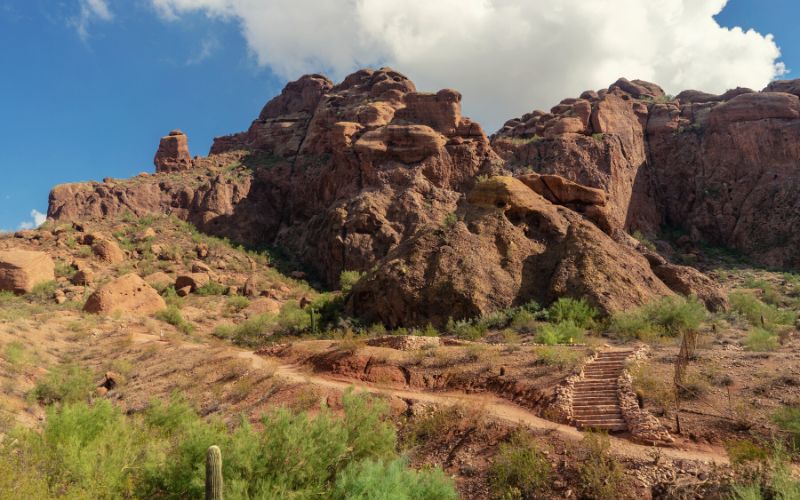 From the trailhead, you'll see a wide dirt path that gently climbs through a landscape peppered with large boulders. Within the first 0.2 miles, you'll arrive at the base of a rock formation known as the "Praying Monk". If you look up here, you'll see rock climbers scaling the rock face in front of you!
From here on out, the path becomes practically vertical through a series of switchbacks until the 0.5-mile marker. There are railings and fences to help you out.
After the switchbacks, you'll arrive at a lookout called Echo Saddle. This is your chance to turn back around if you're already feeling the strain! The trek gets much more difficult and technical after this viewpoint.
From this point on, make sure your hands are free! As the grade increases, the hike becomes more of a scramble across sections of slick rock terrain. Take your time here and make sure you stop for plenty of water breaks.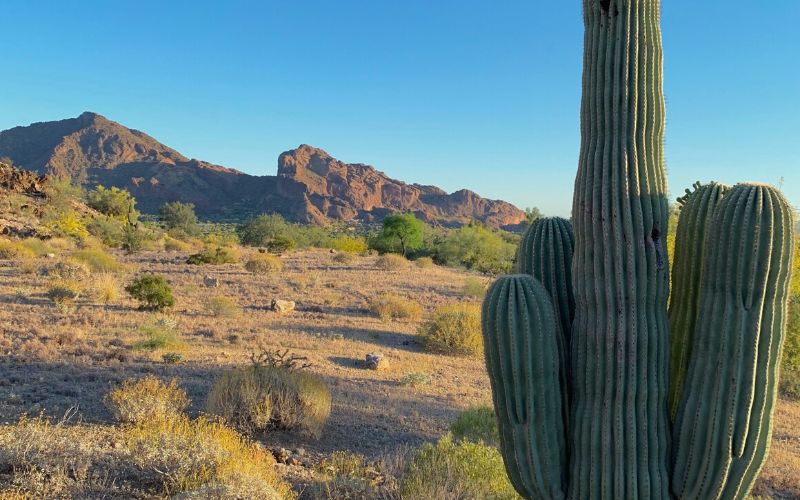 At the 1.1-mile trail maker, you'll just need to make one last push on the final ascent to summit Camelback. There, you'll be rewarded with epic views over Phoenix and Paradise Valley. On a clear day, you can even spot the mountain ridges of the Valley of the Sun.
Take a moment to appreciate your hard work before retracing your steps back to the trailhead.
Camelback Mountain Hike Via Cholla Trail
Trail Overview
Type: Out-and-back
Length: 3.1 miles
Difficulty: Challenging
After an almost 3-year closure, the Cholla hiking trail opened back up to the public in September, 2022. The trail was closed for realignment and safety improvements.
Despite being considered less challenging than Eco Canyon, Cholla is still an "extremely difficult" hike according to the Parks Department. It does have less scrambling in the lower portion, but you can still expect a pretty steep and technical climb on the last stretch of the hike.
It will take most hikers in good physical shape about 1.5 hours to complete this hike. Due to the trail's sun exposure, come fully prepared with sunscreen, a good hiking hat, and enough water.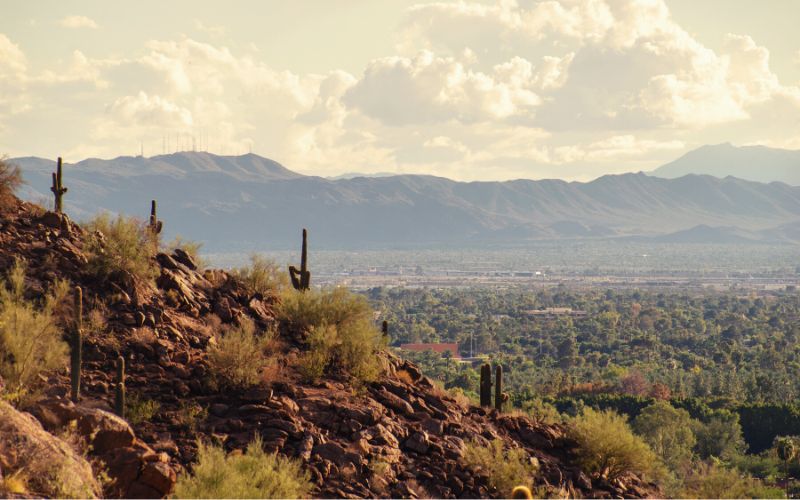 Stage-by-Stage Route Description
You'll find the trailhead on East Cholla Lane. You'll know you've arrived when you see all the warning signs!
The first portion of the hike will have you climbing well-worn, rock stairs. Spectacular views of Scottsdale and Paradise Valley will accompany you the entire way up. As you continue to climb, keep an eye out for the blue trail signs and the yellow warning signs marking fragile or dangerous areas.
At around the 1-mile mark, the trail veers towards the saddle of Camelback. This gradual climb lasts until the 1.2-mile mark where you'll have finally reached the "hump" of the camel's back. This is where the well-worn dirt path ends.
There is plenty of wildlife to spot in this portion of the trail. Keep an out for some of the local inhabitants like foxes, bobcats, cottontail rabbits, raccoons, and plenty of birds and insects. Some of the flora on view include saguaro, palo verde, cholla, barrel, and ocotillo cacti.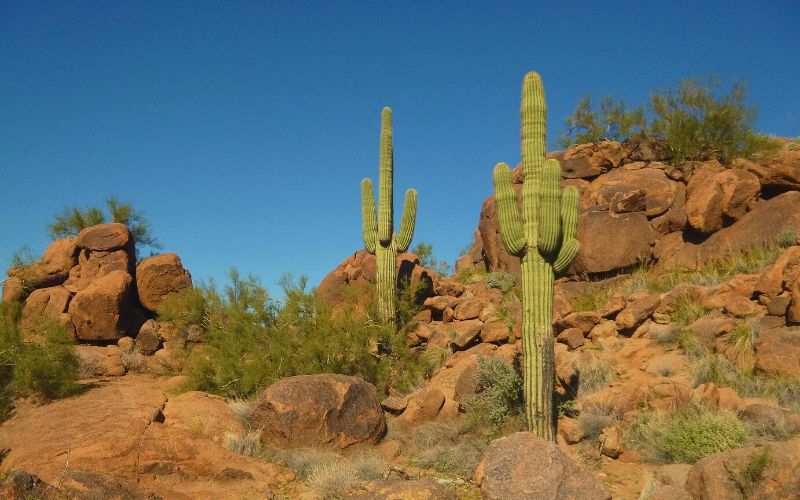 From here on out, the way forward is rocky and will require some scrambling. The trail can be difficult to make out here, although you will see some yellow reflectors guiding your way. If you can't figure out which way to head, look for other hikers ascending or descending.
When you reach the post with the blue trail marker, you'll know you're almost at the summit! One final push and you'll be taking in the magnificent, 360-degree views of Scottsdale and Paradise Valley.
Once you're ready, you'll need to go back down the way you came. The descent should be easier since you can see your destination in the distance. You may need to get on your butt to tackle some of the scrambles, but the important part is to take it slow and play it safe.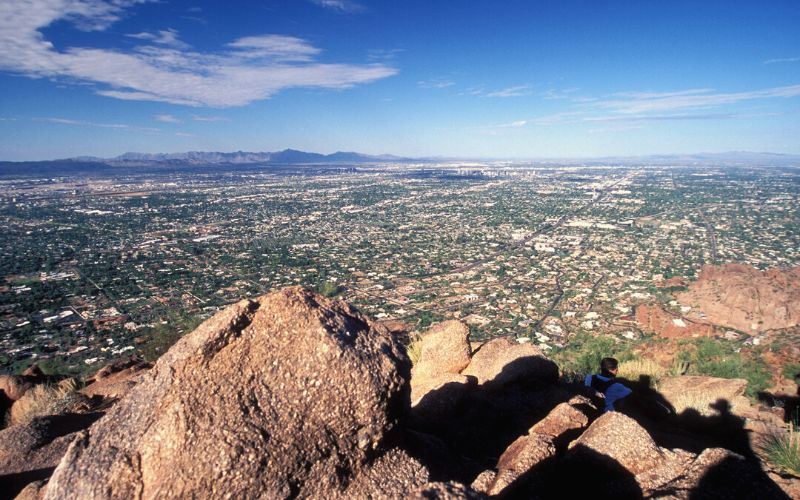 Final Thoughts
There are two main trails to the summit of Camelback: Echo Canyon and the Cholla Trail.
If you're looking for an extremely tough challenge that will have you scrambling over boulders, choose Echo Canyon. Remember that this trek is rated extremely difficult, so plan ahead and come prepared!
If you'd like a slightly less challenging and less direct route to the summit, go for the Cholla Trail.
We hope this guide has answered all your questions about the Camelback Mountain hike. If you have any questions about this trek or hiking in Arizona, feel free to ask in the comments below. Happy trails!