Craving some serious "me time", the chance to explore wild places at your leisure, and detox from the hassles and stresses of home life and work? If so, solo camping is the way to go!
Camping on your own can be one of the most rewarding, therapeutic, life-affirming, and empowering things you'll ever do, not to mention a whole load of fun. In this guide, we'll explore the pros and cons of camping by yourself, teach you how to prepare for your solo adventures and provide helpful tips to help ensure your trips are as safe and enjoyable as can be.
Why Solo Camping Is Awesome!
Not convinced that camping by yourself is a great idea? Below, we list 5 reasons that might just change your mind.
1. Peace, Perfect Peace!
In today's world, peace and quiet are commodities only acquired and enjoyed at a serious premium. Camping solo gives you the opportunity to "balance the books" a little by switching off from the outside world and indulging in both fully. 
Here's a good place to draw a distinction between "spending" time and investing it. When you "spend time", you don't get anything back. When you invest it, you put it to good use and get some ROI. And what use could be better than something that's scientifically proven to benefit both your physical and mental health?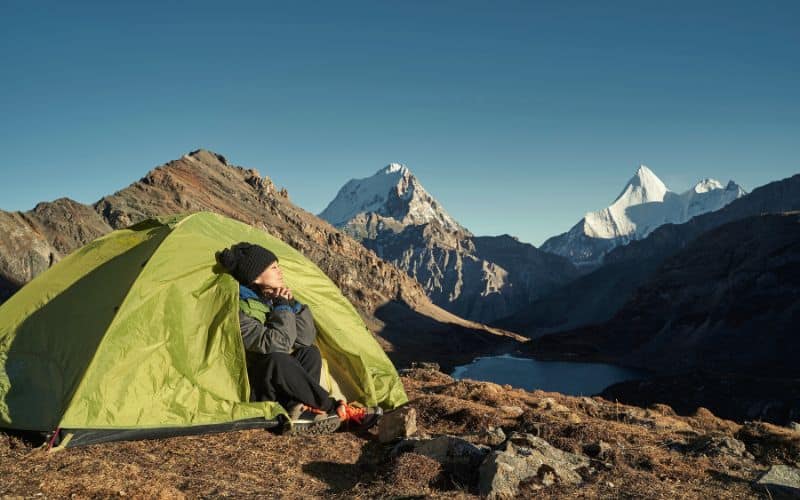 This folks, is what spending time alone in nature promises, and it can be yours for the cost of a little fuel and a modest camping fee.
For more, check out our guide on the physical & mental benefits of camping.
Peace, perfect peace!
2. Learn More
All great teachers know that students learn by doing. By putting yourself out there in the great outdoors, on your lonesome, you'll have no option but to do literally everything that needs to be done. This includes choosing your campsite, pitching your tent, building your fire, washing clothes, finding drinking water, cooking, and all the rest of it.
You'll also make mistakes and plenty of them. However, as James Joyce once said "Mistakes are the portals of discovery".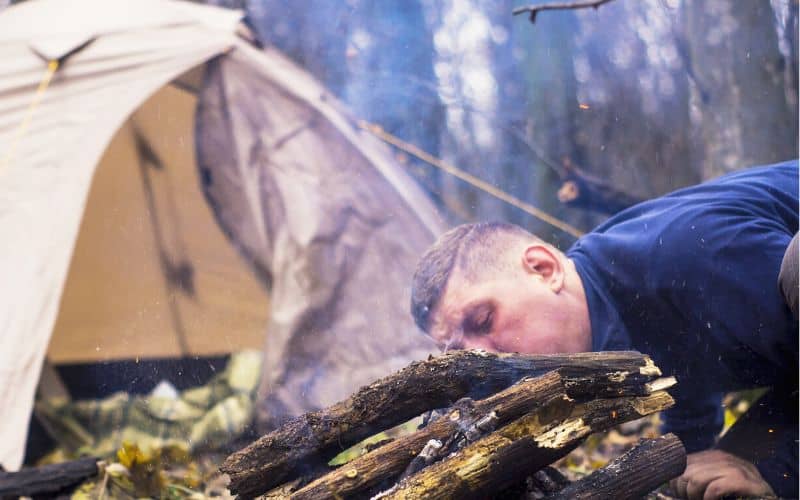 3. Go at Your Own Pace
If you've already spent a lot of time camping in groups, you'll probably know only too well the frustration (and occasional conflict) caused by having to compromise and keep up with or slow down to the pace of others.
Whether you're more the turtle or the hare doesn't matter when you camp by yourself – you can do you, conscience-free, and without p**sing anyone off! Whether you go for a day hike in the woods or just spend the day lounging around camp, you get to set the pace. 
This is something that rarely happens in everyday life, so make the most of it!
4. Boost Self-Confidence
Solo camping is challenging. And, as with all challenges, success inevitably breeds self-confidence, self-esteem, and belief in your own abilities.
Sure, you can get some of the satisfaction of overcoming challenges when you camp in a group. However, these are often a watered-down version of those you'll need to overcome when you're all alone.
When you camp with a partner or group, most of the tasks are divvied out. This usually means that you'll be assigned tasks you're comfortable doing and have experience with – great for expediency, not so great for learning.
When there's only you at camp, it's all on you. From packing everything you need and planning the trip to setting up camp, feeding yourself, keeping yourself warm, and getting home in one piece, the buck stops with you. You will be entirely self-reliant. 
When you're making your way to camp on that first trip, you may feel overwhelmed, daunted, and even a little scared. But, if you get through it, you'll soon start feeling a little more like a backcountry badass – something that could take a long time if you camp exclusively with groups of friends.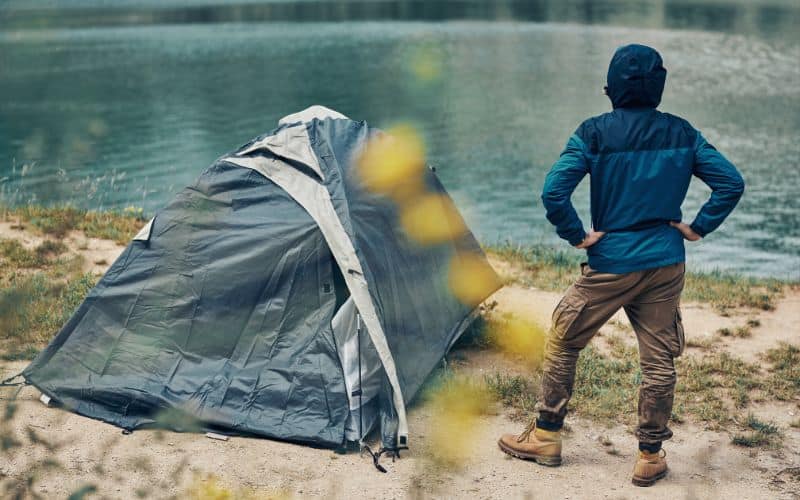 5. Feel Closer to Nature
Any time you do anything alone, you feel more involved in the activity and more intimate with your environment. These benefits are never felt more strongly than when you camp on your lonesome.
When you're in a group, there are other stimuli for the senses and distractions that stand between you and a "naked" connection with nature. When alone, all of these inhibitors are removed.
The Cons of Solo Camping
In the interest of providing a balanced argument, here are some reasons why camping alone might not appeal to everyone:
Loneliness – If you're an extra-social kinda person, this might not be your bag…
Double Duty – Being alone means every campsite task will fall on you. If you're workshy, things could get messy quickly!
Increased Risk – If things go wrong, you'll have nobody at hand to help.
Selfie Skills Needed – Your post-trip photo collection might not be all that it could've been with others along for the ride!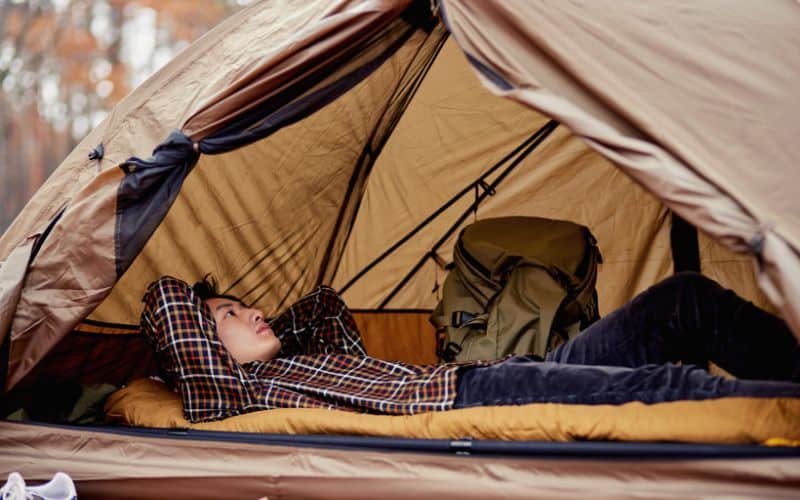 9 Tips for Camping Alone
1. Start Small
For your first few solo camping trips, we recommend breaking yourself in easily. This could mean a single overnight stay in an established campground, a car camping site, or a dispersed camp in an area that you are familiar with.
Many solo campers dive in at the deep end by venturing on a multi-day trip in remote terrain. In most cases, they'll quickly realize they've bitten off more than they can chew or strayed far from their comfort zone.
The good news is that your comfort zone grows with every solo trip you complete.
On that first solo trip, the learning curve can be steep. You might forget things, have trouble with gear, bugs, or cold weather, or be a little spooked by the isolation and all the sounds outside your tent. Come the next trip, however, you'll have that experience behind you, which should help you build both confidence and competence.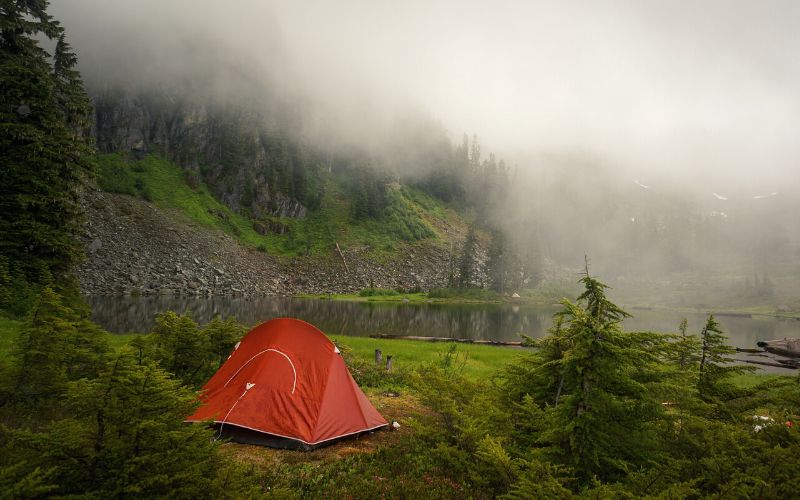 2. Do a Skills Check
Camping by yourself means one thing above all else: you'll need to be entirely self-sufficient. Before you head on your first solo outing, it's a good idea to do an honest appraisal of your skills and knowledge to ensure you don't get yourself in over your head. 
Here are some of the most important skills you will need:
The good thing about doing this check is that once you've got those first few solo trips under your belt and actually put the skills into practice, you'll start to feel a sense of accomplishment and far more confident in your ability to survive (and have fun) when you camp by yourself in the wilderness.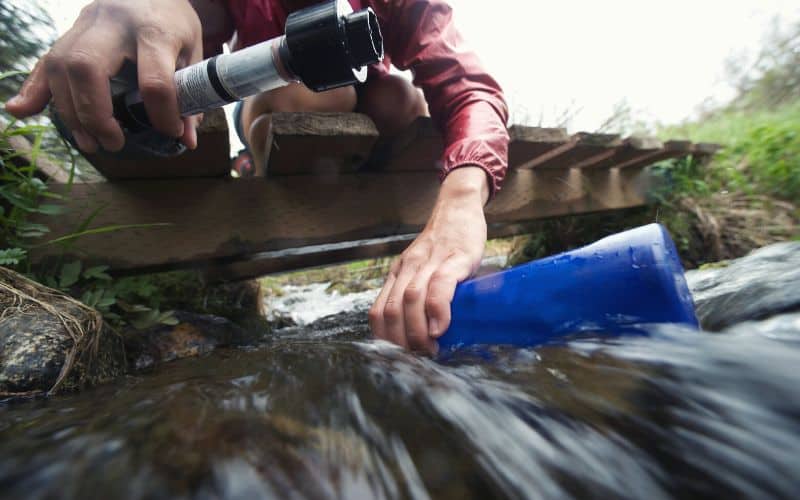 3. Don't Overpack
This one applies to any camper, but for some reason, newbie solo campers are the ones who tend to overdo it most.
When you camp with friends, the weight of some of our heavier items, such as cooking implements and our tent, is divided among carriers. When you're camping by yourself, however, you'll need to bear the burden on your lonesome.
If you're car camping or on a solo road trip, bringing along extra stuff is okay. If your tent camping and hiking into your campsite, however, carrying too much gear is sure to ruin rather than enrich your experience.
Here are a few ideas to streamline your pack load:
4. Leave a Note
Wherever you go on your solo camping trip, whether it be national parks, established campgrounds, or wild camping spots, make sure you tell someone you trust where you are going.
Ideally, you should leave a detailed itinerary stating where you'll park your vehicle, which trails you'll be hiking, where you'll camp each night, and when they can expect you back. This way, if anything goes wrong, your contact will be able to alert the authorities and help them find and assist you.
5. Additional Safety Measures
Whether you're camping on your own or with a group, safety should always be your top priority. 
The main downside to solo camping is this: when things go wrong, there's nobody there to help. You're solely responsible for your own safety. Sound daunting? Maybe, but there are a few things you can do to make your solo trips as safe as possible. Here are the most important: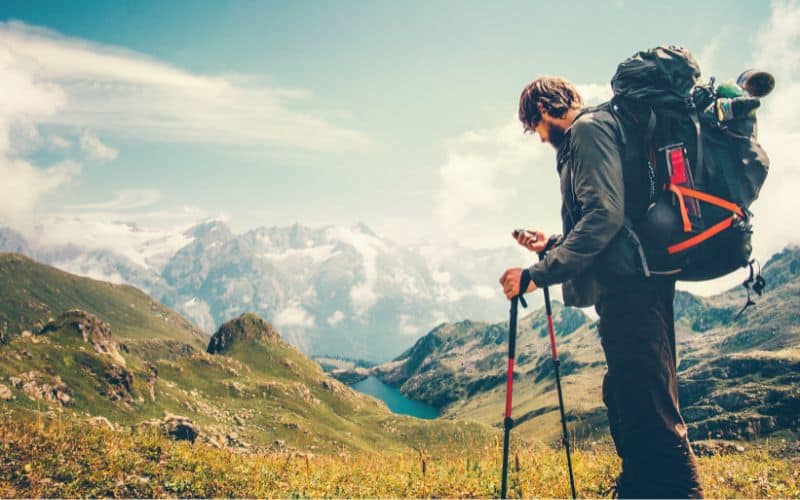 6. Arrive Early
Try to arrive at your campsite at least two hours before sunset. This will make it easier to find the best place to pitch your tent and set up camp. If you're still getting to grips with your new gear, it will also give you a little latitude for learning or doing things more slowly.
Arriving early will also let you get your bearings and deal with a few necessary practicalities before hitting the hay. At a maintained campground, this could mean locating the bathrooms, grabbing a map from the visitor center, and storing your food in bear lockers. At a dispersed site, it might mean finding a water source, collecting firewood, and/or making a fire pit.
Get that tent pitched early!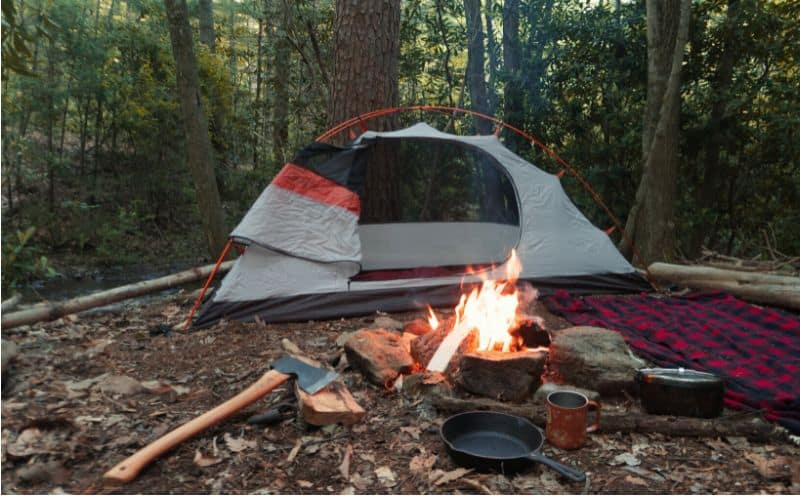 7. Bring a Book
One of the greatest things about the solo camping experience is that you get a lot of alone time. It's just you, a tent, a sleeping bag, a few belongings, and nature all around you.
While we advised you to bring only the essentials above, it's not a bad idea to add a good book to your solo camping checklist. With all those hours to while away, now is a great time to catch up on all that reading you haven't had time for back home.
If you struggle to fall asleep at night when not in your own bed, a good book may be just the somniferous remedy you need.
Need recommendations? Here are some of our favorites:
8. Plan Some Solo Camping Activities
When you're camping with friends, compromise is always needed. When camping on your own, you're free to make your own schedule, and you'll have a lot of free time on your hands.
While it's great to be flexible and spontaneous, it's also a good idea to do a little pre-trip research so you know what options are available. You could even make a tick list and simply do whichever activities you're in the mood for on any given day.
No matter where you plan on going, this is a good time to take advantage of where you are. You'll have no long drives to trailheads or other attractions, so why not make the most of it – just hop out of your tent and let the adventures begin!
The activities you do can be as simple as building a fire and kicking back to observe the night sky or cooking a special supper, or as elaborate as ticking off a series of day hikes near camp.
Here are some ways you could spend (or invest) your time: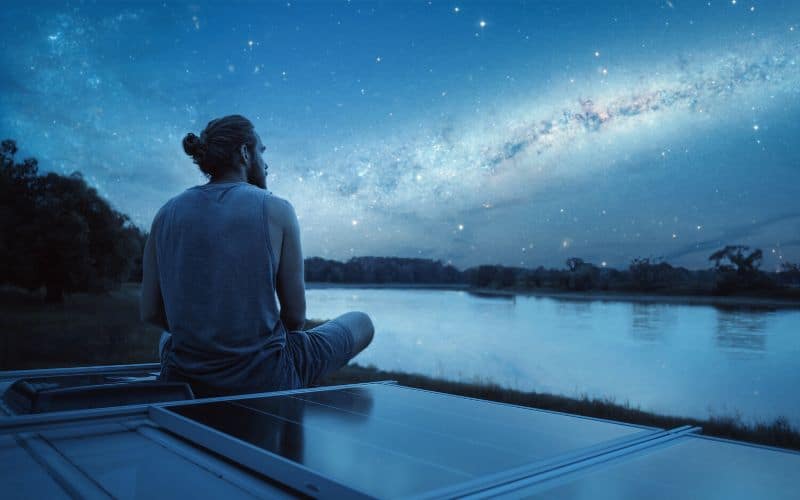 9. Bring a Self-Defense Tool?
This one's a little controversial. As we've all been told, any weapon we may carry may also be used against us and we're statistically more likely to injure ourselves with it than any would-be attackers.
That said, if you're likely to lay awake at night worrying about a dangerous encounter with other campers, roaming psychos, or a wild animal, then carrying a tool for peace of mind is your prerogative.
Some tools we've known our fellow campers to pack for personal safety over the years have included ice axes, bear-deterrent spray, pepper spray, camp knives, hatchets, huge hiking staffs, and, yes, firearms.
We can neither condone nor condemn carrying any of the above. We will say, however, that whatever tool you bring, make sure you know how to use it safely. Also ensure that it's legal to use it where you plan on going (carrying bear spray, for example, is not permitted in many national parks and state parks).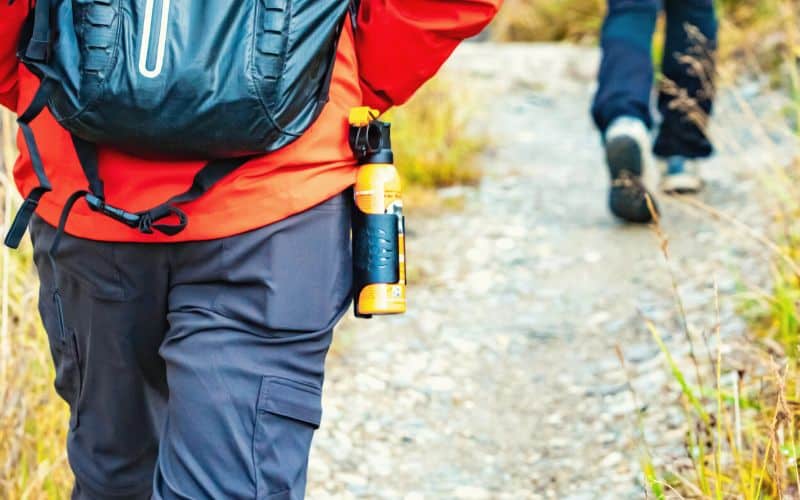 Happy Camping!
Solo camping can be life-affirming, empowering, restorative, and as fun as any activity you might do in a group. We hope this post has convinced you to give it a try and provided the info you need to enjoy your first solo adventures with confidence!
If you enjoyed this article or have any questions, drop us a line in the box below. And if you'd like to share it with your friends, please do!