Soaring mountaintops and gigabytes of photography from the trail pale in importance to the pleasure of some well-cooked food. That rumbling feeling of an empty belly is never so loud as it is while in the outdoors, so a collection of the best camping recipes is essential to an enjoyable trip. Between years of perfecting our own outdoors delights, to spending countless hours scouring the interwebs, we've managed to round up over 89 of the best camping food recipes for you to try!
Key Takeaways
Experiment with the recipes in the kitchen before hitting the trail

Use quality ingredients and reliable cookware

Prep your food ahead of time when possible

Don't overpack (or underpack) cookware for your trip

Don't forget the importance of bear canisters in the backcountry
The Best Eats for Campers
When it comes to campfire cooking, the foods are those that are easy to transport, prepare, and clean-up. The idea of scrubbing a pan free of clinging meat-and-potato particles is horrifying in the kitchen, let alone at the campsite. Do yourself a favor and keep the preparation and clean up to a minimum while you are out in nature.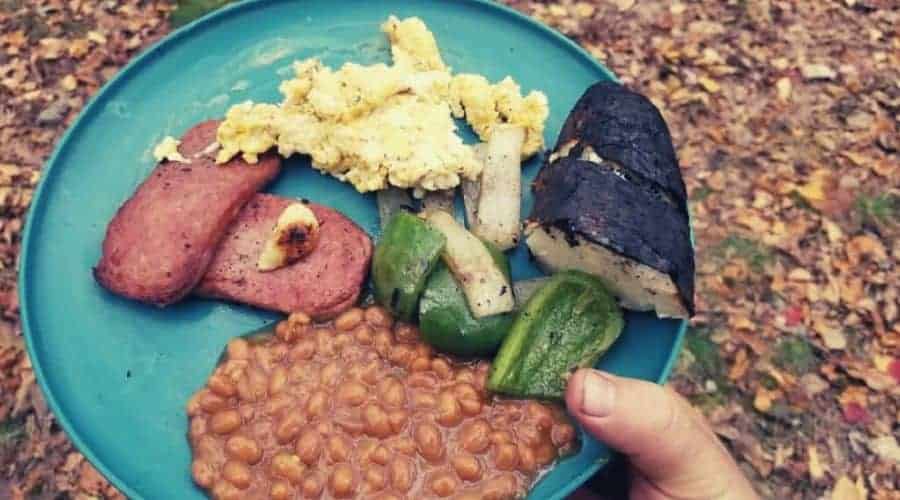 Camp Food Planning
Dwight Eisenhower has a quote I've always loved, "Plans are nothing; planning is everything." It applies especially to camping cuisine.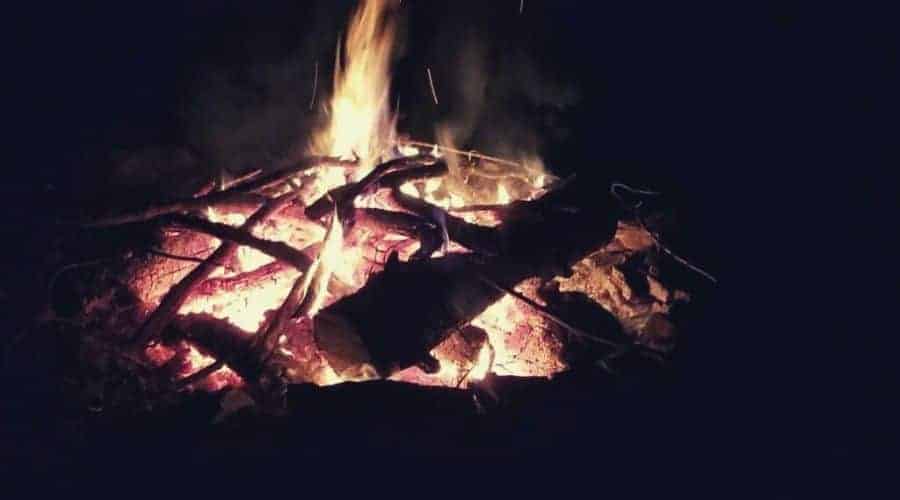 Proper planning allows for the best experience when eating while camping. Planning involves coordinating who carries what, the recipes you'll be using, and who has what duty around the fire. Or it can be as comprehensive as preparing your food ahead of time.
Ever dice onions around the campfire? Yeah, that's no fun. Save yourself that trouble by making a food list and do as much prep work as you can before you ever leave the house.
Pre-pack whatever ingredients you can to allow for improvisation on the trail. You'll be thankful you have a few extra garlic cloves and that extra sprinkle of salt when you need it.
Camping Kitchen Gear
That food you bring along is useless without the right cookware.
Backpacking versus car camping will dictate your needs and allowances. Carrying all of your gear on your back necessitates lightweight and packable cookware, while those preparing their food from their car can afford to splurge on cast iron cookware and coffee percolators.
REI provides an excellent rundown of what camping cookware you may need for your trip. However, we find that if you are car camping, then you can't go wrong with a well seasoned cast iron skillet and a pot.
Camping Menu Ideas & Recipes
We've broken our comprehensive guide on camping recipes into easy-to-reference categories for you to navigate.
Breakfast
The most important meal of the day. The best camping breakfasts feature quick meals that are filling and light. There are a few more decadent choices sprinkled in
1. Blueberry pancakes are as cheery a start to your day as you're gonna get. If you're lucky you'll be able to forage for some blueberries to make these babies really sing.
2. My favorite part about eggs in a basket is that it is easy-peasy to make. When it comes to simplicity nothing beats eggs in a basket as a breakfast!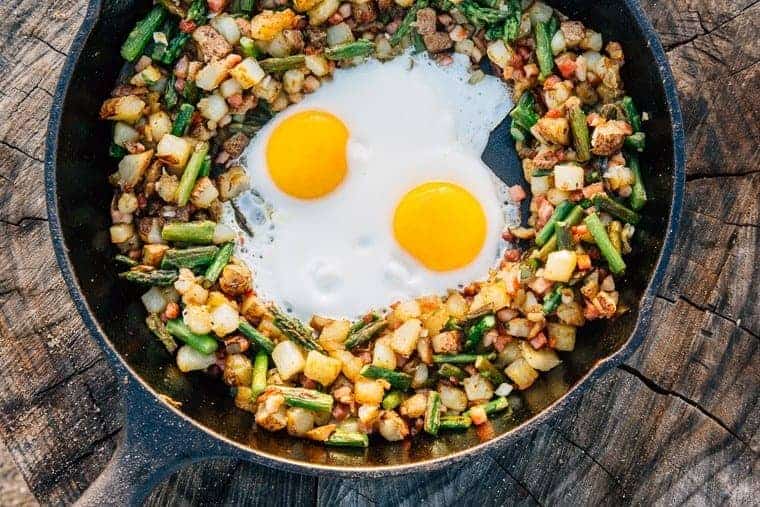 3. This pancetta recipe makes me sing songs of praise for pork. It includes asparagus and eggs and flirts that fine line between filling and energizing.
4. Eggs cooked over potato chips is a surprisingly scrumptious concoction that only requires a bit of planning. And maybe a flexible definition of what "breakfast" consists of.
5. Not a fan of the spud? Try this delectable chickpea breakfast hash. It packs more protein into your breakfast than potatoes alone.
6. Chilaquiles are superb if you've got an hour or so to spare for camp cooking. Brace yourself for some spicy bites, and maybe sharing on social media if that's your gig.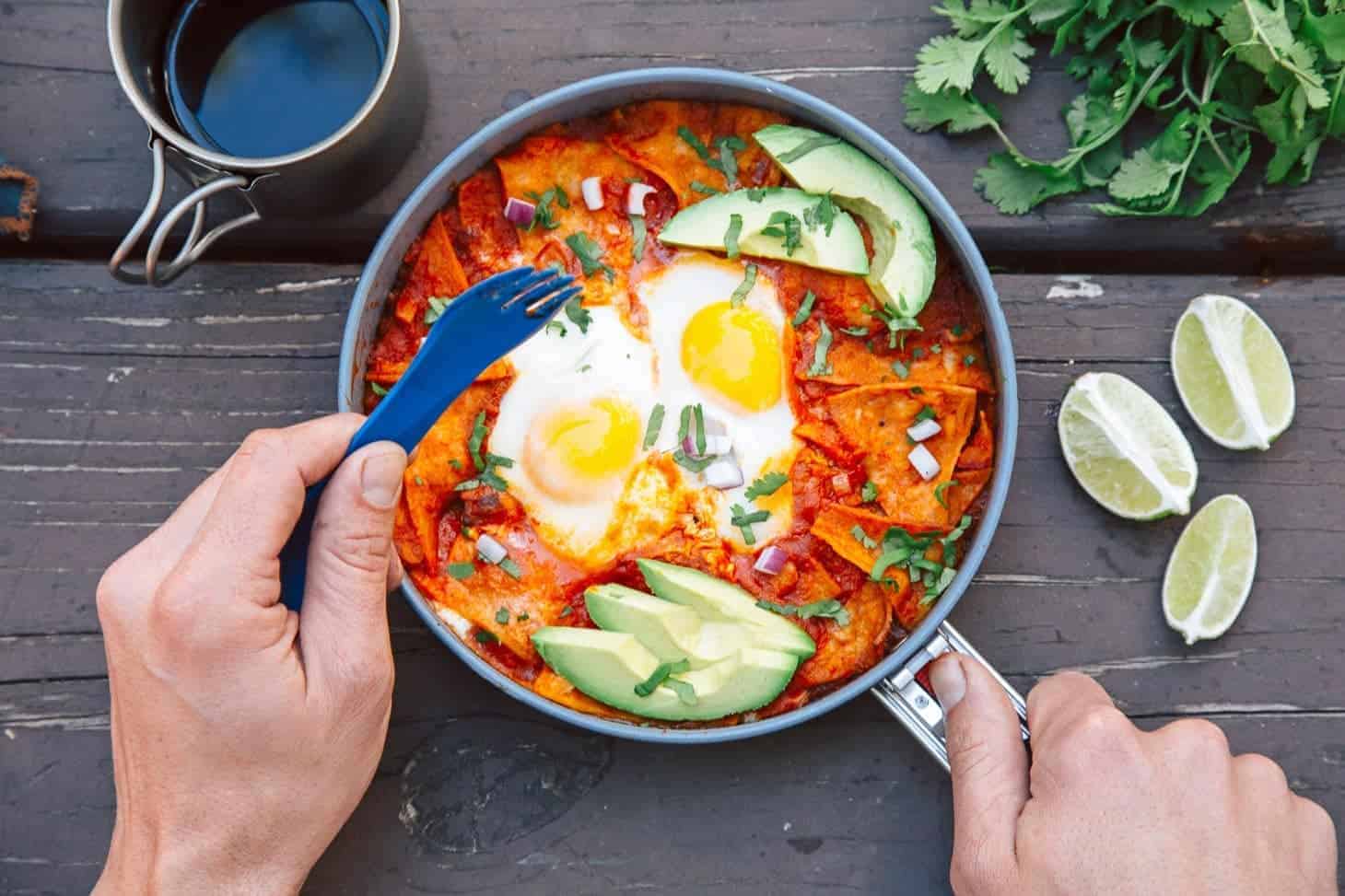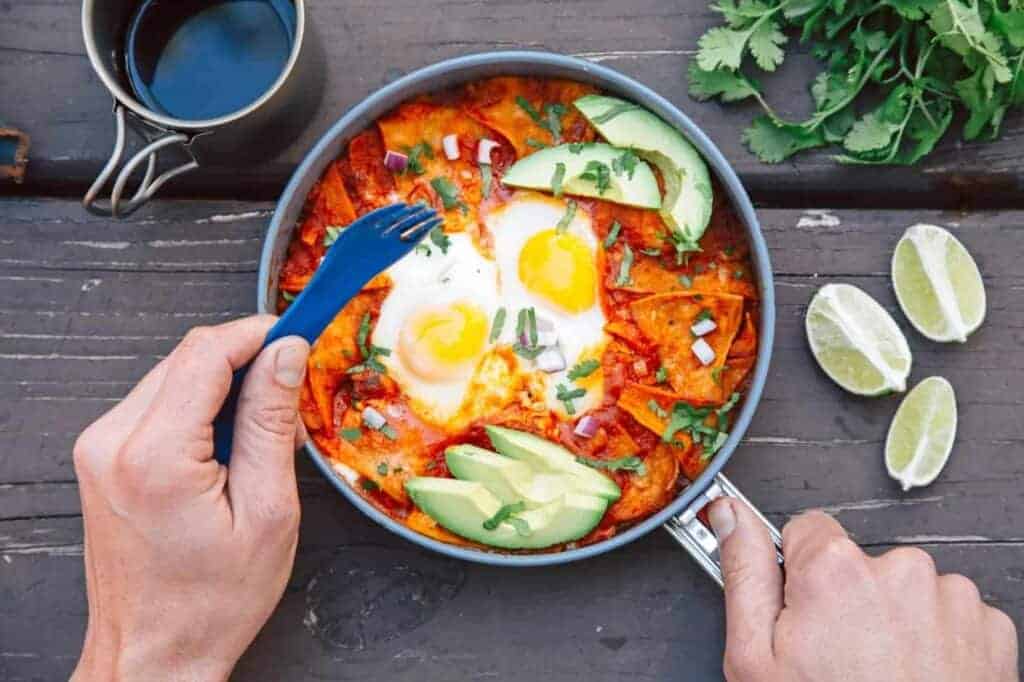 7. Say it with me three times; camping quiche, camping quiche, camping quiche. Although it's maybe not a practical backpacking food, the camping quiche is about as sophisticated as it gets when car camping.
8. The only thing better than salmon is a salmon burrito. The biggest perk to this breakfast is that you can grab it and get hiking as soon as your fire is safely extinguished.
9. This campfire bacon is a golden start to your day when camping. Packed full of salty protein and all the deliciousness you can handle and easy to cook.
10. These campfire breakfast potatoes might be the only breakfast you need on your next trip. Potatoes are easily transported and are a delicious way to get your day revving.
11. The best part about camping is that it's not unruly to add beer to your morning meal. These campfire beer pancakes don't skimp on deliciousness, and they're a great way to start (or finish) your camping trip.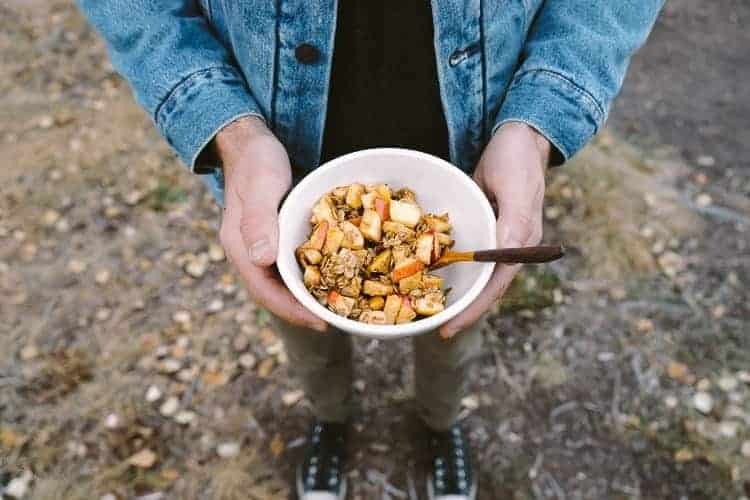 12. I like a light breakfast. The apple crisp breakfast is as good as it gets when you need a light meal to start your day.
13. The only way to start your day is with a cup of cowboy coffee. I've taken to making this recipe at home on the weekends because I prefer its flavor so much, plus you look super cool while preparing it.
14. Soup for breakfast is a quick and easy start to your day, and this cheesy cauliflower chowder performs superbly. Pair it with grilled brussel sprouts for a unique breakfast.
15. My brother's favorite camping grub is a crunchy peanut butter oatmeal. The consistency is just right, though he adds a spot of brown sugar to lighten the taste.
Camping Lunch Ideas
It's an important part of the day, but a heavy lunch while hiking can weigh you down. Fast and simple meals are perfect for camp lunches.
1. The benefit of a foil-wrapped meal like this BBQ chicken is how easy it is to carry and cook. Throw it on the fire and in a short half hour you'll have tasty sustenance to get you to the end of the trail.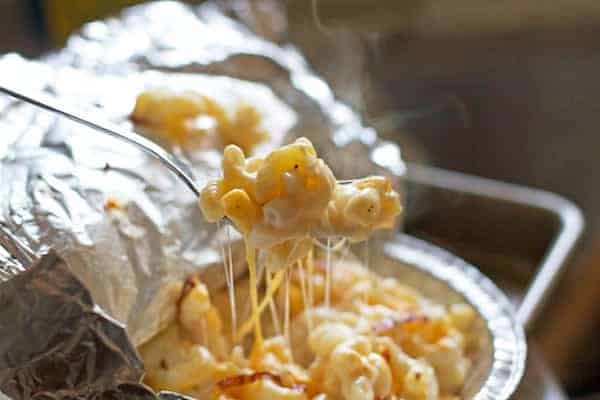 2. I'm a fan of some simple carbs to keep my engine running. This mac n' cheese recipe is about as simple as it gets, and it doesn't skimp on flavor or sustenance.
3. I'm a sucker for a good cornbread recipe when camping. This particular meal is perfect as lunch and can be savored with a bit of jerky and a spot of honey.
4. More simple carbs! These straight-from-the-can cowhorn biscuits can be a great pick-me-up when you need something warm to eat but don't have a lot of time to sit down and cook your meal.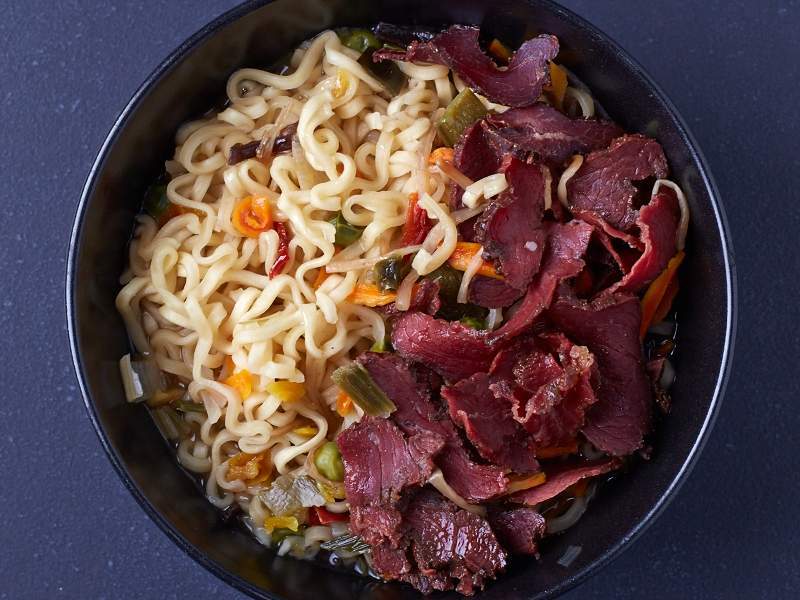 5. The only time I eat ramen nowadays is when camping. This jerky ramen is a treat to eat and a quick meal to prepare when you're ready to keep on truckin' up that trail.
6. Need a pairing for one of those light and quick lunches? Give these campfire potatoes a shot. They are easy to prepare ahead of time and compliment just about every lunchtime offering.
7. Oatmeal isn't just for breakfast. It's a great mid-day meal to keep you moving when you need a light meal.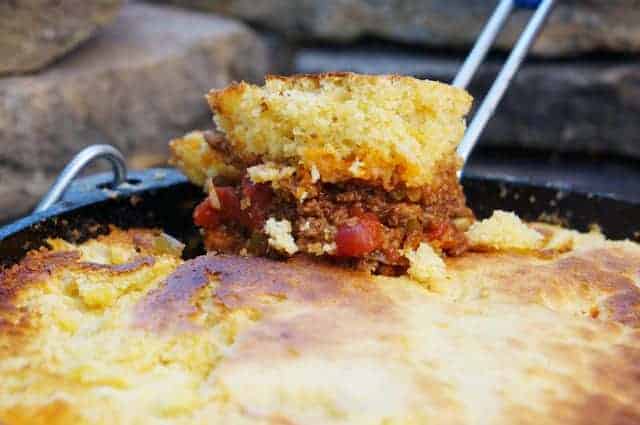 8. Chili and cornbread is an excellent lunch for when you're hanging around the campsite for the day. Grill some whole jalapeno on the side to make it the way I do.
9. I can't get into the whole walking taco thing, but I know enough people who swear by its simple design that I'll list it here. A great lunch for when you're car camping and want a simple bite.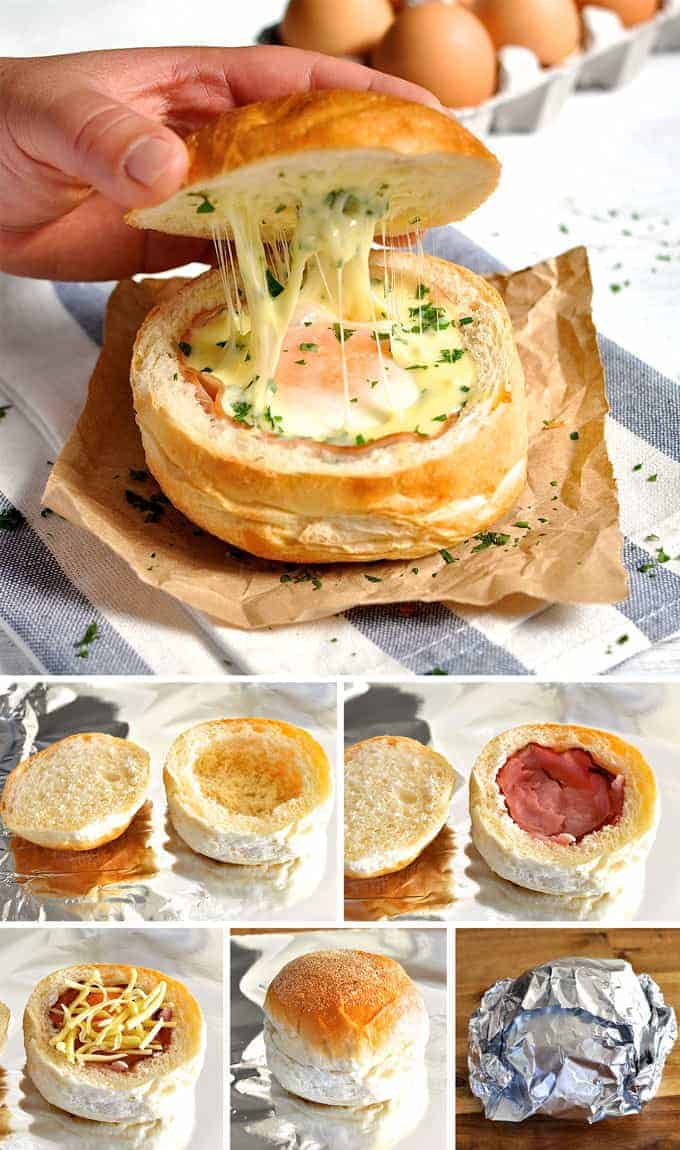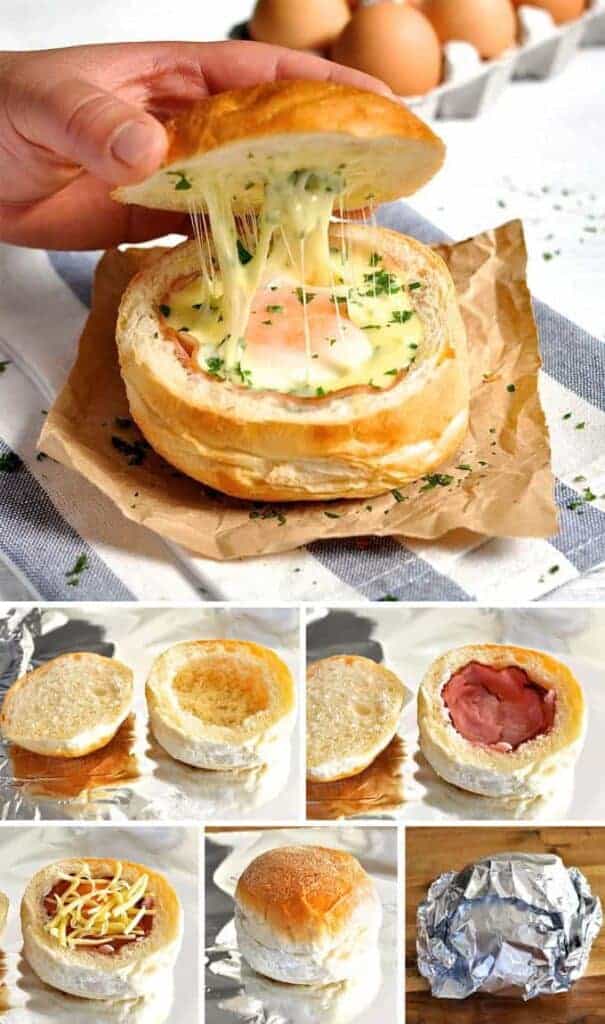 10. Breakfast meals can be a great lunch like this ham, egg, and cheese bread bowl. Great for when you're hanging around or taking a slow day.
11. Another light-and-quick option, this creamy spinach soup will power you through your afternoon and not weigh you down. I've experimented with a chicken bouillon cube instead of a vegetable one and enjoy the flavor.
12. A quick lunch, campfire crescent dogs are an easy and quick bite to enjoy when time is of the essence. Don't forget a bit of mustard to get the most out of the recipe.
13. Oatmeal is great for lunch. Try this oatmeal with bacon and honey for a light and powerful energy boost.
14. Onions cooked over a flame like this onion bomb become a wildly tasty meal. A relatively quick and tasty lunchtime meal.
15. Man, I love sorrel, and the recipe I've found it best in is this quinoa and sorrel borscht. I would never have thought I'd enjoy borscht, but this recipe is worth your while.
Campfire Dinners
My favorite meal of the day when camping and the one you can splurge the most time on. This is when you can kick off your shoes, wash up, and make a solid meal. Leftover could be used as breakfast with certain recipes.
1. Campfire nachos are a great way to end the day. This is a great camping dinner when you've got a few friends nearby to enjoy it with.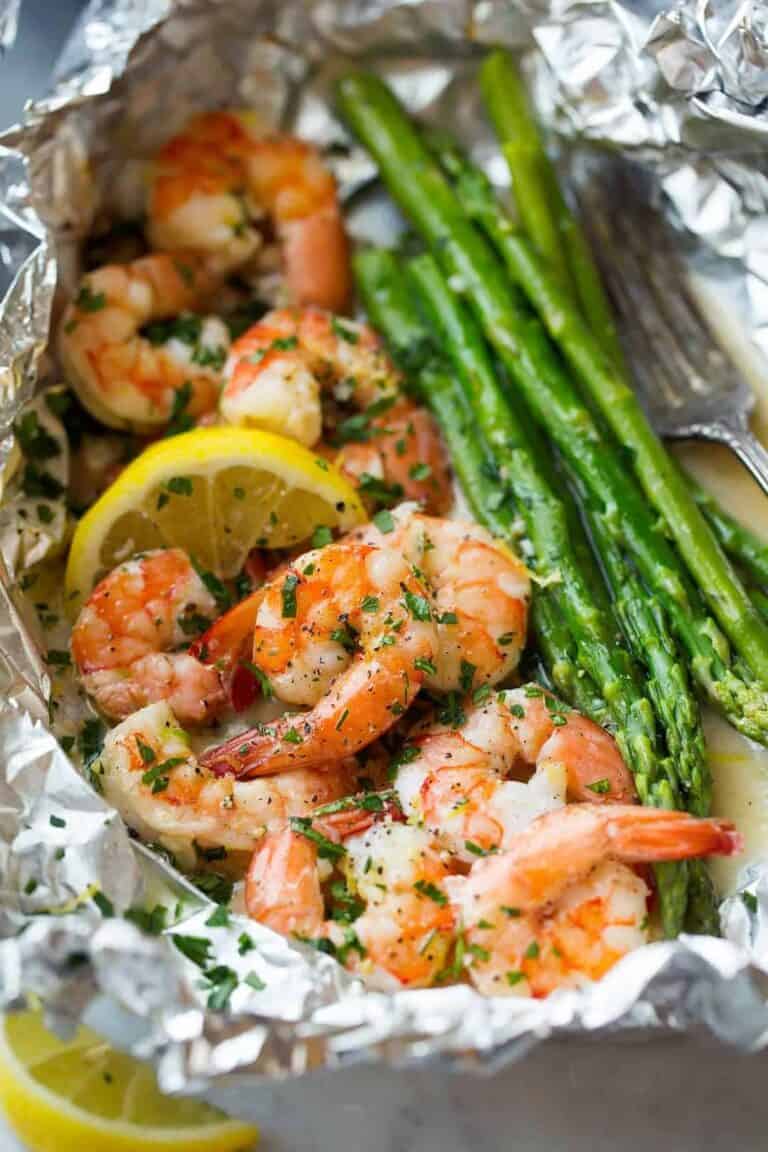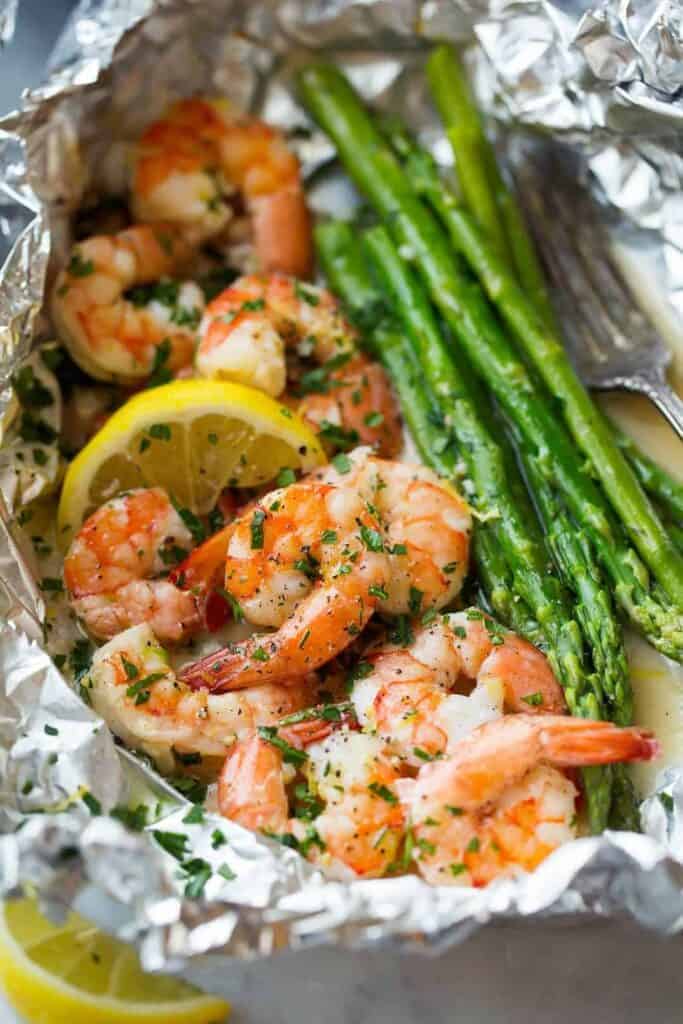 2. Able to keep your shellfish cold while camping? Then this shrimp and asparagus foil pack is just the dinner you're looking for. Prepare the meal before you go camping for maximum satisfaction.
3. For the hardcore pizza lover, this campfire pizza is as good as you're going to get when in the field. All it requires is a pie tin, a few basic ingredients, and a tolerance for hot cheese cooked over a fire.
4. Nothing capitalizes my day like some steak, but this garlic steak and cheesy bacon potato recipe might be my favorite way to end a day camping. It's a recipe best reserved for single overnight trips, or when you have access to a cooler to keep your ingredients primed and ready.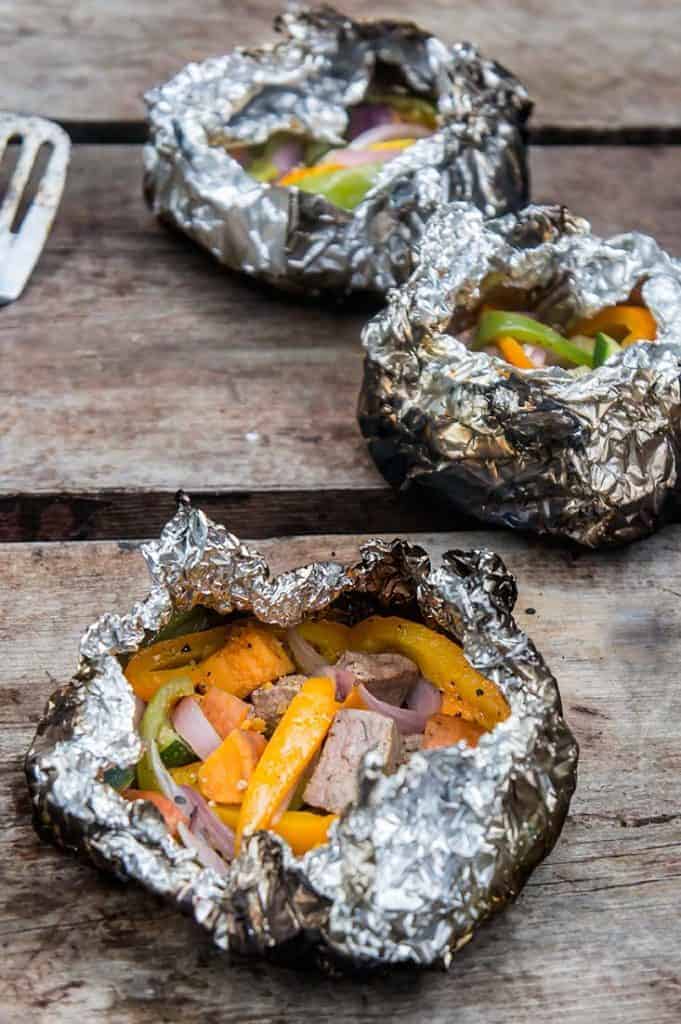 5. A nice compromise between "plan ahead" and "wing it", this steak, potatoes, and peppers combo allows for campers to get a solid, customizable meal. Prepare a few basic ingredients beforehand and add space for improvisation to get the most out of this dinner.
6. Kielbasa sausage with peppers, onions, and potatoes sounds like a great end to the day. Prepare this tasty meal and try not to dive in before it's done.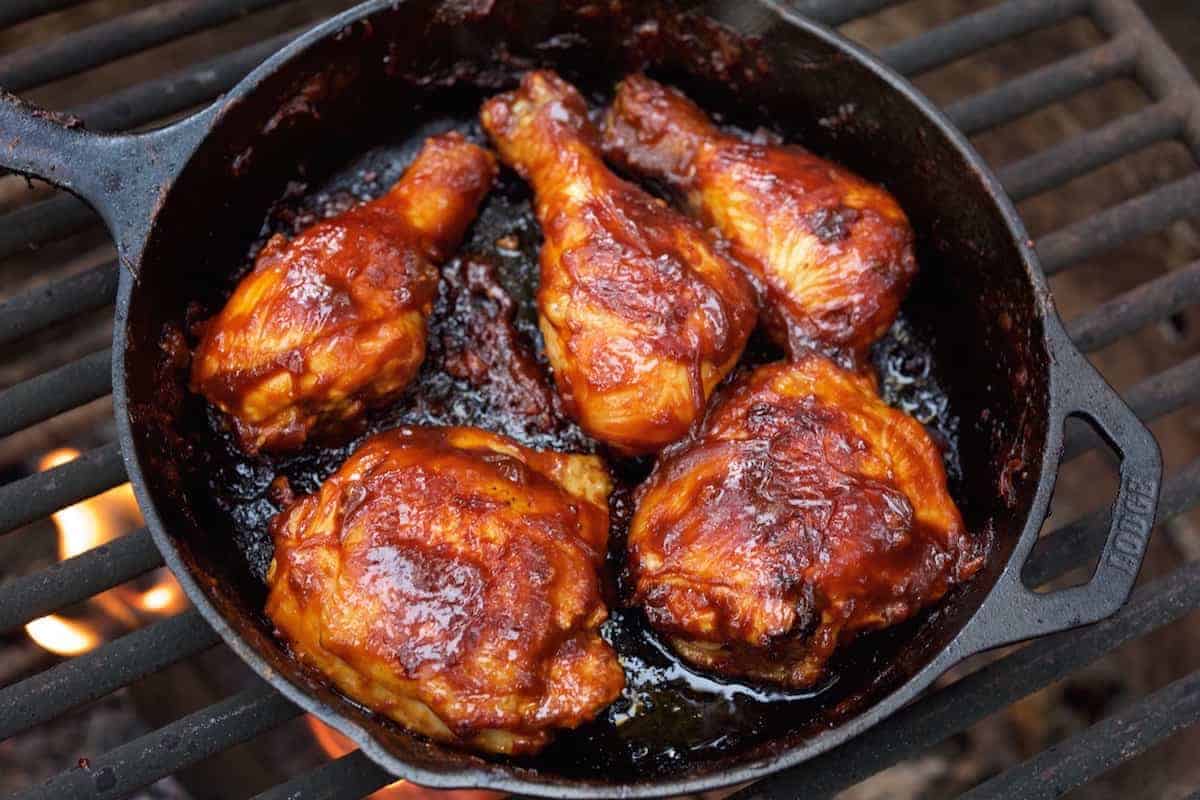 7. Whisky BBQ chicken? Sign me up! This is an incredibly tasty recipe best paired with one of our snacks below like steamed broccoli.
8. My own recipe, this campfire jambalaya will be a filling and delicious end to your day. We make this jambalaya on a weekly basis at my home, but it's never as good as it is when prepared with wood smoke.
9. This dutch oven-braised beef with summer vegetables could be prepared to satisfy the in-laws, but it makes for luxurious meal. Prepare it with whisky for best results!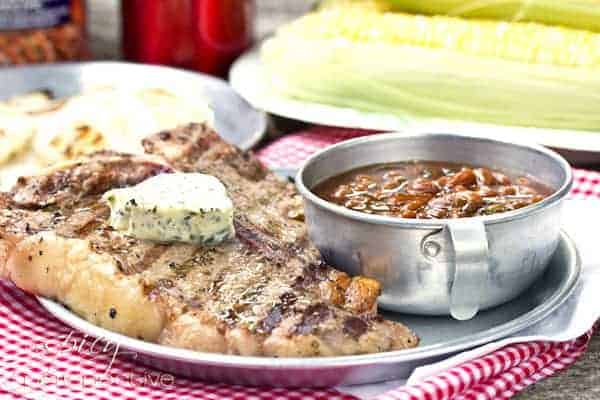 10. Car camping and have some extra room? This porterhouse steak with compound butter recipe is just what the doctor ordered. It's going to fill you right up, and leave everybody around the campfire full and happy.
11. Salmon with herbs and lemon hits a home run in every department. Expect to make the other campers jealous of your incredible meal when you're eating this next to the fire.
12. This recipe for braised brisket with potatoes and carrots is the one that gets my mouth watering more than any other. I've only made it once (and it was in the backyard, not camping), but it tasted as good as you might expect it to.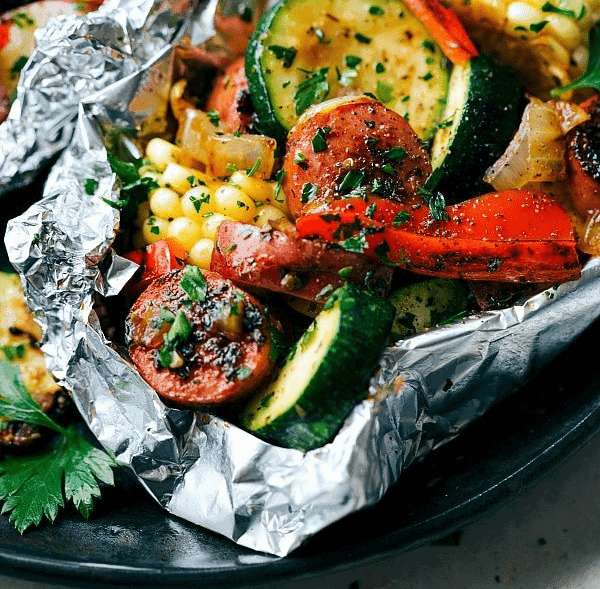 13. If you want a more varied vegetable palette, give this sausage and vegetables dinner a shot. You can swap out a few veggies for your favorites to customize the meal.
14. Grilled sausage with potatoes and green beans is an excellent end to your day. It requires some extra prep but is well worth it.
Camping Side Dishes & Snacks
Sometimes you only need a quick bite, a side dish to your main meal, or have extra time at the campsite and calories to fill. These recipes are quick to make, or easy to transport.
1. Steamed broccoli is a great snack when camping. It's easy to transport and to cook.
2. For the true connoisseur, try these nachos. They're guaranteed to not only knock off your socks, but to impress your friends and associates with your impeccable cheese selection for this camping snack.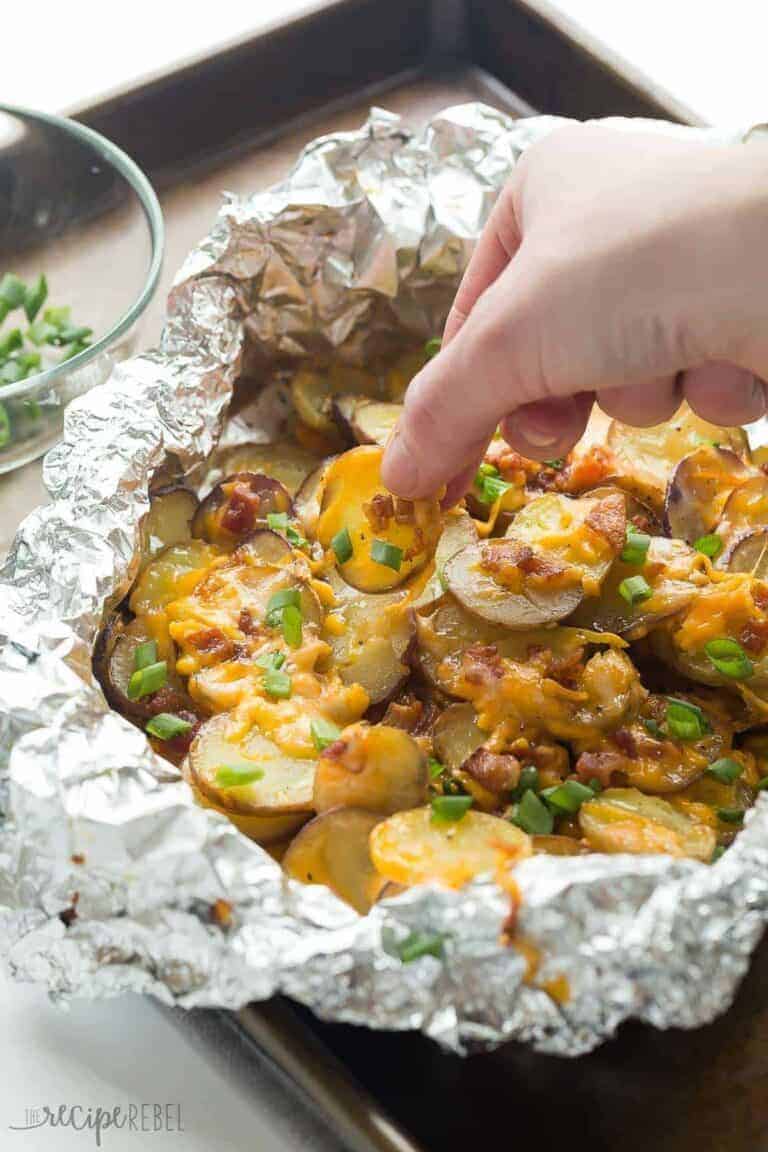 3. Grilled potatoes with bacon? Uh, yes, please. This snack could serve as full-size meal with the inclusion of some chicken or other meat, but it serves its purpose well as a delicious snack.
4. Another take on that camping classic, this s'mores dip is guaranteed to satisfy your sweet tooth. It's easy to make but requires a bit of elbow grease to clean-up.
5. Some folks call it a full-fledged meal, but when you're burning through calories and can only think of "food", these huevos rancheros with bacon fill the bill for quick and tasty. Include them with a bit of potatoes for a really filling snack.
6. I'm an apple guy, but your choice of ideal campfire pie is up to you. Follow these simple instructions to make your choice of a tasty snack.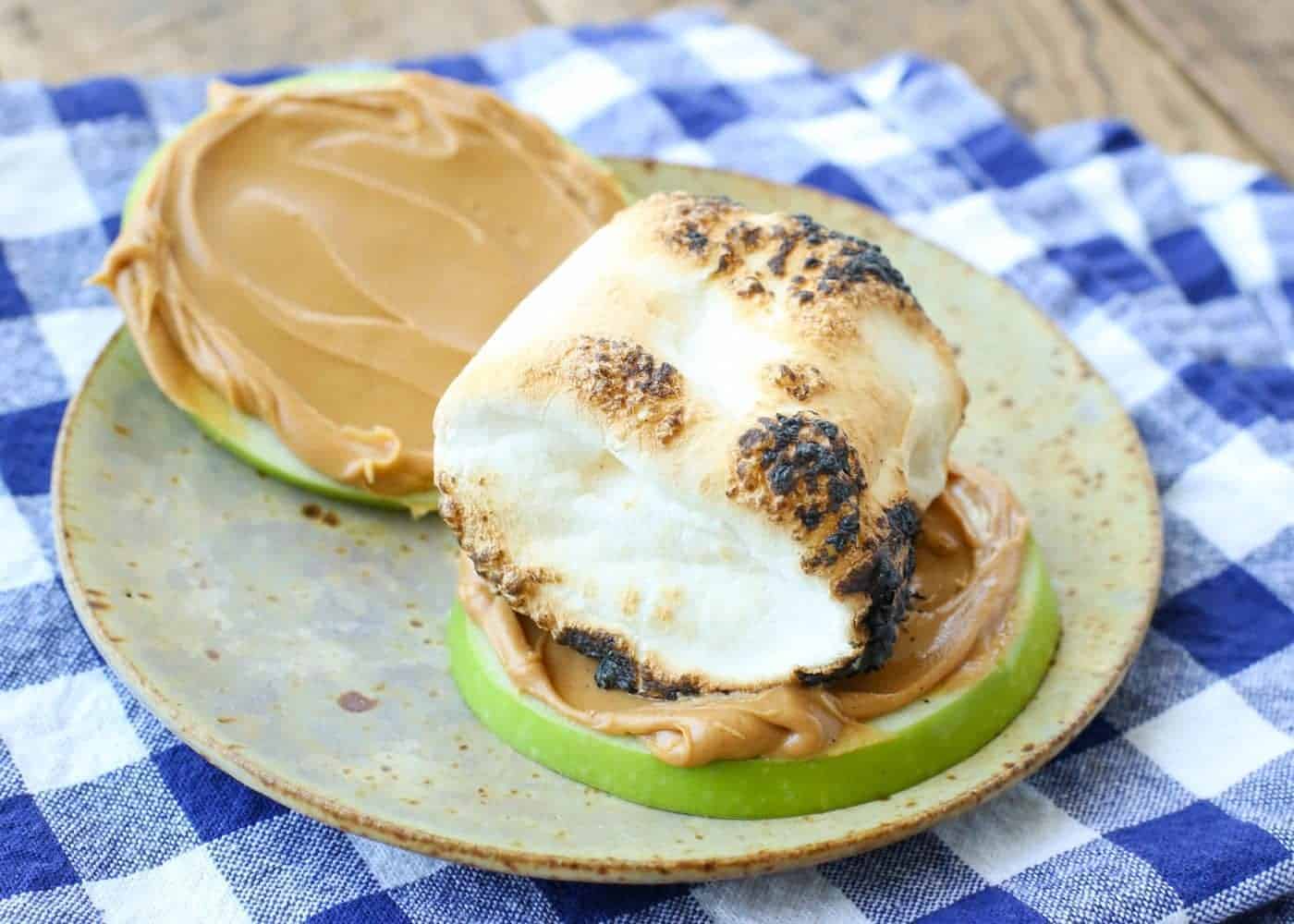 7. I've never had much of a sweet tooth, but this recipe for green apple s'mores just speaks to me. The best part of this recipe is that the green apples serve as an additional snack while camping.
8. Ah, popcorn! We used to eat this while camping as young kids and I'm happy to say I've found this good recipe for the campfire.
9. Apple cobbler is great… heck, any dessert made with apples is fine and dandy! This dessert has the added benefit of being a one-pot meal.
10. Verging on decadent, this garlic butter pull apart bread acts as a great side to almost any recipe on this list. It's also a great snack in and of itself.
11. I devour beef jerky. This make at home snack is one of the best you're going to get while camping.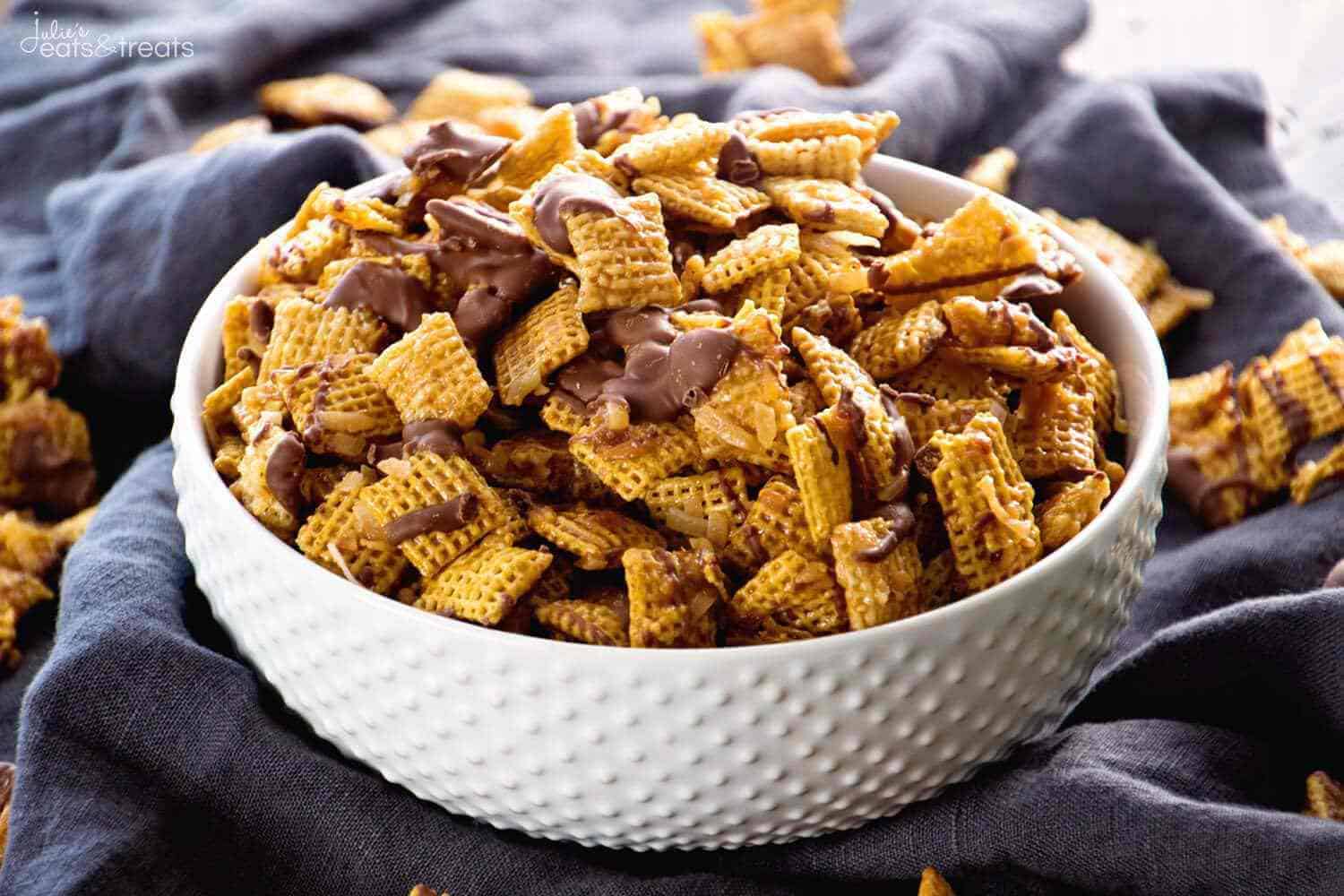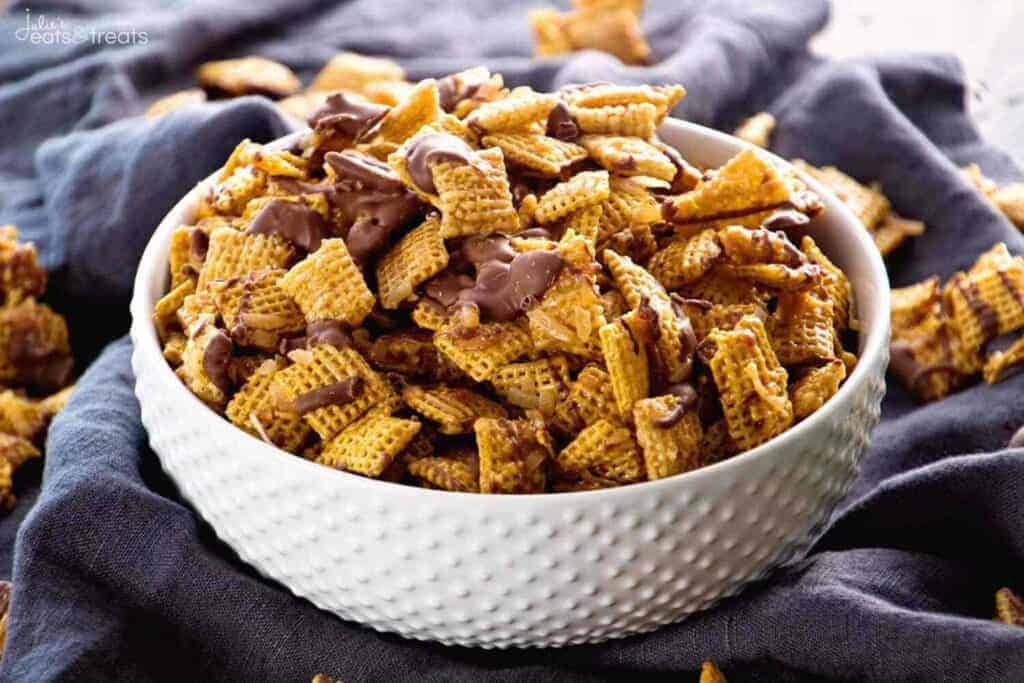 12. Chex Mix is synonymous with camping, and this Samoa Chex Mix recipe is as good as trail mix gets. Keep a bag of this handy for when you take a sit-down break and need something to get you around the next bend.
13. I'm not big on guacamole, but my friends have been experimenting with this recipe and are in love. They'll double the jalapeno or swap it with a serrano pepper to up the spice level.
14. Grilled brussel sprouts are the ultimate way to eat this vegetable. Give this recipe a shot whether you like brussel sprouts or not, because grilling them over an open flame completely changes how they taste
15. Camping sangria finds itself in my pack every time I can spare the room. This recipe is guaranteed to lighten spirits.
One-Pot Meals
Even though everybody can benefit from a one-pot meal, these campfire meals with minimal clean-up are ideal for campers. You need a bare minimum amount of cookware. Most of these recipes can serve as any meal of the day.
1. Beef stroganoff when camping? You read that right. Let's start off our one-pot meal roundup with a perennial favorite in the campground and out.
2. One-pot chili is a good meal no matter where you are. This particular recipe is vegan.
3. These lamb kebabs require some pre-planning at home before you cook them, but a skewer of meat and vegetables should consist as an honorary one-pot meal.
4. The One Pot Miracle is a miracle in one pot, so it's not just a clever name. Combine veggies and chicken and enjoy when you're packing light.
5. An English breakfast is a treat any day, but packing it into a single pot while camping is genius. Prep ahead of time if backpacking, but take your time and enjoy preparing this meal at the campsite if you're working out of your car.
6. Something about chicken chili always grabs my attention. This recipe is easy to pack and make a flavorful punch.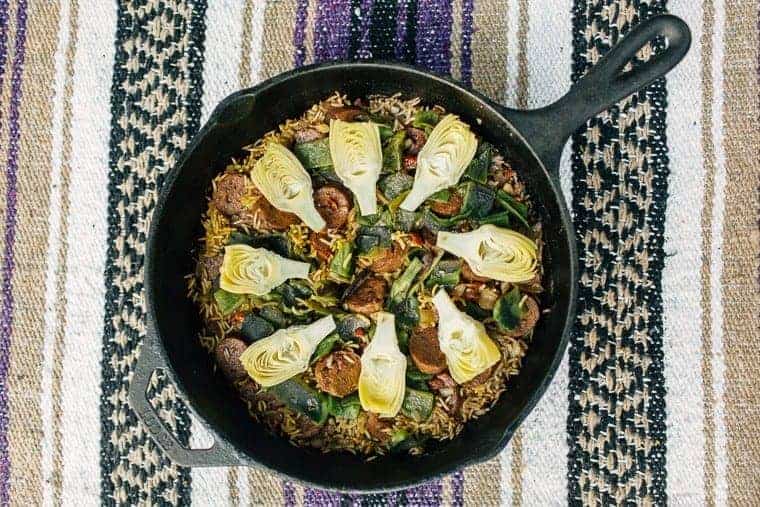 7. Vegetarians can celebrate because of this delicious artichoke and poblano paella. It is near the top of this list taste-wise and promises to be an attention getter if you make it at the campsite.
8. A great breakfast food, Shakshouka is as enjoyable to eat as it is to say. Plenty of room to improvise on this one and make it your way.
9. Heading out on a fishing trip? Give this Okanagan green beans with trout recipe a shot. It's a great way to capitalize on the freshness of your catch
10. I've honestly never tried a skillet chicken lasagna while camping but I'm going to give it a go next weekend when I head back out to the trails. Woodsmoke must compliment this tasty Italian classic perfectly.
11. This power breakfast is good stuff! I've been making a variation of it for years (swap the bell pepper for jalapeno) and it's all the fuel you're gonna need.
12. Another with for vegetarians, this make-ahead lentil chili tastes as good as it looks. It's a camping power food.
13. Dutch oven eggs baked with avocado sounds like something you'd spot on the menu of a nice restaurant. Imagine enjoying this dish when you're surrounded by the great outdoors.
14. Hemingway himself came up with this bacon-wrapped trout and corn cake idea, but the recipe has been streamlined to make preparation a tad easier. Another good meal to enjoy when the catch is fresh.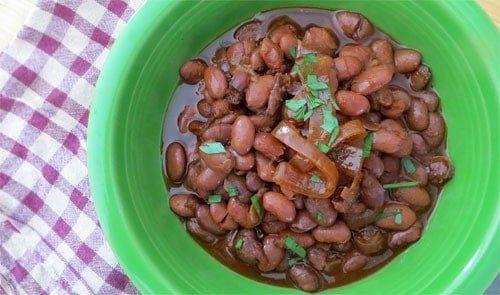 15. Baked beans is about as cowboy as it's gonna get while still maintaining your civilized demeanor. This is a good meal to enjoy when you've got a sunset creeping in and crickets a'chirping in the background.
Camping Food for Kids
The most important element of kids eating their food is to get them involved in the experience. Many of these recipes encourage their participation. Invite them to help out and take something extra memorable away from the camping trip.
1. This trusty chili campfire bake is perfect for sensitive palettes. It's a recipe that's easy to prepare and is devoured by youngin's.
2. Invite the kids to prep this food with you. It's a simple but tasty orange roll cooked in orange peels.
3. If your kids aren't big on fruits, sneak it into this peanut butter and banana wrap. They'll scarf it down without thinking to look for fruit.
4. And hey, maybe your kids love fruits. Blow their minds with this pineapple s'more.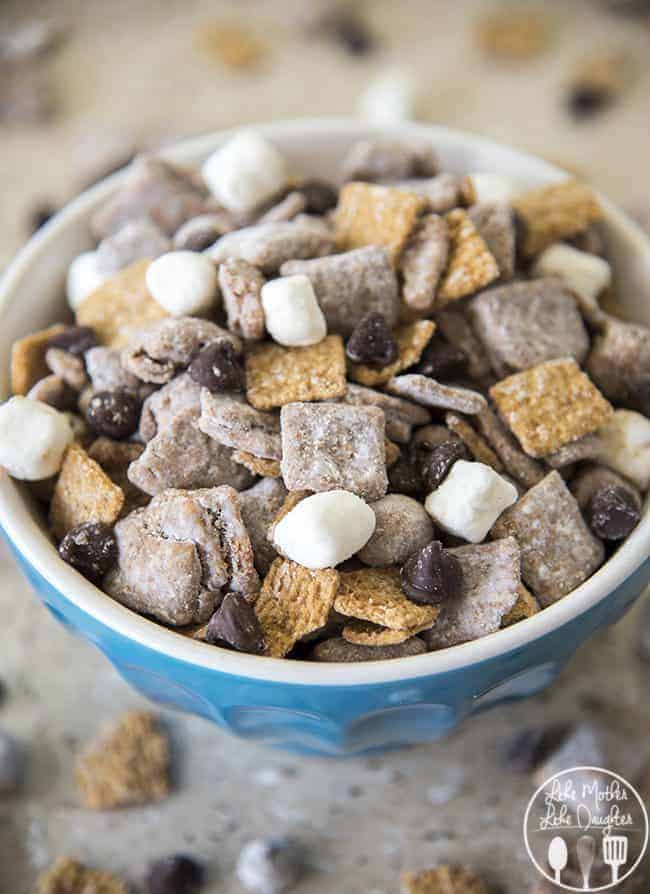 5. This s'mores snack mix is guaranteed to give the kids something to remember about camping. It's a tasty mix of sugary sweets that promises to motivate kids through the rest of their hike.
6. Grilled foil-pack cheesy fries is a fun bite to make with the kids. They won't mind if you snag a few too.
7. Camping trips are incomplete without some hot dogs. This recipe is for a footlong double-dog.
8. I've seen some variations on s'mores, but this Rolo s'more is the best one. Swap the rolo for your favorite chocolate candy.
9. A pre-made meal while camping, this snack box offers variety and organization. Pop it into an unused tackle box for a more travel-friendly size.
10. Peanut butter and jelly granola bars. What else needs to be said about that one?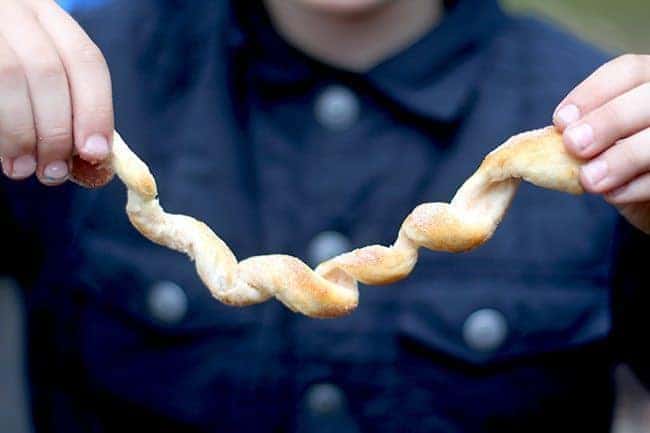 11. Easy to make and tasty, these campfire brown bears are great for kids. I won't say anything if you enjoy them too.
12. Apples and peanut butter combine to make 'apple cookies'. Keep the raw, unsliced apples handy for a healthier and simpler snack.
13. Eggs and bacon in a paper bag is a quick meal to make. Especially good for kids with more adult tastes.
14. Camping quesadillas? Find me a kid that won't like that one!
15. Easy to make and hard to make a mess of, breakfast burritos are great for kids. It might become their favorite camp food.
Related Camp Cooking Articles For Further Reading
If you've enjoyed this article, then check out our others, on: