What are the different types of hiking navigation devices?
Want to Know More about Navigation?
You're in the right place! In this guide, we will be covering the following:
The various potential devices on the market
The Pros and Cons of Each
Our Personal Favorites
The term 'the more the merrier' is never more apt than when used in reference to the navigational tools we can take with us on our backcountry adventures.
But if you're in any doubt as to which devices deserve their place in your pack and the respective merits of each type, our short guide should help to clear up the confusion.
Hiking Navigational Devices
Map and Compass
If navigational devices were friends, the map and compass combo would be that ever-reliable, trustworthy, life-long gem that we can rely on to be there come what may and when the rest of the crowd have forsaken us.
Learning to use a map and compass takes a little bit of effort, granted. But this duo of tools are still the first choice of hikers, backpackers, mountaineers, and explorers everywhere owing to their reliability and accuracy. They are, moreover, less susceptible to the various failures—breakage, water damage, dead batteries, system bugs, etc.—that are the main downside of electronic devices.
Whichever of the navigational devices you choose to carry with you, it's always a good policy to have a map and compass along for the ride just in case.
GPS Devices
Commercial GPS devices have undergone a number of game-changing improvements since first hitting the market back in the late 1980s.
Those original, trailblazing versions cost nearly $3,000 and were often only capable of giving a series of coordinates accurate to within a 100-foot radius. Those available nowadays are much more affordable, reliable, and boast a wealth of handy, user-friendly features that let us do a lot more than merely pinpoint our location.
Further reading: Interested in purchasing a handheld GPS unit? Then check our guide to the Best Hiking GPS to help you choose the correct one for your needs!
Some of those features include digital interfaces with detailed topo maps, integrated altimeters, touchscreens, a digital compass, and reliable and accurate satellite positioning. Most models also let you create your own routes pre-trip or access and alter info on the device from a smartphone or computer.
And the downsides? In addition to their expense, GPS devices, like all electronic devices, are susceptible to bugs, power failure, and are far less likely to survive a drop than a map and/or compass.
Altimeters
Of all the devices on our list, the altimeter is the one that offers its user the least amount of information. In short, and as the name suggests, altimeters only give you a reading of your altitude (elevation above sea level) by using barometric pressure.
While this may seem like a poor return for the hefty whack of $ you might have to shell out to get one, an altimeter is a very handy tool to have along as a backup or to complement your topo map.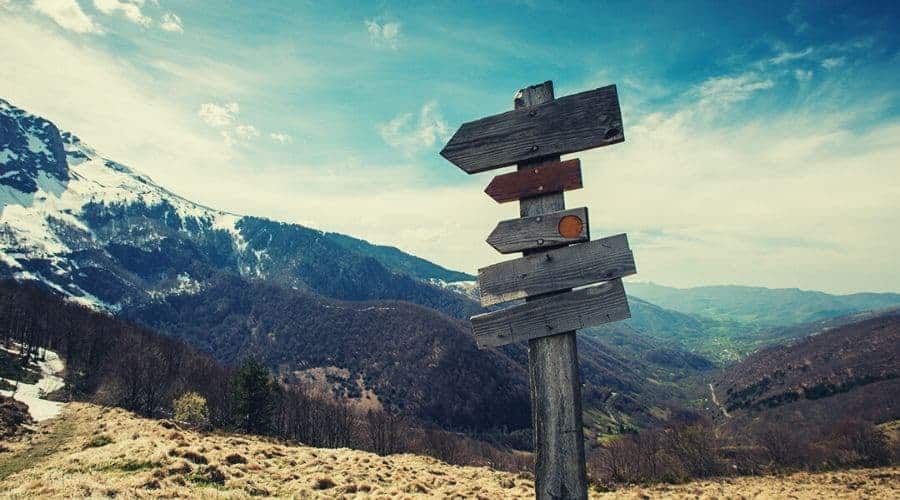 Altimeters can be used in various ways. The most important of these include:
pinpointing your exact location by altitude (if, for example, you know you're on a certain ridge or slope, but not exactly where)
breaking your hike into sections or navigating by altitude-based trigpoints
'contouring' your way around slopes to avoid dangers above and below
calculating trip times by rate of ascent.
And the downsides? Beyond not giving you any notion of your whereabouts barring your elevation, altimeters are also prone to inaccuracy if there are significant changes in atmospheric pressure (i.e. thunderstorms). They also need to be reset fairly frequently to maintain accuracy.
Cellphone Apps
This wild-card entry to our list may raise a few eyebrows, but bear with us…
In recent years, a number of online and offline map-app resources have begun appearing on the market and are improving almost by the day. As with GPS devices, these shouldn't be relied upon as your only means of navigation. If you want to navigate quickly and easily, however, apps can be a good option—as long as you have a map and compass along for the trip too.
Our favorite apps out there at present include AllTrails and Hiking Project from REI.
Both apps offer access to updated trail info on tens of thousands of trails in the US and Canada with detailed maps and many features found on top-end GPS devices, such as the ability to build your own map with pre-trip waypoints and on-trail navigation. Both apps also allow you to download and save maps for offline use (though this add-on costs $29.99/year with AllTrails).
Other notable mentions are ViewRanger, which has downloadable offline maps and a worldwide database, and Fatmap, which offers global, high-definition 3D mapping offline for $40.99 per year.
The downsides? Cell phones are breakable, signals are spotty, rain is ruinous, and yearly subscriptions can be kinda pricey.