Visiting the Dolomites is the ultimate bucket-list hiking trip, and an intoxicating historical, cultural, and culinary experience too. Home to the world's largest interconnected ski lift and trail network, the Dolomites offer extraordinary hiking trips for all tastes and skill levels.
On top of the gorgeous mountain landscapes, a trip to the Dolomites provides ample opportunity to experience the rich, old-world traditions of Italian culture. After a long day of hiking, spend the night in one of the many 'rifugios' (mountain huts) located throughout the region where the locals love to share their traditional food and proud heritage with weary travelers.
In this guide, we're excited to share with you our favorite 17 hikes in the Dolomites so that you can plan your own unforgettable experience. What are you waiting for? The mountains are calling!
1. Tre Cime di Lavaredo (Drei Zinnen) from Val Fiscalina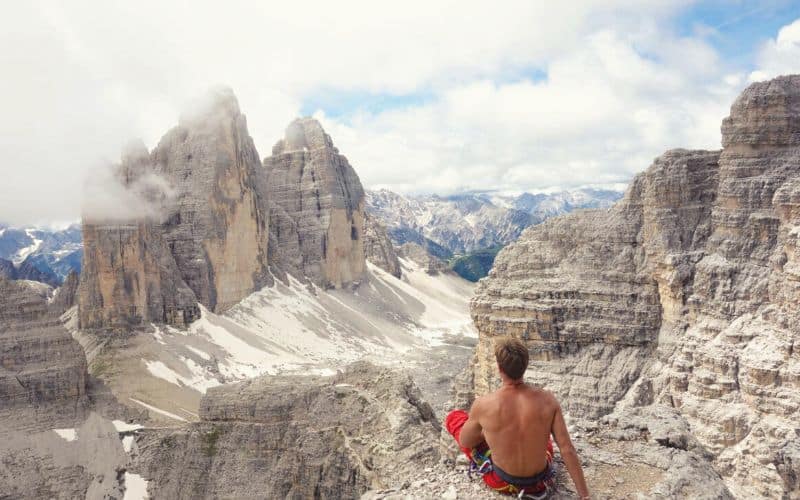 Type: Loop/Out and back
Length: 6 miles/11.9 miles
Difficulty: Easy/Strenuous
The Tre Cime di Lavaredo are three iconic monoliths located in the Sesto/Sexton region. Famous all over the world, this stunning trio of spires has become the unmistakable mascot of the Dolomites. As one of the most popular hiking trails in the region, you should expect to share the trail with plenty of other travelers, especially during the peak summer months.
The easiest way to reach the Tre Cime is by taking the toll road up to the Rifugio Auronzo. In order to limit traffic, there are also several buses available from Cortina d'Ampezzo, but be aware that buses only run during the peak summer season.
The trail itself is an easy to moderate 3 or 4-hour hike with only a mild elevation gain (around 700 feet). While there are many ways around the Tre Cime, we recommend this particular hike as you'll pass by 4 authentic alpine huts that offer the perfect spot to rest and catch a bite amongst the incredible scenery.
For more of a challenge and a quieter approach to the Tre Cime, you can start your hike to the north at Hotel Dolomitenhof in Val Fiscalina, which serves some of the best strudel in the world! This 11.9-mile route involves over 3,500 feet of ascent but takes you through one of the area's prettiest valleys, serving up views of iconic peaks like Croda Rosa, Cima Undici, and Croda dei Toni.
The entire Sesto region is well documented in a map available for purchase called the Tabacco Map #10. Even though both trails are extremely well-marked and easy to navigate, we highly recommend picking up a copy before you begin – even if you only need it to identify the stunning mountains you'll be surrounded by en route!
2. Cinque Torri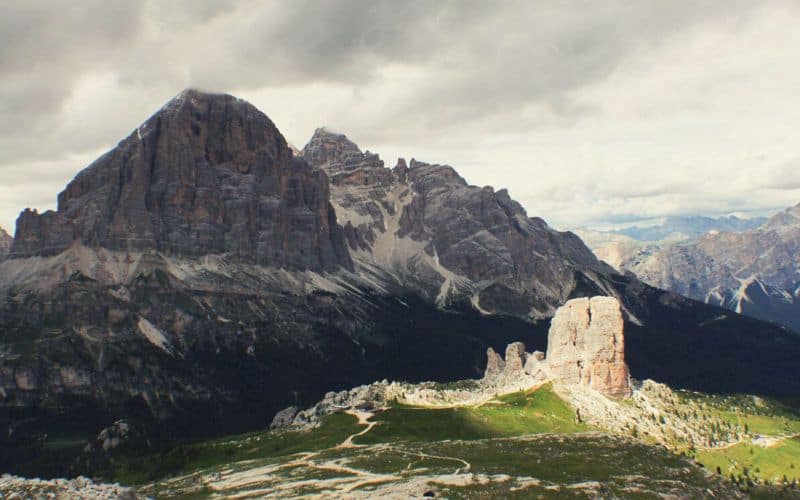 Type: Loop
Length: 3 miles
Difficulty: Easy
Located just outside of the famous resort town of Cortina, Cinque Torri is one of the most iconic hikes in the Dolomites, and there are plenty of opportunities to shorten or lengthen your hike.
There are multiple ways of accessing Cinque Torri. By far the easiest way is to take the cable car from nearby Baiata de Dones. This also gives you the opportunity to enjoy an aerial view of the spectacular scenery.
For beginners, we recommend the easy, 3-mile loop trail called the Cinque Torri Circular Trail. You'll be walking through breathtaking nature while hiking around and in between boulders and narrow crevices. Along the way, make sure to visit the nearby World War I open-air museum which recounts the area's wartime history.
Those looking for more of a challenge should skip the cable car and walk to the Cinque Torri trailhead instead. Starting from the Rifugio Col Gallina will add another 200 meters of elevation to your hike while starting your journey from Biata de Dones will add 45 minutes of uphill trekking.
3. Val di Funes Hike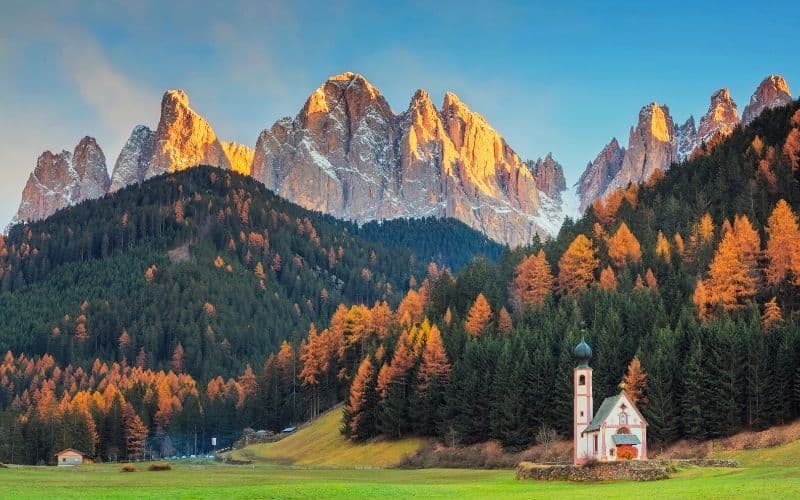 Type: 3 trails
Length: 16 miles
Difficulty: Easy–Moderate
The Val di Funes is a fairytale valley located deep in the heart of the Dolomites. This lush, green valley is filled with alpine trails, quaint villages, and postcard-worthy churches, so make sure you bring your camera!
Conveniently located in the middle of South Tyrol, Val di Funes is an easy stop to add to any Dolomites itinerary. If you're arriving by car, Val Di Funes is just a 30-minute drive from Bolzano. Those on foot will find buses departing from Brixen and Chiusa several times a day.
There are three major trails that run through this 16-mile-long valley: the Adolf Munkel Trail, the Rifugio Genova Circuit, and the Resciesa to Malga Brogles. We recommend the most popular trail in the valley, the Adolf Munkel Trail. The Munkel Trail weaves its way through the beautiful alpine landscape and features several spots to eat, drink, and be merry along the way!
If you have time, however, be sure to try the other trails, too!
4. Vajolet Towers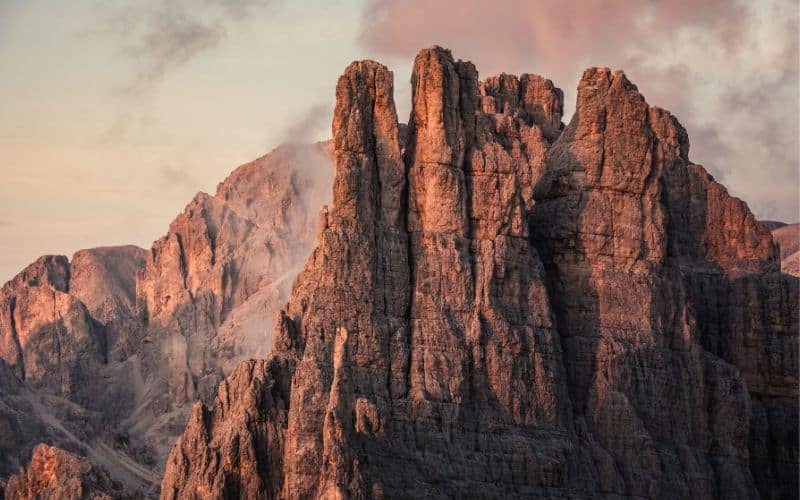 Type: Out and back
Length: 5 miles
Difficulty: Challenging
The Vajolet Towers ('Torri di Vajolet' in Italian) are 6 pinnacle peaks located on the border between Trentino and South Tyrol. This fascinating rock formation has become a haven for hikers, travelers, and rock climbers due to the impressiveness of the towers themselves and the dramatic alpine landscapes surrounding them.
The best way to reach the Vajolet Towers is from the trailhead at Malga Frommer Alm, just a 30-minute drive from Bolzano. From the trailhead, you'll have two options: take the cable car to Rifugio Fronza or arrive there on foot. We recommended the second option for experienced hikers only as it will add 2 hours of grueling ascent to an already challenging hike.
Start your journey on hiking trail nr. 550, which will guide you through the heart of the beautiful Rosengarten National Park. If you have via ferrata equipment and want a bit more of a thrill, you can reach the Vajolet Towers on the Pass Santner via ferrata. For everyone else, we recommend staying on trail nr. 550 as you make your way up to Pas de le Coronelle.
5. Sassolungo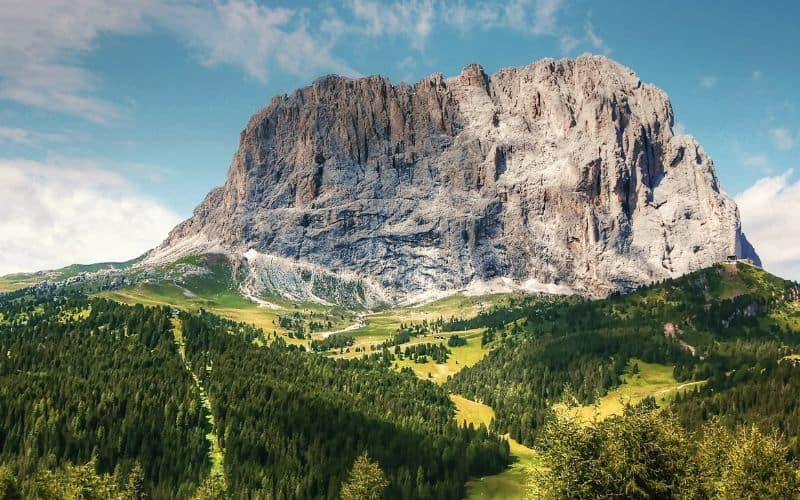 Type: Loop
Length: 5 miles
Difficulty: Moderate
Nowhere is the contrast between the green, rolling hills and striking mountain ranges of the Dolomites more apparent than at Sassolungo. Here, towering spires of rock command the skyline while the tall grasses of the Alpine plains gently sway in the wind.
The Sassolungo hike can be done in a number of ways depending on your fitness and skill levels. Beginners should try the half-day hike from Passo Sella, a circular hike that guides you along the southwestern face of Mt. Sassolungo. You can reach the trailhead in just 25 minutes from Ortisei, the main town in Val Gardena.
On this moderately challenging hike, you'll get a chance to check out the fascinating natural landmark known as the "City of Stone", a vast wilderness peppered with boulders, pines, and gorgeous native flora.
6. Lake Sorapis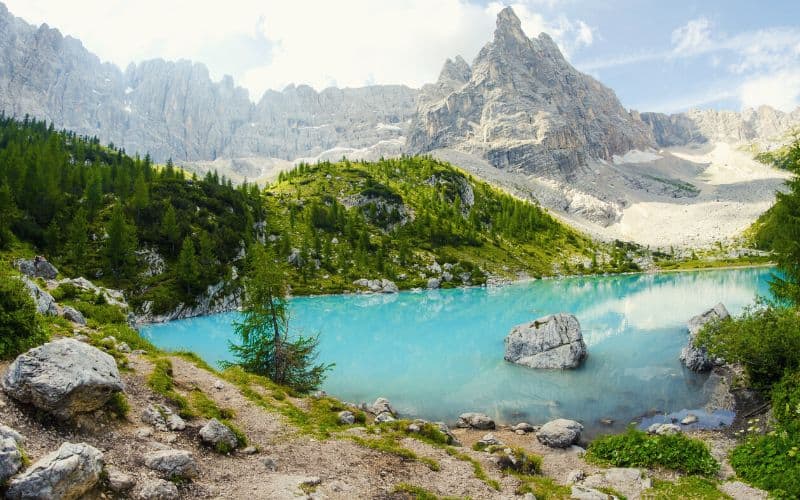 Type: Out and back
Length: 6.5 miles
Difficulty: Moderate–Challenging
The hike to Lake Sorapis (Lago di Sorapis) is a popular Dolomites hike thanks to its stunning crystal-clear water and dramatic views of the Punta Sorapis mountain range. This is a challenging and technical hike that requires sure footing and good hiking shoes or hiking boots. Bring hiking poles too if you've got them!
The Lago di Sorapis hike starts and ends at the Passo Tre Croci, a mountain pass just east of Cortina d'Ampezzo. There are no facilities at the trailhead or on the lake, so make sure to stock up at the Rifugio Vandelli just before your arrival.
Thanks to recent Instagram fame, the hike around Lake Sorapis becomes incredibly busy during the peak summer season, so arrive early to beat the crowds.
7. Col Raiser to Seceda Hike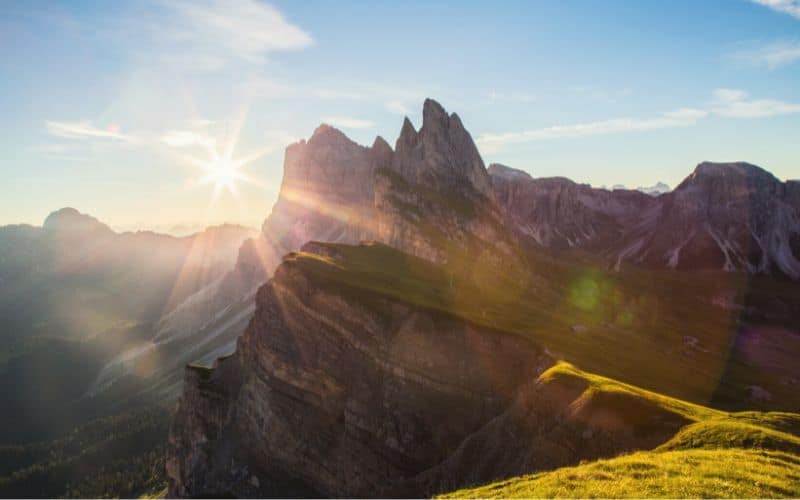 Type: Point-to-point
Length: 4 miles
Difficulty: Moderate
Located in the Puez-Odle Nature Park, Col Raiser is often considered to be the most beautiful alpine pasture in all the Italian Dolomites. This popular hike will guide you from Col Raiser towards a stunning lookout near the ridgeline of Mt. Seceda.
During the summer months, it's quite easy to reach the top of Secada – just take the Col Raiser gondola from the town of Ortisei in Val Gardena. If that's too easy for you, then skip the cable car and hike your way up directly from the Col Raiser cable car station. You'll be hiking through a peaceful forest and passing through lots of scenic countryside like alpine lakes and meadows.
If you're hiking in the winter or spring, remember that you'll encounter snow, so come prepared!
8. Lago di Braies (Pragser Wildsee)
Type: Loop
Length: 2 miles
Difficulty: Easy
Often referred to as the 'Pearl of the Dolomites', Lago di Braies is, simply put, one of the most stunning bodies of water the world over. The hike around it is breathtaking every step of the way and easy-going from start to finish.
Largely in part to its dramatic beauty, Lago di Braies is no well-kept secret. In the summer season, Italians head here in their droves to cool off from the summer heat. Recent social media attention has also seen tens of thousands of non-locals visiting each year. The take-home? Hike early to beat the crowds or visit during the less popular spring and fall seasons.
If you love water sports, consider combining your hike with a day on the lake. Boat rentals are available, including vintage rowboats.
9. Lagazuoi Tunnels to Rifugio Lagazuoi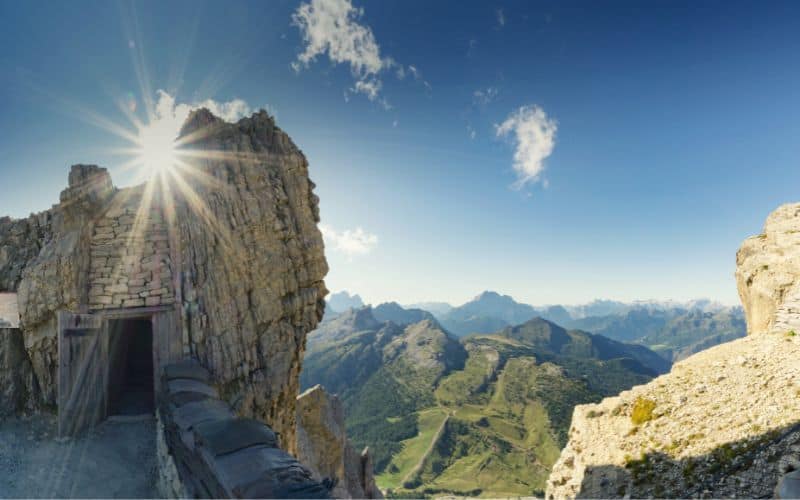 Type: Out and back
Length: 3.8 miles
Difficulty: Moderate
The Lagazuoi Tunnels is a completely restored tunnel system first created by Italian soldiers during WWI to try and undermine nearby enemy encampments. Whoever controlled this summit controlled the Falzarego Pass, a pass that was vital for receiving supplies during the war.
Today, the restored Lagazuoi tunnels are an unusual via ferrata that runs through the mountain for more than 1 km. While the trail is equipped with cables and requires no technical knowledge, a helmet and headlamp are necessary.
The Lagazuoi trailhead is located just a quick, 30-minute drive from Cortina d'Ampezzo.
10. Passo de Mulaz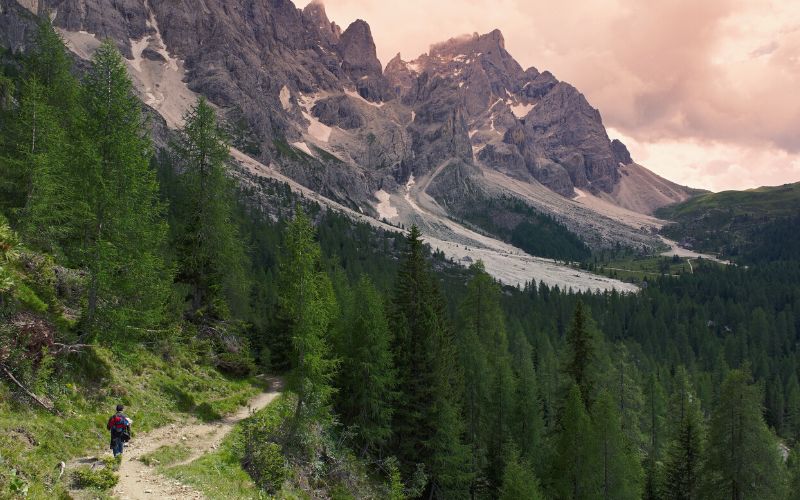 Type: Loop
Length: 8.7 miles
Difficulty: Moderate – Challenging
If you're looking for one of the few routes in the Dolomites that have yet to become Instagram-famous, this is it. 
Your journey starts at Val Venegia, just a short drive from the towns of San Martino di Castrozza and Predazzo. Val Venegia is an alpine pasture blessed with incomparable beauty, so make sure you leave yourself enough time to savor it. The trail will eventually lead you to the top of Passo Mulaz through a series of strenuous, but manageable, switchbacks.
This is one of the few hiking trails on our list that we definitely recommended getting a map for. You'll need the Tabacco map nr. 22.
11. Selva to Rifugio Puez (Puez-Odle Altopiano Hike)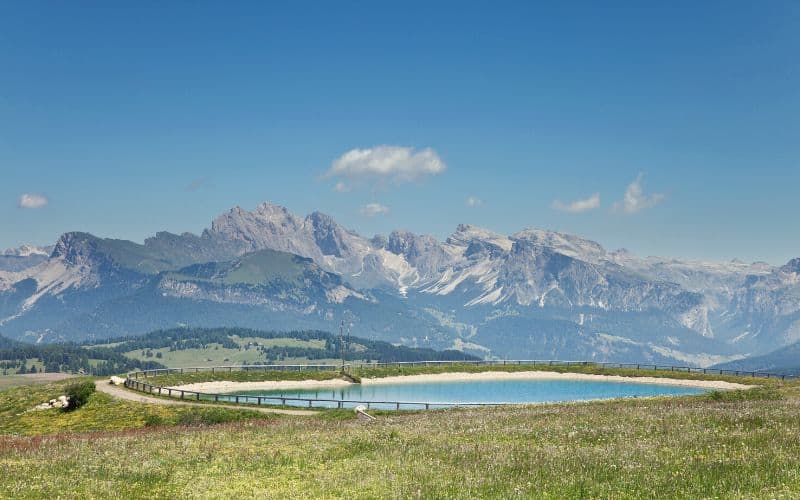 Type: Point-to-point
Length: 9 miles
Difficulty: Challenging
The Puez-Odle Altopiano hike is a stunning hiking trail that offers jaw-dropping views of dozens of jagged Dolomitic peaks throughout the entire hike. This is a tough hike and some portions of the trail cross large scree fields, making for a challenging and slippery ascent.
The hike begins in the town of Selva di Val Gardena. Here you'll find a convenient chair lift to the start of your hike and the historic Rifugio Jimmy. You can skip the chairlift and use your legs instead, but you'll miss out on the aerial views and face a grueling ascent! Your destination at the Rifugio Puez (mountain hut) is a great spot to rest your weary legs and grab lunch while you rest.
12. Adolf Munkel Trail (Sentiero delle Odle)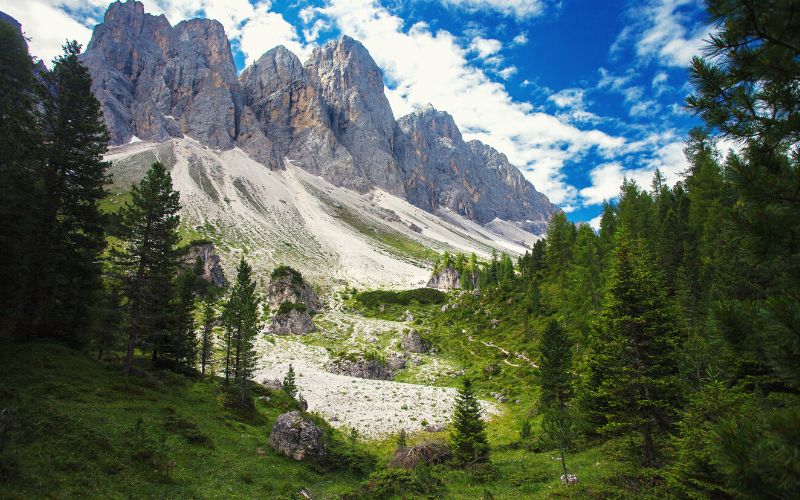 Type: Loop
Length: 5.5 miles
Difficulty: Easy
Beneath the majestic Geisler/Odle mountain group, you'll find one of the most breathtaking hikes in the Italian Dolomites. Along this scenic trail, you'll experience a variety of mountain landscapes, from wildflower meadows to alpine forests.
The loop trail begins from the parking lot at Zanser Alm, an area easily reached by car or bus. The entire loop takes 3–4 hours and can be done in either direction. During your hike, you'll pass four traditional mountain rifugi, so don't miss out on your chance to taste some of the local cuisine (or beer!).
13. Giro dei Cinque Laghi, Brenta Dolomites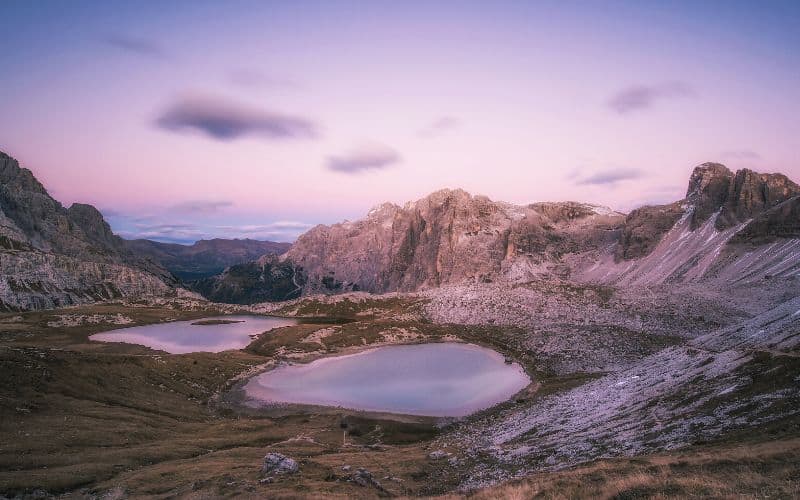 Type: Loop
Length: 10.6 miles
Difficulty: Moderate
Although the name "Giro dei Cinque Laghi" means trip around the 5 lakes, this beautiful hike will actually have you touring a grand total of six scenic lakes. The trail follows along the gentle slopes of the Presanella Group, where you'll enjoy breathtaking views of all six lakes along with the main summits of the Brenta Group. 
Despite the trail being rated as moderate, it does require quite a bit of physical fitness to handle both the length and the almost 3,000ft of elevation gain. Most of the trail is exposed and offers little shade, so come with proper sun protection during the hot summer months.
14. Cadini di Misurina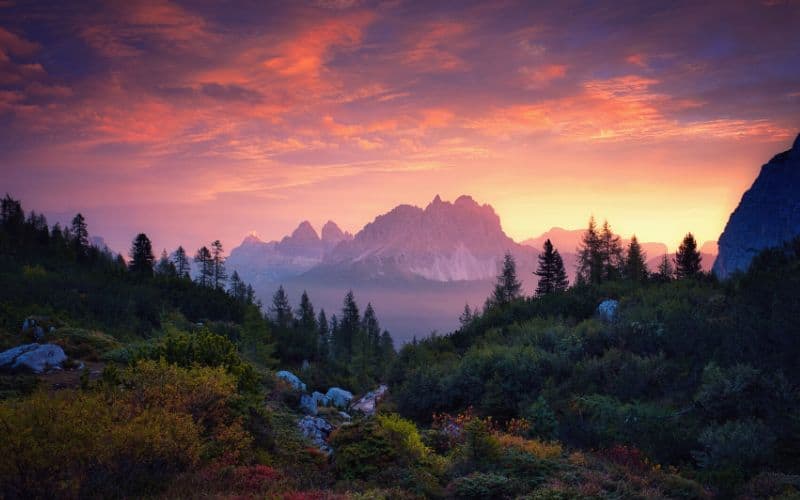 Type: Loop
Length: 2.4 miles
Difficulty: Easy
The Cadini di Misurina is part of the Eastern Dolomites and are recognized as a UNESCO World Heritage Site. Located opposite the equally majestic Tre Cime di Lavaredo, the Cadini di Misurina offers up some of the most breathtaking views of the surrounding Dolomite mountains along with the enchanting Lake Misurina.
The Cadini di Misurina is incredibly easy to visit too, just follow this easy 2.4-mile trail from Rifugio Auronzo. With just a small 150ft elevation gain, this is a short and easy hike almost all travelers can handle. While it should take no more than an hour or so, you could easily spend half a day just gawping at the dramatic scenery.
After about 15 minutes of the trail, you'll hit the famous Cadini viewpoint, where you'll see all of the towering peaks and pointy spires in all their glory. Make sure to give yourself enough time to take in the awe-inspiring views!
15. Monte Paterno (Via Ferrata)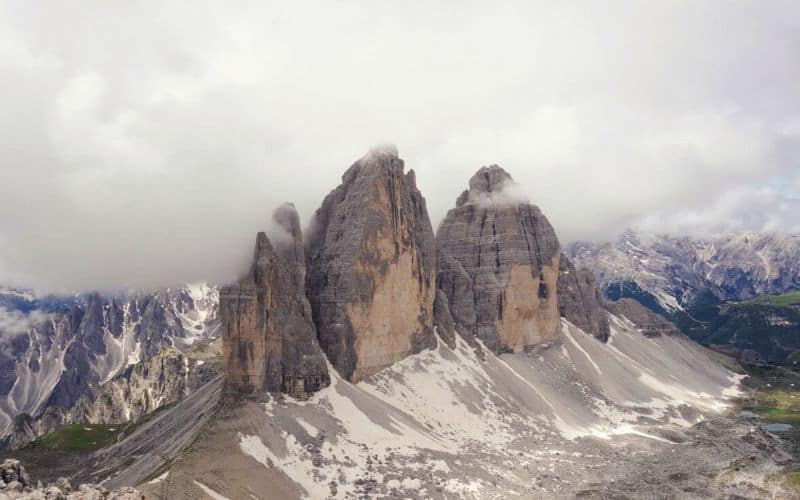 Type: Out and back
Length: 6 miles
Difficulty: Moderate
Monte Paterno acts as an excellent observation point to take in the north faces of the Tre Cime. You'll access Monte Paterno by way of the via ferrata 'De Luca – Innerkofler' which will guide you up the north ridge of Monte Paterno – and through a few war-time tunnels – until you reach the summit.
You can access the Monte Paterno trailhead by taking the toll road up to Rifugio Auronzo. The hike to the summit is technical in parts, requiring you to scale ladders and climb steep sections of exposed, but the ferrata cables make it doable even for a novice hiker.
Take note that you will need via ferrata equipment to complete this hike, along with a headlamp for the tunnel portion.
16. Alta Via 1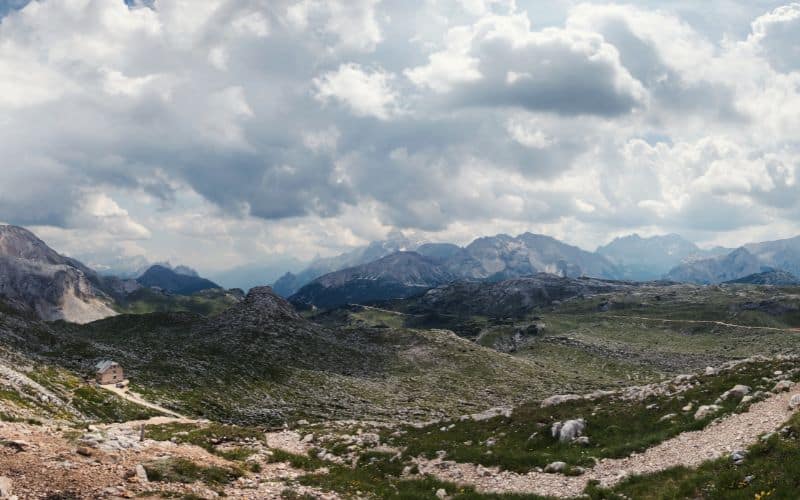 Type: Multi-day, point-to-point
Length: 75 miles
Difficulty: Moderate
The Alta Via 1, also known as High Route 1, is one of the most famous hiking trails in all of Italy. Although this a long, multi-day trek, it's not the most challenging hike and is doable for hikers of all skill levels. This hike is said to be the easiest of all the 'alta via' routes and will take you anywhere from 8 to 10 days to complete.
The trail starts in Lago di Braies and ends near the La Pissa Bus stop near Belluno, although it doesn't really matter which direction you hike. Remember that dispersed camping is illegal along the route, so you'll have to spend your nights in the local rifugi.
17. Alta Via 2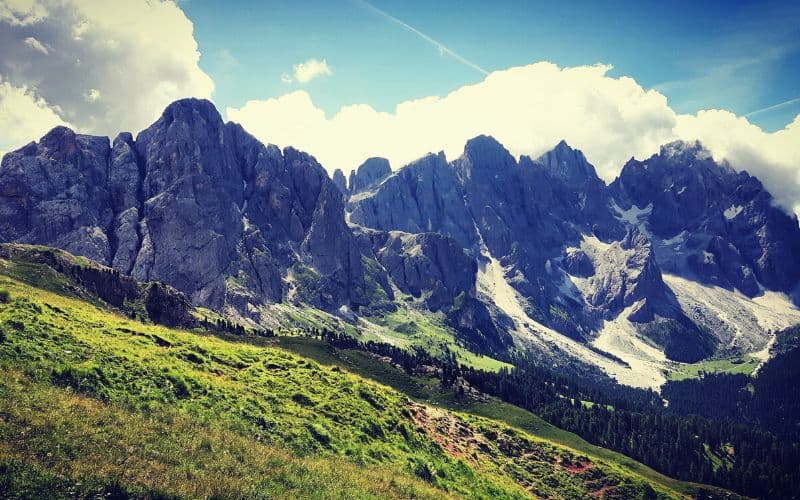 Type: Multi-day, point to point
Length: 99 miles
Difficulty: Moderate to Challenging
The Alta Via 2 is one of the most challenging and lengthy hikes in the Dolomites. Despite winding its way through the wildest and most rugged parts, the trail also runs through some heavily populated areas, meaning you're never too far from civilization or places where you can stock up on supplies. 
The trail starts along the Austrian border in the beautiful city of Brixen and finishes at the Rifugio Dal Piaz to Croce d'Aune. Most hikers take around 13 days to complete the entire trail. Remember, you always have the option to start the trail from another town along the route to shorten the journey.
Dolomites Hiking FAQs
Newcomer to hitting the trails in the Dolomites? If so, here are a few answers to some questions you might have:
Where is the Best Place to Stay in the Dolomites?
The Dolomites cover a large area of the Italian Alps, including a number of enchanting towns that make great starting points for your visit.
Val Gardena is one of the best places for visitors traveling without a car. Several cable cars will connect you to nearby peaks such as Sassolungo and Alpe di Siusi, and the valley itself is home to a number of scenic hiking and walking trails.
Cortina d'Ampezzo combines a lively, small-town atmosphere with the possibility to take on some of the Dolomites' most popular hikes, like the Cinque Torri or Tre Cime di Lavaredo. After a long day of outdoor adventure, the town's high street offers the perfect place to relax amongst the local restaurants and fancy boutiques.
Thanks to its central position in the region, Alta Badia makes a wonderful choice for any Dolomites trip. The Badia Valley is home to the Ladin people, giving you a chance to experience their centuries-old culture and traditions. Along with a variety of nearby hiking trails and cycling routes, the Superski ski resort is right on your doorstep.
If you're hoping to visit some of the most famous lakes in the region, such as Lake Misurina or Lake Auronzo, consider staying in the town of Auronzo di Cadore. You'll be close enough to visit both lakes and other must-see attractions like the outdoor WWI museum and Mount Piana.
When is the Best Time for a Hiking Trip to the Dolomites?
The relatively mild temperatures of the Dolomites make it a year-round travel destination.
Spring is a lovely time to visit, although you'll have to wait until the snow melts for the hiking and biking trails to reopen, unless you want to do a little ski-touring or snowshoeing. On top of longer days and mild temperatures, you'll also avoid sharing the trails with the usual summer crowds.
Summer, from June to August, is the most popular time to visit the Dolomites. You can enjoy many outdoor activities ranging from hiking and mountain biking to summer music festivals. The traditional mountain huts that open up in June offer a convenient starting point for visiting the region's vast network of trails.
In the fall, the Dolomites come alive with the beautiful colors of fall foliage and you can enjoy many of the trails to yourself. If you hike in October or November, however, you risk encountering snow and heavy rainfall.
While hiking in the winter brings about colder temperatures, you'll have the opportunity to hit the local ski trails or participate in fun winter activities like snow-shoeing and ice skating.
The nearest airports to the Dolomites are Valerio Catullo in Verona (80 miles), Marco Polo in Venice (155 miles), and Linate and Malpensa in Milan (110 miles). There are also other smaller airports like Caproni in Trento and Dolomiti San Giacomo in Bolzano that can be reached by daily flights to and from Rome or Milan.
If you are arriving from an international destination, your best bet is to fly into Milan or Venice and then rent a car. Both bus and train transport is available to the Dolomites, but they take considerably longer and often involve several transfers. A car will also be helpful if you plan on visiting multiple areas of the region.
What is Hut-to-Hut Hiking in the Dolomites?
One of the best ways to experience the majestic Italian Dolomites is through hut-to-hut hiking. Hut-to-hut hiking refers to a style of hiking where you walk to a new destination each day while spending the night in a different hotel, inn, or mountain hut each night.
Set in spectacular locations all through the Dolomites, Italy's rifugios or mountain huts are well-built mountain lodges made from stone or wood. Often more than a century old, these mountain lodges are usually owned by Italy's Alpine Club, the Club Alpino Italiano, and then run by local families, mountain enthusiasts, or retired guides.
While Italian mountain huts may not provide many modern conveniences like Wi-Fi or flush toilets, they do offer an authentic and inexpensive starting point for exploration. You're as likely to share the space with a local Italian family as you are with German backpackers or Swiss skiers!
Remember that most Dolomites mountain huts are only open during the summer from June until September, except for the huts located near ski slopes, which remain open throughout the winter season.
You do not need a guide to visit the Dolomites, but you will have to carefully plan your route. The Dolomites feature one of the world's largest networks of interconnected trails, so it's easy to get overwhelmed while planning your trip. You will also have to consider where you want to stay and how you will get around if you plan on visiting more than one area.
Although you can always organize your trip yourself, you risk missing out on must-see highlights or choosing a hiking trail that doesn't suit your tastes or fitness level. By choosing a guided tour instead, you'll enjoy the expertise and knowledge of a local guide that will expose you to all the best the region has to offer.
If you don't want to organize your own hiking trip but still prefer to hike alone, consider a self-guided trip. All of the arrangements at local mountain huts are made for you and you'll be provided with a map and detailed itinerary that you can follow at your own pace.
There are many Dolomites trail guides available in all languages, but our pick of the bunch is this one from Dolomites hiking aficionado Gillian Price.
What Food is Available in the Dolomites?
On top of breathtaking panoramas, green meadows, and quaint villages, the Dolomites have a unique culinary heritage that you should definitely set aside some time to experience!
For centuries, the traditions of local cultures such as the Ladin people have combined with nearby Austrian and German influences to create a culinary experience unlike anything else in Italy. The traditional cuisine of the Italian Dolomites has humble origins and most dishes highlight local ingredients such as root vegetables, game meat, beef, and dairy.
The Dolomites offer many opportunities for fine dining, too. They're home to a number of Michelin star-rated and award-winning restaurants. In fact, the Dolomites have the highest density of Michelin-starred chefs in all of Italy!
If you're passionate about food, the Dolomites will provide you with a tantalizing and memorable culinary experience whether you're a self-professed foodie or a sophisticated restaurateur.
A Presto! (See You Soon!)
The Dolomites offer an opportunity to explore not only some of the world's most enchanting mountain treks but also to experience a local culture almost as old and fascinating as the mountains that surround it.
We hope our guide has inspired you to start planning your own Dolomites hiking trip. Combining natural beauty, a rich culture, and a unique culinary experience, the 'Dolomiti' are a must-see for anyone craving some once-in-a-lifetime outdoor adventures. 
If you have any questions about the Dolomites, don't hesitate to ask in the comments box below. Many of our writers have hiked these trails themselves and would love to help you plan a memorable trip! And if we missed any of your favorite hikes, let us know!