If you're new to hiking, don't let Sedona's impressive reputation discourage you from experiencing one of Red Rock County's many awesome trails!
With its stunning red rock towers and out-of-this-world scenery, Sedona has earned a reputation of being an outdoor mecca. You don't have to be an experienced hiker to get out there and enjoy one of Sedona's many scenic treks! With more than 400+ miles of trails, Sedona's got fun itineraries for every type of hiker.
Whether you've got kids in tow or you like more laid-back days on the trail, you'll love these 11 Sedona trails.
1. Fay Canyon Trail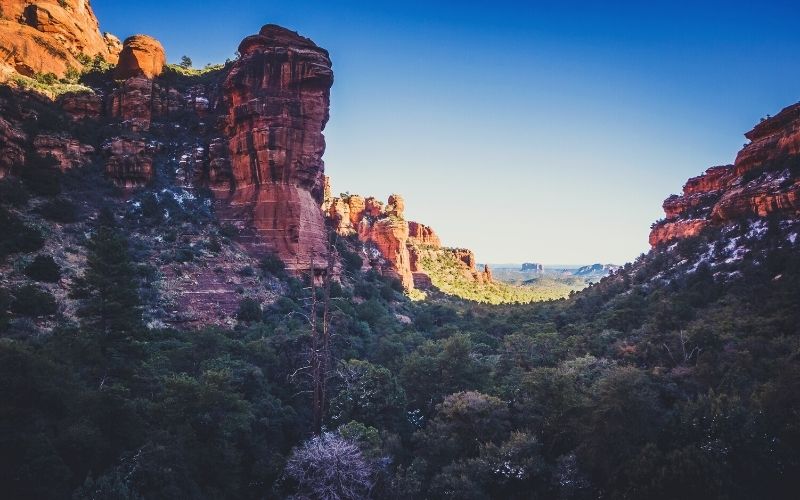 Type: Out and back
Length: 2.4 miles
Difficulty: Moderate
The Fay Canyon Trail is a short and scenic trek that makes the perfect introduction to Sedona hiking. You'll be walking along a red rock ravine bordered by towering cliffs, hanging gardens, and plenty of desert flora and cacti. Along the way you'll encounter Fay Canyon Arch, an impressive natural archway that spans the ravine.
You'll find the trailhead at a large parking area along the Boynton Road Pass. Its accessible location makes Fay Canyon Trail a popular hike, so get there early to beat the crowds.
The trail is short, partially shaded, and you'll only have to contend with about 250ft of elevation gain. Inside this box canyon, you'll be walking along a path that is wide and largely flat, making it a great choice for hikers of all skill and fitness levels.
RELATED READING:
If you're up for more of a challenge check out our guide to the Best Hikes in Sedona.
2. Wilson Canyon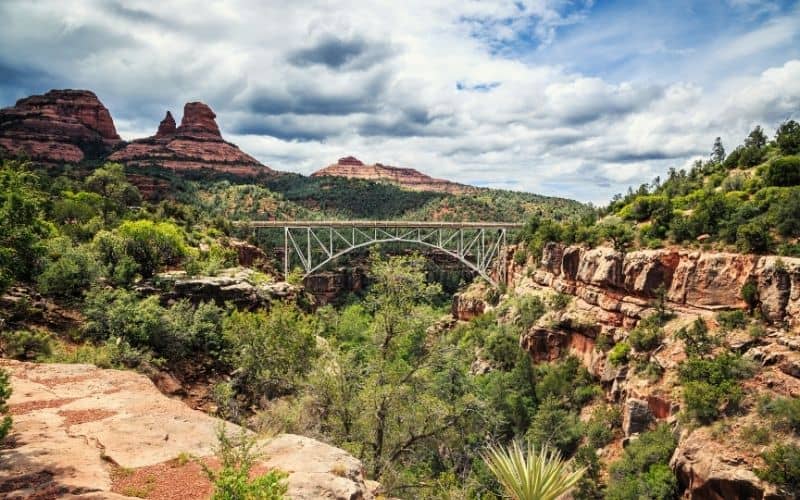 Type: Out and back
Length: 2.7 miles
Difficulty: Moderate
Hike along the south side of Wilson Mountain on this short, out-and-back trail. While you may not encounter the same impressive Red Rock County landmarks some of the other trails feature, you'll be rewarded at the end of your hike with wonderful views of Oak Creek Canyon.
Your journey starts at the parking lot at Midgley Bridge. Thanks to this convenient location just a few miles outside of town, you'll have to arrive early to snag a coveted parking spot. The oak and cypress-lined trail is well-shaded, offering a lovely reprieve from the Arizona summer heat.
Since you can also access Oak Creek and its shallow swimming pools from the Wilson Canyon Trailhead, consider packing a picnic lunch and making a day of it!
3. Deadman's Pass Trail, Boynton Canyon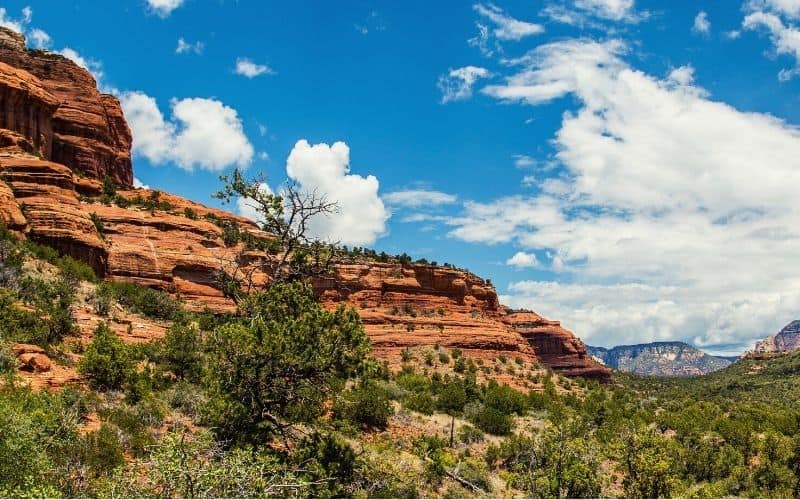 Type: Out and back
Length: 4.2 miles
Difficulty: Easy
Despite its rather spooky name, Deadman's Pass is an east trail to tackle and brimming with red rock views and desert wildlife. While it's technically a connector or side trail between the Long Canyon Trail and the Boynton Canyon Trail, it also makes for a short and scenic day hike. 
You can enjoy the Deadman's Pass Trail all on its own for the impressive views of the Mescal and Maroon Mountains, or keep the adventure going by continuing down the Long Canyon Trail at the end of your trek. Either way, you'll encounter a variety of terrain, from sandy paths to wooden steps, so a good pair of hiking boots are recommended.
4. Bell Rock and Courthouse Butte Trail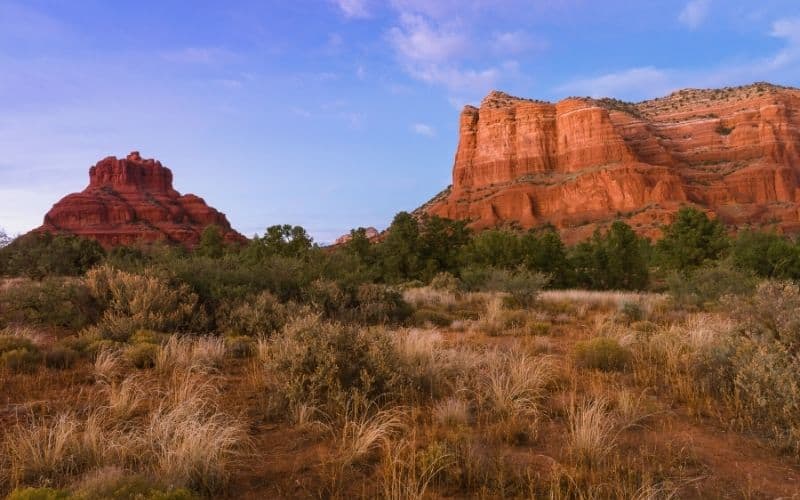 Type: Loop
Length: 4 miles
Difficulty: Easy
If you've got time for only one easy trail, make it the Bell Rock and Courthouse Butte Loop. As one of the most scenic hiking trails in the area, expect plenty of stunning, red rock views along the way!
Bell Rock and Courthouse Butte are two of the area's most impressive sandstone peaks. This beginner-friendly loop trail will take you around the base of both along a relatively flat trail. If you want to reach the top of Bell Rock rock formation, you can expect another 400ft of tough elevation gain.
The trail should take you about 1.5 to 2.5 hours to complete. You'll find very little shade along the way, so make sure you bring adequate water and practice sun safety.
5. Munds Wagon Trail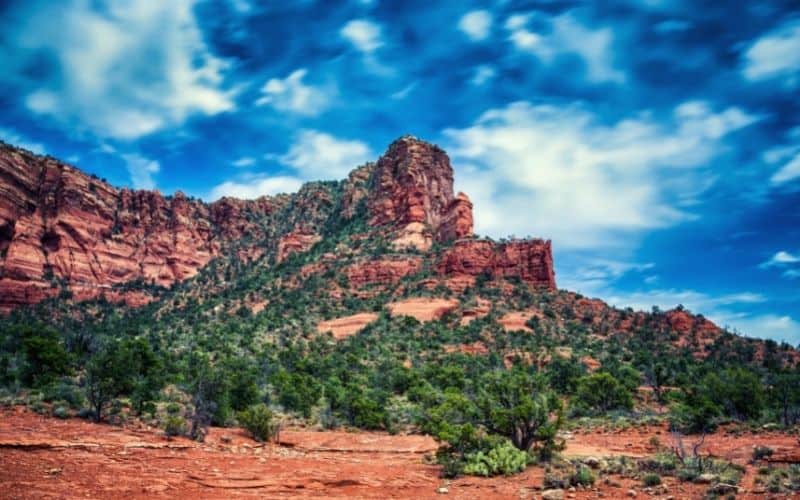 Type: Out and back
Length: 8 miles
Difficulty: Moderate
If you're looking for a moderately challenging yet manageable trail, look no further than the Munds Wagon Trail. Don't let its long length scare you off – because there is no grand finale at the end of the trail, you can turn back at any time.
The entire trail follows along the course of a historic cattle trail that cattle ranchers once used to reach the markets in Flagstaff. Although it's been quite a long time since a wagon, or any vehicle for that matter, has traveled down Munds Wagon, it remains a popular hiking route.
The Munds Wagon Trail also crosses paths with the Schnebly Hill Trail and the Huckaby Trail, offering two ways to extend your day.
6. West Fork Trail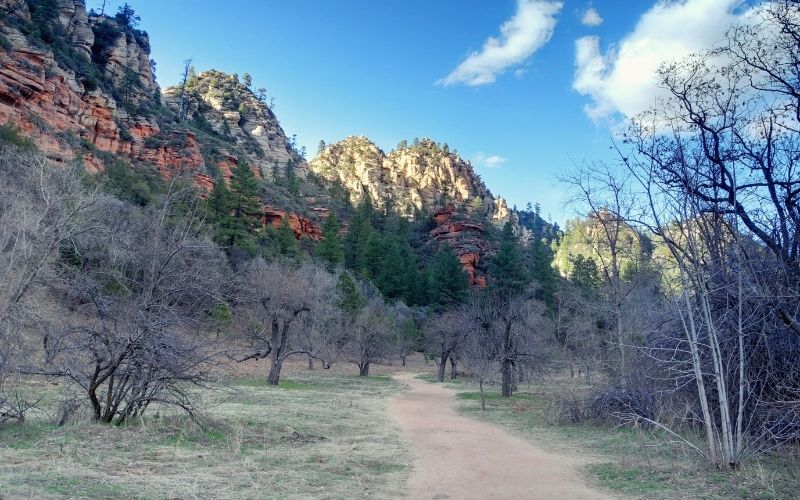 Type: Out and back
Length: 4 miles
Difficulty: Easy
Oak Creek Canyon is a paradise for outdoor adventure. Created over 65 million years ago during a time of great mountain-building, Oak Canyon settled as a gorge on the edge of the Mogollon Rim. Today it offers countless opportunities for hiking, camping, mountain biking, and fishing.
The West Fork Trail is the ideal hike for a hot summer day. It's one of the most unique in Sedona thanks to its plentiful tree cover and shade. Along this route, you'll zig-zag across Oak Creek a number of times stepping across stones and log bridges, and enjoy views of Chimney Rock, Coffee Pot Rock, and Thunder Mountain. 
You'll find the trailhead for the West Fork Trail in the "Call of the Canyon" recreational area, just under 10 miles outside of downtown.
7. Baldwin Trail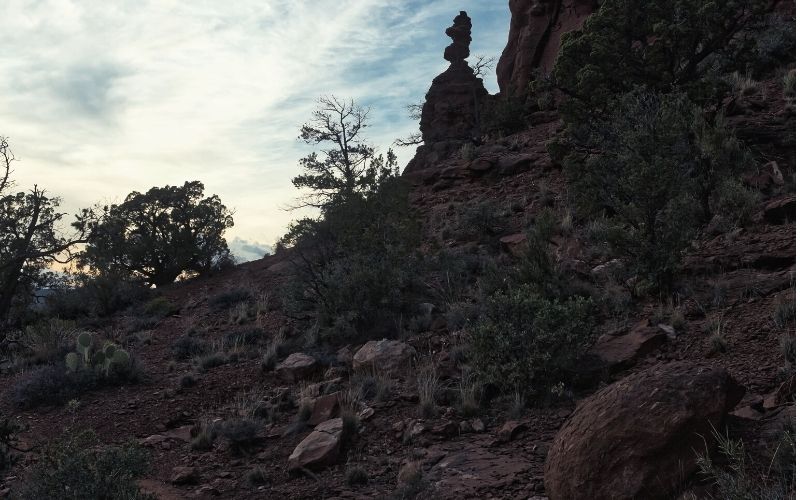 Type: Loop
Length: 3.3 miles
Difficulty: Easy
The Baldwin Trail is an easy trek that features the famous Cathedral Rock as its centerpiece. There are lots of fun pit stops to take along the way, like "Buddha Beach," where visitors construct stone pillars, or one of the spiritual vortexes for which the area is famous.
Generally considered an easy route, it will take most hikers roughly an hour to complete. Like most Sedona trails, you'll be exposed to the sun the entire time, so bring plenty of water and sun protection to keep you going. 
8. Little Horse Trail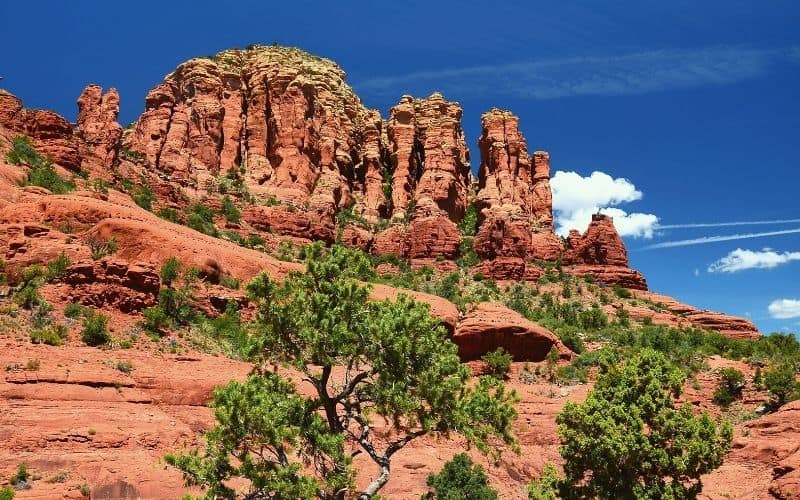 Type: Out and back
Length: 3 miles
Difficulty: Easy
Hikers looking to explore Arizona's unique and otherworldly landscapes will enjoy this short hike through the Sedona wilderness. The Little Horse Trail features a bit of everything that makes the area so magical – small streams, big canyons, desert flora and cacti, and of course, lots of red rock views.
Thanks to its flat terrain and wide, open path, the Little Horse Trail is suitable for hikers and day adventurers of all skill levels. If you don't mind adding a couple more miles to your itinerary, you can add a visit to Sedona's famous landmark, Cathedral Rock, to your day.
Since the Cathedral Rock trailhead is so close by, it's possible to visit both on the same day. And if you'd like to keep going even longer, the Broken Arrow Trail is also only a short distance away.
9. Devil's Bridge Trail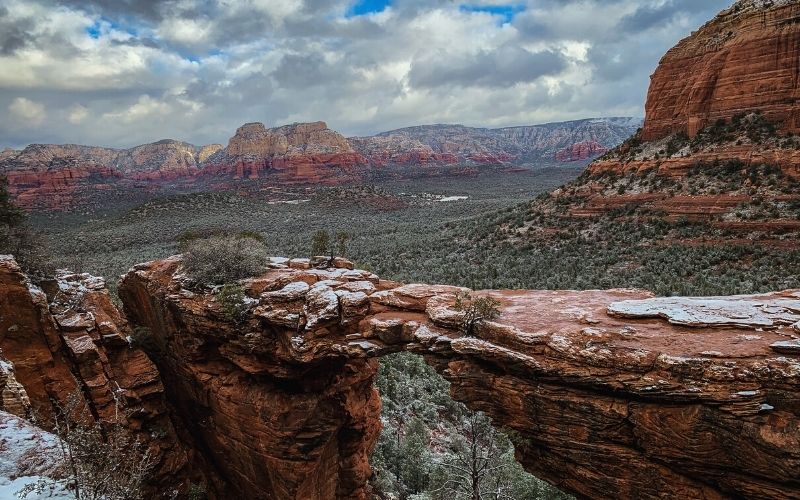 Type: Out and back
Length: 4.2 miles
Difficulty: Moderate
If you're feeling brave, why not venture across the largest sandstone arch in the Sedona area? The Devil's Bridge Trail is a popular trek leading to a beautiful, all-natural sandstone arch. You can take a stairway right to the top of this 54-foot archway and, if you're feeling courageous, you can walk right across it!
Its short distance and relatively flat profile make this a great trail for the whole family. For most of the trek, you'll enjoy a wide and easy path that only becomes steeper and narrower as you near the arch.
The trail is incredibly well-trafficked by everyone from hikers and mountain bikers to jeeps and ATVs, so keep an eye out.
This hike can easily be combined with other trails nearby, such as the Teacup Trail or the Thunder Mountain Trail if you want a bit more of a challenge.
10. Sedona View Trail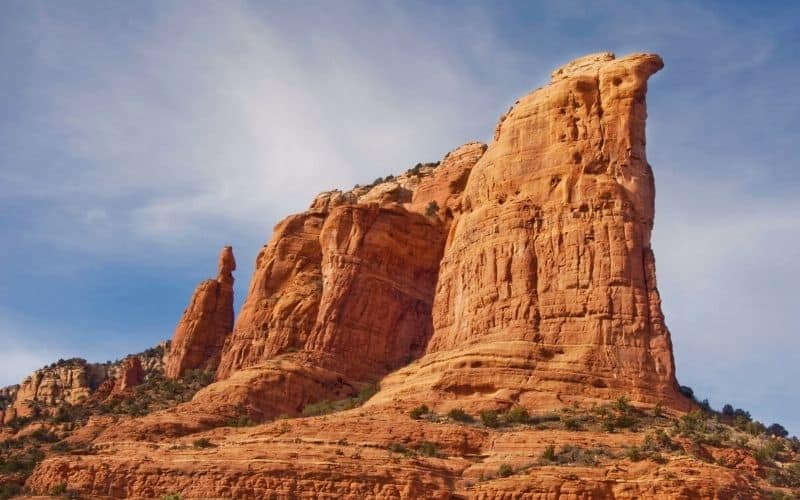 Type: Out and back
Length: 1.2 miles
Difficulty: Easy
Tackle this short and sweet trek and you'll be rewarded with panoramic views of most of Sedona's famous red rocks, including Coffee Pot Rock, Oak Creek Canyon, Sugarloaf Mountain, and Wilson Mountain.
The trail starts at the top of Airport Mesa, a popular spot for watching the sunset. After only an hour of hiking along the sandy trail you'll arrive at a saddle. It's here that you'll find the trailhead for the Sedona Airport Loop, if you're hoping to hike both on the same day. If not, you can swing back around and make the half-mile trip back to your vehicle.
11. Cathedral Rock Trail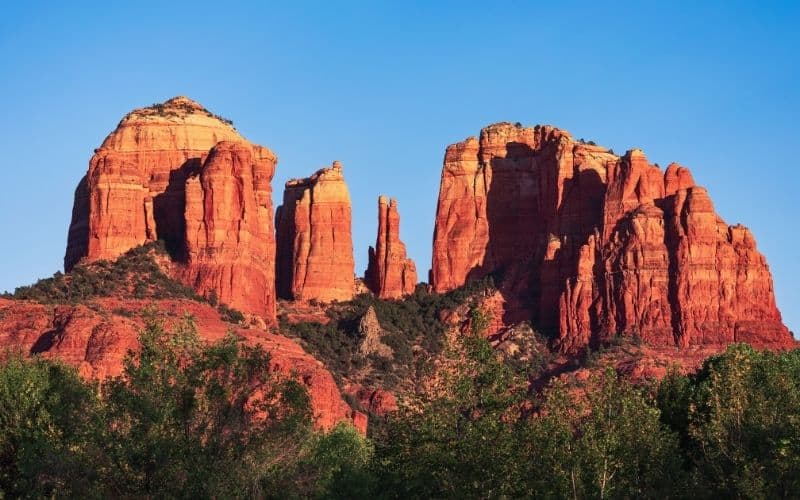 Type: Out and back
Length: 1.3 miles
Difficulty: Moderate
Hiking to Cathedral Rock is a must if you're visiting Sedona, but it's a technical climb that requires a burst of quad-busting rock scrambling. The best time to make the climb is an hour before the sun sets so that you can enjoy the view from the top – and avoid the worst of the glaring sun.
The trail starts off easy as it guides you along a set of dirt steps, but once you reach the base of Cathedral Rock the trail quickly becomes steeper and rockier. If you're not up for the climb, feel free to try the mostly-level walk, the Easy Breezy Loop, around Cathedral Rock instead. Alternatively, hop onto the Templeton Trail, which takes you down to the Bell Rock Pathway.
Easy Hikes In Sedona: Happy Hiking!
We hope our guide for the best easy hikes in Sedona has inspired you to visit this magical landscape of red rock pinnacles, colorful buttes, and impressive canyons. No matter which hike you choose, we're sure you'll be delighted by these easy trails in Arizona's Red Rock Country. 
What did you think of our list? Did we include all of your favorite Sedona trails? If you know of any hidden gems, be sure to tell us all about them in the comments. 
Now lace up your hiking shoes and see ya on the trails! Just remember to grab a Red Rock Pass before you go…