Disclosure: The team at My Open Country highlights products we hope you might find interesting. If you buy them, we get a small share of the sale revenue from our partners at no additional cost to you. This never drives our decision as to whether or not a product is featured or recommended – you can read more about
our editorial process here
.
Enlightened Equipment Revelation Review
Our Rating: 4.6/5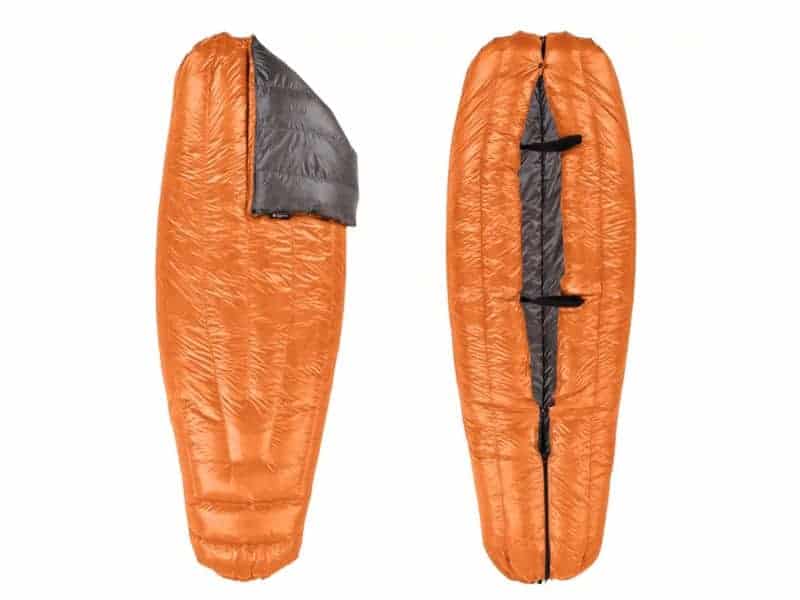 The Enlightened Equipment Revelation is an extremely versatile and comfortable camp quilt with some great features. Its 40-day return policy gives you the opportunity to thoroughly test the features of the quilt against your needs and return it without questions asked if anything is not to your liking. Each quilt is hand-sewn in Minnesota, using a quality-over-quantity approach to making the product. When you purchase this quilt, you are supporting American workers at an American company, which means more jobs for workers here at home.
The quilt comes with vertical baffles on the body and horizontal baffles on the foot box, creating a system whereby the down remains in place best while separating the foot box's down from the body's down to prevent the foot box losing loftiness. Buckles at the hips and shoulders can strap the quilt down to your sleeping pad using the included cables, creating a sleeping system that does not slide or shift when you toss or turn.
A final feature worth mentioning is the ability to compress this quilt down smaller than most sleeping bags, providing extra room in your pack. This is particularly useful if you are using a smaller backpack, need extra room for bulkier gear, or need to carry a child's gear as well as your own.
Key Features
Significant customization possible
Vertical baffles on body of quilt and horizontal baffles on foot box
Compresses small for extra room in your pack
Buckles at hip and shoulders strap the quilt to the sleeping pad
40-day return policy
Category Scores
Warmth
Weight & Packed Size
Comfort
Versatility
Features
PROs

Customizable without the extra cost of a custom product
Less weight than many traditional sleeping bags
Unzippable foot box adds to versatility
Temperature ratings are true to form

CONs

No hood
The included stuff sack could be smaller
Hands on Review
Do you want the familiarity of a comforter when you go backpacking? Do you want that comforter also to be able to become a sleeping bag when you need extra warmth? The Enlightened Equipment Revelation camp quilt may be just the thing for you!
RELATED: Best Sleeping Bags
The Revelation is soft and familiar like the comforter on your bed but has the versatility to become a sleeping bag when you need it. Open it flat for a quilt feel or strap it into your sleeping pad to make it a sleeping bag. Also, the customization of your Revelation will mean you can have a camp quilt unlike anyone else's. Best used by people who feel constricted or claustrophobic in a traditional sleeping bag, this camp quilt is also a great topper for a hammock.
Warmth
Available in temperature ratings from zero to 50 degrees, this quilt can be as warm or ideal as you need it to be. A zippered foot box allows for even more warmth if you want it, or open it flat for extra ventilation. Having no hood, you might lose heat through that area of your body, but wearing a hat will help with this loss.
If you want something with about the same warmth as the Revelation, but that has a hood, try the Sierra Designs Backcountry Bed. Another option is to snap the quilt over your head and sleep completely covered by the quilt.
One of the great features of the Revelation is the design, which puts all of the down on top of you, instead of some of it being compressed under you, such as on a sleeping bag. The reason this is important is that compressed down is useless in keeping you warm. With the Revelation, you can count on your sleeping pad to maintain insulation under you, and the quilt provides all the warmth you need on top.
https://www.instagram.com/p/BPJDdavgwxU/?utm_source=ig_embed
Weight
Because this quilt is customizable for temperature rating, length, and width, the weight varies widely. However, even the heaviest of the Revelation quilts weigh less than many of the sleeping bags, coming in at two pounds, three ounces. The weight-to-warmth ratio is one of the best on the market because the quilt is made like the comforter on your bed save for an added foot box, there are no zippers except the short one on the foot box, and it uses 850+ fill power.
RELATED: Marmot Hydrogen Review
Comfort
Lightweight and soft, you may feel like you are covered by a cloud when using the Enlightened Equipment Revelation camp quilt. The choice of 850/900/950 fill-down stays in place, thanks to the vertical and horizontal baffles, leaving you with no cold spots. All of their down is Zero PFC DownTek treated. Unlike a sleeping bag, you can have extra room to toss and turn under this open quilt because it does not restrict your movements. If you want the feeling of a sleeping bag, however, you can still have it by zipping up and snapping the foot box closed, and strapping the body of the quilt to your sleeping pad.
Packed Size
If you use the included stuff sack, the Revelation quilt does not pack down very small. However, using a smaller stuff sack will compress the quilt further to six by twelve inches, less than almost any sleeping bag. Even as small as it packs down, every time you pull it out the quilt will fluff up as if brand-new.
Versatility
The Enlightened Equipment Revelation camp quilt is extremely versatile. Leave the foot box unzipped, and you can have a quilt that is ideal for wrapping around yourself in the morning and evening or covering up in a hammock.
If your feet get cold, just zip up and snap closed the foot box, which will maintain the warmth of your feet especially well. If it gets colder, strap the Revelation into your sleeping pad to create the feel and warmth of a sleeping bag. Tighten the buckles down to get the feel of a mummy bag, and snap the top closed over your head to create a cocoon of warmth and comfort. With so many ways to use the Revelation quilt, it is sure to meet the needs of any backpacker.
Features
While many of the features have already been mentioned above, there are a few worth taking a look at that were not mentioned yet. First, the top fabric is ripstop nylon of either 10 or 20 denier strength. While 20 denier sounds like it would be the best choice because of its durability, your quilt top is not likely to come into contact with anything that would rip it, such as twigs, bushes, or even branches. If you were to choose the 10d nylon for the top fabric, you would have a lighter quilt that would lessen the load in your pack and add to the feeling of sleeping under a cloud.
You also have the option of adding weather stripes to the head and foot of the top fabric. With these stripes, any contact of the head or foot of the quilt with a damp tent wall will lead to water directly beading up and rolling off. The inside fabric is a 10d nylon that, while lightweight, you must be careful around because even a roughly trimmed toenail could rip the fabric.
RELATED: Check out our reviews of the best ultralight backpacking pillows
The Revelation comes in many different color combinations. There are 16 options for the outside fabric color and nine options for the inside fabric color. Add to this the seven optional weather striping colors, and you have a huge variety of color combinations to choose from, more than almost any sleeping bag.
https://www.instagram.com/p/BOgGfkDBHyy/?utm_source=ig_embed
Another nice feature of the Revelation quilt is its incredible ventilation. Because of its design, you can have as much or as little ventilation as you like. On warm nights, open it flat to become like the comforter on your bed at home. With this comes the ability to stick a leg or arm out so you do not become overheated and sweat.
The final feature we would like to mention is the Enlightened Equipment Revelation's quality. Hand-sewn in Minnesota, you will get top-notch quality because they take the time to do it right. None of the seams are likely to come undone, and the down is evenly distributed throughout the quilt. Like a quilt your grandmother might make, quality trumps quantity, allowing each quilt to be made with the care and precision of years gone by.
Limitations
We previously stated that in our opinion the only limitation to this quilt was the inability to buy one at the last moment since the shipping time for one of their custom-made quilts is three to six weeks. However, Enlightened have recently reached out to let us know that they now offer four different "off the shelf" if you need one in a hurry.
Best Applications
The Revelation is so versatile and customizable that is widely applicable for nearly all users, and particularly by people who feel constricted or claustrophobic in traditional sleeping bags or as a top quilt in a hammock.
Value
For the quality and customization you can get with the Enlightened Equipment Revelation, this camp quilt is excellent value. While its price is comparable to that of many sleeping bags, the Revelation camp quilt is so much more. Certainly, the Revelation can act as a sleeping bag with the aid of a sleeping pad, but it can also transform into a flat quilt that allows for more ventilation than a sleeping bag could ever provide.
Other Versions & Accessories
There are so many versions of this quilt, it is hard to decide where to start. You can customize it by temperature rating (between zero and 50 degrees), length (short to extra-long), width (slim to extra wide), outside fabric (10d or 20d in 16 different color choices), and inside fabric (nine different color options).
There is also optional weather striping in seven different colors, as well as weather-resistant down. All of this customization means that it is hard to imagine any two Revelation quilts being exactly the same unless you order them that way.
Alternatives
BEST MUMMY BAG
Marmot Hydrogen
Quilts are not for everyone. If you are looking for a traditional mummy bag that packs down even smaller than the Enlightened Equipment Revelation quilt, look no further than the Marmot Hydrogen mummy bag. The Revelation is very versatile, but so is the Hydrogen, which has a zipper on each side in addition to a zipper on the foot box for easy ventilation.
In addition, the Hydrogen has a fabulous hood that will keep your head warm all night, something the Revelation is missing altogether. Those looking for something new and innovative should try the Revelation, but if you are looking for a tried and true mummy bag, the Marmot Hydrogen could be just what you need.
TOP BUY
Western Mountaineering SummerLite
Where the Enlightened Equipment Revelation has lots of extra space that has to be heated, the Western Mountaineering SummerLite has no excessive space. Its stretchy baffles and close fit mean your body will not have to work overtime to heat space that is not necessary to your own warmth.
In addition, the SummerLite's 30-denier lining is much more durable than the 10-denier lining of the Revelation. This makes a difference because your skin and clothes will be rubbing against the lining all night and a zipper snag will not tear the SummerLite open, while it may on the Revelation. For the right person, the SummerLite can be one of the best options available with its compact pack size and small weight.
The Enlighten Equipment Revelation is an excellent choice for people who need extra room or wants a spacious feel. On the other hand, the Western Mountaineering SummerLite is ideal for people with small frames who do not want to waste any more space than they must in their pack or in the tent.
TOP BUY
Sierra Designs Backcountry Bed
The Sierra Designs Backcountry Bed and the Enlightened Equipment Revelation are both innovative designs with an at-home feel. That is, however, where the Backcountry Bed and the Revelation part ways.
The first difference comes with the foot box. In the Revelation, you have to zip up and buckle down the foot box to make it useful as such. On the Backcountry Bed, the foot box is already there, and all you have to do is slip in. Thus, you will have no worry with the Backcountry Bed of the foot box coming undone, creating a hole that will let in drafts.
Another significant advantage of the Backcountry Bed is its comfort. Like at home, the Backcountry Bed's comforter need only be tucked in to keep out the coldest of nights. With the Revelation, it requires buckles and straps that mean getting at least your arms out from under the warmth of the quilt.
While the Revelation is great for people looking for a step up from their traditional sleeping bags, the Backcountry Bed's most significant use is as a transition into a sleeping bag for the novice.