From the mountainous west coast to the maritime provinces in the east, Canada's landscapes are among the most varied and spectacular in the world.
It is true what people say: Canada is big. In fact, if you want to drive coast to coast on the mainland, you're looking at almost 60 hours without stopping along the mighty, 7,821-km-long Trans-Canada Highway. Either side of this main artery, the opportunities for adventure and free camping are almost endless. So where to start?
From free overnight parking lots to free sites that have a fire pit and picnic table, our ultimate guide has all the information you need to find places to camp for free in the Great White North!
Key Takeaways
Avoid the popular highways – Free campsites are almost always located in more remote terrain
Leave no trace! – Keep Canada's wild and beautiful places wild and beautiful by following LNT principles
Be self-sufficient – Free camping will take you off the beaten track, usually far from services, resupply points, and medical facilities
Canadian Camping: How To Do It For Free?
Free Camping Basics
'Oh, you're Canadian . . . you must live in an igloo then, eh?'
Certainly, with ample snow and freezing weather, it is possible to build igloos for more than half the year. However, myth-breaker inbound… Canadian residents don't live in igloos!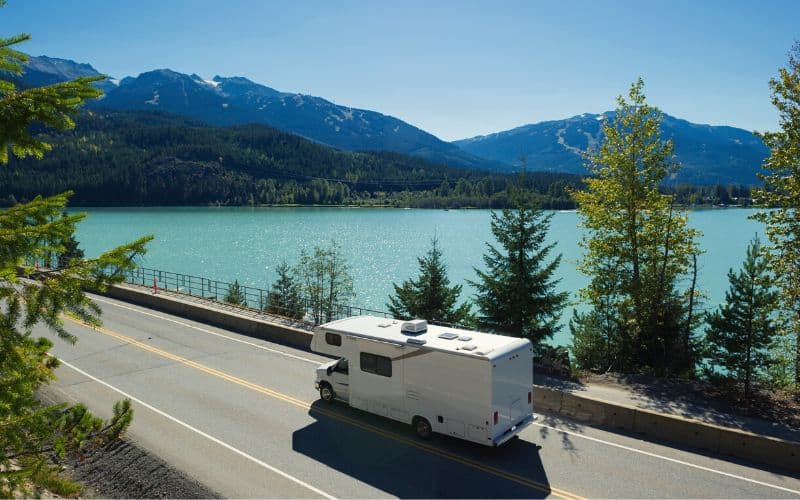 Nearly 66% of Canadians live within an hour of the Canada/US border (mostly in brick-and-mortar residences!). Geographically, this area comprises 4% of Canada's landmass. And, roughly 85% of Canada's land is deemed 'Crown Land', which refers to land belonging to the monarch. This is owned by the public and federal governments. In short, it is 'public land'.
So, if you're looking for a free camping site, there is technically loads of space. However, there are a few things to note before simply heading off and setting up camp anywhere.
Where to Go?
Camping for free in Canada often requires long drives down dirt roads or logging roads in remote locations. In other words, you won't find campsites off the country's main artery – the Trans-Canada Highway.
Your best bet? Take scenic routes, country roads, and dirt roads – though these tend to be full of potholes, and cell phone service is scarce. You'll want a well-suited vehicle and know how to change a tire!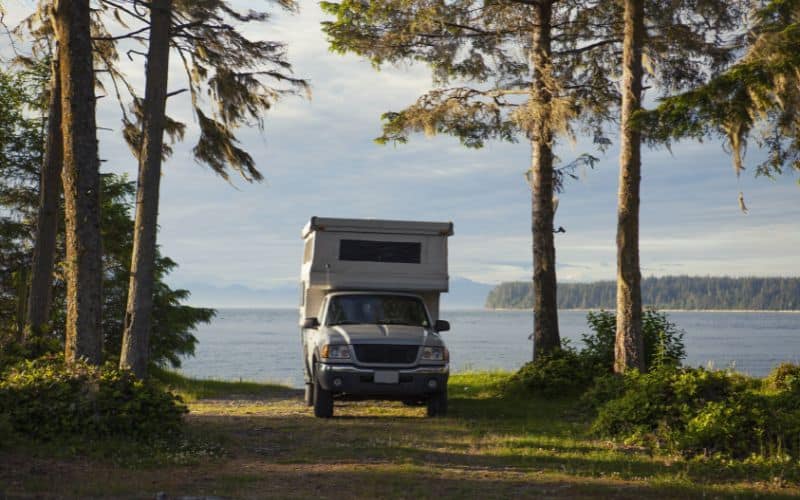 Self-Sufficiency
Self-sufficiency is key anywhere in the backcountry, but especially important when it comes to free camping. You won't find all the amenities one expects from a traditional campground: no toilets, running water, showers, waste disposal, picnic tables, etc. Before traveling to any area, do your research to get the lay of the land.
Leave No Trace
It's important to remember that with no amenities comes more responsibility.
To camp for free in these vast and beautiful landscapes is a privilege. However, these privileges can be revoked if campers don't adhere to LNT principles. Properly dispose of waste. Pack out what was brought in. Properly store food overnight. Don't disrupt wildlife. Inquire about the rules and regulations for fires in the area you are visiting.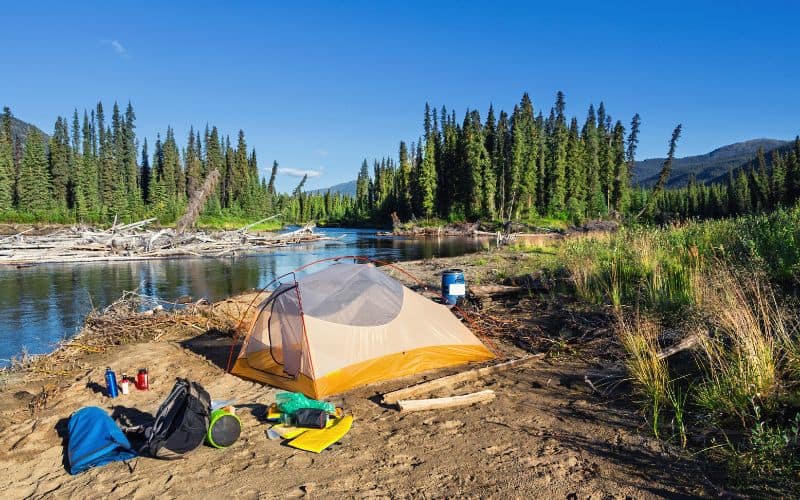 Tent or RV?
While many of the sites you can camp for free in Canada are best suited for tent camping, there are options for those wishing to stay in their car or RV. Some of these might be gravel sites off the beaten path, while others may simply be a store's parking lot.
Wherever you plan to park overnight, leave no trace principles apply and, most importantly, make sure you are not on private property or in a camping-prohibited space.
Where Can You Camp For Free in Canada?
Recreation Sites
Recreation sites are fantastic ways to not only camp for free, but to experience some of the nation's most stunning and wild locations. They are most popular in British Columbia, which boasts nearly 1,300 of them!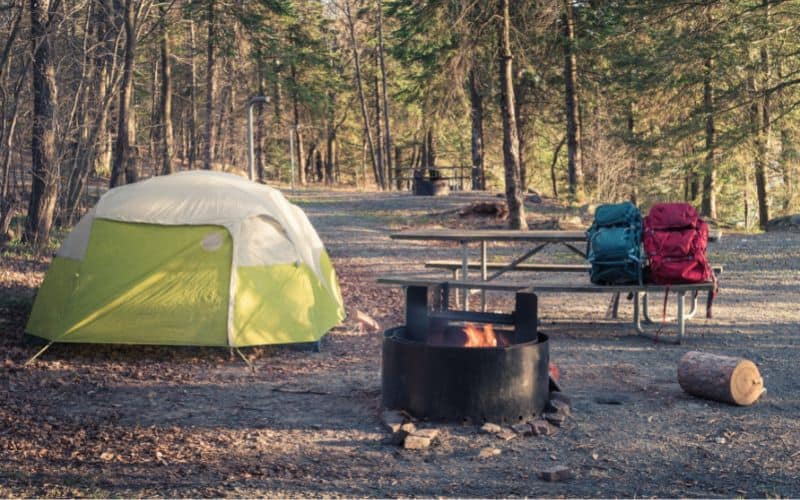 Recreational sites are often located in provincial or territorial parks, in remote locations. For those that offer free dispersed camping, you can expect to camp by lakes, rivers, in forests, or by the sea. If you're looking for isolation, recreation sites are the way to go! You can stay at these sites for up to 14 days.
Amenities vary from one free rec site to the other. The most you can expect is a picnic table, fire pit, a flat spot for your tent or car, a boat launch, and a gravel pit toilet. Many of these recreational sites provide access to hiking trails and fishing, though you'll need to acquire a fishing permit at most.
If you'll be out of service for an extended period of time, we recommend getting a British Columbia's Backroad Atlas to help you find free campsites. This information is also available on Rec Sites and Trails BC Interactive Map.
Note, these sites are often located down long logging roads. They also have no electricity, so do ensure you can be entirely self-sufficient before heading there.
Camping on Crown Land
As mentioned above, crown land refers to the rivers, lakes, and land owned by the provincial and federal governments. As much of the land surrounding popular roads is private property, the best place to find places to camp is, again, in remote locations.
Whether you're far down a logging road or winding along the coasts of Vancouver Island, Newfoundland, or one of the Great Lakes, if you don't see a 'Private Property' sign or there is a big pull-off with no camping restriction signs, then you're likely to be on crown land.
Each provincial and national park has its own rules. So, if you plan a backpacking trek or canoe camping trip that weaves in and out of different national parks, make sure you do your research and obtain the necessary permits.
To find crown land, we recommend visiting each province and territory's website to ensure you aren't breaching privately owned property. Check for fire bans, wildlife activity, and more.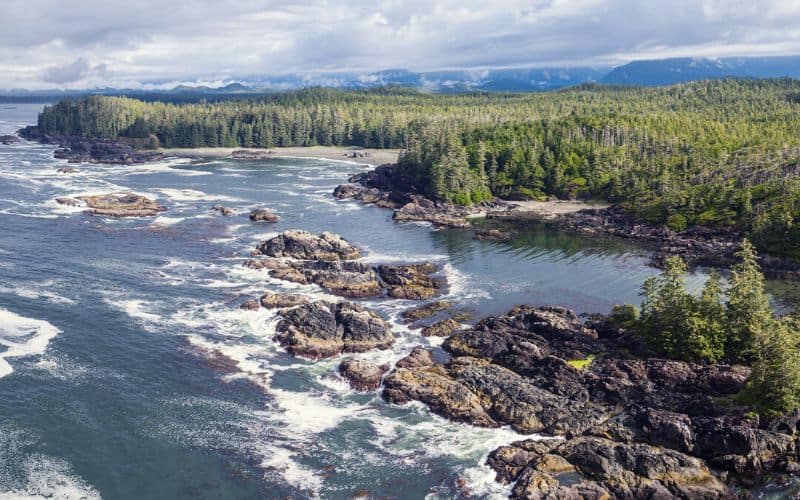 Canadian citizens are permitted to camp at the same location for 21 days per calendar year. Non-citizens must obtain a permit to camp on crown land.
Alberta has Public Land Use Zones (PLUZ), which were established to manage recreation and land use. Recreation activities include hiking, hunting, skiing, canoeing, and camping.
In the context of free camping in Canada, we are looking at their 'Random Backcountry Policy', which states that one can camp if taking part in one of these recreational activities. You must be 1 kilometer from any road, provincial park, public land recreation area, or provincial recreation area, and you can stay for up to 14 days. 
National Parks and Provincial Parks
Although more limited than dispersed camping on crown land, camping in provincial and national parks is great for backcountry keeners. Many backcountry campsites are very remote, but you're guaranteed to be in one of the country's most beautiful locations.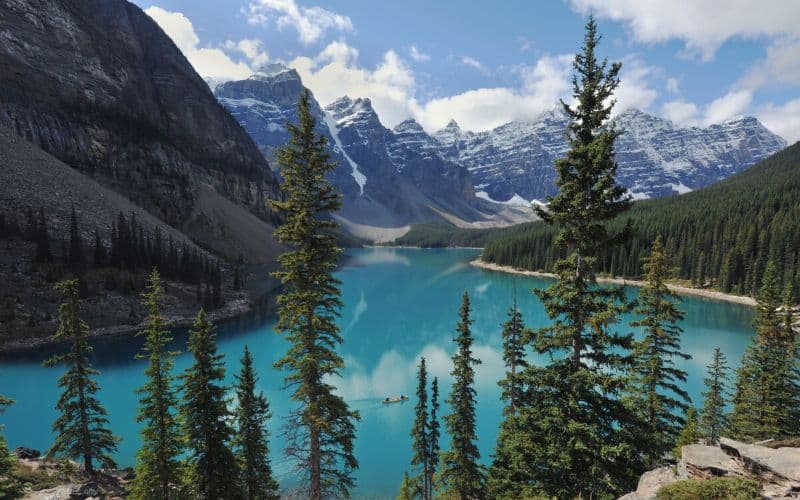 Since these parks are managed, it is important that you get the appropriate permits before heading out. As mentioned, if your trek passes through different national and provincial parks, ensure you check the rules and regulations for each park as some may not offer free camping.
Remember, the Canadian provincial and national park system comprises an enormous amount of land. To maximize your chances of finding a free place to camp in Canada, we recommend visiting less popular hiking and canoe routes, and lesser-known national parks, as well as going in the off-season! Snow only adds to the magic of the great Canadian wilderness.
Conservation Reserves
The conservation areas in Ontario comprise 150,000 hectares of protected land. Similar to camping in a national park, finding a free camp here requires research and, almost always, a permit.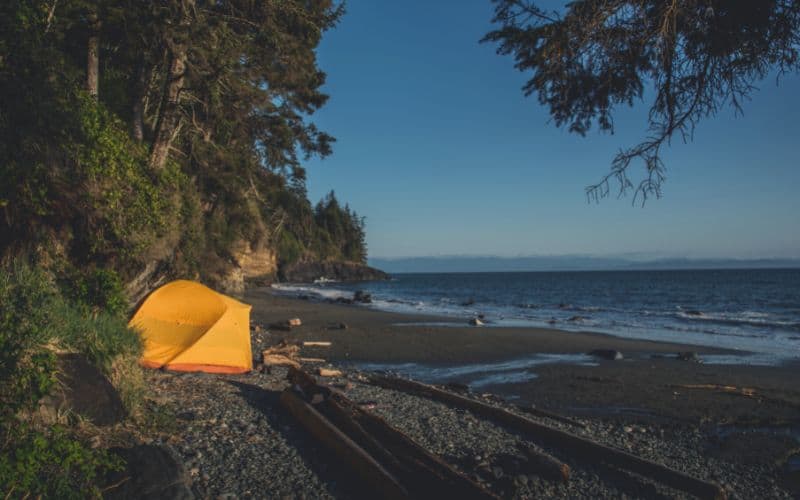 Roadside or Truck Stops
Whether you're in a camper van, RV, or too tired to make it out into the woods to pitch your tent for a wild camping extravaganza, all along the Trans-Canada Highway you'll find designated rest stops. Although these aren't places where you can pitch your tent, they are great places to rest your head between stopovers.
Rest stops are very basic. Some will have picnic tables, a small park, and toilets, while others may simply have a garbage can. Truck stops, on the other hand, always tend to have picnic tables, toilet facilities, and even gas stations, showers, and restaurants.
A few things to note.
Parking overnight is permitted at most truck and rest stops; however, if you see a 'No Overnight Camping' sign, then head on down the road until the next one.
Since truck and rest stops are right off the highway, don't expect a quiet night in the parking lot beneath the stars. It'll be loud. Trucks will be coming in and out of the parking lot, doors will be slamming, engines will be roaring, and it'll be bright. If you're a light sleeper, bring earplugs.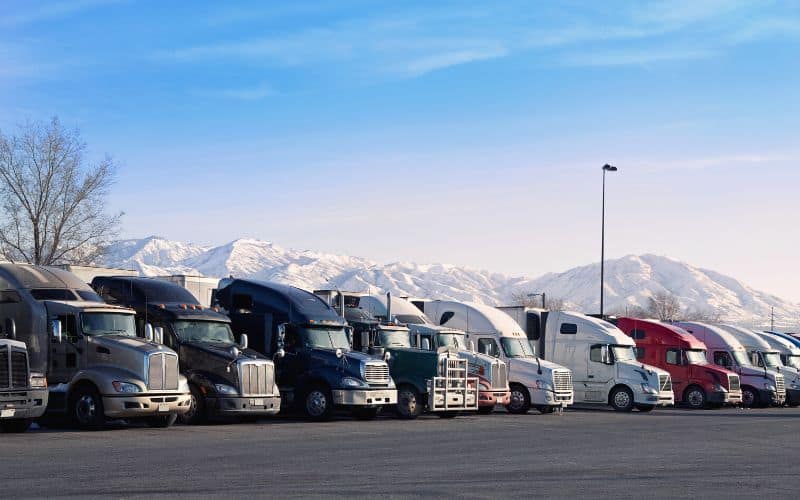 Supermarket Parking Lots
Canada isn't all isolated mountain views, fearing for bears, and waking up to sudden snowfall. If you've heard your favorite band recount tall tales of their cross-country 'Walmart' tour, then know it wasn't merely a fable, but most probably matter-of-fact.
Many supermarkets permit overnight boondocking in their parking lots. If you need to head into town to stock up on groceries, use the internet, or simply to explore the more urban areas, then these parking lots are great options. However, this is no place to pitch a tent, set up camp chairs and a table, or to merely 'hang out'. These are for self-contained vehicles only.
It is important to note that every year, finding free parking in these lots is harder. Like everything, people have abused the rules. If signage around the parking lot is not clear, head inside and ask. The worst thing someone will say is no, though in a blizzard or baltic temperatures, you're more likely to encounter the proverbial Canadian kindness.
As well as grocery stores, supermarkets, and Walmart, it is worth checking out the town's local Visitors Centers. These often have toilets, potable water, maps, or suggestions for where to stay overnight.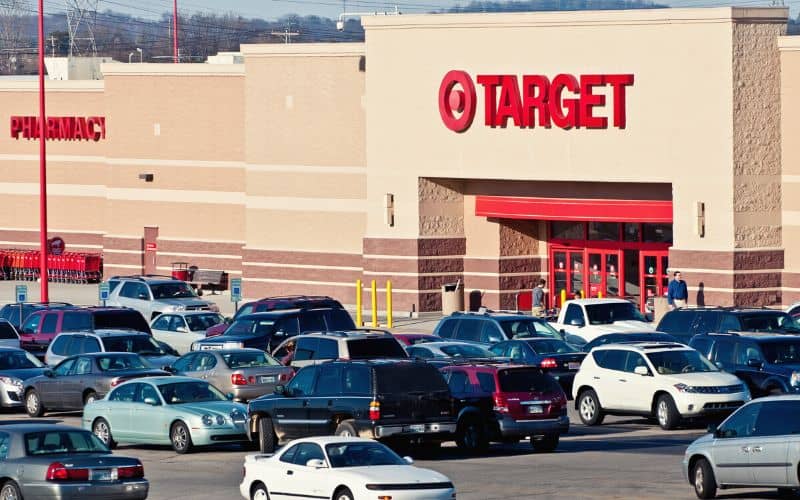 Tips for Boondocking in Canada
Dry camping, boondocking, freedom camping – whatever you call it, Canada has many options for you. However, you need to be ready to drive far away from the big cities. Generally, the nicer and more remote of a spot you're looking for, the more you'll have to drive.
Stock up – Before driving down a long road in search of your campsite, make sure you have enough water, food, gas in your vehicle, cooking fuel for your camping stove, and general supplies for a few days. You're heading into the bush – there is no mobile service or facilities.
Have a backup plan – Use websites such as Freecampsites.net, campendium.com, and sitesandtrailsbc.ca, as well as the critical Backroad Mapbooks.
Don't forget your permits –If you're planning to camp in public land use zones, national or provincial parks, get your permits ahead of time.
LNT – Respect the environment, wildlife, and people wherever you go. You do not want to be the person who ruins an incredible privilege and site for others.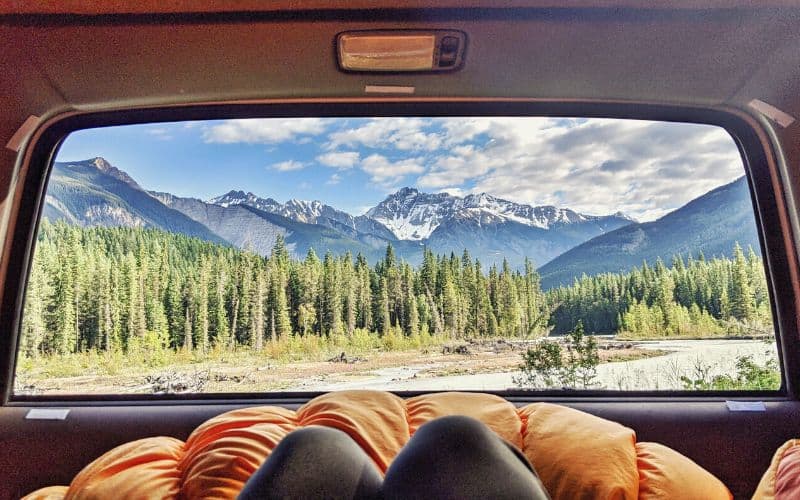 The Top 10 Spots for Wild Camping in Canada
1. Jigsaw Lake Recreational Site
Jigsaw Lake Recreational Site in British Columbia is a spectacular place for those who love fishing and canoeing. There are four small sites, with picnic tables and toilets.
2. Saskatchewan (various)
'Land of Living Skies' – despite the flak Saskatchewan gets from other Canadians, it is an incredible province, full of open grasslands, forests and, most uniquely, badlands. Finding Wilderness Campsites is key for free camps. We recommend McDougal Creek, Elaine Lake, Lost Echo, and Courtenay Lake wilderness campsites.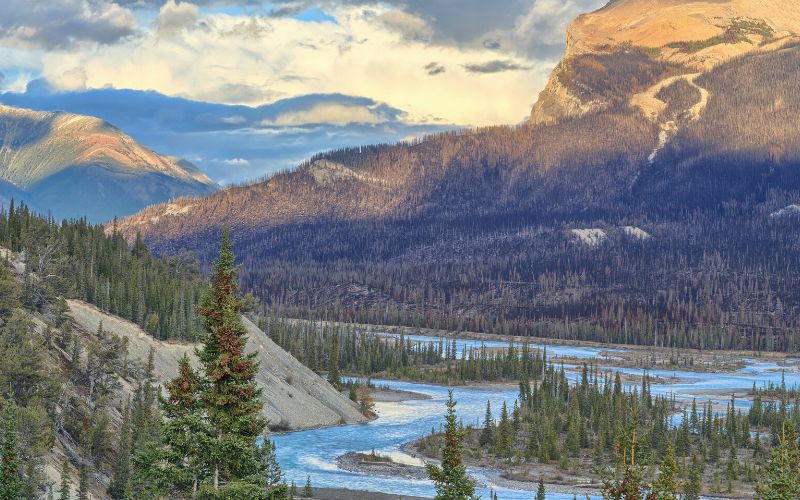 3. Stella Lake
North of the Campbell River on Vancouver Island, you'll find Stella Lake Recreation Site, another great place for canoe and fish lovers. There are four small sites here, as well as a few more 'unofficial' camp spots down the road.
4. Aubrey Falls
Aubrey Falls Provincial Park, located 80 km north of Lake Huron (one of North America's Great Lakes), is a secluded and very scenic spot. This would serve as an ideal base for any keen hikers, rock climbers, paddlers, fishers, and mountain bikers looking to explore Ontario's northeast.
5. Wapta Falls
Wapta Falls Recreation Site in British Columbia has five great spots; however, two of them trump the others since they offer great views of the waterfalls. Wapta is also great for those in a short RV.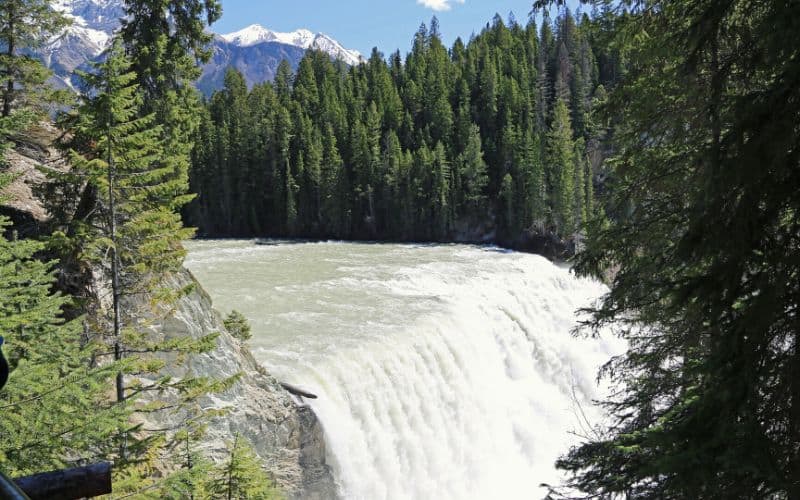 6. Raven Head
Separating New Brunswick and Nova Scotia, the Bay of Fundy is one for sea lovers. The Raven Head Wilderness Area has over 44 km of coastline! Other great areas to stay around the Bay of Fundy are in the Kelley River, Walton River (thick clay to play in at low tide!), Cloud Lake, and Devil's Jaw wilderness areas.
7. Valhalla
Pristine snow-clad peaks, glacial rivers, big coniferous forests…Valhalla Provincial Park in British Columbia is an outdoor enthusiast's oasis. Fishing, hiking, hunting – you've got to get here!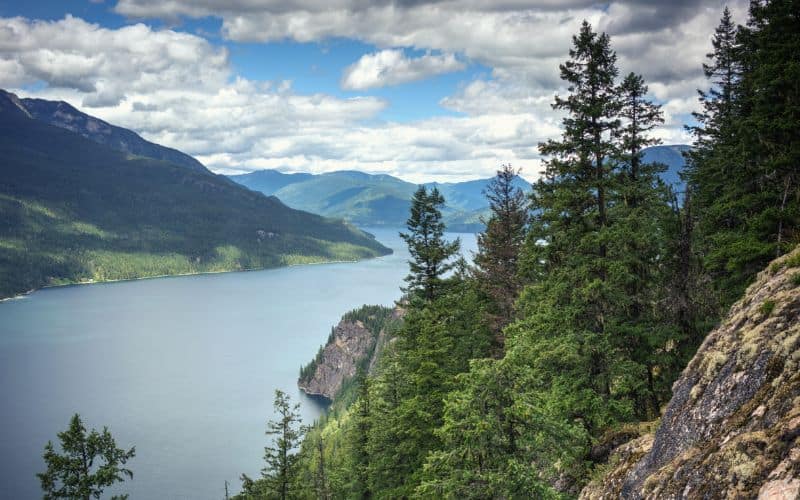 8. Kluane Cove
If you're looking for the vast and wild landscapes that Canada is known for, then a camping trip by Kluane Cove, Destruction Bay, in the Yukon is a must. Aside from catching a glimpse into old mining towns and 'Gold Rush' history, the sprawling landscape and sheer brilliance of the stars in the night sky are hard to fathom.
This is a great spot for anyone in an RV.
9. Tombstone TP
Tombstone Territorial Park in the Yukon is gnarly – this is as wild as it gets. Camping in the Territorial Park is almost all free; however, it is in the backcountry. Being bear aware is vital. Note, you must acquire a permit, pay, and register your trip beforehand if planning to camp at the three backcountry sites off the Grizzly Lake Trail.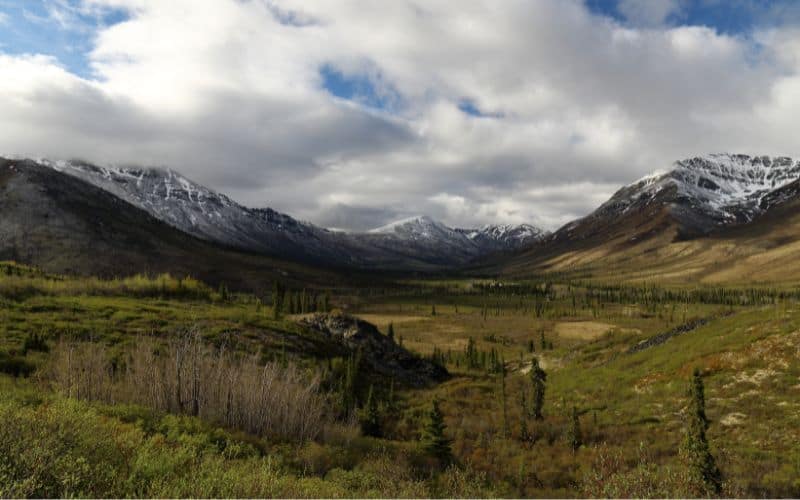 10. Brule Lake
Created in 1999 to support elk populations, the Brule Lake Public Land Use Zone near Jasper National Park in Alberta is a beautiful spot. The area provides access to great hiking trails. There are 5 free campsites here, however, a Public Lands Camping Pass is required.
Happy Free Camping in Canada!
It is undeniable that Canadian camping is truly a unique experience. Whether you're looking to explore the country's snow-clad Rocky Mountains, dense coniferous forests, vast seascapes, prairie lands or canyons, there is a free campsite for everyone! 
If you like this post or know someone who is planning a trip to Canada, then please feel free to share it! And if you have any questions, drop us a line in the box below.