So you've heard of people pitching their tents in the frontcountry, but you're not sure what that even means. Or you're ready to head out on an epic outdoor trip to a frontcountry campground and want to know what to expect.
It is the most common camping type and the easiest way to get started as a camper. Unlike other types of camping, this style only requires basic gear and preparation, making it accessible for beginners.
In this article, we discuss everything you need to know, providing a definition as well as info on what to pack and what to expect once you arrive at your campsite.
Camping Terminology 101: "Frontcountry"
This is the easiest and most comfortable type of camping. It's the best option for newbie campers trying to get out and enjoy a few nights in nature for the first time.
What Does It Mean to Camp in the "Frontcountry"?
This type of camping refers to established campgrounds with a variety of amenities and facilities. These campgrounds are typically located near towns with services like grocery stores and gas stations, so you're never too far from civilization. Being close to services is always nice in case of an emergency, like running out of s'mores! 
Since these types of campgrounds have designated sites that you can easily drive to and park in, it is also known as "car camping". Being able to park your car right next to the campsite makes it easy to bring almost everything you want to camp comfortably. This includes heavy coolers, portable grills, and extra-large tents.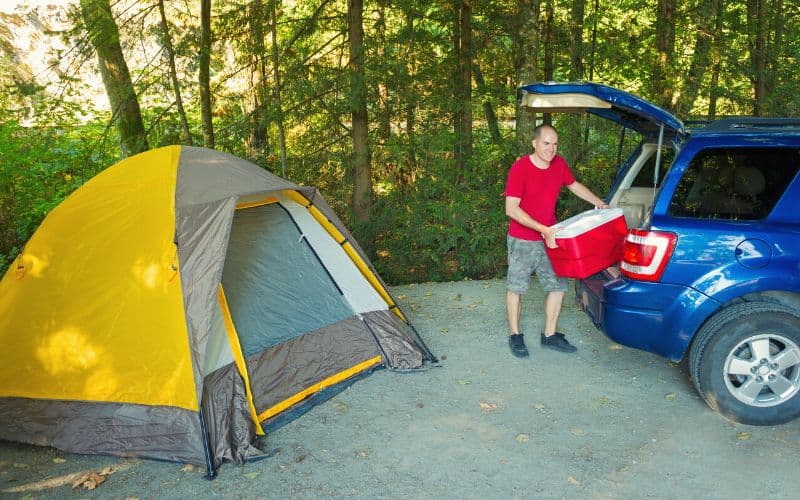 It's also nice because you can keep your food safe in the car while staying in areas with bears or other critters that like to get into your food stash.
These campgrounds have established campsites with amenities ranging from basic to premium, like flush toilets, showers, trash cans, and water spigots. Each designated campsite has picnic tables and fire rings or grills. Some offer water and electricity hookups for RVs and a tent pad for pitching a tent.
Some of these campgrounds even have camp stores, swimming pools, and golf courses! 
For the most part, staying in the frontcountry means making campsite reservations well in advance. Depending on the location, some campgrounds get fully booked during peak season. Some campgrounds require reservations to camp and not all of them offer sites on a first-come, first-served basis.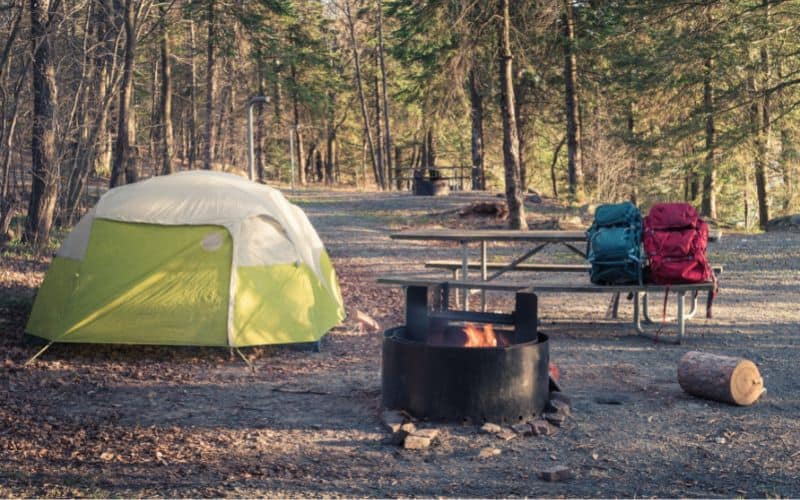 Most frontcountry campgrounds are either owned by private companies or under the jurisdiction of federal and state agencies, including the National Park Service, Bureau of Land Management, and the US Forest Service.
Recreation.gov is an official website where you can make reservations online at government-run campgrounds at national parks and forests across the US.
Opting for a frontcountry adventure is ideal for beginners and those who prefer a few luxuries, like running water and restrooms, over roughing it in the wilderness. If it's your first time in the sticks and you decide you don't like it, you can quickly pack up and drive to a nearby hotel to spend the night.
What's the Difference Between Frontcountry and Backcountry Camping?
Although both frontcountry and backcountry camping involves enjoying time outdoors, the two can be vastly different experiences.
Frontcountry campgrounds are developed areas with amenities that are easily accessible by vehicle. You can decide to go camping from one day to the next by simply picking an established campground online, packing up some equipment, and driving right up to your designated campsites and parking spots.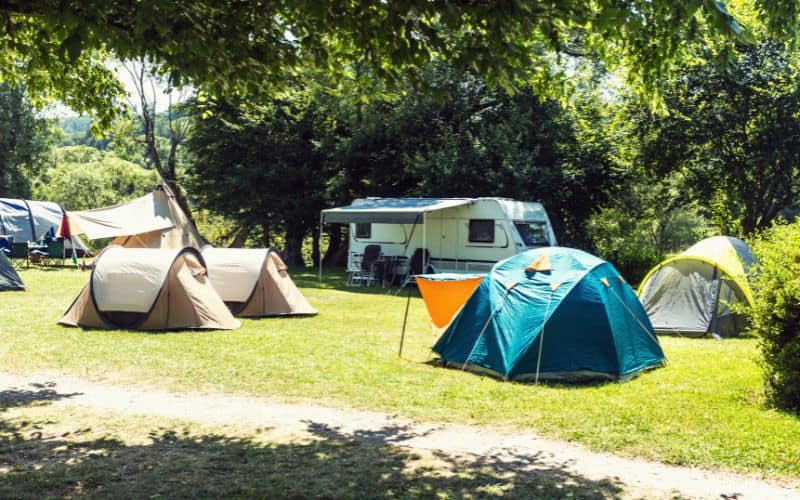 There's usually no need to worry about how to get to the site, where to stay, where to safely build a campfire, how to find drinking water, or where to go to the bathroom.
Packing for the frontcountry is a breeze compared to backcountry camping. You can fill up your car or RV with everything you need without paying much attention to gear weight or the amount of space it takes up. Securing your food from animals is as easy as locking it inside the vehicle.
Overall, the preparation required and risks associated with staying at a frontcountry facility are minimal. 
Meanwhile, backcountry camping takes place in remote areas with few to no amenities. There are dispersed camping areas with multiple sites, but many backcountry campers seek isolation in the wilderness.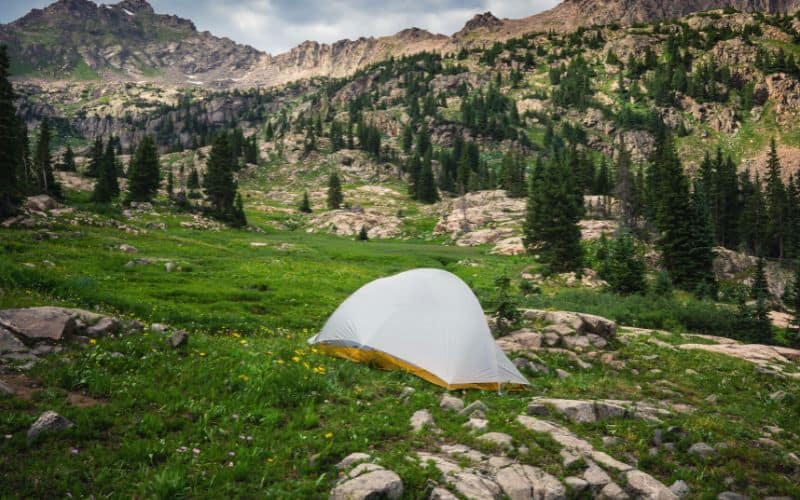 Some spots can be reached by car, but you may need a 4-wheel drive vehicle to get there. Other backcountry campsites can only be reached by foot and may require a long hike while carrying all your equipment, an activity known as "backcountry backpacking".
Backcountry camping necessitates proper planning, preparation, and outdoor skills. You may spend hours scouring topographical maps to select an appropriate site and find the right hiking trail or forest road to get there. Once at your campsite, you need to find the best spot to pitch your tent and build a campfire.
Specialized gear and outdoor survival skills are preferred when staying in the backcountry. Depending on the location, you'll need to bring a water filtration system for drinking water from natural sources, a bear canister for food storage, and a lightweight stove for preparing meals. You must always take your trash with you and dispose of it properly elsewhere.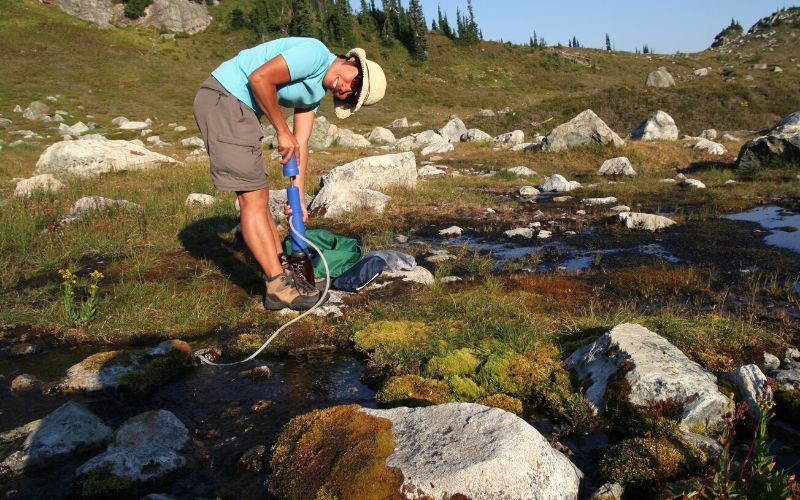 Since this type of camping takes place in remote areas without cell reception, it's a lot easier for something to go wrong. You need to carry a first aid kit, extra food supplies, and preferably a GPS satellite messenger to call for help in case of an emergency.
For those who have never been camping, it's best to take a few frontcountry trips before attempting to camp in the backcountry. Another option is to plan a trip with a group of people that are well-versed in it and are willing to teach you the skills required.
What Do I Need for This Type of Camping?
You don't need much more than basic equipment, but many campers choose to bring small luxuries to make their experience more comfortable. Since you're car camping, you can bring pretty much anything you want (as long as it fits inside your vehicle!).
One of the benefits of this type of camping is not having to buy new and expensive equipment. From an inflatable mattress to blankets to folding chairs, most of you already have almost everything you need for this type of camping just lying around at home. Just borrow or buy a tent and you're ready to go!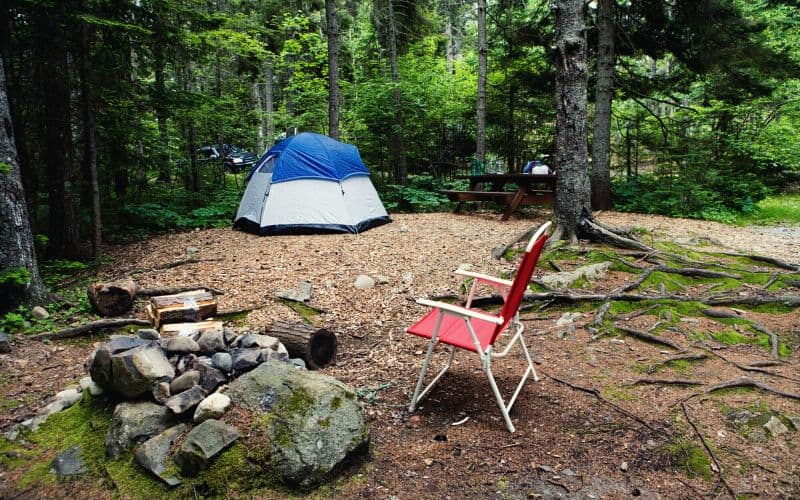 Here's the basic camp gear you'll need for your trip:
Tent: Unless you have an RV or can sleep in the back of your car, a tent is a must!
Sleeping pad or inflatable mattress: Sleeping directly on the ground is fine, but a padded layer makes it much more comfortable and provides insulation.
Sleeping bag: Check the weather for your trip and always bring more than enough warm blankets! Staying warm overnight is crucial for a good night's sleep.
Chairs: Foldable chairs are essential for sitting around and enjoying the campfire at night.
Lights: Whether it's lanterns, headlamps, or flashlights, make sure to bring something to light up the camp once the sun goes down.
Firewood: Bring enough firewood for your trip because not all campgrounds sell it onsite. Don't forget the lighter!
Food: Plan out and pack easy-to-prepare meals that don't require much cooking or can be quickly heated up over the campfire.
Water: Most frontcountry campgrounds have potable water available, but always check. Bring extra drinking water and a container to store water for use at your site.
These are just some of the most basic items you need for nights in the frontcountry. Some of the many other things you may want to bring along are a shade canopy, cooler, pillow, hammock, cooking equipment, and games to keep you entertained.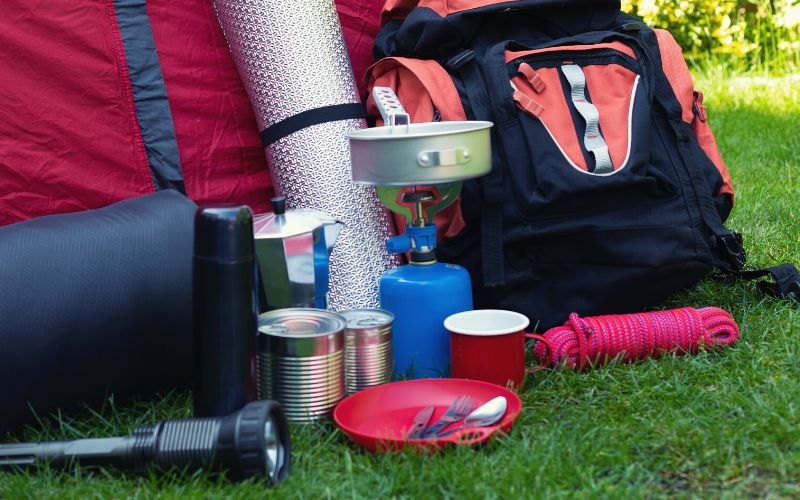 What to Expect
Established frontcountry campgrounds can vary greatly in ambiance and amenities, but there are a few things that you can expect to remain the same across all of them.
When you arrive at the campground, you need to check in with the camp host so they can direct you toward your reserved site. If you don't have a reservation, stop at the entrance or office to pay. You need to display your proof of payment either on your vehicle's dashboard or on the campsite's number post during your entire stay.
Warning: Many campgrounds have established check-in and check-out hours and late arrivals may not be permitted.
All frontcountry campgrounds have amenities that range from basic to premium. For example, the bathrooms may be simple vault toilets, but many campgrounds have full bathrooms with flushing toilets, hand sinks, and shower facilities. Access to potable water, toilets, and trash disposal are one of the many perks of staying at a campground with amenities.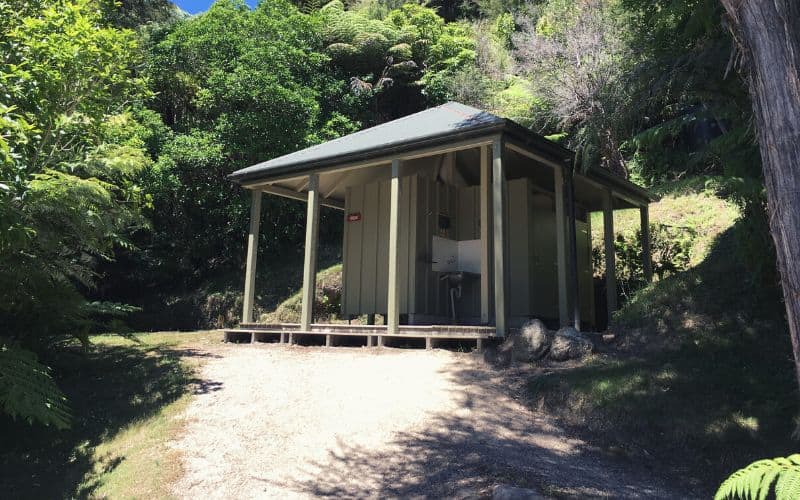 Some campgrounds have onsite camp stores where you can purchase food, supplies, ice, and firewood. Areas with access to lakes and rivers may also rent out kayaks, canoes, and paddle boards. Hiking trails and guided star-gazing walks are just a few examples of activities available at campgrounds.
Call the campground or check their website to know exactly what amenities and activities to expect.
Always check to see if fires are allowed before lighting a campfire and place fires in designated fire pits. Areas prone to wildfires prohibit campfires during high-risk fire season.
Although some established campgrounds have plenty of space between sites, others are more like parking lots with minimal separation between campers. That's why campgrounds usually have assigned "quiet hours" at night. Quiet hours require campers to keep noise to a minimum and turn off their generators.
You need to leave your campsite clean before leaving. Throw away trash in the dumpster, don't leave food or trash in the firepit, and wipe off any spilled food from the picnic table.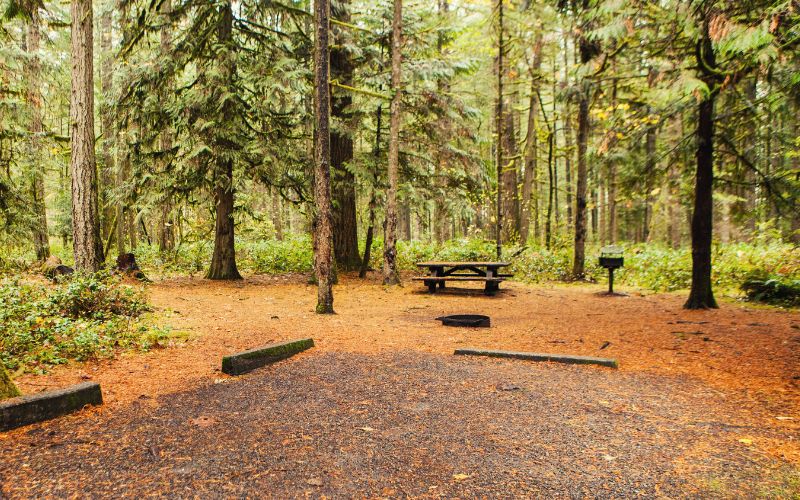 Happy frontcountry Camping!
Frontcountry camping is ideal for first-time campers and those who prefer to camp with access to amenities like flushing toilets, electricity and water hookups, and hot showers.
While backcountry camping may be the preferred way to camp for some, staying at a frontcountry campground is great because it offers easy access to campsites, a more comfortable experience, and closer proximity to services like grocery stores and gas stations.
What are you waiting for? Pick a campground, pack your tent, and head out on your first trip!
If you enjoyed this article, please let us know in the box below. And please feel free to share it with your family and friends.