Goldmyer Hot Springs Hiking Trail Guide
Looking for the Best Goldmyer Hot Springs Guide?
You're in the right place! In this guide, we will be covering the following:
A history of the area
Planning – where to park, directions and opening times
Our trail recommendations
What to bring
Goldmyer Hot Springs may well be a smaller jewel in the Cascades Mountains' jewel-studded crown, but they are a mightily impressive, scenic and altogether impressive one nonetheless.
Tucked away in the depths of the Alpine Lakes Wilderness, this short, easy hike rewards your efforts with a miniature wonderland of water features — a trio of babbling creeks, tumbling hillside cascades and, at the trail's end, a collection of natural geothermal hot springs flanked by a roaring waterfall.
It might not make for an epic wilderness adventure, but for a night camping, lounging and soaking in a very remote, unspoiled and otherwise enchanting spot, it's pretty hard to beat.
In this article, we're going to look at the logistics involved in visiting Goldmyer Hot Springs, from pre-trip prep right through to permits and potential difficulties. After that, we'll include descriptions of the two most popular trails and a few notes on gear, sleeping arrangements and potential hazards.
Before we get to that, here are a few highlights and lowlights of the hike to Goldmyer Hot Springs.
Do
The landowners' admission limit of 20 people per day means overcrowding isn't an issue
There are a total of 3 hots pools ranging from 110F to 104F and one 'cool-off' pool for braver bathers
The area's appeal to the nature-lover doesn't stop with the pools — there are miles of old-growth forest, beautiful waterfalls and creeks, a 900-year-old Pacific silver fir, and views to Mt. Garfield, Wild Dare Peak, Stegosaurus Butte, and Mt. Thompson
The trail to the springs is very well-maintained
Pools are very clean — not a claim that can be made for every hot spring we've visited over the years (!)
Don't
Access to the springs is limited to 20 people per day and reservations must be made (well) in advance
The area is subject to frequent flooding and, as such, unexpected road closures
The forest road (FR 5600 turning into FR5620) requires a high-clearance vehicle (particularly during winter months).
Getting there is a touch on the tricky side
Goldmyer Hot Springs Introduction
​Goldmyer Hot Springs are situated in a secluded, wonderfully quiet corner of the Alpine Lakes Wilderness that is within 2 hours of Seattle by car. Over the years they have both benefited and suffered from periods of overuse and neglect, but today represent one of the most peaceful, well-maintained and generally attractive natural hot springs hikes in Washington State.
History of the Hot Springs
Goldmyer Hot Springs are situated in the midst of one of the last remaining ancient forest ecosystems in North America. Although the springs lie only 60 miles east of Seattle, they get over twice the amount of annual precipitation — enough, in fact, to merit designation as a temperate rainforest.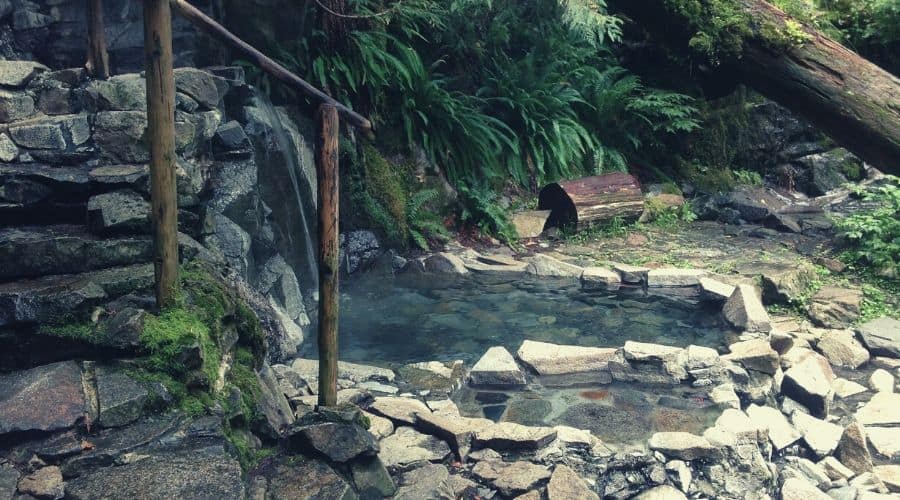 The area was first developed by the logger, homesteader, prospector and hiker William Goldmyer in the early 1900s. Goldmyer, who named the springs 'Crystal Hot Springs Resort', privatized the property as a patented mining claim and ran a lodge for miners and loggers in the early 1910s.
In the 1920s, the property came under the ownership of Bill Morrow, who installed a number of facilities on the site — a basic lodge, bath houses, bridges, a sawmill, a hydro electric power system and plumbing system — with a view to turning it into a resort and a spa. Morrow's efforts were ultimately interrupted, however, by the start of WWII.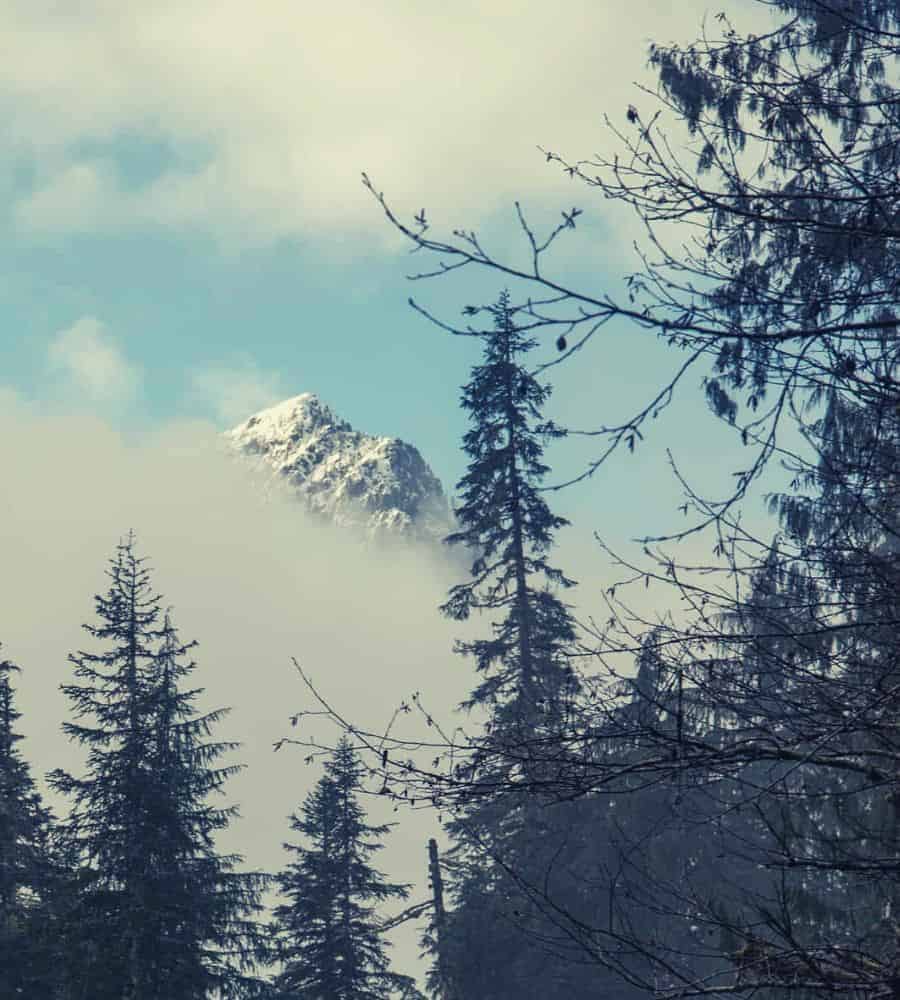 Severe flooding in January 1960 saw the falls fall into relative obscurity until their rediscovery and renaissance as a wilderness party spot in the 1960s and 70s. In 1976, the Morrow family established the nonprofit Northwest Wilderness Programs to preserve and protect the springs from the overuse and abuse (vandalism, littering) that followed and NWWP continues to manage the property to this day.
Type of trail
The two most popular hiking trails to Goldmyer Hot Springs are easy forest trails that involve a few short creek crossings but present no other notable difficulties. Both trails can feasibly be undertaken on cross-country skis, snowshoes or a mountain bike given the right conditions.
Difficulty
Both of the routes to Goldmyer Hot Springs are easy, very well-maintained hiking trails. From the Dingford Creek Trailhead, the Dingford Creek Road* Trail is marginally easier than the Middle Fork Trail, but is also less scenic and of similar length — the trails are 4.7 and 5 miles respectively and each take around 2 hours. If you choose or are forced to park at the Middle Fork Trailhead, the entire hike measures closer to 11 miles each way and should take 3.5-4 hours at a moderate, steady pace.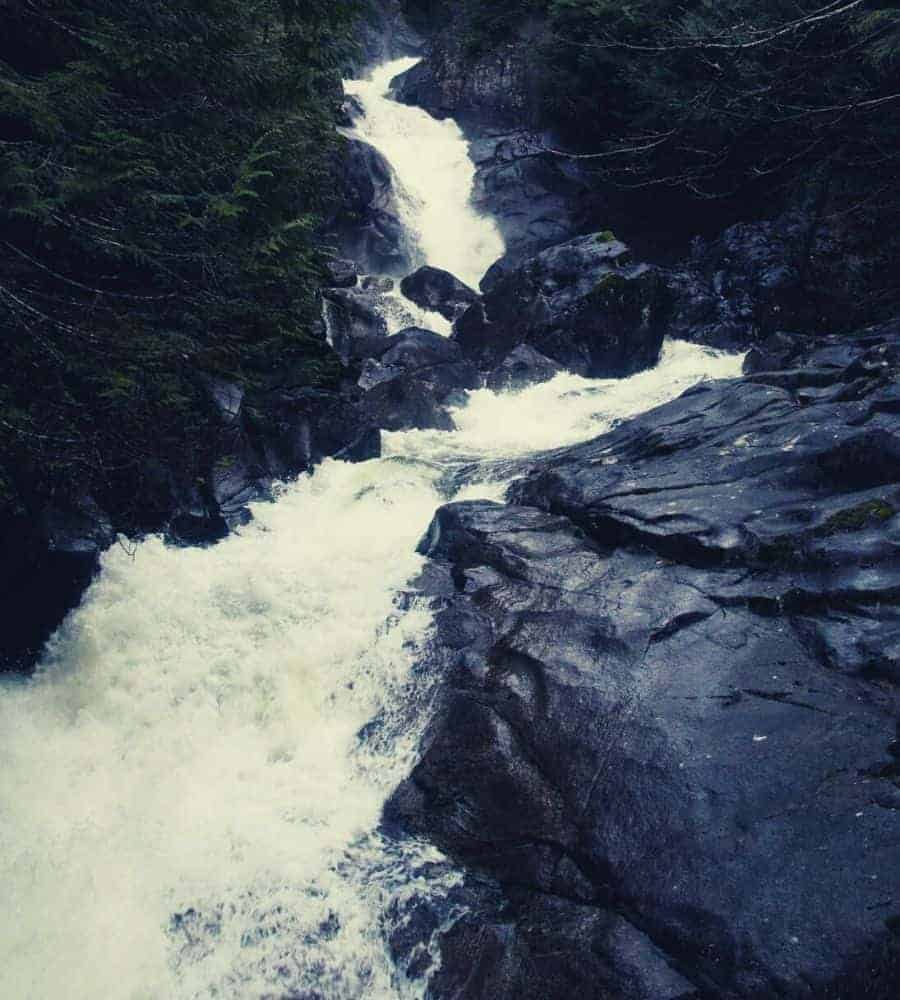 The total ascent/elevation gain from the Dingford Creek Trailhead (1300ft) to Goldmyer Hot Springs (2200) ft is 900 feet.
* Sometimes, confusingly, also referred to as the 'Middle Fork Road' or the 'Dutch Miller Gap Trail #1030'
Planning
Vehicle Access: Forest Road 56 (FR 56) is usually passable with a high-clearance vehicle. The road has potholes up to six inches deep, so drive your low clearance car at your own risk. In the event of road closure or if your vehicle is not high-clearance, be prepared to walk the stage from the Middle Fork Trailhead to the Dingford Creek Trailhead, adding 6 miles each way
Camping: Camping at the springs costs $5 per night, per person 18 years of age and older. Camping reservations can be made at the same time as reservations for visitor permits
Access: FR56 is occasionally closed as a result of washouts and construction work. Prior to setting off for the springs, make sure you check the springs' Access Report, which is updated every Wednesday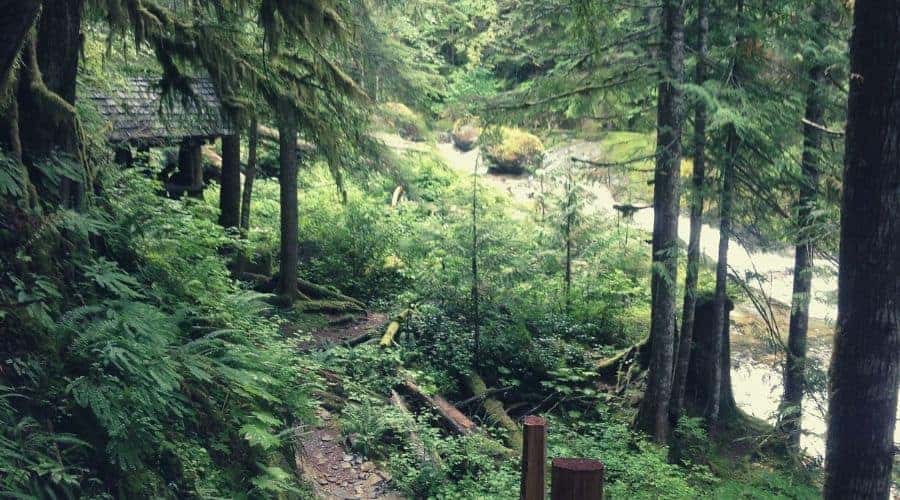 Goldymer Hot Springs is a wilderness area and there are no services at the springs whatsoever. As such, any visit requires complete self-sufficiency. Be sure to pack in everything you will need for the duration of your stay, from clothing and sleeping provisions to food, water and cooking appliances
Permits
Road Access and Parking: A Northwest Forest Pass is required to park at the Dingford Creek Trailhead. An annual pass or a day pass, which can also be purchased online, must be displayed in your vehicle. More info on Forest Passes is available here
Goldmyer Property: It is possible to visit the springs without a reservation, but with access limited to 20 visitors per day we highly recommend booking in advance. To make reservations for both the springs and the campsite, call 206.789.5631 and leave a voicemail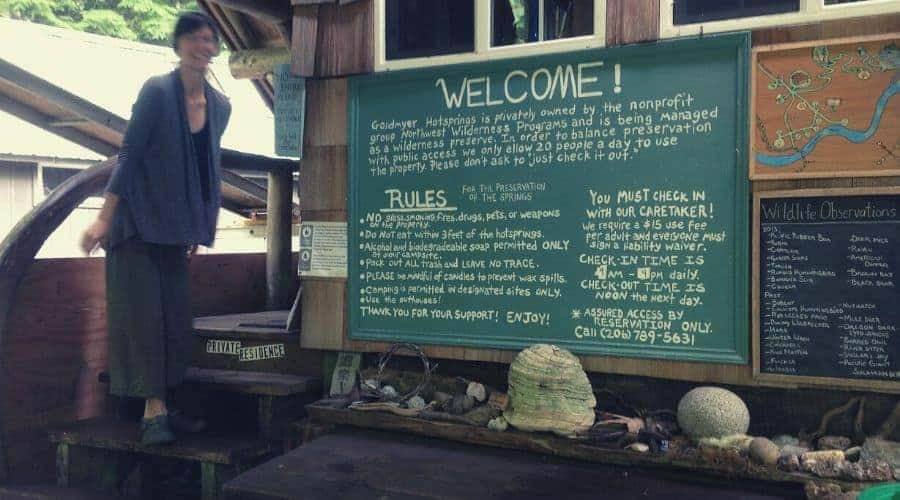 At the time of writing, the price of permit fees for visitors are as follows:
Children (1-17): Free
Adults (18-64): $15
Seniors (65+): $10
Trailheads
From Seattle, head east on the I-90 to Exit 34 (around 45 minutes without traffic). From Exit 34, drive into North Bend and turn right onto Middle Fork Road. Stay on the road until you reach the Dingford Creek Trailhead (an additional 30 mins/9 miles), passing the Middle Fork Campground before taking a right immediately after the single-lane bridge, then follow signs for the Dingford Creek Trailhead.
The address for the Dingford Creek Trailhead (for SatNav use) is NF-5620, North Bend, WA 98045, USA and the map coordinates 47.5173° N, 121.4542° W
Shuttle/transportation
No public transport currently serves the Dingford Creek Trailhead.
Goldmyer Hot Spring Trail Routes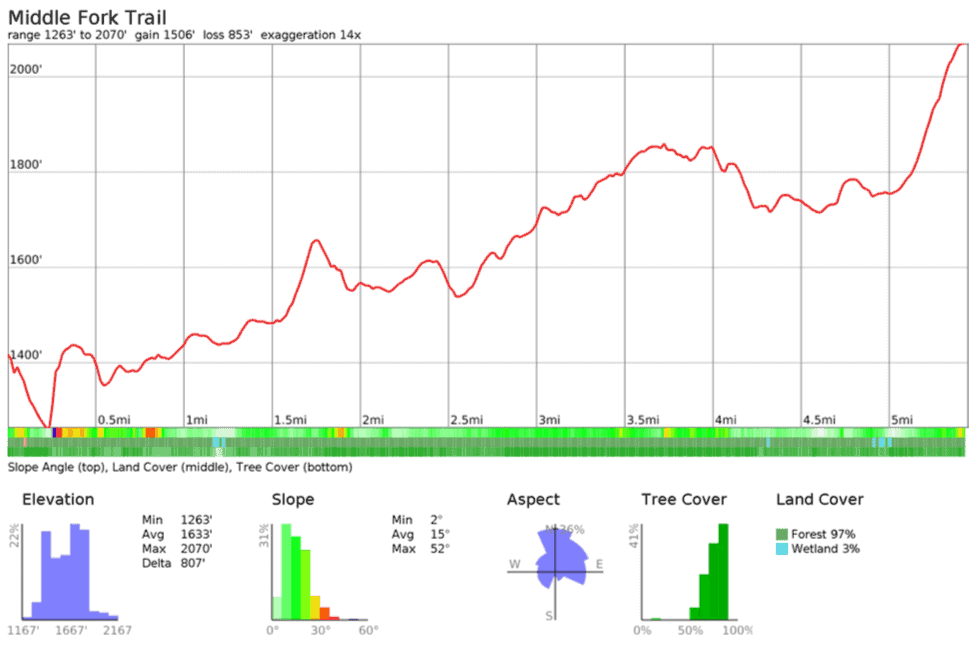 Route #1: Forest Access Road
From the Dingford Creek Trailhead, cross the bridge and head through the old gate. The forest access road flanks a succession of creeks (Dingford, Wildcat, Thunder) at a steady but never steep incline until reaching the footpath to the springs with a right turn just beyond the easternmost tip of Burnboot Creek.
The forest access road is not as enjoyable or scenic as the Middle Fork Trail, but is a safer option following heavy rains or during the spring thaw as it avoids the potentially problematic crossings on the south side of the four creeks.
Route #2: Middle Fork Trail
This route is the more scenic, but more treacherous way to reach the Hot Springs due to multiple stream crossings. DO NOT attempt this route during the winter months or after heavy rain. The trail begins behind the outhouse in the parking lot. It passes a scattering of long-disused logging campsites before arriving at another junction 2.3 miles in. Here a third route to Goldmyer veers off on the Rock Creek Trail (#1013.3), which we have not included in our list on account of its steepness and potential to turn your hike into a lengthy, bushwhacking slog through dense windthrow (trail maintenance crews don't make it up this way quite so regularly).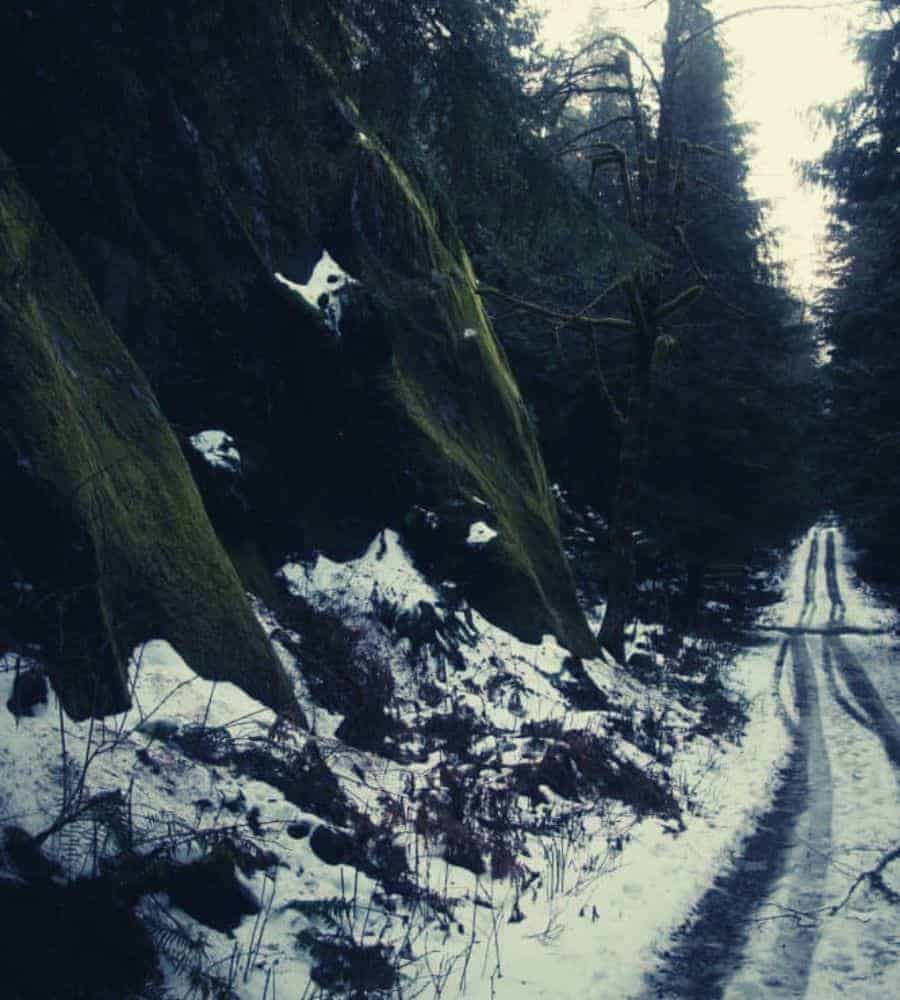 From the Rock Creek turnoff, continue on the Middle Fork Trail, crossing the slightly narrow log bridge over Thunder Creek after about 1.5 miles.
From Thunder Creek, the trail continues gradually northeast until reaching a large meadow. After the meadow, a large bridge crosses Burntboot Creek onto the Goldmyer Hot Springs property.
Good to Know
Dogs are allowed on the trails to the springs but not on the Goldmyer Property
Clothing at the springs is optional. If you wish to spare your eyes the affront of other bathers' backsides etc., you can call to arrange no-nudity times in advance
Campfires are not permitted at the campsite
Payment for permits and camping is cash-only
The pools at Goldmyer Hot Springs are cleaned twice a week
There is no public potable water source or trash service so be sure carry enough drinking water (or some means of purifying water) and pack out everything you brought in
There is no cell phone reception at the springs or anywhere nearby
Mountain biking is permitted on the Middle Fork Trail on odd-numbered calendar days from June 1 to October 31 depending on the conditions of the trail
Goldmyer receives over double the annual rainfall of Seattle — bring your raincoat!
Black bears are common in the area around the springs (food containers are present at the campsite)
If you are traveling to Goldmyer Hot Springs in winter months, carrying snow chains in your car is recommended (the road beyond the Dingford Creek Trailhead is not plowed)
If snow cover is adequate, the access road trail to the springs is suitable for snowshoeing and cross-country skis
Suggested Gear List
Water and food (there are no services at either the campsites or the springs)
Camping stove and fuel
Water filtration device
Swimsuit (optional)
Hiking shoes/boots
Towel
Flashlight and headlamp
Camping gear (tent, sleeping bag and pad, etc.)
Overnight first aid kit
Waterproof clothing
Resources