When winter comes, many campers and backpackers are apt to put their camping gear in storage until the return of warmer weather. But there's no reason why that should be the case. With a little bit of effort and know-how, you can transform your shelter into a cozy cocoon that will see you through many nights of cold-weather camping.
In this guide to keeping your tent warm, we reveal seven ways in which that can be done – as well as four heating methods you should avoid.
7 Ways to Heat Your Tent When Winter Camping
1. Electric Radiator
If you want to equip your tent with the most home-like heat system possible, an electric radiator is the way to go.
Electric radiators have their drawbacks, sure – they're bulky, heavy, and require a fixed power source (not even a larger portable generator will cut it!). These, however, are overshadowed by their positives. Not only are portable radiators quick to heat up and powerful, but they also provide more heat per $ than any other option on our list.
Our favorite electric radiator is the Costway 700W, which is good for a 4 to 6-person tent. For a larger shelter, we recommend the 1500W version.
Pros
Produce serious heat
Safe in polyester/nylon and canvas tents
Most have a tip-over switch for safe use at night
Cons
Electricity output needed
Bulky and heavy
2. Electric Blankets
Modern four- or five-season sleeping bags do a great job of keeping us warm when camping in the winter season. Combine these with a winter or insulated tent and the chances are you'll be snug as a bug all night long. On extra-cold nights, however, they might need extra help from a little bit of tech.
To use a heated blanket, you'll need an electric hookup or a seriously powerful portable generator. That's the downside. The upside is that these blankets are capable of seeing you through even the most frigid of nights at camp.
Pros
Toasty
Can be used with a generator
Safe to use all night long
Cons
Heavy and bulky
Electricity hookup required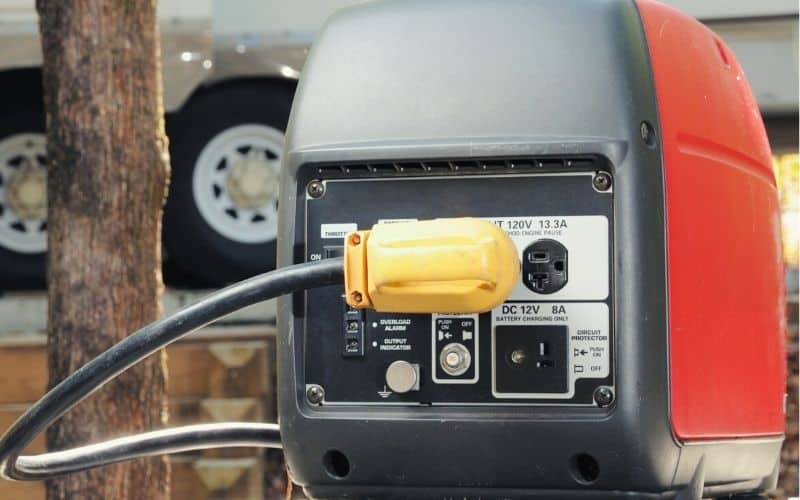 3. Electric Fan Heaters/Space Heaters
In moderately cold conditions, an electric fan heater or space heater might just do the trick. There are myriad options on the market, but our favorite is the Honeywell Ceramic HeatBud, which has safety features that allow you to run it through the night with peace of mind.
Be aware, however, that these tent heaters won't produce as much heat as a tent stove, propane-powered heater, or electric radiator. So, if you choose this option for your camping trips, don't leave those extra warm clothes or hot water bottle at home!
Cons
Limited heat output
Electricity source needed
4. Stove Jack Tents
Tents with stove jacks might be pricey, but so is the hospital bill for hypothermia. If you're a regular winter camper in cold climates, therefore, they may be well worth considering.
Stove jacks are, essentially, heat-proof columns that let the flue pipe of a wood-burning stove extend through the roof or wall of your shelter. Smoke from your wood stove can safely escape through the chimney, just like in a brick-and-mortar building, while the heat stays inside.
Interested in a shelter with a stove jack? If so, check out our guide to the best canvas tents, in which you'll find a handful of great options.
Pros
Warm!
No electricity required
Cons
Expensive
Having a wood-burning stove inside the sleeping area won't be great for everyone's nerves!
Ongoing cost of fuel (wood!)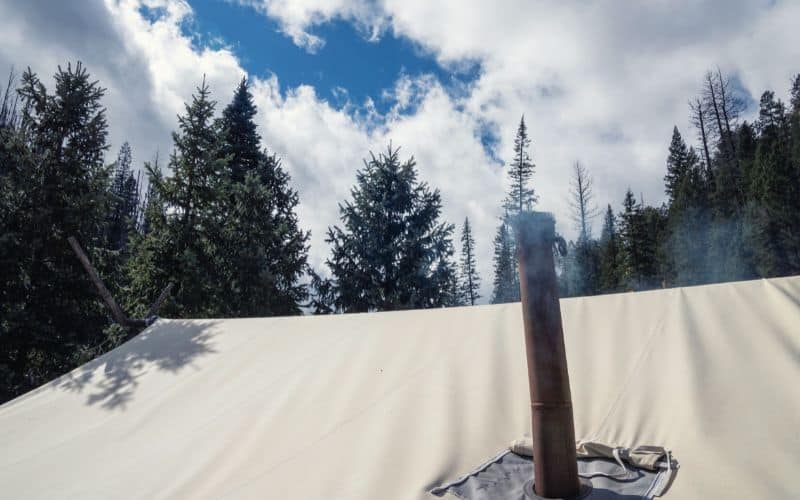 5. Diesel Heater
Diesel heaters like the Silvel Portable are a great option if you have access to an electric power source, space to store spare diesel canisters, and the ability to tolerate strong odors.
As you might have guessed from the above, these heaters have a few downsides. They're pricey, require fuel, emit a strong diesel smell, and need electricity for the controller and start-up.
On the positive side, they can heat large tents and medium-sized RVs, are one of the safest options and are typically quieter and more fuel-efficient than electricity-powered alternatives. Diesel heaters usually have several safety features and have a lower carbon monoxide output than gas heaters.
Pros
Can heat large spaces
Safe
Great for RVs
Cons
Crazily expensive
Need to carry diesel fuel
Electric power source required (to start up and run the controller)
Emit strong odor
Heavy
6. Candle Lantern
Candle lanterns are designed to provide light around your campsite or inside your shelter, but hanging a few of them in there can also add a few degrees of warmth. We wouldn't rely on this method as a primary heat system, but if you're out in heinously cold conditions, they can be used to supplement your primary system – every little helps!
Pros
Affordable
Can supplement your main heat system on the coldest nights
Cons
You'll need a lot of candles!
Only add a few degrees of warmth
Fire hazard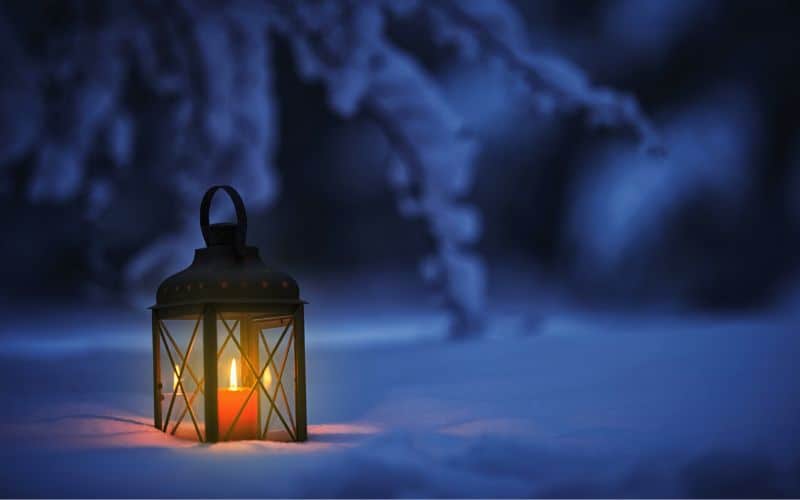 7. Catalytic Heaters
Catalytic heaters like the Camco Wave are a solid option if you have money to burn and plan on camping in locations where you'll have a stable power supply. This heater has no flame and has a shut-off valve for safety. It's also one of the quietest options available and produces enough heat to warm up medium-size tents or a small RV.
The downsides? These heaters do still pose a fire risk and cost a small fortune.
Pros
Produce plenty of heat
Safety shut-off valve
Not as bulky or heavy as other high-power options
Heating Methods to Avoid
Camping Stove
Camping stoves emit carbon monoxide. Even if you have a well-ventilated tent, the risk of carbon monoxide poisoning – something that kills dozens of campers each year – is very high. And because there's an open flame, they also pose a serious fire risk.
Our advice? Save your stove for cooking only – and make sure you do this at least 6-8 feet from your shelter to prevent any fumes from blowing in the entrance.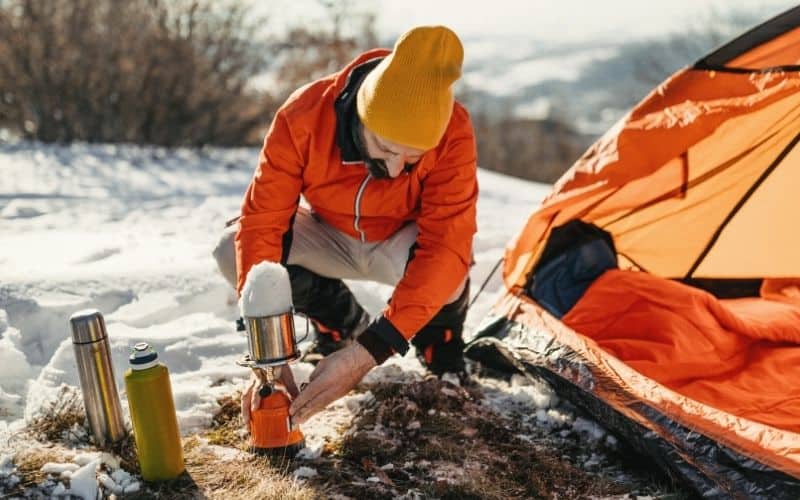 Propane Heater
There are a few propane heaters on the market that are effective in a small tent. They are approved for indoor use, have safety shut-offs that detect low oxygen levels, and produce a decent amount of heat for relatively little money.
However, there are far too many downsides for us to recommend this as a heat source. First up, a propane heater's element has an open flame, so there's a fire risk. Secondly, burning propane produces carbon monoxide, which can (and often is) lethal.
Because these heaters produce carbon monoxide, you'll have to turn them off before going to sleep and ensure your tent's well-ventilated, both of which will make for a cold night.
Finally, propane produces vapor, so the inside of your tent will feel mightily damp if you run the heater for any length of time, which will cause you to lose body heat even quicker once the heated air turns cool.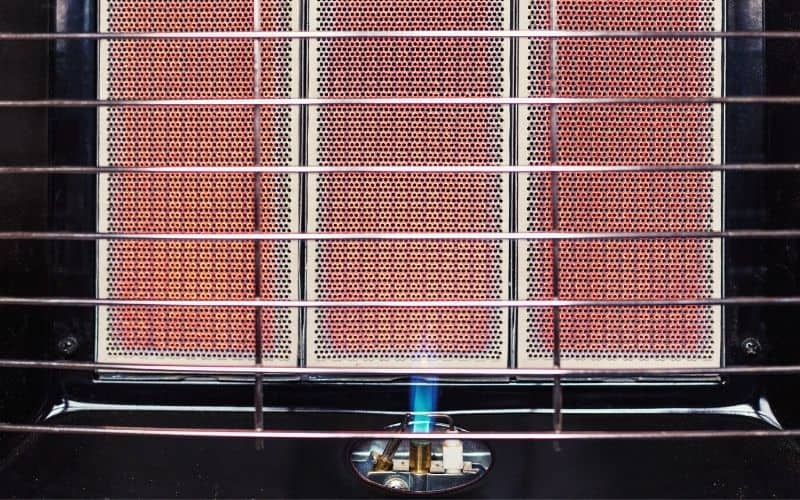 Hot Rocks
Over the years, we've heard plenty of quirky and kooky ways to heat your tent, but this one takes the biscuit. Proponents of this method suggest making a campfire, waiting until the fire goes out, then pitching your tent on top of it and the "hot rocks" of your fire ring.
What could possibly go wrong?!
Even if the embers or rocks didn't burn through your tent floor, leaving you exposed to the cold night air, the rocks would make for lumpy bedding. Hot-rocks users might counter this by suggesting you soak the rocks before shifting your tent, but those wet rocks will still be lumpy and they'll be packing next to no heat.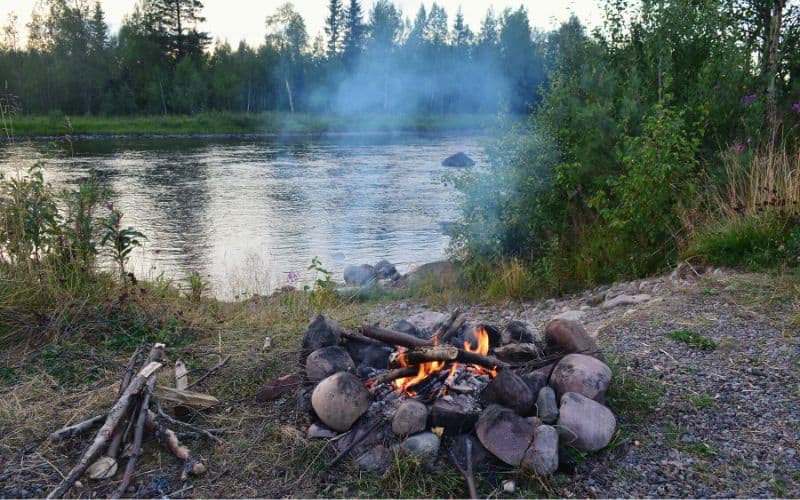 Candle in a Terracotta Jar or Pot
This method, which is currently all the rage on the internet, involves placing a tea light under an upturned terracotta pot.
The idea is that the warmth absorbed by the terracotta will then heat the surrounding space.
The reality? Not quite so impressive. One of the fundamental laws of thermodynamics holds that energy cannot be created or destroyed within any system, i.e. a second source of energy is required for the first to augment. Given that the candle is one source of energy and the terracotta isn't…no dice!
In practice, then, this form of "camping heater" will only create as much warm air as a tea light. If you're happy to carry a few hundred of those, then you might be able to heat a cold tent to a tolerable temperature and stay warm. If not, you'll be far better off with one of the options listed above.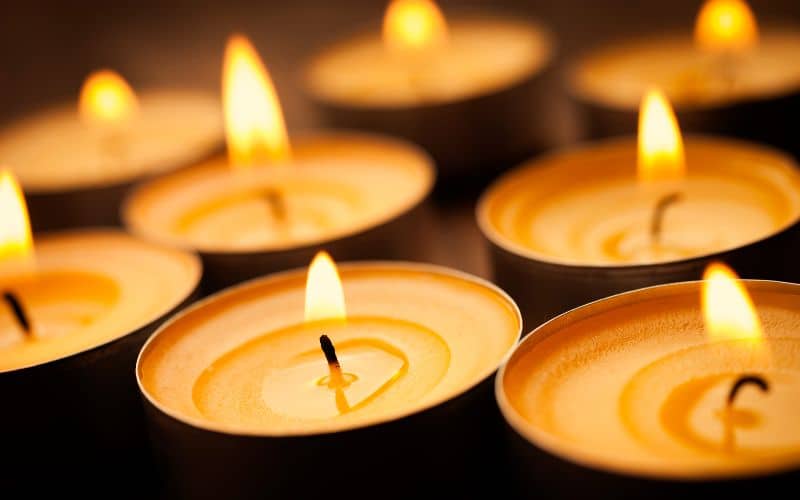 Tent Heating Safety Advice
Whichever form of heating you decide upon – an electric blanket, an electric heater, battery-powered heaters, a stove jack, etc. – there are a few basic but absolutely essential safety precautions you need to follow:
Never leave your tent unattended with your heat system running.
Turn off any system that poses a fire risk before going to sleep.
Ensure your sleeping bag, clothing, and anything else that could catch fire is a safe distance from the heater.
Exercise caution when passing the heater – the sleeves on down jackets and synthetic mid-layers are highly flammable!
Never use a camping stove (butane, propane, liquid fuel, alcohol, or otherwise) inside your tent or in the vestibule. To be on the safe side, we recommend using your stove at least 6 feet from the entrance.
Consider investing in a portable carbon monoxide detector like the Lunarlipes Handheld device.
Never pitch your tent close to your campfire hoping that this will help to warm it up – it will, of course, but probably a little more than you'd care for.
Make sure your heater is at least a couple of feet away from the fabric walls of your shelter.
Ensure your heater is stable and won't topple over while in use. Ideally, it should be placed on a flat, hard surface.
FAQs
Are electric heaters safe in a tent?
Not all electric heaters are created equal and "safe" is a relative term. While safer than a gas heater, electric models must have a few safety features to be used inside tents. The most important of these is an automatic shut-off that will switch off the device if it overheats or topples over.
Are gas heaters safe in a tent?
A "gas tent heater" is a misnomer, because a gas heater should never be used inside tents. Since they produce carbon monoxide – which can kill you – these heaters should only ever be used in well-ventilated areas. Even outside, you'll have to exercise extra caution to ensure the naked flame doesn't start a fire.
What else can I do to stay warm when winter camping?
Besides hot water bottles, double-wall tents, 4-season sleeping bags, and chunky insulation between the floor of your tent and the cold ground, there are a handful of things you can do to heat tents (or their occupants) in cold conditions, all of which you'll find in our Winter Camping Tips and guide on How to Insulate a Tent.
heating for a tent: Final Thoughts
Wherever you plan on doing your winter camping, one of the options on our list for heating your tent will help ensure your nights under the canvas (or in the RV) are far less frigid! 
If you liked this post or have any questions, please drop us a line in the comments box below. And if you'd like to share it with your cold-weather camping friends, please do!