Located in northern Georgia's Chattahoochee National Forest, Helton Creek Falls is a wonderful option for those wanting to experience the splendor of nature on a hike that can be completed in less than an hour.
A short stroll through a quiet forest filled with bright mosses, ferns, and numerous rhododendron thickets leads past two distinct drops, a swimming hole, and an upper falls that seems to, naturally, split in two.
Let us walk you through the ins and outs before you go.
RELATED READING: For more outdoor fun, check out our guides for more great hiking in Georgia.
Key Takeaways
See two picturesque waterfalls

Short, easy trail requires little time commitment

6-foot deep pool beneath upper falls is ideal for summertime swimming

Convenient observation platform provides comfortable nature viewing

This trail can be crowded due to its family-friendly nature

Must navigate a narrow, rutted, dirt road to reach the trailhead
Trail Details
Helton Creek Falls is a popular destination and is centrally located between the towns of Helen, Blairsville, and Suches. The hike to reach the falls follows a well-marked and maintained out-and-back trail navigable by most, including elderly hikers or young children.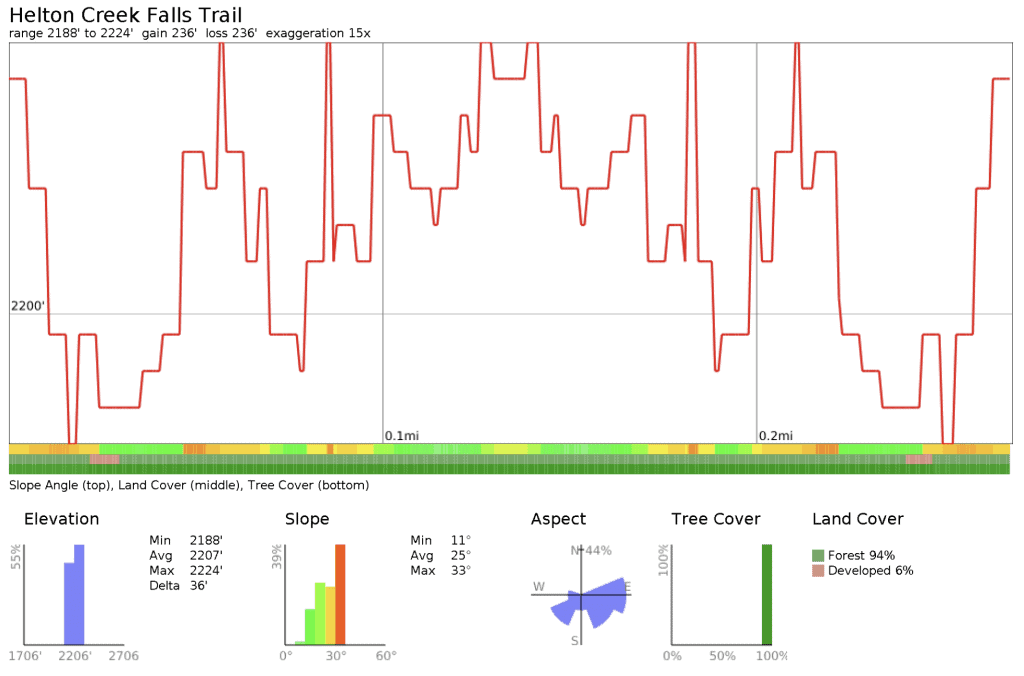 Georgia's Vogel State Park is a great, nearby camping option for this hike, as well as a helpful point of reference (click here for more Georgia camping spots). The turnoff for Helton Creek Rd. is located only 1 mile from the state park entrance. Here are other key details to know before your hike to Helton Creek Falls:
Difficulty: easy
Two waterfalls, upper and lower
0.3 miles to upper falls (0.6 round-trip)
Observation platform for birders, nature lovers, and photographers
Trail conditions – gravel with wooden, man-made stairs
92ft. of elevation gain (43 gained, 49 lost)
Planning
Best time to hike Helton Creek Falls
Springtime, typically, results in the highest flows of water over the two cascades, while summer and fall are the best times to enjoy a dip in the pristine water that pools beneath the upper falls.
Don't rule out a hike to Helton Creek Falls if you will only be visiting the area during colder months. In fact, winter hikes to the falls provide a vastly different, yet still impressive, landscape as ice begins to form on the slabs of rock on either side of the main flow.
Directions to the Trailhead
Helton Creek Falls Trailhead is located along Helton Creek Rd, and it can be accessed from either the west (Route 19) or the east (Richard Russell Scenic Highway). Be aware that both routes to reach the small parking area involve narrow, gravel roads that can make two-way traffic difficult.
If traveling along Rt. 19, look for Helton Creek Rd., which is located approximately 1 mile south of the entrance to Vogel State Park. The small pull-out for parking, adjacent to the trailhead, is 2.2 miles along this road. Use caution as the road turns to gravel!
If approaching from the scenic highway to the east, Rt. 348, look for Hatchet Creek Rd. Follow for 1.3 miles before turning right onto Helton Creek Rd. In 0.6 miles after this turn, you will see the small parking area, which can hold close to 10 cars, on the right across from the trail. Also, note that this approach crosses two small streams, navigable most of the time by any vehicle, although 4WD is recommended.
Helton Creek Falls Trail Description
A small sign across from the parking area marks the beginning of the trail which follows Helton Creek for numerous views of the two waterfalls. The trail quickly descends into a dense valley and heavily forested, vegetated gorge. Look up through the trees for a unique vantage containing both cascades of Helton Creek, one of the only spots along the trail where you can see both at the same time.
A short but steep side trail will become visible on your left, not long after you start hiking. Head down the 20 wooden stairs for a peaceful view of the lower falls which tumble into a crystal-clear pool of water before continuing on. The shallow depth found at the base of the lower falls makes it a more suitable spot for infants who want to splash around.
Return to the trail and continue left for approximately 5-10 minutes before arriving at a wooden platform at the base of the larger, Upper Helton Creek Falls. Take a break and enjoy your front-row seat to one of North Georgia's best waterfalls. Those who wish to explore further or cool off in the 6 ft. deep pool of water at the fall's base can scramble down on the rocky trail to the left of the platform.
When you're ready to return to your car, simply retrace your steps back down the trail for a total distance of 0.6 miles.
Suggested Gear List
As a result of the minimal distance needed to reach the falls and the, relatively, easy trail there are many who will feel comfortable setting out on this hike without carrying any gear, food, or water. In reality, a moderately fit person could see both falls and be back in the car in less than 45 minutes.
Remember, however, that you should always consider the ten essentials for every hike. There are some instances, this hike is one of them, where you may be able to justify not carrying certain items.
Ultimately, you should ensure that left-behind items were done as a result of logical, justifiable decisions and not simply forget about them.
Here's a small list of what we might carry for a hike to Helton Creek Falls:
Gear:
Daypack
First-aid kit
Trekking poles (and the skills to use them properly!)
Food and Water:
A few snacks to eat during a lunch break on the observation platform – look for foods that are suited to hiking and backpacking
0.5L of water per person – we prefer collapsible bottles
Other Considerations:
Camera – a must for this hike!
ND filter and tripod for the serious photographer who wants the best images of the falls
A lightweight, packable towel if you plan to swim at the base of Upper Helton Creek Falls
Good to Know
Dogs on the trail
Dogs are allowed on this trail, however, the forest service does require them to be leashed. Please, extend your leave no trace practices to your pet by carrying a 'wag bag' for any bathroom surprises along the trail.
Waterfall caution
Always exercise extreme caution when stepping across slick rocks found at the base of waterfalls. This same caution should be intensified for those who attempt to access the top of a waterfall, perhaps, for a photo opportunity.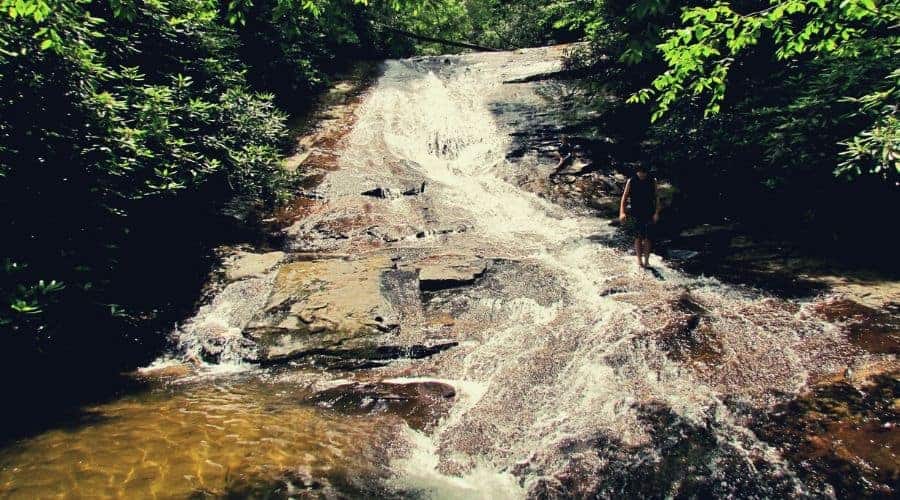 Also, never jump into a natural pool of water unless you have confirmed its depth and lack of underwater obstacles.
Local spots to explore after your hike
Mountain Crossings – Local, outdoor, sporting goods store located within a historic building. Also, a cool spot to chat with A.T. thru-hikers as the trail intersects their location.
Jim's Smokin' Que – Quick-serve, delicious barbeque is always a great way to end a hike.
Sunrise Grocery – Visit this quaint, country store that has been serving local food and novelty items for almost 100 years
Helpful Resources