Hitting the trail in the snow can be a magical experience. The fresh powder, the crisp air, and the silence of the woods or mountain trails can make you feel like you're in another world.
But winter hiking poses more hazards than hiking in summer, spring, or fall. Before you hit those trails, there are a few things you need to know to ensure your hikes go as planned. Whether you have started winter hiking recently or you've been doing it forever, this article has all the tips to keep you warm, dry, safe, and smiling on the trail!
1. Layer Up
Whether you're on steep slopes in the backcountry or on a mellow path in your local woodland, hiking in the winter means cold temperatures, high winds, and getting wet! Staying warm and dry is easier than we think, but it requires good layering.
First, your base layer. This is designed to remove sweat from your skin – to wick moisture. You want a breathable fabric. A non-breathable base layer is as good as none. You'll be wet and cold.
We recommend a polyester or merino wool long sleeve and tight pant. The thickness depends on how much energy you plan to exert. Generally, the thicker the baselayer, the warmer.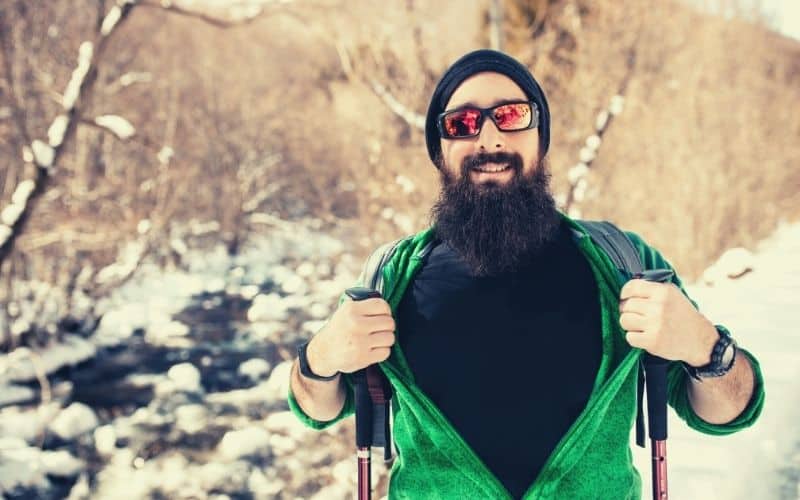 Next, the mid-layer. While the base layer is all about removing the sweat from your skin, you need to trap and regulate your body temperature, which is the job of the mid-layer. The biggest range of materials falls in this category: wool, fleece, polyester, acrylic, down, synthetic insulation . . . and more.
The most affordable option is polyester fleece. These are quick-drying, lightweight, breathable, and keep you warm when wet. The biggest downside is that they do not pack small.
But what about those puffy jackets? We're getting there.
Despite down-insulated jackets being the gold standard for years, recent technological developments in synthetic insulated jackets have greatly increased their appeal for winter hikes. If you live in a damp or wet area, these are your go-to. Synthetic jackets retain 90% of their warmth when wet, have a water-resistant coating, are lightweight, and are incredibly packable.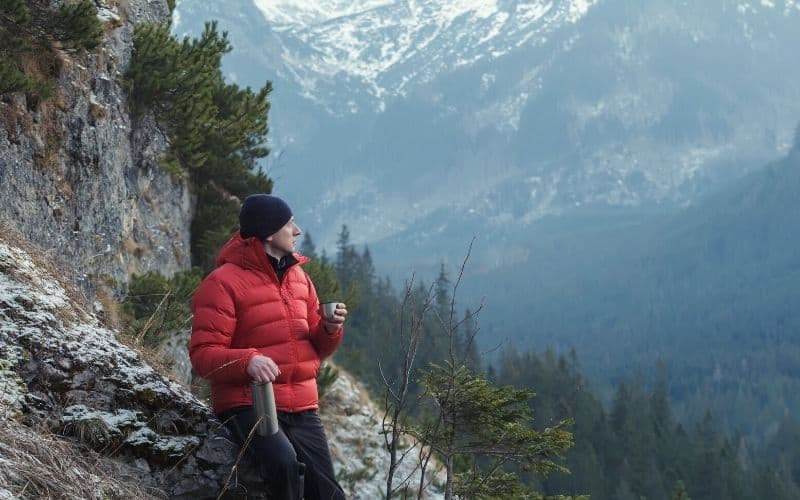 Down-insulated jackets are incredibly lightweight and compactable, often packing into their own pockets. However, down loses virtually all of its heating capability when wet and is less breathable.
Lastly, your waterproofs. These are designed to allow body heat to escape while keeping you fully dry. Generally, these are broken down into softshells and hardshells. Softshells are designed to keep you dry and warm from the wind, as well as comfortable. They are often stretchy and great for high-output activity. However, they are only water-resistant.
Hardshells, on the other hand, are "bombproof". If you encounter a rain or snowstorm on your winter hike, these are your armor. They are fully waterproof and durable; however, they are very expensive.
Features to look for in a hard or softshell jacket are pit zips, exterior pockets (for maps), roomy pockets, and dual zippers. For trousers, a thigh pocket and leg vents.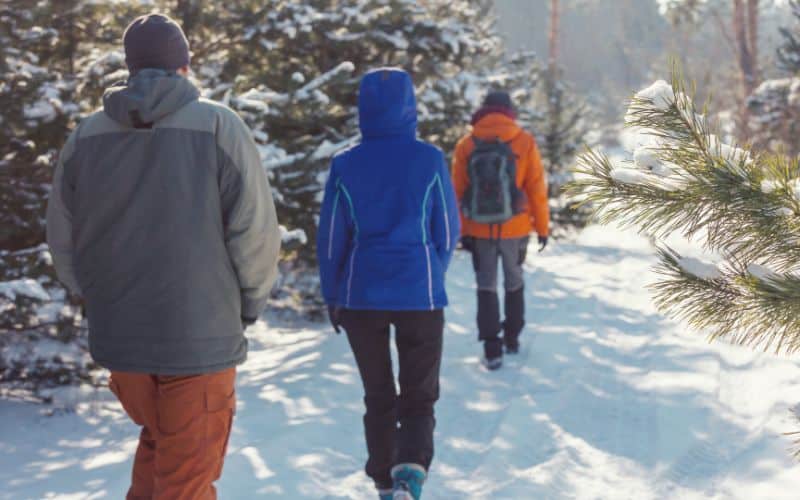 Quick recap? Wear layers! More detailed explainer? Check out our guide on how to layer clothes for cold weather and what to wear hiking in winter.
2. Footwear
Winter hiking boots may be heavier than your summer hiking shoes, but they are guaranteed to keep your tootsies much warmer when undertaking hikes in the snow.
Before the boots, you want a good pair of hiking socks.
Like your base layer, you want a sock that's warm, breathable, and sweat-wicking. Contrary to popular belief, however, you don't want the thickest wool socks you can find, and you don't want to wear two pairs. Socks that are too thick will cut your circulation or make you sweat profusely. A good, relatively thin merino wool sock like the Darn Tough Light Hiker Micro Crew is a great option.
Now, boots. Winter hiking boots come in a variety of different shapes, sizes, and styles. Whether you're going for a long flat walk or plan on reaching the summit of every peak you can see, proper winter boots are crucial for success and comfort.
If you live in a very cold climate, then consider insulated winter hiking boots like the Oboz Bridger. If you live in a damp and wet climate, or you'll be treading through deep now, then waterproof boots are the way to go. While snow might not be 'wet', the heat of your moving feet will naturally melt the accumulation of snow on your feet.
For those of you planning more serious hikes with a lot of elevation gain, mountaineering boots might be better. There are three gradings.
B1 boots are flexible and lightweight all-year-round boots and don't have much insulation.
B2s are heavier and stiffer but are the go-to winter hiking boots of most hikers in the lower 48. These are especially suitable if you need to kick steps in packed snow and ice.
Lastly, B3s. These are designed for ice climbing, mixed climbing, or very steep gullies. They are designed to work with a step-in crampon, too. These are far too stiff and heavy for most winter hikers.
3. Microspikes, Crampons, or Snowshoes?
Trail conditions are always changing based on the weather and foot traffic, and you want to be ready for when you encounter snow.
Microspikes – otherwise known as 'ice cleats' – are the most versatile, popular, and affordable form of traction. They fit on a variety of shoes and winter hiking boots, are easy to take off, and provide enough traction to keep you safe on hard-packed patches of snow.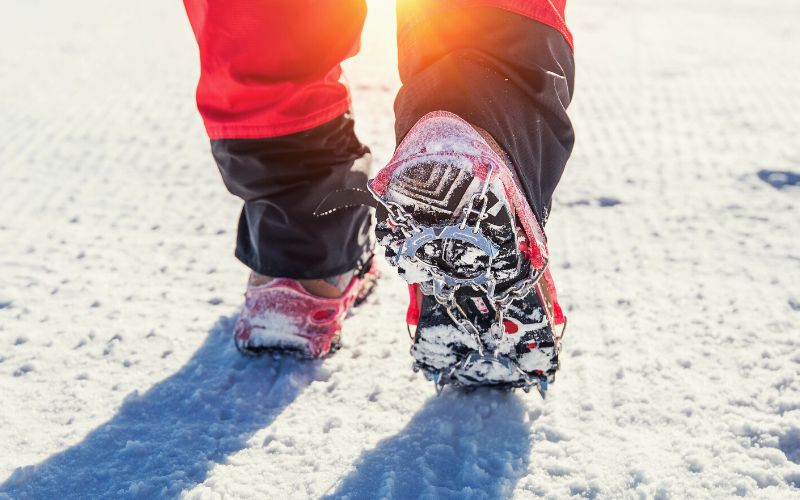 Crampons are heavier, stiffer, and much sharper, but they shine on steep, icy trails. Crampons are worn with boots, and different types of boots suit different crampons. Generally, unless you're ice climbing or winter mountaineering, a B2 hiking boot with a C2 crampon is perfect.
Crampons bite into the ice, won't pop off when properly put on, and they'll keep you safe on a variety of icy terrain.
If you don't plan on tackling steep summits or trails, don't get crampons! Not only are they more expensive, but you'll trip over your feet and make holes in your pants.
But what about the deep, powdery snow in which crampons and microspikes are ineffectual? In a word: snowshoes. Snowshoes prevent you from sinking into the snow by distributing your weight over a larger surface area. After a big snow dump, we recommend you wear snowshoes . . . it'll make the hiking much easier.
4. Eyewear
High winds, bright sun, blowing snow – whatever the case, if you can't see, you're in trouble.
Ski goggles like the WildHorn Roca are great for winter hiking. If you can't see, how do you navigate? In white or flat light, the terrain becomes imperceptible. The contour lines on your map simply cannot be deciphered in front of you, which could lead you to walk straight into (or over) cornices, tree wells, and other hazards.
So, while goggles keep the wind and snow out of your face, they can also help you identify the shape of the landscape. In flat light, an orange or yellow lens will serve you best.
Bluebird days are beautiful, but exposure to bright snow for a while can also blind you. A good pair of polarized sunglasses, or a proper gray lens for your goggles, will help keep your eyes protected.
5. The Ten Essentials
This list may vary slightly based on where you're from, but these ten items or 'systems' are widely recognized as essential(it's in the name!) for any hike – whether they're group or solo hikes. Developed in the 1930s, this list has evolved from individual items to systems.
Although having these items is important, more important is knowing how to use them!
Navigation (map, compass, GPS, beacon)
Knife
Sun protection (sunglasses, hat, cream)
Extra clothing (especially in the winter!)
Headlamp (batteries, too)
First Aid Kit
Fire (matches, lighter)
Food
Shelter (emergency blanket)
Water
For winter hiking, we'd also add to this list a good pair of hiking poles to aid your balance when hiking on ice or loose snow.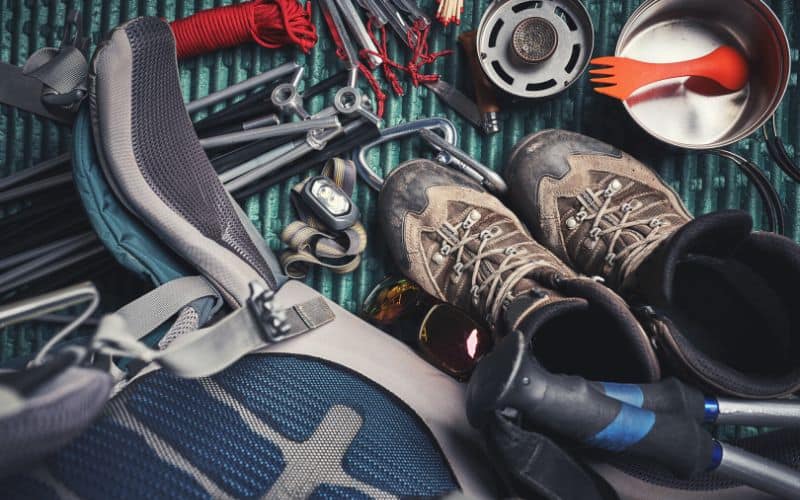 6. Wear Gaiters
Hiking in the winter means snow and wet mud – potentially lots of both. Gaiters cover your legs up to your knees and go over your boots to prevent snow from getting inside them. While they are not the most fashionable pieces of gear, they are waterproof and breathable, which is crucial.
7. Assess Avalanche Risk
Simply put, avalanches are terrifying. Every year people get swept up and die. If you intend to hike through avalanche terrain, it is crucial that you take an Avalanche Safety Course and learn how to read the weather forecast and snowpack, what to take (probe, beacon, shovel, avalanche bag) and, most importantly, what to do if an avalanche breaks.
Avalanche forecasts are based on multiple factors; however, they are only predictions. Just because you had the green light yesterday doesn't mean that nothing's changed overnight. You may be facing a new wind slab.
Before reaching the trailhead, you should have already assessed the forecasts and the avalanche history in the area. If you know you're heading out next Saturday, monitor the weather, freeze-thaw cycles, wind activity, and avalanche history in the area.
Always be attentive – what is in front of you is what's real. As you're walking, ask yourself whether the snow and trail conditions meet the forecast.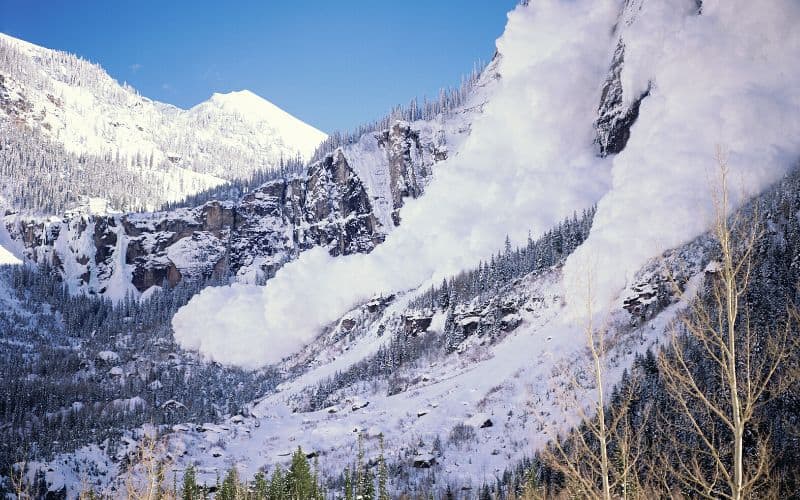 When choosing your hiking route, you'll want to consider the avalanche activity along the route, as well as where your route goes. Are you crossing over cornices, or are you below an avalanche-prone area? What areas and altitudes are most at risk? If you are in a relatively unstable or vulnerable place, plan escape routes and alternatives.
Weather often dictates avalanche activity. If you start early and avoid the midday heat, which can melt snow and make snowpack more unstable, you'll be in a better position.
Remember, if the hike you intended to do passes through any red zones, don't go! The hike will always be there, but not the snow.
8. Buy an Avalanche Beacon
Avalanche beacons are electronic devices that receive and transmit a signal that allows you to be rescued by another beacon wearer (or rescue them) if caught in an avalanche. While it is important to have an avalanche beacon, it's useless if you alone have one in your group, or if you don't know how to use it.
Everyone in your party should wear one beneath their jackets. This keeps the electronic device warm. At the trailhead, before leaving, do a 'beacon check' to ensure everyone's device is on and working.
9. Choose Your Trail Wisely
From low-altitude walks to high alpine ridges, a winter's day hiking can be spectacular if properly planned and prepared for. Skip these steps, however, and disaster can strike fast.
Having assessed the avalanche and weather conditions, it's now important to ensure you are embarking on the right trail. North or south-facing aspects? Will you be walking beneath cornices, couloirs, or avalanche-prone sections?
There are many apps and websites out there that allow you to map out your route in 3D. On some, you can plug in the current avalanche forecast so that avalanche-prone aspects will show up in different colors.
Having assessed the conditions and chosen your route, bring the right gear. On steeper ridges and faces, an ice axe and proper crampons can save your life. As always, learn how to self-arrest before navigating on this terrain.
10. Give Yourself Time
Night falls fast in the winter and you have fewer daylight hours to do your adventuring in. This being so, on most winter hikes, it's wise to make an early start (before sunrise) and give yourself at least one hour of play in case anything happens.
Wading through snow or carefully navigating icy trail conditions takes far more time than simply blazing through in the summer. Moreover, you don't want to get benighted and stuck out in the cold weather when it's dark. Everything is easier in the light, so maximize your chances of completing your hike before nightfall!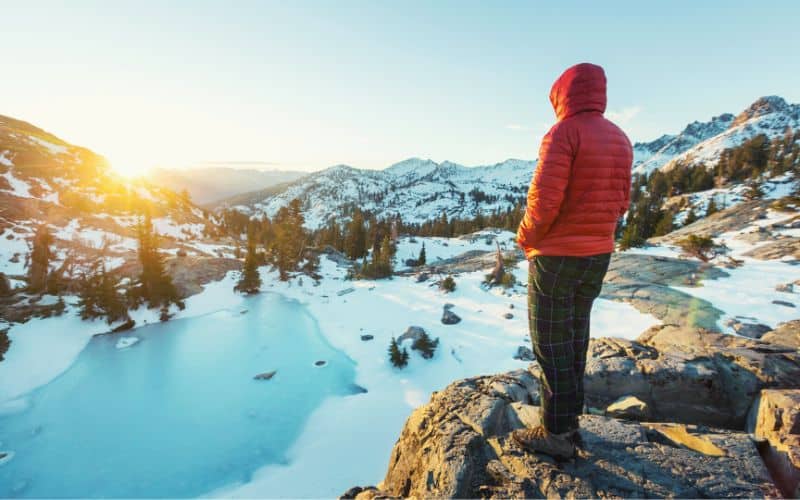 11. Leave a Note
Whether you're heading out for a solo day hike or you're trekking with your buddies, it's important to inform someone who is not going where you will be and when they can expect you back. Provide them with your itinerary, your estimated times, and establish a few checkpoints where you will get in touch with them – even if it's just to say hi.
Many trailheads also have books you can sign. Sign it! Mark your name, date, phone number, the time you left, and the hike you're doing. This may seem silly, but if anything happens, this is a point of reference and your steps can be traced.
Similarly, leave a note on your car. If the park wardens come to lock the parking lot and see your car parked there, the note will point them in the direction of where you are.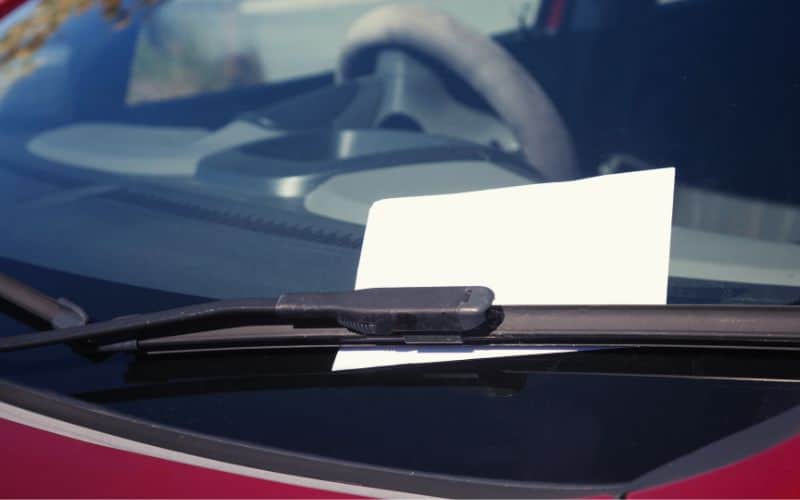 12. Eat (and Drink…)!
You might not feel as hungry or thirsty in the winter because you're not sweating as much, but you still lose a lot of moisture, if not more, due to increased exertion. It's important to stay hydrated and to eat something every hour.
A good tip is to fill up your water bottle with hot water. This prevents it from freezing during the day. A warm beverage is also one of the best ways to keep warm and hydrated. Whether it's your favorite tea or a hot chocolate, this has the power to rejuvenate you.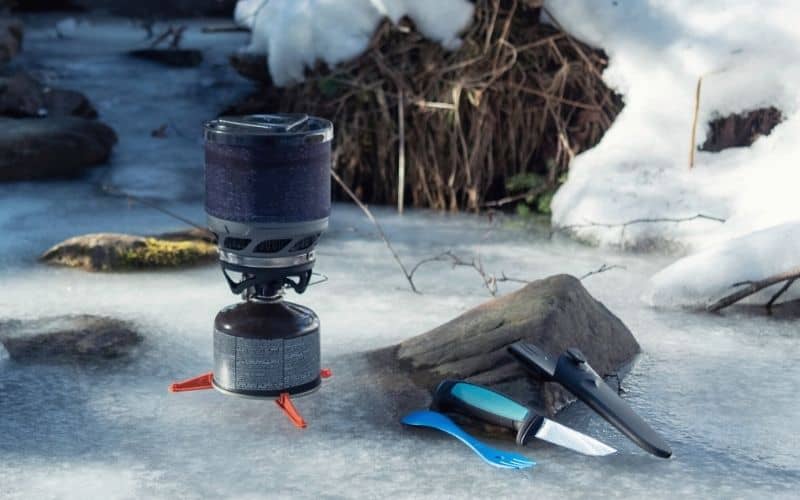 13. Learn How to Treat Hypothermia, Frostbite, and Frostnip
Winter hiking means cold or freezing temperatures and wet gear, a combo that could lead to hypothermia for the unprepared.
Hypothermia occurs when your body heat (your core temperature) drops significantly. Cold exposure causes your body to lose more heat than it produces. Your body also uses up energy in an effort to fight heat loss, which in turn makes it more difficult for you to get somewhere where heat can be restored, i.e. a hut or shelter.
The best way to avoid hypothermia, frostbite, and frostnip is to dress appropriately and keep your skin covered at all times. Wear a warm, dry, and breathable insulating layer, have a proper mid layer (and an extra), and suitable, high-wicking baselayers. Keep moving throughout the day to keep your body warm, and ensure you stay well-fed and hydrated.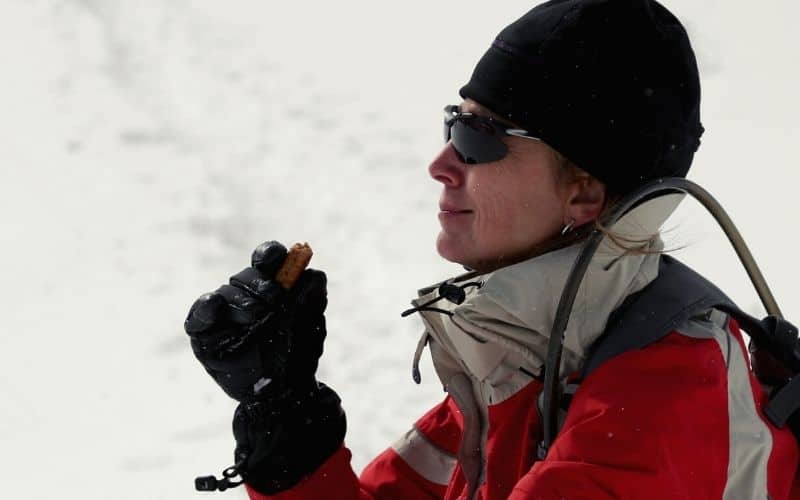 And if hypothermia does strike a member of your team?
Recognize the signs: slurred speech, shivering, drowsiness, numb hands and feet, confusion, clumsiness, and shallow breathing. During moderate to severe cases of hypothermia, people may start taking their clothes off.
To treat hypothermia, start by getting out of the cold as soon as possible. Remove any wet clothes and dry the afflicted person. Then, heat them up, focusing on their core rather than their hands, feet, and limbs. Use blankets, down jackets, hot water bottles wrapped in cloth, or an emergency space blanket. A warm drink will also help to raise their core temperature.
The aim is to heat them up slowly. Too fast can shock the heart.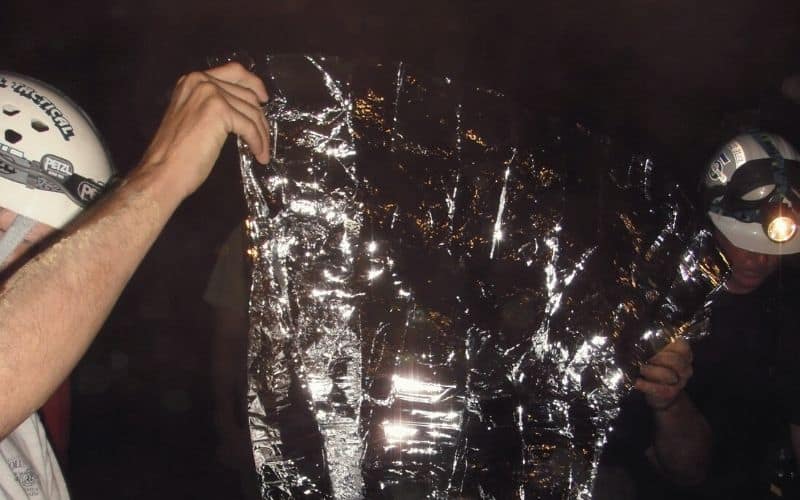 Frostbite is a skin injury, caused by a freezing of the skin and the tissues underneath. While most cases are mild, a severe case can result in the loss of the affected area. It is most common on the ears, toes, fingers, cheeks, and chin. While exposed skin is the most vulnerable, frostbite can also occur to the skin beneath layers, especially wet layers.
Using the fingers as a point of reference, there are four stages of frostbite. The first is simply cold fingers, with no discoloration. The second is frostnip, where your fingers can be red or white, cold and numb, and prickly. Frostnip can be treated by simply rewarming your fingers.
The third stage, superficial frostbite, has the same symptoms as frostnip, but you may get blisters after rewarming your hands. Your hands may appear white or clay-like. The fourth stage, very serious, is deep frostbite. Your fingers will be black, large blisters will appear, and your joints may stop working.
Seek medical attention if you suspect you, or the person you are winter hiking with, has superficial or deep frostbite, fever, increased pain and swelling, or new symptoms.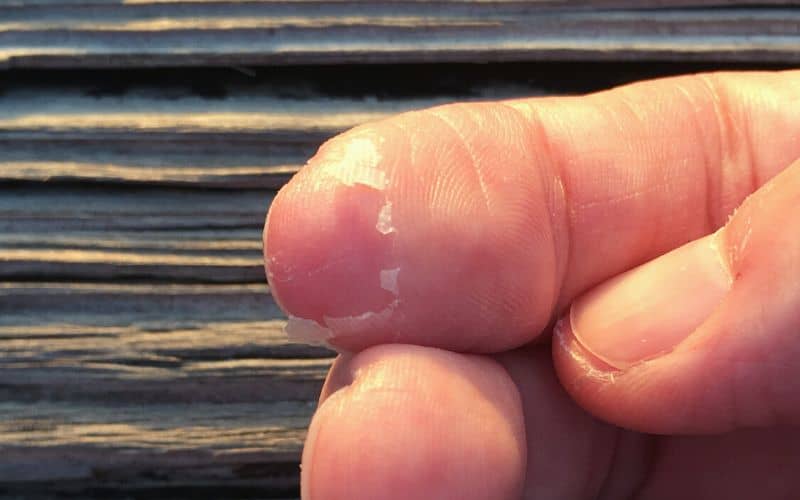 14. Double Up on Essentials
The fact of the matter is, if you're out winter hiking for an extended period of time, you're bound to get wet and/or cold at some point. As we've seen, this can potentially be dangerous, so doubling up on some of the essentials is crucial.
We always recommend carrying extra gloves (fleece gloves at the very least), extra snacks, an extra fleece sweater, and a spare hat and batteries for your headlamp. The last item is important, especially in winter conditions. Despite what manufacturers might say, headlamps tend to run out of battery quicker in cold weather.
If you think a phone light will get you out, think again – these run out of battery even quicker!
15. Go Home!
Winter hikes are never complete until you are back home safely, bundled up in bed. There's a classic saying that reaching the summit is only the halfway point. The majority of hiking and mountaineering accidents happen on the way down. You're more tired, think the hard labor is behind you, and you pay less attention to what's happening.
Even after reaching the summit, it's important to stay hydrated, eat, and ensure you're warm. You want everything to be working so you can make the best decisions possible. After all, if you don't get home, you won't be able to enjoy these beautiful moments again!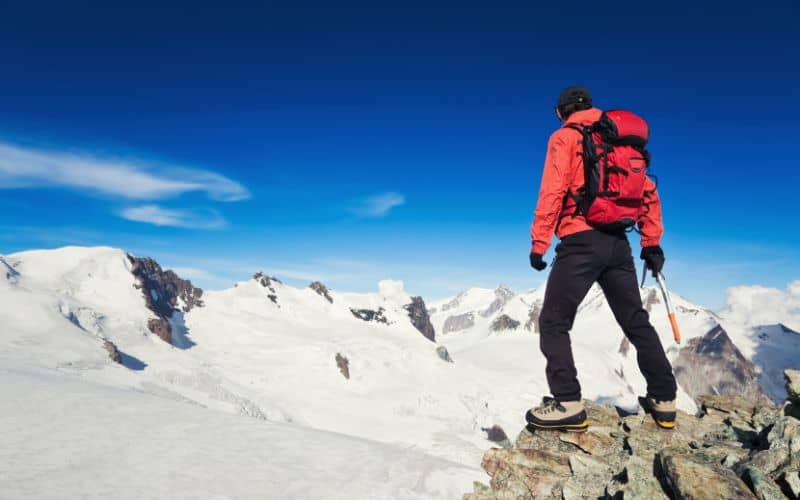 Happy Hiking in snow!
Snow and cold weather are only an invitation to explore our landscapes and see them anew. Winter may require carrying more gear and a little extra know-how, but having the right gear and an open attitude will help you stay warm, safe, and enjoy many magical moments.
Now get on your cozy base layers and big jacket, pack those spares, lace up your insulated winter boots, and get outside!
If you enjoyed this article, or know anyone who is bound for hiking in snow on winter trails, please feel free to share it! Have any questions or comments, drop us a line in the box below.