High mountain passes, alpine pastures, and snow-capped peaks that lead all the way down to sea level: the European Alps boast some of the world's most beautiful scenery, and there is no better way to enjoy them than on a multi-day hike.
In our guide, we introduce you to 11 stunning, iconic, and legendary trails. We'll also provide all the info you need to make the most of your time in the Alps, including advice on when to go, where to stay, mountain huts, camping spots in remote locations, and information regarding your own safety and necessary hiking gear.
Reasons to Take a Trip To the Alps
1. Hike in One of the World's Most Famed and Fabled Mountain Ranges
For centuries, the grand walls, sharp peaks, and mountain trails of the European Alps have drawn people from all over the world.
Keen readers might recall the lonely monster in Mary Shelley's Frankenstein who haunts the high trails of the Mont Blanc Massif, or the small wooden cabin in Ernest Hemingway's 'A Farewell to Arms' nestled in the Swiss Alps. While only a handful of examples, the jaw-dropping scenery of the Alps continues to inspire every hiker who bounds its trails each summer.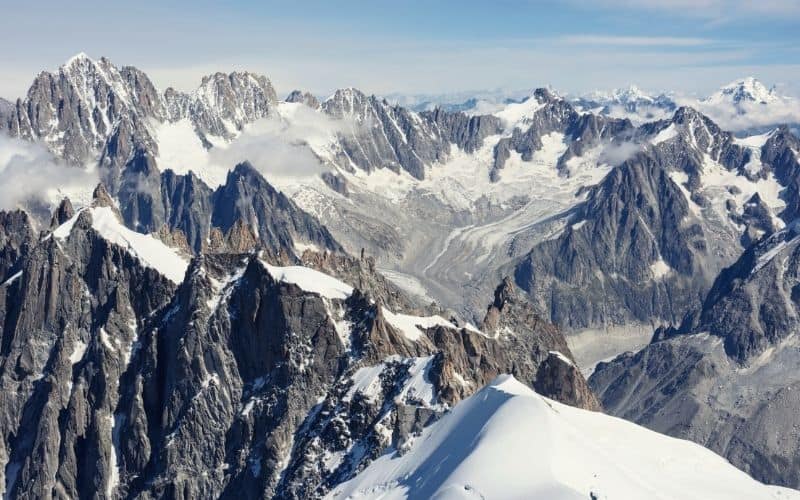 2. Infrastructure
With a long history of development, trade, and mountaineering across the many regions, it is no surprise that transportation throughout the Alps is remarkably easy – even if you are traveling on a budget!
Connections from major cities throughout Europe provide ample access to the Alps, either by hired car, public transport, and high-speed trains. Once in the Alps, the transportation options increase to include cable cars, gondolas, bicycles, trams, cogwheel mountain tramways, public or private buses, trains, ferries, and funiculars.
3. The Food!
There is perhaps no greater joy whilst hiking in the Alps than to stop for a bite to eat. Just because you'll be in remote locations and at high altitudes doesn't mean you can't enjoy some of the best European cuisines!
Artisan bread. Hundreds of fresh, local cheeses. Wines. Raclette. Chocolate and fresh fondue. Alpine berries. These are all made better when enjoyed with other hikers from other countries on a beautiful sunny day with stupendous scenery all around!
4. Mountain Huts
Unlike the quintessential dilapidated 'mountain hut' perched on a cliffside, many of the mountain/alpine huts scattered throughout the Alps are clean, spacious, and staffed accommodations. These are not only convenient slumber spots to escape the wild weather, but are an incredible experience in themselves.
Most mountain huts – refuge/cabane (French), rifugio (Italian), hüttes (German) – provide delicious meals, private rooms, the chance for a hot shower, and since you won't be alone in there, a great opportunity to meet like-minded hikers.
5. Grand Sweeping Views
It would be remiss to leave out the biggest draw to exploring the Alps – the breathtaking scenery!
11 Top Trails in the Alps
1. Chamonix to Zermatt 'Trekkers Haute Route'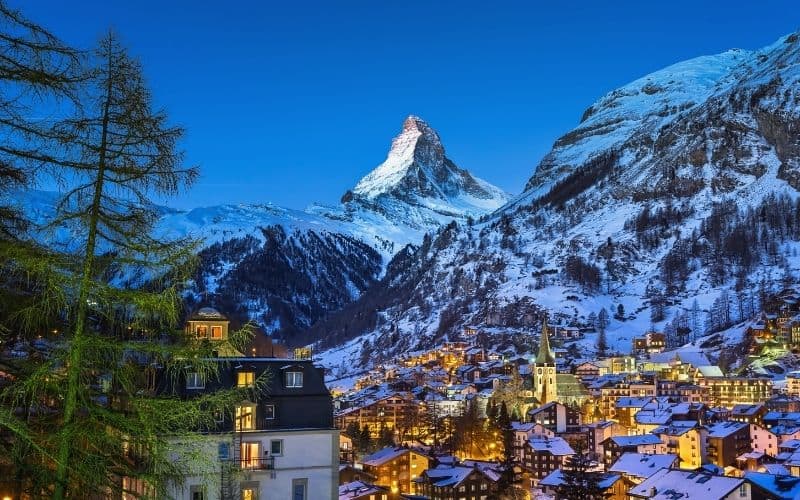 Length: 125 miles (8-12 days)
Difficulty: Moderate/Demanding
The well-marked trek from Chamonix (France) to Zermatt (Switzerland) is a spectacular hike suited for those who like exposed alpine passes and conditions, and are wanting to immerse themselves in both cultures.
The trail passes beneath 10 of 12 of the highest peaks in the Alps, over 11 mountain passes, and feels like a mountain paradise. Alpine meadows, flowers, glacial valleys and rock towers, eagles, chamois, and charming small villages await!
The route's highlights are numerous and each spectacular in their own way, but perhaps none more so than its grand finale in the town of Zermatt (1600m), which is nestled beneath the east face of the legendary Matterhorn.
The hiking season (depending on the year's snowpack) runs from late June to mid-September, though huts are booked out quickly in July and August. (Oh, and if you're wanting the trail 'to yourself', leave at dawn and hike in the late afternoon if the weather conditions permit!)
2. Tour du Mont Blanc, Mont Blanc Massif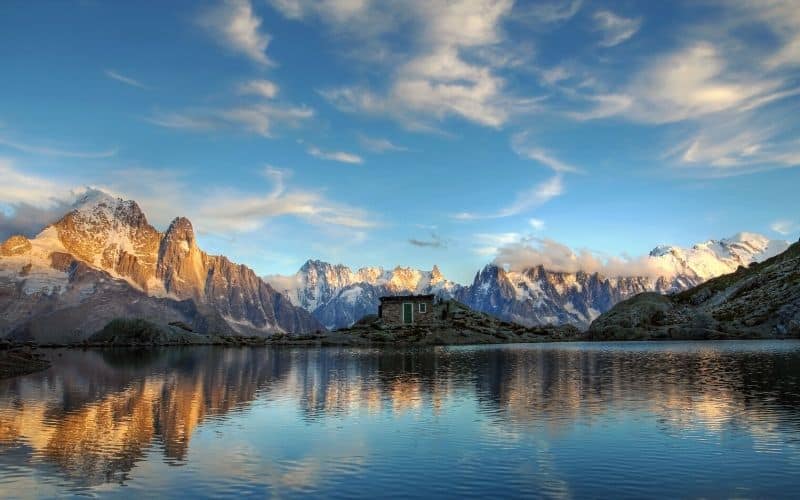 Length: 110 miles (7-10 days)
Difficulty: Easy/Moderate
The most popular long-distance hut-to-hut hike in Europe, the Mont Blanc Massif's sheer beauty has withstood the test of time, drawing geologists, mountaineers, botanists, and artists since the early 18th century!
Circumnavigating the Mont Blanc Massif and passing through small villages in France, Switzerland, and Italy, this route goes over 10 mountain passes (total elevation gain of 10,000m) through incredibly varied terrain – from low to high alpine pastures, across rocky terrain and lush green meadows – and offers a multitude of contrasting landscapes.
Some of the highlights include Grand Balcon Sud, Val Ferret, Val Veny, and Aiguillette des Posettes.
3. Alta Via 1, Italian Dolomites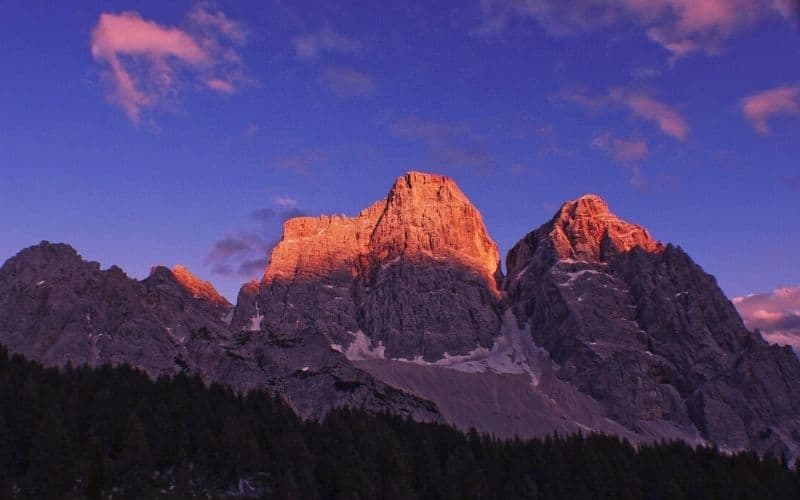 Length: 75 miles (8-10 days)
Difficulty: Moderate
The Alta Via 1, also known as the Dolomite High Route 1, is a great introduction to long-distance alpine hiking.
The route begins at the idyllic Lago di Braies in South Tyrol and passes through many dramatic landscapes – jagged limestone peaks and ridgelines, alpine meadows, roaring river gorges – until it ends near the ancient town of Belluno.
Although camping isn't permitted, the many rifugios (mountain huts) along the way provide incredible outposts to witness the 'enrosadira' (alpenglow), which is when the peaks glow in a burning red and pink at sunrise and sunset.
The histories that unfurl along the AV1, too, are deep and tragic, dating back to the many battles during the First World War when parts of these trails were built for troop mobility.
4. Tour of the Matterhorn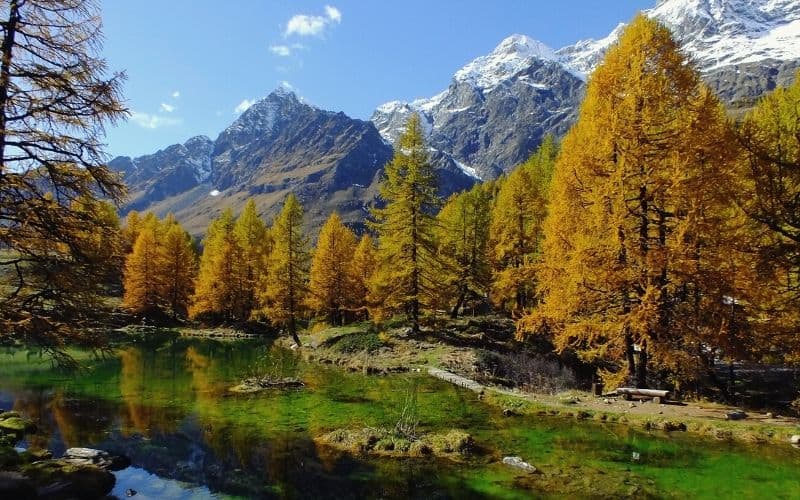 Length: 90 miles (10-13 days)
Difficulty: Challenging
The Matterhorn is one of the most recognizable peaks in the world and, although only officially established in 2002, this trail, which follows ancient ways over valleys, up through passes, and across two glaciers, is fast becoming a favorite of Alps hikers.
While this trek does not summit the iconic peak, it is strenuous and challenging, and previous long-distance hiking trips are beneficial.
Leaving Zermatt in an anti-clockwise direction, The Tour crosses over high passes via Zinal, Arolla, and Breuil, passing pastures of grazing cattle and weaving in and out of the Italian and Swiss frontier to offer wonderful vantage points into the Mattertal and the Aosta Valley.
You will also be privy to each country's unique traditions, sceneries, and culinary cultures, providing high rewards for the long days of hiking on the trail.
5. The Eagle Walk, Austria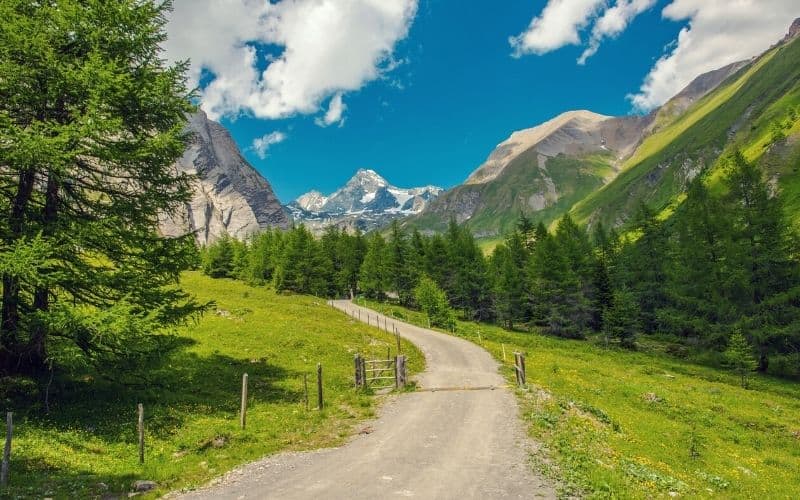 Length: 257 miles (30-35 days)
Difficulty: Challenging
The Eagle Walk, known in German as the Adlerweg, is another iconic hüttes-to-hüttes trek. The route crosses the Austrian state of Tyrol from east to west in 33 stages. These include a 24-day walk through Tyrol's North mountains, and a 9-day walk (perhaps the most beautiful passage through Austria's mountains) between Grossglockner and the Grossvenediger in the east.
The trail's name comes from its shape as seen on a map: a soaring eagle high above the mountains.
Although the trail crosses seven mountain ranges, being so accessible from numerous places – particularly Innsbruck, Tyrol's capital – many sections provide great day hikes. It is near here, too, in the Karwendel Mountains, where one stands at an unrivaled alpine vantage point: the urban setting on Innsbruck below, and the mountain world behind.
6. The Juliana Trail, Slovenian Alps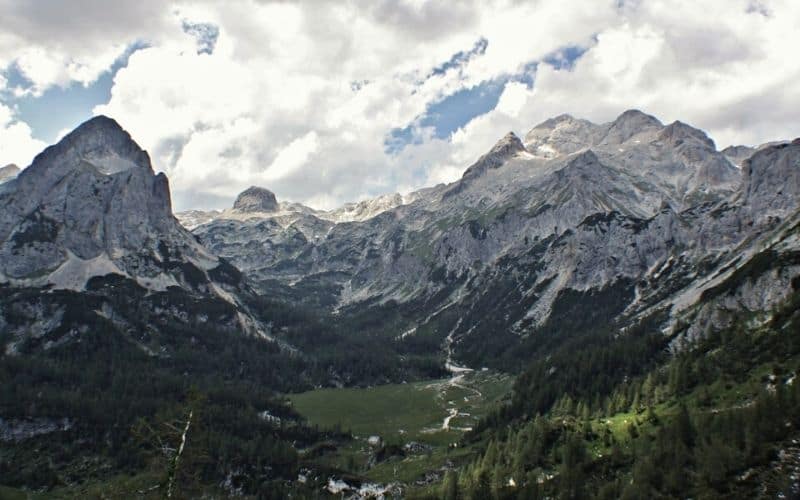 Length: 168 miles (10 days)
Difficulty: Easy/Moderate
The Juliana Trail is a low-lying circular trail that traces the historical and geological histories of the Slovenian Alps through Triglav National Park, weaving through urban valleys and pine forests, secluded plateaus, and villages, along the Soča, Sava, Bača, and Tolminka rivers, always beneath the watchful eye of Mt. Triglav, the country's highest peak.
Divided into 16 sections of 17.5km, most hikers who prefer lower elevations will want to keep this at the top of their radars. While it covers 7,163 meters of altitude difference, the terrain is mostly flat!
But keen hikers shouldn't dismiss this one, for it is full of gems. You will discover the country's ironworks history, the hometowns of writers and poets, meet solitary cheese-makers and farmers, and find remnants of the First World War.
7. Tour de Monte Rosa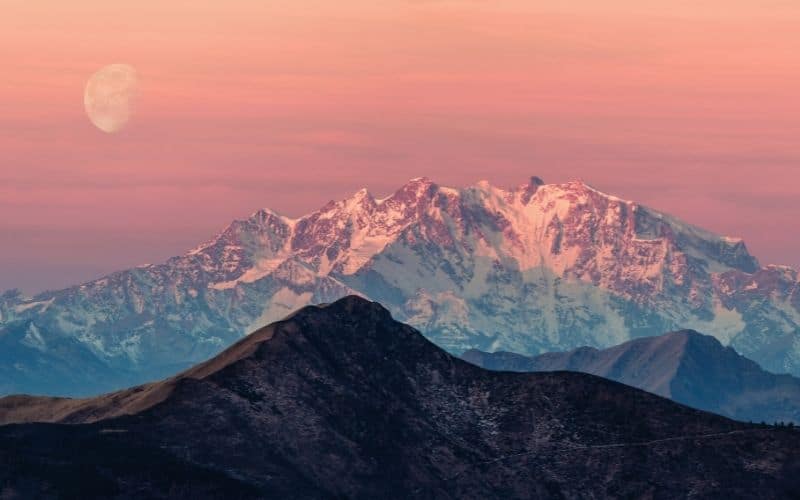 Length: 102 miles (8-10 days)
Difficulty: Challenging
This legendary hike circumnavigates Western Europe's second-highest massif, Monte Rosa.
Along the way, you'll hike through green pastures and undulating valleys, over boulders and rugged terrain, across the Charles Kuonen suspension bridge (the longest pedestrian suspension bridge in the world), the Mattmark Dam (the biggest earthen dam in Europe), and, on the Swiss side of Theodul pass, a self-guided glacier (best crossed in the morning for best snow).
This trek brings you around a second massif known as the Mischabel group, which showcases quaint alpine villages, more iconic peaks, and exposed balcony trails. Some days on this hike are long and arduous, especially between Macugnaga and Rifugio Pastore (13.7 miles with 1850m elevation gain), and therefore it is not recommended for first-time hikers.
8. Transalpine Crossing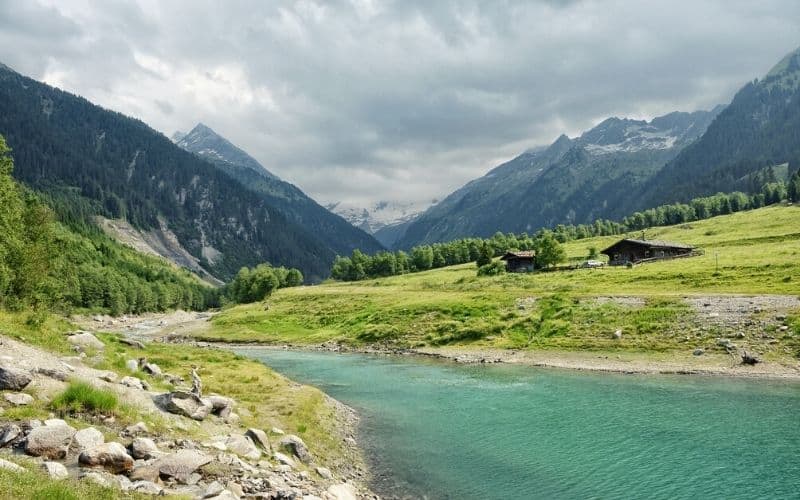 Length: 69 miles (7 days)
Difficulty: Moderate
The Transalpine crossing is a new seven-day hike that begins at Tegernsee Lake in Germany and winds its way along the edge of the Bavarian Alps through Austria's Tyrol via Lake Achensee – a stunning fjord between Rofan and Karwendel – and Zillertal Valley. It ends in Sterzing, Italy's northernmost town in South Tyrol.
Medieval castles and lush valleys pepper this beautiful landscape. And because this route crosses four unique regions in three different countries, you will also get to savor the contemporary joys of Bavarian culture and some of the world's best wine, the renowned South Tyrolean wine.
Stays can be arranged along the way in various hotels, hüttes, B&Bs, and guest houses.
9. Tour des Écrins, France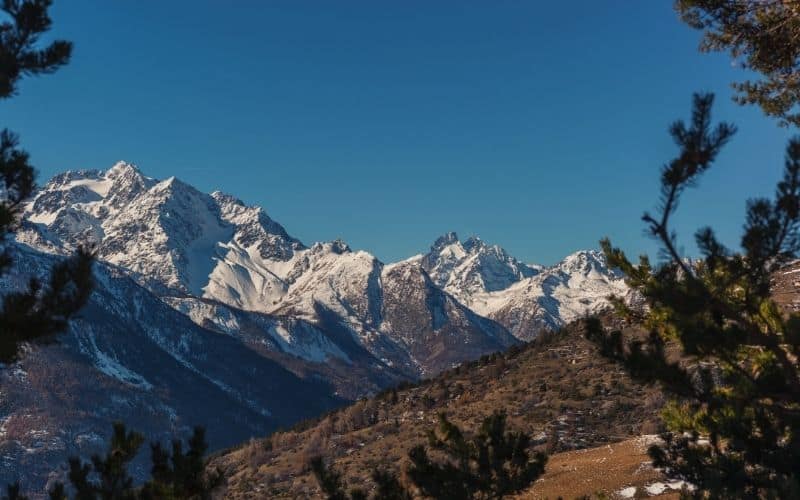 Length: 112 miles (7-12 days)
Difficulty: Challenging/Strenuous
The Tour des Écrins (GR54) is one of Europe's most challenging alpine treks, yet offers incredible rewards in France's largest national park: splendid views of the Écrins Massif and Lac Lauvitel.
While crossing over 14 cols and up steep rocky terrain, the route's difficulty is mitigated by the well-trodden paths and many mountain huts available to sleep in.
The trail goes around the Barre des Écrins (the most southerly 4000m peak in the Alps), passing through the villages of La Grave, Vallouise, and La Chapelle en Valgaudemar, as well as other monolithic peaks: La Meije and Mont Pelvoux, to name two. Keep your eyes peeled for the rich flora and wildlife that adorns the steep and slanted valley walls.
10. Alta Via 2, Italian Dolomites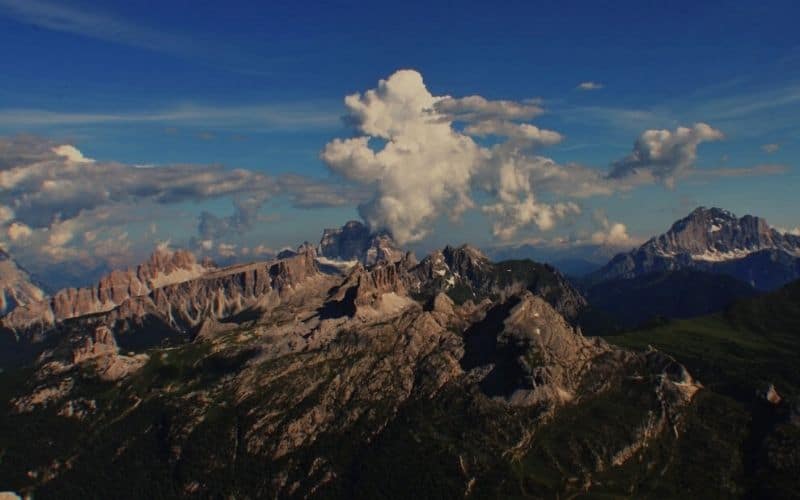 Length: 99.4 miles (8-12 days)
Difficulty: Moderate/Challenging
The longest of the Alta Vias in Italy, which winds over the seemingly improbable high terrain of the Sella and Pale di San Martino mountains, provides the widest diversity of stellar landscapes.
Some of the highlights of this route include the jagged and rocky peaks of the Puez-Odle group, lush alpine meadows, the last, lonely glacier of the Dolomites (viewed from the gorgeous Fedaia Lake), and a quaint mountain hut on the 2,000-meter Passo Rolle, where you can kick back and watch the sunset over the crimson towers of the Pale di San Martino.
How a trail winds through these landscapes is simply incredible and you will always feel the grandeur of the Dolomites surrounding you. The trail features diversions that include via ferratas or lower-angled slopes for less experienced hikers.
11. Sentiero Roma, Italy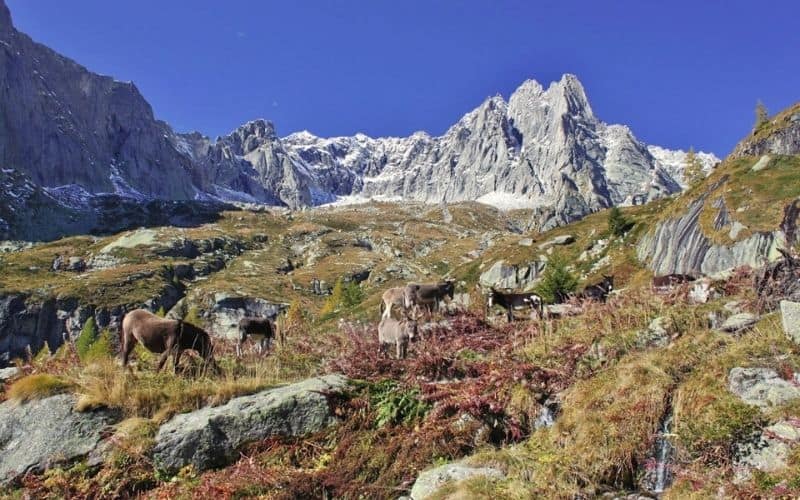 Length: 34 miles
Difficulty: Very Challenging/Strenuous
Established between the First and Second World Wars, the Sentiero Roma is considered by many to be one of the most classic alpine hiking routes in the Alps.
Crossing the Val Masino Alps, the route goes over eight mountain passes, connects five rifugios, and remains above the tree line in what is known as the 'kingdom of rocks' – in other words, you'll have granite for days.
The constant exposure (there are fixed ropes and chains in places), grand rock faces, and endless panoramic views are unrivaled: Pez Badile, Piz Cengalo, Monte Disgrazia, Val Masino, and Val di Mello – simply put, spetacollosso.
While the best time to go is similar to the other hikes on this list, due to its location, it is better to wait for mid-July to mid-September to tackle this classic route.
Tips for Hiking in the Alps
1. When to Go
The best time to go is usually from the end of June to the beginning of September. Especially on an haute route, where you'll spend most of your time walking in the alpine, you want the best conditions and weather possible.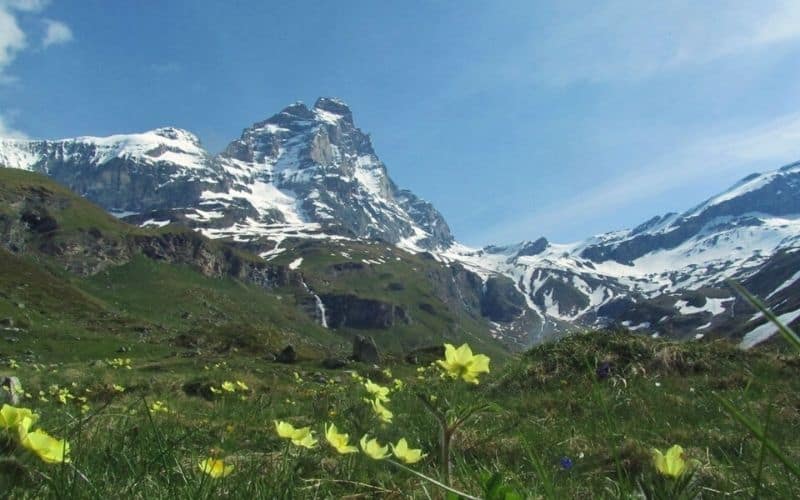 By July, the trails should be dry (or very little snow left), alpine flowers will be in bloom, and, depending on where you are, you'll have ~15 hours of sunlight.
Like all mountain regions, be wary of the unpredictable weather, for it is not uncommon for late afternoon thunderstorms to roll in. For those who want to hike in the shoulder seasons (May/early June, late September onward), make sure you are prepared with the appropriate kit (ax and crampons) and the knowledge to use them on snow and ice.
In winter, all of these routes are full-blown mountaineering expeditions, so aren't recommended unless you have the requisite experience and an appetite for the gnarly.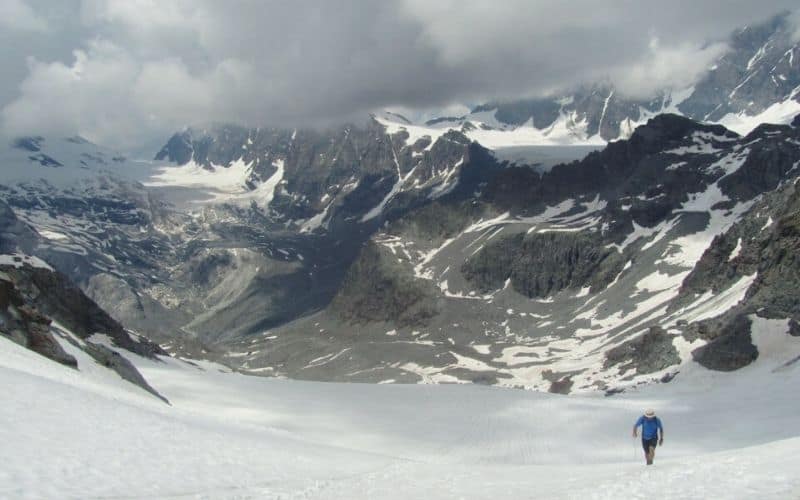 2. Where to Stay
Another bonus to hiking from early July to September is that all types of accommodations are possible: bivvying, or staying in campgrounds, B&Bs, hotels in villages, and our favorite, the mountain huts – refuge/cabane (French), rifugio (Italian), hüttes (German).
Although people hold a romanticized image of the old huts, the modern ones offer great local cuisine, are warm and cozy, and you are guaranteed to meet wonderful folk from around the world.
These huts hold anywhere from two to twenty beds, but be aware: a two-month prime window for hiking comes with a caveat – traffic! We recommend that you start booking your accommodations in January, especially if your trip is on a weekend or you want to book a bed in a remote hut. And when you go, be sure to bring some earplugs!
Most of the routes in the Alps are well-marked, with blazes and signposts, or people in front of you! Nevertheless, always carry a guidebook, a map and compass (know how to use these) in case you stray off-trail or get caught in bad weather conditions—just because it is late June or mid-August doesn't mean you won't get caught in low clouds or a snowstorm.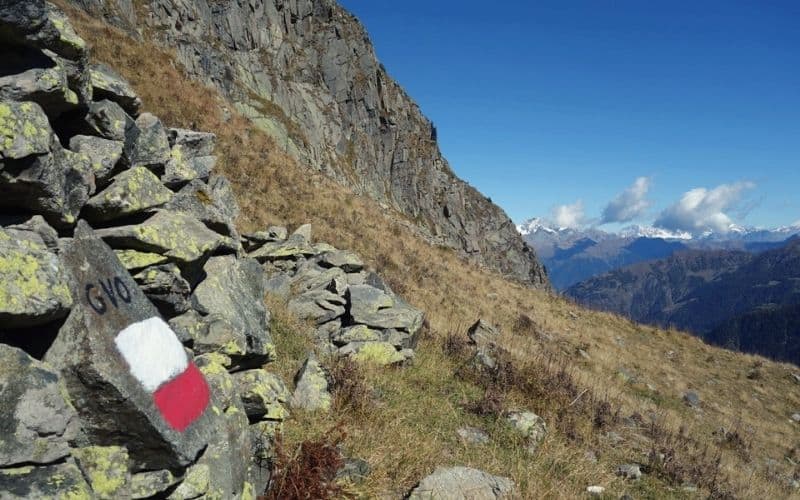 4. Acclimatization
Even for experienced hikers, acclimatizing in the Alps can be a challenge and is very important to ensure the success of your trip!
Generally, it takes three or four days for your body to adjust to having 25% less oxygen in the air.
As such, we recommend getting used to this before starting your thru-hike. Hike up to 2000m and spend the night; go up to 3000m then back down to the valley; cable car to mid-mountain and climb up, spending the night above 2000m; see how you feel and, all being well, start your hike on day 4.
Signs of altitude sickness include headache, sickness, dizziness, and lethargy. If you or anyone you are hiking with gets altitude sickness, head down!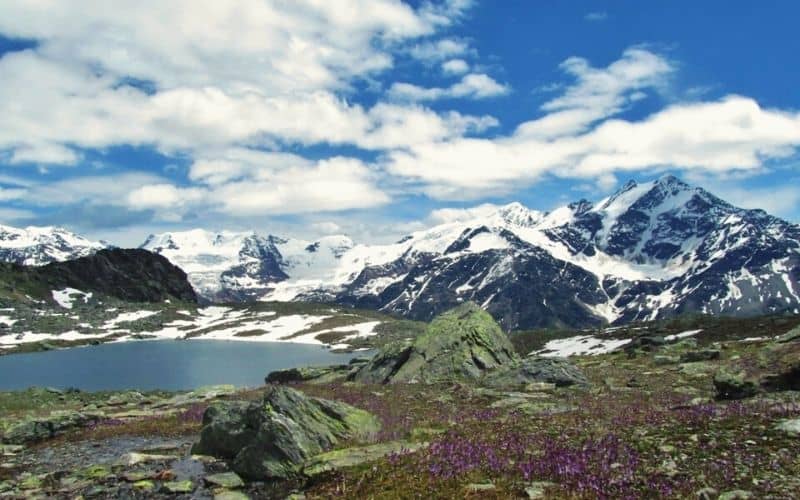 5. Via Ferrata?
Some of these routes (especially in the Dolomites) have the option to divert onto via ferratas (Italian for 'iron path'), which are well-protected climbing routes that will add a fun level of 'spice' to your hike.
Via ferratas provide incredibly exposed positions with the thrill of rock climbing, and they are a great way to see the scattered remains (trenches and dugouts) of the First World War.
During the War, while the Italian and Austro-Hungarian empires fought against each other over the steep rock faces of the Dolomites, iron ladders, permanent lines, wooden blocks, and wire cables were fixed to the rock to increase troop mobilization (of course, these have been renovated).
While the via ferratas can range from exposed strolls across bridges to arm-pumping scrambles, it is important to check signs and your guidebooks and to ensure you have the proper equipment.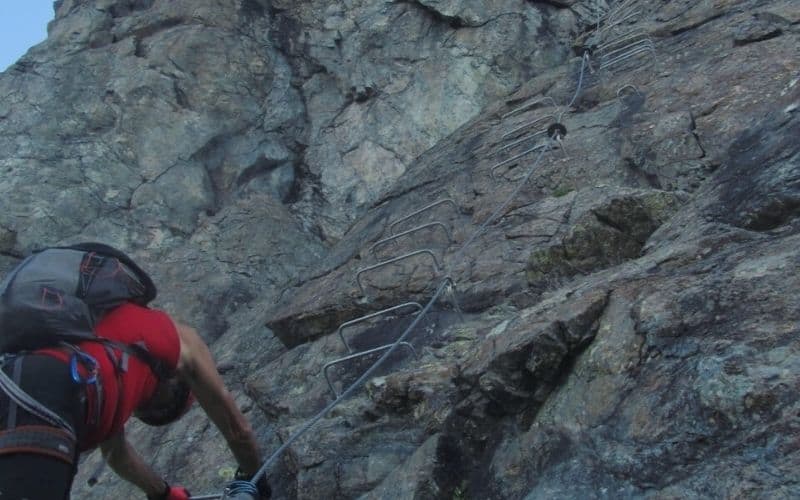 6. Gear & Clothing
To safely tackle any of the trails in the Alps, you will need more gear than for any regular day hiking trip up your average hill.
We have several articles that feature a more comprehensive gear list – staying ultralight, for camping, etc. However, for these treks, certain items are necessary to be ready for all conditions.
It is important to bring a sleeping bag liner for your stays in mountain huts, sunscreen (it gets hot in the Alps from late June onward!), sun hat, a rain jacket, hiking poles, sturdy hiking boots or approach shoes (most important tool), and the proper equipment for the via ferratas.
One last thing – ensure you have all of the necessary gear in the weeks before your departure, not the night before! Whatever the weather forecast on the trail, you want to be readily equipped.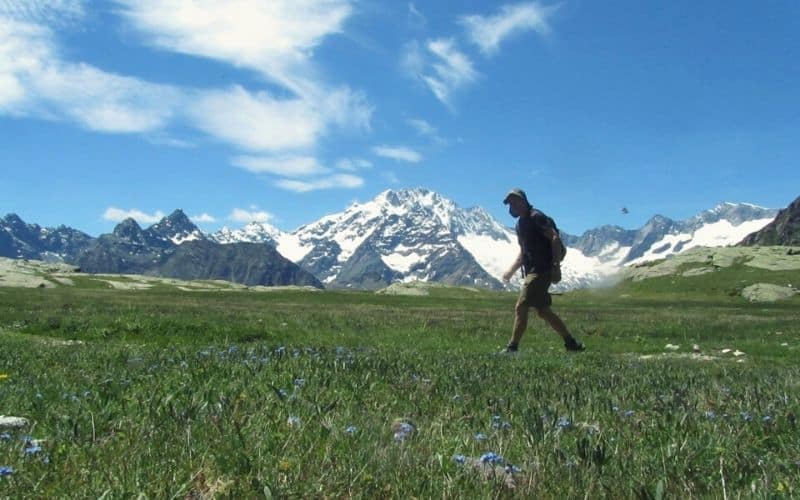 7. Insurance
Trekking in the mountains is never a straightforward experience; they are unpredictable, and even the most experienced hikers find themselves in danger.
Typical travel insurance might cover low-level hiking and day hikes, but you should check to see if it covers high-altitude treks above 2000m, multi-day thru-hikes that require camping, and any activity that requires specialist equipment, a guide, and safety gear.
For the trails on our list, you'll probably need specialist insurance. As such, we recommend you find a policy with high altitude coverage (3000-6000m), along with rescue costs, medical emergencies, repatriation, lost or damaged equipment, and tour/guide cancellations.
Well, It's Time to Hike!
The Alps are one of the most beautiful mountain playgrounds in the world for your hiking trips this summer. There are few better feelings than hiking through vast and contrasting landscapes all day and finally arriving at a mountain hut, hot and sweaty, ready to unwind with great food, wine, and beer, to meet lovely people from all around the world and, at last, to watch the sunset over the hills and illuminate the tower-like peaks that surround you.
So, how did you like our post? If you have any questions, drop us a line in the comments box below. And if you'd like to share this article with any Alps-bound friends, share away!