Choosing nutritious and energy-enhancing foods while hiking is essential to performing your best and helping you recover faster. While it might be tempting to fill your pack with all your favorite snacks, too many fatty or sugary foods can cause your body to crash and slow you down.
In this guide, we'll walk you through hiking nutrition so that you have all the info you need to choose healthy snacks and lunches for your next trip. We'll then share our top 25 nutritious lunch suggestions to keep you nourished and help you power through even the most challenging of hikes!
Hiking Nutrition: How to Give Your Body What It Needs
Whether you're hiking for an hour or heading out on a dusk-'til-dawn adventure, these nutrition tips will help you optimize performance and maximize energy:
Eat Your Carbs: Carbohydrates are your body's main source of energy. During a hike, carbs fuel both your brain and muscles. To stay sharp both mentally and physically, eat about 3 to 5 grams of carbohydrates for every kilogram of your body weight.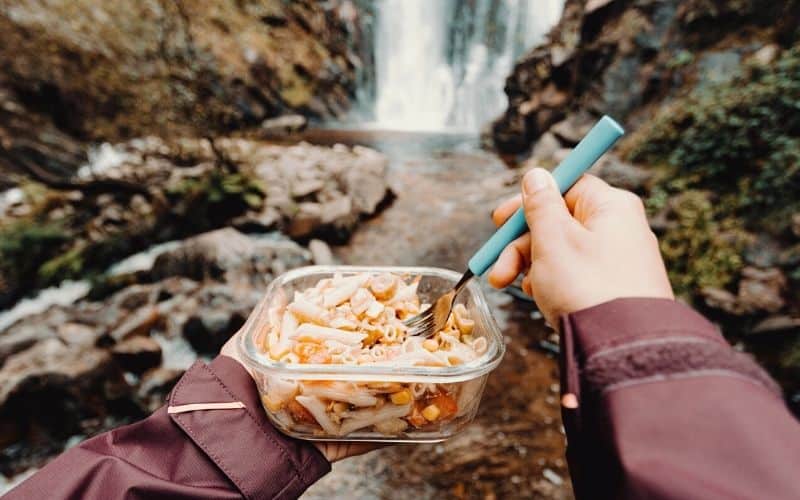 Don't Forget About Water: Drinking enough water while hiking is just as important as the foods you eat. Dehydration will not only affect your performance, but it can even impact your mental game. Always carry at least one liter of water for every 2 hours of hiking and make sure you're taking a drink every 15 to 20 minutes.

Start With Breakfast: You already know that breakfast is important, but it's especially true when you're preparing for a hike. Aim for no more than 500 calories a few hours before departing or you'll still be digesting while on the trail. Once you start your hike, make sure you're eating 200–300 calories every hour to maintain your energy levels.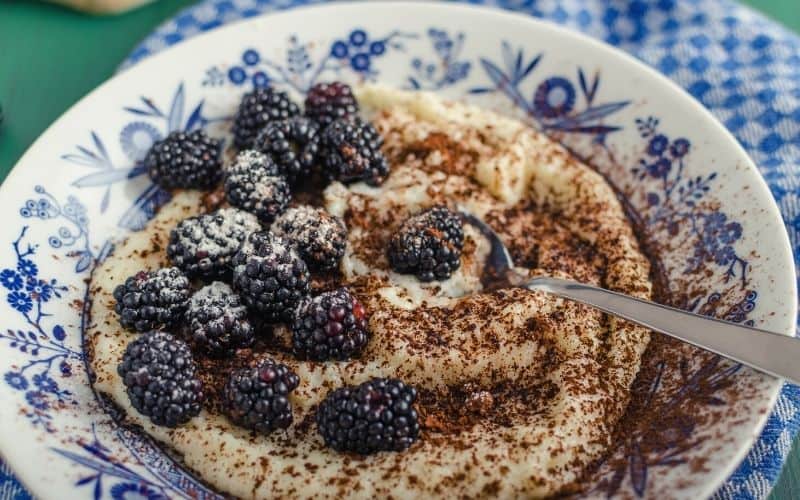 Consume a Mix of Carbs & Protein to Boost Recovery: Both protein and carbohydrates play an important role in muscle recovery. Protein provides the amino acids muscles need to repair and rebuild while carbs help replenish your muscle's glycogen levels. Consume the two in a ratio of 3 to 1 (carbs to protein) to help your body recover faster.
How Much Food to Take Hiking
A good rule of thumb for how much food to take while hiking is to pack between 1 1/2 to 3 lbs of food per person, per day.
That's a big range when factoring in variables such as length of the hike, your size and weight, and the intensity of your trek. A person completing a short trail on largely flat terrain, after all, is going to need far fewer calories than someone tackling a 3,000 ft elevation gain. Nevertheless, it offers a good baseline.
If you're new to hiking, always start by packing more food than you think you'll need until you get a better grasp of your own caloric needs on the trail. It's better to carry a little extra weight than go hungry!
25 Hiking Lunch Ideas
1. Peanut Butter and Jelly
It's hard to beat this old favorite! Peanut butter offers up a healthy mix of fats and protein while whole-wheat bread will give you the complex carbs you need to fuel your hike. Feel free to live a little and throw some bananas or dates in there too!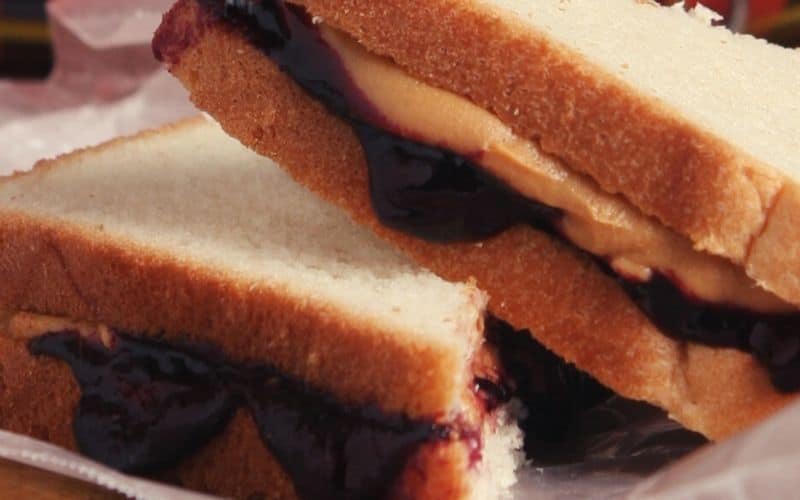 2. Packaroons
Packaroons are lightweight, healthy, and portable snacks. Choose a brand made with whole foods and packed with healthy fats to provide long-lasting energy.
3. Chicken, Tuna, or SPAM Packets
No forks are required here! Just bring along a handful of crackers and scoop the meat right out of the pack. Most chicken and tuna packets are available in a variety of flavors, so mix things up to avoid boredom.
4. Energy Gummies
Similar to energy gels, energy chews or gummies are a type of solid and chewy snack specially formulated to provide optimal nutrition and energy without excess calories. Don't give up after trying one brand – they all have massively different flavors!
5. Wraps
Wraps are a portable and easily customizable lunch idea for hiking. Fill your wrap with the classic protein + healthy fat + veggie combo and you'll have a nutrient-packed lunch to power your treks.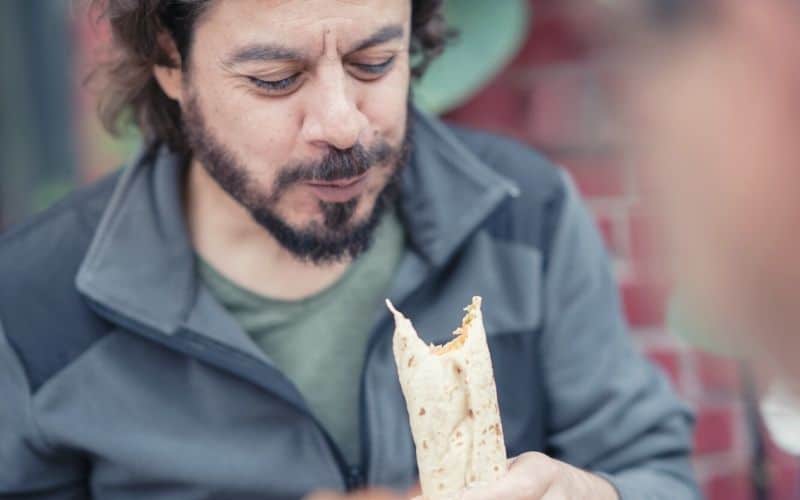 6. Onigiri
Onigiri are Japanese rice balls that are usually filled with meat and vegetables. Thanks to a combo of performance-boosting rice and meat, they'll help keep hunger at bay. Check your local supermarket for pre-made versions for extra convenience.
7. Ramen Lunch Box
Fast, lightweight, and easy to prepare, ramen makes a hearty and delicious meal for any backpacking trips. Spice up your ramen with dried vegetables, hot sauce, or hard-boiled egg. Tired of ramen? Try instant rice or rice instant noodles instead!
8. Healthy Asian Spring Roll Wrap
Spring rolls are a convenient and delicious way to enjoy fresh food while on the trail. Fresh ingredients like shrimp, veggies, herbs, and rice noodles are wrapped in rice paper and served with soy or peanut sauce. Buy them pre-made to save time on meal prep!
9. Energy Bars & Protein Bars
Energy and protein bars are an old hiker and backpacker favorite thanks to their convenience, lightweight, and mix of energy-enhancing carbs and proteins. Just make sure to switch things up by packing a variety of flavors to beat boredom!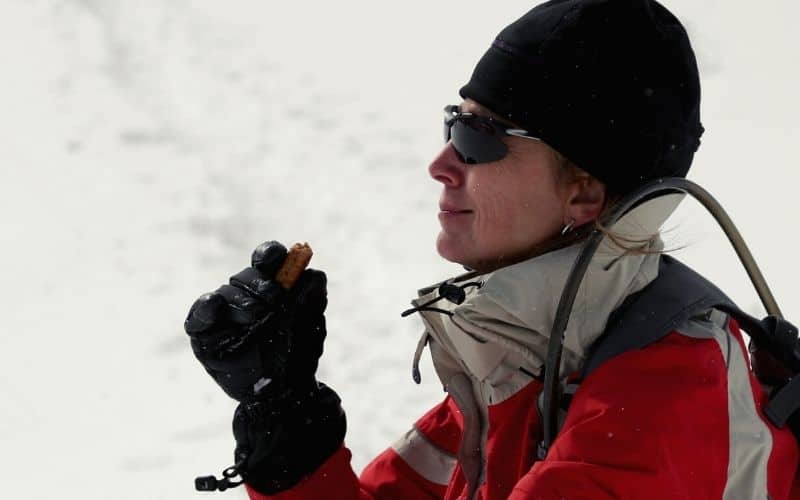 10. Rolled Oat Bites
Rolled oat bites are a cheap and easy-to-make hiking snack, even for kitchen amateurs! Simply mix rolled oats, nut butter, and fillings like raisins or chocolate until your mixture forms a dough. Pop it into the fridge, let it set, and throw them in your pack when it's time to hit the trail!
11. Hard-Boiled Eggs
Packed with protein, portable, and easy to prepare, hard-boiled eggs are the perfect protein-rich snack to get you through a strenuous hike. Eggs are even rich in B vitamins and amino acids that will keep you energized and help with muscle repair. Pair your eggs with a carb for a complete and nutrient-dense lunch.
12. Cream Cheese & Smoked Salmon Bagels
Cream cheese bagels with smoked salmon sound much fancier than they actually are to prepare. Toast a bagel, layer on some smoked salmon and some fresh herbs like dill for a healthy lunch that offers both filling protein and carbohydrates.
13. Pasta Salad
Meal prep some pasta salad at home and it will help you power through even the toughest treks! To avoid a carbohydrate overload, make sure you pack your pasta salad with plenty of protein like tuna or cooked chicken. Be sure to add some healthier fats like olive oil as well.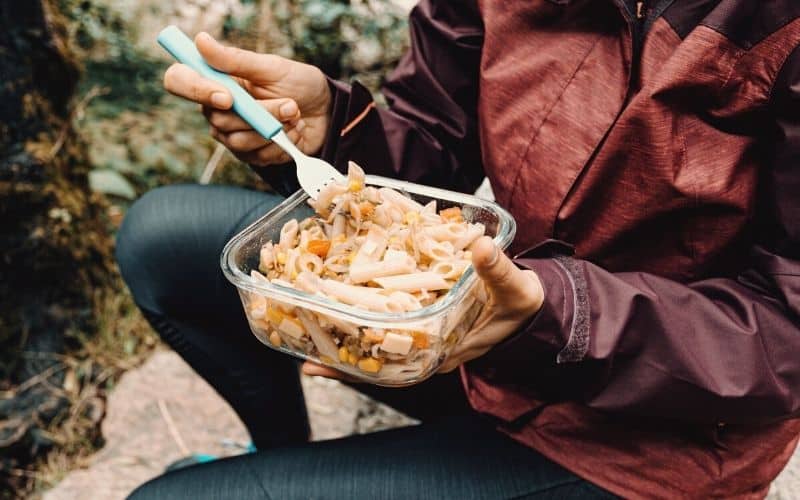 14. Instant Oatmeal
Instant oats are cheap, convenient, and easy to customize. Up the calories, and the nutrition, by throwing in your favorite toppings like nuts, nut butters, seeds, dried fruit, or even protein powder. Just read the labels carefully before buying and opt for oatmeals that are sugar-free and then add natural sweeteners yourself.
Bring along a little instant coffee and some powdered milk and you'll have yourself the perfect backpacking breakfast!
15. Dehydrated/Freeze-Dried Meals
Hiking food doesn't get more convenient than a dehydrated meal. Although they tend to be a bit on the expensive side, most dehydrated meals are already nutritionally balanced and require only hot water to prepare. Boil water, add it to your packet, stir and wait, and you can enjoy a hot meal wherever you are!
16. Nuts & Seeds
Nuts and seeds are amongst some of the healthiest foods that you can eat. Thanks to their high fat and protein content, they make for great hiking snacks that will fill your belly and boost your energy levels.
17. Apples
High in fiber, vitamin C, and other antioxidants, don't underestimate apples when you're planning your next hiking or backpacking meals and snacks. If you're worried about apples getting bruised in your pack, bring along some apple sauce pouches instead. For a sweet and savory twist, try apple slices with shredded cheese.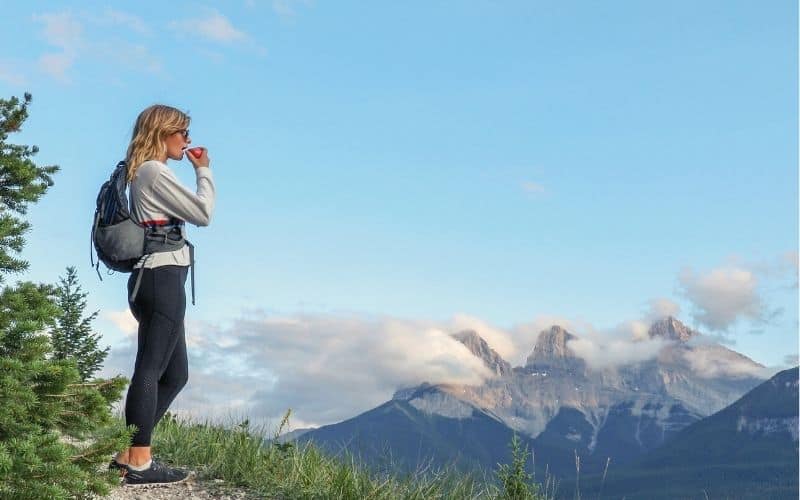 18. Cheese Slices
Not only is cheese nutrient-dense and packed with protein, but it also pairs well with many of the other foods on our list. Enjoy cheese slices with dried fruits, whole-grain crackers, and jerky, or add it on top of any packed lunch for extra protein and flavor. 
19. Hummus + Crackers
Hummus and crackers offer the perfect mix of healthy fats, protein, and carbohydrates to keep you fueled while on your hike. If you're not a big fan of crackers, pair your fresh hummus with some pre-cut veggies like carrot sticks, sun-dried tomatoes, celery, or bell pepper for an extra boost of nutrients.
20. Tuna + Crackers
Offering a combination of lean protein, carbohydrates, and heart-healthy omega-3 fatty acids, tuna + crackers is the perfect snack to get you through even the toughest treks. If you want to avoid the mess of canned tuna, opt for tuna or chicken packets instead.
21. Sliced Salami or Beef Jerky
High in protein and low in sugar, sliced salami or beef jerky is an easy-to-carry snack that's both nutritious and tasty. Pair your salami or jerky with crackers for that coveted protein + carb energy-boosting combo. You can even find vegan jerky options!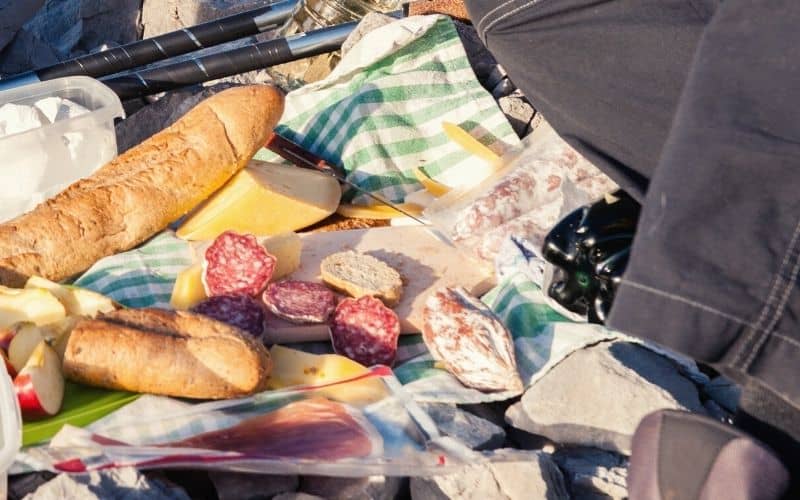 22. Olives
High in calories and delicious, olives offer a burst of salty flavor while providing healthy fats, vitamin E, and other powerful antioxidants. Pair your olives with hard cheese or crackers or just grab them by the handful!
23. Dried Fruit
Dried fruit can be preserved much longer than fresh fruit, making it the perfect hiking and backpacking food. While dried fruit is jam-packed with healthy micronutrients, fiber, and antioxidants, it's also quite high in sugar. Limit your intake and pair it with another protein-rich snack.
24. Trail Mix
No hiking and backpacking meals list would be complete without trail mix! Buy it premixed or make your own, just make sure you find the right balance of protein-rich nuts and seeds and sweet fillings like raisins or banana chips.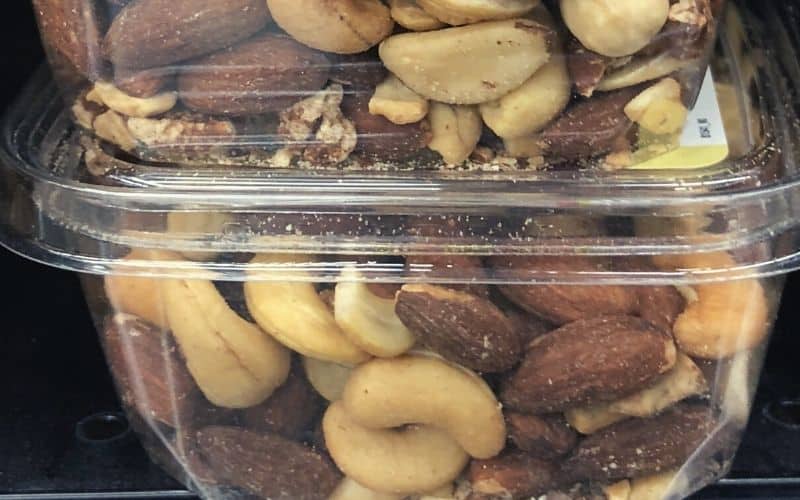 25. Dates
Dates are basically nature's candy yet they offer a surprising amount of filling fiber, vitamins, and minerals. Mix your dates with some protein-packed nut butter and you've got yourself the perfect lunch or snack!
Bon Appetit!
The importance of nutrition on trail performance can't be overstated, whether you're on a simple day hike or multi-day Odyssey.
Bringing along a variety of nutritious and filling meals that combine protein and carbohydrates will help you conquer any trail or mountain. We hope our list of our favorite 25 hiking lunch ideas has helped you prepare for your next hiking or backpacking trip!
For tips on pre-prepping your own camping meals or own backpacking meals, check out our guide to Make-Ahead Camping Meals.
Did we miss any of your favorite hiking or backpacking lunches? Feel free to tell us all about them in the comments and be sure to follow us for more meal-planning tips for hikers, backpackers, and campers alike.