We're gonna start with a bold statement: Canada's Pacific Northwest is one of the most beautiful places on Earth. Rich in wildlife, forests, rivers, rocky peaks, and beaches, this is one spot every lover of the great outdoors should visit at least once in their lifetime.
The coastal mountains, which run for 1,000 miles down from the Yukon to the Fraser River, offer an endless array of spectacular views.
The famous North Shore of Vancouver is composed of Black, Strachan, Hollyburn, Grouse, Fromme, and Seymour Mountains, which all offer sumptuous panoramas over the city and the mountains beyond. An added bonus is that many of the trailheads are accessible from Vancouver by public transportation and are dog friendly.
Further north, along the Sea-to-Sky Highway (99), you get to Squamish – Canada's outdoor recreation capital – and then Whistler, a ski town with access to tons of hiking trails.
Whether you are looking to trek into the backcountry or for a simple stroll through an urban forest, our list has a trail for everyone.
1. Quarry Rock Trail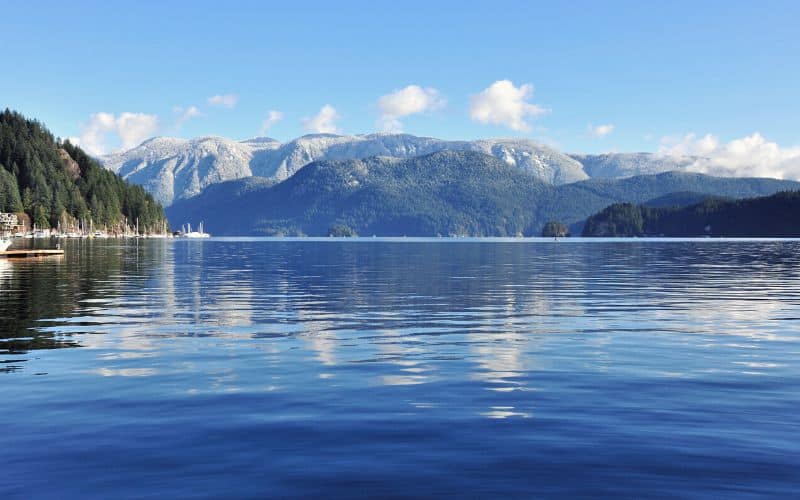 Type: Out and Back
Difficulty: Easy
Length: 2.4 miles (1.5 hours)
The Quarry Rock Trail is one of the more popular hikes in the Vancouver area. It is near the scenic seaside village of Deep Cove, which is home to some of Vancouver's most expensive real estate. After your hike, enjoy a swim, pizza, and the area's largest selection of craft beers.
The trail starts from the Baden Powell Trail along Panorama Drive, just past the park. You will quickly find yourself in a dense forest of the lush greens that British Columbia is renowned for. Douglas Firs, creeks, rocks and boulders, hemlock trees, cool air – weren't you just by the sea?
Wind your way across the trail, over a bridge, and then up toward a clearing in the trees. At the top, after 300 feet of elevation gain, find a spot to enjoy a view of the North Shore mountains around Belcarra, Indian Arm, Deep Cove, and the tiny fishing boats floating down below.
2. St. Mark's Summit
Type: Out and Back
Difficulty: Moderate
Length: 6.8 miles (3-5 hours)
This trail is one of the best day hikes in the area. Located in Cypress Provincial Park, it offers stunning views over Howe Sound, the Tantalus Range, downtown Vancouver and, on a clear day, the Gulf Islands and Vancouver Island. 
St. Mark's Summit is often compared to the Grouse Grind (see below). However, it stretches for twice as long, has 1,476 feet of elevation gain, and plods uphill more gradually. It is also part of the Howe Sound Crest Trail (see below).
From the Cypress Mountain parking lot, head past the ski-ticket offices and chairlift toward the woods. Follow the Howe Sound Crest Trail sign along a few ski runs until you reach a gravel road, then a trail. This takes you to St. Mark's Summit via dense woods, and lush meadows with a view over the Lions, then over a few bridges before a steep finish on switchbacks.
3. Howe Sound Crest Trail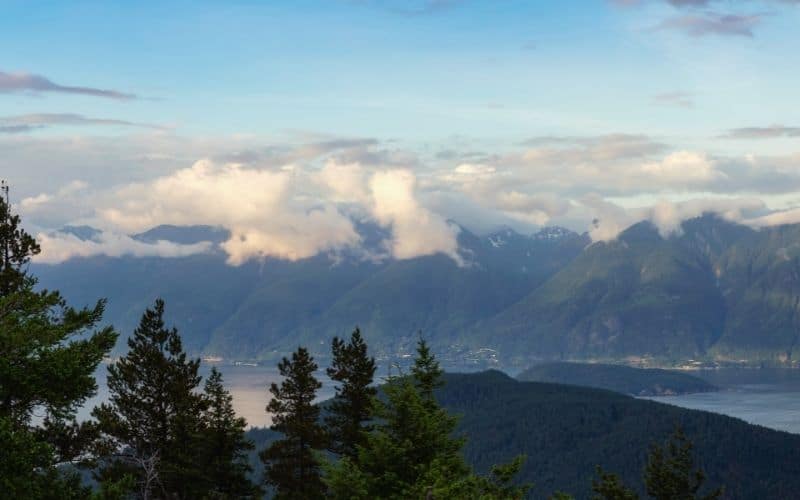 Type: Point-to-Point
Difficulty: Challenging
Length: 18.5 miles (+6,000 feet cumulative ascent)
This trail stretches from Cypress Bowl to Porteau Cove across West Vancouver, crossing many peaks and offering panoramic views over the Howe Sound, the Lions, Deeks Lakes, and the Tantalus Range.
You start as you would for St. Mark's Summit. From here, you can briefly leave the trail to view Mount Gardner on Bowen Island. Regain the HSCT and head northward up Mt. Unnecessary toward the Lions.
Continue around Thomas Peak, then to Enchantment Pass and the top of James Peak and David Peak, and through Magnesia Meadows. Next, descend to Brunswick Lake, Middle Lake, and Deeks Lake.
We recommend doing the HSCT in two days. Although there are no designated camp spots along the trail, you can camp in the following places: Plateau above Enchantment Lake (6.8 miles from Cypress Mountain Resort); Magnesia Meadows (9 miles from CMR); Brunswick Lake (11.8 miles from CMR); Deeks Lake (13.7 miles from CMR).
4. Garibaldi Lake Trail, Garibaldi Provincial Park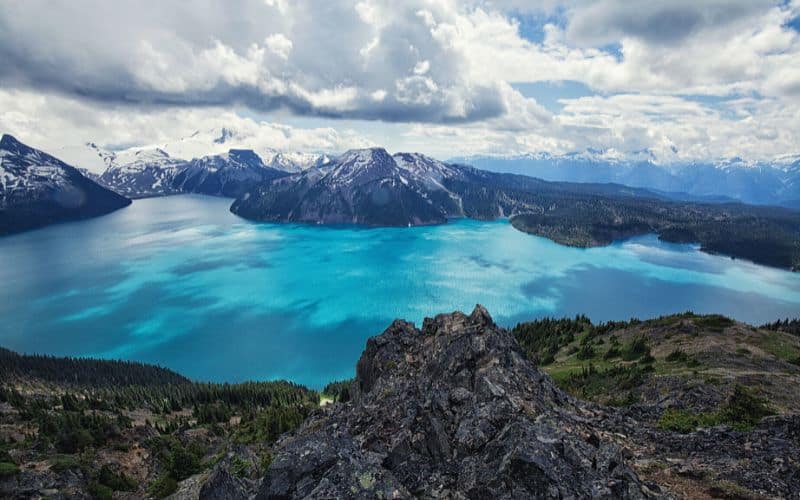 Type: Out and Back
Difficulty: Moderate/Challenging
Length: 11.3 miles (5-7 hours)
Located just south of Whistler, the Garibaldi Lake Trail is one of the most beautiful hikes in British Columbia. While you'll put in a testing 3,182 feet of elevation gain, the reward will be views of stunning turquoise glacial lakes, calm alpine meadows, and snow-capped mountains galore. This trail is a must-do this summer!
Access the trailhead from Rubble Creek parking lot. For 3.75 miles, the trail meanders through a dense forest of Douglas Firs to a junction.
You have two options here. Left brings you through Taylor Meadows, which is covered in lovely alpine flowers and provides great campsites with views of the iconic peak, Black Tusk. Right brings you directly to Garibaldi Lake, passing two smaller lakes on the way.
As of 2021, hikers and campers wishing to visit Garibaldi National Park are required to obtain a free permit.
5. Grouse Grind Trail, Grouse Mountain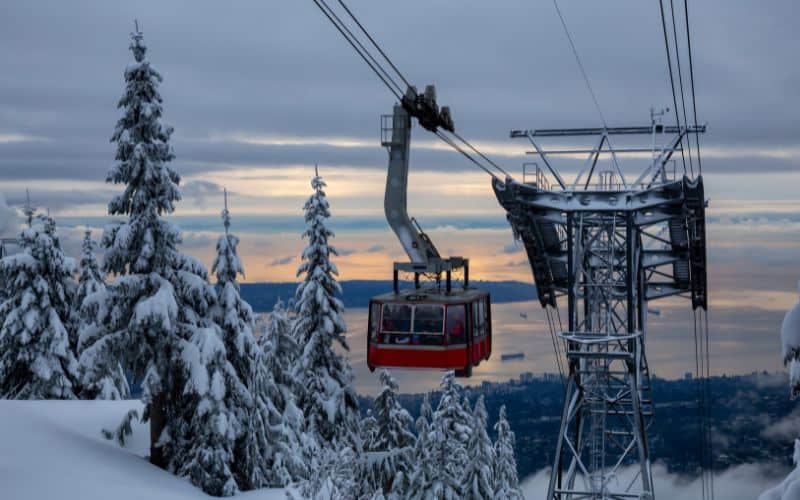 Type: Out and Back
Difficulty: Challenging
Length: 1.8 miles (1.5-2 hours)
The first record of hiking activity on Grouse Mountain in North Vancouver was in 1894, and since then, hikers from all over the world have flocked to it between May and October. This steep hike requires steely calves but is one of the best for folks with less time on their hands. 
The reward? Lovely scenery, a drink in the chalet, and a gondola ride back down!
Grouse Grind Trail begins at the Valley Station and climbs steeply – 2,830 wooden stairs! – to the summit at a 30° angle.
The hike is divided into four sections with clear quarter marks, providing good assessment points. In under three kilometers, there is 2,789 feet of elevation gain. Infamously referred to as mother nature's stairmaster, it is one of the more popular hikes, seeing 150,000 hikers a year. 
The Grouse Grind is also part of the Baden Powell Trail, which links the North Shore together from Horseshoe Bay in West Vancouver to Deep Cove.
6. Lynn Canyon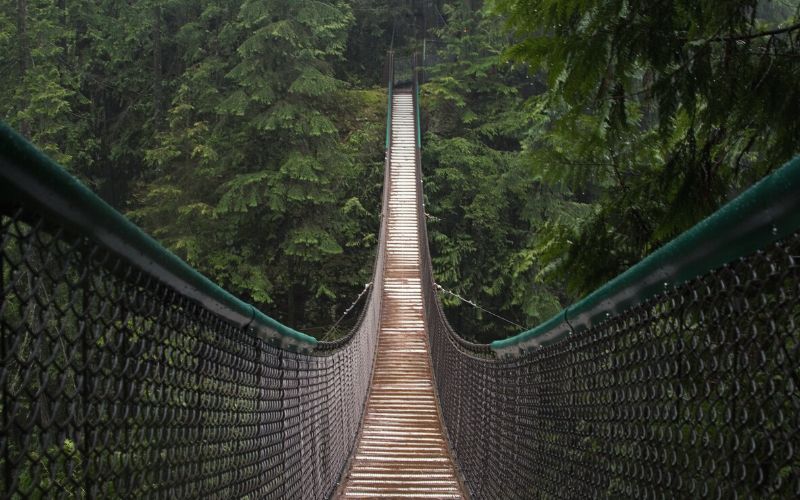 Type: Various
Difficulty: Easy/Moderate
Length: Various
Lynn Canyon Park is the largest regional park in North Vancouver and boasts some of the best hiking for people of all abilities. With such a wide and varied green space, it is not surprising that films and many TV shows have used the area for filming. 
Many of the must-see attractions in the park can be linked by various trails. Such places include Lynn Creek, the Lynn Canyon Suspension Bridge, Lynn Peak, Rice Lake, Twin Falls, and the 30-Foot Pool.
The many trails range from short walks to day hikes. We recommend Lynn Loop (3.1 miles), Lynn Peak (5.6 miles), Twin Falls Loop via Sea to Sky Trail (3.9 miles), and Varley Trail Loop (2.8 miles).
7. Diez Vistas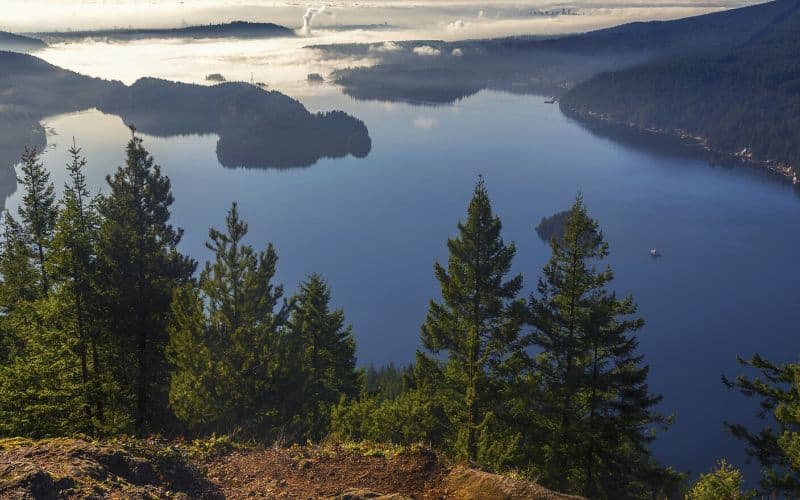 Type: Loop/Out and Back
Difficulty: Challenging
Length: 9.3 miles (4-6 hours)
The Diez Vistas hike near Anmore is aptly named in Spanish for what it delivers – ten varied views along the ridge, including Indian Arm, Buntzen and McCombe Lakes, Deep Cove, Burrard Inlet, Vancouver city, a waterfall, Belcarra, and old-growth forests.
Begin at Buntzen Lake South Beach. Cross the dock, get onto the Energy Trail for 0.7 miles, and cross a floating bridge to eventually reach a junction for the trail. From here, following the trail is straightforward, though be aware that it is covered in roots and rocks, and may require easy scrambling. The total elevation gain is 1,500 feet.
When the trail ends at the BC Hydro service road, go right toward the pump house. Here, the trail forks. Left will take you around McCombe Lake. Going right, which is more scenic, will take you over a wooden suspension bridge toward North Beach. Note that in September 2021 the suspension bridge was closed for renovations, so check it is open before setting off.
8. Eagle Bluffs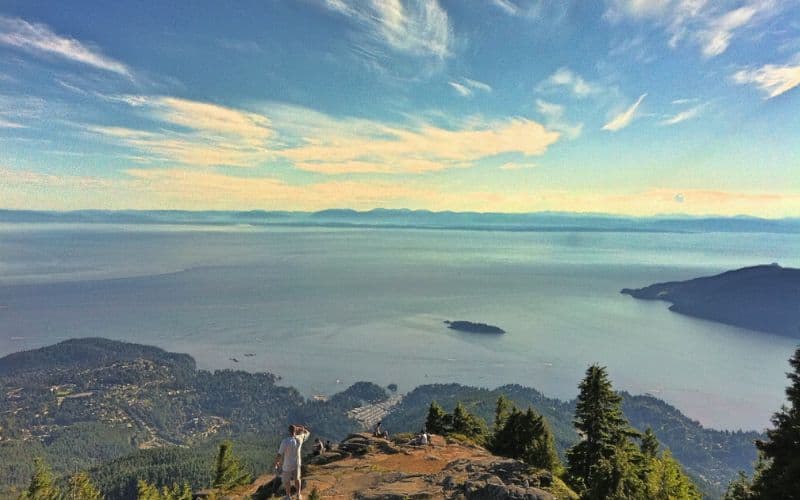 Type: Out and Back
Difficulty: Moderate
Length: 5 miles (3-4 hours)
Hiking to the Eagle Bluffs above Eagle Harbour is a great way to experience the mountain environment and take in stunning seascapes in one hike.
This moderate hike has around 1,100 feet of elevation gain.
From the downhill ski area of Cypress Mountain, walk past the chairlifts toward the forest. Follow the well-marked trail for Black Mountain. Switchbacks provide quick elevation gain, but then ease off.
Just before reaching Cabin Lake, you'll head down to Yew Lake, which offers great views of the Lions, Brunswick Mountain, Bowen Island, and the Sunshine Coast. Once at Cabin Lake, continue onward to the top of Black Mountain, down to Owen Lake, up muddy slopes past Cougar Lake and other small lakes. At last, you are at the top of Eagle Bluffs.
From the top, you can see Lighthouse Park, Horseshoe Bay, Point Grey, and, if it is clear, the mountains of Vancouver Island and Mt. Baker south of the border, in Washington.
9. Dog Mountain
Type: Out and Back
Difficulty: Easy
Length: 3.4 miles (1.5-2 hours)
Mount Seymour National Park's Dog Mountain trail is a relatively easy hike – barring the few exposed roots that adorn the path – and is family-friendly. The elevation gain is minimal and the trail gently undulates, offering views of Vancouver and the bay area at various points along the way.
Starting in the Mount Seymour Ski Resort parking lot, head north toward the BC Parks sign and follow the trail pointers to enter the forest. From here, the Dog Mountain Trail winds through the forest, crossing over rivers and passing by First Lake, eventually reaching the top.
The views here are spectacular. Below, North Vancouver. Across, the Lions Gate Bridge, Stanley Park, and the downtown area. This trail is accessible year-round and offers great snowshoeing in the winter.
10. Mount Seymour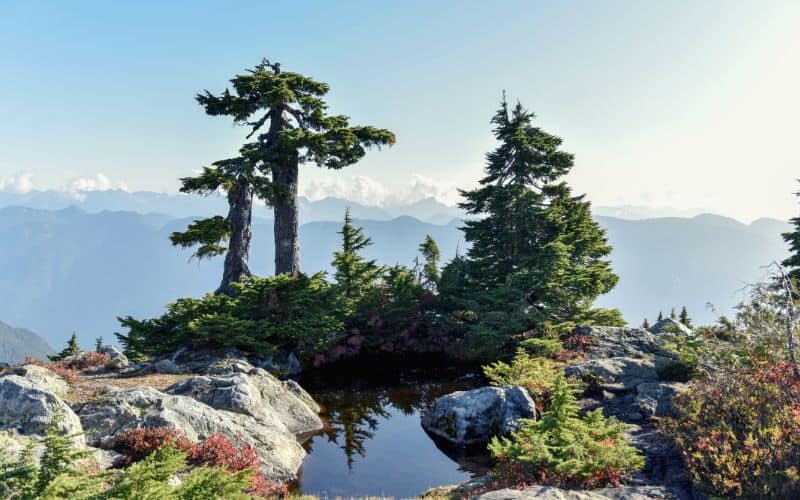 Type: Out and Back
Difficulty: Moderate
Length: 5.5 miles (2-3 hours)
This trail reaches the summit of Mount Seymour, one of the area's local ski hills, and offers sumptuous views over Vancouver, Indian Arm, Grouse Mountain, and the coastal mountains.
Start as for the Dog Mountain Trail. At the BC Parks sign, follow the trail that runs parallel to the ski run. Keep following the signs, going over a few bridges, dirt, and gravel paths. Pay attention to the signs (since there are many junctions) and the wonderful scenery around you. Notice the many rockslides – geological time never stops!
Eventually, when you summit First Peak, the green markers turn to orange. Follow these to Second Peak, then onward to the top of Mount Seymour, for a total elevation gain of 1,475 feet. This trail is open from July to October. It is a great option for those looking to avoid more crowded hikes such as the Grouse Grind or in Lynn Canyon Park.
11. Baden Powell Trail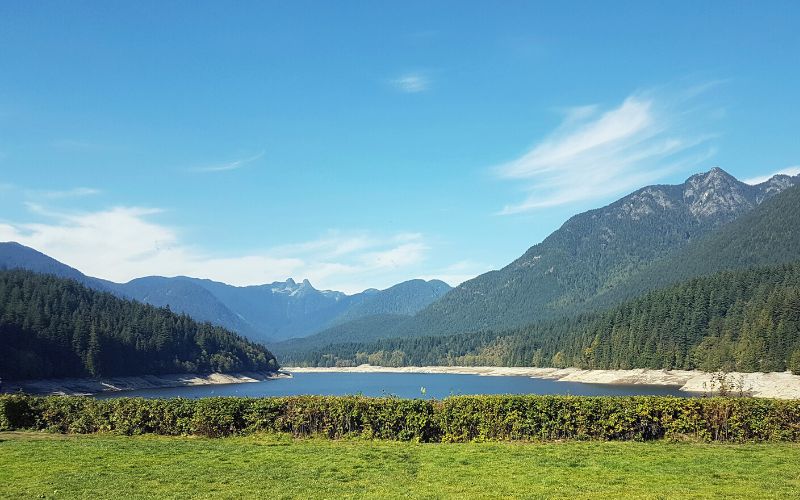 Type: Point to Point
Difficulty: Challenging/Strenuous
Length: 29 miles (12-18 hours)
The Baden Powell Trail is composed of many local trails in the North Shore and traverses the mountains from Horseshoe Bay in West Vancouver to Deep Cove in North Vancouver. The trail was constructed in 1971 by the Boy Scouts and Girl Guides of Canada to mark the 100th anniversary of British Columbia's entry into Canada.
This trail comprises many different sections (many are in this article) and is commonly broken into four parts: Horseshoe Bay to Cypress Mountain, Cypress to Grouse Mountain, Grouse to Lynn Valley, and Lynn Valley to Deep Cove. While none of these sections are particularly challenging, the terrain is varied.
Highlights include the Capilano River crossing, the Lynn Canyon suspension bridge, a bridge crossing over the Seymour Canyon, the Grouse Grind's notorious staircase, the Hollyburn Mountain Old Growth forest, and the panoramic views from Eagle Bluffs.
12. Big Cedar and Kennedy Falls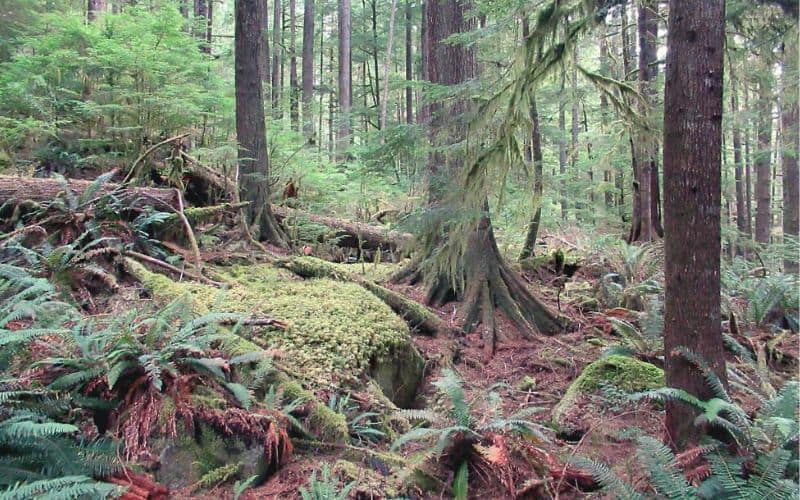 Type: Out and Back
Difficulty: Moderate
Length: 6.2 miles (3-5 hours)
While there are different routes to get to Kennedy Falls, the Big Cedar Trail takes you through Lynn Headwaters Regional Park on the west side of Mount Fromme along Lynn Creek.
From the parking lot, after walking in the forest along the Old Grouse Highway, you eventually reach the first creek crossing. Keep following the well-marked trail until arriving at the 600-year-old cedar tree! It is spectacular.
On the trail, you will notice old logging tools and wooden crossties. This tree reminds us of what the rest of the forest would look like without any logging activity. From the tree, continue along the trail until reaching the misty Kennedy Falls.
We recommend proper footwear and care for this hike. Although the elevation gain is minimal, many trees, exposed roots, and rocks adorn the trail.
13. Killarney Lake Loop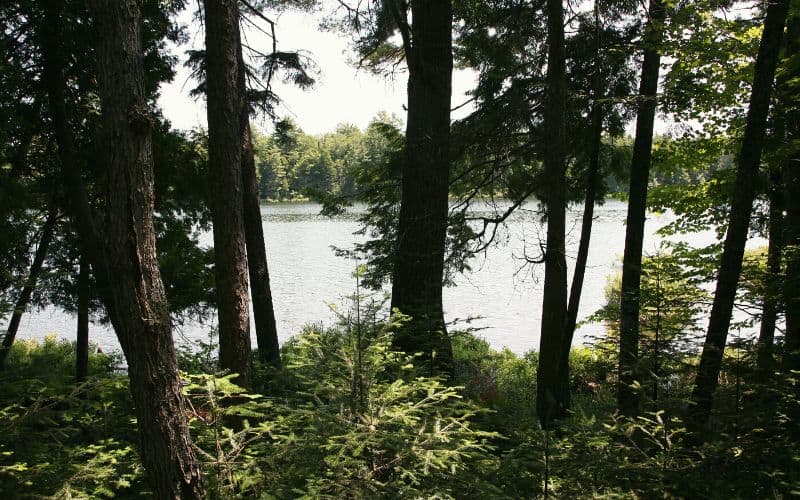 Type: Loop
Difficulty: Easy
Length: 5.6 miles (4-5 hours)
Unlike the other day hikes in Vancouver on this list, the Killarney Lake Loop is only accessible by taking a 20-minute ferry ride from Horseshoe Bay, on the mainland, to Snug Cove on Bowen Island. There are beautiful views of Howe Sound as you glide across.
To access the trail and Crippen Regional Park, walk through town from Snug Cove. Soon, turn right onto Cardena Drive for around 80 feet, where you will see a GVRD parks sign. The trails are all well-marked. En route to Killarney Lake, you will see Deep Bay and the mountains through the trees. We recommend also going to see the fish ladder at Bridal Falls.
Once you've crossed Miller Road, continue along Hatchery Trail then Meadow Trail, until you reach Killarney Lake. From here, enjoy the woods, the views over the lake, and the eerie cedars.
14. Lindeman Lake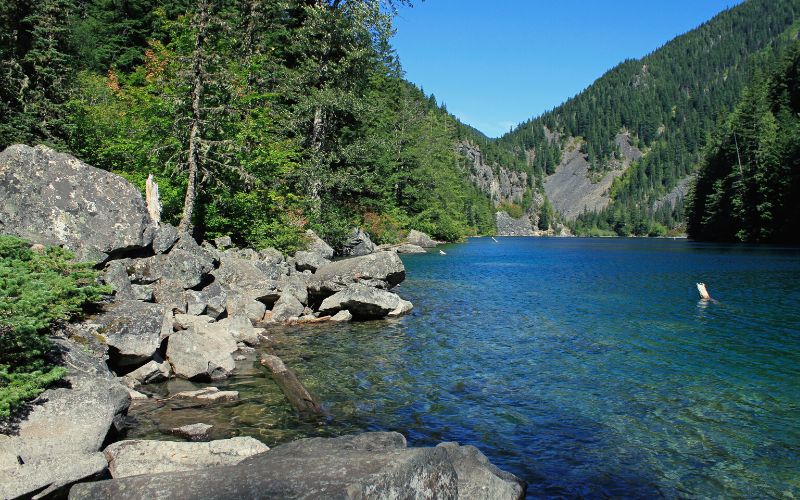 Type: Out and Back
Difficulty: Moderate
Length: 2.1 miles (1-1.5 hours)
This great hike near the Fraser Valley is the furthest south of the city on our list, but it is a great challenge for novice and intermediate hikers. Though not a particularly long hike, the turquoise lake, surrounding mountain peaks, and forests make it a great place to enjoy a day away from crowds.
After parking on the road, locate the sign for Post Creek, Lindeman, Greendrop and Flora Lakes, and enter the forest from the yellow gate. Enjoy the crossing over Post Creek (bridged by a fallen tree!), watch for a massive rock slide and, once you arrive at a sandy beach, soak up the views over Lindeman Lake. This is a great place to camp overnight, too.
If you still have energy, continue for 45 minutes to Greendrop Lake.
15. Stanley Park
Type: Various
Difficulty: Easy
Length: Up to 17 miles
In the heart of Vancouver lies one of the most beautiful and celebrated parks in Canada. With over 17 miles of trails, you will find refuge from the bustling city and walk along historical trails – "skid rows" – that lumberjacks used to carry trees to the water during the logging boom. These would then be transported to the nearest sawmill.
A few of the highlights include: the Seawall Trail loop (5.8 miles), which offers waterfront views of Coal Harbour, Burrard Inlet and English Bay; the Stanley Park Inner Loop (5 miles); the oldest trees in the park (monument trees) on the Siwash Rock Trail, Third Beach Trail and north of Beaver Lake on Lake Trail; and the biodiversity surrounding the Cathedral Trail Boardwalk.
All the trails are well maintained, and some of these hikes are wheelchair accessible.
16. Panorama Ridge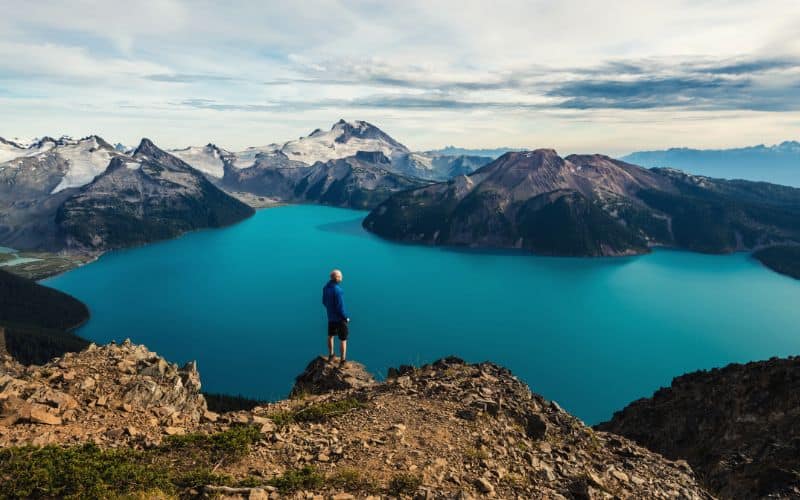 Type: Loop
Difficulty: Challenging
Length: 18.7 miles (10-13 hours)
Situated in Garibaldi Provincial Park, this difficult hike offers some of the most scenic views in British Columbia. After passing through dense forests and meadows, you are greeted with panoramic views over the turquoise-colored Garibaldi Lake, the shark fin-like peak of Black Tusk, and the Helm Lake area.
Start and follow as for the Garibaldi Lake Trail until you arrive at the first junction. Head left for Taylor Meadows. Once through the meadows, keep following the trail markers (for a while), until you arrive at a steep rocky section. Scramble up carefully, until the views of Garibaldi Lake open up below you.
Be warned – you will be taken aback by the stunning views on Panorama Ridge! Whilst this is not only for extreme hikers, it is a very challenging route to complete in a day, and camping along the way in Taylor Meadows is a fantastic way to enjoy this area to the full.
17. Lighthouse Park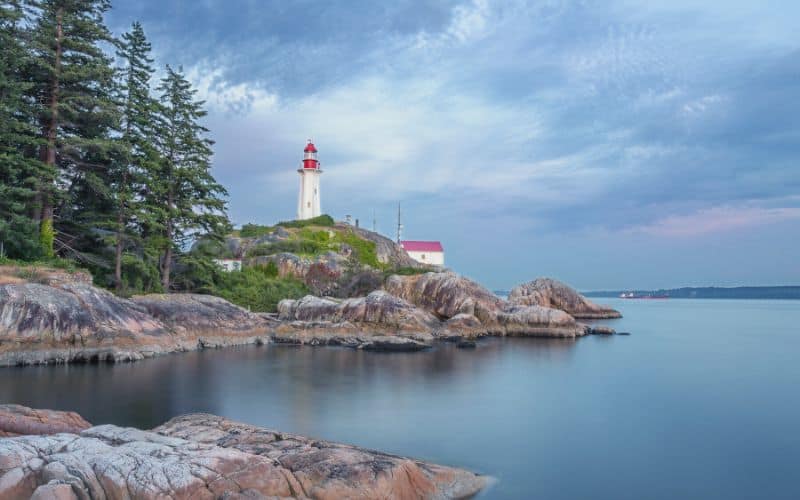 Type: Various
Difficulty: Easy/Moderate
Length: Various (minimum 10 minutes)
Lighthouse Park holds a special place in the hearts of local hikers and tourists alike. Just outside the suburbs, it has some of the biggest Douglas Firs and old-growth Western Red Cedar trees, which smell incredible and provide fresh, cool air.
There are numerous trails throughout the park, which all bring you to the historical lighthouse and the magnificent views over the water. From here, we also recommend walking to Starboat Cove, where views expand from Lions Gate Bridge to the University of British Columbia, and Vancouver Island.
Hiking Near Vancouver: Let's Hit the Trail!
Vancouver's regional parks and the coastal mountains provide some of the best hiking trails in Canada. With tall looming mountains, turquoise-colored lakes, thick forests, oceanside, and rivers that feed the land like great veins, there is no better place to enjoy the outdoors this summer than by hiking near Vancouver. 
If you liked this post, please feel free to share it with your friends! And if you have any questions or comments, drop us a line in the box below.