Disclosure: The team at My Open Country highlights products we hope you might find interesting. If you buy them, we get a small share of the sale revenue from our partners at no additional cost to you. This never drives our decision as to whether or not a product is featured or recommended – you can read more about
our editorial process here
.
Hilleberg Akto Review
Our Rating: 4.0/5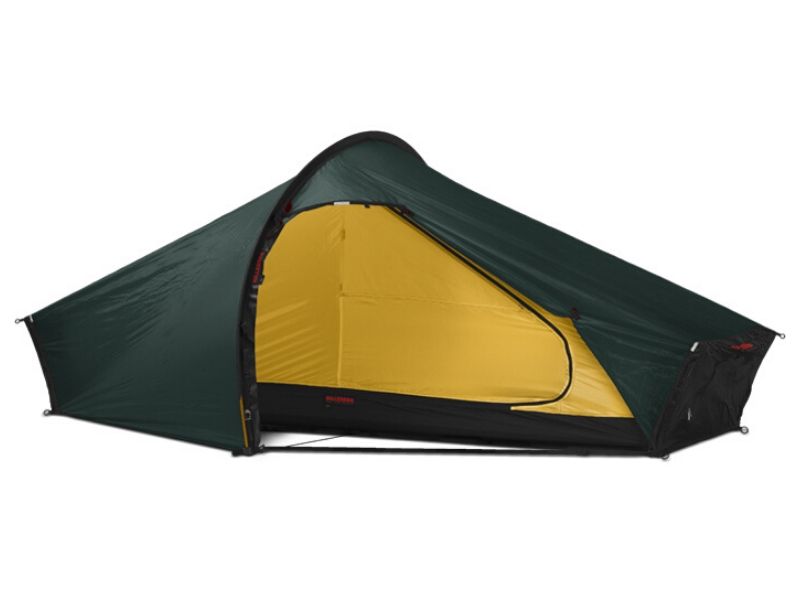 The Hilleberg Akto is one of the most famous solo lightweight backpacking tents on the market and has been manufactured for over 20 years. And for good reason!
Hilleberg manages to cram a 4-season tent, with significant waterproofing and durability, yet still, keep it's weight down to under 3 pounds. Combine this with enough indoor space for a solo traveler to be comfortable and it quickly totes up to being one of the best solo backpacking tents on the market today.
Key Features
Super lightweight 9 mm poles and lightweight zippers contribute to its light 2 lbs, 13 oz. minimum weight
Kerlon 1200 fabric (for outer tent)
The inner and outer tents are connected, but they can be separated and pitched independently
Lots of zip-able mesh or vents for hot or cold days
Bathtub-style flooring
Single entrance
Flooring is 18.3 square feet with 8.6 square feet vestibule.
Category Scores
Comfort & Liveability
Weather Resistance
Ease of Setup
Weight & Packed Size
Durability
PROs

Four season tent: warm in the winter, shady in the summertime.
Lightweight: this thing is only 45 oz.!
Super customizable: both inner and outer tents can be set up independently
Solid headroom: this is no solo tube, you'll be able to sit up inside

CONs

Not free standing: you'll need soft ground or an active imagination to get the setup right.
Not the biggest vestibule: it's pretty much only big enough for your pack.
Snow-catcher: the shallow slope of the roof will catch heavy snowfall.
Bottom-Line: In our opinion, one of the best solo lightweight backpacking tents on the market. Capable of any inclement weather thrown at it and ultralight at under 3 pounds.
Hands on Review
For some, the word 'home' denotes a structure with four walls and a roof. For us, it means mountains and rivers, trails and trees, canyons, and a sky filled with stars. Five out of five psychologists agree, adventuring out in the wild provides numerous benefits, including mind expansion, a healthy cardiovascular system, a renewed love of coffee and whiskey, sexy glutes, moose appreciation, and existential fulfillment.
You're going to head out for whatever kind of trekking floats your boat or chalks your handhold, and nothing is going to change that. What does change is your gear, and among your gear, you're going to want to make sure you've got the most righteous tent available. Your tent keeps you warm, dry, safe and fortifies you against the challenges you'll face out on the trail. This article is here to review and detail the Hilleberg Akto backpacking tent. If you like what you read, you may just want to take one home.
Comfort & Livability
Trekking solo is tough because you have to carry all your gear yourself. The best solo tents help out by being very lightweight and pack down very small. This does, however, sacrifice space. The Akto is no different. This tent is big enough for you, your sleeping bag, clothing, your book, and a lock of your lover's hair. For most of you, we're preaching to the choir here, but if you have never been in a solo tent before, you best try before you buy; these things are cozy.
The good news is that the Akto is, in fact, more spacious than many solo tents. The peak of the roof rises 36," and you should be able to get through about 50% of the sun salutation if it's raining outside.
Don't let the incredibly thin, lightweight Kerlon fabric fool you; this is a bonafide four-season tent. You'll be surprised how far your body heat goes in the Akto—the kerlon keeps it in, and you don't have much space to heat in the first place. With the head and foot vents and mesh windows, you'll be able to keep things light and breezy in the summer.
There's one strange quality to this tent, however. The manufacturer warns that colors may be different from what is shown. Some backpackers—who have purchased the tent from a third-party retailer—thought they were getting green and got black instead. That's got to be great in the winter, but sweltering in the summer. We recommend you take a look at what you're getting before buying or at least get in touch with the retailer to find out.
Weather Resistance
The Akto is guaranteed to hold up to any—well, most—weather. The hydrostatic waterproof rating of the outer tent is 5000 mm, and the floor is 15000 mm. That's some heavy-duty stuff that will keep you dry even in a downpour, provided that downpour does not last days on end.
The inner tent is even treated with water repellent, so you'll practically be able to float down a river in this thing. You may well be able to get away with just the inner tent in warm, mostly dry climates. Condensation makes its way into any tent eventually, but the Akto will keep it down to a minimum.
This tent should hold up well in the cold, but the manufacturer does not specify how cold. Don't take this thing up Everest, and try to get a feel for how well it insulates before journeying out into ongoing sub-zero temperatures.
Once you read about the setup lower down, you'll realize that this tent will catch snow. Usually, this means some bonus insulation, but if it's 10 feet of Sierra cement, those beautiful slender poles might snap in half.
The outer tent is coated on both sides with three layers of silicone. Hilleberg knows how to take care of details. The coating helps keep the rain off, heat in and protects against UV rays that will deteriorate weather resistance in other lower-quality tents.
Ease of Setup
Setting up the Akto is not exactly rocket surgery. Begin by staking down the windward side of the tent. Next, run the single pole through its sleeve that stretches horizontally across the tent at its midpoint. After that, stake in the other two corners along with all the guy lines at your head, feet, and sides.
This tent is not technically free-standing, but it also doesn't necessarily require sticking stakes in the ground. If you find yourself on especially rocky terrain, you'll be able to get away with four rocks in each corner and tying everything down with more rocks or logs. It's not like some tents where the ends of the poles have stakes that need to go into the softer earth.
Keep in mind that this is a nice, lightweight tent, and you better treat those poles and fabric friendly, or they won't be kind to you.
Durability
As we've said, this is an all-season tent, suitable for *most* weather. Excessive rain won't be a problem. Extreme wind, however, may bend those lovely aluminum poles in ways they don't want to. They are the most fragile part of the tent and require extra care and attention. They are, after all, the reason the tent is so light. That said, the small profile of this tent should be dandy in most wind conditions, it doesn't have any harsh, blocky angles.
Regarding fabric, this tent will surprise you. All nylon is of the Ripstop variety. Hilleberg claims the floor material especially is "highly puncture and abrasion resistant." There is no reason to test this out. Any rips or holes in the fabric will mean much less insulation.
When it comes to the mesh along vents or the door, this material is not ripstop nylon. Don't use it for knife-throwing practice.
Weight & Packed Size
Since 1995, this has been the most notorious lightweight solo tent on the market. Outdoor companies put the minimum weight at 2 lbs, 13 oz. and the packed weight at 3 lbs, 12 oz. It's quite unusual for the packed and minimum weight to vary by anything more than 10 oz. But for the Akto, it's a difference of nearly a full pound?
Minimum weight usually means the bare bones; no stuff sack, no repair kit, just what you need to set up the tent. Hilleberg's minimum weight means "the outer and inner tents and the poles only." This is a little sneaky on Hilleberg's part. You do need stakes to set up the Akto. If you're a stick-stake kind of guy, more power to you, but if you're headed somewhere where the ground is tough, or sticks are scarce, the weight is going to get closer to 3 lbs.
A Note on Staking
Some of you may be thinking that, because the Akto needs to be staked out, you might want to look elsewhere. When it comes to solo tents, however, you're always talking about very small, tight quarters. The only surefire way to make those quarters as large as possible is to get up on your stake game. Do yourself a favor and stake out your solo tent whenever possible.
As we said before, rocks work too but exercise caution. If it's windy, putting rocks in the corner of your tent is going to create a lot of friction with the ground and may wear through the floor if you do it enough. Rock state your tent with extreme caution.
Product Value, Limitations & Best Applications
Don't buy the Hilleberg Akto if you're heading to the top of K2, a sandstorm-prone desert, or the Moon. If you're going anywhere else, however, the Akto will probably see you through in spades. This is one of the first and still possibly the best-valued lightweight tent. Yes, lighter versions exist. Yes, free-standing options exist. But these options make sacrifices where the Akto does not.
When it comes to limitations, the Akto has two weak points. The first one is the poles. Treat them like a baby, and they'll go the extra mile with you. The second one is, because of its shape, the tent does not perform well under heavy snow. If you're in a cold, coastal area that gets slammed with that thick, wet stuff, consider a tent that has a more robust pole structure or some greater slant to the roof.
The Akto will outperform competitors on trips where you'll get a little bit of every kind of weather. It will keep you warm at night when the mercury drops, it's super waterproof, and when the midnight sun shines, it won't turn into a sauna, especially if you get the gear necessary to set up the inner tent independently. We'll talk about that in the following section.
Other Versions & Accessories
Possibly the best aspect of the Hilleberg Akto is its versatility. For you to get the full benefits of it, however, you'll need to spend a little, not much, extra cash. To be able to set up the inner tent on its own—something you'll want to do on hot nights with clear skies—you'll need to pick up the aptly named Pole Holder Kit. It's the price of a case of cheap beer; you'll need to attach it to the loops along the middle of the tent so you can stick the poles in something on either end. This seems to be a very simple addition to the Akto, and we wonder why it is not included in the first place.
The tent already comes with ten aluminum V-Pegs. Because of their 'V' shape, they won't bend or break easily, and the shiny gold color will help you find them in the snow or the soil. If you're camping in snow or sand, you might want to think about picking up a set of snow and sand v-pegs. The only difference with these pegs is they are reinforced for the tougher climate and to withstand the inevitable contact with crampons and shovels. They also have holes punched in them and come with a line you can attach to stake your tent out deadman style.
If you're headed somewhere hot and wet, you might want to pick up the all-mesh inner tent. You can easily swap it out with the standard inner tent. If all you're looking for is a glorified mosquito net, you could just use it alone (it comes with the pole holders).
Technical Specifications
| | |
| --- | --- |
| Best Use | Backpacking |
| Seasons | 4-season |
| Sleeping Capacity | 1-person |
| Minimum Trail Weight | 2 lbs. 13 oz. |
| Packaged Weight | 3 lbs. 1 oz. |
| Packed Size | 6 x 20 inches |
| Floor Dimensions | 86 x 24 / 36 inches |
| Floor Area | 18.3 square feet |
| Vestibule Area | 8.6 square feet |
| Peak Height | 36 inches |
| Number of Doors | 1 doors |
| Number of Poles | 2 9mm Poles |
| Pole Material | Aluminum DAC Featherlite NSL |
| Pole Diameter | 9 millimeters |
| Canopy Fabric | Nylon/polyester mesh |
| Floor Fabric | Coated ripstop nylon |
| Rainfly Fabric | Kerlon 1200 |
| Ultralight | Yes |
| Design Type | Semi-Freestanding |
Alternatives
BEST BACKPACKING TENT
Big Agnes Copper Spur UL2
In spring, summer, or fall, the Big Agnes model might run alongside the Hilleberg Akto. It weighs about the same, has the same height, but provides a bit more room, storage space and is more durable. It does fall short in one category despite costing more than the Akto. Its fly is significantly less waterproof: only 1200 mm compared to the Akto's 5,000 mm. It's also a little more complicated to set up.
With a substantial amount of rainfall, you'll be getting wet inside the Big Agnes model while you're pal who's set up with the Akto will be high and dry. When the weather gets cold, especially, the Copper Spur will not keep you anywhere near as warm as the Hilleberg Akto will.
Check our our full Copper Spur UL2 review here.
ALTERNATIVE VALUE BACKPACKING TENT
Kelty TN2
If the Hilleberg Akto is not within your budget, you might want to consider a two person tent. This will certainly give you more space and the option to add another member to the wolf pack. Like the Copper Spur, the TN2 will do the trick in many circumstances. Its fly is 1800 mm waterproofed, and its floor is 3000 mm. This will be okay for most rain conditions, but when it starts really coming down, the wet will get in.
A big downside to the TN2 is that it weighs almost twice as much as the Akto. Still, that's only about 4 and a half pounds, certainly not an insurmountable weight. Also like the Copper Spur, this tent will not keep you warm when the weather gets chilly. It's also three inches shorter than the Akto, which can be the difference between a glorious sleep and a fitful one, with static morning hair from all the rubbing on the nylon. At half the Hilleberg Akto's price, however, it's still a good option.
Check our our full Kelty TN2 review here.
ALTERNATIVE SOLO BACKPACKING TENT
Tarptent Notch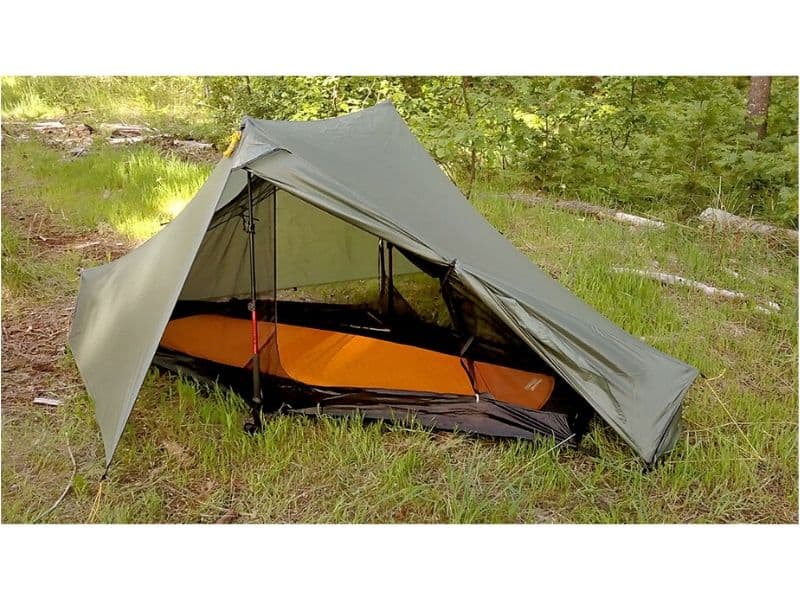 The Tarptent Notch might be a better idea if you a) trek with poles (like ski poles, but for walking) and b) if you don't plan on heading out in any cool weather (or if your sleeping bag is the total bomb). The Notch has a mesh inner tent with two doors. The fly has good coverage and two vestibules. It's a little shorter in length, a little higher, and comparable in price to the Kelty. If you're solo treks in warmer months, you may prefer this to the Akto.
Check out our full Tarptent Notch review here.